It is no surprise that tech companies are leading the charts of bringing innovation into consumers' lives and contributing mainly to economic growth. While the realization of needing to hire computer programmers is vast, there is a cloud of mystery surrounding the steps of hiring computer programmers. Luckily, with the right approach, finding the right programmer for your project can be a smooth and successful process. This article will discuss 9 easy steps on how to hire programmers for your project, ensuring you find the best talent to bring your vision to life.
Step 1: Define Your Project Requirements
The first step in hiring a computer programmer is defining your requirements. What type of project are you working on? What programming languages and frameworks are needed? What is the project's scope, and what is the timeline for completion? Defining these requirements upfront will help you identify the type of programmer you need and streamline the hiring process.
Before you start looking for computer programmers, you need a clear idea of what skills and experience you're looking for. Here are some factors to consider:
Programming Languages: What programming languages do you need the programmer to be proficient in? Depending on your project, you may require expertise in languages like Java, Python, or JavaScript.
Technology Stack: What technologies and frameworks do you want the programmer to be familiar with? For example, if you're developing a web application, you may need someone who knows React, Angular, or Vue.js.
Experience Level: Do you need senior programmers with years of experience who can take on management roles and responsibilities? Or do you need middle-level talent to work on production tasks?
Soft Skills: What soft skills are important to you? Do you want a computer programmer who's a good communicator, a team player, or a problem solver?
How we handle it:
At the initial stage of cooperation we assess all your requirements, helping you define your needs and elaborate on missing elements to guarantee your project's success with us. After the review, we present you with all the possible solutions, alternative methods, and the industry's best practices applicable to you.
SCALE UP WITH TECH EXPERTS
We offer flexible solutions for companies looking to expand their team capabilities and reach goals
book a call
Step 2: Determine Your Budget
Before looking for a computer programmer, you must determine your budget. How much are you willing to spend on a programmer? Remember that the cost of hiring a programmer can vary depending on their experience, location, and skillset. Setting a budget upfront will help you narrow your search and find a programmer that fits your financial parameters.
How we handle it:
We are driven to deliver quality to our clients and scale as their project does. We offer flexible solutions, starting with just one computer programmer for hire if necessary. We guarantee full transparency and true partnership. Our expert teams deliver projects on time and within budgets, that's why companies internationally choose us.
Step 3: Write a Clear Position Description
Knowing what you are looking for is essential when hiring computer programmers. A clear description of all your expectations signals to qualified people that you have clearly defined processes, roles and identified needs for looking for a computer programmer.
Use clear and concise language: Avoid using technical jargon or buzzwords that may confuse applicants. Use simple language that accurately describes the job.
Describe the responsibilities: Outline the tasks and responsibilities that the programmer will be expected to perform. Be specific about the technologies and programming languages they'll be using.
List the qualifications: Outline the qualifications and skills required for the job. Be specific about the years of experience and background requirements.
Mention the soft skills: Remember to mention the soft skills that are important to you. This will help you attract candidates who fit your company culture well.
How we handle it:
As part of our process, pre-selection, we encourage and help you identify what you are looking for in a potential candidate. This helps delivery managers, the computer programmers for hire, and you be on the same page, avoiding misunderstandings and confusion.
Step 4: Choose Your Vendor
Internet is full of vendors you can choose from, but making the right choice the first time is of most importance. Avoid vendors who approach your project as a sales pitch, and look for a caring and accommodating partner you can rely on.
You might notice obvious red flags upon meeting the team for the first time. Don't pursue vendors if they:
Have disorganized internal processes
Lack communication and responsiveness
Try to sell you a standard solution instead of accommodating your needs
Set unrealistic expectations and timelines
Can't show successful examples of projects in your niche.
If you are still unsure, check their Indeed or Glassdoor reviews, see what employees have to say about them from the inside.
How we handle it:
We are not a freelance marketplace but a community of international experts with a united engineering mindset and values. Talents joining your project are full-time employees with proven experience working with projects of all scales. Our computer programmers are backed with learning and growth opportunities and 30 years of engineering excellence of EPAM.
Step 5: Decide on the Engagement Plan
Vendors can engage with your project as little or as much as you decide. They can handle tasks filling up your backlog or deliver a project from start to finish. It is up to you to decide what works best for you, but a trusted vendor can help you decide on the engagement model and present both pros and cons.
How we handle it:
Our team provides fully customizable solutions to fit your business needs, dividing the engagement types into team augmentation and end-to-end project delivery. We weigh your needs, if you are looking for a computer programmer to enhance team capacity or want to finish a side project to present to investors, we got you covered. We collaborate on establishing KPIs and project success measures to ensure that the engagement outcomes match your vision and goals.
Step 6: Conduct Interviews
After narrowing down your vendor and the engagement type, it is time to conduct candidate interviews. The interview process is a great way to get to know potential hires and assess their technical skills. Ask questions about their programming experience, problem-solving skills, and communication style. You may also consider giving candidates a coding challenge to complete during the interview process. The interview process should be designed to evaluate the candidate's ability to solve problems and communicate their thoughts effectively.
You can conduct interviews in different ways, including video conferencing, phone calls, or in-person meetings. The interview can be divided into technical and behavioral sections, with the technical section assessing the candidate's coding abilities. In contrast, the behavioral section evaluates their communication, culture fit, and teamwork skills.
It's important to involve other team members in the interview process, especially those working closely with the new programmer. This helps to ensure that the candidate will fit well with the team and that everyone is on board with the hiring decision.
How we handle it:
Before the start of the project, we match you with a list of candidates that can be a great fit for you. You are free to interview and select your team members and get guidance from the delivery managers about the candidate's characteristics or more in-depth background and skills.
Step 7: Evaluate Candidate Soft Skills
A computer programmer's communication skills can make or break the success of a project. They need to be able to communicate their ideas and collaborate with other team members. Make sure to evaluate their communication skills during the hiring process. This can be done by asking them to explain a complex programming concept in simple terms or evaluating their response time.
How we handle it:
Our partners get full profiles of candidates, including their soft skills, preferred work methods, and ability to work with a team or take charge. You choose your teams, and we make sure that everything meets your criteria.
Once you've found the right computer programmers for your project, it's time to extend an offer. Be sure to outline the details of the project, including the scope, timeline, and final budget with your vendor. It's also important to discuss communication expectations and any special needs. If your teams are in different time zones than you are, you'll need to set clear guidelines around that as well.
How we handle it:
After considering every little detail, we will sign the final contract and revise all the agreements to ensure all the stakeholders are on the same page.
Step 9: Onboard the New Hire
To kick off the collaboration, you'll need to onboard your new hire. Hiring a computer programmer has been a fulfilling journey; now it's time to put all the expertise your new team member has to work. Ensure to provide all the necessary accesses, introduce to the immediate team, and start your project's delivery.
How we handle it:
Our teams can integrate into your processes easily and become full-time contributors in a matter of days. We pride ourselves on continuous delivery and clear set feedback processes that are effective and constructive.
Details of a successful cooperation: Inigo
A SaaS B2B startup Inigo has cooperated with us to build a brand new security-aware platform for GraphQL solutions and innovate the industry. With an aim to create a better developer experience and bring a budget-friendly solution to the market, Inigo started cooperating with us just a month after their foundation.
Over the course of the year, we provided team augmentation of Go developers to expand Inigo's existing team's capabilities and deliver the project within the discussed timeline. During that time, we managed to build the platform from the ground up and successfully support Inigo to launch it onto the market.
Hiring a computer programmer may seem challenging, but it's essential to the success of any technology-based project. By following these easy steps, you can ensure that you find the right programmer for your project. Remember to evaluate their technical skills, experience, communication skills, and portfolio before making a final decision. Additionally, discussing payment terms upfront can make sure everything runs smoothly.
HIRE COMPUTER PROGRAMMERS WITH EPAM STARTUPS & SMBS
With 53K+ experts located in 400+ locations around the world, we ensure to meet the expectations of all our partners. Offering <a href="https://anywhere.epam.com/business/services/custom-software-development" target="_self">custom development services</a>, we scale with your project and accelerate results.
let's start innovating together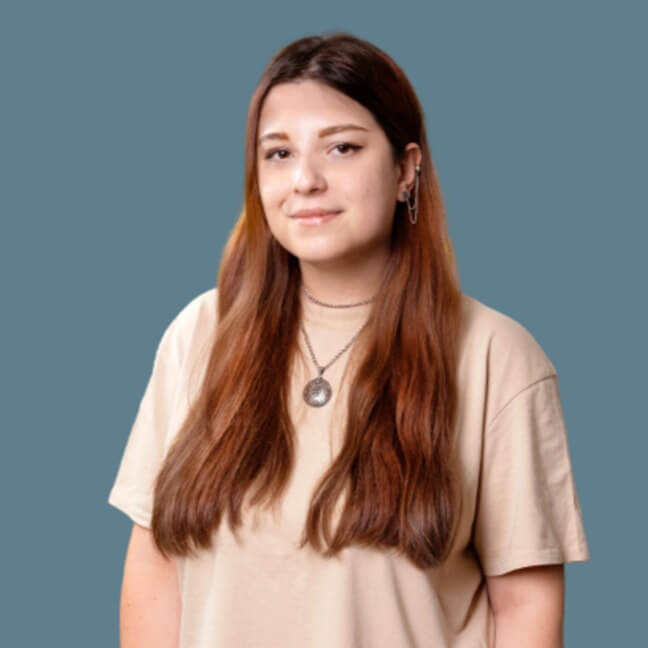 Written by
Anush has a history of planning and executing digital communications strategies with a focus on technology partnerships, tech buying advice for small companies, and remote team collaboration insights. At EPAM Startups & SMBs, Anush works closely with subject matter experts to share first-hand expertise on making software engineering collaboration a success for all parties involved.
Anush has a history of planning and executing digital communications strategies with a focus on technology partnerships, tech buying advice for small companies, and remote team collaboration insights. At EPAM Startups & SMBs, Anush works closely with subject matter experts to share first-hand expertise on making software engineering collaboration a success for all parties involved.