How Artificial Intelligence is Reshaping the Retail Industry
In contrast to the often "cold and mechanical" B2B model, retail sales are an emotional space. A typical person may spend days or weeks reading reviews and comparisons, monitoring prices, browsing online catalogs, hesitating and doubting, losing interest and, finally, making a completely unexpected impulse purchase of a totally different product.
These emotional swings are easy to relate to, but are hard to measure, quantify, and react to using conventional methods. And that's exactly what artificial intelligence in retail business can help with, using a combination of machine learning algorithms keeping an eye on would-be customers and guiding them toward a quicker purchase.
Application of artificial intelligence in the retail industry brings tangible benefits both to online and offline scenarios that are gradually making their way from the realm of science fiction to everyday reality.
In this article, we take a look at various artificial intelligence solutions for retail businesses that are already transforming the way we do shopping today, or will be doing in the near future.
Automated checkouts
Cashierless checkouts and fully automated stores are now the focus of nearly all major retail chains. While giants like Walmart are optimizing their customer experience using self-service checkout kiosks, other companies like Tesco, Rewe, Netto, Aldi, and Wakefarm are taking the checkout process even further by leveraging the power of artificial intelligence in retail stores.
2018 was a seminal year in the history of AI and retail. The opening of the first Seattle-based Amazon Go store became the initial step in what became a long journey that many companies embarked on in an effort to dramatically improve shopping experiences and lower operating costs across thousands of malls and shopping centers.
Amazon Go stores (and their contemporaries) use high-definition cameras, various sensors, and ML/DL algorithms to dramatically simplify the shopping experience for visitors. All the humans need to do is scan a QR code upon entering the store, pick the necessary items from the shelves and just walk out without having to wait in the line and pay a cashier. Their card is automatically charged for the total order amount once they leave the store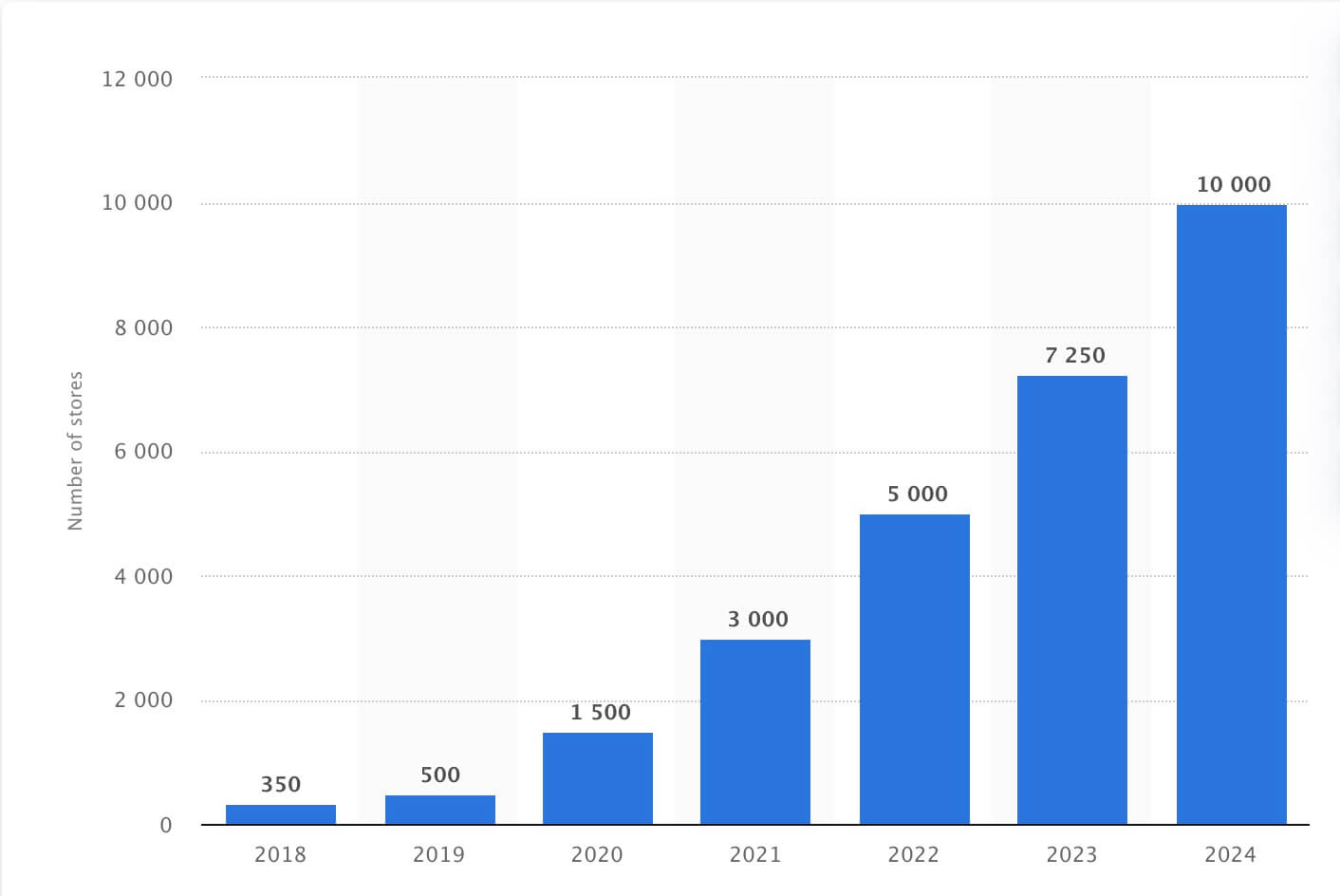 Today, AI systems that have been tried and tested in pilot projects by market leaders are now turning into tailored software solutions available to any retailer seeking a dramatic transformation of their customer service strategy. For example, Trigo and SAP have partnered up to offer an integrated solution for cashierless stores powered by cutting-edge AI and IoT technologies in retail coupled with state-of-the-art business management systems by SAP.
Location-based services
Indoor positioning services help retailers to dynamically create tailored product offerings with a high degree of personalization right inside the store or in its vicinity. Use of AI in retail stores in combination with high-precision location sensors using BLE, WiFi, UWB, LTE/5G and other types of connectivity paves the way for a variety of marketing and sales scenarios.
For example, an intelligent LBS system with advanced connectivity and computer vision functionality deployed at a retail store can interact with the mobile devices of mall visitors walking by to estimate the dynamics of pass-by traffic. If a brand-specific or co-branded app is installed on a passerby's phone, this interaction can become manifold more complex.
For instance, an AI algorithm can look up the user's purchase history, augment it with insights obtained from social networks and other sources, and send a push notification with an invitation to visit the store and take a look at the items that the person would be most likely to purchase at that very moment.
This data-driven approach can be a powerful activator of the customer's loyalty to a particular brand and a powerful incentive to stop by and consider purchasing new products, thus increasing the store's revenue and shifting the customer's attention from competitors.
This example of AI for retail has a lot to do with behavior analysis that machine learning uses for a variety of contexts.
Behavior analysis
Just as we mentioned in the beginning of the article, retail sales are often based on emotions and impulses, which makes it hard for shop assistants or store managers to predict individual customers' behavior by means of observation — it simply won't pay off in terms of time, effort, and accuracy.
Enter AI applications in retail. Machine learning algorithms are patient, have a great memory (in fact, nearly infinite), and constantly improve their accuracy. Coupled with computer vision systems, they can be taught and trained to detect a variety of emotions, postures, and behavioral patterns, which, combined, can be interpreted as a sign of readiness to purchase.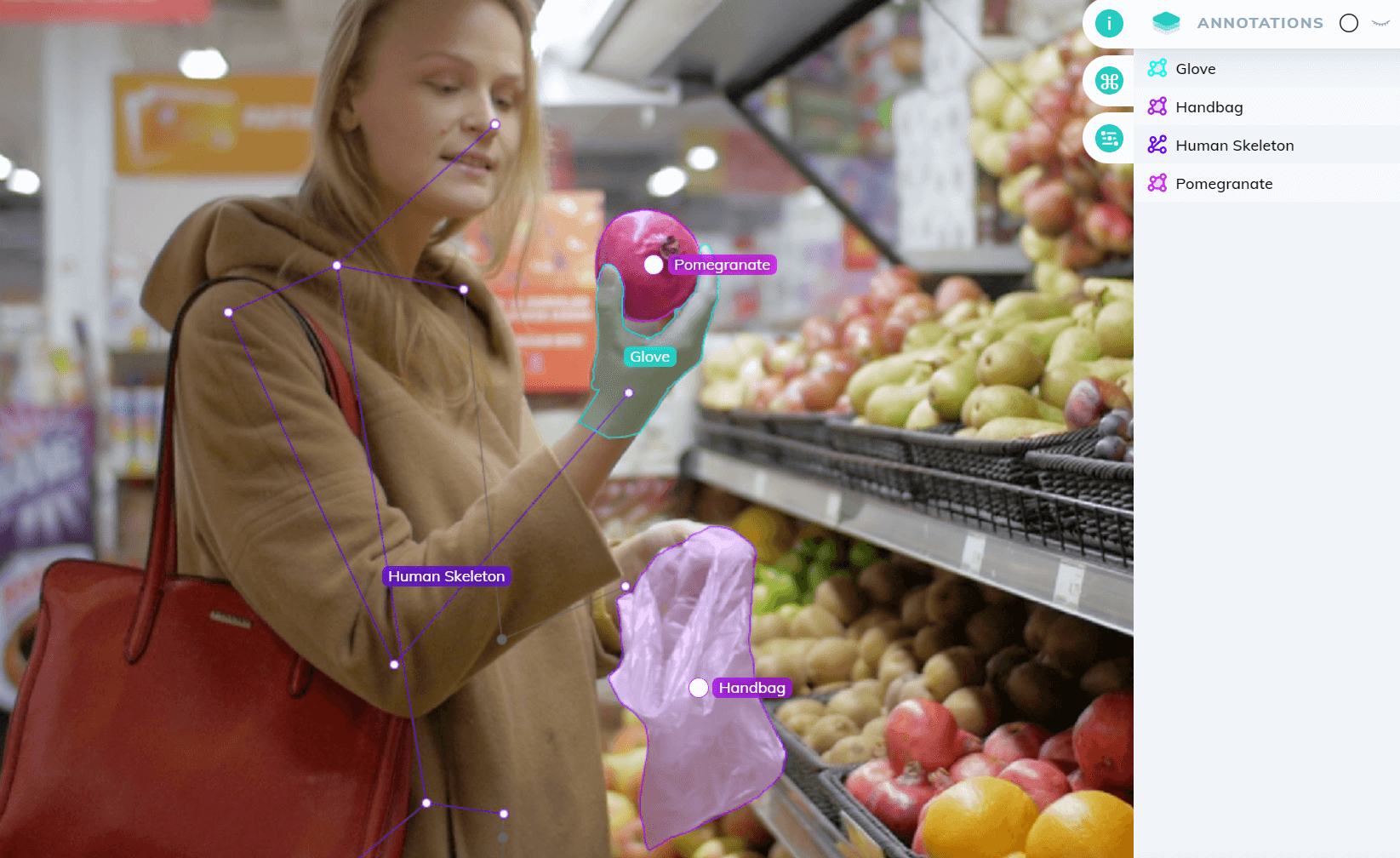 At this point, further actions can be taken either by the store staff or by the system itself to incentivize the customer to make the last step and close the deal or to record a user behavior scenario for subsequent analysis and application. In addition to that, AI-based analysis of video feeds from cameras helps define a few important characteristics of customers' behavior, such as dwell time (time in front of a shelf), gaze time (time in front of a product), and, finally, suspicious behavior.
Similar types of AI solutions are used online to track users' behavior and analyze customer journeys. Abandoned carts, recurring purchases, product recommendations, personalized marketing, and a slew of other aspects of any modern online marketplace are completely data-driven and rely on the power of advanced, self-learning algorithms silently doing their job in the background.
Robotics
Robots are also gradually becoming a commonplace commodity at warehouses, sorting facilities and some stores. Machine intelligence in retail is currently used for hazard prevention, stock level monitoring, and inventory management.
For example, the SmartSight inventory management robot from Zebra Technologies is meant to roam the isles of a modern supermarket, inspect shelves and product layouts, and report low stock levels or incorrect price tags for particular products. According to its developers, the robot is capable of increasing available inventory by as much as 95%, while reducing manual inventory management efforts by 65 hours per week.
Just like cashierless checkouts, highly customized bots help address the issue of labor shortage and help lower operating expenses, as most of them are provided on subscription, making them an OpEx item.
5 Ways AI Is Transforming the Retail Business
The role of AI in the retail industry is similar to its impact in many other sectors. AI does what it does best — automates tedious workflows, detects anomalies, performs real-time analysis of data streams, and effectively replaces humans where round-the-clock observation and lightning-fast reaction are needed.
Automation
The majority of use cases for AI in the retail market involve automation in some form. Applied in the retailing context, AI-enabled systems help automate multiple processes: from real-time stock level monitoring and demand forecasting to intelligent supply chain management and inventory optimization. With pressure from competitors forcing retailers to dramatically rethink their approach to marketing, sales, and resource management, AI in retailing is perfectly positioned to become a game changer for many businesses on the verge of a new phase of digital transformation.
The road to innovation for retailers will require the use of specialized automation platforms or help coming from the providers of professional retail software development services.
Loss prevention
According to competent sources, just 5 years ago US retailers were losing over $50 bln per year to shoplifting, employee theft, fraudulent barcode scanning, or other factors.
Artificial intelligence in the retail market helps prevent product loss by enabling businesses to implement computer vision systems capable of monitoring POS areas and automatically matching items being scanned to corresponding SKUs — preventing fraudulent scans and UPC barcode switching.
For example, Dell is offering an end-to-end loss prevention solution capable of effectively minimizing fraud and unintentional POS inventory loss in self-checkout and employee-staffed checkout zones.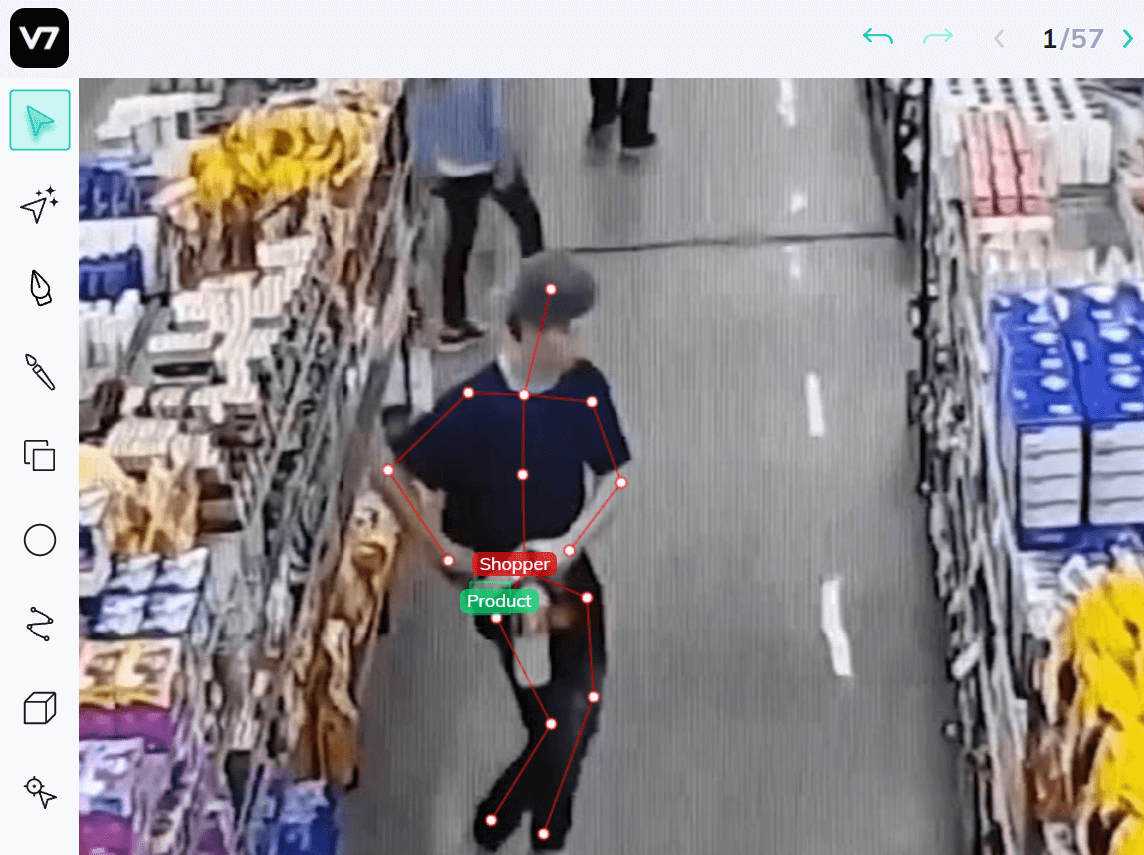 Seeing into the future
Forecasts are one of the most popular AI use cases in retail. Sitting on top of vast amounts of data coming from corporate websites and online stores, ERP systems, social networks, and other sources, smart algorithms can dynamically predict demand for specific products or product categories.
The use of AI in stores, both online and physical ones, helps optimize supply chain operations and make sure that the most wanted products are always in stock even when demand is spiking. Online shopping can be subject to seasonal and situational surges, and a retailer's revenue can largely depend on their ability to quickly react to fluctuating demand and ensure that shoppers are happy.
Smart supply chains
As logistic chains become longer and more intertwined, especially against the backdrop of the COVID-19 pandemic that left a lasting impact on worldwide business, retailers want to have more control over product supplies at every stage while remaining flexible and agile in the face of challenges. In addition, today's world poses special requirements for the carbon footprint of any public company and its production practices.
In order to succeed, retailers are forced to walk the extra mile to comply with various standards and use advanced technology to ensure operating efficiencies across the board. Retailers using AI to balance their supply and demand gain a competitive edge by building a lean, streamlined supply chain with minimal waste, loss, and with enough flexibility to rapidly adapt to unforeseen delays.
AI-based automation enables companies to exercise just-in-time product delivery and timely fulfillment of customers' orders, thus boosting sales and increasing customer loyalty. Smart algorithms can automatically account for seasonal and situational demand peaks and adjust supply automatically by placing orders with suppliers and ensuring their timely execution.
Reinventing the customer experience
Using AI in the retail sector is a great way of building a fully automated framework for customer experience management and ultimate personalization. Today's customers are no longer happy just with product selection. They want to spend less time looking for products; rather, they want to be offered just what they might need, and they want to feel a personal touch every step of the way.
According to Adobe's research, retailers are mostly using AI to drive innovation, reduce costs, and create stronger bond bonds with customers: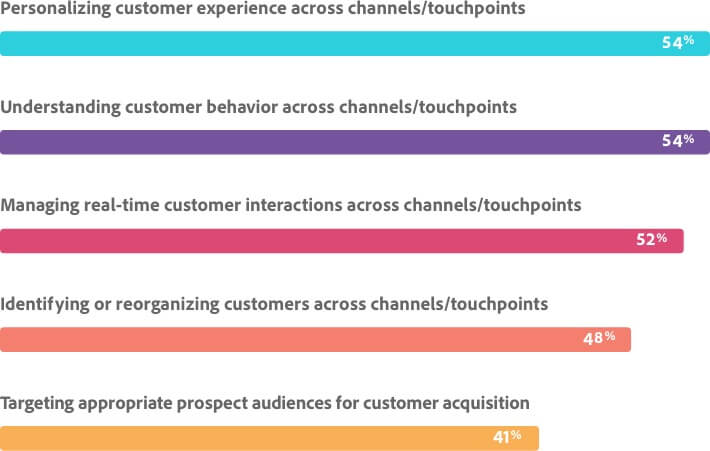 Machine learning offers the technology capable of delivering all of the above and more. ML algorithms rely on the user's history of purchases, personal data, search history, and relevant datasets from the same user cohort to personalize product offers, reminding them about products abandoned in the shopping cart a while ago and/or suggesting newer/better alternatives. The algos can even generate personalized landing pages offering customers the best, "hand-picked" items that they are most likely to purchase, either based on their past purchases or on the predicted periodicity of product renewal/replenishment.
These techniques can be applied across the entire spectrum of AI solutions for retail used online and offline, for companies working on building their very first online marketplace, transforming an existing one, or attempting to make an eCommerce mobile app with state-of-the-art personalization and demand prediction mechanisms.
Feel like you might benefit from implementing an advanced personalization engine but don't know how?
EPAM Startups & SMBs can help. We offer a wealth of experience in the field of artificial intelligence, machine and deep learning tailored for eCommerce solutions of any scale. Drop us a line and we'll get back to you with more information and valuable insights relevant to your specific business case.
AI in Retail Use Cases — How to Make the Customer Happier
AI was originally used for imitating human behavior, so it's not surprising that machine learning works magic when it comes to replacing human assistants for solving basic tasks. The ability of robots (or just bots) to closely imitate human behavior while being connected to all the company's data and services at once can change the entire approach of interacting with customers for the benefits of both parties.
Chatbots providing high-quality customer service
Chatbots are currently available on every major eCommerce platform as well as smaller online stores as a standard feature. Chatbots help retail companies achieve a number of goals:
Provide 24/7 effective customer support
Reduce sales cycles
Reduce operating costs
Allocate human resources to more business-critical tasks
Improve customer satisfaction and loyalty
The best chatbots available on the market are capable of having very lifelike conversations with customers and quickly improve by learning from both successful and unsuccessful outcomes, collecting valuable customer data, and connecting to more and more data sources and datasets.
In-store assistance
Retail and AI solutions create perfect synergies in the offline world. Modern retail stores are much more than just racks, shelves and fitting rooms. Today's retailers are actively digitizing stores to bridge gaps between online and offline sales, get as much data from offline sales as they do from online outlets, and streamline sales and inventory management operations.
One of the greatest examples of artificial intelligence retail solutions is the Lowebot. Introduced back in 2016 to a limited number of large hardware stores in the San Francisco Bay Area, it helps store visitors and countless associates easily locate items, navigate around the store, and keep stock levels in check.
This intelligent assistant speaks several languages and can take customers right to the necessary shelf. When free, it roams the aisles of the store, monitors product stock levels and alerts the back office in advance when the quantity of a particular product runs low.
Stellar in-store experience with emotion AI
AI software is exceptionally good at identifying emotions. Trained on thousands of faces and facial expressions, it can instantly detect a particular emotion with a high degree of accuracy. This ability helps retailers assess customers' mood and attitude toward particular products or entire store spaces discreetly by means of visual analytics. Let's consider a few examples.
Imagine an AI system that automatically detects that a customer or several customers in a row have taken a look at a price tag and frowned. The system will detect this anomaly and inform the store management that it might be a good idea to revise the price for that item.
Or, if shoppers examine a product's packaging and demonstrate mixed emotions or apparent confusion, it's a signal to the manufacturer that something needs to be done about its design.
Finally, if negative emotions are detected on multiple shoppers' faces when they reach a far corner of the store to find what they were looking for, managers should consider placing that product group closer to the store's entrance.
The bottom line is that artificial intelligence retail solutions in general and emotion AI in particular can be powerful tools for assessing the efficiency of store management efforts on the basis of emotional feedback provided by customers in a non-verbal fashion. Doing so is very important for continuous improvement of the overall shopping experience.
AI-driven price optimization
It is only natural that consumers prefer buying things at optimal prices. The notion of "optimal" in this context means that such prices are in line with the market, are not so low as to cause suspicion about quality, and not so high as to make them leave or switch to another tab in their browser.
From a seller's perspective, "optimal pricing" is one that keeps the designated margin in check, keeps the customers happy and buying, and allows said seller to remain competitive.
AI-driven price optimization truly shines in several cases:
For dynamic pricing based on continuous analysis of competitors' offerings
For deeply personalized promotional sales available through apps installed on customers' mobile devices
For omnichannel price adjustment, especially when hybrid sales methods are used (e.g. buy online, pick up offline)
Manual price management can be tedious but possible in the case of a relatively small product portfolio, but when it comes to thousands of interconnected items, it becomes an exercise in futility. And that's exactly when the marriage of artificial intelligence and retail demonstrates truly remarkable feats in terms of speed, accuracy, and automation.
ML and DL algorithms are tireless, self-improving and capable of plowing through vast arrays of product data to generate optimized pricing scenarios for every occasion. At a minimum, retailers can achieve the following using this technology:
Build effective price adjustment strategies resulting in higher sales of particular products and the entire product portfolio;
Free up considerable human resources and let their teams focus on strategic decision-making instead of dealing with manual price fine-tuning.
Wondering how your eCommerce store could benefit from smart, AI-driven price adjustment?
EPAM Startups & SMBs has all the answers to your questions. No matter what eCommerce platform or product you use, we can help you boost your sales with the help of algorithmic price level adjustment that will drive your sales up and reduce the amount of manual labor required.
The retail industry and AI are now closer than ever and the process is speeding up with more and more major retailers doubling down on AI-based strategies in an effort to improve customer loyalty and boost sales. Some companies have managed to achieve greater success than others by weaving intelligent algorithms into the very fabric of their business and consistently reaping the benefits of this advanced technology stack.
Amazon
Amazon was among the leaders of AI adoption long before it became a global trend. The entire online retail business was built around deep personalization and demand prediction algorithms that pitched the right products to the right customers at the right time.
Amazon's retail and artificial intelligence strategies are very closely aligned and deeply intertwined. The original item-to-item collaborative filtering algorithm was later replaced by sophisticated graph clustering techniques, neural networks, and, finally, a high-performance, multi-layer neural network classifier that is deeply embedded in the majority of Amazon's products and services. The latest version of this AI engine demonstrates outstanding performance and accuracy that surpasses those of its closest competitors by a fair margin.
Today, the company's efforts are focused on several key aspects of its operation:
Further elaboration and advancement of the personal recommendation engine.
Implementation of various ML and DL algorithms across the board, including demand prediction, dynamic price optimization, supply chain automation, and more.
Alexa-enabled online shopping for users that prefer voice-based interfaces to regular ones.
Growth of the company's own chain of brick-and-mortar stores featuring multiple innovations in areas like cutting-edge in-store logistics, inventory management, and personal recommendations.
In addition to developing in-house solutions for its retail businesses, Amazon empowers multiple partners to deploy complex AI-based solutions. For example, Nextail, an Amazon partner, helped the fashion brand River Island to drastically improve its core merchandising processes to optimize stock levels using AI/ML suggestions and quickly move inventory between stores to reduce being overstocked or understocked at any location.
Another example of a successful collaboration between an Amazon partner and a retail business is a joint project between Peak, a technology provider, and a rapidly growing fashion brand boohoo. The companies managed to implement an intelligent AI-driven demand forecasting solution that helps product teams at boohoo make data-based, timely decisions about restocking at multiple global locations.
Sephora
In 2021, Sephora, a global beauty retail business, partnered with RELEX Solutions to substantially improve operations, especially in terms of demand forecasting and automated replenishment processes implemented at most of its 2,500+ stores in 35 countries, as well as 36 eCommerce websites.
In addition to streamlining the procurement workflow, the RELEX platform also enabled Sephora to effectively manage promotions, slow-moving items, new product releases, and product withdrawals. These innovations came in the wake of the then recently presented same-day delivery option and reintroduced an online recommendations tool.
However, this is not the first time that Sephora has attempted to use artificial intelligence to improve operations. For example, Virtual Artist is a powerful AR tool that allows Sephora customers to try on thousands of shades of eyeshadow, lipstick, types of false lashes, and multiple other makeup products available at the company's stores and online (via a mobile app). One of the features of the software, called Color Match, is that it uses ML to help customers find the right color shade for their skin by analyzing their photos.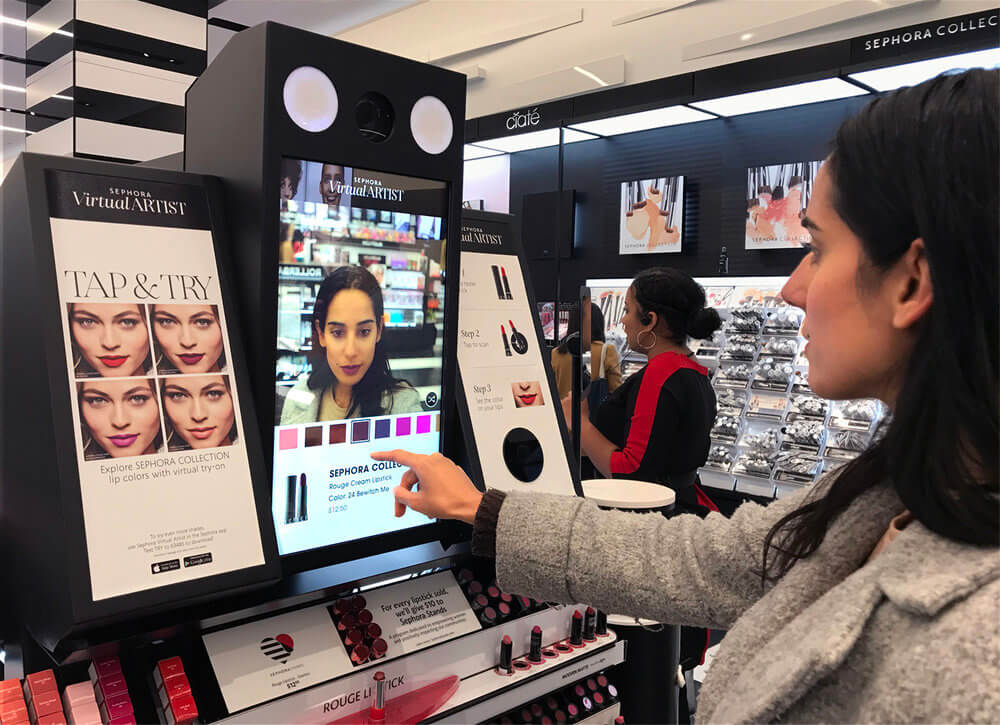 EPAM Startups & SMBs on Using AI in the Retail Sector
EPAM has created EPAM Startups & SMBs to offer a wealth of experience in retail application development services and working on eCommerce projects involving data science, advanced data analytics, artificial intelligence and neural networks, computer vision, and other advanced technologies and tools.
EPAM Startups & SMBs platform provides its clients with a unique opportunity to augment their teams with any number of vetted software engineering professionals of any profile or delegate the end-to-end project delivery to them. Our innate flexibility enables us to quickly onboard top-notch development resources in various geographies and augment them when necessary with more experts.
One of the most representative examples of EPAM's work in the field of retail sales and artificial intelligence is the creation of a conversational commerce interface (CCI) for Edmunds, one of the largest and most popular automotive information websites. This engagement resulted in the creation of an all-new multifunctional chatbot for Edmunds users that supports conversational voice requests coming from Amazon Echo devices and text messages in Facebook Messenger.
The solution was based on a variety of modern technologies and services, including Spring, Spark Streaming, Amazon Web Services (EBS, EMR, Kinesis, S3), Amazon Alexa, Wit.ai, and others.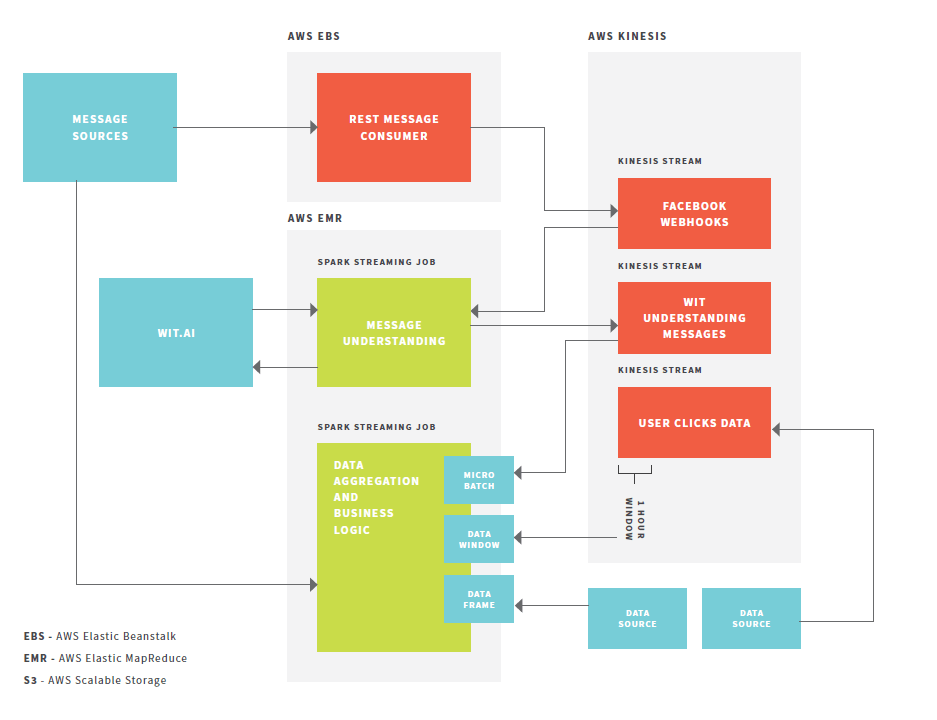 Have you been looking for a way to gain more control over your eCommerce platform and give your sales a tangible boost?
With AI, nothing is impossible — and EPAM Startups & SMBs can help you transform your online retail business into an improved, higher-earning, better-performing version. Contact us today and our experienced practice leads and subject-matter experts will advise on the optimal tech stack and implementation scenario.
Artificial intelligence in all of its shapes and forms is currently the main driving force behind the retail industry's efforts to boost sales and customer loyalty through advanced content personalization and intelligent automation.
The benefits of AI are two-fold, depending on which side you are on.
For retailers, the use of AI yields a number of tangible rewards:
Higher conversions and customer loyalty
Effective automation of back-office workflows
Accurate demand forecasting
Competitive edge over traditional sales planning techniques
For consumers, AI translates into the following
Deeper personalization of the customer experience
Next-generation offline shopping
Context-based omnichannel product offers
Optimized pricing levels
The use of AI in retail stores will become increasingly more visible in the years to come, and now would be a good time to start your own AI journey and lay the foundation for future updates of your eCommerce platform or website.
EPAM Startups & SMBs is ready to assist any company embarking on this new phase of digital transformation in retail. We'll share our multi-year experience in building the most sophisticated commercial solutions based on bleeding-edge technologies from leading providers of cloud-based AI.
Ready to let AI help you manage your retail business more effectively?
Now's the perfect time. Let our AI and ML top guns draft a roadmap to AI-driven sales and lay out a plan for step-by-step implementation of intelligent assistants that will take your optimization efforts to a whole new level.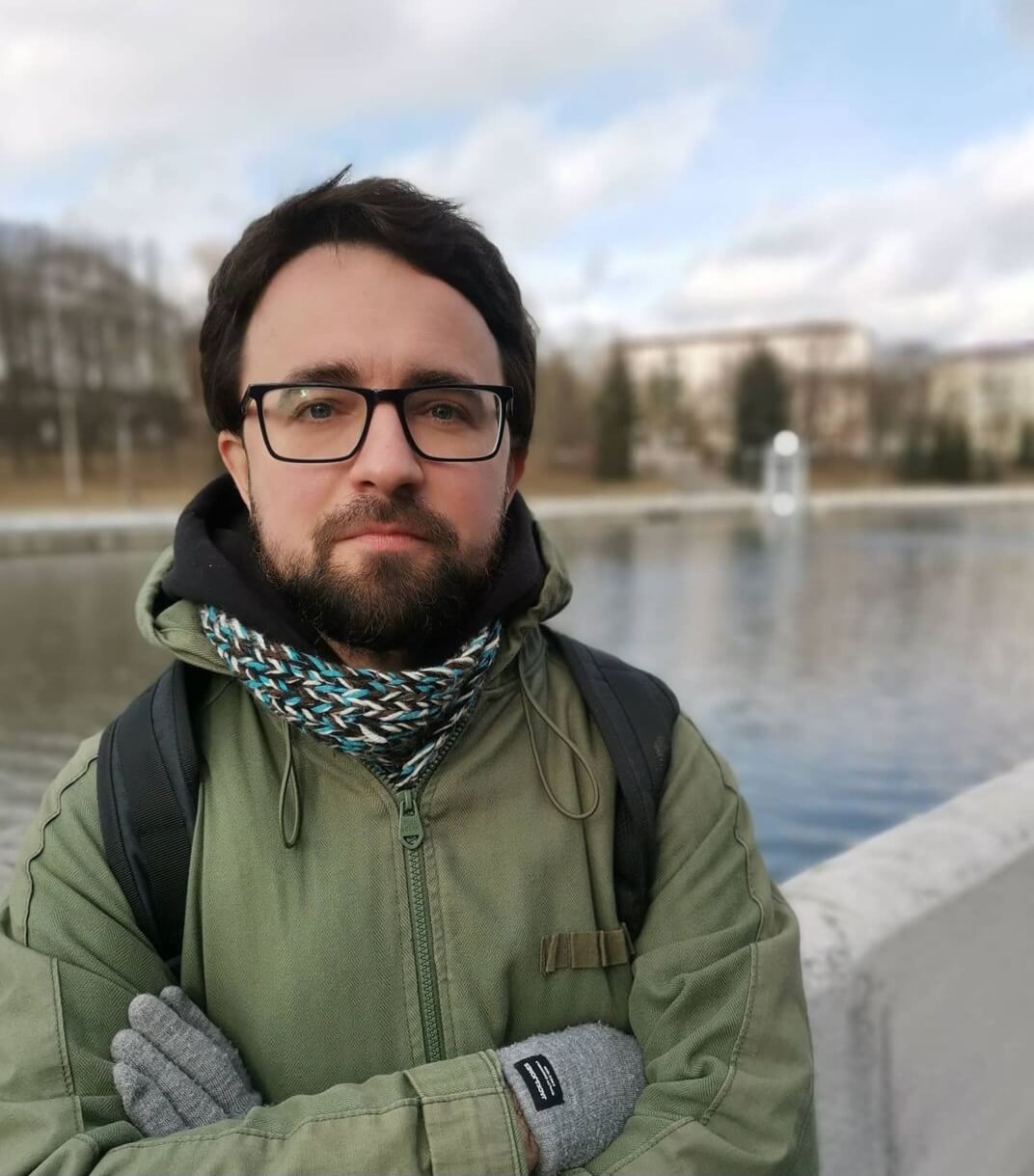 Written by
Since 2011, Dmitri has been helping business readers navigate the technology market through expert analysis and editorial work. At EPAM Startups & SMBs, Dmitri shows startups and SMBs across industries how to drive business value from their software engineering investments.
Since 2011, Dmitri has been helping business readers navigate the technology market through expert analysis and editorial work. At EPAM Startups & SMBs, Dmitri shows startups and SMBs across industries how to drive business value from their software engineering investments.