No innovation has revolutionized the industry more than artificial intelligence in tourism. At the moment, virtually every company involved in tourism uses at least one AI-powered technology, with market forecasts reaching $1.2 billion by 2026.
Other innovations, like natural language processing (NLP), big data, and deep learning also improve the quality of the travel experience.
In this article, we will discuss the relevance of artificial intelligence in the tourism and travel industry. We will also focus on how the future prospects for AI in tourism factors in modern users, especially Gen Z and Millennials.
How is AI changing the tourism industry?
Before the AI revolution, traveling was a chore. This was before Skyscanner could recommend cheap flights to your target destinations, before Airbnb could suggest top accommodation based on your previous trips, and before fellow tourists could share tips on Tripadvisor.
Back then, you had to spend time planning your itinerary, searching for flights, and sorting through several filters to find the right hotel.
AI has changed all that in multiple ways through the following innovations.
AI travel assistants
When planning your trip, an AI assistant can help you do everything, from booking your hotel to adding the dates to your calendar. Think of an AI travel assistant as a travel agent, but without an actual human on the other end.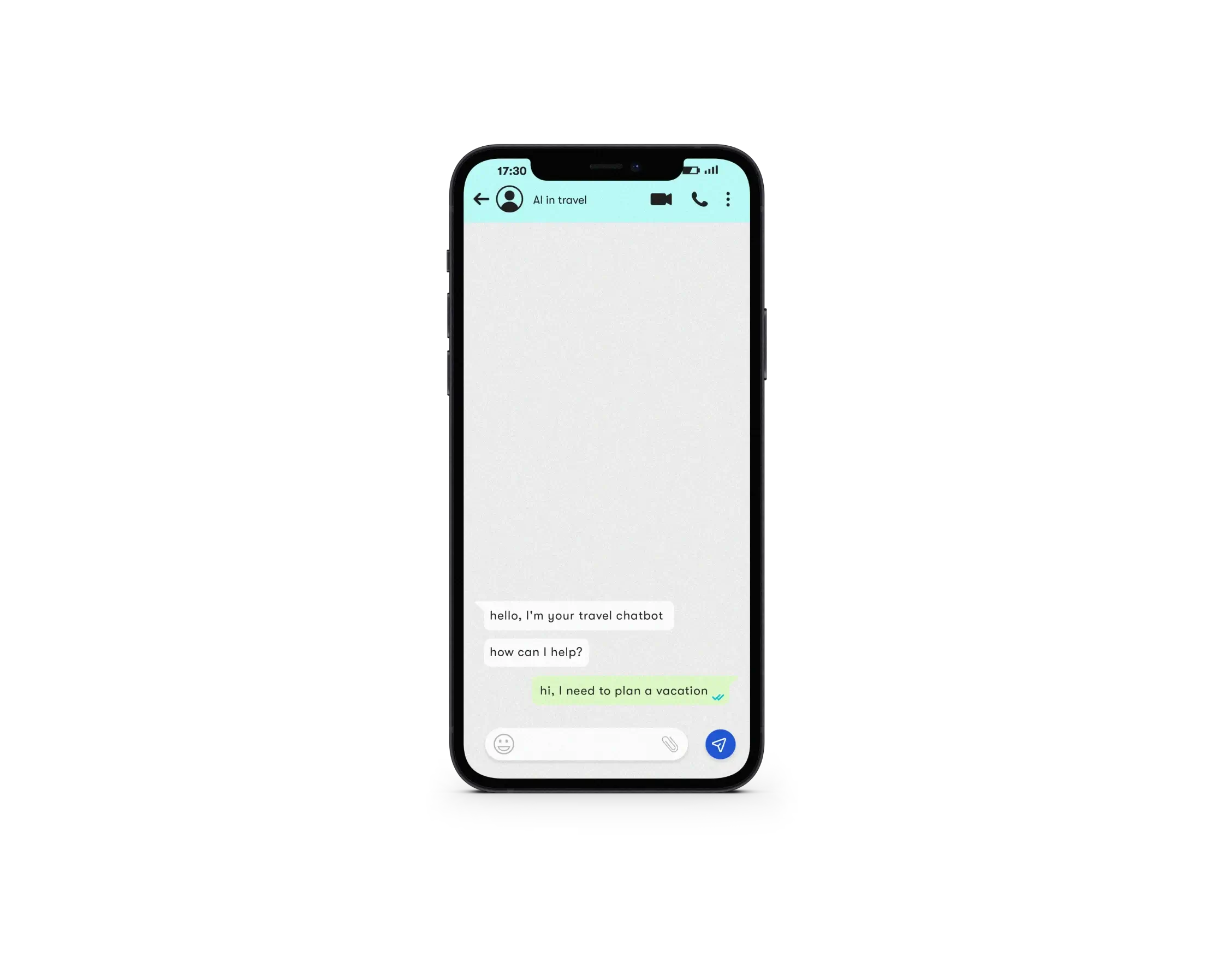 Advanced personalization
With the help of data science and machine learning, travelers can get recommendations tailored to their needs. Let's say you searched for "hotels in Madrid" — the results you'll see the next time you open the app or website will feature accommodations in the Madrid metropolitan area.
Robots for face-to-face customer services
Hotels, travel agencies, and airlines now use chatbots to improve customer services. Travelers also use these chatbots more frequently, especially following the COVID-19 pandemic.
The crown jewel of these AI-powered chatbots is that they can offer answers to frequently asked questions through automated responses.
AI-driven applications for flight forecasting
The FAA uses advanced AI and data science algorithms to predict the demand for flights. These predictions rely on analytics from statistical models that explain and incorporate emerging trends from the different segments of the travel industry.
Data analysis
Since AI works in tandem with data science and machine learning, it gives companies access to massive swathes of data. Using data automation tools, companies can develop descriptive, predictive, and prescriptive models to guide their decision-making processes.
Benefits of artificial intelligence in tourism
Now that we understand what AI in tourism entails, let's explore its value for consumers, retailers, and intermediaries.
AI offers a better customer experience
Customer satisfaction is vital in the tourism industry because your brand's reputation and success depend on it. Here are the ways AI can improve the customer experience.
Personalization. The use of smart recommendations affects the user experience by reducing the steps needed to complete any action. Once the AI knows a few things about you, it can make recommendations based on your tastes.
Dynamic pricing. Due to instability in the current market, users need to know the price of services in real-time. AI-powered inventory tools can update the cost of your services with little supervision, helping the customer get the best available personal and corporate travel deals at all times.
Sentiment analysis. AI and ML algorithms can aggregate data to detect consumer sentiment toward your brand.
Hospitality. Tourism and artificial intelligence merge perfectly: AI optimizes every aspect of travel, and as such, improves the hospitality score.
Customer support. The level of customer service impacts customers' relationships with a company tremendously, so you need to invest in AI-enabled chatbots that use NLP algorithms to humanize automated responses.
AI simplifies baggage handling
AI tools like BagsID use biometric data to track, trace, and handle operations associated with baggage handling. Together with rapid computer vision, AI can recognize and track luggage during a journey, thereby reducing human error.
AI helps brands stay relevant
Staying relevant in the social media era involves maintaining an impeccable brand identity.
Let's jump back to the sentiment analysis discussed earlier: keeping an eye on consumer satisfaction data like net promoter score (NPS) lets you know what they feel about your brand. But AI sentiment analysis tools like Brand24 take this up a few notches by analyzing the social media score.
How does sentiment analysis work?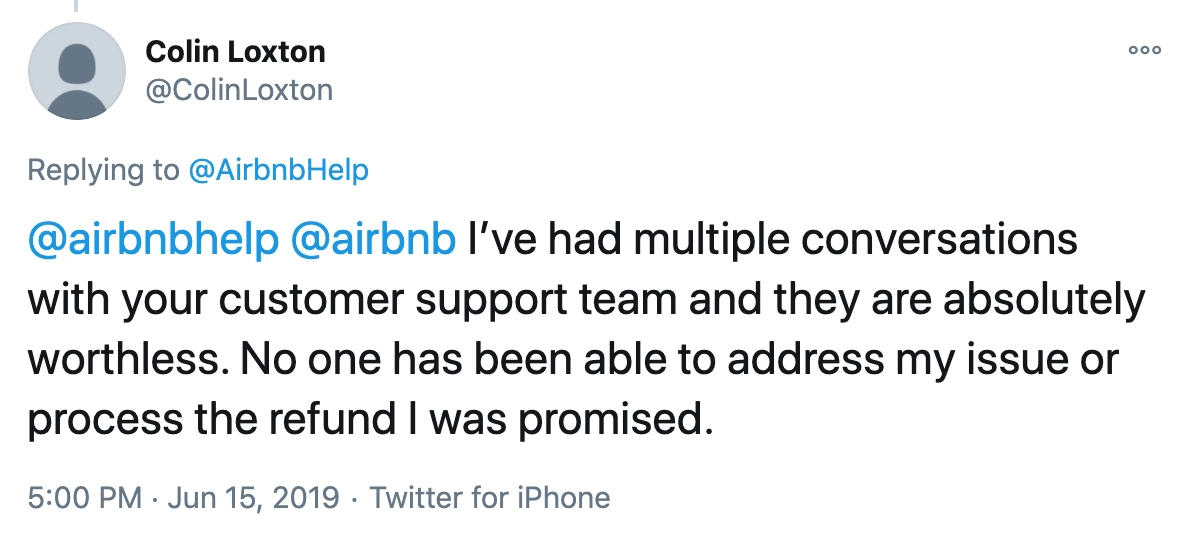 A company like Airbnb surveys its Twitter mentions for keywords relaying a negative experience like "annoying" and "frustrating." The company then compares the results to those containing positive feedback like "impressed" and "happy." The net score shows the sentiment of Twitter users toward your brand.
AI offers better data security
Most AI tools are cloud-based, which makes them more secure. Besides, cloud providers like Microsoft (Azure) and Amazon (AWS) use encryption protocols to protect sensitive data, so you don't have to worry about data leaks.
AI improves the quality of data
Cloud AI tools come with data management integrations to organize, analyze, and interpret massive swathes of data. Together with self-optimizing machine learning algorithms, these tools improve the quality of data available to brands.
Want to boost your company's services with AI? We have the tools to get you started.
The negative impact of AI in tourism
Despite the glowing reviews about AI in the travel industry, some detractors still have concerns about the negative impact of artificial intelligence in tourism.
The most pressing issue with artificial intelligence is data. Consumers are concerned that companies are selling their data without their permission. Unfortunately, regulations like the General Data Protection Regulation (GPDR) do little to deter the activities of data brokers. Even though Booking.com received a $560k fine (€475k) for GDPR violations, many companies would still rather pay the fine than overhaul their data security.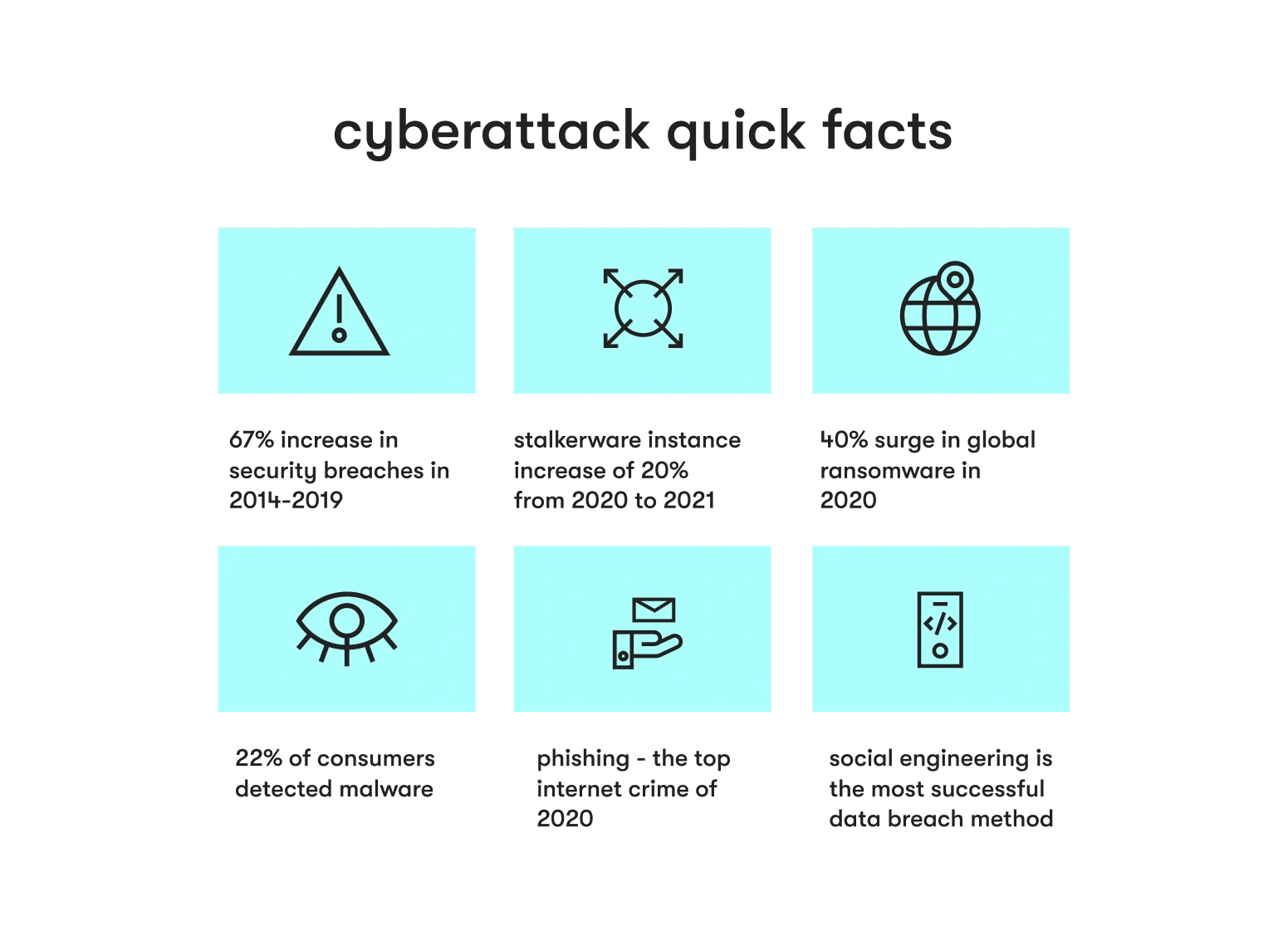 Aside from that, cyberattacks are at an all-time high. This constant threat to sensitive user and company information is a serious worry for brands that rely on AI. The 94 million user records carted away from Cathay Pacific Airways in 2018 is still a massive shock for the industry.
And most importantly, humans are getting left behind as artificial intelligence in tourism becomes more efficient. Due to the pandemic, over 62 million people lost their jobs in the hospitality industry, and this number may very well continue to rise. The silver lining is that, even with natural language processing, AI-enabled robots and assistants are yet to replace the unique human touch.
Artificial intelligence in tourism: top use cases
Companies within the travel industry use AI tools to cut costs, speed up processes, optimize services, and improve the overall user experience. Let's check out some excellent AI use cases in tourism.
AI for travel agents
Airlines and travel companies are now replacing human consultants with virtual agents for more efficient services. For example, Westjet uses Juliet — a virtual travel assistant — to help customers manage their travel itinerary.
AI for optimizing operations
The Boston Consulting Group (BCG) and KLM Royal Dutch Airlines (KLM) launched an artificial intelligence-based solution that helps airlines drive growth, accelerate innovation, and streamline operations to meet the current standards of quality and hospitality.
AI for sentiment analysis
We've already mentioned Brand24 and how this tool is an excellent example of AI in tourism. But other tools are rising, like PureStrategy use Automated Neural Intelligence Engine (ANIE) — a cognitive computing network — to track customer sentiment.
AI for customer segmentation
Another helpful application of artificial intelligence in travel is in the field of customer segmentation. TravelPerk, a Barcelona-based global travel management platform, uses Twilio Flex and Twilio Segment to segment the market in order to deliver a better customer experience.
AI for personalization
Booking.com, Airbnb, and Tripadvisor highlight the significance of AI in tourism through personalized recommendations.
AI for customer service
Tourism and artificial intelligence are now in a fruitful marriage that will improve the industry going forward.
For example, the famous hotel operator Dorchester Collections used an AI to gain vital insights into guest needs and preferences. The AI analyzed over 7,000 guest reviews using cognitive computing and machine learning. After this exercise, the hotel was able to make changes to the menu to satisfy more guests.
AI for baggage handling
As mentioned earlier, AI-driven baggage handling can streamline the process of moving and tracking luggage. The BagsID technology referenced above has been tested at the Eindhoven Airport with a resounding success.
Looking for highly-skilled AI developers? We have the best experts in the business.
Top trends of artificial intelligence in tourism
At the time of writing, AI is continuing to drive innovation in various aspects of travel and tourism. Here are the most relevant applications of artificial intelligence in tourism in 2023.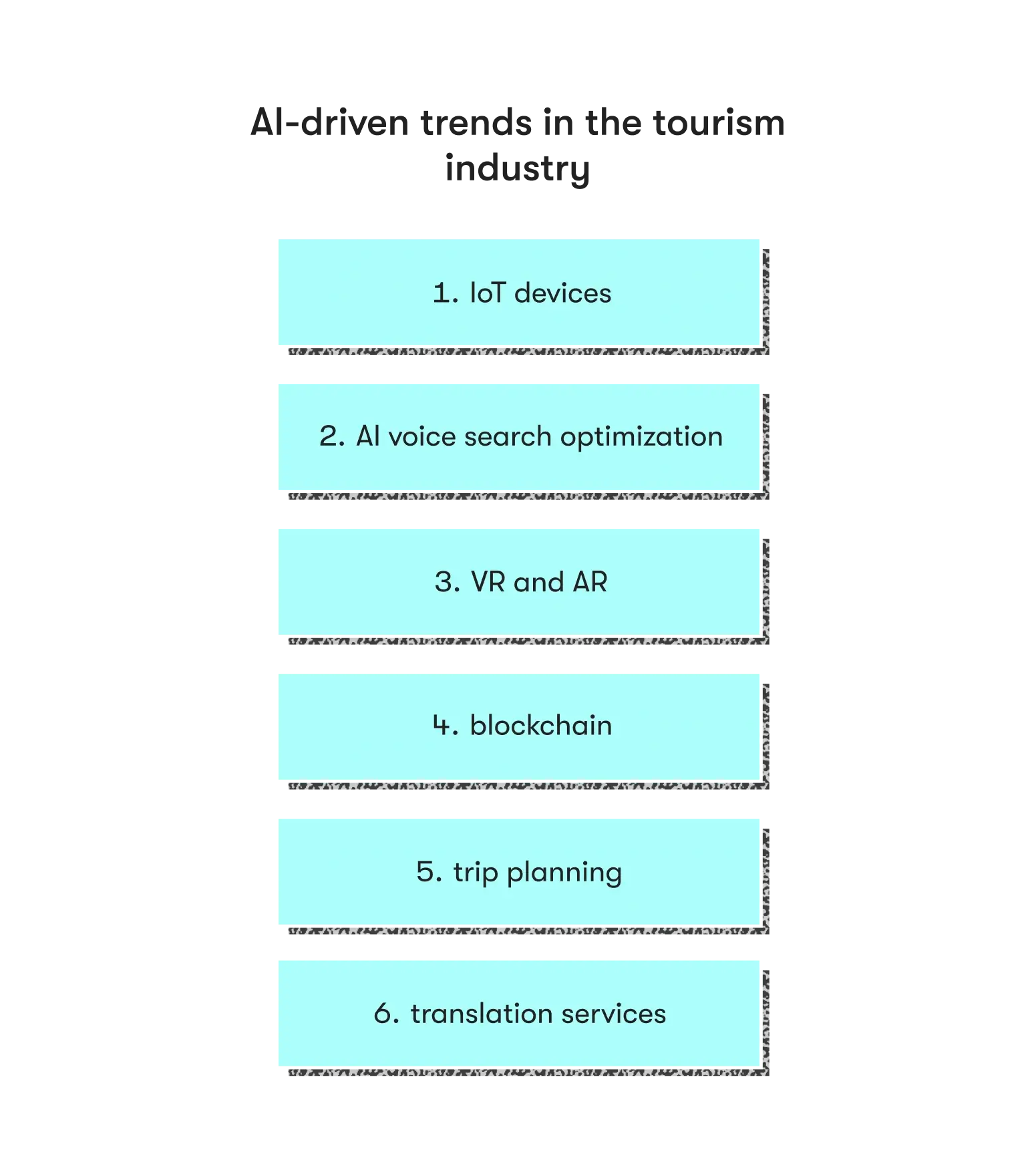 IoT (Internet of Things)
The prevalence of IoT devices has also offered an avenue for travel and AI to merge successfully. Travelers, with the help of AI and machine learning, can now use their devices for travel planning, voice search, and reservations. Learn more in the article about IoT in the tourism industry.
AirFrance KLM uses FlightBeat — an AI-powered system of sensors — to monitor the heart rate of passengers during the flight. British Airways uses similar technology in the Happiness Blanket for tracking the emotions of travelers.
AI voice search optimization
Search engine optimization is also in high demand in artificial intelligence and tourism. Companies are now exploring ways to optimize search results with voice commands and keywords using AI and NLP.
Virtual reality (VR) and augmented reality (AR)
Here are some artificial intelligence applications in tourism that rely on VR or AR:
The National Geographic VR app allows you to visit any location using an Oculus 360.
Tourists can hop on Asbury park AR tours.
The American Museum of Natural History hosts AR tours using the Explorer App.
UK-based travel company Thomas Cook boosted bookings for New York by 190% after introducing a VR-based "Try Before You Fly" campaign.
The Atlantis in Dubai is using VR to attract more visitors.
Blockchain
AI in tourism will only get better with blockchain when it comes to payments, smart contracts, transparency, luggage management, and loyalty programs.
Here are some companies harnessing the power of AI-driven blockchain technology:
LockChain (LockTrip) is a marketplace for hotels looking to rent a property.
Winding Tree is a decentralized Ethereum-based omnichannel marketplace that connects travel sellers and buyers. The company also owns the LIF utility token.
Trip planning
Online platforms like Visits.ai allow travelers to plan their trips with one click. The AI collects information about your destination and personal preferences in order to fine-tune your recommendations and plan your trip.
Translation services
Google Translate is the prime example of the best application of machine translation. Some companies rely on Google's Translation API to localize their platforms in order to reach a broader audience. Other tools like Lingo24 also use AI-powered cognitive computing to provide less robotic translation services.
The future of artificial intelligence in tourism
Predicting the future of AI in the tourism and travel industry is tricky considering the blistering pace of innovation today. But we've gathered expert insights to predict what the future holds in this area.
Occupancy prediction
Hotels and airlines will invest massively in data science and deep learning algorithms in order to make better occupancy predictions. This predictive superpower will help them channel their resources better in order to reduce expenses and maximize profits. And any travel management company can also rely on this technology when planning trip packages.
Biometric identification
According to the New York Times, airports are looking for ways to use biometric verification methods like facial recognition. The National Institute of Standards and Technology has also discovered that facial recognition is 99.5% accurate. Soon, airlines will require passengers to go through biometric verification before boarding planes.
NLP and AI
Tech companies will continue working with AI and NLP technologies to develop algorithms and neural networks capable of replicating and interpreting human emotions. With language model technologies like GPT-4, travel companies can improve translation and platform localization services.
AIoT (Artificial Intelligence of Things)
A synergy between artificial intelligence and the internet of things is going to produce a lot of AI-optimized devices. And the most prominent implementation of AIoT is autonomous cars.
Soon, tourists will be able to use autonomous ride-hailing services to travel to their destinations.
Hyper-personalization
If you thought tourism and travel couldn't get more personal, think again — companies like Amadeus are exploring hyper-personalization in this sector. The primary driving factor here is consumer behavior, specifically Gen Z and Millennials.
Thanks to this AI-driven change, we'll soon see personalized pricing, advertising, bundling, bidding, and subscriptions as acceptable payment methods. Travel companies will also extend exclusive insurance deals to travelers. With collaborations like the Amadeus-Setoo partnership, travelers can access the most relevant protection using an AI-powered solution.
The cost of artificial intelligence in tourism
Estimating the cost of implementing artificial intelligence requires factoring in the solution itself as well as the development stages. The cost of implementing a chatbot differs from the price of a fully integrated virtual assistant.
Here are cost estimates for an AI chatbot based on the average market rates.
Design
Depending on the number of features, you might need a few UX designers to build prototypes. The rough estimate is $3k to $5k for a simple chatbot.
Development
Once the design is approved, the developers will create a minimum viable product within the ballpark figure of $8k. To add the remaining features to the MVP and complete the development stage, you'll need to pay around $10k.
Testing
QA specialists can conduct various forms of testing for the chatbot feature for a median price of $7k.
All in all, you can build a chatbot for travel managers and agencies for $30k. You should also know that you can get both simple and enterprise-level chatbots on a subscription basis. But the drawback is that you cannot customize these off-the-shelf solutions for your travel agency.
If you want to work with a company that offers travel & hospitality software development, EPAM Startups & SMBs is the destination for you.
EPAM's examples of using AI in tourism
EPAM has a proven track record of implementing AI solutions for companies and brands in the travel and tourism industry. The company also offers machine learning and big data development services.
Here are the projects EPAM worked on over the past few years:
In 2017, EPAM helped Southwest Airlines design a new digital wayfinding system to guide customers through the airport. We redesigned all of the existing airport signage and added new sign types at key locations throughout the airport based on customer and employee feedback. This redesign project garnered a 96% approval rating.
EPAM also partnered with the TUI Group to create a new upload tool using ADAM/Hybris that allows TUI's partners to work correctly within the content workflows. The project resulted in over 1,000 monthly asset exports and 30,000 monthly asset imports across 10 locations worldwide.
In addition, EPAM partnered with a British hotel chain to optimize the lengthy, inefficient process of manually assessing each hotel's performance. EPAM assembled a team of Java developers, UX designers, and project managers to engineer an ORM tool with two separate views. Since the solution's integration, the client has been able to create effective action plans and marketing campaigns to address lower-than-average performance.
If you want to implement or build an AI solution for your travel business, reach out to us right away. Developers at EPAM Startups & SMBs can help your brand implement AI technologies and machine learning algorithms to boost your business performance and better satisfy the needs of your customers.
Artificial intelligence is changing the tourism and travel industries, especially following the COVID pandemic. Hotels, airlines, and hospitality service providers now rely on AI-powered tools to optimize operations, maximize profits, and boost the user experience.
Ready to maximize profits with AI-powered solutions? Our experts will guide you on this journey.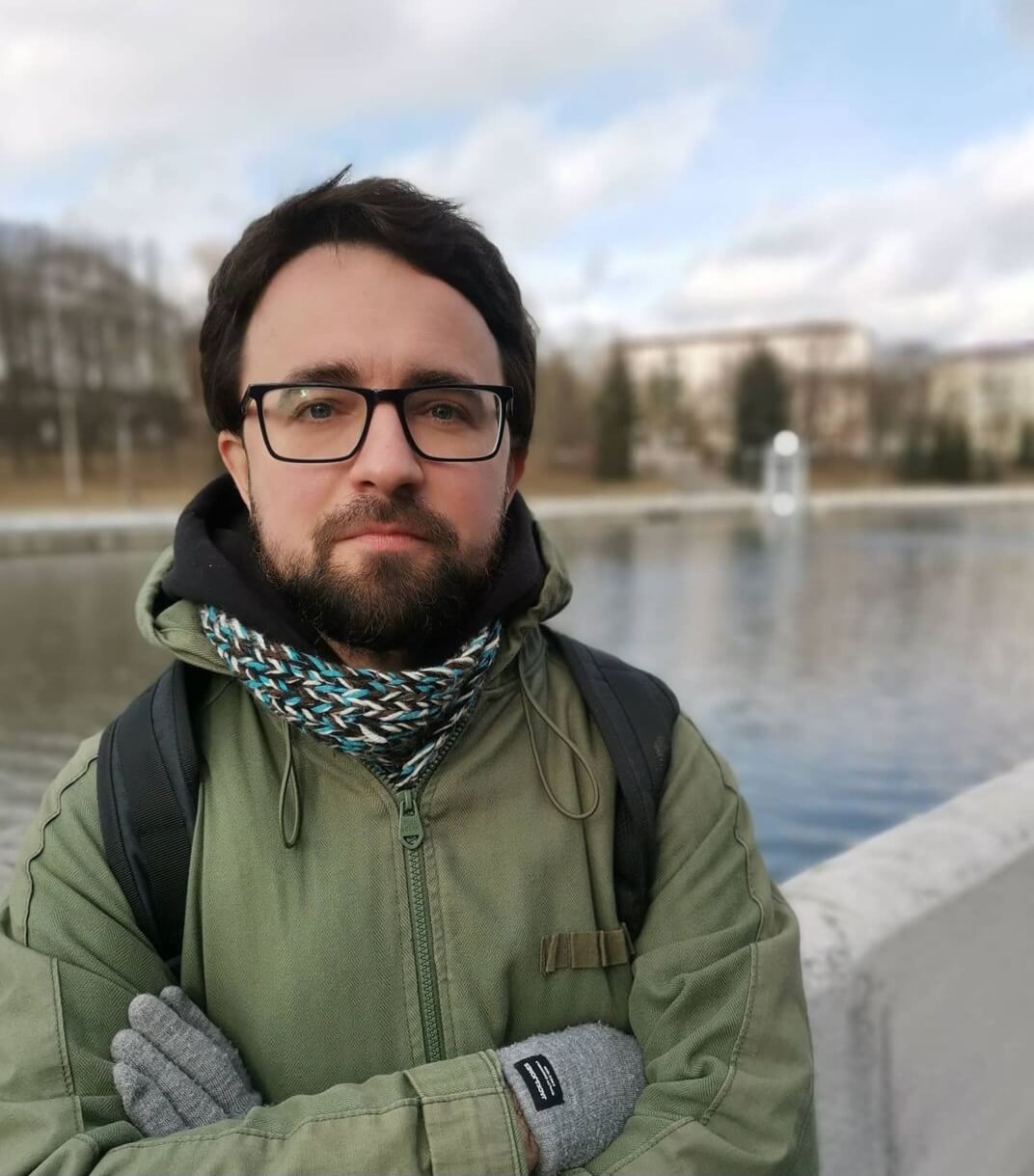 Written by
Since 2011, Dmitri has been helping business readers navigate the technology market through expert analysis and editorial work. At EPAM Startups & SMBs, Dmitri shows startups and SMBs across industries how to drive business value from their software engineering investments.
Since 2011, Dmitri has been helping business readers navigate the technology market through expert analysis and editorial work. At EPAM Startups & SMBs, Dmitri shows startups and SMBs across industries how to drive business value from their software engineering investments.