Every day, massive amounts of data are collected using various methods, but that amount is sometimes so large that it's hard to process and analyze using traditional solutions. This huge trove of numbers and totals is now presented under the umbrella term, "Big Data", a way of describing the ever-increasing explosion of structured, unstructured and semi-structured data in our daily lives. Big data plays a vital role across different industries; however, in this article, we will focus solely on the role of big data in the telecom sector.
Competition within the telecom industry is fierce. Rival companies are always seeking opportunities to win over clients in ways besides decreasing prices or offering bonuses. And that's exactly what makes big data so appealing: it opens new possibilities in improved customer experience, more personalized marketing, reducing churn rate and generating new streams of revenue.
Development of a custom data solution that uses the potential of big data is a great way to capitalize on opportunity and stay competitive. Read on to find out how EPAM Startups & SMBs can help.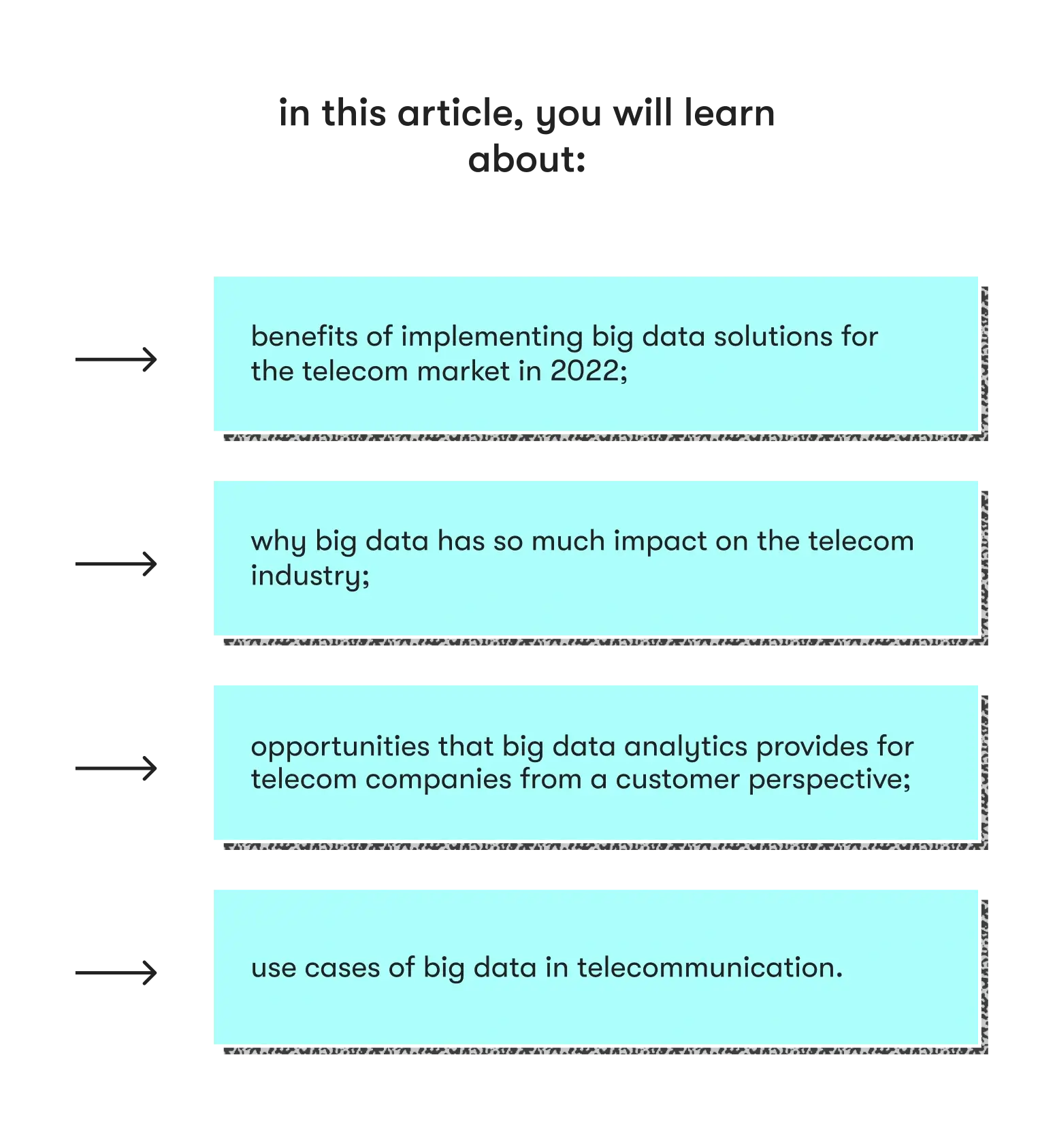 Who will benefit from big data solutions in 2023?
Telecom operators are at various stages of maturity with respect to their advancement in big data usage. We can classify them as businesses that:
Have not leveraged big data yet, but have data to process (so-called info-archive companies)
Have started their journey in implementing big data but have yet to apply a full-spectrum solution (so-called info-familiar companies)
Have established a robust big data environment (so-called info-smart companies)
At each level of maturity, telecom service providers can identify issues and pain points regarding big data, and then set up a plan to uncover opportunities and take the most productive steps going forward.
Companies from the first two categories can harness big data's potential by investing in custom data solutions that will help them with optimizing analytics to increase profitability.
The example of using big data in the telco industry comes from the top, as many telecom companies are already leveraging big data analytics, including AT&T, Swisscom, Telia, T-Mobile and Vodafone.
Accompanying those names are numbers that also express the growing interest in big data from the perspective of telecoms:
According to Tractica, companies from the telecom industry are expected to invest $36.7 billion per year in AI-related solutions like software, hardware and services by 2025;
According to KBV Research, the global telecom analytics market is expected to grow to $8.7 billion by 2025.
Let's continue with specifics on how telecom businesses can harness the power of big data.
Opportunities to leverage big data analytics for telecom
Telecom startups and companies can take advantage of big data analytics in four main areas: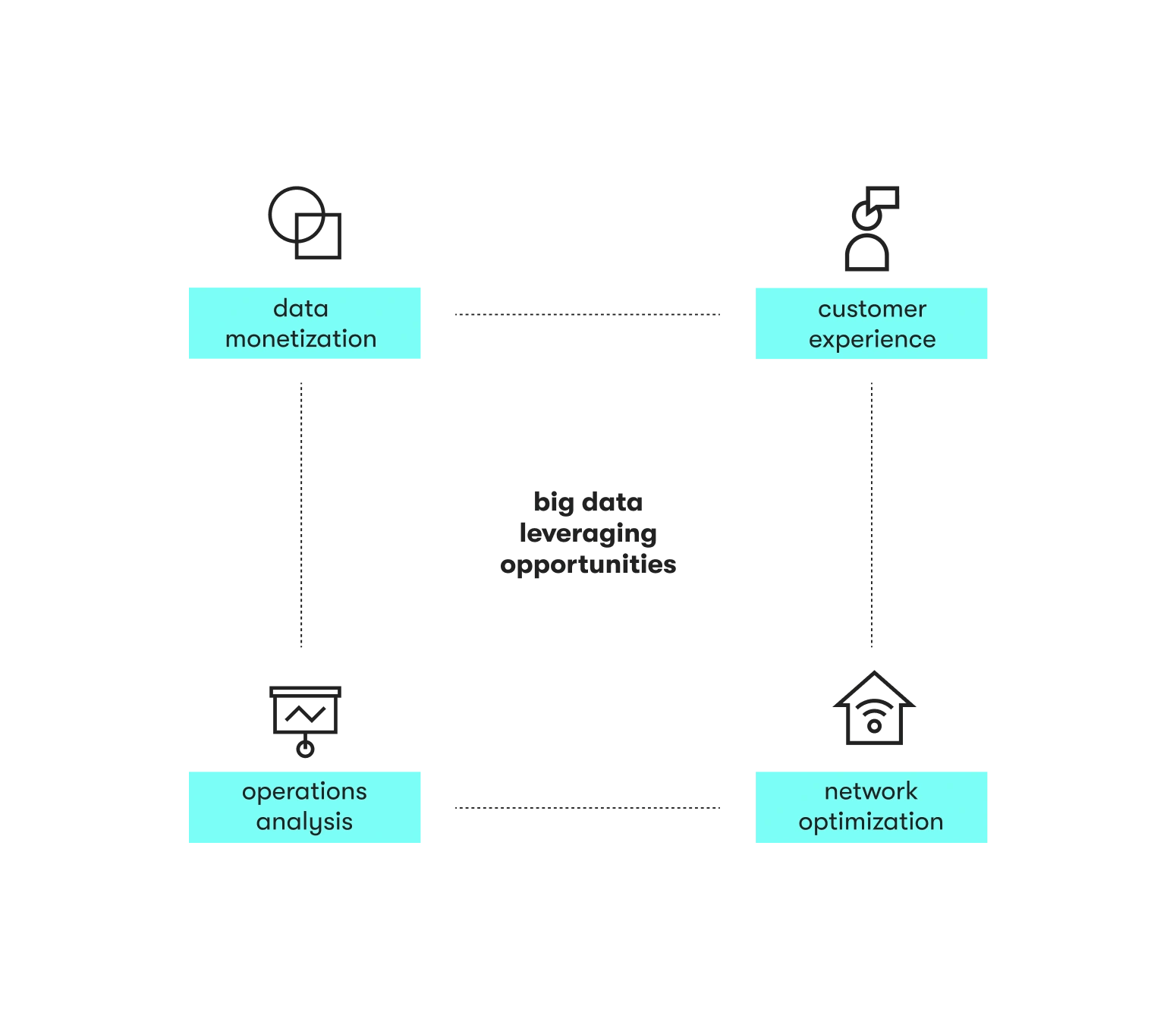 Customer experience
Big data analytics in the telecom industry can help companies improve customer experience, as useful information is key to maintain current customers and therefore reduce customer churn. Maintaining a current customer relationship is considerably cheaper than acquiring a new one, and this improves the company's profitability in the long term by increasing LTV (Lifetime Value).
Processing big data can help with personalizing the customer experience. For example, a telecom company can collect information from users regarding various service issues and then create an automated chatbot that will assist customers to resolve these issues immediately whenever possible.
Network optimization
Big data for telecom operators is helpful in optimizing the quality of provided services by integrating network optimization. For example, companies can record and gather issues raised by users from a particular area and look for solutions to resolve these issues, i.e. by improving the connectivity. This, too, is a great way to reduce customer churn.
Also, the analytics can help with predicting problems that may occur in the future, thus preventing them by realigning network management. All thanks to the ability of discovering network usage patterns.
Finally, the quality of provided network services is expected to increase tremendously after integrating the fifth generation mobile network with big data analytics.
Real-time operational analysis
Companies can use big data for both analyzing and modifying operations as the need arises. For example, they can monitor the real-time network traffic using heat maps and react accordingly, i.e. increasing (or decreasing) the network bandwidth or range of cell towers during peak hours (or off hours) in a specific area or location.
Analysis can also be used to monitor the telecom's usage of resources and thereby prevent waste, which leads to savings of both resources and money.
Real-time operational analysis also helps set the timetable for data updates and define other parameters (like preferred file formats) so a company can best adapt the data analysis system to their unique business requirements.
Data monetization
Big data allows companies to gather a lot of user-related information, like demographics and location info, network and application usage, details about used devices, various preferences, and more.
After processing, this data has value that extends beyond the companies that gathered them, opening a possibility for data monetization. Telecom companies can sell this data – without violating users' privacy – to companies from other industries like healthcare, financial services or advertising.
Other opportunities include:
Customer segmentation
Efficient marketing
Fraud detection
Price optimization
LTV prediction
Examples of big data applications in the telecommunications industry
Here are some real-life examples of telecom companies that have successfully applied big data strategies.
AT&T – AI-based network technologies
AT&T is one of the biggest telecommunication companies in the word, and it invests millions of dollars to develop AI-based network technologies. They must stay up-to-date with the latest trends and concepts regarding big data and AI and are preparing the company's software and hardware for the inevitable adoption of fifth generation (5G) network technology.
AT&T is developing the advanced AI-enabled networks that will be filled with big data gathered from all kinds of sources, including:
Edge computing solutions dedicated to IoT devices;
Solutions based on intelligent software-defined networking that will help with network configuration, troubleshooting, and management.
Deutsche Telekom – third-party big data products and services
Deutsche Telekom has been gathering and processing big data for years, and then decided to develop and offer different products and services, such as:
Mobile advertising
Smart fleet management
Smart parking
Soccer analytics
Traffic management
Deutsche Telekom also offers additional services, like secure hosting and data transfer.
Vodafone – big data analytics
Some telecom businesses decide to gather big data not only for themselves but to provide it to third parties along with business intelligence (BI) tools. One of these companies is Vodafone. They've launched a platform called Vodafone Analytics, which offers insights and helps extract value from gathered information. The service helps optimize business operations and increase efficiencies for industries like retail, real estate or insurance.
Reasons to use Vodafone Analytics:
Better understanding of customers
Informed decision-making
Saved costs that can be spent elsewhere
Custom-tailored propositions for audience
Future-proofing to minimize business shocks and stresses
Big data solutions for the telecom industry from EPAM Startups & SMBs
Cooperation with the team from EPAM Startups & SMBs means taking advantage of our experience to create or improve strategies using big data analytics in telecommunications.
Our services include:
Data ingestion – strategies and mechanisms to gather data from all available and potential sources so nothing is missed;
Data visualization – interactive dashboards and reports that are customizable depending on particular needs, so data will be more understandable;
Data science – every piece of data will be used in the best possible way so its full potential is always realized;
Data integration and consolidation – all structured and unstructured data in one place, ready for further processing and analysis;
AI and machine learning models – AI, ML, and deep learning offer valuable insights and projections you can use to make significantly positive changes in your business;
Business intelligence – self-service analytics that makes drawing actionable insights much easier.
As a startup or company in the telecom industry, you can use big data to improve the profitability of your business thanks to better customer experience, network optimization, real-time operational analysis or data monetization. But to do so and use its full potential, you need to develop and implement a big data solution that will gather all applicable information from different sources and then help you understand them and use them properly.
If you would like to discuss how big data can help your business, please contact EPAM Startups & SMBs directly. You can ask us about the big data applications in telecommunications that we helped create.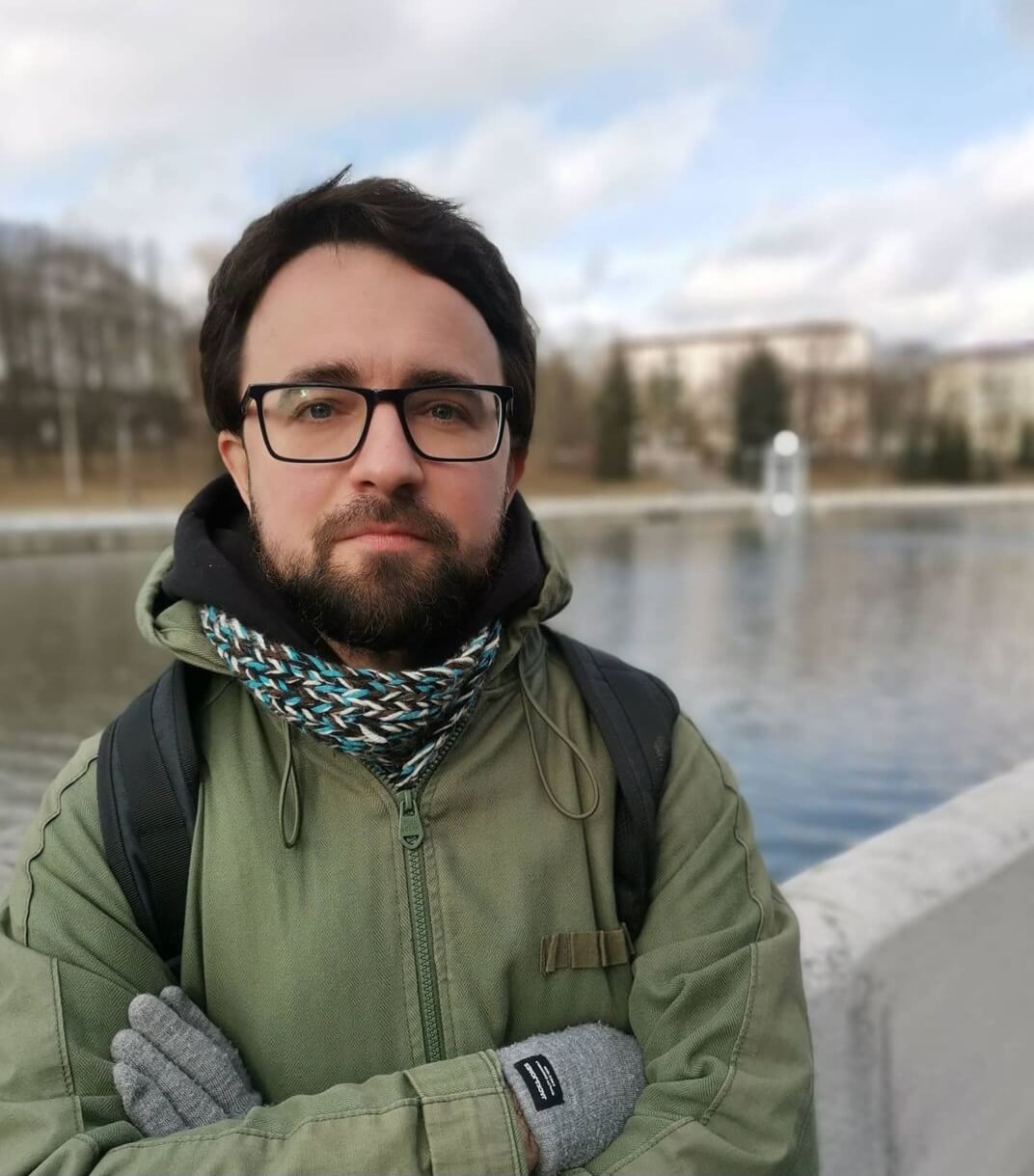 Written by
Since 2011, Dmitri has been helping business readers navigate the technology market through expert analysis and editorial work. At EPAM Startups & SMBs, Dmitri shows startups and SMBs across industries how to drive business value from their software engineering investments.
Since 2011, Dmitri has been helping business readers navigate the technology market through expert analysis and editorial work. At EPAM Startups & SMBs, Dmitri shows startups and SMBs across industries how to drive business value from their software engineering investments.