According to Emarketer's report, global eCommerce sales will reach $5 trillion by the end of 2021. Despite general market growth and positive demand factors eCommerce continues to be one of the niches with the highest competition. Leading eCommerce companies experience growth by inertia and others find it difficult to catch up.
According to Statista there are 2.4 billion active digital buyers by the state in the second quarter of 2021 and all of them generate oceans of valuable data! Big data is important for eCommerce for many reasons. eCommerce leaders leverage their data to craft personalized recommendations, conquer new markets, increase customer satisfaction and loyalty, and initiate sales growth.
It's hard to imagine running an eCommerce business with no big data analysis to support the decision-making process. Big data analytics and eCommerce are inseparable in case you want to create personalized shopping experiences and deliver improved customer service.
Keep reading this article to learn about competitive opportunities that eCommerce SMBs and startups uncover when they utilize big data. Startups and SMBs can catch some insights on how to prioritize their data strategies to compete with market leaders on certain levels even if they don't have the same resources.
Let's review key big data applications cases and it's business benefits, find out how big data is used in eCommerce by giant market players to stay on top of the competition, and see emerging trends that open up demand in big data startups' innovations.
Sources of big data in eCommerce that the majority don't underestimate
Transactional data
Transactional data is a golden source of insights on both product/service demand and customer behavior. Transactional data usually contains the buyer's ID and product's ID, transaction time and data, personal information, and a sum of money your customer spent on purchase through a given payment method.
Structuring big data of eCommerce transactions you get insights around:
Product/service popularity;
Seasonality in demand;
The lifetime value of packaged services;
Customers' average check;
Number of sales and money spent per certain regional market;
Quantity of orders per given unit of time;
Value per given purchase channel;
And many more.
Refunds can also be a part of transactional information but it's not so easy to track them and may require some back-end coding with eCommerce CRM integrations.
Social data
According to smartinsights, 87% of online buyers state that social media influences their purchase decision and 30% of social media users tend to buy directly through social media platforms.
Social data placed by users in a form of metadata such as location, hashtags, likes, shares, records of brand interactions has all potential to increase the effectiveness of ecommerce marketing campaigns. It's used for target audience segmentation for delivering truly personalized online shopping experiences and enables actionable insights around arising trends.
Data from third-party integrations
Your marketing department may benefit from integration with some data platforms that provide a more complex market overview. It's a great way to find new fruitful opportunities for your business expansion as through these platforms you may get information on market pricing policies, goods, and services representation on different online platforms, shopping trends on a larger scale, and more. A great number of tech startups provide access to platforms with big data for eCommerce retailers by their business model.
By creating integrations with third-party data vendors eCommerce Startups can close the gap in their own historical data and attract more new prospects responding to the trends.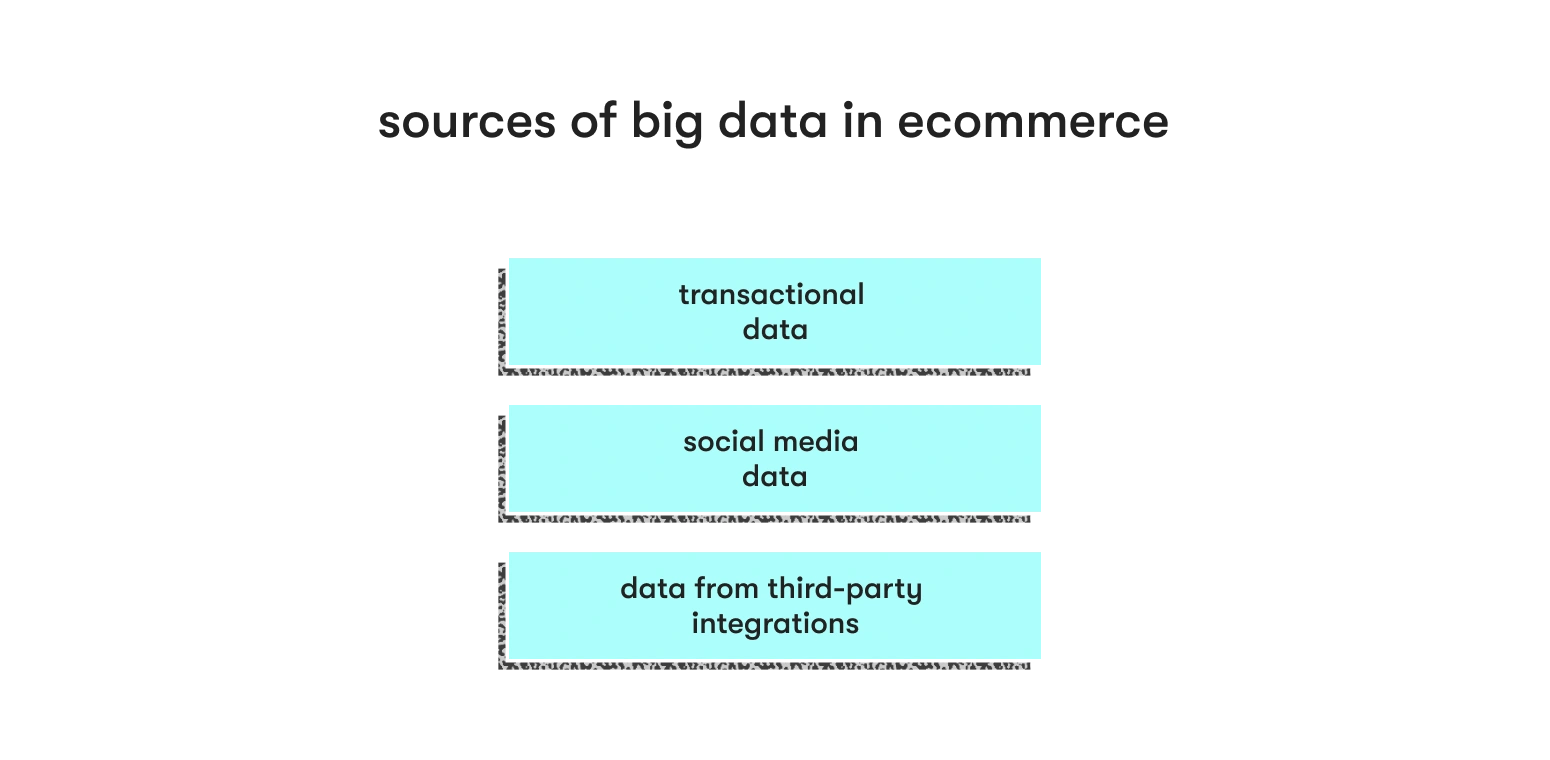 Why startups are chasing big data in the eCommerce Industry
Automation of processes and business decision-making
Big data and an ability to process it in real-time enabled the automation of various workflows in inventory management, order fulfillment, customer service, dynamic price adjustments and many other operations.
The most impressive results of leveraging big data in ecommerce still lie in marketing automation. Due to Marketo's survey 76% of beneficiaries of marketing automation get positive ROI indicators in the first year and 44% of them see it in the first six months. Almost 80% of marketing automation users benefit with growth in leads and conversions and it's noticed that customer retention rate may grow up to 90% with automated retention marketing campaigns.
Using big data for operation process automation startup founders can free up time for strategic tasks, pitching, and communication with investors. They also increase their chances to raise more investment by showing that all of their decisions are data-driven.
Big data analytics in e-commerce
Big data analytics brings a true competitive advantage to eCommerce businesses and evens out the abilities of startups and SMBs in competition with industry leaders. Multiple data sources enable a 360-degree real-time overview of both customers and competitors as well as of the effectiveness of internal operations.
Big data analytics in eCommerce helps in:
Price optimization and automation;
Sales and demand forecasting;
Fraud prevention;
Personalized recommendation systems and loyalty programs;
Online stores personalization;
Marketing campaigns automation;
Informed improvements of eCommerce store design.
Improving buying experience
Baymard Institute gathers data from around 50 different studies that were made in 2021 and calculated that average online shopping cart abandonment rate reaches 69.80%. There are different underlying customer behavior patterns under this number. Some of them use cart as a wishlist, others conduct price comparison research before buying or see if they can get free shipping from your competitor.
Big data helps eCommerce to create an omnichannel personalized shopping experience that significantly increases purchase probability supported by in-depth analysis of customers' preferences and needs.
Sales growth
Leveraging big data you can build really smart automated marketing campaigns and enhance the overall online shopping experience through personalization of offerings and the ways of interacting with consumers and prospects on each stage of their buyer's journey.
SMB organizations are recommended to apply customer behavior analytics for each segment of their target prospects and existing customers. The different activities trigger sales growth through each segment. For example, SMBs can reactivate old customers by offering them personalized discounts on the goods of their interest or create perfectly appealing upsale campaigns for recently active buyers. SMBs can also apply dynamic pricing and increase the size of revenue per sale benefiting from your data-driven customer understanding. Prices can increase or fall depending on certain information from customers' profiles like the level of their income or brand of their device. You may also manipulate prices in regard to consumer behavior: indecisiveness now is a thing to be charged extra for!
Retail startups can grow their sales with third-party advertising analytics platforms: this type of BI solution will help to set priorities in marketing campaigns relying on ROI predictions per each channel. Startups may also benefit from trend forecasting increasing sales as a result of offering hype items at the right time.
Predictive analytics in eCommerce
Predictive analytics in eCommerce enables proactive selling and business management. Predictive analytics software solutions are widely used not only in ecommerce but also in retail to push in-store purchases and effectively manage internal operations.
Predictive analytics opens up possibilities for:
Customer churn rate prediction;
Predictive stock management;
Demand and sales forecasting;
Trends forecasting.
Technological Startups have a lot of space for innovation when it comes to eCommerce predictive analytics. Challenges related to data sources, choosing the techniques for evaluation of machine learning forecasting models, and the constant need to increase prediction accuracy is still there.
Business scalability and pivoting insights
Big data and data analytics deliver useful insights when it comes to business expansion. It can be as simple as receiving information on what categories of goods and services generate the most income or as advanced as understanding competitors and customer behavior patterns on foreign geographical markets.
Big data is essential for any size eCommerce business. Whether through demographic tools like Facebook's Audience tools or SEO tools like Google Keyword Planner, this data unlocks essential behavior and demographic information to help businesses make informed ad spend decisions.
Attractiveness for investors
The eCommerce business using big data gains benefits that are well-known, and venture capitalists have a complete understanding of the competitive advantage that it creates for eCommerce businesses. The usage of big data analytics allows these startups to form realistic and effective business strategies and profitability forecasts. It motivates investors to give them even more credits of trust. Big data together with Artificial Intelligence and Machine Learning technologies now are markers of future-proof success and businesses that utilize these technologies are seen as the most alluring investment beneficiaries.
Keep reading to find out about business results that big data analytics helped to achieve Amazon and how tech startups propelled their business growth by basing their business models on data-driven platforms.
Innovation will come from an explosion of machine-learning startups. For top-tier industry leaders, data is often in good shape, but it's not all held in the same place.
Build your unfair advantage with these big data eCommerce technology solutions. Discuss your project with our professionals!
tell us about your project
Big data applications in eCommerce: you will want to repeat their success
Amazon
Amazon is a prime eCommerce world giant that leverages technology to its advantage and transforms the whole industry leading by example. In 2020 Amazon became the third world's biggest company by revenue ($386 billion). eCommerce is not the only successful branch of its empire. Amazon offers many technology-based services like Amazon Web Services, Alexa, Amazon Fire TV, Amazon Prime. Amazon's Big Data is really 'big' by its volume and management makes 100% use of it.
'In God we trust. The rest, bring me data,' these signs are hung outside managers' offices as once was revealed by Guru Hariharan, a former Amazon engineer now founder of Boomerang Commerce, e-commerce software startup. Data-driven decision-making overgrown Jeff Bezos' personal obsession and took a leading role in Amazon's corporate culture.
Let's see how exactly Amazon leverages Big Data these days.
Customer Analytics
Amazon knows all about their customers and takes all the right actions based on this data. Data is gathered on all stages of the customer journey and used for pressing all the right buttons before actual purchase and even after delivery. Let's dive into the details of how Amazon uses customer analytics.

Personalized experience
Jeff Bezos gives credits to the unbeaten power of personal recommendations but also makes fruitful efforts to deliver great personalized experiences that make people talk about it. Amazon developed advanced customer analytics that not only helps to spot patterns in users buying behavior but also guides them on their shopping journey with personalized recommendations. For example, if you're searching for some kind of pet furniture, Amazon will also show you recommendations for pet food and clothes.
If you do build a great experience, customers tell each other about that. Word of mouth is very powerful.
Based on insights from the data of abandoned carts Amazon developed and patented their own unique feature: one-click order. This option is available for regular users or the ones who purchased something on Amazon at least once, so the platform has the customer's personal information and shipping addresses. The one-click order option enhances quick decision-making about a purchase and prevents Amazon clients from surfing more on competitors' sources.
Fraud prevention
Amazon applies a proactive approach to prevent fraudulent behavior in both initial transactions and return requests. It's not the most casual example of how big data is used in ecommerce, still powered by machine learning algorithms it's capable of screening and detecting anomalies in both transactions and return requests to stop fraudulent actions and ban responsible users.
As a key indicator of fraudulent purposes of product return Amazon uses a frequency of similar requests from the same users and analyzes transactions based on more than two thousand data points.
Dynamic Pricing
Dynamic pricing its aggressive way to push customers towards purchase and Amazon uses it shamelessly being able to change prices every ten minutes. The logic under these price changing inspired, again, by user behavior. If Amazon spots that indecisive user checks the same item without purchasing it it will trigger them with rapid price growth.

Amazon's dynamic pricing is formed not only around users' behavior there are many other data points under consideration: like item's availability on stock, competitor's pricing policies and overall market trends.
Trend Forecasting
Big data solutions supported by trend-forecasting machine learning algorithms enable foreseeing 'real' situations with market trends securing sellers from speculations and allowing to form perfect-match offerings for a demand that is yet to come.
Stock control and predictive delivery
Another unique Amazon patented eCommerce big data solution is called 'anticipatory shipping'. Using customer analytics and prediction models Amazon identifies what items will be more likely purchased soon and who will buy them, so they prepare it for shipping and send it even before a transaction is made. This option also works only for regular users.
It enables 1 day or even 30 min delivery speed!
Amazon's experience is the most comprehensive example of the application of big data in the eCommerce industry. Now, let's see how technology-based startups help to transform the eCommerce industry with their big data solutions.
Boomerang Commerce (now acquired by Lowe's)
Boomerang Commerce startup was founded by Guru Hariharan, a former Amazon engineer. The platform empowers growth in companies' profit through data-driven merchandising decisions. It offered big data and machine learning solutions to optimize pricing, inventory, and assortment. Their key customers such as Staples, OfficeDepot, and Groupon Goods got millions of revenue benefits through incremental margins.
Linc
It's another example of a startup that builds its business model around big data in eCommerce retail. Linc is a data-driven platform that offers e-commerce customers' interaction service automation. Their advanced analytics provide eCommerce marketers and managers with in-depth insights on customer intention. Their customers like Carter's stated to get at least 30% in sales in the first month of using the platform and a 25% decrease in customer service expenses.
Now, let's see what market demand in analytics solutions is formed by insights of companies with high-level BI maturity. SMBs and startups can use this information to prioritize the implementation of certain analytics solutions in their big data strategies and technology-based startups can grab an idea for the next innovation.
These emerging market demands afford the new opportunities
Uncovering hidden patterns for better business process optimization
The pandemic situation proved that old traditional data models became irrelevant when facing rapid changes in customer behavior on all levels. Neither human business analysts nor outdated data analytics solutions seemed to be capable of spotting hidden patterns in pandemic-fresh volumes of large data sets. They needed advanced AI and Deep learning solutions to get actionable insights during abrupt changes instead of just gathering information with hopes that it can be analyzed in a future where the only use of it is an overview of a moment in history.
Focus on customer analytics for retention activities
It's well-known that existing customers generate more value and retention marketing activities require fewer expenses than the acquisition of a new audience. Big data possibilities emphasized this unspoken rule even more. Most eCommerce companies are already using predictive analytics to forecast customer churn rate and renewal probability. What next? Well, not all of these forecasts are so 'actionable'. Prescriptive analytics is a new gold for customer retention activities because it really offers certain actions and shows the following scenarios of customer relationships for each case and chosen activity. Prescriptive analytics enables the next best marketing activity and perfect match offer analysis for customer retention success.
eCommerce leaders can apply AI solutions to uncover patterns buried deep in data that wouldn't typically be seen by a human analyst. It allows them to identify new trends in customer behaviors and their purchasing decisions. This is critical since traditional data models have become irrelevant in the Covid era.
Automated price adjustments based on real-time analytics
It's not necessary to apply an aggressive dynamic pricing strategy as Amazon does. eCommerce business owners can do the opposite and show lower prices during customers' second visit after they checked your competitors' offers. There are various dynamic pricing strategies and this trend is growing due to supporting tech abilities. Demand forecasting tools and deep learning algorithms execute and supervise real-time price adjustments based on both internal and external data sources.
More attention to eCommerce localization
Data-driven eCommerce localization helps not only to conquer new geographical markets in a smart way but also adjust warehouses and shipping options based on location-related patterns in customer analytics.
For international companies, it's essential to establish an appropriate brand communication strategy on the foreign markets and data analytics here serves as the best interpreter and cultural guide.
Stronger security measures and more precise forecasting outcomes
Big data solutions empower security measures with fraud detection and prevention mechanisms. However, hackers also may rely on it for cyberattacks. This means constantly arising challenges in cybersecurity that keep the door always open for innovations and improvements in this area.
Choosing the most precise techniques for the machine learning forecasting evaluation model also remains a hard task to succeed with. That's why custom-tailored forecasting solutions are in demand.
Enterprise-level big data in eCommerce for startups and SMB from EPAM Startups & SMBs
EPAM Startups & SMBs actively supports big data startups and eCommerce SMBs on their way to building a competitive advantage with modern technologies. EPAM Startups & SMBs is a talent engagement platform and virtual software development environment that matches startups and SMBs with EPAM's IT talent source. Here you can get experienced Big Data and eCommerce professionals to cover your talent shortage or to build your own dedicated development team from scratch. We offer only middle and senior-level developers who are trained to follow high EPAM's delivery standards proved by various industry certificates. EPAM Startups & SMBs was created to share enterprise-level expertise with Startups and SMBs by providing them with top developers for small and medium-sized projects.
Working for EPAM, our developers gained experience on large-scale projects, including realization and implementation of dynamic prices solution for Edmundus - a car shopping marketplace for car buyers, sellers, and dealers.
Big data and eCommerce business are inseparable. In-store transactions and omnichannel interactions with customers generate a sufficient amount of data qualified for deriving actionable insights. Own data sources can always be enriched through third-party integrations.
Leading market retailers set up their own big data R&D centers to increase the accuracy of their predictive analytics solutions and approach customer data in a complex manner.
The ever-changing eCommerce environment influenced by post-pandemic fluctuations in customer behavior gladly embraces innovations related to big data and highly prioritizes implementation of next-gen technologies.
SMBs can level up their BI maturity by investing in deep learning technology and finding more creative ways to build marketing and dynamic pricing strategies combining inventive abilities of the human mind with precise data insights.
Set up your Big Data project in eCommerce with top IT resources of EPAM Startups & SMBs!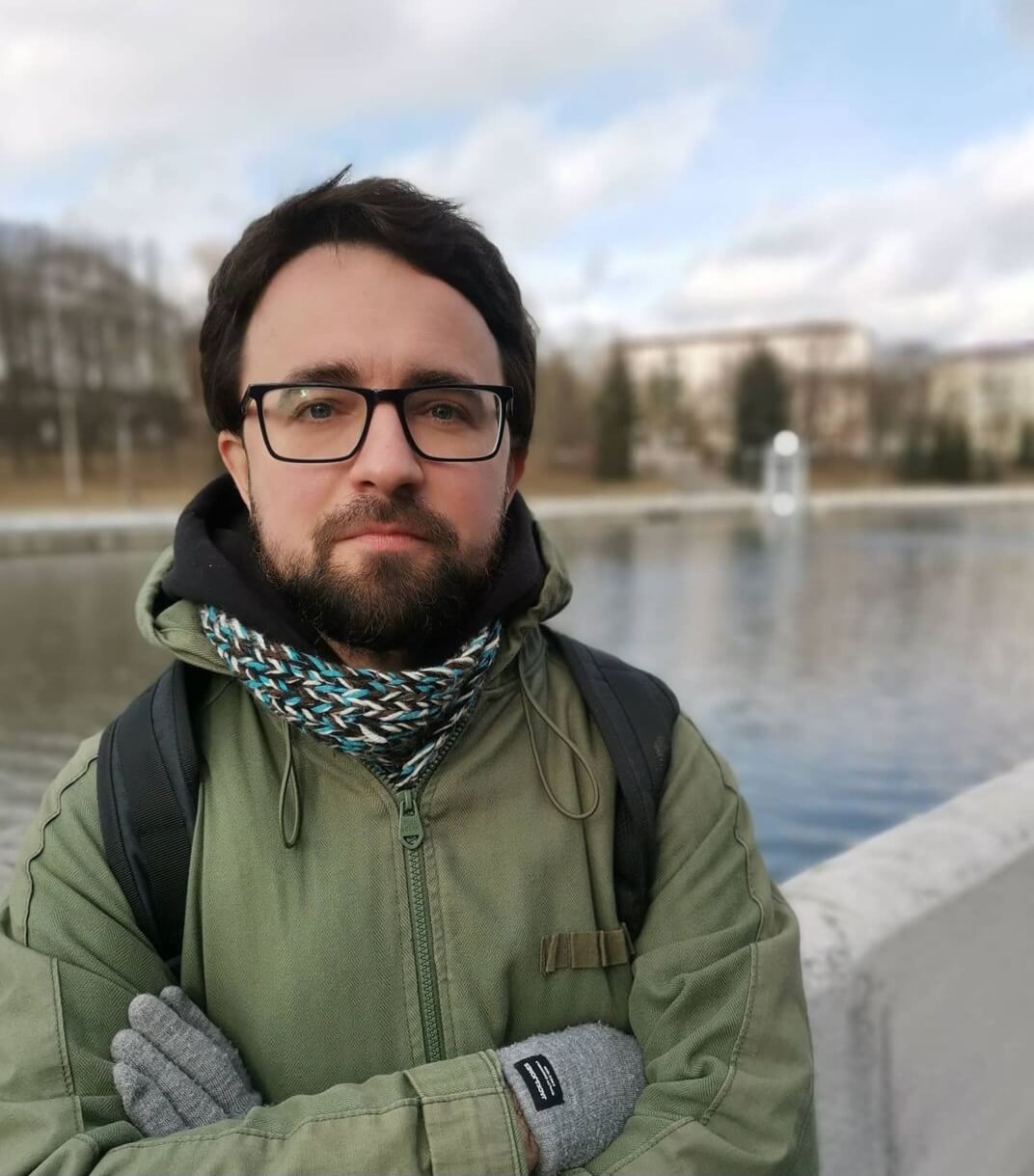 Written by
Since 2011, Dmitri has been helping business readers navigate the technology market through expert analysis and editorial work. At EPAM Startups & SMBs, Dmitri shows startups and SMBs across industries how to drive business value from their software engineering investments.
Since 2011, Dmitri has been helping business readers navigate the technology market through expert analysis and editorial work. At EPAM Startups & SMBs, Dmitri shows startups and SMBs across industries how to drive business value from their software engineering investments.