Blockchain, familiar to the general public as the main technology of Bitcoin, has been actively used in other areas besides the crypto market since the early 2010s. However, blockchain and healthcare also have the right to coexist, for example, for storing data in a secure and transparent way. Do you want to know if it is worth investing in blockchain-based innovations? Below, we have prepared an extensive overview of this technology and blockchain applications in healthcare and medicine.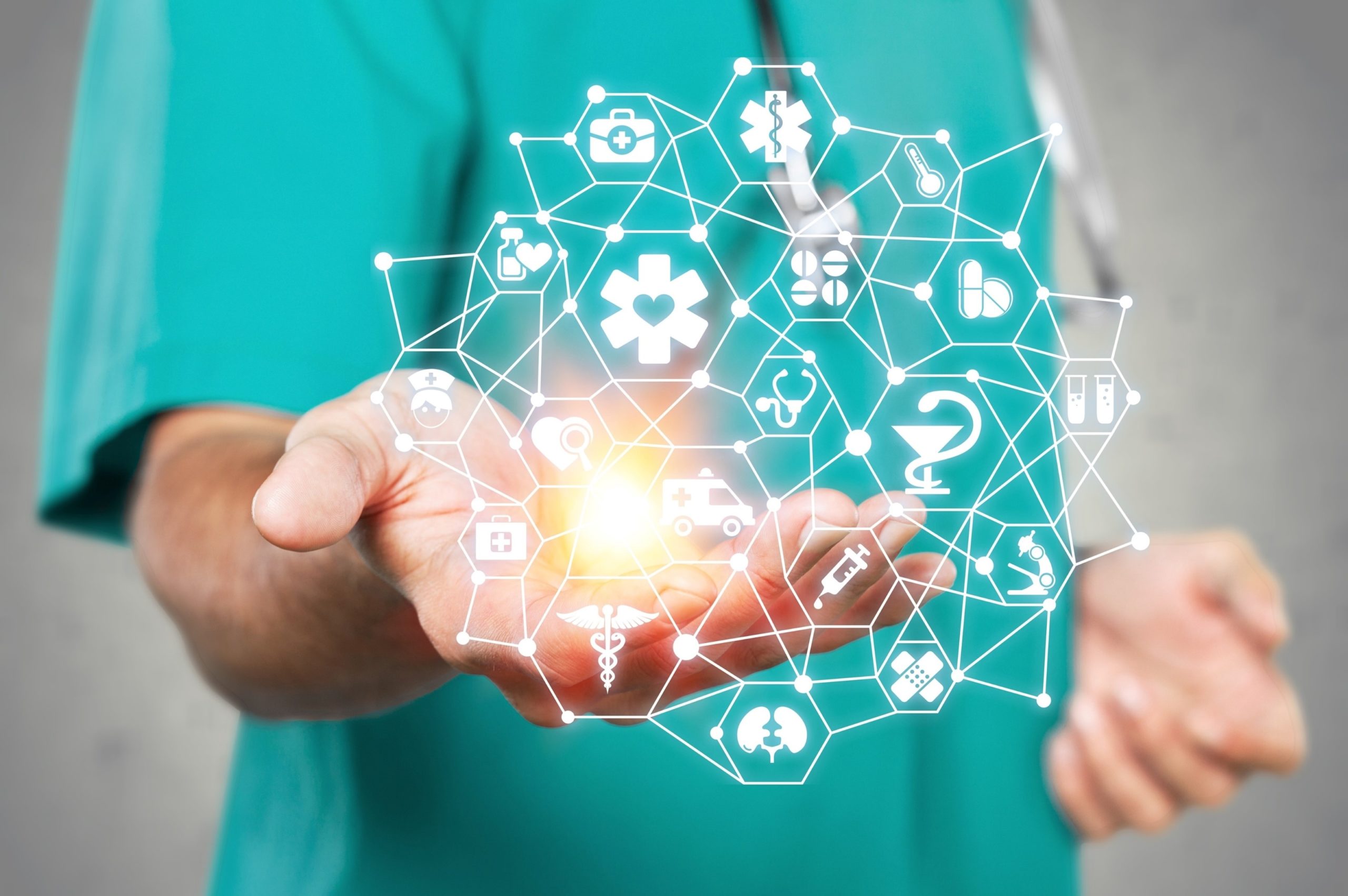 Blockchain Technology Brief Overview
So, let's find out how blockchain works.
In a nutshell, a blockchain is a distributed digital ledger consisting of consecutive blocks with user data. This data cannot be changed or supplemented in any way. This feature makes the blockchain network transparent and secure for all its users.
In terms of healthcare, here are the main blockchain technology applications:
management of electronic health records and drug supply chains;
smuggling prevention;
control over the distribution of donor organs;
conducting clinical and biomedical research;
remote monitoring of patients;
streamlining insurance and billing procedures;
patient data analysis and much more.
Advantages of Blockchain Applications in Healthcare
Let's find out what benefits the technology brings to healthcare business owners.
Security
Blockchain is characterized by the fact that none of the blocks with recorded data can be changed or deleted. This feature plays a key role in the organization of tracking systems - for example, for the delivery of donor biomaterials or medications.
Cost reduction
If you spend the lion's share of your budget maintaining an old IT infrastructure, investing tens of thousands of dollars in cost-cutting projects that don't result in a significant increase in your company's profitability, you also have to consider blockchain. In this case, this information technology can be used as a tool to influence the main items of expenditure, ranging from logistics processes to patient accounting.
Time gains
Blockchain provides real time transactions, which can be extremely useful for public health care and medical organizations that have international partners, providers, and suppliers.
Customer experience improvement
And finally, the blockchain helps to optimize the recording, storage, and processing of big data, for which sorting by time is fundamental. In addition, due to the invariance of this data, customers gain confidence in the transparency of all operations that you manage.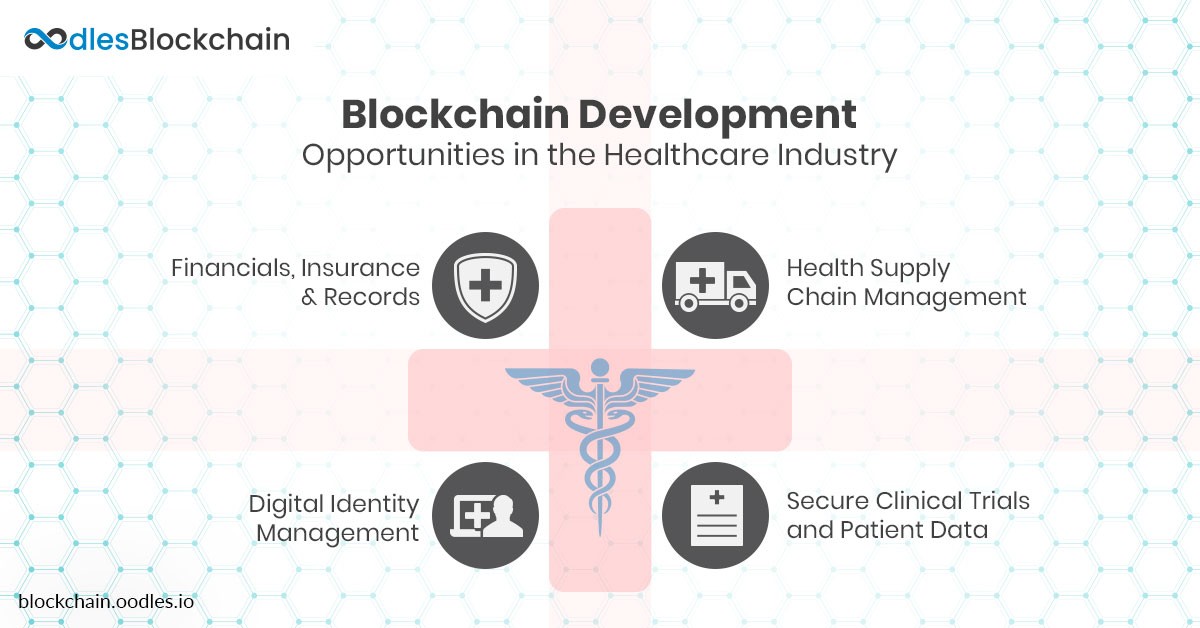 Challenges of Using Blockchain for Healthcare
There are several problems associated with the use of blockchain in the field of medicine and healthcare. Here they are.
Technical challenges
The main technical problems that healthcare companies may face are insufficient processing speed and massive data duplication. Fortunately, they can be solved by implementing artificial intelligence-based algorithms. There is also the possibility that software solutions used by companies may be difficult or impossible to integrate with a new blockchain-based solution.
Ownership
Another problem of blockchain implementation is the ambiguous ownership of the data that is stored in the blockchain. This is especially true for public blockchains. Fortunately, many countries now adopt laws that clarify this situation.
Compliance with HIPAA and GDPR
As for private blockchain solutions for healthcare, HIPAA and GDPR privacy policies come into play here. It is quite difficult (but possible) to comply with them, given that all data stored in the blockchain cannot be deleted or rewritten.
Companies That Use Blockchain in Healthcare
Patientory
This Atlanta-based company has launched a proprietary data storage platform for patients, hospitals, and other medical and healthcare institutions. With its application, healthcare professionals create their own electronic databases of patient medical records to use for treatment and prescribing. Also, this application can be used for medical insurance.
Coral Health
This health blockchain startup has focused on creating a unique, personalized user experience. In particular, in this blockchain system, users can independently create their own medical records, search for doctors, make an appointment with them, etc. At the same time, due to the immutable way of storing personal data, the created medical records will never raise doubts about their authenticity.
Read also our article on how to build startups in the medical field.
Medicalchain
A few years ago, this company launched a decentralized (peer-to-peer) platform to securely store personal health information that can be used for global medical research. In addition, this solution has built-in functionality for telemedicine sessions. In the near future, we also expect the appearance of functionality for prescribing drugs, diets, and other medical recommendations.
SimplyVital Health
This company has launched ConnectingCare, a blockchain-based digital product specifically designed for diagnosing serious illnesses. In addition to the blockchain, artificial intelligence and machine learning are also used here to optimize patient monitoring processes, reduce the burden on the medical staff, and increase treatment efficiency.
Blockpharma
This is a well-known French application of blockchain in healthcare that has solved the problem of buying and selling counterfeit and expired medicines and medical equipment. Considering that in some countries this problem provokes high death rates and bad health outcomes among patients, this blockchain platform has made a real revolution in the field of healthcare.
WORK WITH THE BEST BLOCKCHAIN DEVELOPERS ON THE MARKET
If you are interested in developing custom software based on the blockchain, consider working with our top talent. We will promptly calculate the budget and time frame for your business idea.
Top 5 Use Cases of Blockchain in Medicine
Below we will look at the most common use cases for blockchain technology in the healthcare industry.
Remote monitoring blockchain and IoT
One of the most typical use cases for blockchain in healthcare and medicine are wearable health monitoring devices based on the concept of the Internet of Things (IoT). In particular, they use numerous sensors that record the vital signs of patients and provide round-the-clock monitoring of their health status. Thus, the burden on the medical staff is reduced, the risks associated with the human factor are eliminated, and the treatment process becomes more efficient.
At the same time, solutions based on primitive IoT devices cannot be considered reliable. Therefore, to avoid incorrect operation of such systems, it is very important to make these blockchain healthcare applications resistant to DDoS attacks, virus software, interruptions in radio signal transmission, etc.
Supply chain transparency
Counterfeit medicines are a serious problem all over the world. The World Health Organization estimates that one in ten medical products, including medicines and diagnostic devices, are substandard or counterfeit. The problem becomes more serious as the complexity of the drug supply chain increases.
As many departments and companies are involved in the development of one drug, usually, they do not communicate with each other. Researchers, factories, device manufacturers, and service providers are an integral part of the pharmaceutical process. But communication between them is rather difficult.
Since transactions using blockchain are recorded in chronological, verified, and immutable order, the technology can be fully utilized in a drug labeling system. Pharmaceutical and medical technology companies track the movement of raw materials and components at every stage of the supply chain to the enterprise or patient. Suppliers can write information to the blockchain through direct data entry or through internet-connected (IoT) sensors.
Smart contracts
Smart contracts are software algorithms that execute independently depending on data received from trusted persons. The main purpose of their use is the ability to make transactions in the field of decentralized operations.
Smart contracts being one of the most common uses in healthcare can be applied to insurance workflows and mitigate many of the weaknesses in legacy systems. If patients use smart contracts to purchase insurance, all their policy details are automatically captured in their patient profile and automatically entered into the blockchain, which is virtually unhackable, unlike a traditional database.
Smart contracts will also help to reduce the time costs associated with the need to verify compliance with insurance requirements, eliminating the participation of third parties in all these procedures.
Medical personal verification
Along with tracking medicines and equipment, blockchain can also be useful in registering and verifying the authenticity of the personal data of employees of medical centers and healthcare organizations.
In particular, the blockchain simplifies the process of finding new personnel and reduces the risks of hiring unskilled personnel. In particular, the certification procedure for new and old employees is simplified, the loyalty of patients and partners is ensured, and competitiveness is increased due to the received guarantees on the qualifications of personnel.
Electronic health records
With traditional digital health record systems, patients cannot see their entire medical history and test results in one place. In addition, the data is usually presented in a form that makes it difficult to share. This means that patients spend a lot of time repeating the same information to healthcare providers over and over again.
In addition, patients do not own their medical records, and when they decide to change providers or transfer access to data to another medical device, they have third-party permission issues.
Blockchain-based healthcare solutions solve all these problems by standardizing data and centralizing access to it. In addition, in the case of blockchain, data is entered in chronological order, which is very important for medical records. Thus, it significantly saves time and eliminates the leakage of personal data.
Did you find your business idea on this list? Write to us!
If you want to implement some of the ideas we listed above, just contact EPAM Startups & SMBs. You can also learn more about our healthcare software development services.
DID YOU FIND YOUR BUSINESS IDEA ON THIS LIST? WRITE TO US!
If you want to implement some of the ideas we listed above, just contact EPAM Startups & SMBs. You can also learn more about our healthcare software development services.
Implementation of Blockchain Technology in Healthcare
How to start using blockchain for the healthcare industry? In fact, the main processes that have to be rebuilt with the help of blockchain are:
the organization of logistics and supply chains;
the creation of electronic medical records, the acceleration of transactions;
the creation of transparent data storage systems.
All these medical blockchain-based processes can be integrated with software that you already actively use (for example, CRM, ERP, and other systems).
Security Matters of Blockchain Solutions for Healthcare
Formally, two forms of blockchain can be distinguished: public and private. Both of them have specific security features.
Public blockchain
This is the most widely used version of the blockchain. Access to such blockchains is open to absolutely all users. As a rule, public blockchain in the medical industry can be used for the organization of logistics processes and tracking the conditions of delivery.
Private blockchain
Such blockchains have certain levels of access for their participants. They can be useful in storing medical data, such as personal information about patients. However, when creating such electronic medical records, it's important to remember that health data cannot be deleted from the blockchain, so make sure that your project does not violate the privacy policies of the GDPR, HIPAA, etc.
EPAM Startups & SMBs has vast experience in software development for startups and SMBs. Our stack includes both the most advanced tools and technologies, as well as those that have stood the test of time. In each individual case, we choose the approach that brings the customer a 100% positive result.
Thanks to the experience of cooperation with Fortune 100 companies, we have adopted the most effective approaches to software development. And now, EPAM Startups & SMBs uses this knowledge in absolutely all projects for small and medium businesses, as well as start-ups. That is why our customers receive an excellent quality of services at an affordable price.
The modern healthcare infrastructure lacks proper mechanisms for medical data exchange. In turn, the blockchain provides new approaches to data storage and management models used in many digital healthcare systems. All this is thanks to blockchain opportunities to segment, transfer, and secure information in a radically new way.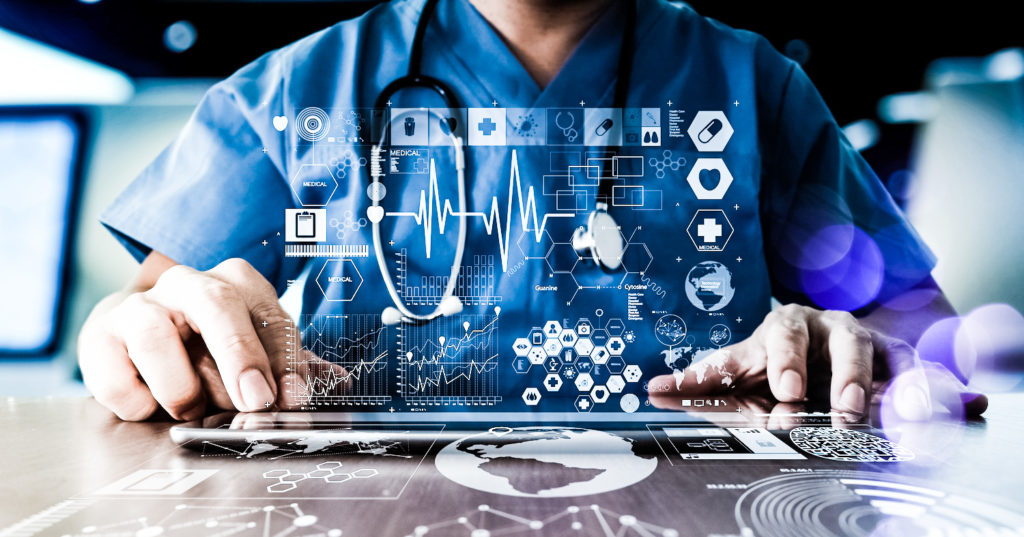 ASK OUR EXPERTS TO BRING YOUR BUSINESS IDEA TO LIFE!
If you want to implement blockchain in your healthcare organization, contact us! Our IT healthcare professionals will use their best practices and knowledge to build a custom medical application and help you achieve your business goals as quickly as possible. You can also read more about our healthcare app development services.
And now let's answer the most frequently asked questions related to healthcare and blockchain.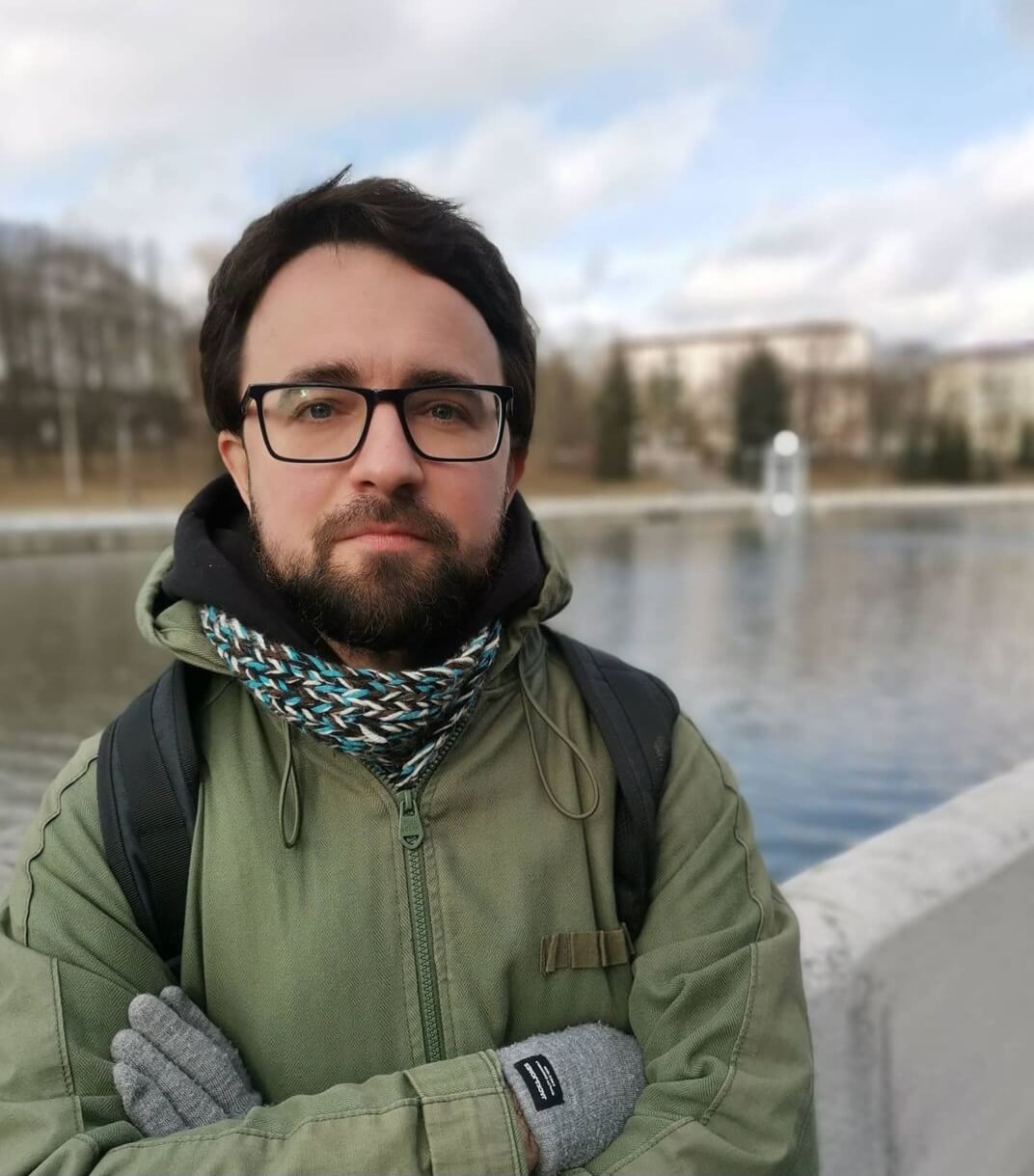 Written by
Since 2011, Dmitri has been helping business readers navigate the technology market through expert analysis and editorial work. At EPAM Startups & SMBs, Dmitri shows startups and SMBs across industries how to drive business value from their software engineering investments.
Since 2011, Dmitri has been helping business readers navigate the technology market through expert analysis and editorial work. At EPAM Startups & SMBs, Dmitri shows startups and SMBs across industries how to drive business value from their software engineering investments.