Wondering how to stand out from competitors? Have no time to buy new vehicles for growing revenue in the next quarter? Lets reveal eCommerce customer relationship management systems hacks for your digital business profitability.
Why Do You Need an eCommerce CRM Solution?
CRM systems are used to collect, store, and analyze e-customer data. In this case, anyone can act as a customer – buyers, partners, suppliers of goods. When the market is overflowing with goods/services with approximately the same price and quality, and the costs per lead and purchase are growing every day, a competent communication strategy, built with the help of CRM, helps to retain consumers and increase their loyalty and LTV.
As a business owner, with CRM you get:
real-time data (sales, customers) for quick decision making;
elimination of supply chain bottlenecks (overstock that you can sell in a discount and unsatisfied demand which causes loses in profits and market share);
well-managed customers experience that can be helpful when you're going to make an expand into new markets;
competitive advantages when your international online marketplace starts working on the local market, etc.
That's how CRM changes the eCommerce workflow and customer experience for the better.
Benefits of eCommerce CRM
To begin with, let's define the main advantages of customer relationship management in an eCommerce business.
Improved customer experience
After the implementation of the CRM, all the data that you have about customers is systematized and can be used in the future to build more accurate and effective omnichannel shopping strategies for retaining them. It also makes it easier for you to engage new customers, with lower customer retention costs.
Better marketing KPI
If you want to optimize your marketing strategy and find out how much of your advertising budget is being wasted, CRM will give you the complete answer. Thanks to this, you will understand which leads do not bring enough income and which channels do not pay off. In addition, you will improve metrics such as CTR, CPC, cost of purchase, customer engagement, purchase frequency, average purchase amount, etc.
Increased productivity of the sales team
By automating many business processes directly related to customer service, your sales team will be able to do less routine, repetitive work and take on more interesting responsibilities.
Logistics optimization
When you have a constructive understanding of where and when the greatest customer demand for your products is located, you have the opportunity to optimize logistics processes, eliminate an oversupply of goods, reduce the risks associated with unsatisfied demand, improve the delivery of seasonal goods, etc.
Decreased customer retention costs
The cost of a lead increases as the number of people involved in attracting, retaining, and moving it through the sales funnel grows. Through the marketing automation that CRM provides, these costs are reduced in the long term, allowing entrepreneurs to attract more and more leads.
Strengthening the market position
All of the above benefits will help you:
to sell more while saving ads budget;
to predict demand and optimize supply management;
to give more personal purpose and service for the customers, etc.
Thus, your customers will choose your store among the others.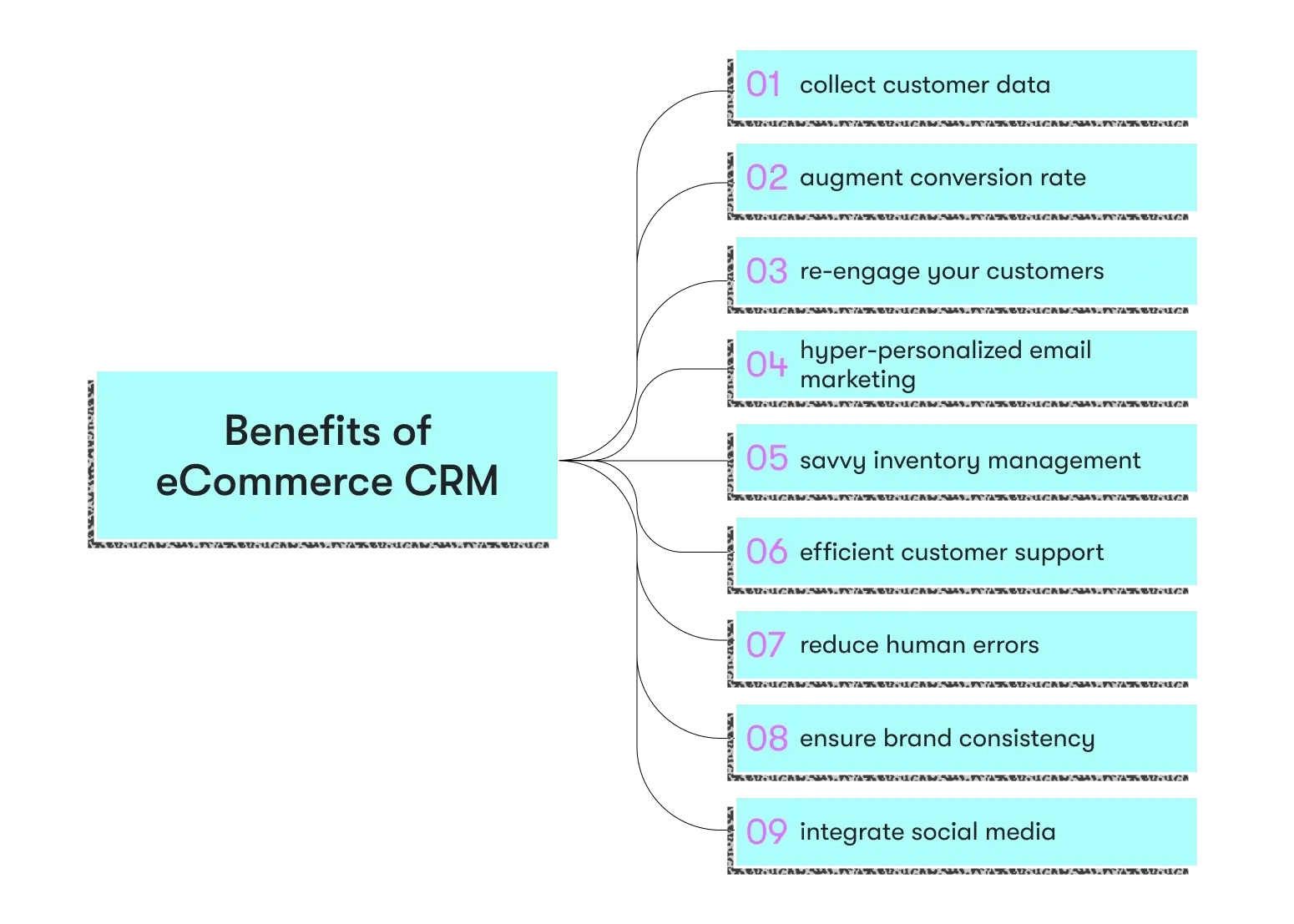 Boost a startup or SMB with our eCommerce CRM development services
The team of EPAM Startups & SMBs adopts advanced technologies to ensure your retail business processes automation and drive your sales. Contact us to discuss your opportunities in detail.
tell us about your project
Key Features of CRM eCommerce Software
Now let's figure out what features are included in the basic functionality of CRM.
Customer profile
A user profile or user card is a fundamental feature of CRM for eCommerce. This element should be structured in a way that helps your team build smart marketing strategies and increase the effectiveness of attracting new leads and retaining customers who have already purchased in your online store. Usually, it contains a list and frequency of purchases made, delivery address, age and gender of the buyer, and other data that help to create a detailed portrait of the average representative of your target audience.
Personalized email marketing tool
Email marketing is of particular importance in the implementation of a marketing strategy. This is where your team will have to create personalized emails that are adaptable for both cold and hot clients. Of course, if you use manual work to implement this digital strategy, it will be very expensive and time-consuming. In turn, an eCommerce CRM system solves these problems very quickly and at a minimal cost.
Data analytics
The data analytics tool provides real-time tracking of all the actions that users take on your ecommerce website. This means you will be able to quickly respond to their changing needs by offering discounts on less-selling items and increasing supplies of those that sell well. In this way, you will improve forecasting and logistics operations.
By the way, if you are interested in using big data in eCommerce, you can learn about it in the corresponding section.
Marketing and customer service automation
Instead of endlessly expanding the sales and marketing department and customer support in your online store, you can provide CRM integration and automate the routine tasks (such as sending messages, handling complaints, creating marketing campaigns, etc.) that these departments perform. Thus, you will increase the number of products, grow your customer base, and the size of your staff will remain the same (which means you will not incur huge expenses for hiring new employees and organizing new jobs).
Chatbots
Chatbots will be helpful for online stores with a large flow of customers. They are especially effective for transaction messaging, Facebook messaging (it can be profitable for FB ads conversion), navigation hints, as well as 24/7 availability (without dependence on business hours, time zone, etc., which is important for global stores). Thus, instead of hiring more than a dozen employees and setting up a call center, you can use a CRM with a pre-installed and customized chatbot.
Customer satisfaction tracking tool
Tools that allow you to keep track of reviews of real customers play an important role in optimizing the workflows of online stores. In particular, they provide advanced satisfaction tracking and troubleshooting with lost orders, returns, exchanges, communication misunderstanding, service and product complaints, etc.
Cooperate with top talent on the market
Take advantage of all the CRM features with a custom ECRM (eCommerce CRM). Contact EPAM Startups & SMBs and get your first consultation on your future software
How to Choose the Best CRM eCommerce Tool for Your Business?
In general, to find the perfect CRM for your eCommerce solution, you need to:
define your business needs;
analyze the different CRMs and evaluate their features;
weigh on the cost;
take selected eCommerce CRM software for a test drive.
You can conduct a little analysis of the seven solutions listed above – they are the most popular and generally accepted.
Nevertheless, even these eCommerce CRM platforms, proven over the years, are not always able to satisfy the needs of highly specialized business areas. What to do in such situations, you will learn in the next paragraph.
When You May Need Custom CRM eCommerce Software?
Custom CRM to eCommerce websites is a way out for those business owners who cannot find a product in popular existing solutions that would completely cover the needs of business processes related to interaction with customers and business partners.
This approach is also useful for those who doubt whether it's worth upgrading custom solutions with specific functions. The fact is that in this case you pay not only for a box solution but also for additional development and adaptation. In the short term, compared to custom development, this may be more profitable. However, as the number of additional features increases over time (as it usually does), you will pay much more than you would in the case of a turnkey product. In addition, the implementation of new functionality may be delayed indefinitely, due to the difficulty of hiring specialists with the development experience for a specific CRM.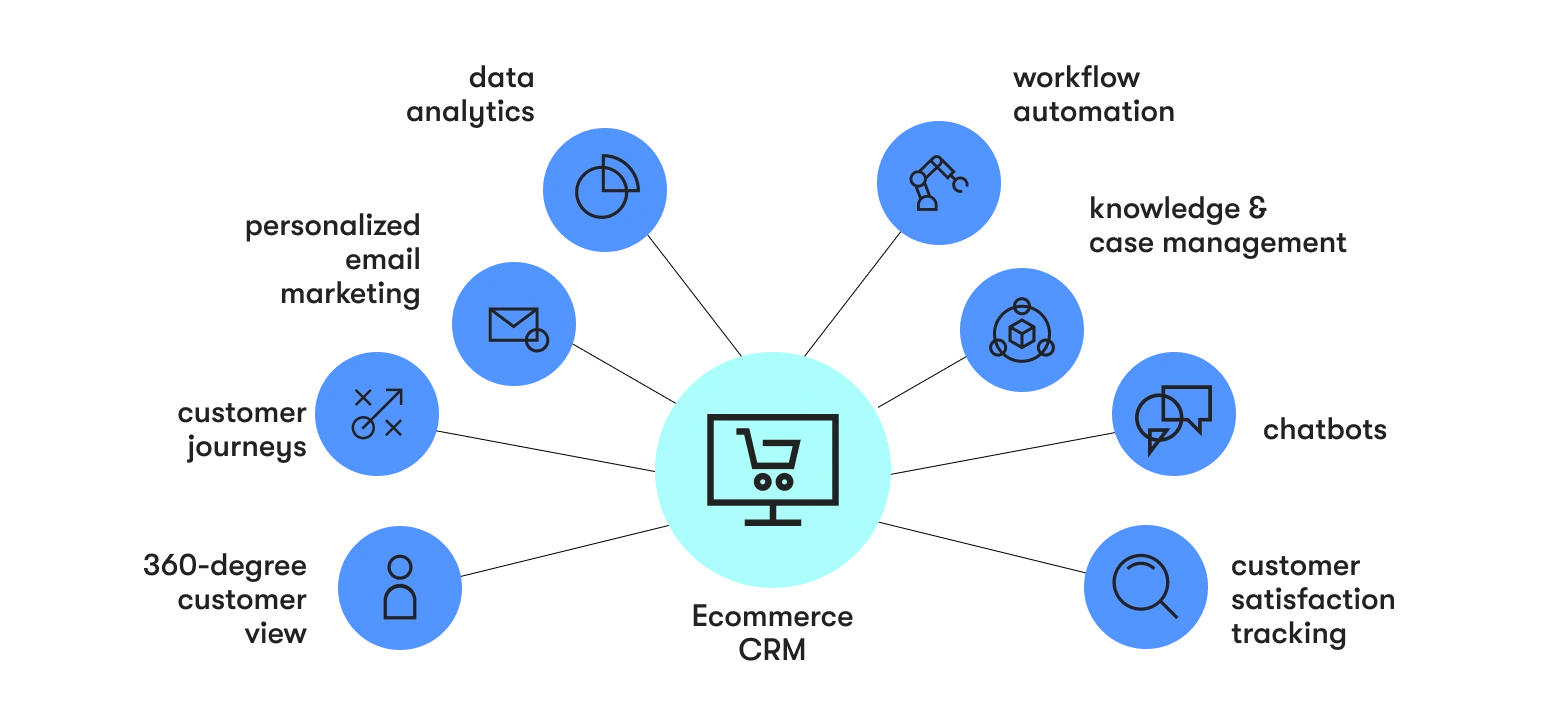 Thus, when choose a generic product rather than a turn-key customer relationship management system, you risk:
to lose control over omnichannel shopping;
to face an abandoned cart;
having large flows of organic traffic, to get low conversion rates;
to spend more money on lead generation and lead management;
to fail to keep new trends associated with the COVID-19 pandemic;
to lose some geographic markets and not be able to replace them with new ones;
to lose sales because your competitors have a more personalized approach;
to lose the former effectiveness of chatbots;
to exacerbate problems associated with unsatisfied demand and surplus;
to increase the load on your employees, which in the long run will lead to their burnout, etc.
In turn, the development of custom CRM tools for eCommerce business will be able to save you and your employees from all of the hidden issues that will be fully revealed only after launch of a new CRM. Contact us to discuss your project or learn more about how to build an eCommerce app.
EPAM's Experience in CRM for eCommerce Development
We've often asked our B2C clients why they chose us. They list such positive qualities as the affordability of services, the quality and the speed of our work, the compliance of the created software with their business needs, ease of cooperation, scalability and flexibility for changing environment, etc. However, as specialists, we have a higher trump card up our sleeve, which just flows into all these advantages.
Because EPAM has existed on the international market for almost thirty years, we have a huge experience of cooperation with companies from different business areas. Many of them are in the Fortune 1000.
Thanks to this experience of cooperation, today, EPAM can distribute the acquired knowledge to projects for small and medium-sized businesses via the EPAM Startups & SMBs platform.
Now, we propose you to read a small overview for EPAM's four relevant cases.
In 2018, HEAD decided to update its Magento platform to provide a better eCommerce experience for customers through its web shop. Within just two months, EPAM assumed responsibility for Magento development, addressed issues with web shop performance and successfully prepared the eCommerce platform for the web shop launch.
The main issues were:
bad performance;
lack of personalization;
unstable work.
As a result, the improved eCommerce platform and new web shop were launched successfully in September 2020, in time for the Winter Sports Campaign. As for the HEAD company, it received a stable eCommerce solution to provide exceptional digital experience for its customers.
GE Healthcare Life Sciences, a healthcare company, needed to integrate their siloed legacy systems into an advanced digital platform.
The key issues of an outdated solution were:
website management difficulties in research and drug discovery;
inability to view blogs, resources or products through one seamless site;
unresponsiveness, single-channel, and inability to track orders effectively;
the lack of analytics and customer insights;
inability to track and translate campaigns;
inability to automate and personalize solutions and products.
After our productive collaboration, we eliminated all the issues above with new, branded eCommerce CRM, and GE Healthcare Life Sciences reached the following results:
30% increase in request for quotes;
50% increase in online transaction revenue;
21% increase in individual customer spend;
323% increase in institutional spend.
Southern Phone, a leading Australian telecom company, already had eCommerce site which was launched in 2017. But several years ago, the company started to look for a more advanced solution with personalization and internationalization features.
Key challenges of the existing solution were:
slow response speeds – up to 7-10 seconds;
poor mobile customer experience;
URL structure, bad for remarketing and personalization;
difficulties in digital assets management;
lack of ZenDesk integration.
After our collaboration, the company received a custom eCommerce CRM, which helped to achieve the following results:
improved conversion rates by 35% and still increasing;
decreased average site load time by up to 80%;
increased Google SEO rankings;
increased user satisfaction and customer experience;
improved average value per visit with the introduction of Engagement Value Scoring;
covering new territories in Australia.
EPAM has been enhancing Burberry's digital real estate for many years, but in March 2020, we had to quickly pivot to a fully remote model. After competent reorganization of interaction processes, both Burberry and EPAM were able to continue software engineering work without delaying important projects and technology upgrades.
As a result, we moved the company to a headless eCommerce system, including a MACH ecosystem, providing flexibility for the customers' needs. Currently, the company's success is undeniable, and profits are still large and stable – Burberry managed to stay afloat in the new economic conditions that the COVID-19 pandemic provoked.
If you want to implement a custom CRM with ecommerce features, just contact us. We are highly specialized in eCommerce app development services for 20+ years, so we will find the best approach to bring your business idea to life.
As you can see, customer relationship management in e-commerce helps optimize all processes related to interaction with customers, suppliers, and wholesale buyers at the lowest cost. With its help, you won't need to expand your staff – those who are already on it will perfectly cope with their duties and even improve their productivity.
At the same time, you must understand that finding a ready-made solution that would be perfectly tailored to the needs of your business isn't an easy task. That's why it's much better and cheaper in the long run to hire the development team who will implement the custom software that would fully meet the specifics of your business niche.
If you are looking for developers who can take on such a task, you have already found them – this is us. Contact us to get our eCommerce software development services. Let's discuss the specifics of your retail business idea in detail!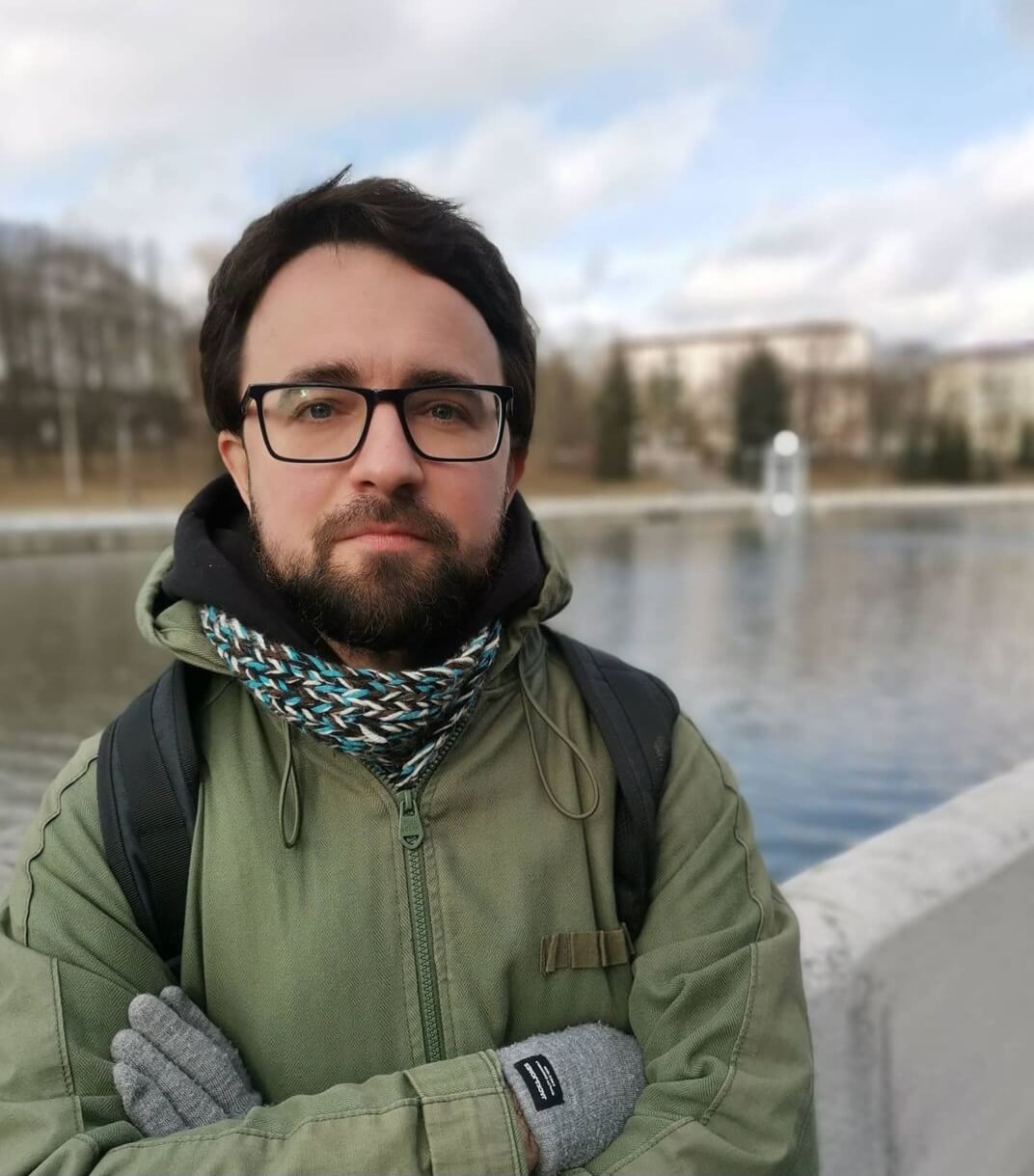 Written by
Since 2011, Dmitri has been helping business readers navigate the technology market through expert analysis and editorial work. At EPAM Startups & SMBs, Dmitri shows startups and SMBs across industries how to drive business value from their software engineering investments.
Since 2011, Dmitri has been helping business readers navigate the technology market through expert analysis and editorial work. At EPAM Startups & SMBs, Dmitri shows startups and SMBs across industries how to drive business value from their software engineering investments.