Peer-to-peer (P2P) lending is a way of direct financing without the involvement of third-party intermediaries. Typically, entrepreneurs create specialized websites to implement this lending model. We will discuss how to create a peer-to-peer lending platform below.
P2P Lending Software Market Brief Overview
According to the Allied Market Research statistics, the global P2P lending market size will grow to a record $558.91 billion by 2027, which in percentage terms compared to 2020 means an increase of almost 30%. Does this mean that potential borrowers increasingly choose web platforms for this purpose instead of going to a public or private bank? Yes, it does.
Indeed, why overpay interest for the services of intermediaries if you can directly interact with the borrower? This is the decisive reason for the growth in the number of P2P platforms. From the point of view of an entrepreneur who is going to start a P2P lending platform, it's essential not only to do it better than competitors, but also "enter" the market as early as possible.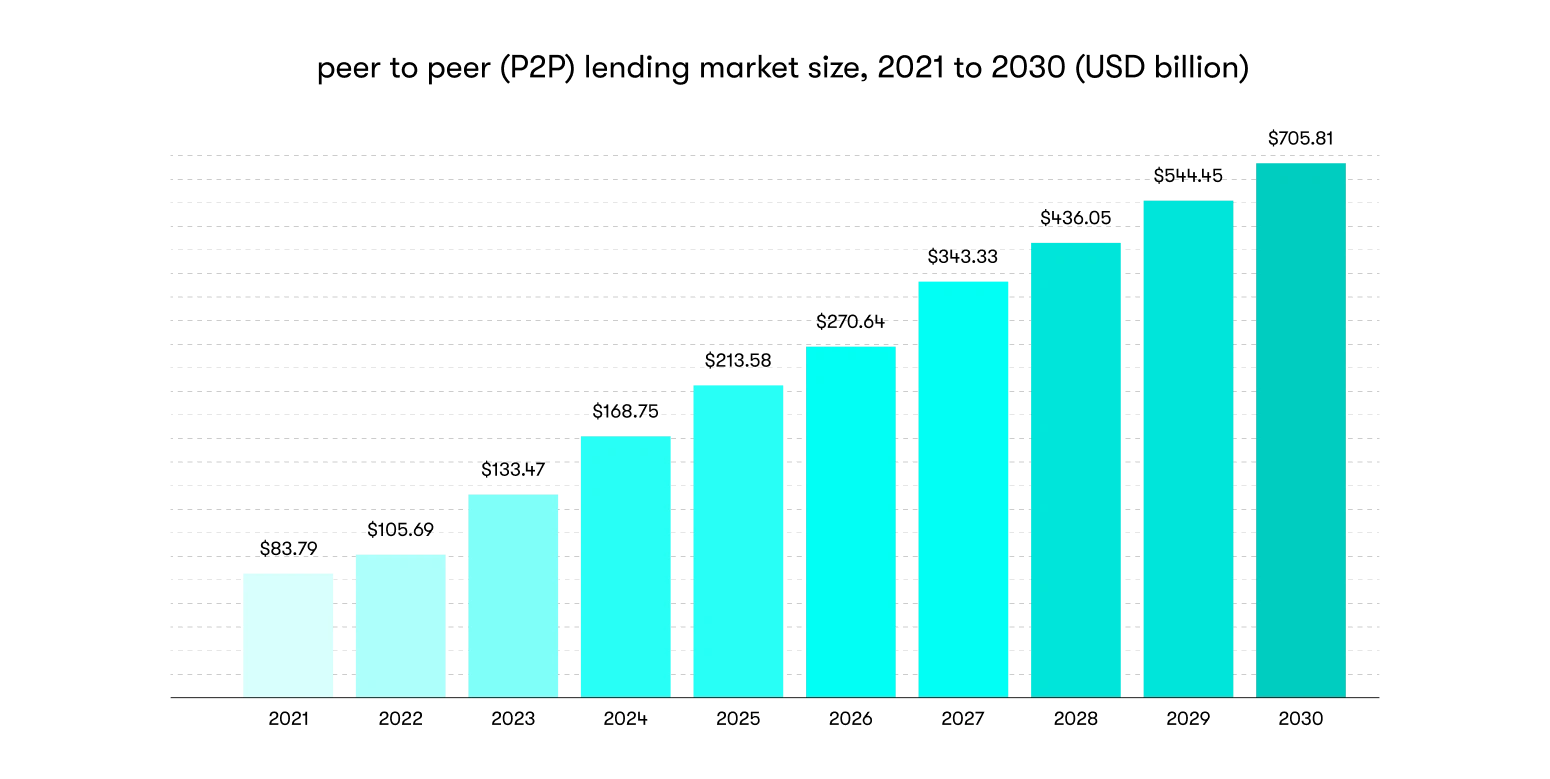 Why Making Investments to Create a Peer-to-Peer Lending Platform is a Good Business Idea
A peer-to-peer (P2P) lending platform is a much more budget-friendly alternative to a traditional bank, as you allocate your money for P2P lending website development, which usually costs much less compared to opening physical financial institutions.
In addition, due to the complete or almost complete absence of intermediaries (banks), the relationship between borrowers and investors becomes primitive in implementation and financially beneficial for both parties of the deal. This means that there will be many potential customers of such a p2p lending business — at least among those who have a bad credit history and those who want to save money.
Choosing a Niche to Start a Peer-to-Peer Lending Platform
Let's consider the most popular niches for peer-to-peer loans that will likely bring quick profits to your P2P lending platform.
Education and Science
This is a fairly new industry for alternative financing, which, however, is quite promising. The exact models for implementing such a platform can vary, ranging from crowd projects to grant-making ones. Student loans are also quite popular, even though they have not managed to acquire many implementations so far. For example, you can start a lending platform to fund tuition fees (including Ph.D. tuition) at very low interest rates or provide P2P loans to parents who wish to pay for their children's tuition.
Car Loans
This is another growing sector for money lending automation. In particular, car loans on peer-to-peer platforms can cover all the needs of those borrowers who cannot get a loan from traditional financial institutions — for example, due to previous unpaid loans or because of too high interest rates. In turn, the platform you create should provide services for the purchase of cars through leasing, cash transactions with no down payments, or personal loans issued by alternative financial companies.
Real Estate
Real estate lending has long attracted investors from all over the world. Peer-to-peer platforms that provide such services allow borrowers to purchase housing with minimal down payments. As for investors who want to make money, such platforms are the Holy Grail since cooperation with them carries much fewer risks than buying shares of companies.
Debt Consolidation
Debt consolidation is a service that involves combining several debt obligations on the part of the borrower and assigning new, more favourable terms and affordable monthly payments to this new debt unit. Also, borrowers receive convenient tools for managing their loans.
Small Businesses and Startups
Business lending rounds out our top of the most in-demand niches for peer-to-peer platforms. This service allows owners of such platforms to get "serious" customers interested in business loans for entering into controversial industries — for example, cryptocurrency and blockchain, fintech, etc.
Interested in conquering any of the above industries? Let's estimate your project. Get a more accurate assessment of your project and create a budget app. Contact us and we will provide you with instant feedback.
P2P Lending Platform Business Models
Now let's look at three main business models you can implement when building a P2P lending platform.
Notary Model
This is the most common model where a platform acts as an intermediate link between P2P lenders and borrowers. Thus, it is your responsibility to provide a user-friendly interface for creating loan requests. In addition, you should understand that you will be a kind of guarantor of the deal's integrity, so you have to provide tools that regulate the conditions for fulfilling the obligations of both parties. And, of course, don't forget to integrate mechanisms that assess the integrity of a potential borrower to facilitate the lending procedure for your creditor clients.
Client-Segregated Account Model
When you implement this model, your platform takes responsibility for matching lenders and borrowers. Thus, the algorithm for selecting the parties of the deal lies completely on your side. In this case, the issuance of a loan can be performed either automatically when the lender confirms the request or manually. Unlike the previous model, here, you don't need the services of an issuing bank.
Guaranteed Return Model
This model is typical for China. To implement it, you will have to calculate the optimal interest rate for lenders, which will increase as the loan amount grows. Note that this model is far from the most profitable for borrowers.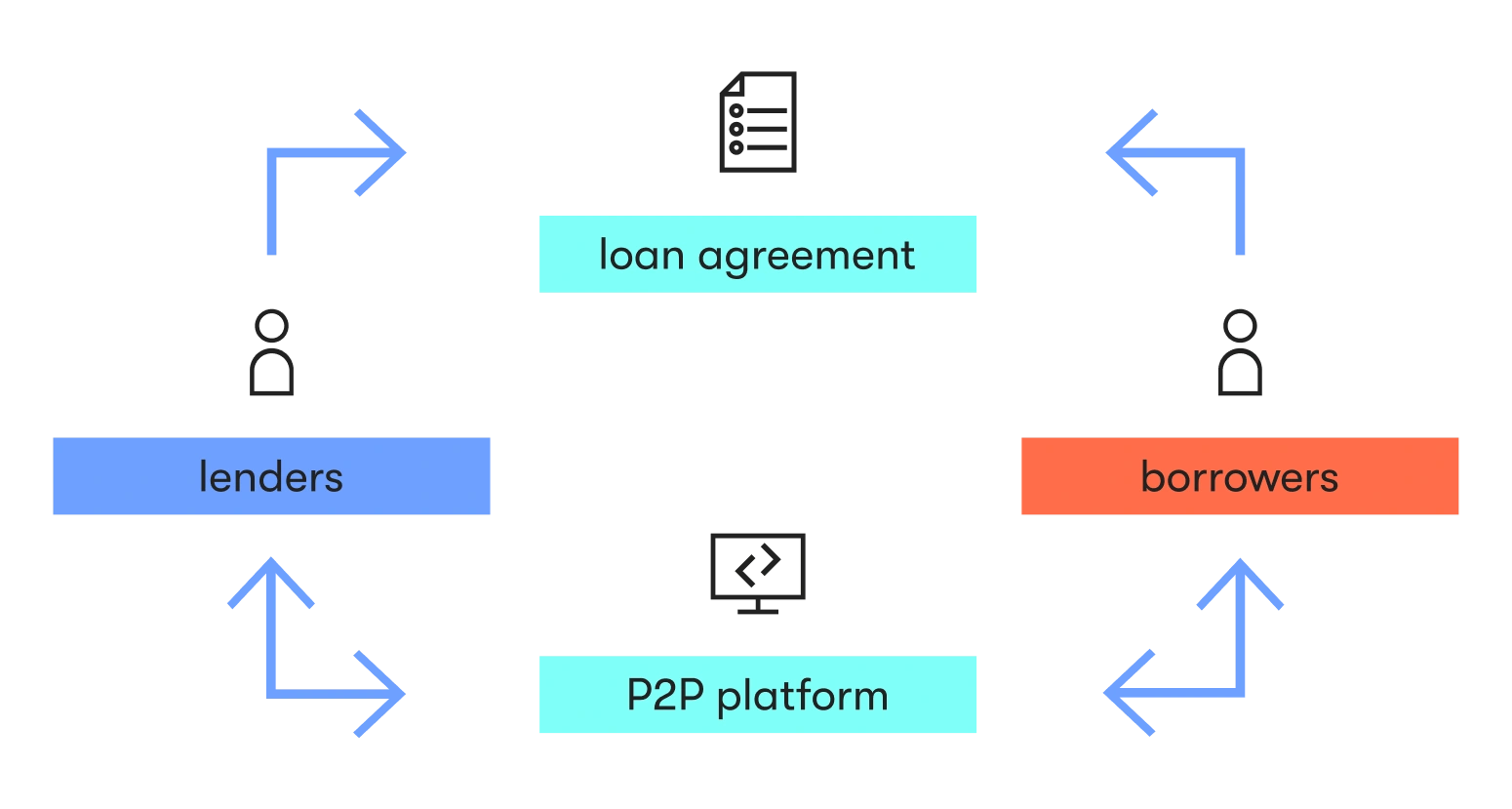 Key Features to Consider when Building a P2P Lending Platform
And now, let's move from theory to practice — it's time to find out what features you have to implement when you create a lending platform. Note that such platforms usually consist of three separate profiles: for borrowers, lenders, and administrators. Therefore, we will consider the functionality separately for each of these profiles below.
P2P Lending Platform MVP Features
As you may know, the main goal of the MVP, the minimum viable product, is to check in practice how much the project you have conceived is in demand among its target audience. From the point of view of functionality, the MVP should contain only basic features, without which the project loses its essence and value for end users. Below, we have compiled a list of such features that must be considered when you develop a peer to peer lending website.
Read also the article on how to build MVP for startups.
For borrowers:
sign up and authentication form;
user profile with setting panel;
personal data management;
integration with a bank account;
form for creating the requests for a loan;
check generator;
reminders and notifications.
For lenders:
sign up and authentication form;
user profile with setting panel;
personal data management;
integration with a bank account;
documentation management tool;
lead management tool;
credibility assessment tool for potential borrowers;
reminders and notifications.
For administrators:
sign up and authentication form;
borrowers and lenders management tool;
reminders and notifications;
user account approval tool with KYC policies;
loan management.
P2P Lending Platform Add-On Features
After your minimum viable product has been successfully accepted by its target audience, you can add some features to improve the quality of service. Below we have listed the most useful ones.
For borrowers:
uploading documents;
support of several payment methods and gateways;
repay tool;
social media login integration;
loan calculator.
For lenders:
For administrators:
analytics;
rewarding feature.
P2P Lending Platform Trendy Features 2023
And finally, if you want to build a peer to peer lending website or mobile app that will become a role model for competitive solutions in this niche, we recommend that you take into account and implement the following features.
For borrowers:
AI-based chatbots to handle the majority of questions from platform users (while live employees take part in resolving other issues).
For lenders:
Personalized lead management tool with an advanced settings panel.
For admins:
Bring your business idea to life with EPAM Startups & SMBs. Want to build a P2P lending platform, a full-fledged one or an MVP? We will do our best to develop an advanced P2P solution that meets all your business needs.
tell us about your project
8 Steps to Build a P2P Lending Platform and Start a Business
We have already figured out what features should be present in your project. And now it's time to find out how the process of creating a peer 2 peer lending platform goes.
1. Choose the Form of Registration of Your Project at the Government Level
This stage implies choosing a form of registration of a legal entity. In particular, you need to decide on the type of future company — will it be an LLC or a corporation? This will affect the amount of taxes, the distribution of profits and losses, as well as the rules of behavior with customers of your organization when getting bankrupt.
2. Register Your Business Name
At this stage, you must register the name of your business in the country where it will function. Find out whether the selected name is free (if it comes to the company's registration in the United States, this can be clarified at the United States Patent and Trademark Office website). You also need to consider the rules for registration of the company in specific states — they can differ.
3. Decide on a Domain
In fact, at this step, you need to register your site. Make its name unique, recognizable, and laconic — perhaps the full name of your company will have to be transformed into an abbreviation. As for expenses, it's usually small amounts: buying a domain starts from a pair of dollars and rarely exceeds $100. After registration, you will have to pay for the "rent" of your domain regularly.
4. Gather a Team of Specialists, Including Software Developers
Obviously, a strong team is one of the decisive factors for the success of your business idea – it's they who are responsible for delivering the product in time with the best quality. Therefore, try to find the best specialists to implement each project creation stage — from marketers to software developers. By the way, to save your money it makes sense to resort to the services of outstaffing companies.
5. Allocate Capital for the Project or Raise Money From Investors
If you do not have your own budget to make a peer to peer lending software platform, you will need to attract third-party capital to pay for the work of your team. In particular, you can run ICO by selling your platform tokens at the lowest cost, attract venture capital from business angels (they can be found on specialized websites), or take a bank loan, supporting it by the pledge.
Note that if the project development stage is very early, it's better not to seek support from investors (usually, they are not interested in such projects) but immediately turn to the classic 3F rule (family, friends, fool). These are the people who can financially support you at a time when you have nothing but an idea (usually friends, relatives). And only then, when you already have an MVP or a product has already been introduced to its target audience, you can ask business angels for help.
6. Create and Launch a Peer-To-Peer Lending Platform
When you make a lending platform, you can follow two development concepts: build a web product from scratch or use the white label solution by customizing it for your business needs. Usually, custom development provides you with many more opportunities to create an innovative solution than adapting an existing template.
Note, that the final choice of a technology stack - whether it be tools for custom development or a ready-made platform that just needs to be configured, depends on factors such as time to market, the need for further scaling, the need for budget savings in the early stages of development, etc.
7. Conduct End-To-End Testing
Naturally, your platform will be tested at each stage of development by the testing team. However, this is not enough, and before your business begins to function fully, it must be approved by representatives of your target audience. To do this, you have to create a focus group that will provide you with competent feedback. The main aspects that need to be tested include safety, availability, intuitiveness, and performance.
8. Provide Tech Support
Even despite thorough testing, problems with the work of your platform will be inevitable at first. Therefore, before it starts, you will need to cooperate with the service team. Usually, these tech support services are provided by the same IT specialists who participated in the platform's development.
Challenges You May Face When Creating a Lending Platform
Before embarking on the P2P lending platform development process, you should learn about the typical problems you may encounter.
Legislative Compliance
Obviously, legislative regulations vary from country to country. Moreover, they may differ depending on the state where your lending platform will function. That is why before hiring specialists to the team, you must conduct thorough research of existing laws and restrictions and consult with lawyers if your business can be legal on the territory of a particular country or state. You must also comply with GDPR policies if your platform is functioning in EU countries (or, for instance, CCPA and CPRA if it's made for US consumers).
Security Issues
Among the most typical web platform security issues, we can highlight DDoS attacks, identity theft, hacking users' accounts, etc. That's why it's important not just to hire experienced developers but also to find those who can provide the most advanced online security mechanisms to your online platform (3DES/AES encryption, KYC policies, biometric data tools, load balancing tools, etc.).
Conquesting New Territories
Due to differences in legislation in different countries, scaling platform services can be difficult. That's why first, it is better to aim for a small territorial reach so that your business is not idle while you adapt the platform for new legislation standards. You can expand your target audience with time when you can finance the development of a separate, locally adapted version of the platform.
How Much Does It Cost to Make a Lending Platform?
As a rule, the cost of developing such platforms starts from $100,000. However, in practice, it is necessary to consider such fundamental aspects as the number of hours spent on development, the level of specialists attracted to the project implementation, the chosen technological stack (if you choose white label solutions, you will be able to launch the product in the shortest possible time and with the lowest budget; however, it may not be custom enough, as in the case of software development from scratch, and not be adapted to further scaling), and much more.
As for the time spent, in the case of custom development, you may need from half a year to 12 months to start a peer to peer lending site. In the case of using ready-made white label solutions (solutions created by a third-party developer that you can customize and launch under your original name), the implementation period can be reduced by 2-3 times, as well as the development budget. Note that such an approach is justified only in cases where the costs in the early stages of development are very limited - such third-party solutions are rather poorly scalable and customizable.
How Building a P2P Lending Platform with EPAM Startups & SMBs Differs
Specialists of EPAM Startups & SMBs specialize in implementing projects for medium-sized and small businesses, applying our best practices that were previously successfully tested on the market leaders with world-famous names. And the most pleasant thing is you get all these advantages at the most affordable price. You can also learn more about other fintech software development services provided by our company.
BUILD YOUR P2P SOLUTION WITH OUR TOP TALENT
If you are looking for a dedicated team of experienced developers, you are in the right place. Leave your request, and we will contact you shortly to discuss your business idea in detail.
contact us today
As you can see, creating a peer-to-peer lending platform is a time-consuming process that requires careful study of the market and existing competitive solutions and, of course, cooperation with highly professional developers who will save you from encountering the problems described above. Only in this case, you will be able to receive a stable income from your project and not suffer any losses.
Below you will find answers to the most frequently asked questions related to starting a peer-to-peer lending platform. And for a detailed consultation please feel free to get in touch with the team of EPAM Startups & SMBs at your convenience.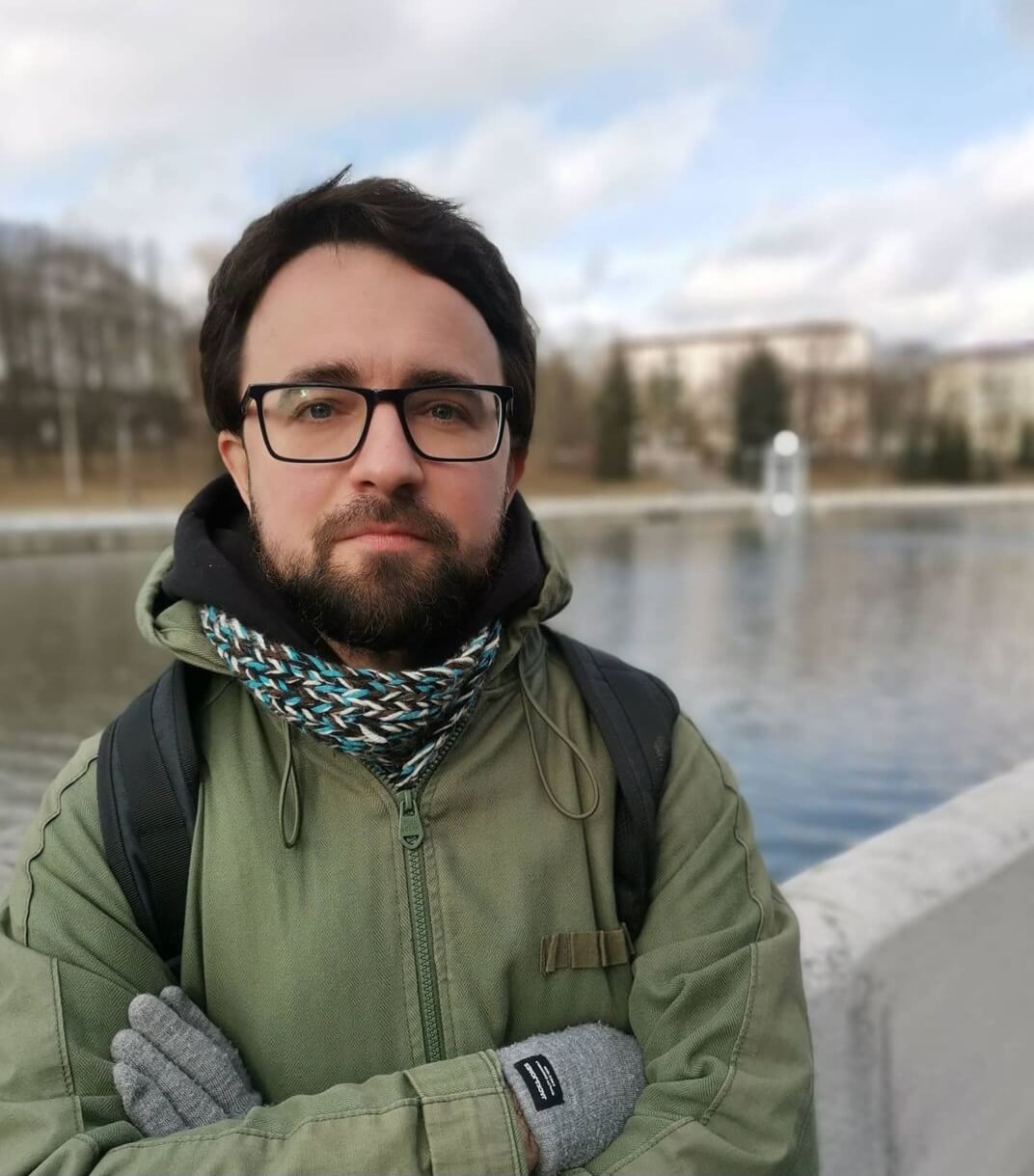 Written by
Since 2011, Dmitri has been helping business readers navigate the technology market through expert analysis and editorial work. At EPAM Startups & SMBs, Dmitri shows startups and SMBs across industries how to drive business value from their software engineering investments.
Since 2011, Dmitri has been helping business readers navigate the technology market through expert analysis and editorial work. At EPAM Startups & SMBs, Dmitri shows startups and SMBs across industries how to drive business value from their software engineering investments.