Do you know that in 2020, eBay generated $10.2 billion in revenue? We bet that with the tightening of measures related to the COVID-19 pandemic, these numbers have increased significantly by 2022. Isn't this a reason to create a similar solution with its own shticks? Below, we will tell you how to start an auction website, as well as calculate how much money you will have to pay to launch it.
Auction Websites Brief Overview
The global capitalization of the bidding website market has increased significantly in the late 2010s. This is due, first of all, to the actualization of online trading in general.
In 2021, despite the COVID-19 pandemic and the associated closure of most offline retail stores, turnover on such websites had declined slightly due to a decrease in the purchasing power of the population around the globe. However, this turned out to be a temporary phenomenon, and starting from 2022, we can again see a stable increase in this market segment. Additionally, the following factors contribute to this:
the rapid growth in the number of people with access to the Internet;
solvency of the generation of millennials;
high demand for unique products, etc.
On the other hand, to get all these benefits, it's important to protect your target audience from such typical problems as transaction insecurity, fraud, phishing, etc.
Finally, for your inspiration, just look at these numbers: in 2020, Christie's, Sotheby's, and Phillips online auctions generated 644 online sales. Given the high cost of the average lot at such auctions, it becomes clear that the net profit of these three bidding giants is measured in tens of millions of dollars!
Why Is it Worth Building Your Own Auction Website?
The main factor that determines the profitability of creating an auction website is the following: you (or the sellers who list their goods on your website) get the opportunity to trade without intermediaries while providing a high value of goods. This way, you (or those sellers) don't face any handling fees.
Along with this, online auctions are obviously more user-friendly than their offline alternatives. With the right approach to the implementation of your business idea, you get the maximum coverage of the target audience, as well as a wide range of additional services that you can also offer to potential buyers.
Top 7 Successful Auction Websites: Learn From Winners
Now we propose to analyze the features of successful bidding websites that have long been popular worldwide.
Amazon
Amazon is a large marketplace where goods are sold not only from sellers but also from Amazon itself. Amazon takes care of the logistics to the buyer and warehousing of the goods and also controls its quality indicators. If a seller with substandard goods is found, the store immediately removes them from the website. Amazon is currently the fifth most visited website in the US. Thanks to a unique security system that prevents possible fraud by customers and guarantees the safety of their purchases, most visitors gain additional confidence in this website compared to competitors. The company also ensures the quality of the goods and their timely delivery because all employees and sellers undergo the strictest checks and controls.
eBay
eBay is an online auction site that was created to sell goods between people, "from hand to hand". Currently, eBay.com is the seventh most visited site in the US, attracting not only sellers but also manufacturers of goods, as well as online stores. As a result, eBay has become a very important and profitable distribution channel for many of them. eBay can be compared to a large international marketplace where both companies and individuals offer their goods to the whole world.
eBid
eBid is an auction marketplace similar to eBay with over 20 years of existence. Here you can sell both at auction and at a fixed price. eBid offers buyers any type of product, except for those that are prohibited by the rules of this website. The attractiveness of eBid lies in low commissions (no commission for listings and only 3% commission for a transaction). Also here you can completely refuse the commission by subscribing to the tariff plan. eBid currently has over 2 million accounts and over 4 million products in over 14,000 categories.
Sotheby's
Sotheby's is an international auction house for art and collectibles. Initially this was an offline auction which, with the advent of digital technologies and the Internet, gradually expanded to an online format. It is one of the four oldest luxury auction houses in the world. The Sotheby's group, which has 90 offices worldwide, organizes about 30 sales per month. This auction is the record holder for the cost of paintings, sculptures, and other works of art. Its representatives pay colossal attention to the quality and value of items for sale. For example, only in 2010 in Paris, 93% of the lots were sold for more than 100,000 euros. Although the company had to stop public sales during the COVID-19 crisis, the auction continues to operate online.
Copart
Copart is the world's leading online auction site for used, salvaged, and clean certified vehicles. Copart Car Auction has something for everyone: used car buyers, car wreckers, dealers, auto repair shops, used car buyers, and individuals. Every year, this auction offers its buyers about 200,000 cars, trucks, SUVs, motorcycles, and other vehicles. It is one of the most trusted platforms of its kind, that minimizes the risks of fraud for both sellers and buyers.
Auction.com
This bidding website is for the sale of residential bank-owned and foreclosure real estate. Instead of the functionality that is standard for the vast majority of online auctions, here, users will also be able to find services to increase their satisfaction with the purchase. In terms of catalog size, this website currently lists over 30,000 properties.
BidSpotter
It is one of the world's most successful industrial online auctions. With a database of over 531,000 active buyers, BidSpotter.com constantly generates new bidders from over 105 countries. For example, in 2015, BidSpotter.com ran over 2,200 auctions and online sales worth $175 million. All in all, this is a great, highly specialized online auction that has stood the test of time.
START TODAY WITH EPAM STARTUPS & SMBS AND GET ON THE ONE STAGE WITH LISTED WINNERS
Create an online auction website and get a stable source of income. Discuss your project with our experts and get an estimation.
MVP Features of an Online Auction Site
Before you start your own auction website, you have to know what basic features it should contain.
User profile
Since auction websites are designed to be used by a specific person with specific personal data (primarily with payment card data), you must provide a user profile on your website with its own registration and login forms.
Product catalog
Obviously, the auction website should have a catalog of items that can be sorted, filtered, and viewed on a new web page.
Search tool
The search bar is a must for any auction website that has a catalog of products. This bar should be available on any page of your website and, in case there are many products, also contain additional attributes, like prompts after entering the first letters.
Payment gateway
For your website visitors to be able to pay for the items they have purchased without leaving it, you also need to enable a payment gateway. In our blog, you can also learn how to create your own payment gateway.
Bid forms and templates
Bid templates greatly simplify the work of sellers without requiring them to fill out the bid form again each time, which is extremely important for those who have hundreds or even thousands of products in the store.
Requests for proposals (RFPs) and requests to tender (RTTs)
If you have many suppliers of goods, you should have forms for creating requests to simplify the processing of information.
Database of the costs
This interface element will help you optimize all costs associated with the remuneration of employees of your auction site.
Communication form
If your website sells products from several sellers at once, it makes sense to create a specialized contact form where they can interact with each other in text format.
Calculating and reporting tool
Finally, you will probably need a centralized bid calculating and reporting tool to eliminate the possibility of errors when estimating the cost of a particular product.
Business Models of Auction Websites: Win-Win Strategies
There are three business models of auction websites. Let's take a look at each of them.
Buy it Now
This is the most standard format of auction websites, where the item is presented with two prices: a fixed price and a bid price. As a result, the item will be sold to the highest bidder. As for the instant purchase option, with its help, sellers get the opportunity to "not sell too cheap", and buyers – get the desired product without taking part in the auction.
Reserve Price
In this auction format, the bid starts at the reserve price. As a result, the lot goes to the highest bidder, which is either equal to the price indicated by the seller or exceeds it.
Proxy Bidding
This auction format involves the use of special software tools for bidding, which contain data on the possible maximum cost of lots. In this case, this bidding system independently makes bids for the lot with the most favorable outcome for the buyer.
Pros of Ready-made Solutions for Auction Website Development
Now you know what types of online auctions exist, and what functionality should be present there by default. So, it's a perfect time to understand the advantages of developing such websites based on ready-made solutions like SaaS or something similar.
Rapid product release
To set up an auction website, you need a SaaS. These solutions are extremely easy to use and have a lot of ready-made components that just need to be assembled as a constructor. Therefore, the development process is significantly accelerated, unlike how it would happen with a custom product.
No need to hire specialists for a long time
To design and develop a simple website for an online auction system, you don't need to hire software engineers on your own staff and plan long-term cooperation. Moreover, there is a much wider pool of specialists who know how to work with a specific ready-made tool than the pool of those who specialize in developing auction websites from scratch.
Lower budget
No matter how expensive the ready-made solution you choose to set up a bidding website, developing from scratch with a dedicated team will always cost a lot more in a short amount of time. Thus, ready-made solutions are suitable for those who want to save a lot of money.
Cons of Ready-made Solutions for Auction Website Development
However, setting up an online auction site based on a ready-made engine is not a panacea. In particular, this approach also has disadvantages.
Poor customization
When you set up an online auction website, you use pre-built software modules with a limited number of customizations. Thus, even a combination of a large number of such modules gives a non-unique result. If you want to get a non-standard solution, you definitely cannot do without specialists who will develop your online auction from scratch.
Limitations in achieving business goals
The use of a ready-made solution limits you not only in the functionality of the future website but also in achieving your business goals. In particular, the lack of the necessary functionality for the engine you chose won't allow you to implement what your target audience may urgently need.
Popular providers can be expensive to maintain
If you are using a ready-made solution from a popular software vendor, you will probably have to spend not only on developing custom modules but also on paying a fee for maintaining an already launched auction website. In the long term, these costs may exceed custom development.
Tools to Create Auction Websites From Scratch
Let's talk about what tools you can use to create your own auction website.
WordPress
WordPress is a popular general-purpose CMS that can also be used to create your own auction site. This solution is suitable for you if you are a representative of a small business and are going to administer it yourself.
Ruby on Rails
Ruby on Rails is an open-source framework written in the Ruby programming language that implements the Model-View-Controller architectural pattern. It's a great solution for fast building web applications as well as their integration with a web server and a database server. The authors of Ruby on Rails claim that this framework was created to implement complex things in a simple way. This product is ideal for creating MVPs.
Python/Django
Python is a general-purpose, high-level programming language. The scope of its use is very wide. This interpreted object-oriented language is open source and has dynamic semantics. Most often, Python is used together with the Django framework – an advanced open-source framework, based on the Model-View-Template architectural pattern. It's a great tool for developing data-heavy websites of varying complexity and scale. In particular, you can use Python and Django to build a bidding website in a full-fledged mode, after you have tested your MVP on the target audience.
Tech Stack to Set up a Bidding Website
So which tech stack should you choose to make a bidding website?
SaaS or CMS: for those who want to use a ready-made solution
SaaS, as you can already understand, is the easiest and fastest way to run online auctions. If you have some skills in working with such solutions, you can handle the development of functionality for your auction website on your own or with a little outside help. A more customizable option is to use a CMS (like WordPress). In this case, you will be able to create some modules from scratch if they are not available in the plugin store.
RoR or Django: for those who want to build a solution from scratch
If your project involves the development of non-trivial functionality, you won't find a better solution than custom development using the above frameworks. Both Ruby on Rails and Django frameworks are quite flexible and suitable for building scalable solutions.
CHOOSE THE APPROACH THAT SUITS YOU BEST!
Custom development from scratch or based on a ready-made solution – whatever you choose, our specialists will make every effort to create a high-quality, competitive, and scalable product. Don't hesitate, tell us about your business idea now!
8 Steps to Start an Auction Website
So how does the process of developing an online auction take place? Formally, it can be divided into eight separate stages. Here they are.
Step 1. Marketing research
Marketing research is an integral part of the creation of any project aimed at a large target audience. With its correct implementation, you will get to know your main competitors, as well as their advantages and disadvantages. This stage will help you create a competitive product with a set of features that your target audience most needs.
Step 2. Building a list of product specifications
Once you've identified the functionality to create a competitive product, you must make a more precise list of technical and non-technical requirements for it. In the future, this list of specifications will be used by developers to ensure that the product meets your and your TA's expectations.
Step 3. Prototype design
After your team of specialists understands what exactly they have to implement, they start creating a prototype of your future product. Thus, soon you will be presented with a certain "draft", which you can see with your own eyes and understand whether it's necessary to make any adjustments to the plan for its further development.
Step 4. Creating an MVP
Typically, online auctions are quite complex websites in terms of functionality. Therefore, they require a multi-stage approach to their implementation. So that you do not waste your time and budget on creating functionality that is likely not to be accepted by the target audience, it's better to first build a project with a basic set of features – an MVP.
Step 5. Preventing security issues
Since an online auction usually offers users payment for lots within the website itself, you have to take care of the security of user data. In particular, you have to check compliance with GDPR policies and other user privacy and security standards.
Step 6. QA and testing
After you have created the basic functionality for your website and ensured that it complies with the security standards, you can begin the testing procedure. Usually, QA and testing are the procedures that are inseparable from the development of the design, back end, and front end of the application or website. Nevertheless, after the project is fully implemented, it is tested globally, including with the participation of representatives of the target audience.
Step 7. Launch and support
If the testing procedure is completed, the product is launched on the market. If it's a mobile app, it's usually uploaded to Google Play and/or the App Store. If it's a website, it just runs on the web server.
Step 8. Building a full-fledged product
After your online auction receives the first feedback from its target audience, you can start developing a full-fledged product, adding secondary functionality to it, and improving the design.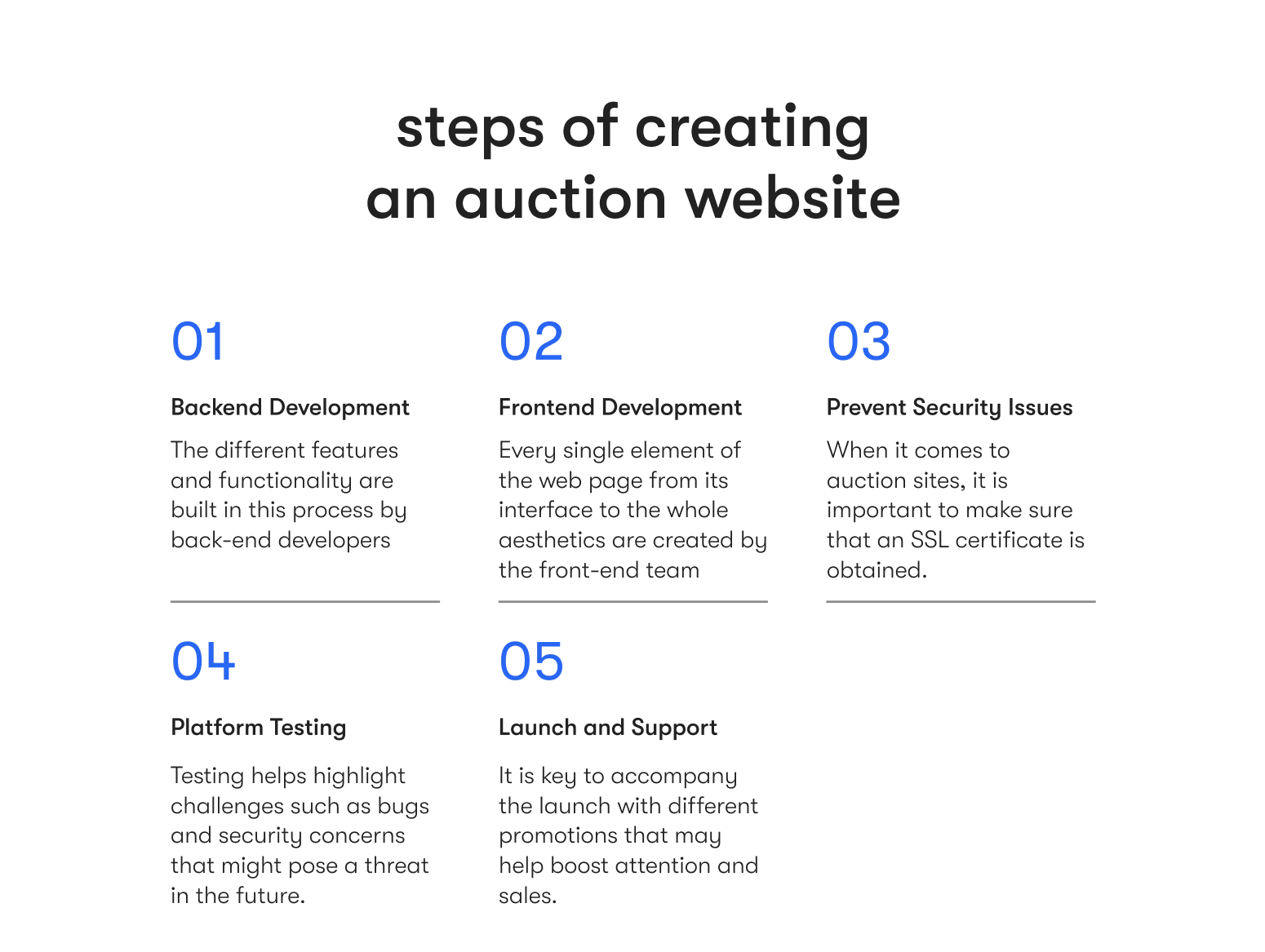 How Much Does It Cost to Make an Auction Site on Average?
Now let's talk about the cost to build an auction website based on market averages.
Development costs
If we talk about the development of an auction website based on SaaS or CMS, then the cost of the project can vary from $5,000 to $10,000 per month of development. That's why it's very important to initially agree with your development team on the terms of the project implementation. As for complex and large websites, their cost can start from $50,000.
Hidden costs
It's important to remember that your online auction budget isn't just about developer fees. You will also have to pay regularly for a domain name, server capacities, marketing and advertising, updates, mid-project changes, etc. You will face all these additional costs after the launch of your project. They can rise to $5,000 per month.
Our Tips and Tricks on How to Save and Gain the Quality
EPAM Startups & SMBs isn't just a team of experienced software engineers who can build an online auction site both from scratch or on the base of a ready-made solution like CMS. Indeed, there are plenty of just "good" auction platform development specialists.
But, to find those who can deliver a product according to the highest standards of the industry, is quite a challenge. We solve it by providing expert-level auction website development services, and here are the tips and tricks to make it work for you.
Also, if you are going to create an online auction site, you can learn more about our eCommerce website development services.
Evaluation of the scope of work
Before starting to create an auction website, we hold several online meetings with your team to seamlessly integrate into your work processes, understand the problem we have to solve and define both short-term and long-term business goals for your company. We also agree with your team on tools for remote interaction.
Team building
We choose not just the best specialists in the business niche you need - we find those whose soft skills are fully consistent with the policies and values of your company. You will be able to interview them and see for yourself before making the decision.
Security and accessibility compliance
Each of our products is built to industry standards as well as generally accepted standards for user data security, such as GDPR and PII, and accessibility. Thus, you get a solution that can be presented to the target audience without any legal obstacles.
Tracking metrics usage
We use advanced tools to track the progress of creating an auction website for both the team and its members. As a result, even in the early stages of project development, you can already get accurate predictions about the launch date. In addition, we practice the most progressive software development techniques, eliminating as much as possible the need to re-do the same work, and thereby bringing the product launch date as close as possible.
Effective collaboration
We always strive to improve approaches for remote interaction, achieving the most effective integration of new employees into your team. Also, we document all our meetings so as not to lose sight of a single detail that could contribute to the progress of work on the project.
Risk reduction and issue solving
We responsibly discuss possible risks and downtime to prevent them. To do this, we use advanced analytical tools and approaches that help predict correctly even over long distances.
Ensuring a constructive and comprehensive feedback
We process all feedback related to the progress of the project. Thus, all those who work on it receive real-time data on the performance and efficiency of the team. We also always have up-to-date reporting on the work done to provide unparalleled transparency for the product owner.
Impact of EPAM Startups & SMBs in Building Auction Websites
EPAM Startups & SMBs is a team of progressive IT specialists. Backed by EPAM, which has existed in the international software development market for almost 30 years, EPAM Startups & SMBs brings its experience of working on large-scale projects to small and medium-sized businesses.
Find out more about the relevant cases from the EPAM portfolio below. Also, we recommend learning more about our eCommerce marketplace development services.
In 2020, Glarner Kantonalbank (GLKB) asked EPAM to optimize their digital investment solution. The company already had a digital pension system, which consisted of three parts. However, from an investment point of view, the second part has a rather poor UX.
EPAM's team conducted a global UX study and teamed up with GLKB software engineers to develop and implement an end-to-end solution consisting of a mobile application, cloud server infrastructure, and a support team.
The project team used React and Typescript to implement the frontend in the app and Java for the server platform. They also migrated the server part into the Microsoft Azure cloud. Throughout the development process, the team followed the EPAM EngX 360 model with a focus on automation, including automated system testing and regression testing, infrastructure provisioning, and CI/CD practices. All this ensured the high quality of the program code.
As a result, after a few months, users of the integrated solution received an improved UX, and GLKB achieved all the business goals and got good prospects for further development.
A few years ago, EPAM became recognized at an international virtual competition held by Citi Mobile Challenge U.S., in which more than 3,000 developers from all over the world took part. In particular, EPAM created an application for Citi's Digital Banking Platforms.
EPAM's team provided innovative mobile solutions to improve the way customers interacted with the bank branches: CitiConcierge, a mobile application for bank customers based on microlocation sensors (iBeacons), and a wi-fi network for local offices, designed to provide an enhanced and personalized banking experience.
In addition to CitiConcierge, EPAM also implemented several products at once:
BankerConcierge, an iPad app designed for personal bankers that provides real-time snapshots of accounts, customer details, and more;
TellerConcierge, a touch-optimized customer service app;
ManagerConcierge, an application for viewing all explicit and implicit transaction data of users of the Concierge ecosystem.
Thus, the company launched CitiConcierge and the other three solutions into active use, improving the user experience both for the customers and employees.
In 2018, the ImageNPay startup asked EPAM to release their new project: to combine brands with their target audience, allowing the latter to make digital payments for goods and services, wherever they are, with the help of a virtual card.
This software solution required personalization for end users, so EPAM's team were tasked with developing a system that would allow owners of virtual cards to change images (including animation). Of course, the application was supposed to work on any smartphone, and also be convenient, safe, and meet all regulatory requirements.
First, the team developed a system for creating virtual cards, and then they had to add some new features and prepare an updated product for launch in the UK. The autonomous application was built in less than a year, despite the difficulties associated with the COVID-19 pandemic.
Now the web development specialists are working on a new stage of this project – to ensure integration with Apple Pay, expand the geographical coverage of the target audience to other countries, and create tools for buying and selling art.
DON'T PUT OFF YOUR BUSINESS IDEA FOR TOMORROW
Wanna build an auction site like eBay? Let's discuss your project idea in detail. We will provide you with the best auction website developers who will implement your project in the shortest possible time.
Now you know how to build your own auction website. As you can see, launching a website of such a format is a great opportunity to generate a stable source of income at a time when almost all retail moves online. So why are you delaying? Don't wait for your business idea to be implemented by your competitors – do it before them, and we will help you with it!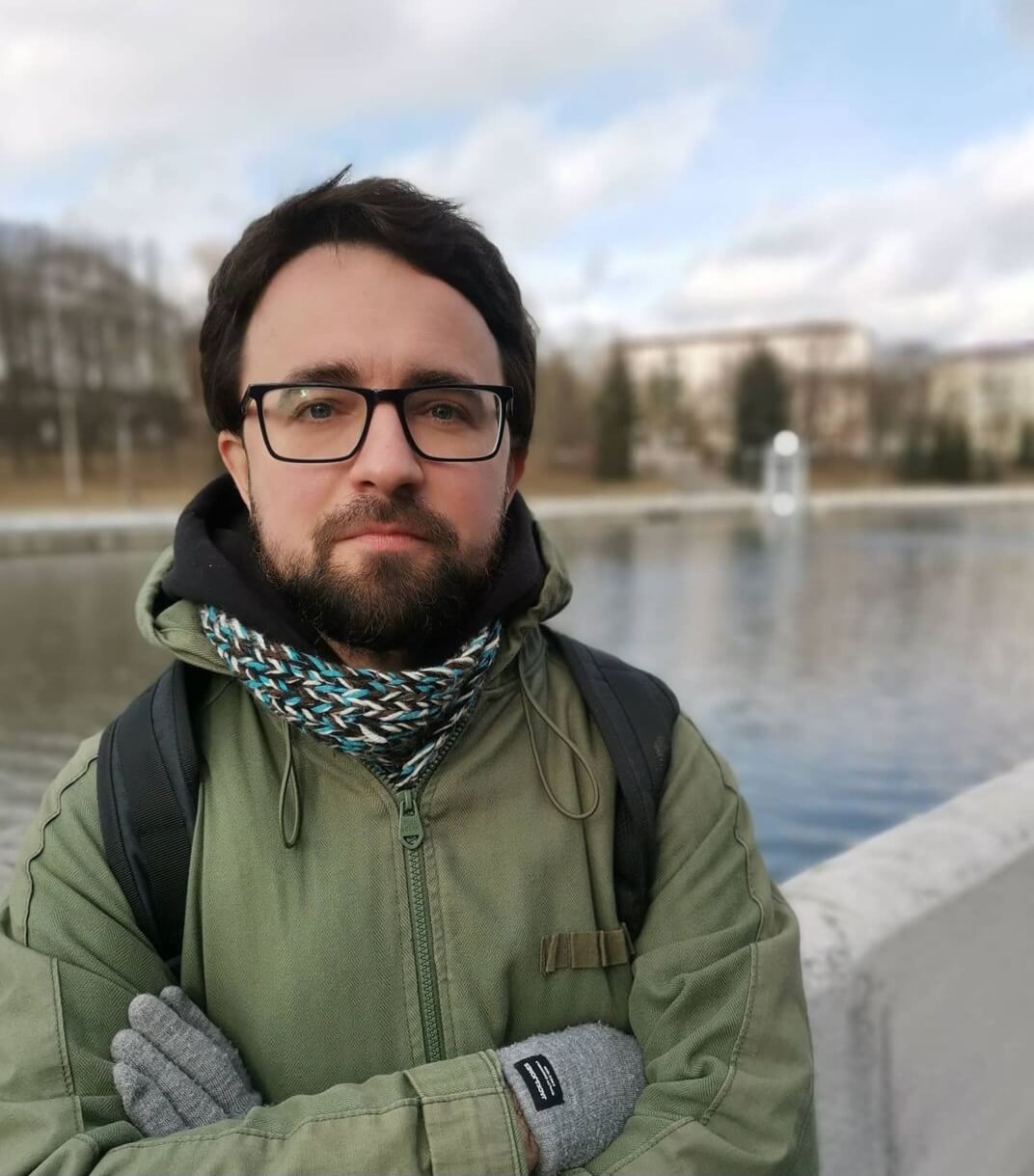 Written by
Since 2011, Dmitri has been helping business readers navigate the technology market through expert analysis and editorial work. At EPAM Startups & SMBs, Dmitri shows startups and SMBs across industries how to drive business value from their software engineering investments.
Since 2011, Dmitri has been helping business readers navigate the technology market through expert analysis and editorial work. At EPAM Startups & SMBs, Dmitri shows startups and SMBs across industries how to drive business value from their software engineering investments.