With half of the digital purchases occurring via marketplace platforms, building a marketplace application sounds like a lucrative endeavor. However, with giants like Amazon and eBay roaming the market, businesses may feel like entering the space is too challenging. Luckily, multiple niches still require filling in and new opportunities arise every day. If you are ready to begin your own project, this article will help you understand how to deliver an outstanding marketplace application. We will also explore the most prominent niches, top applications on the market, suitable tech stacks, and development costs

Fastest Growing Marketplace Niches in 2022
With giants like Amazon and eBay, it may seem like penetrating the market is impossible. However, there are a few emerging niches that you can still fill in with your app idea.
In 2021, the NFT market was worth $41 billion and is expected to grow in value in the future. The digital art industry is gaining more and more traction and recognition, so creating an NFT marketplace where users can sell and buy art might be a great idea for 2022.
Many people were forced to work from home during the peak of the pandemic and even now almost half of them share that they would be willing to sacrifice 5% of their income to keep working remotely. The home office equipment market is here to stay for years and years, and launching a specialized marketplace platform would be beneficial.
Home gym & fitness equipment
The pandemic has also changed the way people work out and exercise. With many people working from home, they purchase home fitness equipment to stay in shape during the lockdown. The home fitness market has reached $13.7 billion in 2021 and is projected to experience a 2.75% growth by 2027. If you are interested in this niche, this is the year to jump on this train.
With the growing concerns regarding climate change, more people strive to consume more environmentally conscious and make eco-friendly purchases. The sustainability market has reached $10 billion in 2020 and is expected to hit $75 billion by 2030. The diversity of products is quite broad, including metal bottles, reusable straws, sustainable clothes, biodegradable garbage bags, etc.
The way people get educated and deepen their expertise has drastically shifted in recent years. Online education allows people to access knowledge easier, faster, and more affordably. You can launch a marketplace where users can share their eBooks, courses, tutorials, lessons, and other educational materials.
Instead of going through agencies and paying high fees, users nowadays prefer finding professional help online. You can create a marketplace app where people can offer their services and find gigs directly.
Have an app idea that could help you enter a niche market?
Share your concepts with EPAM Anywhere Business to get a consultation and learn more about custom marketplace Android app development.
Crucial Stages to Create a Marketplace App MVP that Takes Off
An MVP stands for minimum viable product and serves as a budget-friendly idea validation process. Technically, it is a basic version of an app that holds the essential functions of the future solution and allows developers to get a feel of the app and collect some first feedback. In this part, we will focus on the benefits of MVPs and prototyping and talk about the creation process.
Benefits of prototypes in developing a marketplace app
Discover potential improvements
App prototyping helps developers conceptualize the idea early in the development process and make adjustments. This stage allows the development team to gather feedback regarding the design and navigation and make improvements until the product is marketable.
Creating a vision for the app based on the prototype enables the team to plan out the entire development cycle. The prototype, combined with detailed specifications, allows engineers to estimate the project's duration, break the process down, and evaluate the budget.
According to Statista, the retention rate drops from 33.7% on the day of installation to 8.7% in just one month. This is a worrying statistic for marketplace app owners, and one of the best practices for mitigating such a drop is focusing on user experience. Create a prototype and run a user test to validate the UX design and continue to work on it in the future.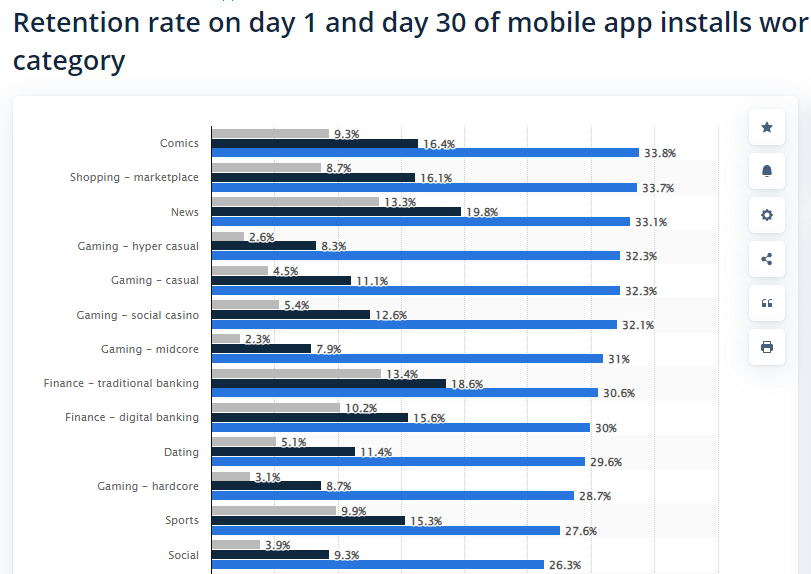 Smooth development process
Having an approved prototype is like working with a blueprint that saves time and eliminates misunderstandings. The prototypes can be used as a reference for developers, leaving no room for misinterpretation or errors.
The benefits of building an MVP
An MVP is a fully functioning product that can be used and interacted with. Although its functionality is limited, the app will be able to solve the main user problem and do the job. If you are interested in securing funding for your solution, it is recommended to build an MVP to demonstrate to potential investors and pique their interest.
Launching a feature-heavy product right away can be challenging, as it would complicate changes and adjustments. The app market is volatile, and emerging technology forces it to constantly change. Starting gradually and taking small iterative steps allows companies to enable changes on the go without wasting too much time and resources.
There is also quite a lot of uncertainty in the world that can kill your idea in one day. For example, the COVID-19 pandemic took a toll on the hospitality industry, and releasing a tourism-related app in 2020 was not a great choice. Much like nowadays, the supply chain crisis caused by the war in Ukraine hinders multiple industries at once. Consider the current situation in the world before launching an app, and test your idea with an MVP to avoid monetary losses.
Marketplace app version 2.0
After developing an MVP and conducting A/B testing, collect all the valuable input and make changes to the current app. In the later stages, you can focus on fine-tuning the product, adding something unique that helps you stand out, and expanding the functionality. You can utilize various technologies to make your application more useful and interactive.
Want to learn more about saving costs with MVPs?
EPAM Anywhere Business is a talent management platform that offers seasoned technical geniuses who can lend expertise for MVPs, prototypes, and other mobile application development services.
Top 5 Successful Marketplace Apps
If you would like to build a marketplace app that has a competitive edge and offers something unique, you need to investigate your competition. In this section, we will talk about the top five marketplace apps across the industries.
eBay
66 million daily users on the eBay website and application;
Ratings: 4.7/5 on Android and 4.8/5 on iOS;
Total funding: $6.7 million;
Key feature: First to implement image search to their engine.
Amazon
98 million daily users on the Amazon website and application;
Ratings: 4.7/5 on Android and 4.9/5 on iOS;
Total funding: $108 million;
Key feature: First to allow customers to choose the exact delivery day.
Fiverr
3.4 million users on the Fiverr site and app;
Ratings: 4.7/5 on Android and 4.9/5 on iOS;
Total funding: $111 million;
Key feature: First freelancing platform to include a news feed.
Craigslist
55 million monthly visitors across the apps and website;
Ratings: 4.6/5 on Android and 4.8/5 on iOS;
Total funding: $13.5 million;
Key feature: Remains minimalistic and archaic, but completely free of charge.
Airbnb
150 million active users on the app and website;
Ratings: 4.5/5 on Android and 4.8/5 on iOS;
Total funding: $6 billion;
Key feature: First to successfully allow people to rent out their property.
Curious how you can launch to reach the success of Amazon and Etsy?
We offer eCommerce marketplace development services and will assist you at every step and help you avoid pitfalls. Together, we can build a great and helpful application.
Key Features of a Marketplace App MVP
An MVP consists of basic features that are sufficient to solve a particular problem your target audience faces. Here is a list of essential elements your MVP should have.
Registration & signup
Registration allows users to sign up for the app and create their profiles. Make sure to implement quick registration with existing Google, Facebook, and other social media accounts.
User profile
Users should be able to create and edit their profile pages, including contact information, payment preferences, and pictures.
Product search
Allow your users to browse the marketplace and search for items using keywords. Add filtering options to fine-tune the search entry and find exactly what users need. Implement additional functions such as voice search or ML- or AI-assisted search.
Product page
Sellers or service providers need to be able to list their goods and services in as much detail as possible. Include keywords, tags, descriptions, images, 3D walkthroughs, and more to improve their experience.
Shopping cart
The shopping cart contains all the chosen items and their prices, as well as the total price for the purchase. Make sure users can edit their shopping list and remove or add items.
Payment gateway
Include several secure payment methods to offer your users some variety: credit and debit cards, PayPal, Stripe, cash, cryptocurrency, etc.
Notifications
Whenever someone is interested in the user's services or products, send them a notification. You can also alert users about promotions, discounts, incoming messages, new arrivals, and other events to enhance engagement.
Admin panel
The admin panel allows the app owner to collect data, conduct analyses, remove or ban users, and manage payments, discounts, products, and other behind-the-scenes activities.
Outstanding Features of a Robust Marketplace App Version 2.0
After your MVP has gone through testing and feedback collection, you can move on to the next part and add more advanced features to the product.
Social media integration
Social media platforms like Instagram are perfect for eCommerce integration. Instead of posting photos and encouraging users to visit your app, you can integrate your shop into Instagram and allow users to shop directly from there.
Advanced search
You can expand your search options by implementing options like image search, autocomplete, or machine learning algorithms. These sophisticated features will increase engagement and result in higher sales revenue.
Voice recognition
Voice recognition has become more prominent recently and allows people with visual impairments to use the app without issues. Add this feature to the search engine as well as to the product page and shopping cart for a smooth experience.
Messaging & chats
A messaging option can help customers get in touch with service providers and sellers for details. This leads to better experience and satisfaction as it allows for direct communication.
Augmented reality
Companies like Sephora have already implemented the AR feature into their website to allow customers to try out their products right at home. They can apply beauty products to see if it's the right color or texture through a web camera. This feature also works for apartment rentals, clothes, shoes, and other items.
Wondering which features are functional and which can be left for later?
We at EAB are experts at application development and will help you identify the key features and build a great MVP.
Challenges in Building a Marketplace App
Building a marketplace app is an ambitious undertaking that requires tech skills and planning. In this part, we will focus on challenges you might face and how to mitigate them.
Choose a development stack
When choosing the appropriate technology stack, focus on its security, flexibility, and scalability. Don't go with the most recent and emerging one, as it might not be as reliable yet and lack the seasoned engineers you will need to develop a marketplace app. Here are some of the most popular tech stacks that will help you deliver the best app you can:
LAMP (Linux, Apache, MySQL, PHP or Python)
LAMP is one of the oldest tech stacks and definitely stands the test of time. Linux is an operating system known to be reliable and secure. Apache is a web server used by giants like PayPal and Apple, whereas MySQL is a highly reliable database. Finally, PHP and Python are languages that are easy to learn, adapt, and integrate into servers and databases.
MEAN (MongoDB, Express.js, Angular.js, Node.js)
This tech stack is relatively easy to use and learn. It offers flexibility and allows developers to be innovative in their coding. MongoDB is a database that is easy to work with, while Angular is a simple tool for making single-page apps. Node will provide you with better performance than most frameworks, and Express will allow you to be innovative.
Be the soonest with MVP
According to Business of Apps, the number one reason for app failure with 42% is a lack of market research. These companies failed to identify market needs correctly and launched an app that nobody wanted. To avoid this fate, start with an MVP to test the idea and make sure users react positively to your solution and find it helpful.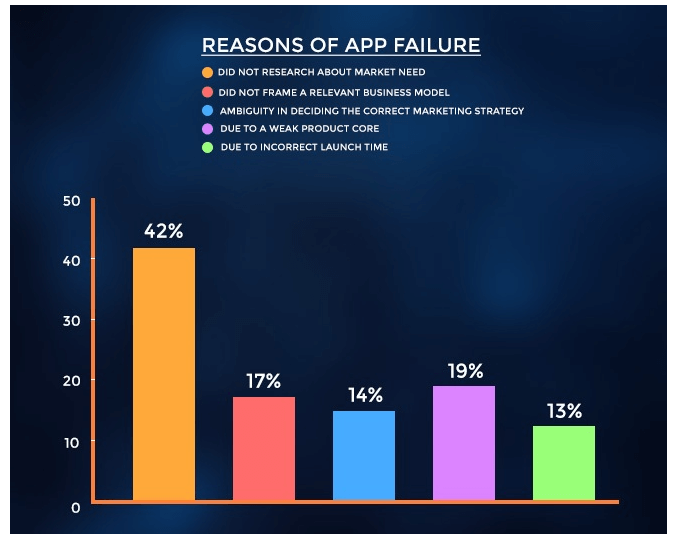 Get ready to hire fast once you are growing
If you have never hired software developers, you might feel overwhelmed and confused about where to start. You can begin by collaborating with three or four development companies and assigning them a small task to assess their work. After choosing the right partner, they can augment their staff for your purposes and continue working on your project. Finally, selecting a proven tech stack is advised to make sure the corresponding pool of talents is available and accessible.
How Does a Marketplace App Make Money?
Now that you've established the functionality and got some regular users, you might wonder how to make a marketplace app that generates income. In this part, we will go over the most popular monetization models for a marketplace platform.
Commission on transactions
The commission is the most popular monetization method in eCommerce and marketplaces in general. For each transaction, the app gets a commission that varies depending on the products, delivery times, location, industry, etc.
Example: Amazon
You can offer your app on a subscription basis, whether weekly, monthly, or yearly. We recommend including a free trial period to allow the customer to see what they can gain from the app before spending any money.
Example: Patreon
Another valid option for marketplace app monetization is taking a moderate listing fee for each posting.
Example: Upwork
You can sell your website and app space to companies willing to work with you and promote their products on your platform.
Example: Zillow
This model is suitable for niche services and products that have lower engagement. The seller will only pay whenever a user interacts with the listing.
Example: LinkedIn jobs
A freemium model offers free access to the app's basic features, while requiring a fee for more advanced functions.
Example: Craigslist
Growth Hacking Tech Stack to Creating a Marketplace Application
Online marketplace app development is a complicated process that requires technical know-how and experience. Here, we will explore some tools and hacks to help you smoothen your journey.
Quick Prototyping
We have already talked about the benefits of prototyping and how it could enhance collaboration and save costs. Do not skip this step if you want to build a mobile marketplace app that finds its users.
Frameworks
Cross-platform development allows you to develop an app across multiple platforms using one code base. The three industry leaders are React Native, Flutter, and Xamarin. React Native is a framework that offers native platform capabilities and delivers top-notch UI elements that improve performance. Flutter is a newer solution with the hot reload and useful widgets that enrich the design. Finally, Xamarin delivers a near-native experience and simplifies the development process.
Programming languages
If you decide to create native solutions, you can choose between Kotlin and Java to build a complete marketplace app for Android. With apps like Uber, Spotify, and Instagram, Java is a world-renowned language still in use due to its security, simplicity, and debugging tools. Kotlin is a newer technology that has already gained appreciation from the community thanks to its lightweight, Java interoperability, and short learning curve.
For iOS app development for marketplace solutions, you have a choice between Objective-C and Swift. Objective-C is an older technology that offers a wide pool of talents, lots of helpful documentation, and a high level of stability. On the other hand, Swift is a newer language that is much faster and safer and delivers better performance compared to its competitor.
Servers
When it comes to servers, we recommend sticking to Apache, NGINX, and Amazon EC2. Apache is the most popular web server: reliable, stable, and flexible. The server is continuously updated with new security patches and suits for beginners.
NGINX is another prominent server that offers simplicity, high speed, minimum memory usage, and a large community. Finally, Amazon EC2 provides reliability, a high level of security, flexibility, and excellent scalability.
DevOps
DevOps is a part of agile methodology that has become widespread in the development community. This best practice will deliver faster deployment and improve the quality of the application. You can also achieve better transparency across the processes and higher productivity within the teams. Finally, DevOps practices will automate mundane tasks and help your developers focus on more creative activities.
Databases
The choice of databases is quite vast, so we will focus on just three. MySQL is a popular database that provides high performance, security, and scalability. DynamoDB is beloved for its cost-effectiveness, scalability, and serverless nature. Finally, PostgreSQL has a large community, reduced production costs, and fantastic security.
Wondering how to make the right technology choice from the first steps?
EPAM Anywhere Business offers a team of software development professionals who will guide you through the process, assist you with the technology choice and make an eCommerce mobile app of your dreams.
8 Steps to Build a Marketplace App
Before launching a marketplace application development process, get familiar with our short checklist on how to build an app for the marketplace.
Define app type and monetization model
Discovery phase
Establish key features
UI/UX Design and prototyping
Decide on the tech stack
Choose the right development experts
Develop an MVP and run tests
Collect feedback and move to version 2.0
Start your project right with EAB's discovery phase service
If you are looking for the best marketplace app development journey, try our discovery phase service. EAB's experts will share their expertise and make your development processes fast and adaptive.
How Much Does it Cost to Develop a Marketplace App?
Building an application for the marketplace can be expensive. However, utilizing prototypes and MVPs will help you save your budget. Let's explore the costs of these practices based on the market averages.
Prototype costs
The price might range depending on the complexity of your design, but on average, the costs lie between $4,000 and $8,000. Building a prototype takes from 80 to 160 hours, and with a $50 per hour rate, you will get the price above.
MVP development costs
An MVP is a functioning application, so it will take longer to develop. Depending on the complexity and number of features, you will spend from 300 to 1,000 hours. The price is between $15,000 and $50,000 with the same hourly rate.
EPAM's Best Practices of Marketplace Applications Development
EPAM is a team of software developers with years of experience, including in marketplace mobile app development. EPAM's expertise and technical insight will help you realize your ideas and develop an app that allows you to achieve your goals. Keep reading to learn about exciting projects that we built for our clients:
Ansell is a manufacturing company that required assistance from EPAM to develop an application for their sales team that generates product orders and collects data to measure customer satisfaction. EPAM's team has delivered an app called Ansell Guardian® Mobile, a solution that increases sales and enables sales personnel to store data on their mobile devices. As a result, salespeople can conduct surveys within just ten minutes or less using a cost-effective and optimized solution.
EPAM helped New Era to develop a B2B portal with advanced features and broad functionality, including the 3D Cap Builder tool. The portal connects customers to salespeople, improves the user experience, and provides a photo-realistic 3D Cap Builder customizer suitable for 3D modeling. The solution integrates with more than 30 external systems and shares the same codebase as New Era's B2C solution.
The process of the mobile app development marketplace is lengthy and complex. However, with the right tech stack and best practices like prototyping and MVP, you can deliver a great product without spending more than you should. The industry will likely continue to grow and open up new opportunities for entrepreneurs, so you should take your chance and create your own marketplace app if you feel ready. Get in touch with EPAM Anywhere Business to share your idea with the best e-Commerce application development services company, and we will help you realize your dream application.