Eager to make an e-commerce app that will raise brand loyalty and increase customer databases? Well, that's a commendable ambition. The whole world goes online; people prefer buying things or services on the web, and your e-commerce app might help them tackle that challenge.
Keep reading to learn how to build an e-commerce mobile app, the latest trends in this niche, tips on how to calculate the budget of your product, must-have features of the mobile app, etc. You'll be no stranger to all the information related to e-commerce app development and able to deliver the best experience for your customers. Get comfortable and have a look at these guidelines.
Ecommerce Applications Market Overview
Let's begin with the basics and analyze the current e-commerce market. When it comes to deciding whether you need a commerce app for your business or not, your first and foremost task is to analyze the statistics. In 2020, retail e-commerce sales worldwide reached $4,28 trillion, and the general revenue is expected to grow in 2023.
Overall, online shopping has become extremely popular over the last five years as this option is faster and more convenient compared to visiting traditional stores.
Let's move on to the sales overview by country. According to updates from Statista, Brazil is expected to be the country with the highest growth in online retail sales by the end of 2021. Russia goes second in this list with an expected growth of 32%.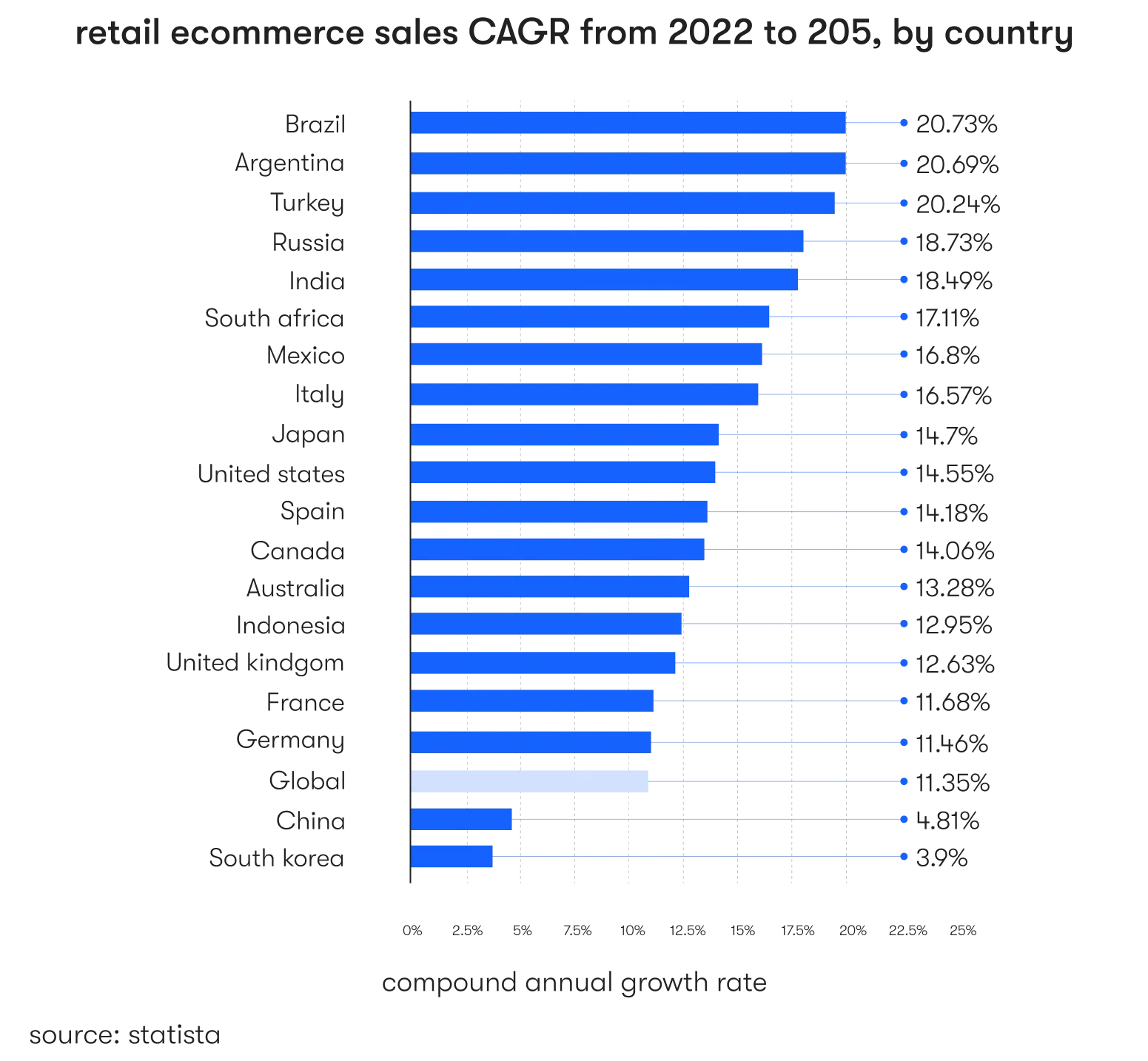 As you can see, this industry is trending up. More and more people prefer buying goods and services online as this option is much more comfortable. But before we take a deeper look at the peculiarities of building e-commerce applications, let's dive deeper into the phenomenon of mobile commerce.
M-commerce as a Natural Way of Shopping
M-commerce is a widely-used term for mobile commerce. It's not a new trend or technology; it's an addition to e-commerce, the niche that has been around for more than ten years. It demonstrates the natural progression of technology as modern users use mobile devices today more than any other one. So far, mobile commerce includes mobile banking, mobile shopping, and digital wallets or online payment options.
The main benefits of mobile commerce are as follows:
Statistically, around 46% of users stated that they use a mobile e-commerce app to discover more information on products and services. In a more particular case, popular flash sale retail company Rue La La managed to get a 60% boost in user message open rates by experimenting with the design and messaging of their notifications.
Wide audience (as of today there are over 6 billion smartphone users)
Let's get back to figures. Statistically, around 79% of smartphone users buy things or services online using mobile devices in the past months. For instance, by nailing the utterly accessible approach to user experience in their app, Uber has been able to gain around 82 million(!) users only in 5 years, having boasted only 11 million users in total in 2015.
Better customer support and more effective content
Good customer service means a lot for businesses. To enhance sales, you need to establish proper communication between users and the store. A mobile app allows business owners to provide 24/7 customer support. Responsive customer support results in higher brand loyalty rates, which brings companies 4%-8% more revenue on average.
Modern companies utilise mobile apps to raise sales. Moreover, some of them even manage to improve online and offline sales. For example, Domino's Pizza has invested in building a mobile app. The resulting product has been downloaded 10 million times and improved e-commerce sales by 25%. Globally, m-commerce sales already cover about 50% of all e-commerce sales in the world.

Main Pace-setters in the Industry
As well as any other industry, this one also has some pace-setters, companies that have already achieved success in this niche and boast an impeccable reputation. Let's list a few most successful brands:

Amazon;
H&M;
Sephora;
eBay;
Aliexpress;
Etsy.

We guarantee that each of us has already used at least one of the above-listed apps. All of them have millions of users and boast a high rating in the app stores.
Consumer Categories Worth Targeting When Building an E-commerce App
When you leverage customer segmentation, you'll build a framework for running well-hypothesized experiments. And the primary goal of this data is to provide a more engaging experience. To portray your target audience, you can use such categories as their place of living, gender, age, interests, profession, etc. Beyond this, you should also think about how your product might help them in their everyday life and write down detailed use cases.
The major mobile consumer categories right now include:
Pure online retailers — 42%;
Mass merchant retailers — 28%;
Restaurants — 20%;
Apparel retailers — 4%.
To take the US market of mobile shoppers for a generalized example of segmentation by age groups, here's how many people of different ages prefer to shop online via smartphones:
Age 18-24 — 78%
Age 25-34 — 90%
Age 35-44 — 70%
Age 45-54 — 58%
Age 55-64 — 32%
Age 65+ — 18%
It's apparent that the younger and more self-conscious a person is, the more hang they have on smartphone tech opportunities and more prone they are to resort to time-saving mobile purchases. Millennials are especially interested in in-app shopping, with 61% of surveyed smartphone users in this age group stating that they use retail apps regularly and 58% confessing to prefer online shopping over visiting traditional brick-and-mortar stores.
Reasons to Build an Ecommerce App in 2023
The mobile revolution changed the world we live in, and, of course, it created a new buzz in the e-commerce sector. If you are eager to make an e-commerce application, it won't be a wrong decision. The thing is that mobile applications have changed the way retailers connect with their targeted audience. And if you are still hesitating whether you need a mobile app for your business, look through the below-listed reasons to make an e-commerce Android app for your business.
A mobile app is a direct-to-customer marketing channel that helps customers stay connected with your company.
An app allows for improving customer experience as it enables gathering valuable insights about targeted audiences.
Conversion rate growth thanks to push notifications, device options usage, and keeping the information about customers.
Enhanced brand recognition and customer loyalty that are possible due to a top-notch mobile app experience.
Better efficiency and income growth. E-commerce apps are easy to use and always at hand. An app with an array of features and the right concept, as a rule, brings more clients.
Enhanced user experience. Mobile apps load 1.5 times faster compared to traditional websites. This delights customers and provides them with the best possible shopping experience.
Types of Ecommerce Mobile Apps
Before you immerse yourself in the e-commerce business and find developers to create an e-commerce mobile app, you need to define the right type of app that will meet your business goals. Consider the following app types:
These are social media platforms that are mostly concentrated on shopping. The best examples are Pinterest, Poshmark, or Polyvore.
These are mobile apps mostly focused on discounts and profitable online deals. The best examples are Groupon or LivingSocial.
These are huge marketplaces like Amazon, where you can buy literally everything. Such platforms allow mobile shoppers to look through the items, form wishlists, leave comments, share products on social media, etc.
Customer Expectations
It is crucial to keep one nuance in mind here — different customer segments expect different treatment and slightly individualized user experiences. What you need to do is outline some specific major aspects the user segments you target expect to see and experience.
As such, it is important for baby boomers, for instance, to see comprehensive, convincing testimonials and feedback from past customers as they tend to trust real human opinions more than any marketing efforts.
Generation X customers also pay a good share of attention to reviews yet they also tend to look things up and learn lots of details before making final purchasing decisions. This is where proper SEO and marketing efforts combined with high-quality customer support services play a major role.
Millennials focus a lot on research and analysis, which means that they study competitors' offers and prices, go an extra mile to confirm your brand reputation, and consider the technological and overall quality of services (e.g., smoothness of user experience, conveniences of features, rates of performance, quality of customer support, presence of certificates, etc.). People from this generation welcome tech solutions but also like it when innovative features are intuitive and can make their lives easier.
Logically, zoomers are all about innovation and outstanding, original approaches. Grabbing a zoomer's attention is all about the design, novelty, and being in tune with the times. And this is where the employment of advanced technologies and hyped-up concepts helps a lot. A zoomer will surely pay more attention to a VR or AR-integrated app, an app with an extraordinary, feature-rich, dynamic interface, or a solution inspired by common happenings (e.g., the global pandemic).
And there are more up-to-date trendy features you may want to use.
Trends in Ecommerce Application Development in 2023 and Further
If your overriding objective is to create an Android app for e-commerce that delivers a stellar experience, follow (or even step ahead) the current e-commerce tech trends to make sure you keep up with customer requirements and stand the market competition. Let's take a deeper look at the current trends in this niche:

Must-have Features of an Ecommerce App
Let's take a closer look at the main features of your future mobile app. Remember that choosing the core functions is a big consideration of any business owner. By providing features, including the below-listed ones, you'll undoubtedly give your e-commerce business a chance for a good start:
Quick and easy registration process
It's clear that your audience needs to undergo a registration procedure before they are allowed to make purchases. Make it simple and user-friendly.
Failing to deliver an array of banking options is a mistake. Set up your payment gateway as a part of an e-commerce solution.
The option provides customers with sales details and information about products right on time.
Make sure your app features an extensive product gallery with all information needed to find out more about the products.
The main mission of an e-commerce app is to deliver an easy way of shopping. So the first and foremost task is to build a functional shopping cart.
An app should feature an array of shipping options to meet the needs of the most exacting users.
The main objective of this option is to provide users with information about the delivery status of their order.
Rating and customer review
Top-notch and notable apps allow users to rate products or services and leave feedback about user experience.
Nice-to-have functionality to please your customers
The following are some nice-to-have options that should help you better please your target audience and convert random visitors into regular customers. However, keep in mind the above-mentioned customer expectations. Your focused TA should define the scope of your app's features, not the other way round. For instance, there will be more use in employing AR and other innovative features if you target zoomers. At the same time, social integrations may bring more benefits if your major TA are gen X and boomers.

AR is expected to become one of the hottest e-commerce trends. Its main goal is to allow users to interact with the chosen product from the screen of their mobile device and check the way it looks in reality.
Social media is the strongest tool available on the web. Such integrations speed up user login, registration, and sharing the details of your products.
E-commerce Android applications (as well as iOS) with vast catalogs may take forever to load if a user has a poor internet connection. In this case, offline mode, even less functional than online, will provide customers with a seamless user experience and improve your rating.
Ecommerce App Builder VS. Custom E-commerce App Development
Choosing the right e-commerce platform to kick-start an online store is a big consideration for business owners. Are you looking for a cost-efficient approach or eager to build a powerful and multi-featured app that might demonstrate the value of your company? Let's compare custom e-commerce development with simple e-commerce app builders, available online to any user.
| | | |
| --- | --- | --- |
| Specification | Custom development | E-commerce App Builders |
| Functionality | Unique app, developed specifically for the needs of your business. | Usually don't imply building a custom app, and have a limited set of features that can't be customized. Still, the in-built features work together nicely. |
| Performance | Gives users the best performance possible, higher efficiency, and a much better user experience since such solutions are tailored specifically for the needs of a project. | Performance may be worse compared to custom apps. |
| Customization | Clean base code that enables adding custom components. Full potential for customization. | Have an established set of themes and plugins, which are enough if your app needs basic solutions rather than custom. |
| Money | More expensive. | More affordable. |
| Maintenance | Features robust backend support from the dev team. | Implies support from app builders, which may be limited. |
| Time to market | Takes more time to build a custom solution. | A time-saving alternative. |
Defining Your Ecommerce App Idea
Before you entrust an app development to your development team or a vendor, define a proper idea of your e-commerce application. For this, set your priorities. Use the table above to outline what you need your app to be, making sure that everything falls in line with your business capabilities. The scope of your ambitions should define the app's customizability, your budget, its extent of functionality and time-to-market, and so on.
Meeting Your Target Audience Needs
If you are going to invest in mobile app development for e-commerce, you need to learn this niche inside out. And the biggest mistake that you can make is to think that your e-commerce product can fit the needs of all users. If your overriding objective is to succeed, you need to define your core audience. How can you do that? Check out a few insightful tips that might help you identify the main users of your future product:
When it comes to the development of e-commerce applications, your first and foremost task is to learn their online behavior, interests, age, habits via statistics, research, interviews, focus groups, etc.
Picture your potential customer
Create an individual profile of each customer that opens the website of your store. In doing so, it will be easier to target a group of similar customer profiles.
After creating customer profiles, categorize your users using demographics, lifestyle, occupation, hobby, etc. This helps better understand their needs and create the right promotional ads for each category.
This is where you have a few options to choose from. You can either record customer feedback after purchase or create brief welcome surveys for newly registered users. They will help you learn more about your potential customers.
Find out more about your competitors
So far, it's one of the crucial aspects to consider before you immerse yourself in e-commerce mobile application development. Keep track of the industry giants that are engaged in the same niche. Know all their products and services, and this information might help you find out what market you should target first.
To research all the above information before the app development project kick-off, you can either:
Save money with more effort — gather trends and behaviors statistics related to your TA online single-handedly (specialized online tools like SimilarWeb offer versatile TA identification and study opportunities).
Turn to a specialized marketing research and analysis provider and order an in-depth TA study with intuitive reports.
So you see that to create an app for e-commerce, you need to conduct research first and create a detailed action plan. Before hiring a professional app development team and paying for building an app, you need to be doubly sure that your audience will undoubtedly benefit from your product and would be glad to use it.
Role of UI/UX Design in the Ecommerce App Development
Proper UX/UI design investments result in dramatically boosted ROI in the long term. We may as well state that you double the ROI on your total investments when you put enough focus on the outstanding design. In the long run, this may bring you up to a 500% ROI while you'll also be able to retain loyal customers better and get more word-of-mouth recommendations (if you have what it takes to really impress people with the UI/UX design).
The Design Management Institute, for instance, claims that successful brands that put the heaviest focus on designs they provide — Apple, Netflix, Coca-Cola, and others — tend to outperform the average industry performance index by over 200% in a 10-year market operation stretches.
Tech Stack to Make an Ecommerce App Scalable and Performable
All business owners that wish to create a mobile e-commerce app face another challenge — choosing the right tech stack. And it's even more problematic than any other task. Let's begin with the basics. A technology stack combines various tools, platforms, apps, frameworks, and programming languages needed to build a mobile app.
First things first — you need a proper programming language for outlining the architecture of the app. The choice should be based on your target mobile platform:
Java and Kotlin for Android (Airbnb was built on Kotlin while a whole payment system CashApp employs the powers of Java);
Swift for iOS (Lyft and Kickstarter are among the prime examples of Swift-powered solutions);
From there on out, you will need a bunch of tools for designing the user interface and hardcoding the functionality of the application, which are, too, selected based on the target platform:
Android
iOS
How to Build an E-commerce Mobile App: 7 Steps
We are moving to the most interesting section of this app development guide — an overview of the key steps to follow to build a tremendous e-commerce app that might bring revenue to your business. Let's list the main stages of e-commerce app development:
Analyze the market, research competitor apps, and check user interviews. All these aspects are compulsory for analyzing user behavior.
Define what problems your app might solve and what your target audience is.
Choose the right platform
Before choosing the tech stack of your future e-commerce app, discover the ins and outs of your company. Besides, analyze the development cost, choose the CMS, scalable framework, etc. With this information in mind, it might be easier for you to decide — whether to create an e-commerce app in Android or iOS.
Come back to the main problems your app solves and define the basic features that might satisfy the needs of your customers.
Never neglect this stage and invest in building UX/UI designs. This is a fair opportunity to stand out from the competition. Moreover, a good design reveals your business identity.
A minimum viable product is a product with a limited set of essential features that enables you to test the functionality of your e-commerce app and learn what your target audience thinks about your product.
When you are done with building an MVP, it's high time to find out more about the opinion of your users about your app. When gathering feedback, you'll learn how users interact with your application. This information is needed to check positive and negative aspects of your product and, of course, make improvements if necessary.
Mobile App Development for E-commerce with EPAM Startups & SMBs
Overall, if you are looking for a trustworthy and time-proven software development team, contact experts from EPAM Startups & SMBs, a software engineering cooperation platform launched by EPAM, a global company with a long-standing experience in building e-commerce apps.
The Case of Sephora
Let's move on to EPAM's case studies. One of the recent projects is a collaboration with Sephora. The company contacted EPAM because they wanted to provide their customers with a first-class e-commerce experience. Thanks to EPAM's expertise in building e-commerce solutions, it helped Sephora boost their mobile sales by 150% and managed to create a fantastic online solution for users.
The Case of HEAD
Another successful project was launching an e-commerce platform for HEAD. They turned to EPAM to help them build a new web store. The final project was completed within the established budget and deadline.
In the terms of 3 weeks of working on the project, EPAM managed to set up a complete team of Magento specialists, assess the overall software infrastructure, and implement several major tasks and optimizations. As a result, the job was finished in 2 months in total.
With EPAM Startups & SMBs experience in e-commerce development, you can be doubly sure that your project is in the hands of experts in this niche!
Let's sum up our comprehensive review:
Remember that having a mobile app for your business isn't optional — it's the best way to increase your revenue by more than double.
Mobile commerce is a natural way of shopping today, with roughly half of all e-commerce shoppers resorting to it regularly.
You have many reasons to create an e-commerce app, ranging from improved customer experience and brand recognition to doubling conversion rates and efficiency.
The main trends in e-commerce app development are subscription-based models, improved prevalence of voice search, AI-assisted upselling, and innovative features like Augmented Reality.
Must-have features of your app are convenient registration, push notifications, payment options, shipping options, a shopping cart, delivery status tracking, rating, and feedback.
Before creating an app, you need to define the app idea and conduct market & customer research.
The role of UI/UX can't be overestimated, with significant returns on investment achieved through an in-depth approach to design.
A lot of aspects influence the iOS or Android app development cost, which may range from a couple of thousand bucks to over $100K.
Overall, if you want to find a proven software development company with an impeccable reputation in the area of software development, don't hesitate to contact the team of EPAM Startups & SMBs. We'll help you define the main features needed for your product, calculate the app cost, and build an app that will surely raise your income!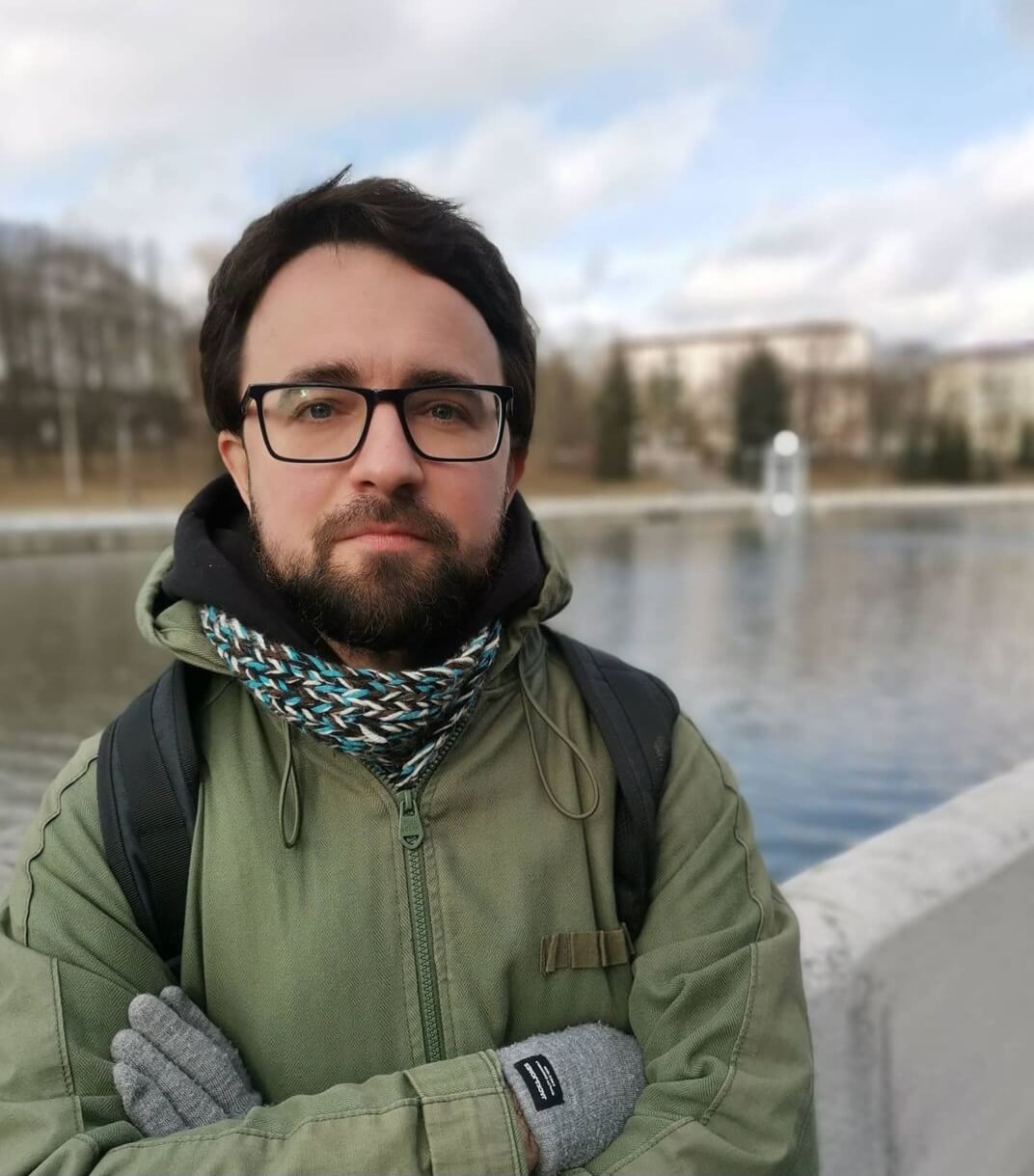 Written by
Since 2011, Dmitri has been helping business readers navigate the technology market through expert analysis and editorial work. At EPAM Startups & SMBs, Dmitri shows startups and SMBs across industries how to drive business value from their software engineering investments.
Since 2011, Dmitri has been helping business readers navigate the technology market through expert analysis and editorial work. At EPAM Startups & SMBs, Dmitri shows startups and SMBs across industries how to drive business value from their software engineering investments.