There is no longer any doubt that remote work can be as productive and successful as on-site work in the office. And in some cases, hiring a remote team looks like a reasonable option and the best possible decision. This is especially true in today's global pandemic. This type of collaboration provides startups and businesses with many benefits. And to get the most out of this, you need to properly organize all processes: from finding and hiring programmers to onboarding and management.
In this article, we'll talk about everything there is to know if you consider hiring a remote developer — features and advantages of remote specialists, challenges in looking for freelancers and vendor-offered developers, skills of remote employees that you must pay attention to, best places to find and hire specialists, rules for evaluating potential candidates, and steps of the hiring process.
Let's find out how to hire a remote developers team to get the best solution for your business.
‌Who is a remote developer?
Remote employees, unlike office ones, interact with the team virtually, although they are also a part of it. They may be from other countries and may not even be personally acquainted with employers. This type of interaction is often associated with freelancing; however, not only a freelancer but also any full-time employee can work remotely.
If a freelancer is a specialist who just performs the agreed amount of work within the project, then the vendor-offered developer is a full-fledged team member, and only the geographic location distinguishes them from the in-house employees.
We will talk more about the differences between these types of specialists later, but now let's clarify the main thing. In the post-pandemic world, this line is blurred, and remote developers from vendors such as EPAM Startups & SMBs with established processes for markets with a lack of tech talent are valued more for their affordable price with the same or even higher skill set. And that's not all.
Top 6 Reasons Why Hiring Remote Developers Offshore Makes Sense In the Era of COVID-19
Some advantages of looking for remote developers are obvious and well-known. However, some of them are due to global processes and market changes. Let's take a look at the benefits of hiring offshore developers that have been caused by the pandemic.
Flexibility and ability to implement the perfect collaboration model
COVID-19 has pushed companies worldwide to organize the workflow in a new way, apply flexible models of interaction with employees, and look for alternative options for expanding the team. While maintaining a high level of employee productivity remains an important criterion, ensuring the safety and health of team members is now more critical than ever.
So, software companies face some challenges in striking a balance between maintaining the same team performance and creating the right working environment where employees will not risk their health. And obviously, the main problem in ensuring productivity is the difficulty of keeping track of the effectiveness of employees who work from home.
Hiring a remote team can solve many of the challenges caused by the global epidemic in terms of profitability and efficiency. The use of this cooperation model allows you to hire dedicated remote developers from an advanced and well-known outsourcing company.
You have two options for organizing workflow. You can outsource the entire project to a remote team, or offshore specialists can work on the project in conjunction with your in-house developers. Regardless of which type you choose, you will be able to fully control all processes and manage the entire team. And this is the main point.
Equipping with the right technology and tools
The productivity of enterprises around the world has also been impacted by the pandemic in the context of global shutdowns. And this has made it difficult for IT firms to remain competitive in the industry market. And finding the right remote team can help firms improve their performance metrics.
Hiring offshore developers is a great solution in today's pandemic world, since they have the necessary experience working on a great variety of projects and organizing remote workflows. And most importantly, they are equipped with all the required technologies and tools for virtual project management.
All this allows them to cooperate remotely no less effectively since they have long been organizing their work strictly adhering to such a business model.
Adapting to changing customer preferences and providing first-class service
The pandemic has proven that the key to business success is the ability to quickly adapt to new conditions, catch up with global trends, and move at an incredible speed. All this contributes to the main thing - to ensure customer focus and offer the highest level of service. Now, companies are again forced to look for new solutions to provide high-quality experiences.
And one of these modern solutions is the use of digital channels to maintain the smoothness and continuity of business processes, following the COVID-19 scenarios.
The epidemic has caused structural changes in all industries, affected every area of our lives, and significantly changed user experience and customer behavior. We act, communicate, and shop in a new way. We have different requests, different habits, different experiences.
By hiring remote specialists, businesses can:
widen current business offers;
speed up the inevitable transition to digital commerce;
launch new directions of service.
Finding new opportunities and generating profitability
In the face of the global crisis, businesses in the IT industry must act quickly and be constantly on the lookout for new opportunities, such as a market gap for creating a budget app or launching an on-demand delivery service. Outsourcing development is a relevant necessity for every enterprise since this is the solution that allows you to immediately solve the problems associated with short-term liquidity.
This is exactly what allows you to increase profitability. And this is very important. Each decision directly impacts the actual survival of the business in modern conditions.
Getting access to the global workforce, talent pool, and the right skills
The COVID-19 pandemic has severely limited our ability to travel. It has now become more difficult for people to enter other countries, including for work purposes. And hiring outsourcing employees allows eliminating this geographical barrier. You no longer have to be in the same region to collaborate productively and effectively. While access to the global workforce has been important in the past, these capabilities are now key to strengthening the team with the necessary talents and right skills.
On the other hand, the necessity of access to a specialized talent pool can be caused by new technologies, and as a result, by the need to hire specialists with the right skills. So, for example, the development of such areas as the Internet of Things and artificial intelligence prompts businesses to implement these advanced technologies as efficiently as possible. And here the question of finding the right specialists becomes especially relevant. Recruiting the right tech talent is a daunting challenge for enterprises worldwide.
And you can solve this issue with the help of remote developers for hire. Thus, you can avoid costs and other difficulties in finding and employing your own specialist. Remote work means global access.
Focusing on the future and coming up with new ways of operating
So, it all boils down to the fact that the changes induced by the pandemic are forcing every company to look for new models of working. And since many firms are still undecided about their priorities, they cannot make solutions to reduce risk in real time.
Now is the best time to consolidate your market position by building a long-term relationship with an advanced remote development team. This will allow adopting the experience of offshore companies that can then be used to develop roadmaps and future-oriented solutions to be prepared for such challenges in the future.
CONSIDER OUR TALENT TO BOOST YOUR PROJECT
Extend your team and strengthen your software development capabilities using the skills of our best software engineers.
Why It Can Be Tough Looking for Remote Developers in 2023
Despite the impressive advantages of remote collaboration, everything is not so simple. Looking for a remote developer and managing them can be tricky and challenging for startups and small and medium-sized enterprises for various reasons. However, all of them can be successfully overcome. And the main thing here is to understand what troubles you can face in your search.
Let's consider the most widespread obstacles that can appear when building a strong remote development team.
Difficulties in identifying truly high-quality candidates
The Internet provides many opportunities that are easy to get lost in. You get access to millions of developers around the world, but choosing the right one is not an easy task. Once you post a job ad, you will start getting a lot of responses. And you will need to consider every potential candidate to hire the perfect one.
When you have thousands of CVs, sorting, reviewing, and ranking the top is really a challenge. So, the issue of verification of responses, recognition of quality, and assessment of candidates should not be underestimated.
The laboriousness of the job posting management process
To find and hire a remote team of developers, you must not only create and post job advertisements but also organize the handling job ads process. And managing posting on several resources at the same time is quite resource-intensive and time-consuming. You will need to spend a lot of energy reviewing multiple job sites, social media and revising the huge number of applications and resumes received. In addition, writing a job posting and selecting sites for publication is also not as easy as it may seem.
For best results, you must take no rush and give due consideration to the creating and managing job ads process.
The complexity of the communication and language barriers
Language issues are still relevant in 2023. Language barriers significantly limit the choice, as the talent of remote developers doesn't really matter if they can't communicate with the rest of your team. So, you may find it difficult to come to a mutual understanding if the remote specialists you are considering do not speak English.
And although today there are tools for communication in foreign languages, for effective remote cooperation within the one project, knowledge of all members of the same language is a must. Remember that smooth communication within the team is critical.
Market oversaturation: high demand and high rates
One more obvious problem in finding qualified and experienced remote programmers for hire is the high competition in the market. The web development industry continues to gain momentum, so good specialists are always in demand. This leads to companies competing for worthy candidates and high rates of skilled remote software developers.
In order to cope with all of the above problems, you must clearly understand what you and your team need, as well as create a reliable process of finding and screening potential candidates. This will help you filter out unsuitable specialists and find the one that will perfectly match all your wishes and requirements.
| | | | |
| --- | --- | --- | --- |
| Programming language | JavaScript | Python | SQL |
| Average hourly rate for a developer (USA) | $52 | $55 | $45 |
| Average hourly rate for a developer (EU) | $47 | $45 | $60 |
| Average hourly rate for a developer (Ukraine) | $22 | $30 | $10 |

Demand (number of vacancies) significantly exceeds supply (number of developers), which means that it is really difficult to hire a specialist in such a competitive environment. At EPAM Startups & SMBs, we make the recruiting process faster, cheaper, and better. Trust our team to find a remote developer, and we will save you time and money.
Skills That Make Remote Developers True Professionals
If a company hires a remote developer, this specialist is likely expected to have the critical qualities required to complete the project successfully. It's possible to find an experienced and skilled remote programmer; the challenge is to find one that is right for your development company.
It is important to understand that there is no ideal candidate or ideal company — the recruiter's mission is to attract and hire the most suitable specialists. This is about both professional skills and technical competencies, as well as the so-called soft qualities, which are more related to personal characteristics. Furthermore, when it comes to remote professionals, there are certain additional features directly related to teleworking that must be taken into account.
So, what are the specific soft and hard skills a recruiter should pay attention to when selecting remote developers?
Hard skills: expertise, professional competence, and technical abilities
It goes without saying that the remote developer must have excellent programming skills. This is the basis, but far from the only one. A technical background is definitely a must, but it doesn't stand well on its own.
So, in terms of hard skills, traditional expert qualities, coding skills, as well as theoretical knowledge in regard to the needed technology and methodology are important. In addition to identifying technical qualities and professional experience, it is necessary to ensure that the potential employee is versatile. There are two key areas to focus on: evaluating candidates' expertise and reviewing their technical skills.
Later we will talk about how to evaluate professional competence and assess the technical abilities of the potential employees. And now, let's make sure that while hard skills are critical, they are not the only criteria for selecting a remote developer.
Moreover, if your choice comes down to several candidates whose hard skills are almost the same, choose in favor of someone with more developed soft skills. Especially if we are talking about remote collaboration. And here's why.
Soft skills that directly related to remote work
A solid soft competency set is equally important in the case of hiring remote specialists. This is exactly what makes or breaks a good candidate.
The development process can be long and tedious; it may demand a lot of attention to detail, close collaboration within the team, and communication with customers. Not everyone is suitable for such work. No matter how good they are at programming. After all, cultivating personal competencies is no easier than learning a new coding language.
So, what should you be looking for?
Time-management. The ability to organize the workflow, meet deadlines, manage tasks and schedule is something employers always appreciate. And when it comes to remote collaboration, time management skills become even more essential for a potential team member. In software development, getting things done on time, adhering to deadlines, and following timelines are key and non-negotiable requirements.
Problem-solving. The ideal employee is focused on solutions, not problems. Remote developers need to be decision-makers, must understand the importance of when to troubleshoot and when not, always be able to overcome failure and see it as a success.
Self-motivation. This should be an in-built trait for every remote specialist. They must be able to motivate themselves at the right time, connect to the project at any stage, and offer the best possible results. The best remote developers combine the ability to be a self-starter and self-driven professional.
Teamwork skills. Although the remote employee does not interact directly with other team members, they work together on the same project and towards the same goal. Therefore, remote developers must be great team players — they should be open to discussion and brainstorming. Team spirit is critical to any teamwork, as it allows making the best decisions and choosing the best ideas.
Communication skills. Smooth communication and the absence of language barriers are prerequisites for achieving productivity in the workflows. Also, remote staff should be aware of all the necessary tools, channels, and platforms used for interaction within the team.
Continuous learning. Continuous acquisition of new knowledge is an essential aspect for all specialists in the software development industry. This is due to the constant emergence of new technologies and progressive solutions, learning new languages, coding, and its correct implementation. With this approach, you get a future-oriented product. Look for talented developers with initiative and long-term vision.
Discipline and work-life balance. Remote work presupposes a high level of self-organization and autonomy of employees. Such specialists must have excellent self-discipline, cope with tasks without outside interference, and remain effective without constant supervision. In addition, they must be able to clearly distinguish between work and personal life. This approach is the key to concentration and productivity.
Why Freelance Developers Are Not a Good Choice for Startups and SMBs
Usually, choosing between freelancers and vendor-offered remote developers depends on the business needs and budget. Although hiring remote freelance developers offers some benefits (saving time and money, huge talent pool to choose from, adaptability), this type of collaboration has a lot of disadvantages and potential risks. Among them are multi-tasking, lack of full integration and immersion in the project, low commitment to the company's vision, difficulties in establishing loyalty and adapting to the workflow, etc.
In other words, freelancers are a great solution for businesses looking for developers for just one short-term project. However, if you expect to get a complete immersion in your workflow, the basis for the development of your company, work on multiple aspects, and close collaboration with your team, hiring freelancers is definitely not what you need.
In this case, hiring full-time remote developers would be the ideal solution. They beat freelancers in the main thing — in the quality of the results. Let's consider other benefits and reasons why hiring vendor-offered remote specialists is more profitable and rewarding today.
Spoiler: the difference between freelance and full-time developers for startups and SMBs can be more significant than you might guess.
Productivity and quality of work
Vendor-offered remote specialists work side by side with you; they provide great results as they understand your company's culture and processes. Freelancers, in turn, do the job, but that's all. You can expect them to deliver only the necessary, not beyond.
Security issues
Full-time remote developers are a part of your company, so you can set a confidentiality agreement that they must follow under any circumstance. This way, you don't put your clients' trust at risk. Cooperation with developers is always about commitments, documented expectations, agreed and signed obligations. And the same cannot be said about freelancers. They are independent employees, so it is not advisable to trust freelancers with projects that might require them to access confidential information about your clients.
Availability
Vendor-offered remote specialists are regular employees. Despite possible different time zones and having more flexibility, they still need to align with your company's schedules. Freelancers, in turn, don't respond to your company's schedules because they work independently.
Establishing workflow
Full-time remote developers adapt to your business processes. They do their job and tasks surrounding the workflow your team has. Freelancers, in turn, have their own processes and workflow. You can't expect them to do things in a certain way because they are not part of your team.
Building lasting relationships
Customers and businesses are always looking for good service. And this requires a strong team that will permanently work to ensure it. Vendor-offered remote developers work together with you to build your company's reputation and long-term customer relationships. Freelancers, in turn, only perform tasks within the project. They do not feel responsible for your success, do not make efforts to achieve company goals, do not improve relationships with customers. And these differences make full-time remote developers extremely valuable.
Result satisfaction
Remote developers are significantly more productive because they work for one company. They are not forced to balance several projects and give priority to one client, which allows them to do their best to achieve the best results. Freelancers, in turn, usually work for several clients at once. They cannot devote all their time and attention to your project that significantly affects productivity and results satisfaction. You can't expect much from them.
So, hiring a remote developer for full-time work wins in terms of long-term business benefits for startups and SMB. A freelance specialist is a good option for work within one short-term project. However, if you want something more, you must make a choice in favor of vendor-offered remote employees.
HIRE EXPERIENCED DEVELOPERS WITH EPAM STARTUPS & SMBS
Choose qualified specialists who gained their expertise working with EPAM projects.
Where to Find Remote Developers
Now, when you have definitely decided that you need a remote developer, and you understand which specialist you need, it's time to figure out where and how to find the right employee. Let's look at the most popular developer hiring platforms, review their offerings, and compare their features, as well as pros and cons.
Toptal
Toptal.com is a global platform for finding remote professionals in software development, design, business, and technology. It positions itself as a portal for recruiting elite freelancers who have been carefully selected and have exceptional professional competencies. According to the project representatives, only 3% of candidates are interviewed, which means that you will find only the best of the best employees there.
The main features and advantages of Toptal are the qualifications of their candidates (role-specific quality, overall quality, no-risk trial), team dynamics (quick team ramp-up, painless communication, reliability & flexibility), bottom-line financials (simple, cost-effective pricing, additional savings, team value). The commission is included in developers' rates.
Upwork
Upwork.com is an international freelance exchange used by customers and performers from all over the globe. It is the world's largest platform for companies looking for telecommuters, bringing skilled professionals upon request. The platform positions itself as the world's work marketplace to find employees with whom you will be interested to work, and with whom your business will reach a new level. It offers three options for hiring candidates: Talent Marketplace (post a job ad and hire a remote coder), Project Catalog (browse and buy projects), Talent Scout (let recruiters find a specialist for you).
The key benefits of the portal are proof of quality, no cost until hiring, safety and reliability. The platform works in the following areas: development and IT, design and creative, sales and marketing, writing and translation, admin and customer support, finance and accounting, HR and training, legal, engineering, and architecture. The commission is 3% from each payment.
Freelancer
Freelancer.com is the world's largest freelance website, that allows hiring the best remote specialists for any job, online. The platform positions itself as a resource with the greatest pool of skilled freelancers globally — over 50 million to choose from.
Among features and services of the portal are browsing portfolios of candidates and samples of their previous work, fast bids (80% of projects receive first applications within 60 seconds), quality work, tracking progress (time tracker and mobile app). You can post your project and immediately start receiving responses from remote specialists. You can also view the freelancers available on the site. The platform offers two options for searching — you can find a remote developer by skill or by location.
PeoplePerHour
Peopleperhour.com is the global freelance platform that allows finding an expert for anything and hiring the best freelancers to deliver any projects. With this portal you get matched with experienced remote specialists in minutes, receive a 24/7 customer service team, and have a money-back guarantee and anti-fraud protection.
How does it work? The hiring platform connects clients with remote professionals who can be hired on an hourly basis or on a project basis. You just need to describe your requirements and the system automatically selects and contacts the best remote workers according to your needs and goals. After that, each freelancer makes an individual offer. You must view the received responses, select the remote resource, and make a deposit to start the project.
EPAM Startups & SMBs
EPAM Startups & SMBs is a developer hiring platform where you can hire top remote specialists to deliver versatile services for small and medium-sized IT projects. The platform was created by EPAM, a global provider of software solutions, which is the main source of talent for EPAM Startups & SMBs.
EPAM Startups & SMBs aims to optimize software development capabilities by adding top specialists from the world's leading outsourcing companies. The portal offers top-notch talents with enterprise expertise for startups and SMBs.
How does it work? You share your request, and then the platform specialists identify suitable resources, send you a project and a budget offer. After that, the search, selection, and assessment of remote specialists suitable for your project will be performed. When the team is formed, work begins immediately.
EPAM Startups & SMBs has access to over 40,000 top software engineers. The portal not only provides access to the world's best remote software developers but also ensures support for the successful implementation of projects. Take advantage of a global network of skilled professionals to bring your business ideas to life.
What does the process of evaluating a proper developer for remote work look like?
Once you've created your job posting and placed it on the developer hiring platforms, you'll start getting applications and responses from remote specialists. And now the task is to choose the best ones. Selection is based on an overview of business requirements that can be a team extension, filling the position of a qualified developer, a specialist with a rare tech stack, expected skill level, domain expertise, staffed by the vendor with stable growth, etc. It all depends on your goals.
So, to hire a remote programmer who will fully meet your business needs, you have to carry out several stages of selection, conduct screenings, and interviews, and evaluate potential employees according to different criteria. But first things first.
Stage 1. First screening
After you have sorted candidates and pre-selected potential employees, you should conduct an initial interview with each in the format of a video call. At this stage, the task is to get to know the person, cultural background, personal values, ethical principles. Try to understand what value this specialist can bring to your team.
In other words, during the first screening, the soft qualities of the developer are assessed, the importance of which we spoke about earlier. Ask the right questions to see if you can work together, if this specialist can be part of your team, and if they fit with the culture of the company.
Stage 2. Technical screening
The next step is to conduct a tech interview. This is already an assessment of the developer's hard skills, practical experience, portfolio, resolved challenges, theoretical knowledge, professional competencies, and implemented projects. The technical screening will allow you to understand how the candidate's expertise and skills match the needs of your project.
At this stage, you ask questions related to the role, and you can also conduct a series of practice exercises and tests to evaluate directly the developer's work. Such an approach will allow a deeper appreciation of the knowledge and skills of remote coders for hire. So, take a sample programming test, make a short exam to evaluate the depth of a candidate's technical background and competencies, and conduct a pair programming session.
Stage 3. Final interview
After successful first and technical screenings, it is time for a final interview with the candidate who is the best option for your project. During this interview, you must agree on your expectations, discuss salary and work schedule, and approve other terms of cooperation.
Use These Interview Questions to Hire Remote Developers to Get Things Done
Have you worked remotely before, and how was that experience?
What did you like most about being remote? What was hardest, and how did you deal with it?
How would you start the work on this project?
What value can you bring to the project?
What working hours are comfortable for you?
How are you planning to communicate with the project manager? With the team?
Is it comfortable for you to work independently/with minimum supervision?
How do you prioritize work? How do you usually plan your working day?
What types of software/apps did you develop in the past?
What technology do you utilize?
What is your strategy to get over the problem when you get stuck?
What are you doing to grow your skills?
Step-by-Step Guide For Business Owners When Hiring a Remote Developer
And now let's put it all together and form a cohesive ultimate guide to finding and recruiting a remote developer. So, how to hire remote developers?
1. Define development needs, set goals and priorities
Understand why you are looking for a remote developer. Define your requests and the needs of your project, set long-term and short-term goals, and prioritize. All of this will help you find the best possible employee.
2. Understand the position and describe your ideal candidate
Be clear about your expectations and set your search parameters. Decide what you want to get and think about what you need for this. Create a detailed portrait of your ideal candidate. This will allow you to narrow your search and make it more targeted. When you understand exactly who and what you are looking for, it will be easier for you to find.
3. Look for candidates considering different hiring options
Now you can proceed to the search for potential candidates. Use all the opportunities for this — remote job portals and freelance marketplaces. Create a job ad and post it on the most relevant hiring platforms. Alternatively, you can also ask for a referral, attend tech conferences, and use social searching for talents. This stage determines your chances of recruiting the ideal candidate.
4. Start screening the candidates
Having selected a certain number of previously suitable specialists, you must make the top of them. To do this, it is necessary to evaluate each candidate in several steps. Build an interview process: conduct a first screening (soft skills), a technical screening (hard skills), and a final interview.
5. Make a job offer
Discuss all the terms of cooperation with the ideal candidate. After you come to a compromise that suits both sides, make a formal offer. After you have decided on a specialist and received an agreement, do not forget to contact all candidates and share your feedback.
What Startups and SMBs get with EPAM Startups & SMBs
Hiring the right experienced developers for working remotely is a daunting task, and that's exactly what your success and results depend on. First and foremost is choosing a solid and reliable technology partner.
EPAM Startups & SMBs has been providing remote recruiting services for various industries since 1993. During this time, our global team of programmers, designers, consultants, and PMs has implemented thousands of complicated projects for our clients in different directions.
Our clients trust us with the toughest challenges and the most difficult tasks. And here are the reasons they choose EPAM Startups & SMBs.
EPAM Startups & SMBs is a technical talent engagement platform, which helps startups and SMBs to hire the best remote developers to deliver powerful tech solutions and services for small and medium-sized IT projects. What are the benefits of hiring a remote development team through EPAM Startups & SMBs?
With us, you get not only the search and assessment of candidates, hiring and effective adaptation of employees, but also ensuring safety and reliability, constant monitoring of progress, teamwork, volume, and activities, determination of overall quality, continuous cooperation, prompt resolution of all problems and risks, reporting and business reviews for compliance with goals. Our team does everything to simplify the process of finding and hiring a remote employee as much as possible and also helps to avoid remote work pitfalls and all the difficulties that this type of collaboration can cause.
Our core principles are:
helping to define project goals and assessing the scope of work;
focusing on valuable, effective, and reliable technical approaches;
tracking key milestones at all stages;
strict following the established sequence of workflow.
Hire a remote development team from EPAM Startups & SMBs, and we'll bring all your business ideas to life.

New circumstances require new approaches and new solutions. Hiring remote specialists is not only a common world practice but definitely a rapidly developing global trend of the future. Regardless of the complexity, duration, direction, and specifics of the project, choosing the right remote developers completely determines its success.
You no longer need to waste your time and money on finding, evaluating, and staffing your team with remote developers. EPAM Startups & SMBs will provide you with the best team on request and ensure the successful completion of all the most important projects.
Contact us to find out more about how we can help your business get the most out of recruiting truly top remote talent.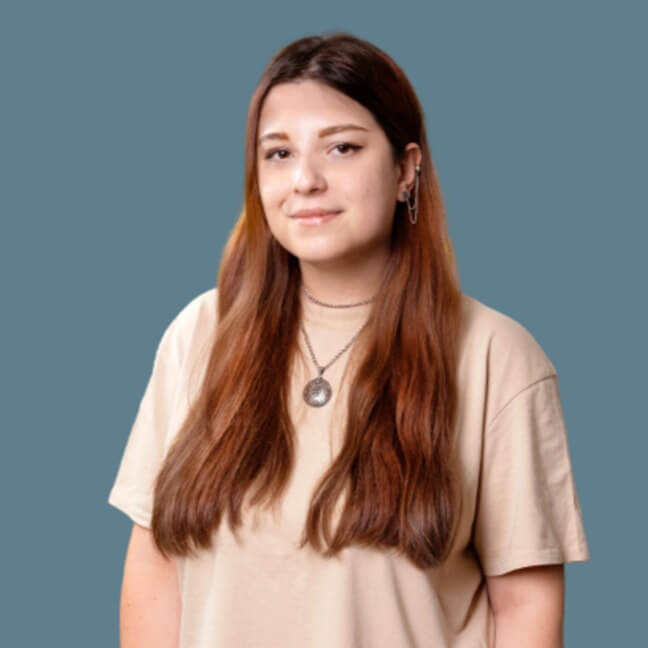 Written by
Anush has a history of planning and executing digital communications strategies with a focus on technology partnerships, tech buying advice for small companies, and remote team collaboration insights. At EPAM Startups & SMBs, Anush works closely with subject matter experts to share first-hand expertise on making software engineering collaboration a success for all parties involved.
Anush has a history of planning and executing digital communications strategies with a focus on technology partnerships, tech buying advice for small companies, and remote team collaboration insights. At EPAM Startups & SMBs, Anush works closely with subject matter experts to share first-hand expertise on making software engineering collaboration a success for all parties involved.