According to statistics, there are currently about 140,000 app developers in Australia. If you also consider the remote hiring model, the talent pool increases hundreds of times. Therefore, it is extremely difficult to choose the most suitable ones from such a number of app development experts. On the other hand, in the days of existing platforms such as Upwork, LinkedIn, and local job boards, finding an app developer in Australia may seem like a fairly simple process. However, in practice, it still has many pitfalls. Follow our practical guide that will help you find the best specialists for your project as fast as possible.
7 Tips for Hiring App Developers in Australia
Ready to learn how to hire an app programmer in Australia with minimal risk? For this, read our step-by-step guide below.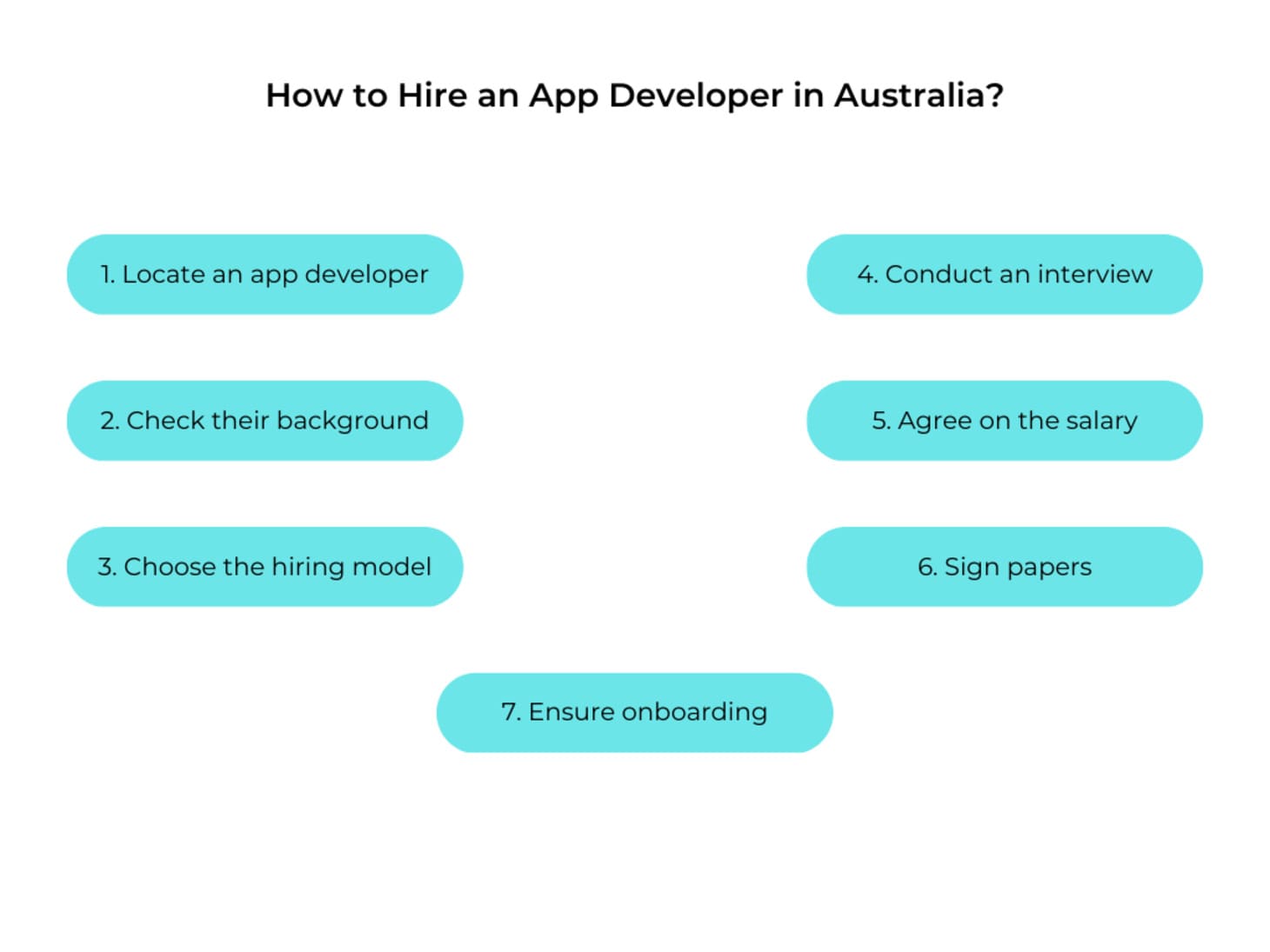 Locate an app developer
To hire mobile app developers in Australia, first, you have to decide on their location. Although our mini-guide focuses on hiring local developers, projects with specific business requirements may experience a shortage of IT specialists in the local market. In this case, you should consider hiring developers from a company that has subsidiaries in the location you need.
Perform a background check
Now let's talk about the list of requirements for which it is worth checking all your candidates. We are talking about the work experience of a particular specialist. Does their list of projects include the ones similar to your business niche? Do they have the necessary skills (front-end and back-end technologies, programming languages, frameworks, etc.) that are needed to implement your application?
It will be great if you not only check the portfolio of your candidates, but also get personal feedback from clients who have already worked with them.
Choose the format of hiring (in-house or remote)
It may seem the most convenient to hire an app development team in Australia in the in-house format in terms of mutual communication and monitoring of work processes. However, given the global shift to remote work (primarily due to the changes brought about by the COVID-19 pandemic), you should definitely not neglect to consider remote workers.
The fact is that along with the pandemic, many software tools appeared (or were popularized) that provide a seamless transition from local interaction within the team to a remote format, providing convenient means for communication, collaboration, and tracking.
Conduct an interview
Now let's talk about the personal interview. It will be great if you (or your employee with the appropriate qualifications) have enough knowledge to conduct it by testing the hard and soft skills of your applicant in practice. However, such situations are quite rare in reality, especially when it comes to hiring specialists for narrow-focused projects. That's why you should consider contacting a company that takes responsibility for testing talent for aptitude.
Agree on salary
During the interview, you should discuss with your candidate all issues related to the initial rate and the prospects for its growth as the project develops. In our next paragraph, we'll discuss current rates for app developers in more detail.
Approve hiring at the legislative level
The simplest interaction model between the employer and the contractor involves signing the NDA. However, for full-time employees, you will have to face additional bureaucracy (for example, registering new personnel and assigning tax payments for them).
Ensure onboarding
The last step of our guide on how to hire an application developer in Australia is about onboarding and adaptation of your new employees. For junior-level developers, this process can take several months, while experts with more extensive experience should be able to start working on the project as soon as possible.
How Much Does It Cost to Hire an App Developer in Australia?
Hiring app programmers in Australia will help you avoid the problems associated with remote communication (which is common with outsourcing and offshoring talents). But how much does it cost?
The Talent web resource claims that the average software developer salary in Australia is $110,178 per year, or $56.50 per hour. In general, these rates do not differ much from countries that are well known for their large pools of highly qualified talents in the IT niche, such as the US, UK, Canada, etc.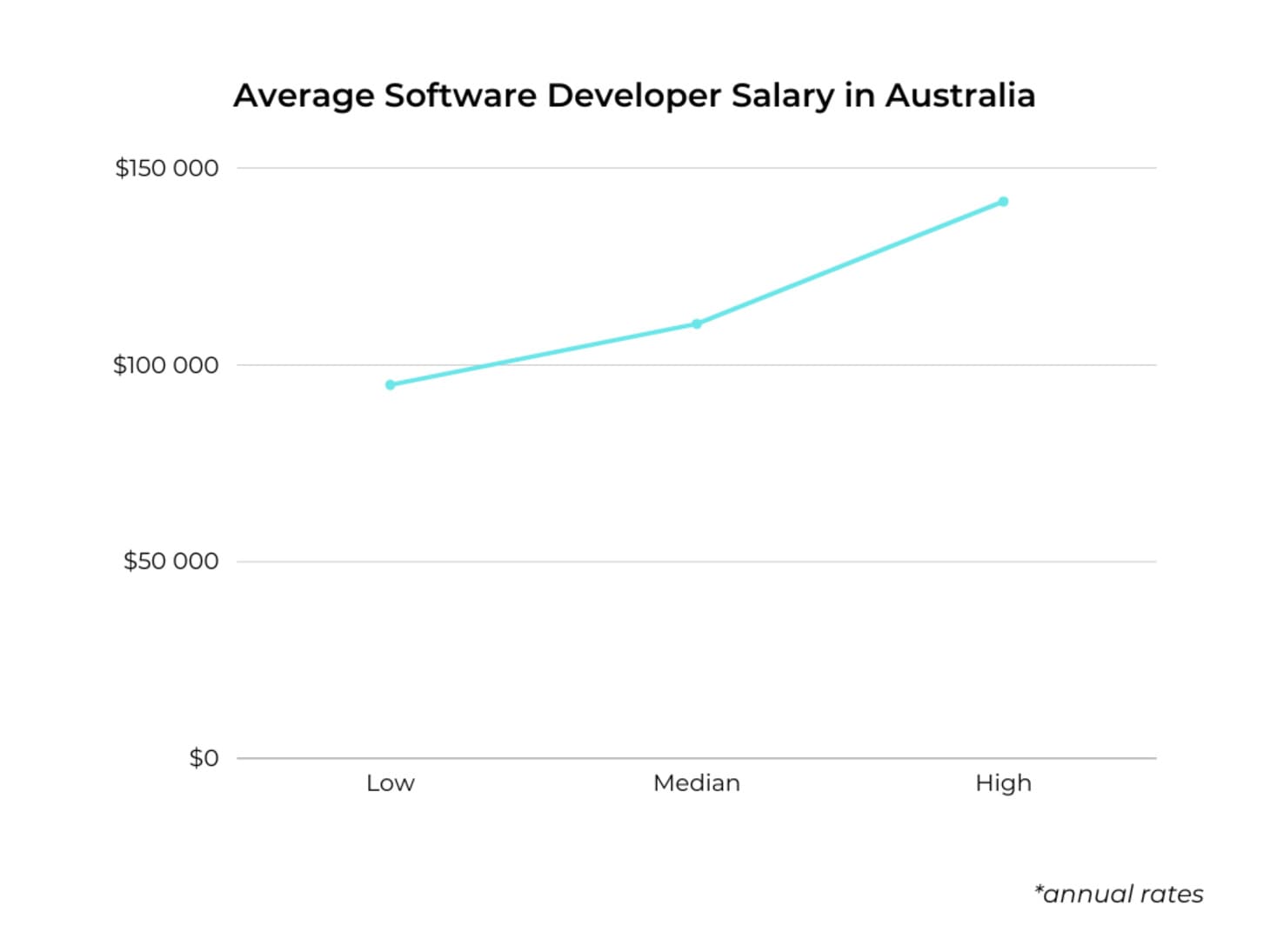 Along with this, you need to be prepared for additional expenses such as taxes (employers must contribute a minimum of 10.5% of an employee's earnings base), and hiring costs (on average in Australia the cost to recruit and hire a new employee is about $23,000 according to the HR Industry Benchmark Survey 2021 Australia and New Zealand).
ARE YOU LOOKING FOR SOFTWARE ENGINEERS TO IMPLEMENT YOUR BUSINESS IDEA?
Get access to a pool of 55,000+ IT professionals and select the best app developer for hire in Australia.
tell us about your project
What Destinations Are Convenient for Australian Companies to Hire App Developers Outside the Country?
Let's look at the prospects for hiring remote developers in countries that are located in time zones convenient for residents of Australia (and Melbourne in particular).
China
Let's start with the country with the widest pool of IT experts, China. As the Salary Expert web resource claims, the average annual salary of a mobile application developer is ¥339,775 or ¥163 per hour. In the US dollar equivalent, these rates would be approximately $48,818 and $23.40 respectively. You have to remember that the rates of an iOS app developer who is well-versed in Swift, an Android app developer with Objective-C expertise, or a cross-platform developer with extensive experience in working with React Native may differ slightly. On the other hand, in China, the bulk of IT specialists work for the domestic market, and the salary data for in-office employees mainly determine the above rates.
As for companies that provide offshoring services, the rates of their specialists are approximately the same as the average for the international market of software development services. Along with this, you may expect certain difficulties in communication due to the difference in mentalities.
Taiwan
A similar situation awaits you in the case of finding IT experts in the Taiwan labor market. Salary Explorer states that the average annual salary of local professionals is 1,580,000 TWD or 825 TWD per hour. If we convert it into US dollars, these rates will be equal to $51,402 and $27, respectively. However, just like in the case of China, chances are low that you'd be lucky to find these rates if you are looking for remote specialists.
Singapore
As for Singapore, the situation with rates seems to be more objective for assessment: in particular, mobile developers here receive $82,727 per year or $37.74 per month (according to Indeed data). At the same time, because of the specifics of local legislation, you will hardly have many options to choose from: very few companies are providing offshoring specialists here.
All these aspects lead to the only correct conclusion: to get the maximum benefits of your future collaboration, you need to look for specialists in global companies whose offices are dispersed around the globe, for example, as in the case of EPAM Startups & SMBs. You can learn more about the mobile application development services we provide in our Services section.
DO YOU EXPERIENCE SOME DIFFICULTIES IN COMMUNICATING WITH REMOTE DEVELOPERS DUE TO THE PECULIARITIES OF YOUR LOCATION?
We will select for you the best IT experts who will be located in your time zone, so you won't have any inconveniences.
contact us today
How EPAM Startups & SMBs Can Assist You in Hiring an App Developer in Australia
If you want to get the most out of joining new application developers to your team, you should definitely learn about our approach to finding talents, hiring them, and organizing their workflows. In particular, we are talking about EPAM Startups & SMBs global verified talent engagement platform.
One of our main competitive advantages lies in the extensive pool of IT experts that are dispersed around the world (over 55,000 talents, including FAANG-level middle and senior developers). With us, you can find full-time specialists with both general purpose and deep industry expertise. At the same time, you will not need to bother yourself with independent searches and checking candidates for the presence of their declared skills.
Typically, the process of selecting talent takes us 2–4 weeks, which is 2–3 times faster than our competitors. After you approve the candidates, it will take about 1–2 days to sign the NDA, and then your new team members will be able to start performing their work duties without the extra time costs for adaptation, training, and onboarding.
As for the quality of the code our developers write, we ensure compliance with generally-accepted standards like HIPAA, PCI DSS, and GDPR, as well as specific industry standards. You can also request an additional code review service from us to make sure it is reliable, fault-tolerant, and scalable.
And finally, note that EPAM Startups & SMBs has two local offices in Adelaide and Sydney. Therefore, you can always request live meetups to hire the best local developers for your project (which, however, does not exclude the possibility of hiring IT experts in convenient outsourcing destinations).
ARE YOU LOOKING FOR SPECIALISTS WITH REASONABLE RATES AND YEARS OF EXPERIENCE WORKING WITH TOP 100 COMPANIES?
Contact us for expert assistance in hiring app developers, organizing their workflows, and calculating the project budget.
As you can see, the procedure for hiring app developers in Australia, regardless of the specific location, is quite complicated to treat carelessly. As for the universal recommendations that you could draw from our article, they are as follows:
if you are looking for a specialist in your time zone, consider destinations like China, Taiwan, and Singapore;
don't forget to perform an in-depth background check of your candidates to make sure that they have needed expertise;
consider all reliable hiring formats (in-house, remote (only for full-time candidates), hybrid) and choose the one that meet your needs the best;
conduct a personal interview;
agree on salary, keeping in mind average developer rates;
take care of the legal side of hiring;
perform onboarding.
If you do not want to take on all these tasks and at the same time gain access to the widest pool of talents, feel free to contact us, and we will do it all for you.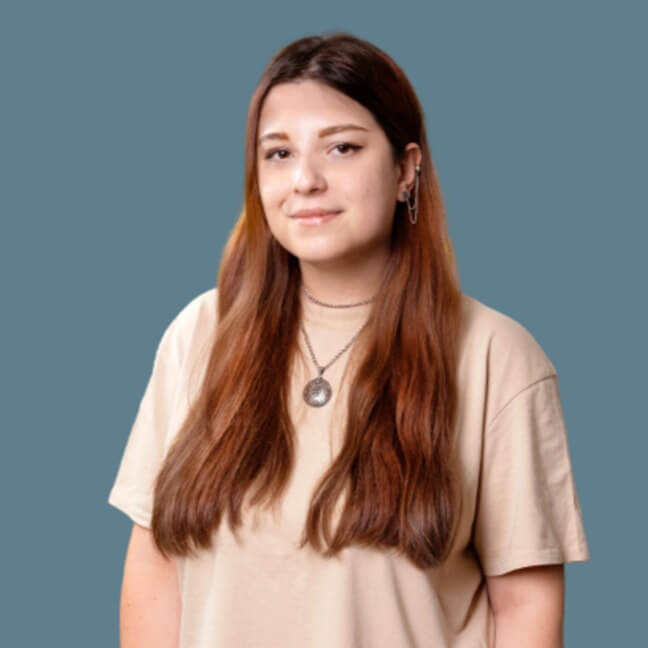 Written by
Anush has a history of planning and executing digital communications strategies with a focus on technology partnerships, tech buying advice for small companies, and remote team collaboration insights. At EPAM Startups & SMBs, Anush works closely with subject matter experts to share first-hand expertise on making software engineering collaboration a success for all parties involved.
Anush has a history of planning and executing digital communications strategies with a focus on technology partnerships, tech buying advice for small companies, and remote team collaboration insights. At EPAM Startups & SMBs, Anush works closely with subject matter experts to share first-hand expertise on making software engineering collaboration a success for all parties involved.