After Brexit in 2020, competition for talent in the UK market, including the IT sector, decreased. Some businesses could not adapt to new realities (first of all, staff shortage and the rising cost of living). As a result, they lost contracts and investors' attractiveness.
At the same time, the more fast adapting players strengthened their positions. They began to actively develop in the new, hybrid, or remote working environment, enriching their staff with new opportunities and, thus, expanding it with new employees. Fortunately, in the digital age, staffing can also take place remotely. Below, we will talk in detail about hiring software developers in the UK and boosting your delivery speed and quality.
Also, you can learn more basic information on how to hire remote developers.
5 Tips on How to Hire Remote Software Developers in the UK
Below, we suggest you consider five consecutive steps on how to hire a developer in the United Kingdom.
Remote pre-screening process
First, you need to evaluate resumes from potential candidates, analyze their technology stacks, check on all the job history, and conduct a personal interview. Also, sometimes there is a need for the applicant to perform a test task. In general, your main goal at this stage is to understand whether the applicant matches your position in terms of hard and soft skills (as well as work results) and has good recommendations from previous employers. An additional plus for a particular candidate will be the industry experience needed for your business.
Signing NDAs and contracts
The UK has a strict labor code, so hiring new employees in the state always ends with the signing of a contract. Usually, in addition to the standard bureaucracy, the employer concludes a non-disclosure agreement with new employees to prevent possible data leakage, which is especially important for app development companies. You should give due attention to this fact when hiring a coder in the UK.
Onboarding
After being hired, new employees should be familiar with what their employer's development team does. It is not only about the practical part of their job responsibilities but also about the company's culture.
Calculation of taxes and payments
There's a huge business around taxes and salary consulting in the UK. All in all, this point is crucial for the UK-located companies as you have to offer your new employees a salary that benefits both you and them, and also consider the prospects for its further increase.
Cultural integration
One of the main barriers in the UK is its uniqueness and the culture of management and communication (it is different from what is typical for residents from other countries, even European ones). Therefore, the integration of remote developers with the in-house team should also imply the adoption by new employees of the cultural values ​​of a particular company and business in the UK as a whole.
Average Cost Of Hiring Programmers in the UK
If everything is clear with the four points about the specifics of hiring, then how to understand what rates your new employees should have? To help you sort this out, we'll look at the UK average rates for the three most popular software development specializations: Java, PHP, and Python.
In particular, at the time of writing this article, Glassdoor claims that in the UK, an average per-year salary for
You can also filter here for the level of experience you need and industry focus to get a more accurate idea of the average rates. At the same time, if you compare this data with developers from India, Eastern Europe, and Australia (the three most popular locations for finding remote employees), you will notice how much more accessible the rates of specialists with the same tech stack are. This is not surprising given the lower cost of living in these countries. So if you want to save money without sacrificing the level of expertise of your new employees, you should consider starting your search in these locations.
HIRE THE BEST DEVELOPERS WITH AFFORDABLE RATES WITH EPAM STARTUPS & SMBS
Choose the best IT experts from one of the widest pools of talent and get a reasonable price for their services.
Alternatives for Hiring Developers in the UK
And now, let's clarify what options are available in the UK for the hiring of high-quality software developers for the company's staff (we will also consider the option of remote hiring).
Hire remote developers
This is a great choice if you find a good agency. Another thing is that finding a trusted IT recruitment agency is not so easy, and an organic search on Google will not help you much here. Thus, to find UK developers for hire, it is much better to analyze reviews of similar companies on websites that aggregate reviews and ratings of real clients of these companies. The most famous website in this area is Clutch.co. Also, you can get more comprehensive knowledge on how to hire software developers in this article.
Reduce salaries for local developers permanently relocated
In a nutshell, it's a bad idea. The fact is that experienced, highly qualified full-stack specialists will never agree to work for a salary below the average for the local market and will instead find a better job offer than accept yours. Thus, if your candidate agrees to your proposed rate, you should believe that they do not have the required expertise.
Hiring in Australia, India, and countries from Eastern Europe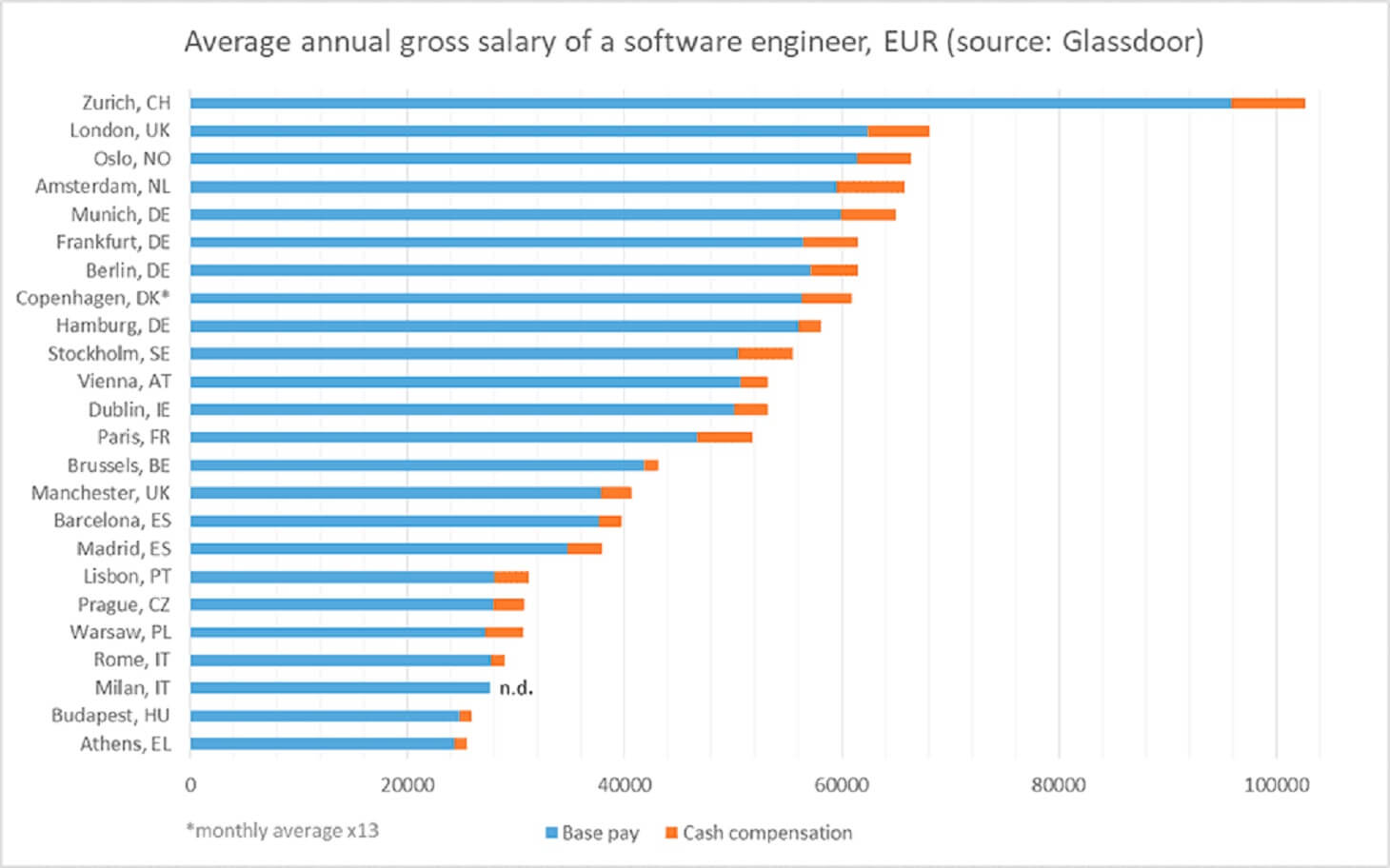 To save your budget, you can expand your goal to hire developers in the UK by several new locations: Australia, India, and countries from Eastern Europe. The benefits of this option are clear: their residents are well-versed in English and are likely to have a good specialized education (even more, Australia has a close educational system). Also, in these countries, costs of living are lower;therefore, average rates for IT specialists are lower than in the UK. To get a better understanding of outsourcing software development services, please, check this article.
Why Is EPAM Startups & SMBs Your Best Talent Engagement Platform?
EPAM Startups & SMBs is a remote cooperation platform for startups and SMBs launched by the global software development services provider EPAM, which has been on the international market for over thirty years.
While EPAM mainly cooperates with representatives of large businesses, EPAM Startups & SMBs aims at clients of small and medium-sized enterprises. At the same time, EPAM and EPAM Startups & SMBs share the same pool of IT experts (50,000+ of the world's top engineers), which means that regardless of the complexity and scale of your project, it will involve those who have gained tremendous experience in cooperation with companies from the Top 100.
What are the main benefits of partnering with EPAM Startups & SMBs?
Recruitment speed. While in the UK, the average tenure is 12 months or more, at EPAM Startups & SMBs you can hire an IT expert with the qualifications you need for any period. At the same time, from the moment of your request to the moment of hiring, it will take from two to four weeks (which is negligible compared to independent search).
Collaboration with projects of any type. In the UK, IT specialists rarely look for startups as their main place of work. For them, a contract for 6-12 months looks unstable, insecure, and intimidating; in turn, EPAM Startups & SMBs will select specialists for you that meet all your requirements, regardless of the format of your project.
A global contribution to your project. Our developers have extensive industry experience and can not only work with the code, but also make architectural and infrastructure decisions.
Collaboration in your time zone. Our developers are located worldwide, so EPAM Startups & SMBs can provide top-notch specialists in your time zone or very close to yours.
Affordable rates. Of course, our developer rates vary from country to country, but we can provide the most cost-effective developers for your project that will meet all of your technical and non-technical needs.
And finally, we remind you that EPAM has its headquarters in the UK, with employees you can contact by telephone to clarify the details of our future partnership. Thus, if you want to hire a programmer in the UK, consider EPAM Startups & SMBs as one of the best options to get the highest quality software development services under the most convenient and affordable cooperation.
Let's summarize the above. If your business is UK-based, to save your budget, gain deadlines, and win time-to-market, you can hire software engineers in the UK remotely right after you find a trusted staff augmentation partner. Thus, you will save yourself from time-consuming bureaucracy and screening completely unsuitable candidates.
GET HIGH-QUALITY SOFTWARE DEVELOPMENT SERVICES WITH EPAM STARTUPS & SMBS
Choose our best specialists who gained their expertise working with Top-100 companies.
contact us today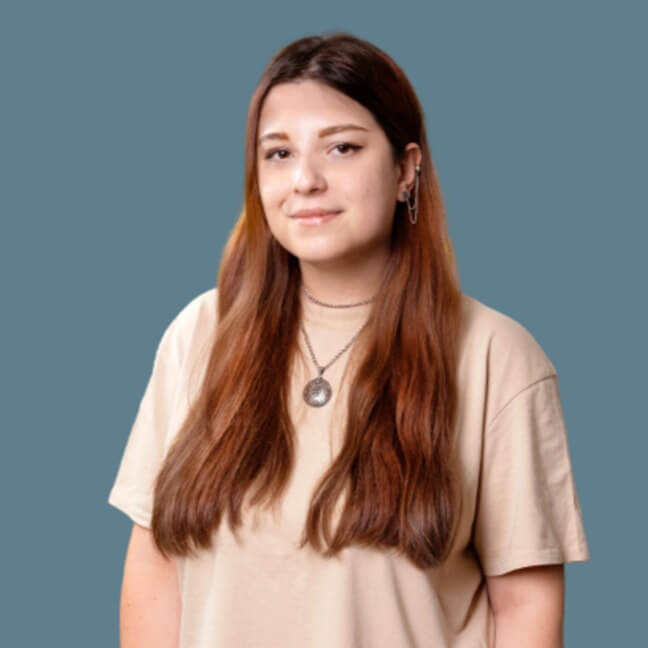 Written by
Anush has a history of planning and executing digital communications strategies with a focus on technology partnerships, tech buying advice for small companies, and remote team collaboration insights. At EPAM Startups & SMBs, Anush works closely with subject matter experts to share first-hand expertise on making software engineering collaboration a success for all parties involved.
Anush has a history of planning and executing digital communications strategies with a focus on technology partnerships, tech buying advice for small companies, and remote team collaboration insights. At EPAM Startups & SMBs, Anush works closely with subject matter experts to share first-hand expertise on making software engineering collaboration a success for all parties involved.