Software development outsourcing has been around for decades and has been generally perceived as an effective method of reducing operating costs, filling up expertise gaps, and attaining a next-level degree of resource flexibility. If you are in the market for offshore Java development services, the article below will likely answer some of your questions.
2023 is expected to be a rewarding yet challenging year, both for technology-adopting businesses and software development service providers. With ripples of geopolitical and economic uncertainty emanating from Eastern Europe and resonating throughout the rest of the world, the global markets are preparing for a period of recession and businesses are admitting that budget cuts may become a reality before long.
Under such circumstances, switching to the "global grid" model and building hybrid on-site/remote teams can help address recruitment challenges, as well as provide the savings and flexibility needed for dynamic pivoting and fast adaptation to changing business priorities and your customers' needs.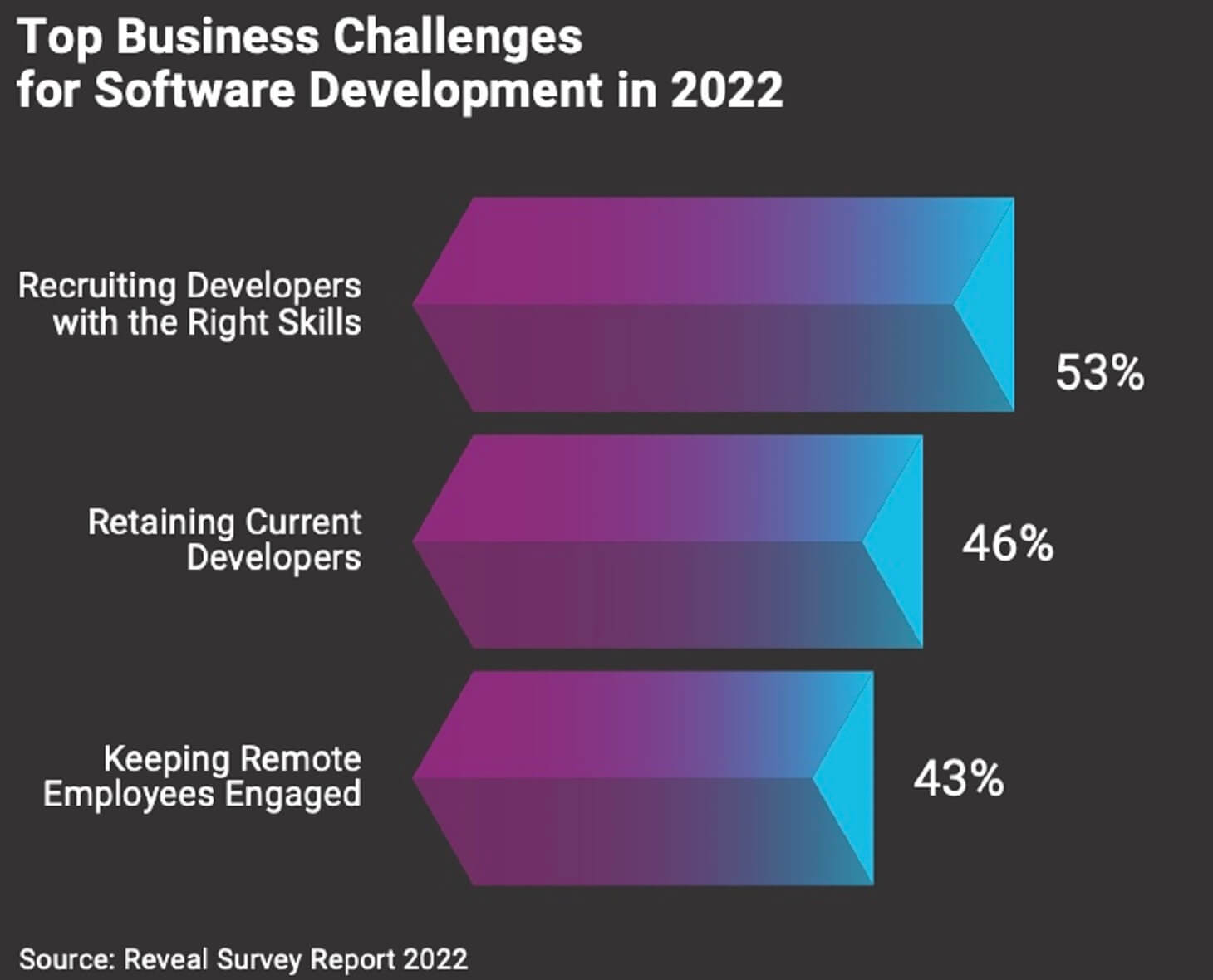 If you are looking to hire Java developers while reducing costs, and scale up your development capacities and speed up delivery, read on to get a wider perspective on the benefits, trending locations, and useful insights associated with hiring offshore that will help you make the right choices and achieve your goals — all with a minimum of headache.
Reasons to Hire Offshore Java Developers
As with all other technologies and programming languages, the key reasons for hiring your Java developers offshore can be broken down into 5 distinct categories.
Increasing costs
The desire to spend less on equally-skilled or even more-capable developers in an alternative location was the original reason why companies started outsourcing the software development process as soon as it became technically feasible.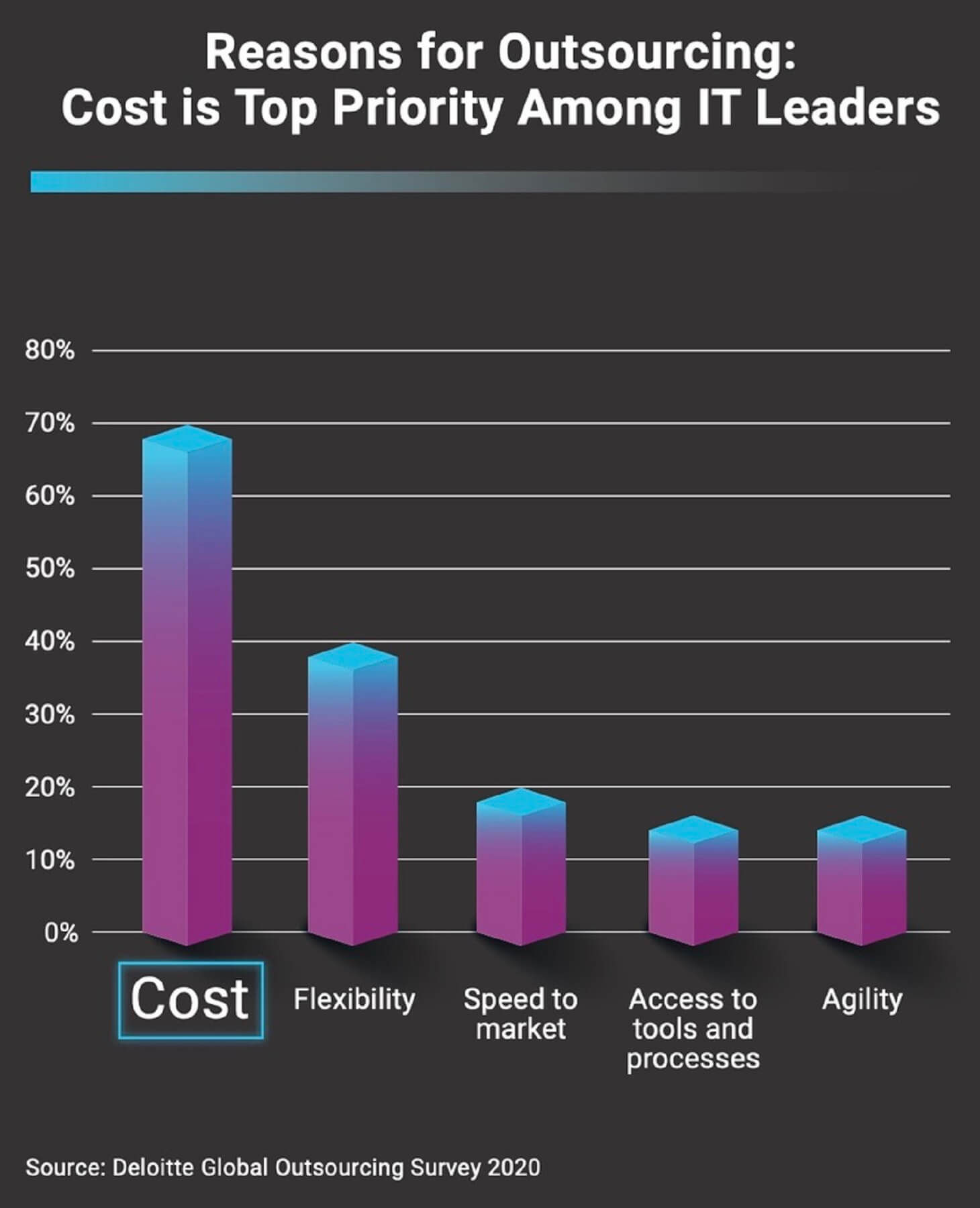 Offshore Java development services enable companies to completely move product engineering outside of the organization, thus lowering the OpEx and reducing the managerial overhead. If we take the United States as our reference point, hiring offshore Java experts in a country with a strong engineering culture will help you save anywhere between 25 and 50 percent on development costs, depending on various factors.
In-house developers lacking the necessary expertise
It is not uncommon for any company to resort to the services of an outside vendor with a corresponding talent pool to solve temporary or non-typical engineering tasks that would otherwise require hiring in-house developers.
Today's projects tend to use multiple technologies for the backend, the frontend, mobile apps, the data integration layer, and so forth. Having it all within the IT department is a luxury that very few companies, let alone startups, can afford. This naturally leads to the option of hiring software engineers with the required hands-on experience elsewhere.
Additional capacity required to speed up project delivery
One of the greatest benefits of hiring offshore Java programmers is that you can do it relatively fast and for a limited period of time without the usual obligations that you would have with respect to in-house engineers on payroll.
The business of any offshore Java development company depends heavily on its ability to quickly source local and sometimes global talent with the right skills matching your project requirements. This is their bread and butter, and something that helps thousands of companies worldwide to effortlessly ramp up their external teams for meeting tight deadlines.
Growing priority of innovations
In spite of some general skepticism regarding the growth of the software development market in 2023 and imminent cutbacks, innovations will still be high up on the agenda for the majority of businesses and will receive steady funding.
Trend-based research suggests application development outsourcing is expected to grow by 70% by 2023. The main driver behind this process is the continuing reliance on innovative applications and online services that consumers will want, and in fact expect, to see more and more. Therefore, even in times of uncertainty, businesses will continue investing in application development to gain a competitive edge.
Limited resources when starting up
When it comes to startups, early access to competent developers is an essential prerequisite for predictable scaling and meeting set milestones. The speed of team deployment and resource flexibility come to the forefront and create opportunities for pivoting and on-the-fly regrouping.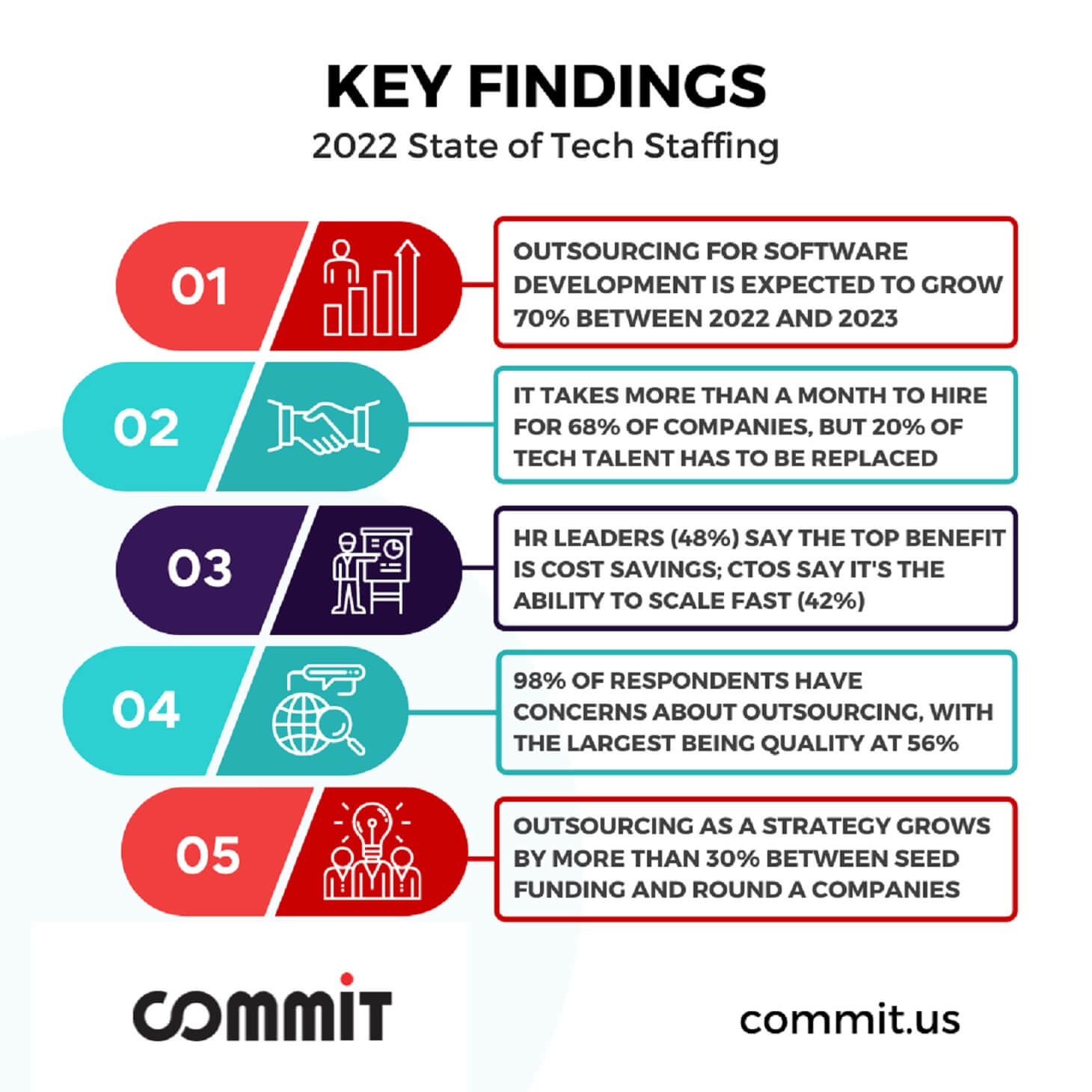 For startup companies leaning towards Java, offshore development partners can be real life-savers, providing high quality Java programming services in the form of dedicated teams or even a single offshore Java developer capable of laying a solid foundation for a future product.
LOOKING FOR A TRUSTWORTHY PARTNER TO HELP YOU WITH A COMPLEX SOFTWARE PROJECT?
Connect with us today to learn more about our people, experience, processes, and the great benefits of working with EPAM Startups & SMBs.
Benefits of Hiring an Offshore Java Development Company
Much has been said and written about the multiple reasons why businesses outsource and the benefits that they reap from that decision. Let's go over them briefly once again.
Tapping into expert-level expertise within the shortest possible time
The outsourcing model offers a perfect solution for complex product development where a combination of multiple technologies is used, including Java. It's not uncommon for businesses to venture into completely uncharted territories while lacking the required domain knowledge and/or Java technology expertise.
In this case, hiring an offshore Java development company grants the client immediate access to the combined domain knowledge and technical skills of all team members while enabling extremely fast team set-up and growth.
Extending the team at less cost
When it comes to large enterprise projects, shifting business priorities often dictate the need for rapid spurts toward tightening deadlines. In such situations, hiring local developers is not a viable option due to the associated administrative burden and the overall complexities of the onboarding process. Plus, the cost of hiring locally might upset you.
If you hire a Java developer offshore, you can save a pretty penny on the dramatically reduced overhead and lower hourly rates while getting the same or even better quality. Freelance professionals and reliable outsourcing companies know how to implement effective daily communication processes and seamlessly blend in with the client's team.
Improve project resilience via flexibility and diversity
When you get your Java development services offshore, you get a flexible supply of engineers, testers, and business analysts that know how to work together — and with your core team. Having this flexibility enables you to fill multiple positions at once and modify the external resource pool.
If any niche technology is required for the project, a good outsourcing company is likely to have such experts as well. If not, they should be able to find suitable candidates in the local market, conduct interviews, assess their fitness for the project, and, finally, hire them for you.
Top Countries for Offshore Java Development
Even in today's changing outsourcing landscape, a few regions are traditionally used for outsourced software development and technical support services.
Latin America
Latin America is traditionally preferred by US clients for its proximity and the convenience of working in the same time zones. The generally comprehensive knowledge of the English language also contributes to the popularity of this region. However, this market is approaching its maximum capacity, while the rates are among the highest among other popular outsourcing destinations.
The typical rate for a senior/lead Java engineer in the LatAm region has now reached as much as $65 to $82 per hour, occasionally peaking at around $90/hr.
Central and Eastern Europe
Central and Eastern Europe have been an extremely popular outsourcing destination for decades. High-quality education, abundance of technical schools, and a mindset that leans towards solving complex tasks are just a few of the factors that contributed to the success of this region.
Because of this year's geopolitical turmoil in this part of the world, countries like Russia, Ukraine, and Belarus have witnessed a dramatic decline in their appeal to new clients, so the focus has shifted into the EU zone and locations like Poland, Lithuania, Bulgaria, Romania, Serbia, Bosnia, Montenegro, and others.
Java developers from this region are known to be competent, inventive, have relatively good English and a strong mathematical background with a focus on algorithms and object-oriented programming.
In terms of rates, a skilled senior Java developer in a leading role would typically be available for anywhere between $68 and $76 per hour.
Southeast Asia
Typically represented by such countries as Vietnam and the Philippines, the region can be characterized by the ever-growing expertise in multiple engineering disciplines and highly competitive rates that are considerably lower than those in more traditional outsourcing destinations.
According to Statista, the volume of the outsourcing market in Vietnam is expected to reach $171.5 mln by the end of 2022 and continue growing at an annual rate of 14.73%.
In terms of cost, hiring a senior offshore Java programmer in Vietnam will set you back by $40 - $45 per hour.
South Asia
South Asia (the term mostly relates to India, Pakistan, Sri Lanka, and Bangladesh) has been used for outsourcing software development for decades. Initially, the region was a popular destination for companies that would choose it for technical support services (remember the stereotype about all customer support being outsourced to India?), but later evolved into one one of the world's key outsourcing locations with competent developers and some of the world's largest software development companies.
The obvious benefits of this region are the strong command of the English language, the inherent inclination toward mathematics and science in general, and relatively low rates that keep attracting clients from all around the world.
According to recent surveys, the average rate for a senior Java developer lies between $40 and $50 per hour, which is a good value when considering all of the above.
Tips on Hiring Offshore Java Programmers
Cost is one of the most important parts of a contract, so make sure you understand the vendor's pricing model before you settle down with any particular company.
Estimating the Cost and Gains of Offshore Java Development Services
In outsourced development, three business models are typically used:
Fixed cost: the vendor performs all the necessary analytical work to break your project down into groups of features, subfeatures, and tasks, then estimates the efforts required to implement them. Once the estimate is complete, the parties agree on the final cost, timeline, and payment schedule, and sign a contract. Payments are made upon reaching certain project milestones.
This model works well for projects with clear requirements or projects that are preceded by a phase of comprehensive business analysis (which doesn't come for free). When a vendor commits to a particular project cost, it assumes all potential risks and must deliver on time and within the agreed upon budget.
Time and Materials: simple and clear — you pay for the hours spent by the offshore team working on your project. This model is used for projects where requirements are fluid and get formulated on the go (or cannot be fully detailed until a particular milestone is reached). In many situations, this is the preferred modus operandi for both the client and the vendor.
Dedicated team: if you are looking to extend your own team for the long term or just need to build a software development department outside of your office, this option will do the trick. Assigned exclusively to your projects, such a team will provide the same flexibility that you'd have with an in-house team, but will be physically located elsewhere. In most cases, you pay a fixed price per person each month without the hassle of keeping people on the payroll.
INTERESTED IN GETTING AN ESTIMATE FOR A PROJECT YOU HAVE IN MIND?
We'll be glad to do that and advise on the optimal approach to building your product.
Why Hire an Offshore Java Development Team at EPAM Startups & SMBs
Here at EPAM Startups & SMBs, we've built a unique business model based on a distributed grid of the best developers available in the industry. If you are looking to hire an offshore Java development team, we'll provide the following:
A broad selection of scrupulously vetted professionals in 11 American and 3 European time zones
Full control over the candidate selection process (interviews can be scheduled as fast as within 24 hours from the initial approval by stakeholders on the client's side)
A single point of contact for project/team management, requests, and escalations
360-degree project visibility and control over the delivery process with detailed reporting
Unified, tried-and-tested delivery practices
Flexible contracting and pricing models
Quick team ramp-up/ramp-down
Access to a vast pool of experts in other areas and technologies
With EPAM Startups & SMBs, you are hitting multiple targets with a single shot: cost savings, speed of engagement, ease of management, clear and efficient communications, and rock-solid confidence in the final result.
CURIOUS ABOUT HOW WE WOULD APPROACH YOUR PROJECT AND WHAT PLAN WE'LL PROPOSE?
Feel free to reach out and share some details about your software development needs. EPAM Startups & SMBs can start deploying your first team members within days, not weeks or months!
2023 is going to be a year of change, adaptation, optimization, and search for alternatives. At the same time, companies worldwide will remain strongly committed to staying the course of technology-driven innovation and further improvement of the customer experience as key drivers of their financial success.
In this context, offshore Java development services from reliable vendors will still be one of the most sought after types of outsourcing. The experience of the past 3 years has taught both vendors and client organizations alike to effectively work in a distributed environment with considerable time zone and cultural differences.
Don't hesitate to contact EPAM Startups & SMBs at any time for professional recommendations on your Java outsourcing strategy and the top-notch Java development services provided by our experts.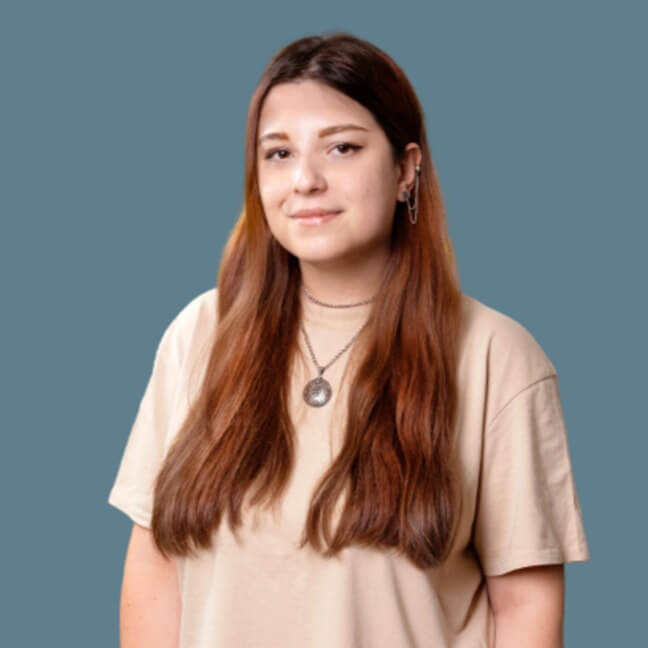 Written by
Anush has a history of planning and executing digital communications strategies with a focus on technology partnerships, tech buying advice for small companies, and remote team collaboration insights. At EPAM Startups & SMBs, Anush works closely with subject matter experts to share first-hand expertise on making software engineering collaboration a success for all parties involved.
Anush has a history of planning and executing digital communications strategies with a focus on technology partnerships, tech buying advice for small companies, and remote team collaboration insights. At EPAM Startups & SMBs, Anush works closely with subject matter experts to share first-hand expertise on making software engineering collaboration a success for all parties involved.