You have probably considered several models of interaction with contractors for your project: staff recruitment, on-site, and offshoring. You may have also planned working with freelancers. If you already have a negative experience of choosing one or another model, now you might have some doubts of whether any of them can be perceived as reliable at all. But you can.
In this article, we suggest that you consider the option of hiring highly skilled offshore PHP developers, as it's more convenient for companies, both in terms of workflow organization and costs. Below, we will explain why businesses of all sizes are compatible with the offshore cooperation model and how to find the best offshore specialists for PHP development.
Looking for high-qualified offshore PHP developers right now? You are in the right place! Learn more about how to hire PHP developers in our Skills section.
Is Offshore PHP Development Suitable for Companies of Any Size?
Many business owners believe that choosing an offshore cooperation model with PHP specialists is typical only for small businesses. Let's see if this is the case.
PHP Offshore Development for Large Corporations
Despite prejudice, offshore software development services are suitable for large companies, even if they have their own team of IT specialists.
In fact, for large corporations, hiring an offshore PHP development team is a great opportunity to focus on their core business processes and not spend time and huge money on staffing with employees with the appropriate qualifications.
By doing so, you don't have to look for a whole team of specialists, equip their workplaces, onboard them, deal with unnecessary paperwork, and improve their skills. Instead, you get a PHP offshore development team with the needed level of expertise that will immediately start working.
In addition, different costs of living can provide different rates and countries like the USA, UK, Canada, and Germany, can really benefit from this gap. Therefore, the offshore cooperation model will help you find experts as qualified as those from your geographical location but with more acceptable rates. This is a significant advantage, even considering that large corporations rarely allocate limited budgets for the development of digital business solutions.
Offshore PHP Programming for SME
As for small and medium-sized businesses, companies of this type often do not have sufficient resources to hire new employees. For large companies, offshoring provides more convenience in terms of attracting a new workforce, but for small and medium businesses, it may be the only possible model for cooperation with developers.
In particular, hiring specialists from countries with lower IT market rates will help you cut your project budget in half. Moreover, because these specialists have the needed expertise, digitalization will be done much more efficiently and faster. And finally, such a cooperation model gives businesses flexibility in rates and terms, as well as eliminates the need to have in-office IT experts (for example, our specialists can fully cover the business task and provide a solution).
Offshore PHP Developer for a Startup
Teams that launch startups often have rather "raw" ideas without a clear picture of how to put them into practice. In this case, joining a team of several full-time specialists may entail unacceptable time delays (not to mention high costs).
This is why the alternative of hiring an offshoring PHP development team is often the only strategy available to deliver a planned project on time, as it allows businesses to reduce costs, bring in experts with the needed expertise to work on the project, and provide flexibility in terms of available pricing plans and contracts.
GET AN ALL-STAR LINE-UP FOR YOUR PROJECT
Would you like to know if an offshore PHP development team will match your project? You can check it in the next paragraph.
3 Reasons to Hire an Offshore PHP Development Company
Of course, not all companies that provide offshore PHP developer services can guarantee their high quality. That's why it's so important to turn only to companies with a good reputation in the global IT marketplace. One of those is EPAM Startups & SMBs.
Let's find out how hiring qualified professionals from EPAM Startups & SMBs can solve the problems for businesses of all sizes.
PHP solution for tech giants
By cooperating with our offshore PHP development company, global corporations receive the following benefits:
a wide choice of experienced talents;
implementation of practices gained through cooperation with Top 100 companies;
NDA and a high level of business culture;
experience in integration into internal teams and improving productivity.
SME challenging with digital transformation
For medium and small businesses, the advantages of a partnership with EPAM Startups & SMBs are even more obvious:
cost-effectiveness;
full readiness for work;
no need to manage work processes within the team;
the embodiment of knowledge and experience gained in cooperation with leading companies.
Fast growing startup
And finally, here are the pros of working with us for developing startups:
process flexibility;
sharing goals and understanding business needs;
contribution to the team's global work processes;
industrial expertise.
You can also learn more about our outsourcing software development services.
Services Included in Offshore PHP Development
Technically, offshore PHP web development services can be divided into three categories. Below, we briefly describe each of them.
Full stack PHP development
PHP is a classic web development language. Usually, full stack development involves working with frameworks such as the Yii2, Symfony, or Laravel. The main goal of full stack development is to reduce the number of specialists involved in the project. That is why this option is optimal for MVPs, startups, and other projects with a limited budget.
Application management and maintenance
If you have a ready-made solution based on PHP or allow the integration of components written in the PHP programming language, then offshore PHP development services will be the best solution for you. In particular, this type of service is aimed at modernizing an existing software solution, eliminating bugs found after its release, managing configurations, optimizing code and databases, improving performance, performing migration, etc.
Website redesign
As we mentioned above, PHP underlies the vast majority of websites. Therefore, if you are going to improve your website, hiring PHP developers offshore will help you deal with this challenge as quickly and cost-effectively as possible.
You can also learn more about our outsource PHP web development services.
Skills an Offshore PHP Programmer Should Obtain
Depending on the complexity, time frame, and budget of your project, you may need PHP engineers with different skill levels. That's why we propose you find out what hard skills a PHP specialist should have depending on the level of expertise: junior, middle, or senior.
Junior PHP developer
The minimum requirements for a junior PHP position are knowledge of PHP, HTTP, REST, MVC, SOLID, and basic patterns. Also, your candidate should be able to work with PCM frameworks, such as Laravel, and test and debug the written program code.
Other valuable knowledge includes developing design layouts for web pages, implementing front-end interfaces from design layouts, and having knowledge of basic server processes.
Middle PHP developer
As for mid-level specialists, their experience should be at least two years. They should be able to work with HTML, CSS, JS frameworks, jQuery, databases (such as MySQL and PostgreSQL), and XML parsing, as well as have object-oriented programming skills. Also, important hard skills include writing unit tests, refactoring code, and writing and optimizing technical documentation.
Senior PHP developer
Senior PHP professionals need to have 6+ years of experience with PHP, MySQL, LAMP stack, Git, MV* patterns, JS frameworks, Symfony, Laravel, WordPress, and/or Drupal. A significant advantage for the candidate will be knowledge of Docker, NoSQL, and AWS, as well as Python and Node.js. Also, they must have advanced OOP skills and be able to configure heavy PHP resources.
As for soft skills, they are approximately the same for all three categories of PHP specialists: the ability to work in a team, the desire to improve their knowledge and skills, diligence, etc.
How Much Can You Save When Hiring Offshore PHP Developers?
If you do not consider the level of expertise, then the pricing for the services of PHP developers varies greatly from country to country. The rates of PHP specialists are the highest in the USA, Canada, Australia, Great Britain, and EU countries. So if you want to save money, offshore development services will be your holy grail.
For example, if we turn to the data of the ARC.dev platform, which acts as an intermediary between IT specialists and employers, the average hourly rate of PHP engineers ranges from $61 to $80. This is a quite high price tag for some businesses, which makes them look for developers elsewhere.
Therefore, PHP specialists from Eastern Europe are the most promising in terms of saving the project budget. Usually, they set about two times lower rates for their PHP development offshore services, meaning that you can save up to half of the project's initially estimated budget.
Of course, these estimates are approximate because PHP developers alone are unlikely to be able to "pull out" the entire project using their knowledge and skills. Nevertheless, the prospect of saving some part of the budget without reducing the quality of the services provided by EPAM Startups & SMBs (in comparison with the budget that specialists from the USA, Canada, Australia, Western Europe, etc. can offer you) just cannot but be encouraged.
Looking for top IT specialists with reasonable rates? If you want to hire remote developers, visit our website.
ASK OUR EXPERTS TO GET AN ACCURATE CALCULATION OF YOUR PROJECT
Looking to hire PHP developers at a reasonable rate and asap? Don't hesitate to contact our specialists right now.
Why Hire Offshore PHP Developers at EPAM Startups & SMBs?
EPAM Startups & SMBs is a company that provides enterprise-level software development services for small and medium-sized businesses. As a part of the EPAM company, which has existed in the international software development market for almost 30 years, EPAM Startups & SMBs united the best specialists from all existing IT branches. You can benefit from hiring offshore PHP developers at EPAM Startups & SMBs instead of:
hiring short-term in-house developers, as it's costly and time-consuming;
hiring part-time local developers, as it's economically inefficient;
hiring freelancers, as it's unreliable and may cause product launch delays.
With high corporate standards and the best management practices, our specialists always provide excellent results, including for small projects. Therefore, our partnership helps startups and SMBs grow into top brands and corporations.
Here are some more advantages of cooperation with EPAM Startups & SMBs:
we start working on a project in an average of 4 weeks from the beginning of our cooperation (signing an NDA and contracts takes only 1-2 days);
to participate in your project, we will consider more than 55,000 full-time specialists (including highly specialized mid-level and senior FAANG specialists) and select those who suit you not only in terms of expertise, but also time zone;
we will provide you with constant communication and maximum transparency of our work processes through your personal manager at EPAM Startups & SMBs;
we will regularly ensure you with reports on the progress of the project;
we apply the best software development practices such as Scrum, Safe, and Kanban;
we will take full responsibility for managing developers and solving problems related to the efficiency of workflows;
we will conduct 100% quality code review to ensure your product is of the highest quality and complies with generally accepted and industry standards such as HIPAA, PCI DSS, and GDPR;
we apply our best expertise gained through cooperation with Fortune 100 companies.
As you can see, the offshoring model is suitable both for SME, large corporations, as well as startups. At the same time, regardless of the scale of the project, you can get full-stack development services, support and development of web applications and websites from scratch, as well as upgrading existing solutions. Thus, just don't be afraid that you will lose control over the project: companies with a long history and a good reputation manage the work processes within the team much better than the project owner would.
GET THE BEST SOFTWARE DEVELOPMENT SERVICES AT THE BEST RATES
Would you like to know how much you can save with our offshore developers? Book a 30-minute consultation with the our team and get a rough estimate.
To sum up, let's answer the most popular questions related to offshore PHP application development services.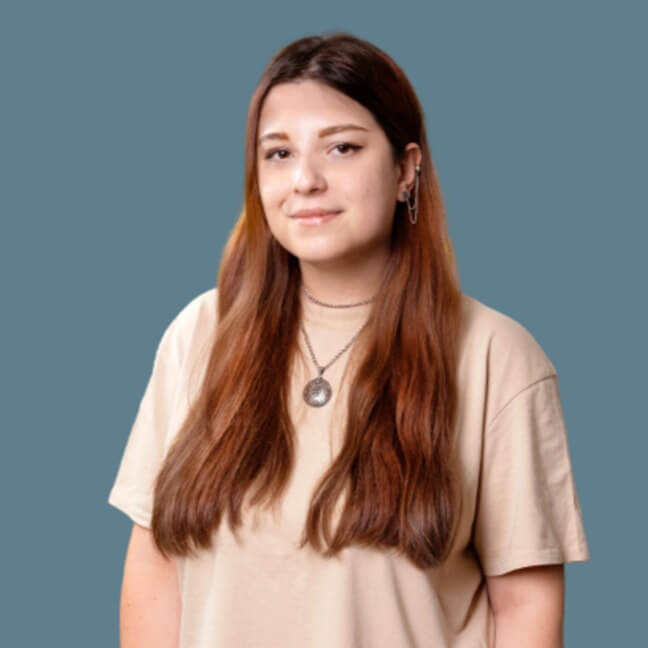 Written by
Anush has a history of planning and executing digital communications strategies with a focus on technology partnerships, tech buying advice for small companies, and remote team collaboration insights. At EPAM Startups & SMBs, Anush works closely with subject matter experts to share first-hand expertise on making software engineering collaboration a success for all parties involved.
Anush has a history of planning and executing digital communications strategies with a focus on technology partnerships, tech buying advice for small companies, and remote team collaboration insights. At EPAM Startups & SMBs, Anush works closely with subject matter experts to share first-hand expertise on making software engineering collaboration a success for all parties involved.