According to official analytical data, the UK IT sector in 2021 accounted for around 6.3% of the total UK labor market. Demand creates supply, and last year alone (2022), about 2 million vacancies in the IT industry were opened in the UK.
Given these trends, it becomes clear why local digital companies gradually expand their staff with new employees. Below we will discuss a special case of such a staff extension and talk about hiring web developers and web designers in the UK and saving the budget.
Are you in need of a specific type of development service and want to hire a web designer in the United Kingdom to create a website for your business? Check our website development services page.
Benefits of Hiring Web Developers in the UK
United Kingdom-based companies have unique management culture and hiring traditions, and interaction between the company's management and its employees. Indeed, until a few years ago, before the COVID-19 pandemic, only 11% of workers worked remotely full-time, while 21% did it part-time. So what are the benefits of this time-tested approach?
Better knowledge of the local market
If your business is physically located in the UK and your products and/or services are also aimed at the local market, hiring an in-office web developer or web designer will help you to involve them in your work processes in the most productive way. In particular, having experience with interacting with a local target audience and understanding the culture, they can intuitively deliver the best solution and will not need to study another mentality.
Simpler communication
When you and your employees have lived in the same country for many years, misunderstandings between you happen quite rarely, since you can use both verbal and non-verbal signals to convey your thoughts.
Conversely, communication with people who live in another country can be stressful for British residents, as they use different phrases to ask for something and give the direct task "to be done".
In-depth control over the project
Of course, it is more convenient to monitor work processes when they occur in the same office where you work. Also, every UK resident has some credit and job history (so you can ask for references), which allows you to verify the integrity of your employees. However, can such monitoring be productive only because the person can be checked and in the office?
Skills to Consider When Hiring a Web Developer in the UK
Regardless of the format of interaction with your future employee, you should consider the hard and soft skills typical for most vacancies related to website development and design. Also, please, note that if you look for software engineers abroad, they must be checked on correspondence with your in-corporate communication culture.
HTML/CSS skills
HTML and CSS are two basic technologies your potential employee should have. Without them, it's impossible to build a good website.
Responsive design skills
Responsible design is an obligatory attribute for websites that should be opened on user devices of different formats (from PC to smartphones). Thus, you should check if your applicant has this skill.
JavaScript skills
JavaScript (JS) allows developers to create dynamic and interactive frontends with complex functionality.
Testing and debugging skills
If you want to assemble the smallest possible web development team, the software engineer you hire must also have website testing skills and be able to write automated tests.
Back-end basics
For websites of low and medium complexity, it may be enough to hire one or several full-stack specialists who would be simultaneously responsible for the implementation of not only the front end but also the back end. Otherwise, depending on the complexity of your project, you may have to hire both front-end and back-end developers. Although the list of technologies for implementing the backend is much wider (the most common are PHP, Python, JavaScript, Node.js, MySQL, MongoDB, etc.), you should consider the popularity of the languages, as it will simplify the process of finding appropriate candidates.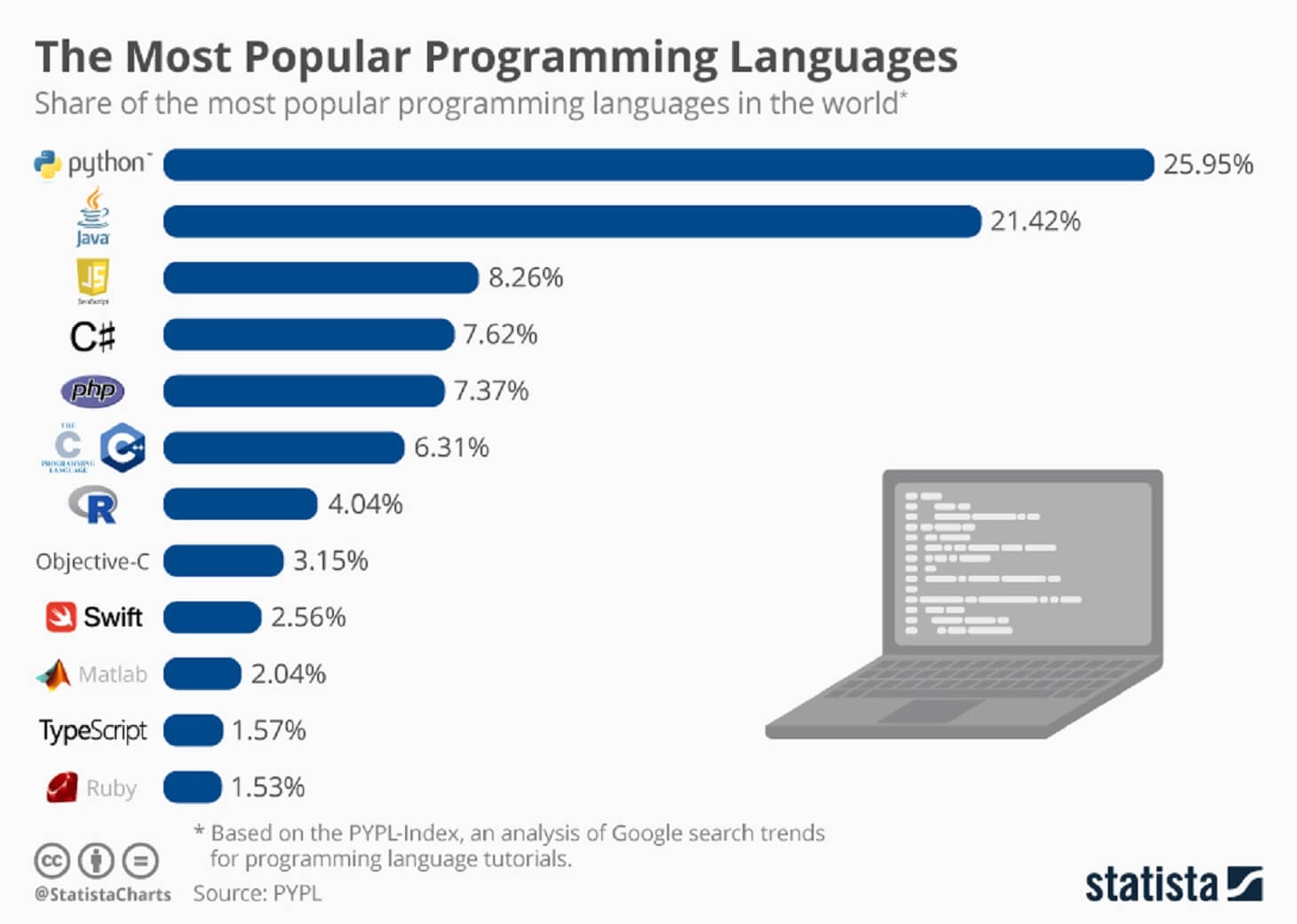 Search engine optimization
Although SEO is a separate area in IT that is not directly related to web design and development, the specialist you are going to hire should understand what SEO modules should be integrated into your website to ensure its best ranking in search engines.
Communication skills
Since your specialist will be required to work in a team, it is essential to test their communication skills and alignment with your company's values.
Flexibility
Flexibility is another important quality for a web developer because, depending on the changing requirements of your business niche, your project requirements may also change. This means that your team must be ready to quickly make adjustments to the existing list of specifications and adapt their workflows to these edits.
Open-mindedness and creativity
If you want to launch a popular website, you may need creativity and openness to new ideas from your employees. This quality is vital for startup teams.
By the way, if you want to assemble a team of experts to implement your startup, you can contact us — we will provide you with the best experts with experience in your business niche. Please, learn more about our startup web development services here.
Time management
Since your team is likely to be on their own most of the time, each team member should schedule their tasks to complete them on time.
Problem-solving
No workflow is perfect. At the same time, your employees must be self-reliant enough to quickly fix problems independently or with minimal support from their colleagues.
Industrial experience
In addition to the hard and soft skills described above, your applicant should have experience in your business niche. This requirement is especially true for the financial and healthcare sectors.
CHOOSE OUR MOST EXPERIENCED TALENTS FOR BUILDING YOUR WEBSITE
Would you like to assemble a team of web designers and developers who correspond to all the features listed above? You're in the right place!
6 Steps on How to Hire a Web Developer in the UK
Now, it's time to consider six main steps to hire a web programmer in the United Kingdom.
Define the type of developer you need
Depending on your business requirements; you may need a specialist with specific skills (do you need a website based on a particular ready-made engine or a custom web project with a unique user experience?), as well as a format for interacting with the rest of your team (do you need a full-time specialist, part-time specialist, or a freelancer?).
Write a project brief
Now, you will need to make the most accurate list of requirements for your project — technical and non-technical. Perhaps you have some requirements for choosing a technology stack? Or maybe you plan to scale your website further ? Just think about it.
Review your budget
Without understanding how much money you are willing to invest in your project, it will be impossible to start implementing it. You need to consider not only the cost of web development services but also hidden costs such as web hosting, integrated APIs (optional), fixing post-release bugs, hiring agency services, turnaround (unfortunately, it is always possible for startups and young products), missed deadlines, etc.
Submit your project
If you are looking for UK web programmers for hire to implement your business idea, it makes sense to post its description on a public web resource (LinkedIn, for example). This way, your potential employees get an idea of ​​​​what they will have to deal with before you officially hire them.
Find the right candidates
Finding candidates is a challenging task, especially when it comes to specializations in which you are not strong. That is why in many cases, it makes sense to resort to the help of a professional staff augmentation partner, engagement platform, or talent acquisition manager.
Discuss the NDA and salary
Since life in the UK, and particularly in London, is pretty expensive, you should be prepared for the fact that the average salary of local web developers will differ from the average salary of web developers in other available locations. That is why many project owners choose outstaffing, which costs half the price (and is implemented faster) than local hiring.
Moreover, you will not have to overpay for additional services from hiring agencies that act as an intermediate link between IT specialists and employers and request a certain fee for their services.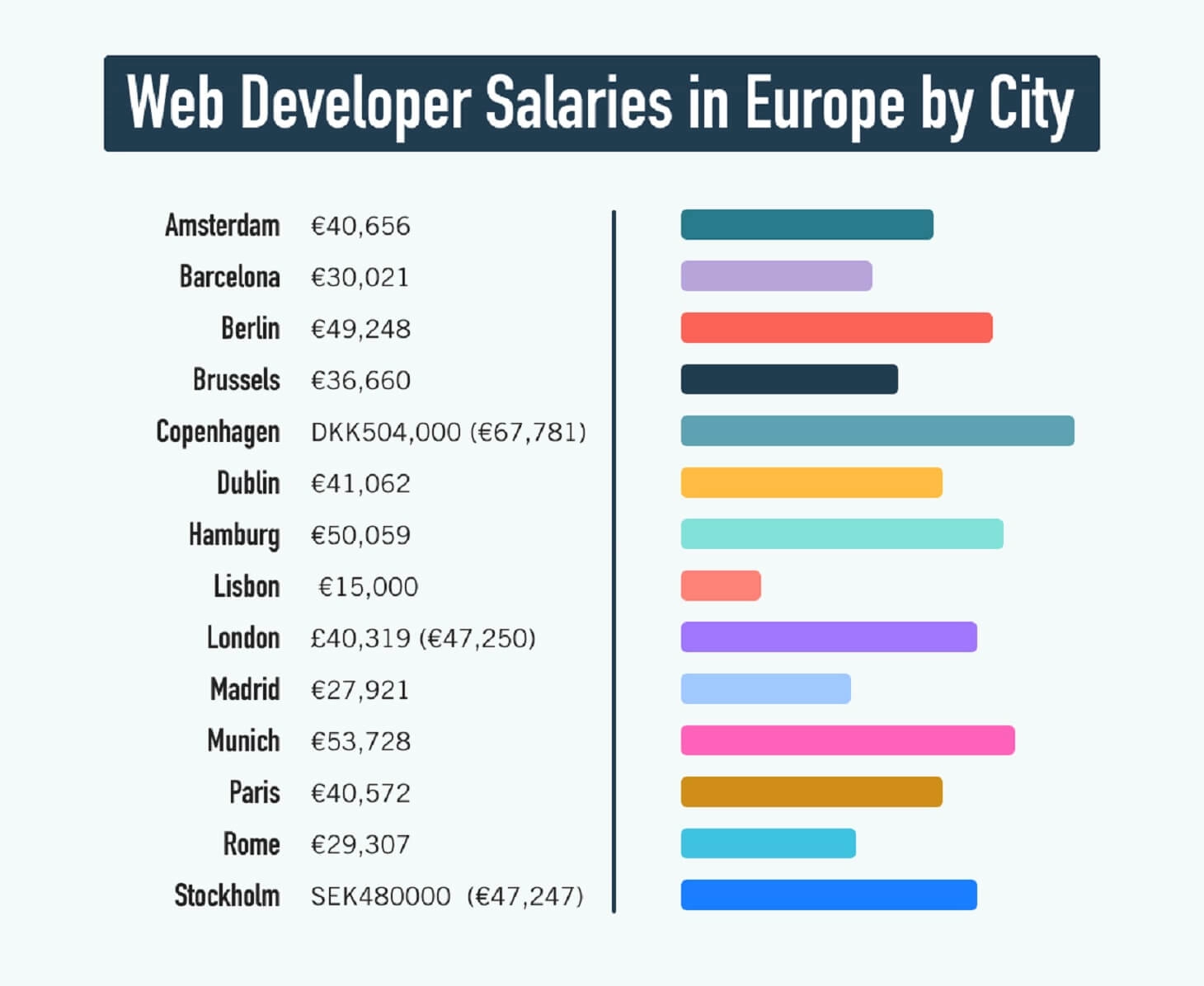 How Much Does It Cost to Hire a Web Designer in the United Kingdom and Particularly in London?
According to Glassdoor, an average per-year salary of a web developer in the UK is £37,682. Therefore, to save some budget and keep the high code quality, you may consider some popular outsourcing locations, like Poland, Ukraine, Spain, and Estonia.
Let's just use the same web resource to compare the annual salaries of web specialists from these locations:
The conclusion is obvious: if you want to hire a web programmer in the UK and at the same time save your money, you should consider outstaffing (the same is true when you are going to hire a web designer in the UK).
HIRE THE BEST WEB DEVELOPERS AT THE MOST AFFORDABLE RATES
Choose EPAM Anywhere Business and get access to one of the widest talent pools. With us, you will never overpay for developers' services.
How Can EPAM Anywhere Business Assist You As Hiring Partner to Hire Developers in the UK and Abroad?
EPAM Anywhere Business is a remote cooperation platform launched by the software development company EPAM, with 30+ years of experience in the international market. The company has an outstanding pool of IT experts (55,000+), most of whom have unique experience in collaboration with Fortune 1000 companies. If you are an SME representative, a partnership with EPAM Anywhere Business will give you such benefits:
Quick recruitment. The period between the moment of your request to us and hiring takes from two to four weeks;
Willingness to cooperate with projects of any type. While in the UK, web developers rarely accept offers from startups, our specialists will be ready to work on a project of any duration;
In-depth approach to the development process.

W

eb developers and website designers of Anywhere Business will create a solution that will be viable for many years, preparing it for further scaling and increasing functionality;
Collaboration in your time zone.

Anywhere Business

developers are located all over the globe, so you can choose those with whom it will be most convenient to cooperate in terms of time zone;
Affordability. Even though

EPAM Anywhere Business

rates depend on the location of particular experts,

it

always selects the talents whose cost of services is acceptable for your budget.
Please, note that Anywhere Business has its headquarters in the UK, therefore, you can contact us by telephone to clarify the details of our future partnership.
As you can see, even if your business is located in areas with rising costs of living, as well as a long hiring curve, you still have the opportunity to reduce the budget for the development of your web project by hiring experts from other countries. To get an excellent result, controlling your team from the office is not necessary.
GET A SCALABLE WEB SOLUTION FOR YOUR BUSINESS NEEDS WITH EPAM ANYWHERE BUSINESS
Choose Anywhere Business web developers and web designers for hire in the United Kingdom and get a solution that embodies the best development practices of Top-100 companies.