In-house vs outsourced software development: which should you choose? Anyone at the start of a project will face this oft-debated subject, and each approach includes differing costs and benefits that could help or hurt your organization.
To help make the decision a little easier, let's break down the true expenses involved with in-house and outsourced software development. With a complete cost perspective, you can make an informed choice that sets your organization up for ultimate cost-effectiveness.
In-house vs outsourcing software development: hiring cost factors
First, you need to consider hiring costs. New employees will join your current development team, and that demands resources. Be sure to include these employment costs in your calculations. You can also use our software development cost calculator to get IT outsourcing cost benchmarks to accommodate your specific needs.
In-house hiring
Recruitment: How will you find qualified candidates? Advertising, headhunters, and recruitment agencies all cost money and resources. Career fairs have booth creation, setup costs, and labor expenses. You must also pay for online job postings and access to professional networks.
Human resources: You'll also need a fully-functioning resource department for all in-house hiring. Someone has to screen resumes, run interviews, and conduct test assessments. Human resources are responsible for managing the hiring process, so don't forget additional costs such as salaries and admin expenses.
Outsourcing
Vendor selection: Compared to in-house strategies, outsourcing has fewer recruitment costs. However, there will still be expenses related to your vendor search. Expect to invest time-consuming actions in agency evaluation, proposal review, and talent assessments to mitigate vendor risk. Soliciting requests for proposals is a long process that often requires continued effort from numerous stakeholders.
Contract negotiations: Some outsourcing services are large entities that require extensive contracts to follow worldwide labor laws. You may have to hire a lawyer to guide you through the contract negotiation. Be sure to add these extra legal fees to your calculations.
LOOKING TO AUGMENT YOUR TEAM BUT WITHOUT THE USUAL EMPLOYMENT COSTS?
Access the top talent with our software engineering services.
contact us
In-house development vs outsourcing: talent retention and overheads
Second, you need to consider ongoing costs once you hire your talent. There are operational risks and resource expenditures that occur throughout the entire engagement length. In-house development vs outsourcing talent has very different employment structures that result in vastly different retention and overhead expenses.
In-house talent
Onboarding: The in-house team approach will involve training costs. You're adding a new developer to your team, and they will have to adapt to the new company culture. That takes time and mentoring, in addition to investments in orientation and licensing. Such cost estimations will depend on the complexity of the project and the experience of the candidate.
Salaries and benefits: With a full-time or part-time in-house hire, you manage all employee benefits. The employee will command a salary, bonuses, and possible stock options. The average compensation for a software developer in the USA is $114,680 as of 2023 (Indeed). And don't forget other payment-related costs, such as retirement account benefits and health insurance. Without such benefits, you will struggle to attract and retain top talent. Expect to pay a premium for candidates with advanced skillsets who live in populated cities.
Infrastructure: A team of in-house developers will need ready-to-use infrastructure. You must have office space, commercial rent, computers, servers, and digital tools available for your employees. You may be able to lower those infrastructure costs depending on the size of the team, but expect to spend resources on IT services.
Outsourcing
Project management: Outsourcing software development eliminates many of the normal overhead costs involved with traditional in-house hiring. However, outsourcing does introduce extended project management expenses, as you need a project manager to oversee the project. Project complexity also increases, as you'll work with distinct developers from around the globe who may not fit well into your company's operating procedures. For example, you could experience time conflicts with developers who work in a different time zone or misunderstandings resulting from poor culture fit.
Travel: Many outsourced developers work globally via nearshoring. This can introduce travel costs, like in the case of an emergency that needs a developer on site or face-to-face interactions. Be sure to add space to the budget for travel reimbursements when outsourcing.
Communication tools: Communication becomes far more complex with an outsourced remote team. While in-house software development teams work in the same physical space, outsourced workers need additional meeting times, video-conferencing tools, and advanced project management systems.
Provider fees: Software development companies charge a fee for their services. These custom software development rates cut into profit margins. Some take a percentage of the total contract value, while others work with an hourly pay schedule. Top talent may also include a retainer fee. In addition, some outsourcing providers have their own hiring rules that can make temporary staffing a challenge.
When is it best to go for software development outsourcing?
The type of project you have will also influence whether to choose in-house development vs outsourcing. Outsourcing offers unique pros and cons, but you should select the hiring method that best serves your business goals.
If your project meets the following criteria, it's best to go with outsourced software development.
Cost: Outsourcing drastically reduces operating costs and overhead, so if cost-effectiveness and time-to-value are a primary concern, avoid going in-house.
Expertise: Software development services often have access to a global talent pool. For niche domains or startups, a diverse set of candidates offers the needed specialized support.
Time-sensitive: Outsourced talent can rapidly fulfill staffing demands. If you need to expedite the hiring process or want temporary support, outsource.
Scalability: Outsourcing offers the flexibility needed for a rapid increase in demand. Ramp up or down team activity without the constraints of hiring and training.
Risk mitigation: Vendors take on the employee risk for you. With outsourcing, you no longer need to worry about staffing, salaries, retention tasks, or long-term commitment risk.
When is it best to keep it in-house?
In-house developers are the best option if your project meets the following criteria.
Long-term project requirements: In-house hires are ideal if your app development projects require ongoing maintenance and user support. In-house employees offer the needed continuity and can reduce costs related to knowledge transfer.
Core business operations: If you're hiring a worker to operate critical functions of your software product development company, in-house is the better option. In such cases, commitment becomes a crucial asset.
Confidentiality: When the project calls for extended secrecy, you can limit risk by opting for in-house talent. It's far easier to manage user access and privacy restrictions from within the company.
Strategic control: If the operations of your business require complete control, in-house hires are a better choice. You have much less visibility and oversight with an outsourced workforce.
Hiring in-house software development vs outsourcing: summing up
Both in-house software development and outsourcing offer value. At the end of the day, the decision comes down to the exact needs of your organization, so select the hiring approach that offers the most advantages for you.
In today's market, most organizations opt for outsourced support. The evolution of technology has created an environment that demands flexibility and scalability. As the industry seeks more collaborative approaches to the software development process, outsourcing has grown in value.
READY TO TAKE YOUR DEVELOPMENT PROJECT TO THE NEXT LEVEL?
Explore our services and connect with top talent at EPAM Startups & SMBs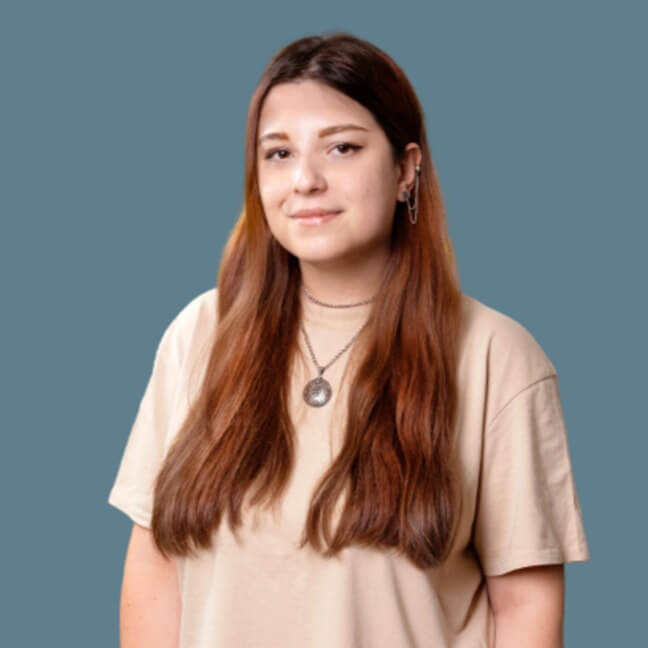 Written by
Anush has a history of planning and executing digital communications strategies with a focus on technology partnerships, tech buying advice for small companies, and remote team collaboration insights. At EPAM Startups & SMBs, Anush works closely with subject matter experts to share first-hand expertise on making software engineering collaboration a success for all parties involved.
Anush has a history of planning and executing digital communications strategies with a focus on technology partnerships, tech buying advice for small companies, and remote team collaboration insights. At EPAM Startups & SMBs, Anush works closely with subject matter experts to share first-hand expertise on making software engineering collaboration a success for all parties involved.