With tourism being one of the most important components of economic growth, the recent pandemic had a significant impact on multiple economies. Experts say that technology can optimize and safeguard the traveling industry. According to the 2020 SITA Air Transport Insights Report, 97% of airlines are planning on investing in applications for passenger mobile services, as well as 86% will invest in in-house virtual and remote IT services. Technologies like the Internet of Things (IoT) are an emerging trend in the tourism sphere and can potentially disrupt the entire industry. The focus on personalization, securitization, and optimization will allow airlines, hotels, and cruises to make a crucial shift in the traveling industry.
In this article, we will dissect the trends of IoT in travel and hospitality, explore the benefits, and take a look at the most prominent applications.
IoT in the Travel Industry: trends, applications, and the future of the technology
Personalization is the focal point of virtually every industry, and tourism is not an exception. People can be especially vulnerable in a foreign country and face more stress than under normal circumstances. According to surveys from Salesforce, 66% of customers expect companies and brands to understand their pains and anticipate their needs. The survey also shows the growing need for tailored experience as the number of people expecting a personalized offer increased from 49% in 2019 to 52% in 2020.
One approach to providing more personalization is to offer additional control to travelers using their mobile devices. For example, some museums allow customers to book a timeslot in advance to avoid long lines and improve their experience. Visitors can also reserve a guide and pay the entrance fee using an app or website to save time and enjoy a smooth trip.
Another IoT application in tourism is collecting and storing customer data that allows companies to generate tailored offers based on users' search and purchase history. Customers can receive personalized offers for vacation spots, travel destinations, airlines, cruise ships and more. Hotels can take a step further and collect customer data about their favorite rooms, preferred temperature and lighting and prearrange the settings in advance. Small details like these might seem insignificant but actually play a major role in customer experience and help hotels stand out from the competition.
Reach out to EPAM Startups & SMBs to accelerate your IoT transformation.
Learn more about IoT technology and consider our services to benefit from the valuable data. Contact our team to collaborate on your next exciting project.
What Does Your Company Win by Using IoT in the Travel Industry?
A 2020 survey from GlobalData shows that more than 30% of tourism executives reported that IoT played an important role in managing the pandemic. 38% claim that the technology would optimize business operations in the upcoming years, whereas 43% said that IoT is crucial for business development. The potential Internet of Things in travel is vast and critical for the future of tourism:
Less burden on customer support due to a high level of customizability
Traditionally, all customer inquiries go through customer support teams that can get overloaded especially during peak seasons. Using technology, companies can offer more customizability and allow customers to autonomously pick and choose the services they require. For example, instead of emailing or calling the hotel to let the workers know that you will arrive late at night, you can simply choose the relevant option during the booking process.
Lost luggage is one of the largest problems that airlines try to solve. Each year, 5% of checked-in bags get lost and 18% are damaged. To tackle this issue, some airlines have implemented eTags that can be tracked from a client's mobile phone at any time which reduces the chance of losing the baggage. The system also streamlines and shortens the process of checking in the bags and makes the traveling experience more efficient.
Improved customer experience
The world of traveling is extremely competitive and requires hotels, cruise ships, airlines, etc. to constantly improve and innovate to stay afloat. Travel and IoT provide options to make the experience more enjoyable and leave a good impression on the customer. As a result, everybody wins as the customer can get a better impression, and companies collect user data that helps them improve their services. A prominent example is making an IoT app that allows guests to check in, download an electronic key card, and order various hotel services. The next time the guest stays at this hotel, the app can offer discounts on the services that the customer might use again or any other related suggestions.
IoT sensors can also notify the hotel staff about the guest's arrival and help them promptly provide their services. For example, a hotel worker can go to the room to offer additional services, tell the guests about the hotel and answer any of their questions. Instead of performing these duties during check-in, the hotel staff can give the guests some time to settle in and relax.
Launch data-driven marketing campaigns based on real data
The ability to collect and analyze large amounts of data allows companies to generate targeted marketing strategies that prove to be highly effective. For example, airlines can offer location-based advertisements that are more likely to be successful and move the customer down the sales funnel. The same goes for hotels, museums, trains, buses, etc. as businesses can change the current offers based on the customer's location.
Data-driven marketing also includes catering to the customer's unique needs, such as special aids for kids with autism or people with impaired vision. Inclusivity has been an emerging trend in the last years, and people with disabilities appreciate the additional care that some companies offer. Capturing customer data can help you anticipate customer needs and offer the relevant services.
Benefits of IoT in Tourism for Travelers
Travelers will also benefit from the ubiquitous application of IoT in the travel industry and receive a better overall impression. In this section, we have collected the main advantages of the technology implementation.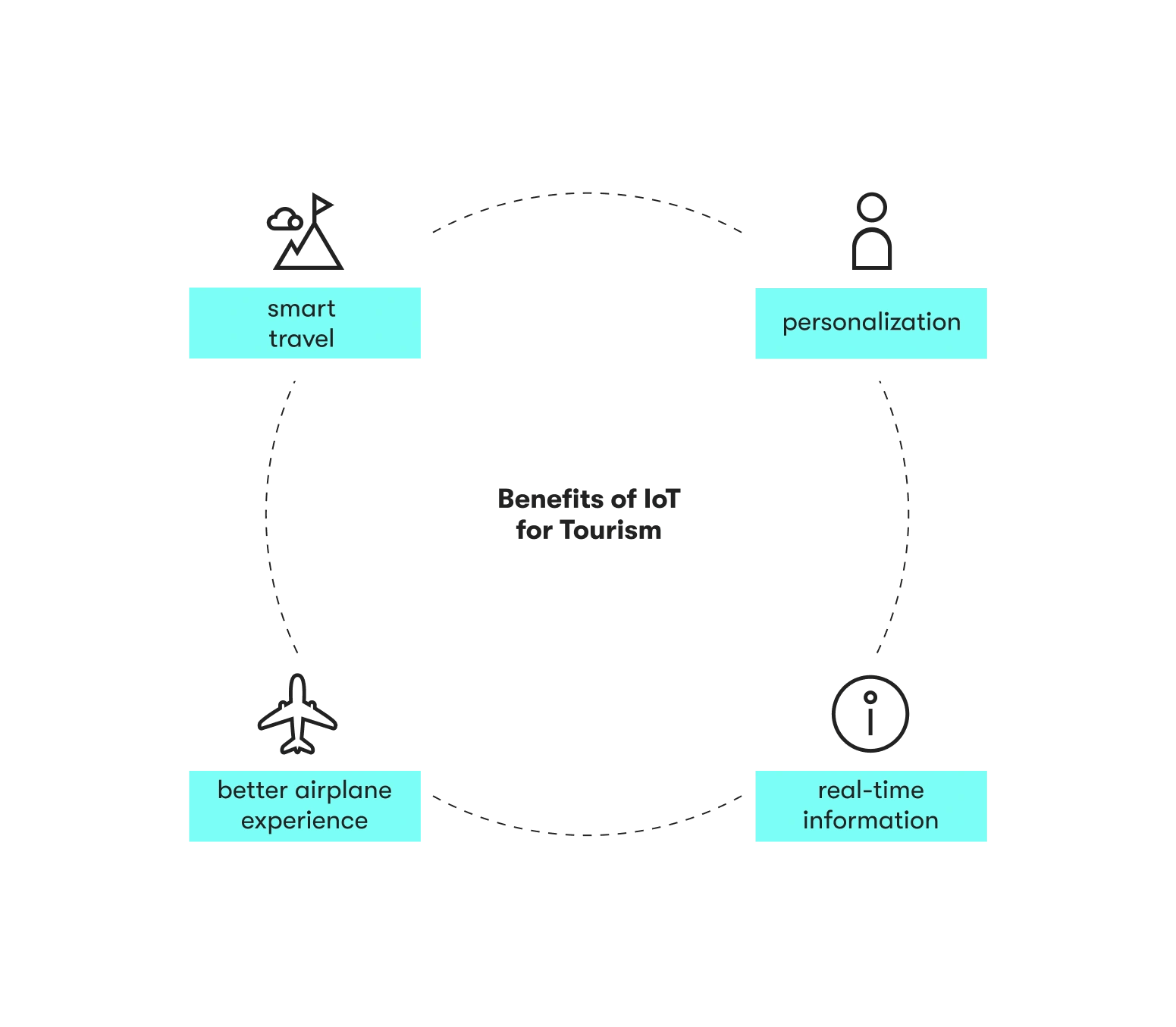 Personalization
As mentioned above, personalization is the focal point of the tourism industry. Some hotels have already adopted the usage of in-room tablets to allow their guests to customize their stay. For example, they can change the room temperature, control music, and TV, request a wake-up call and more. Smart electronic key cards also provide convenience and make the property more secure for the guests.
Real-time information
Having access to real-time data is especially important at the airport. People often travel through the airports they have never been to before, which complicates the navigation. IoT applications can alert customers about the changes in flight information, provide instructions on how to get to the gate and offer insights about connecting flights. These IoT solutions can make the stressful traveling experience more enjoyable and reduce the chances of missing a flight.
Airplane experience
IoT-enabled airplanes are equipped with sensors that capture and track passengers' body temperature, heart rate and anxiety level to offer help in case of emergency. Flight attendants can act early to prevent certain situations and provide immediate help. As a result, passengers can feel safer and more comfortable during their flights and receive assistance when needed.
Smart travel
IoT devices contribute to the creation of smart cities that make the traveling experience a lot smoother and easier. Such cities are embedded with sensors that collect travelers' data, monitor their interaction with tourist attractions and transfer this information to a centralized location. Data scientists can utilize these insights to prepare reports and help city managers improve the traveling experience for visitors.
5 IoT Applications in Tourism
The Internet of Things in tourism facilitates optimization and personalization of customer experience as well as automation of business processes. In this section, we will take a look at five applications of this technology in the travel industry.
Customization
One of the aspects of IoT implementation is customization options that allow customers to choose the exact experience they need and want. IoT enabled devices can help clients tailor their flight, stay, and other experiences to suit their physical abilities, preferences, and budget.
Smart assistance
This application is especially crucial at airports where people are in time-constrained conditions and require immediate assistance. Passengers can take advantage of real-time updates regarding their baggage, upcoming flights, gate changes, and more. Smart assistance is also helpful in optimizing check-in procedures that commonly take a long time.
Energy saving
Hotels can utilize IoT apps to save money on their energy bills by detecting the settings and operating them remotely. For example, if the guests left their room and forgot to turn off the lights or air-conditioner, the staff can be swiftly notified and adjust the settings from a tablet. In-room IoT sensors can even analyze the amount of natural light and automatically adjust the light bulb power to save electricity.
Preventive maintenance
Instead of waiting for guests to detect a broken light bulb or radiator, the staff can be instantaneously notified about an issue. This way, they can call an electrician before the guests meet any problems and proactively solve them. Such preventive maintenance improves the customer experience and prevents the development of more serious technical issues.
Smart parking
Parking at the airport can often be difficult and take longer times. Smart parking lots are equipped with sensors that determine which spots are available. Customers can reserve a spot in advance which will save them valuable time and make the experience calmer. As a result, parking lot owners can capture customer data and determine top usage times, which will help them to optimize the space usage.
Ready to transform your business and utilize the latest technology?
Thinking about the adoption of IoT for your travel and tourism business? Consider IoT development services from EPAM Startups & SMBs and start your own project.
Success Stories of using the Internet of Things in Travel
IoT in the tourism industry can enter several subcategories such as aviation, cruises, hotels, and smart cities. Let's explore how this technology can benefit each industry and look at some success stories.
IoT in Aviation
Aviation can significantly benefit from IoT implementation and become more secure. The next-generation Airbus will come with 10,000 sensors on its wings that will analyze the state of the vehicle and the weather conditions to provide full-scale data about the flight. Another success story is Qantas Airlines that has developed a VR application that allows travelers to explore their preferred destination beforehand. Finally, by utilizing data captured by IoT sensors, Honeywell managed to reduce fuel costs by more than 5%. Access to flight, vehicle, and passenger data can enhance the experience as well as optimize operations and cut costs.
IoT in Cruises
Cruise ships are another example of the intersection of the Internet of Things and travel industry. IoT embedded cruise ships can also streamline the boarding process by offering wristbands equipped with electronic key cards. Besides that, the wristbands can hold medical data that can potentially save passengers' lives. You can also connect payment data to the wristbands and allow passengers to pay for appliances or services without carrying their credit cards or cash. Cruise ships can also benefit from capturing data about passenger movements to determine which locations are understaffed and require assistance. Finally, cruise ship staff can immediately send mass messages to the customers via wearables to alert them about an issue.
IoT in Hospitality
The hospitality sphere will majorly benefit from IoT implementation and cut operational expenses. Hotels like Marriot have already been using the technology to manage temperatures and lighting from reception desks. Personalized rooms help hotel staff provide the utmost experience, whereas preventive maintenance and repair allow workers to prevent major breaks.
Smart Tourism IoT Examples
Number one on the list of the most sustainable destinations is Gothenburg, Sweden. The smart city has released a smart map that encourages citizens to add information about renting options, item exchanges, and giveaways, etc. The city also offers a parking app that is combined with public transportation and allows citizens and travelers to choose the perfect means of transportation to reach their destination. Gothenburg also uses 60% of recycled heat to provide heating to their houses and hotels, which reduces the emissions and cuts the bills.
The city of Malaga, Spain is another prominent example of a smart city. The streets are fully equipped to accommodate people with disabilities, the public transportation system is optimized and parks are installed with automatic watering systems. Ljubljana, Slovenia is also known for its green initiatives and broad IoT adoption. The city provides an application that locates the nearest water fountains in the vicinity to offer a better traveling experience for newcomers.
What you gain by choosing EPAM Startups & SMBs
EPAM Startups & SMBs is a digital talent platform that guarantees the best fit for the company and role. If you require an IoT specialist to adopt the technology and utilize it in the most efficient way, reach out to EPAM Startups & SMBs. Tell us about your company and project, and we will deliver a seasoned software engineer or data scientist with expertise in tourism and traveling. Our core values include close collaboration with the client and continuous communication that facilitates a seamless working process.
The potential of a combination of tourism and IoT is enormous. This technology can enable customizable travel planning, flawless customer experience, sustainable trips, and cost savings. Using IoT in tourism, businesses will automate and optimize time-consuming and mundane tasks in airports, hotels, museums, trains, and more, creating a more relaxing experience for customers and workers. However, to harvest these benefits, you need to properly implement the technology and extract insights. If you would like to benefit from IoT, find out how to solve your specific business tasks using the technology and estimate costs, get in touch with EPAM Startups & SMBs.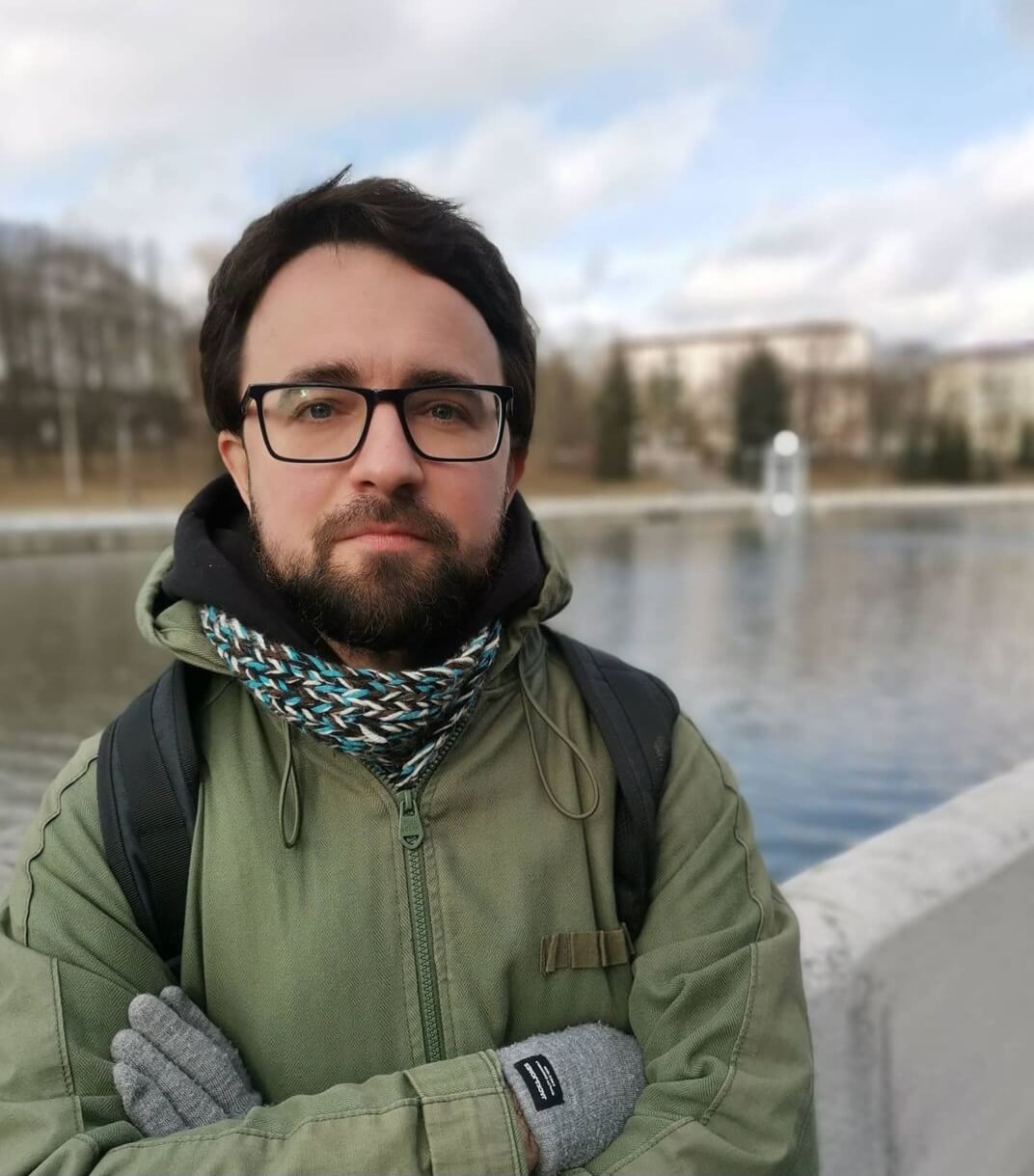 Written by
Since 2011, Dmitri has been helping business readers navigate the technology market through expert analysis and editorial work. At EPAM Startups & SMBs, Dmitri shows startups and SMBs across industries how to drive business value from their software engineering investments.
Since 2011, Dmitri has been helping business readers navigate the technology market through expert analysis and editorial work. At EPAM Startups & SMBs, Dmitri shows startups and SMBs across industries how to drive business value from their software engineering investments.