The Internet of Things is no longer something extremely new — with the digital revolution, these technologies have become a commonplace practice and are being permanently improved and expanded.
IoT solutions are actively implemented in various sectors around the world — in recent years, the role of the use of IoT in the telecom industry has strengthened significantly, and this trend is expected to continue across the board. According to statistics, the total IoT market worldwide was estimated at approximately $389 billion and is predicted to grow to over $1 trillion in 2030. In addition, the number of devices connected to the Internet of Things worldwide is forecast to triple over this period of time.
The results of studies show that the IoT can save businesses $1.2 trillion — and that's just the performance cost. Furthermore, the crucial point is that investments in IoT come back from the first days of implementation of the solutions — this is achieved through cost savings. And this is important both for telecom startups and for leading enterprises.
Telecom industry statistics confirm the growing popularity of the Internet of Things and its practical implementation: a few years ago, 71% of IT and telecom companies embraced IoT, and as of today, the percentage of this penetration continues to increase. And are you already gaining with IoT technologies?
IoT platforms are used in different use cases and for various business goals. Among the global telecom players that have already experienced the benefits of implementing IoT-based end-to-end solutions are O2, AT&T, Telefónica, NTT Docomo, SK Telecom, Vodafone, Deutsche Telekom, and others.
For example, the American multinational telecommunications conglomerate AT&T was able to reduce the energy consumption by 9 million kWh per year thanks to energy management using the Internet of Things, saving almost one million dollars. And Spanish telecommunications company Telefónica, for instance, has succeeded in transforming its business with IoT technologies, and the company now has more than 10,000 IoT clients for whom it manages more than 40 million connections across various technologies.
So, innovative, progressive, and personalized approaches are a priority. Today, the implementation of IoT-based initiatives is a must for telecom businesses striving to embrace the digital age, get a strong competitive advantage, and make the most of the possibilities that modern technology offers.
In this article, we will answer 'What is IoT in telecom?' and reveal what these solutions can bring to your business. Keep reading to find out all insights about the implementation of IoT in telecom and how telcos can gain revenue growth.
Opportunities of IoT for Telecom Business Growth
The fact is that the Internet of Things strategies for telecommunications have been completely changing the technological landscape, creating a fundamentally new universe. By 2025, 38.6 billion IoT devices are predicted to be in use worldwide. And that means it's time for telecom businesses to benefit from this innovative industry and rapidly evolving technology.
IoT for telecom operators offers many opportunities and advantages, revolutionizing the telecommunication market. The Internet of Things is expected to continue to change the roles of telecommunications service providers in enabling communication between people and devices. Therefore, telecommunication companies need to develop new IoT solutions for their customers.
The key role of IoT is that it improves everything around us, making objects smart, connected, and able to interact with each other, and in terms of business, it automates workflows. Thus, it contributes to the emergence of a new revolutionary communication network designed on the basis of 5G to meet industry needs. With 5G, the telecom sector is generating a new network that allows applying next-generation IoT products in several verticals by introducing revolutionary new approaches.
The Internet of Things effectively bridges the digital and physical environments and connects billions of devices and data across the globe, enabling telcos to transform their models in order to grow their business and become market leaders.
The meaning of the practical leverage of Internet of Things technologies in the telecom sector is to transform the role of mobile network providers in ensuring the connection between users and devices. Hence, businesses must implement IoT-based solutions to enhance their processes — there are multiple options for network operators to use and benefit from the Internet of Things innovations.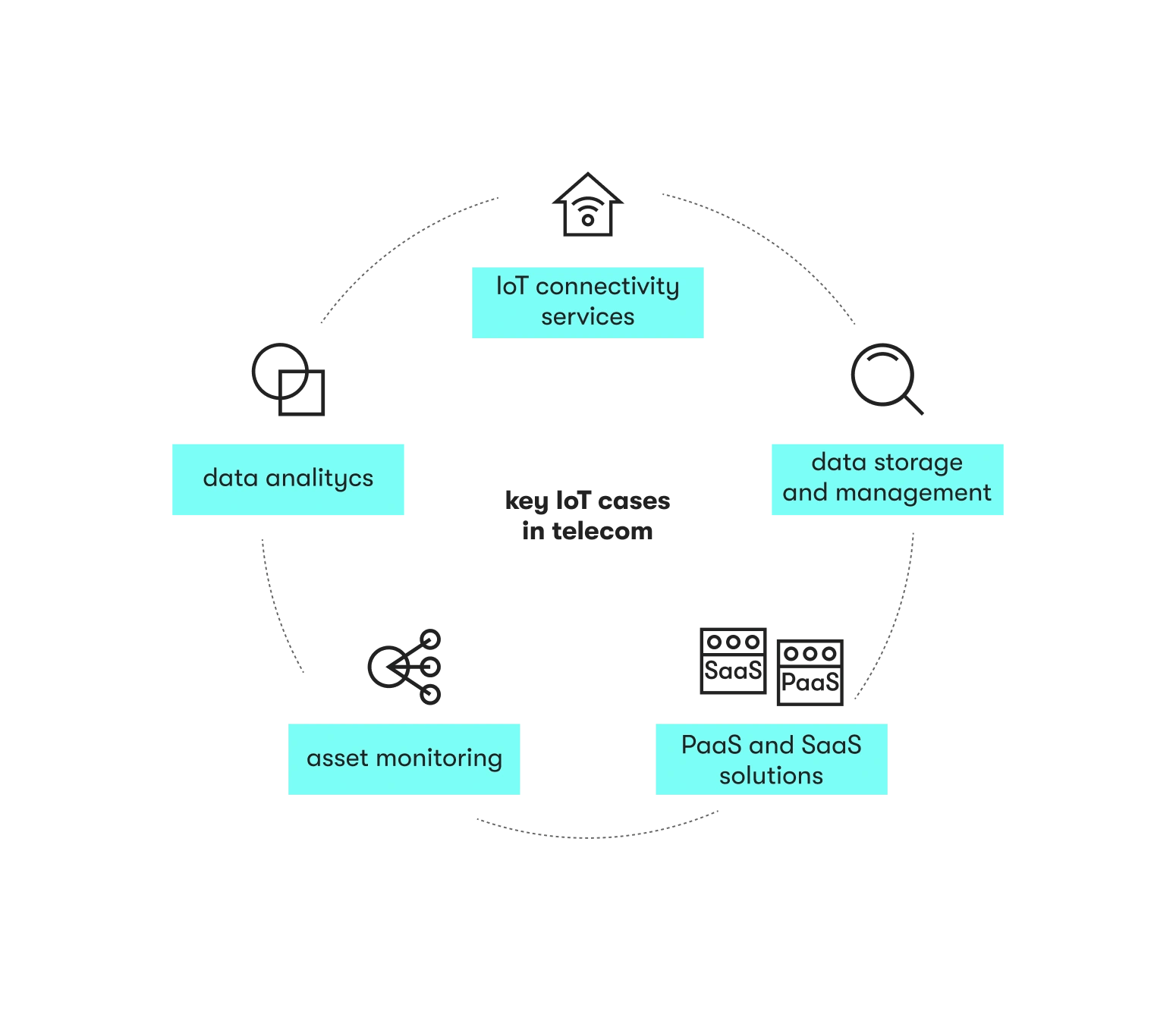 So, what does IoT stand for in telecom? Let's find out the best IoT use cases across the industry.
IoT Connectivity Services
A first and foremost IoT implementation option for telecom providers is to offer connectivity services to those users who have IoT devices. Although the data generated by IoT devices is kept and processed on the client-side, telecommunication operators provide an IoT connectivity platform that is responsible for managing devices and that improves the quality of connecting the customer's infrastructure to the telecom network.
Data Analytics
By implementing Internet of Things initiatives, the telecommunication business can obtain huge amounts of vital data — telcos become able to create information pools based on this data, as well as apply it for analytics that will help to gain valuable information and generate essential business ideas. Analytics, combined with data generated by IoT devices and supplemented with algorithms based on artificial intelligence and machine learning, also facilitates tracking user behavior, allowing telecom providers to carry out diagnostics and develop forecasting models to predict short- and long-term tendencies and insights in the industry.
Location Services
Mobile networks and IoT sensors help realize advanced and improved location capabilities, which is a necessary feature of smart cities and not only — proximity sensors are able to share information between IoT applications in telecom. In addition, these IoT sensors can be integrated into public transport infrastructure to provide users with optimized routes, find the nearest stops, and pick transport in real-time. Also, devices with built-in proximity sensors can locate people, find each other in crowded places, and track movements.
Low Power WAN
Machine-to-machine connections are critically needed in the telecom industry — for this, WiFi and GSM technologies are typically used. They are highly efficient but have high bandwidth and capacity requirements. Modern Internet of Things solutions allow telcos to use Wide Area Networks (WANs) that establish energy-efficient communication between machines, consuming many times less energy. These low-power global radio networks in IoT devices allow the telecom business to generate an additional source of revenue. Network providers can also create new apps, products, and services on the Internet of Things to multiply their profits in the industry.
Autonomous Cars
Connected vehicles, autonomous driving, and the automotive infrastructure as a whole are some of the key areas for the Internet of Things and 5G mobile technologies. For cars to be completely autonomous, their environment must be equipped with sensors to send signals that can be interpreted in real-time to make driving secure and reliable. The introduction of IoT devices with LTE-V solutions allows cars to interact, notify each other about a lane change, detour, or emergency braking, prevent accidents, and communicate with the surrounding road environment. With such an approach, unmanned automobiles receive a complete set of telematics, automation, navigation, and control services.
Equipment Monitoring
Telecom capabilities provide support for communication between people around the world and let businesses access global markets. Hence, problems in the provision of these services will negatively affect enterprises in any industry and definitely cause a decrease in profits. Telcos use a huge amount of equipment to ensure high-quality and consistent service, and its failure is one of the most common reasons for telecommunication breakdowns. The equipment must always stay in working condition and operate flawlessly around the clock, and any failures must be corrected instantly. However, it is not always possible to quickly track system failures and serious interruptions in work.
And IoT technologies help meet this challenge. Their sensors are able to collect and analyze data from cell towers, and also allow identifying the problems, responding to them, and carrying out surveillance in real-time. Permanent and uninterrupted access to equipment status data makes it possible to monitor the operating productivity of equipment remotely, which reduces maintenance costs and, most importantly, minimizes downtime.
Hazard Detection
Equipment failure is not the only reason that prevents the uninterrupted provision of telecom services. Among other critical threats are global catastrophes that telcos must also immediately respond to since the lack of control over such hazards can cause great damage to equipment. The capabilities of the Internet of Things allow communication providers to effectively manage facilities, monitor incidents, and detect disasters in time so that operators can perform an emergency shutdown of equipment to prevent its total breakdown. Taking preventive measures helps to avoid huge damages and irreparable losses.
Security
One more critical point in terms of security at remote sites is the exposure of expensive and critical equipment to the possibility of theft. This means that telcos must implement extremely reliable and robust protection systems. IoT-based smart cameras become the best solution in terms of physical security — they can monitor potential safety breaches and automatically send warning alerts. Thus, using the capabilities of the Internet of Things in the telecommunication business allows enhancing physical safeness by restricting access to third parties and preventing potential security threats.
Industrial Monitoring Systems
There is a trend in the telecommunication market that industrial enterprises are striving to strengthen the application of the Internet of Things solutions in order to expand the ability to handle resources and facilities in real-time. Thus, the telecom business is entering the industrial segment, making intelligent purveyance chains possible. Personalized offerings allow telecom providers to monetize IoT technologies by integrating all parts of the production, providing absolute transparency in supply chains, increasing productivity, and cutting operating costs.
Smart Cities & Houses
It is difficult to overestimate the role of telecommunications in smart home and smart city technologies — and the core of their implementation is 5G and the narrowband IoT. This is exactly the area of technology where a combination of mobile networks and the Internet of Things can be critical for system automation. And if in smart home technology we are talking about managing security, lighting, electronics, and others, then in the development of smart cities, the role of telco and IoT comes down to creating an efficient, inclusive, and interconnected ecosystem.
Healthcare Industry
According to forecasts, Internet of Things technologies in the healthcare market will reach almost $180 billion by 2026. Therefore, this industry is one of the leading and most promising for telecommunications. The Internet of Things not only facilitates the process of monitoring the condition of patients but also allows the introduction of extra remote healthcare services. Other applicable options include remote medical diagnostics, automated incident control systems, and streamlined healthcare delivery. The implementation of IoT solutions in the medical industry is costly due to the increased privacy and complexity of the systems, but it is definitely something that will pay off in the near future.
GET THE MOST OUT OF IOT USE CASES IN TELECOM WITH EPAM STARTUPS & SMBS
Experience all the possibilities of implementing IoT solutions to make the most of your business in telecom. Expand your market presence and boost your profits via telecommunication software development.
Benefits of IoT in Telecommunication
The benefits and opportunities of the Internet of Things allow telecommunication enterprises and start-ups to expand their existing services and products, as well as introduce new ones that go far beyond their basic offerings. IoT technologies are responsible for automation, innovation, and transformation — these are the key points, but far from the only ones.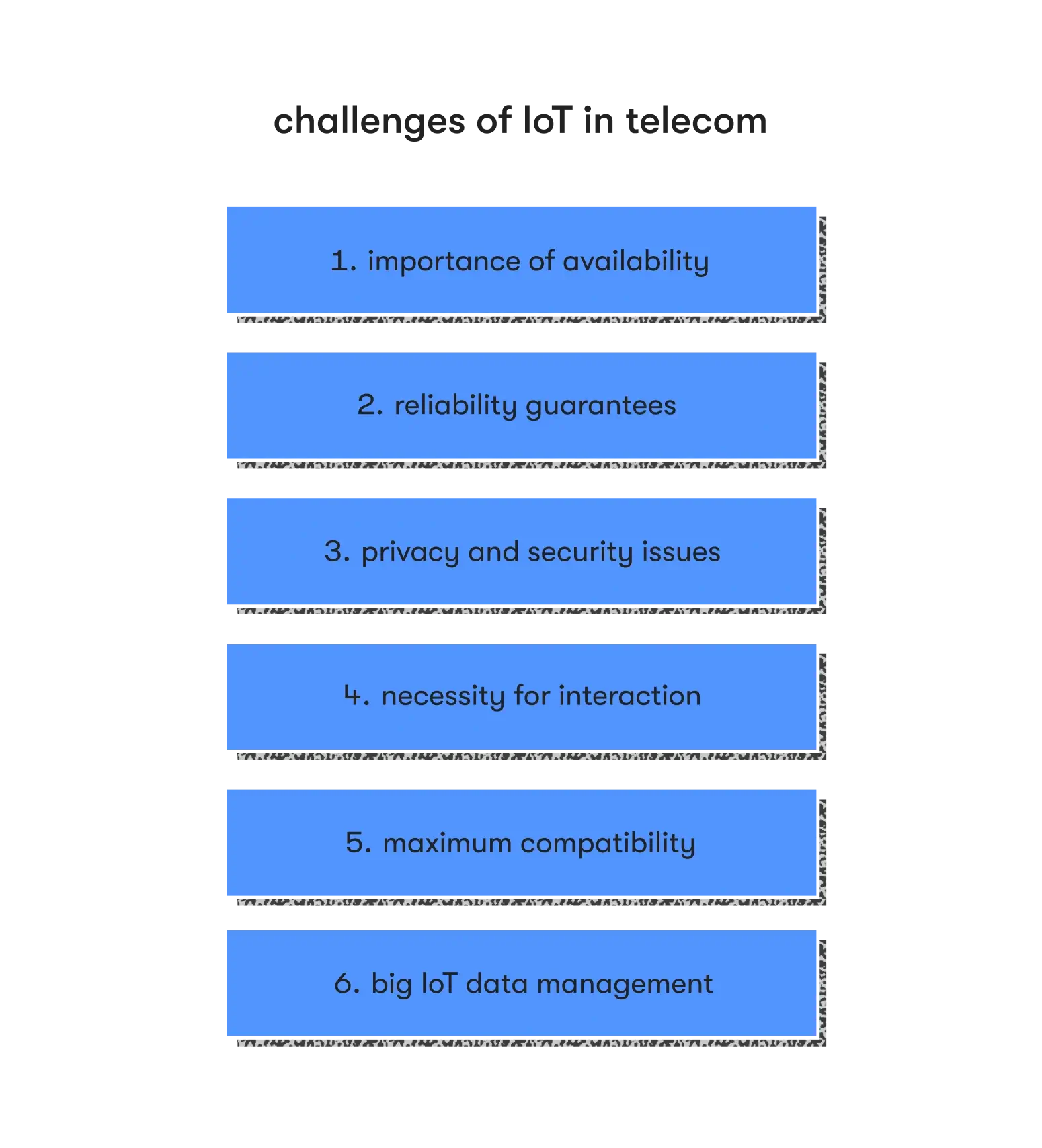 Operational Efficiency Optimization
IoT-based technology makes it possible to modify the process of collecting data in real-time to optimize performance, decrease resource requirements, and avoid errors caused by the human factor.
IoT solutions can affect various critical processes. For example, they can improve customer experience and level of satisfaction — data analytics monitors user behavior, allowing telecommunication businesses to optimize their customer interaction according to the data. In addition, IoT technologies can impact inventory management, asset maintenance (predicting the working capacity of assets), HR management (tracking employee breaks), location optimization, energy-saving issues, and so on.
Speed Boost
The interaction of IoT and telecom companies also leads to accelerated speed and advanced bandwidth. IoT protocols and 5G interconnection are able to broadcast information from thousands of devices to numerous users without slowing down communication speed or reducing bandwidth.
In addition, the introduction of IoT innovations is always accompanied by an increase in the energy efficiency of telcos and the ability to serve millions of connected devices.
Growth in Customer Satisfaction
By applying initiatives such as the Internet of Things and using them to collect and analyze large amounts of data generated by telecom operators, businesses can identify current tendencies and determine customer behavior, which will let them implement better solutions in terms of marketing, sales, and production, helping to attract new customers and retain existing ones.
Hence, the use of IoT in the telecom industry can optimize the user experience and allow telcos to dominate the industry in terms of customer satisfaction. Clients always pay more for a personalized experience and customized approach, and IoT for telcos makes this possible. So, while this technology is not a one-stop and versatile solution for customer service, it provides effective strategies to significantly improve its level.
Implementation of IoT in customer service processes first and foremost optimizes the user journey in several ways. Thus, the IoT helps telecommunication businesses track and predict, thereby informing customers of what to expect and keeping them up to date. In addition, IoT for a telecom service provider gives advanced analytics, allowing more contact channels to be established to improve the customer journey. The Internet of Things also makes it possible for sensors to inform about the need to contact a user or try to deal with a problem before an appeal is filed. All of this is critical to delivering a high level of service and increasing customer satisfaction.
Generation of New Income Sources
The integration of IoT solutions allows telecommunication companies to implement value-added services for customers, allowing operators to increase profits.
Thus, a study of IoT examples in telecom shows that the most profitable in terms of generating additional income streams are such strategies as cloud services and integration of solutions between SaaS and devices.
Tracking and Monitoring
Leading businesses in the telecom industry are using IoT to trace products, monitor customer satisfaction levels, keep track of employee and user engagement, and more.
For example, the Internet of Things in telecom, thanks to tracking solutions, can help prevent the spread of infections by following the location of an infected patient and their contacts; or they can find lost devices, lock and unlock them remotely, or install updates on distance.
Enhanced Security
Safety first. Ideas like smart cities are exactly what is fueling the growing demand for Internet of Things security. This is due to the fact that permanent and stable development becomes more real as the populace rises, and smart cities are able to cope with and control dense populations, as well as ensure safety, which is an undeniable priority for customers. Thus, the implementation of IoT solutions in smart cities will definitely provide enhanced security.
Opportunities of Blockchain Technology
One of the leading tendencies in increasing security, enhancing privacy, and providing IoT data protection is blockchain technology, which is embedded into IoT networks to provide improved confidentiality and safety.
The role of blockchain technology comes down to minimizing the possibility of data loss, hacking, and swindling, providing advanced cryptographic protection, as well as cutting processing time and cost, optimizing transactions, and improving compliance effectiveness.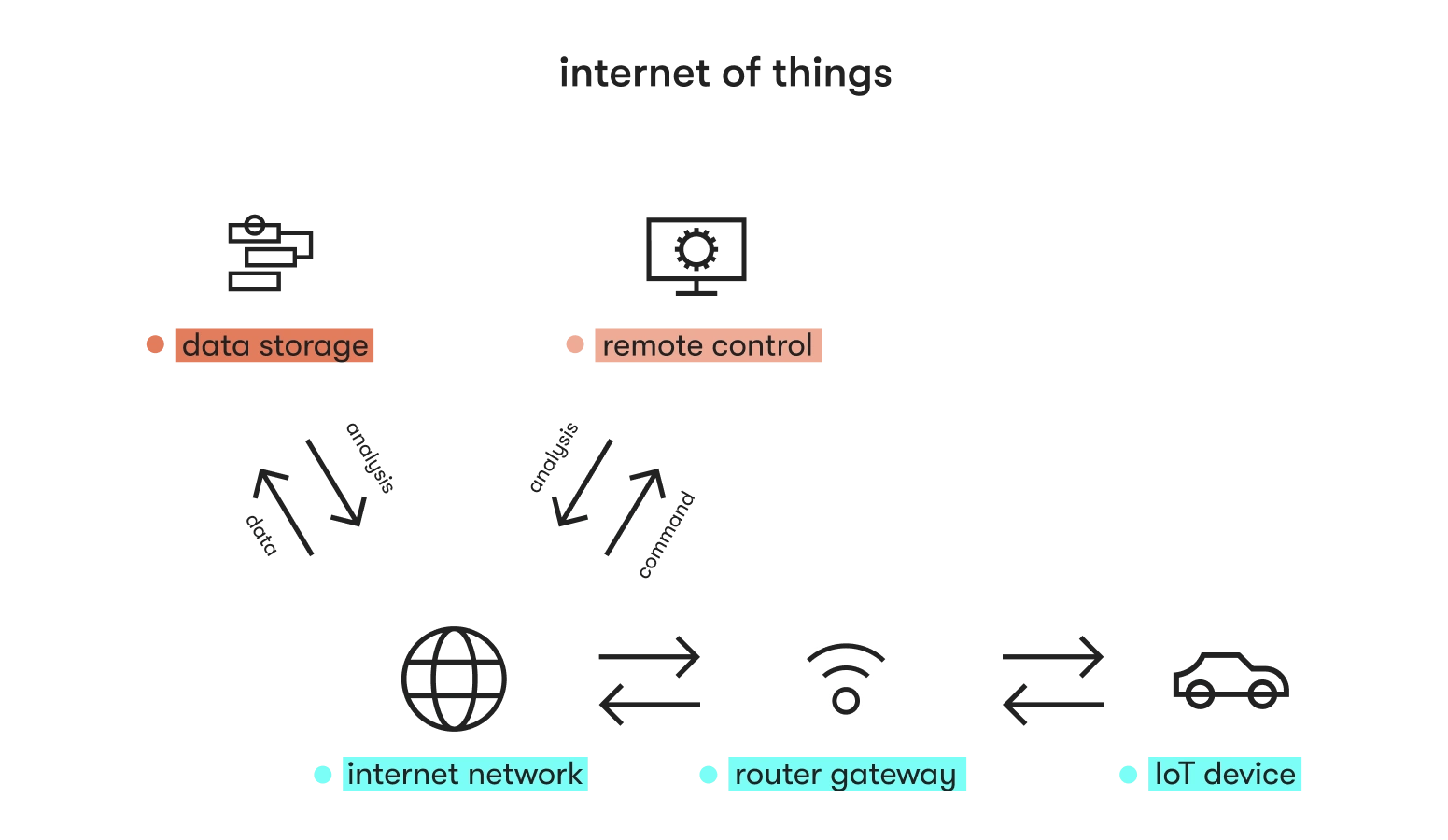 Advanced Predictive Model Development
The Internet of Things is actively being introduced into data analysis processes to implement forecasting models. Advanced analytics technologies such as machine learning and predictive analytics can handle large amounts of data while reducing effort and cost.
Benefits of IoT data analytics include improving service levels, predicting churn rates, gaining a competitive advantage, coming to the best business decisions, and others.
Expanding the Telecommunications Universe
The telecom industry has played a key role in the fact that we are now consumers of Internet of Things innovations. Furthermore, in the future, IoT will continue to have a huge impact on the telecom business, expanding its scope from smart wearables (watches or fitness bands) to smart devices that communicate with each other. This expansion will also be driven by the desire of consumers to have a greater connection between the outside world and their personal lives.
EXPERIENCE ALL THE BENEFITS OF IOT IN TELECOM WITH EPAM STARTUPS & SMBS
Gain a powerful competitive advantage and become a leader in the telecommunication industry. Explore insights of making an IoT app and find out how your telecom business can benefit from IoT innovations.
Challenges of IoT in Telecom and How to Turn Them into Benefits
The technology of the Internet of Things is at a crossroads — on the one hand, it provides a huge number of undeniable advantages and infinite opportunities in the context of telecommunications, and on the other hand, it is accompanied by the inevitable serious issues that telcos face when adopting and implementing IoT solutions.
Let's consider them and figure out how to overcome these challenges.
The Critical Importance of Availability
Typically, the Internet of Things is used for the constant and uninterrupted transmission of information, capturing user needs. Thus, accessibility is a vital challenge for the Internet of Things, and guarantees of high availability of all applied telecom devices are necessary. Even IoT initiatives must be extremely available — and the solution to this problem is to retain unused software and hardware devices so that they can be applied to establish load balance in case of an error. As a rule, this equipment is excessive, even if it complicates the whole procedure. Therefore, to ensure accessibility, the best way out is to use these fallback mechanisms.
IoT assumes the use of several different technologies, so its capacity cannot be drawn from just one device. Moreover, even various other factors and conditions affect the performance of the Internet of Things.
Companies in the telecom industry must determine how to address these issues related to the implementation of IoT in telecoms so that they can provide the necessary accessibility for users.
The Need for Reliability Guarantees
One of the critical points of the Internet of Things in telecom, both in the short and long term, is to ensure a reliable and uninterrupted user experience. And this will happen not only by providing reliable information but also by getting used to the changing circumstances of the environment. Regardless of which direction of IoT you are dealing with (hardware or software), absolute reliability must be provided and assured.
Privacy and Security Issues
Ensuring absolute security and complete confidentiality is one of the key priorities for IoT in telecommunications. The problem here is that the memory devices in the IoT are only capable of storing a limited amount of data, which means that some of the information is stored on other resources remotely. Such a type of storage of important data is definitely vulnerable in terms of privacy and reliability, so the issue of protecting information from third parties and ensuring confidentiality is critical. In addition, IoT devices themselves are very attackable and are very easy to be hacked especially when connected to the Internet.
At the same time, the secrecy and security points are not solved within the technology of the Internet of Things. And since the safety of user data is one of the key tasks, the inability of the IoT to solve it becomes a daunting challenge for telcos.
The Necessity for Interaction
IoT technology envisages connecting various devices. And that means that interoperability is a must, regardless of device type. The Internet of Things in telecom must provide services equally to all connected devices.
The way to solve this problem is to stick to normalized protocols. Controversial exegesis of the same protocol makes interoperability difficult to achieve. Nonetheless, if these uncertainties are removed, functional interaction can be reached in IoT.
Ensuring Maximum Compatibility
Good interoperability is a prerequisite for the implementation of the Internet of Things in telecommunications — it must be maintained between various products that are permanently connected. The fact is that with the growth of the IoT, different technologies are battling to be the standard. Such competition obviously leads to integration problems.
In addition, interoperability issues can also be caused by diversified OSs, non-unified cloud-based services, and a lack of standardized machine-to-machine communication protocols.
Users must update their gadgets and install all fixes to maintain constant compatibility. For instance, if an IoT device communicates with another device, and they have different software versions, there may be productivity degradation. In such a case, it is also difficult to reach synchronization and interaction of the data flow between various smart devices on the telecom IoT platform.
Therefore, diverse industries must work together to ensure maximum compatibility and avoid interoperability issues.
BIG IoT DATA Management
IoT technology is one of the key sources of big data collection. The telecom industry, in turn, predicts the connection of billions of devices in the short term. Ultimately, this causes the introduction of huge big data production. Management, handling, and storage of this data require versatile and agile computing platforms that do not affect application productivity in any way. And this is one more huge problem for telecommunication companies.
The limitless possibilities and benefits of IoT in telecom are undeniable, so being aware of these challenges, being ready for them, and being able to bypass them is essential to realizing their full potential.
3 Phases of Utilizing IoT in Telecommunications
Wondering how to implement and apply the Internet of Things solutions in the telecom business? Here is our ultimate step-by-step guide — everything you should know about IoT integration.
Increasing Connectivity
The first stage is primarily related to the expansion of network connectivity. Today, telecommunication businesses are well-positioned to embrace new technologies and take full advantage of them. The Internet of Things in telecom provides seamless and secure communications, and the challenge is for industry leaders to tune their physical assets to offer IoT-enabled connectivity platforms. Telecommunication companies will definitely require ultra-reliable computing capacity to unlock the real potential of today's IoT initiatives.
Creating an Effective Ecosystem
The next phase of utilizing IoT in telecommunications is the development and implementation of a proper ecosystem. The fact is that with the Internet of Things in the telecom industry, the future is with an effective ecosystem — this is because the existing telecom business model will be transformed in the next few years, and the ecosystem is a key point where these shifts will be critical. Nonetheless, telecommunication is the direction that will continue to be profitable thanks to the ecosystem combined with other essential factors such as talent, technology, and business vision.
Hence, key attention should be given to connection even when creating the best ecosystem for telecommunication companies, which will be able to exploit the most profitable capabilities. So, to become a successful telecom business in the long run, they first need to prove themselves as a reliable IoT services provider and then enter into partnerships with other industry verticals to take the best from their experience. The creation and implementation of such multiple verticals will lead to business innovation and additional value flows.
After all, to become a trustworthy industry partner that drives numerous verticals, it is necessary to master their innate power, meaning connectedness.
IoT Readiness Management
The final stage of utilizing IoT in telecom is the full mastery of the flexibility of the Internet of Things solutions. The telecommunication business must move from implementing single verticals to collaborating with multiple industries.
Increase basic connectivity to gain the trust-based IoT
An important task is to find a way to maximize flexibility in working and thinking. To enter the zone with rapid and advanced cycles, fresh and progressive working methods will be required. To meet these challenges and reach stability in the telecom business, it is necessary to invest in contemporary technologies and faster connectivity methods. And the important point here is the moving of key experience to the IoT strategy.
Gain trust — start by serving single verticals
Concentrate on building the trust of one industry at a time first. Bring together platform members and device generators to establish yourself as a trusted partner. Let your partners solve the corporate-level issues, and you, in turn, be responsible for a safe and dependable IoT basic network. In this way, you ensure trust between partners.
Jump to multiple verticals
Now that you've fully mastered connectivity, become a facilitator for industry participants looking to monetize their data — it could even be a platform where developers and enterprises meet.
CONSIDER EPAM STARTUPS & SMBS TO IMPLEMENT IOT IN TELECOM
Want to utilize IoT strategy in telecommunications quickly and efficiently? Integrate the Internet of Things technologies, focusing on the long term and making a profit in the short one.
Future of the Internet of Things in the Telecom Industry
The perspectives for the rapid implementation and large-scale development of IoT in the telecom sector are expected, undeniable, and very up-and-coming. It is obvious that the full implementation of these innovations will take time — operators, developers, and consumers must gain experience and practice in this direction. However, this is a long-term investment that will definitely pay off.
For the foreseeable future, telecommunication enterprises and start-ups are expected to promote their IoT services in different segments. Integration of the IoT and telecommunication industry will become a solid competitive edge that optimizes productivity, improves service quality, unlocks extra opportunities, raises customer loyalty, increases profits, and leads the telecom business to success.
Experience of EPAM Startups & SMBs in Using Internet of Things in Telecommunications
EPAM Startups & SMBs, launched by EPAM as an initiative, is an advanced and reliable provider of Internet of Things solutions for startups and SMBs. EPAM has successfully implemented IoT technologies in telecommunication businesses worldwide for several years. The EPAM team has already realized hundreds of cases in different directions, but all EPAM projects have one thing in common — satisfied customers who prove our valuable experience and an undeniable role for the telecom business.
Here are some of EPAM's most prominent projects in using Internet of Things in telecommunications, which we are especially proud of.
Fastweb: FASTGate Modem
Our company was tasked to minimize the negative experience of Fastweb customers, one of the key internet providers in Italy. In addition, there was a need to move from a service provider to an organization that could provide both a product and a service in order to ensure better home connectivity.
To achieve this, we have developed the Fastweb FASTGate modem, the most powerful home connectivity device available on the Italian market with enhanced capacities, which guarantees high-speed connectivity and significantly improves the quality of telecom services. The product created by our team allows network users to become more independent and intervene in real-time. FASTGate consists of modem, packaging, web application, mobile application, and it significantly improves the customer experience.
Delivering the Entertainment Platform of the Future for Liberty Global
Tech stack: Amazon Web Services, Elasticsearch, RDK, Metrological, Adobe AEM Kubernetes, Apache Spark, Kafka, Prometheus.
Our team was challenged to create the next generation entertainment platform known as Horizon 4 to bring together all TV channels, movies, and series for one of the world's leading international TV and broadband companies, Liberty Global. The main task was to offer an effective solution to provide "any content, any device, anywhere, anytime" approach to meet growing customer expectations.
While working on the case, we encountered several issues — projects for each country and brand were complicated and expensive to scale, platforms were isolated, it was impossible to provide personalized content anywhere and at any time, and synchronization was not available between different devices.
Our company has implemented a set-top box with 4K Ultra HD picture quality and a voice-controlled remote control combined with an innovative mobile application available in several markets. The realization of this "one platform" cloud strategy has made it possible for users to switch between devices. As a result, Liberty Global customers appreciated the platform and its new features, such as personalized recommendations, a cross-platform continuation of programs, and the convenience of the interface.
Thus, EPAM, as an innovation partner of Liberty Global, has led the company to undisputed market leadership. Our team is always on the side of innovations and implements them in a way that fully meets required goals.
The Internet of Things is revolutionizing the telecommunications industry, having a huge impact on all business processes. The implementation of these technologies allows telcos to optimize operational efficiency, solve security issues, enhance speed, track and monitor, predict trends, expand the telecommunications ecosystem, and much more.
The IoT affects both internal and external processes, improving customer satisfaction, enhancing the quality of service, creating new sources of income, increasing return on investment, and completely transforming traditional approaches in telecom.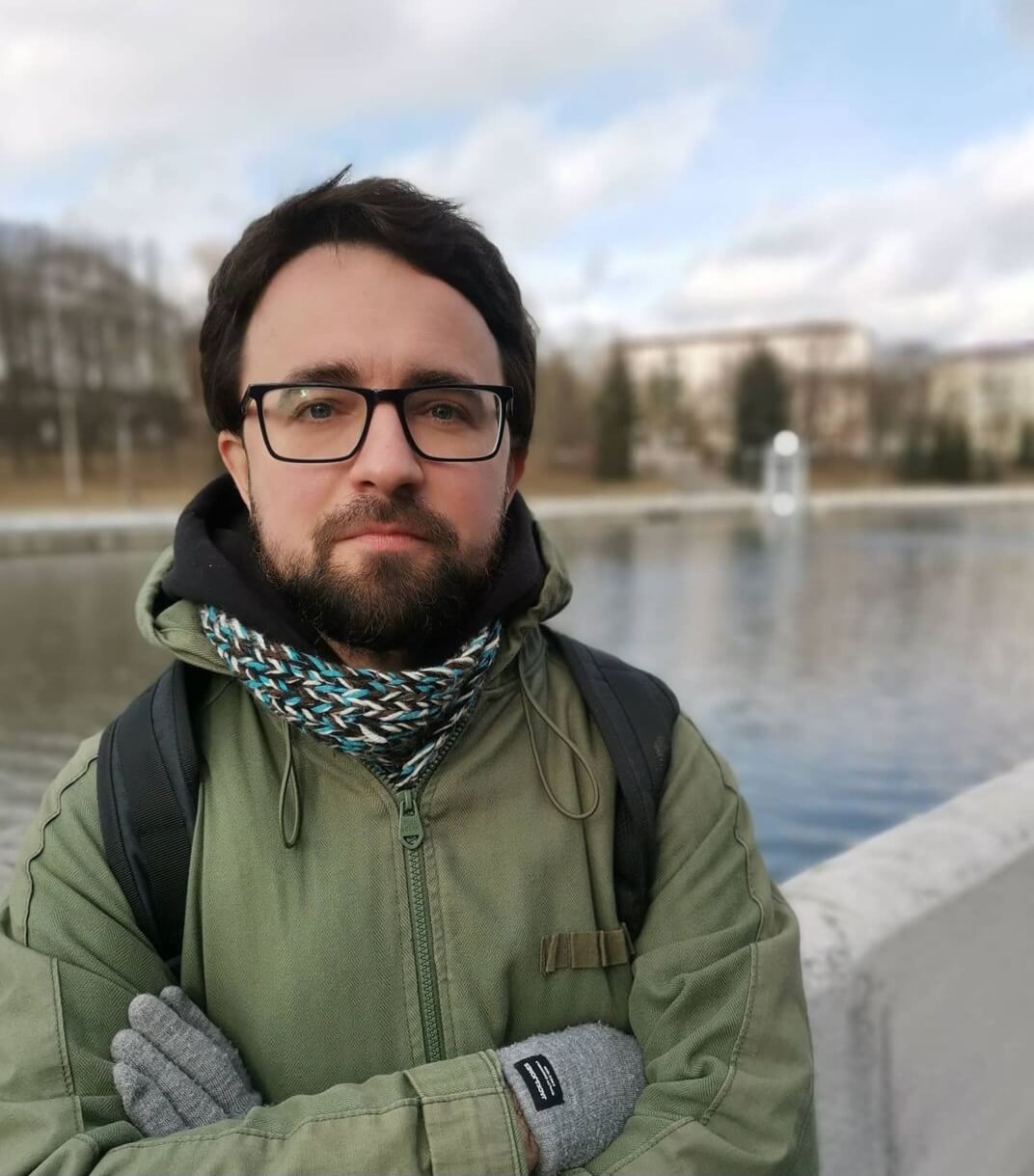 Written by
Since 2011, Dmitri has been helping business readers navigate the technology market through expert analysis and editorial work. At EPAM Startups & SMBs, Dmitri shows startups and SMBs across industries how to drive business value from their software engineering investments.
Since 2011, Dmitri has been helping business readers navigate the technology market through expert analysis and editorial work. At EPAM Startups & SMBs, Dmitri shows startups and SMBs across industries how to drive business value from their software engineering investments.