The global retail analytics market size reached $5.84 billion in 2021 and is predicted to grow to $18.33 billion by 2028 according to Fortune Business Insights research. The COVID-19 pandemic only provoked growth in demand for application of business intelligence in the retail industry.
Insights derived from retail analytics help SMBs and startups increase profitability indicators and cut operating expenses in both online and offline stores.
Read this article to find out how to leverage big data analytics to drive true business value, understand the competitive advantage it creates in customer relationships, and take a closer look at how retail business leaders acted on BI retailing trends to make themselves unbeatable on world retail ratings.
Keep a finger on the market pulse: BI trends in the retail industry in 2023
In-store data analysis
Brick and mortar stores produce a lot of data by default but do not always turn it into true business intelligence. Business owners use the data of cashier's operations to track customer spending habits and use it to develop more effective loyalty programs. Surveillance cameras deliver even more information about queues, customer interactions with the store's goods assortment, the most popular areas, the convenience of navigation through different stores, and so on. Relying on retail analytics and business intelligence SMBs can improve in-store customer experience, optimize their standard operating procedures and resources to grow their profit as a result.
Predictive analytics based on AI and prescriptive analytics
AI-based predictive analytics helps SMB retailers not only to get a precise understanding of the current business state and ways for improvements. Predictive analytics enables projecting the results of certain decisions and seeing possible future outcomes based on historical and current data. Prescriptive analytics in BI shifts retail managers' focus from modeling scenarios of 'what might happen if I make these decisions' to 'what actions should I take to achieve these results in this time period'. It's possible because prescriptive analytics utilizes both internal and external data including prognoses of authoritative sources measuring its accuracy based on their historical data. Data management is completely automated in this case and all the manager should do is accept AI-generated recommendations for given purposes.
Applying forecasting analytics, business owners can make future-proof decisions around their offerings, sales and merchandise adjustments and prioritize activities with an understanding of their true business value.
Location intelligence
Location intelligence is another powerful BI retail management tool that helps SMBs to create a unified consumer experience for both in-store and online shopping. Location intelligence is built by processing and structuring geographic and demographic data. It helps to understand traffic patterns of a certain area, an average level of income of people who live nearby, age, cultural background, or even what they buy from your neighboring competitors. Many startups actively harness this opportunity by building geo-based solutions for retail BI analytics and marketing campaigns. These solutions provide abilities to regulate particular good categories representation to address the real demand of target audiences and enrich customer data gathered from online channels with the profiles of people when they visit your physical store.
Sentiment analysis
Sentiment analysis can be performed in both physical stores and digital environments. Offline stores gather data for sentiment analysis through surveillance cameras by focusing on facial expressions or by asking to give assignments to the level of their satisfaction of customer service on the mobile devices situated in according places. Online channels are using information produced by customers' interaction with a brand and its products: likes and shares in social media, comments and messages to customer support service and so on. Powered by machine learning sentiment analysis delivers insights on the level of customer satisfaction with products and services, identifies risks for brand reputation, and conducts a comparative analysis of competitors' performance analysis based on the same sentiments.
Augmented Analytics
Augmented Analytics is the way to put Artificial Intelligence in the supportive role for human experts and get the best of two worlds. Augmented Analytics is more a concept than a ready-to-use solution. It helps SMB retailers and startups to enhance their productivity by leveraging AI-based analytics to identify operations that can be automated to free human intelligence for more advanced tasks. Augmented analytics' role is to find risks and patterns and the role of a human expert is to make decisions based on this information. Technology leaders and innovative startups now are paying a lot of attention to the implementation of Neuro Language Processing technology in the analytics solution. It will enable staff of different levels to use analytics based on their voice request with no help from an actual business analyst.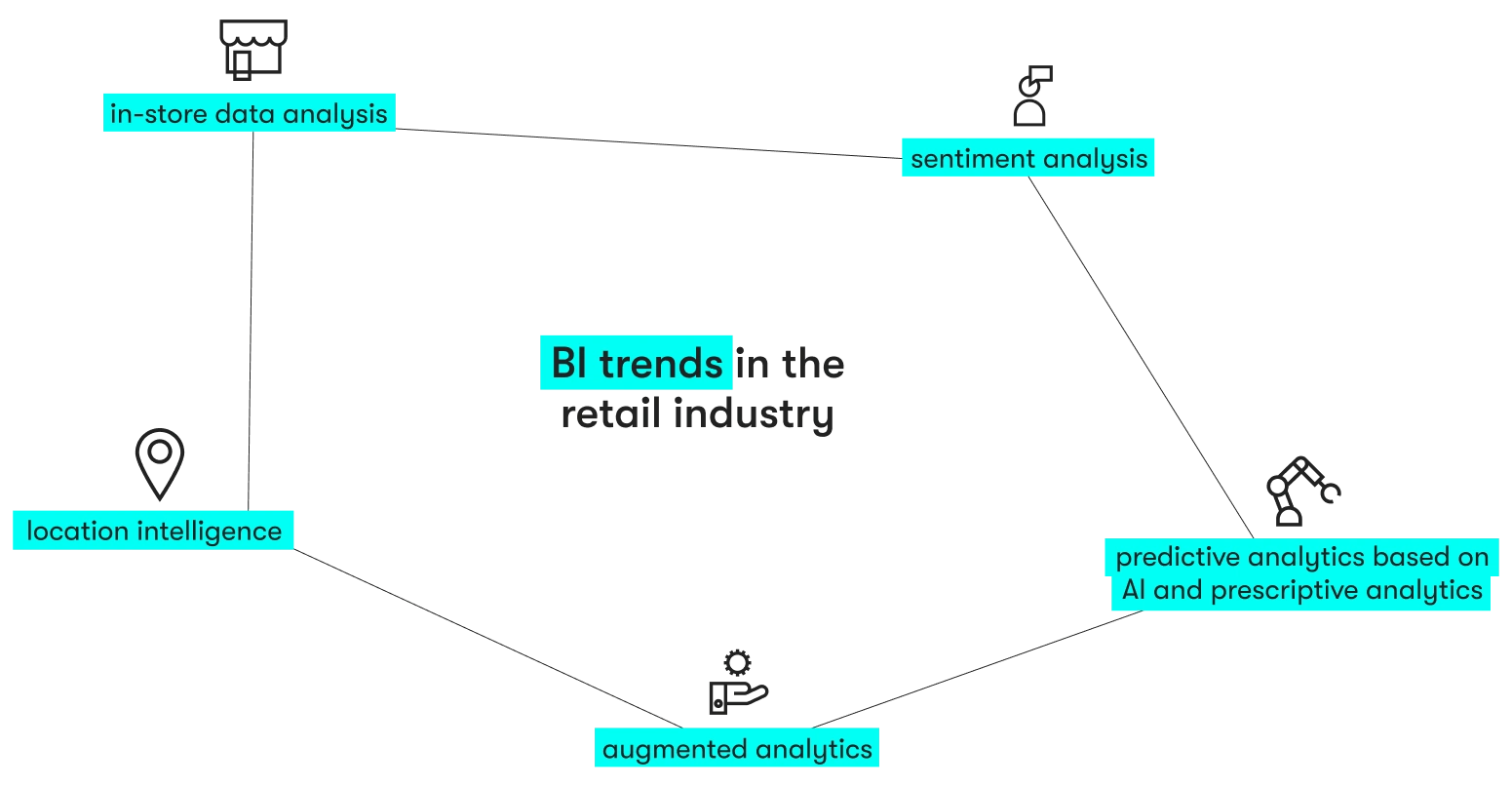 True benefits of business analytics and business intelligence solutions in the retail sector: Walmart's experience and survival post-COVID practices
Top Fortune 500 retail companies are the brightest example of utilizing the advantages of business intelligence in the retail industry. Walmart runs both thousands of physical stores and an online marketplace that enables a complementary approach to gather big data. Let's see how giant retailers make use of it.
Increase sales turnover by delivering a better online and in-store shopping experience
Walmart not only uses BI and big data analytics to make smarter decisions around assortment, merchandising, online promotions, and operational resources but also builds data-based apps for customers that help to grow their loyalty.
Walmart's Savings Catcher app sends customers a gift voucher if there's an alert that a competitor lowered the price for the item that Walmart's customer had already purchased. The size of this gift voucher will be equal to the difference in price.
Mapping application helps in-store customers to find the product they're looking for by guiding them to the place of final destination. It's possible thanks to the real-time analytics and geofencing feature in customer's Walmart mobile app that identifies when app users enter the physical store and offers them to switch to the 'in-store' mode, by doing so customers can also scan QR-codes for personal discounts.
In-app predictive analytics: Walmart app creates personalized shopping lists based on analysis of their previous purchases for a given period of time and offers Walmart's goods and discounts on frequently bought items.
Shopycat app advises Walmart customers on selecting the right gift for their friends and family members analyzing their preferences that are gathered and structured in association with their Facebook profiles.
The maturity of Walmart's approach to BI application in the retail industry is proved by the development of its own advanced big data analytics solutions.
Social Genome is a big data analytics solution invented by Walmart Labs to get a better understanding of the context of information users exchange through their social media. With context analysis, Walmart's recommendation system can recognize the real value of signals and shows content that most likely matches user intention for purchase. Social Genome also matches social and proprietary data to make omnichannel recommendations really personalized and efficient.
Walmart's quality carts are built using a combination of big data analytics, IoT technology, and location intelligence. While in-store customers move through produce and grocery stores, carts gather information on their behavior, time spent in each location point, and whether or not they bought any products there. This data helps Walmart to understand factors that influence customers' decision-making and change what needs to be changed in certain stores to increase purchase probability.
Reducing operational costs with effective inventory management and resource planning
Walmart controls its stock level in real-time relying on data from predictive analytics. With the forecasts for sales and demand, Walmart fulfills its stock with products that bring benefit in profit during the given period.
Using its advanced social media analytics solutions Walmart makes precise trend forecasts and adds new products to its assortment based on these trends and the popularity of certain brands.
Business intelligence and big data analytics helps Walmart to lower its shipping costs by optimizing routes on each stage of the supply chain. It also enables better estimation and scheduling of drivers.
Optimization resources on check-out points: Walmart also analyzes information on how customers prefer to pay for their in-store purchases and orders: with cashier's assistance or through self-service points. Predictive analytics helps to understand how many personnel would be needed at these points in specific working hours to provide seamless customer service.
Addressing post-pandemic challenges
Unpredictable happened: even the most intelligent people or technology solutions weren't able to forecast COVID-19 breakdown. Still, Walmart shop management and analysts came to the conclusion that their business intelligence and analytics solutions didn't become less worthy in the situation of everyday unpredictable changes. There was nothing to change in the ways of gathering and processing data. Walmart should only adjust forecasting periods and check analytics more frequently: decisions that earlier were being made months ahead in time of crisis should be made on a weekly basis.
Customers are behind the data: Advantages of business intelligence in the retail industry for offline stores
Floor plan optimization
Utilization of in-store customer behavior analytics helps to optimize floor planning in a way that ensures convenience in moving between different stores also taking into account aesthetical factors that influence customers' mood and attract their attention to the right places.
Optimize product placements
Analyzing demand and forecasting trends provides the ability to adjust product's positions on merchandise displays to sell more items or trigger impulsive buying.
Better inventory management
Predictive analytics brings more accuracy to demand forecasting and is extremely useful for developing right stock replenishment strategies. It also helps to balance inventory between several stores of the same chain infrastructure leveraging sales and stock data for each unit to distribute resources.
Level up your marketing
Customer data analytics enhances personalization of your marketing campaigns and allows you to catch benefits from the waves of certain trends. Business intelligence and big data analytics are also effectively used for marketing channels prioritization and cost optimization.
Performance analysis
Nearly all retailers nowadays use descriptive performance analytics to evaluate business operations and commercial indicators. More mature companies apply predictive and prescriptive analytics that deliver future-proof recommendations for improving performance.
Enhance customer experience
Relying on customer behavior and store performance analysis SMBs catch actionable insights on how to deliver shopping experience on the level of retail industry leaders.
An in-person customer engagement online: Benefits of business intelligence in the retail industry for online stores
Data analysis visualization
Big data visualization is a stand alone art in retail business intelligence software development. It requires individual approach as data analytics systems may be used by personnel of different levels and everyone should get well-structured data dashboards for the interpretation of information related to certain responsibility areas.
Reporting
Retail analytics generate many reports on each activity and there's a need to organize reported data in the form of answers on concrete questions that startups and SMBs should address in the decision making process.
In the case of prescriptive analytics or systems based on real-time data processing these reports should contain well-defined units of information that these systems can use to automatically execute some tasks.
Predictive analytics
Using predictive analytics startups and SMBs can forecast sales, demand and address emerging trends by adding new products to their online store. Startups that leverage predictive analytics are seen by investors as more trustworthy because their business development strategies are also data-driven.
More meaningful stories: Benefits of business analytics and business intelligence solutions in retail on the whole
Optimization of digital assets delivery for Metro
Metro reached for EPAM to address their challenges with an ineffective point-to-point digital asset management (DAM) system. In a result of collaboration, EPAM's team created a custom ADAM solution that is integrated with Adobe Omniture Analytics platform, stores 70K+ assets, is used in 26 countries, stockpiles content from 10+ departments/business units within Metro, provides additional custom extensions and reports for administration, and enables regional content managers to automatically sync assets featuring the appropriate language, packaging, and other specifications.
An increase of 150% in sales by enhancing omnichannel customer experience for Sephora
As one of the world's best-known retail beauty brands, Sephora is constantly evolving its digital experience. When they came to EPAM, they wanted to solve challenges for delivering online shopping experience on the same high-quality level as they do in-stores. EPAM and Sephora worked to create a set of solutions that allowed users to check the availability of products in stores nearby for easy purchase and pick-up. This streamlined omnichannel experience and significantly increased sales (150% growth in mobile sales only). Complementary use of performance analytics and customer behavior analytics also helps Sephora understand how web influences in-store purchases, and vice versa.
Usage of big data analytics and BI becomes a key differentiator of business success and competitiveness in the retail industry. Retailers try to apply a holistic approach to gathering and processing data to get more complex and accurate insights and forecasts. It's critical for SMBs to prioritize and invest in the development of business intelligence and development of effective data strategies to survive and thrive on competitive markets. Retail startups that are lacking historical data need to integrate with third-party data platforms to compensate and even their competitive abilities. Retail startups can also build their business model around big data analytics solutions.
EPAM Startups & SMBs is a platform where startups and SMBs can find experienced retail software engineers and data experts to work on their small and medium-sized projects. All developers you can hire from us gained their expertise on large EPAM's projects for retail industry leaders. They have already solved retail digital challenges and built innovative big data solutions you may only start looking for and developers of EPAM Startups & SMBs will apply all this experience to smooth your BI development journey. Feel free to contact us with any questions, project process requirements or ideas!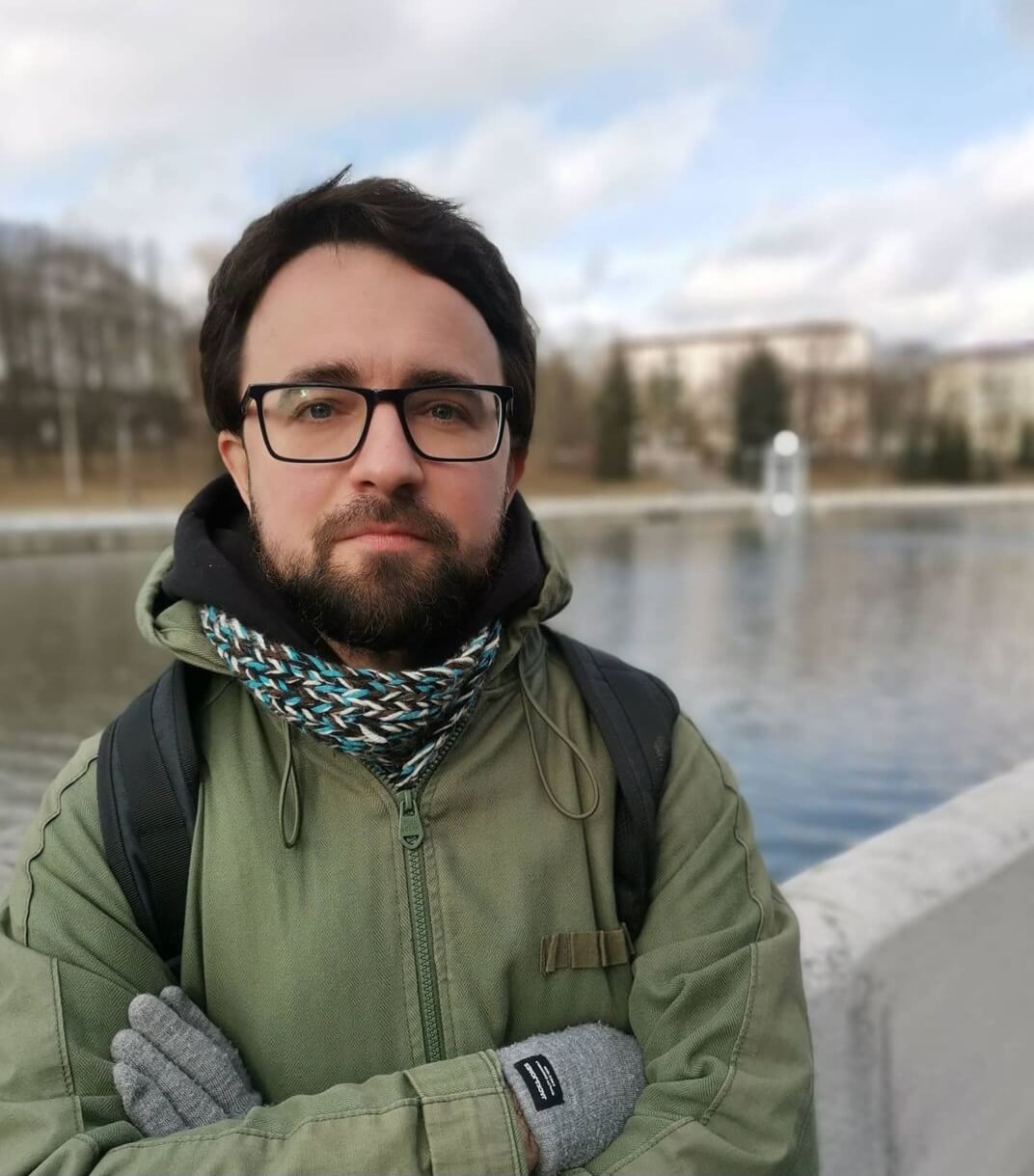 Written by
Since 2011, Dmitri has been helping business readers navigate the technology market through expert analysis and editorial work. At EPAM Startups & SMBs, Dmitri shows startups and SMBs across industries how to drive business value from their software engineering investments.
Since 2011, Dmitri has been helping business readers navigate the technology market through expert analysis and editorial work. At EPAM Startups & SMBs, Dmitri shows startups and SMBs across industries how to drive business value from their software engineering investments.