While there's no doubt about the benefits of the Salesforce platform, one question that looms large for businesses considering Salesforce implementation is "How much will it cost?"
In this article, we will take you through the essential factors that influence Salesforce implementation costs, provide insights into selecting the right implementation partner, and offer valuable tips on optimizing your investment.
What is Salesforce implementation?
Salesforce implementation is the process of setting up and customizing the Salesforce platform to meet a business's specific needs and requirements.
Nowadays, Salesforce is regarded as one of the world's leading customer relationship management (CRM) platforms, catering to more than 150,000 businesses worldwide. Implementing it typically involves several key steps.
Assessment and planning: The first step is to assess the business's needs and objectives. This includes understanding current business processes, identifying pain points, and setting clear goals for what the Salesforce implementation should achieve. Your team should develop a detailed plan to guide the implementation process.
Customization: Salesforce is a highly flexible platform, and businesses can customize Salesforce to their specific requirements. This involves creating custom fields, objects, workflows, dashboards, templates, and page layouts to match the organization's unique business processes.
Data migration: If a business is transitioning from an existing CRM system or managing data in spreadsheets, data migration is a critical step. This process involves moving existing data into Salesforce, ensuring data integrity and accuracy. Data cleansing and transformation may be necessary.
Integration: Many organizations use a variety of software applications and systems alongside Salesforce. This step is necessary to integrate Salesforce with these other systems to ensure seamless data flow and a unified view of customer information.
Deployment: After successful testing and validation, Salesforce is deployed to the production environment. This marks the official transition to using Salesforce for day-to-day operations.
The challenge
Salesforce implementations vary in complexity and scope, ranging from small-scale deployments to enterprise-wide transformations. Because of this, the journey to harnessing Salesforce's potential begins with clearly understanding the implementation costs involved.
The main challenge is to get your homework done, as investing in the platform without a comprehensive strategy can further escalate expenses. Before implementing Salesforce, it's crucial to thoroughly assess your company's needs, objectives, and workflows. You can opt for Salesforce implementation consulting to determine how the platform will be configured and customized, allowing you to make an informed decision that aligns with your business goals.
PARTNER WITH US TO IMPLEMENT SALESFORCE CONFIDENTLY
300+ brands have trusted us so far to get their Salesforce solutions up and running
contact us
Key Salesforce implementation cost factors
The cost of implementing Salesforce depends on various factors, including your business's size and complexity, specific products and features, license type, and whether you choose to work with an implementation partner or do it on your own.
In other words, the cost of implementing Salesforce is multifaceted, and understanding its components is essential to effective budgeting.
Here are some key aspects that impact the cost of Salesforce implementation.
Licensing costs: Salesforce offers a range of products and licensing options, each with its own pricing structure. The type and number of licenses you need will significantly affect your implementation cost. Common licenses include Sales Cloud, Service Cloud, Marketing Cloud, and more.
Implementation partner: If you choose to work with a Salesforce implementation partner or consultant, you'll need to pay for their services. The cost of these services can vary based on the partner's expertise and the project's scope.
Customization: Customizing the platform to meet your specific business needs often involves configuration and Salesforce development. The complexity and extent of Salesforce customization required can impact costs.
Data transfer: If you're migrating data from existing systems into Salesforce, you'll need to allocate funds for data cleansing, transformation, and migration services.
Integration: Integrating Salesforce with other systems, such as ERP software or marketing automation tools, may require additional development work and licensing costs.
Support and maintenance: After implementation, you'll need to budget for Salesforce management, including potential updates or enhancements to your Salesforce instance.
Data storage: Salesforce charges for data storage based on your data volume. Be aware of your data storage needs and how they can affect costs over time.
Additional AppExchange apps: Depending on your requirements, you may need to purchase third-party apps from the Salesforce AppExchange, which can add to your overall implementation cost.
Licensing and feature upgrades: Over time, you may want to upgrade your Salesforce license or access additional features. Consider the long-term costs of these changes.
Hardware and infrastructure: If you run Salesforce on-premises or have specific hardware requirements, be sure to factor in the infrastructure costs.
Salesforce license costs for core products
Salesforce offers a suite of core CRM solutions, each tailored to specific business needs. Understanding the pricing for these core products is essential for organizations considering Salesforce CRM. Below, we provide an overview of the pricing structure for Salesforce's key CRM offerings.
Salesforce Sales Cloud pricing: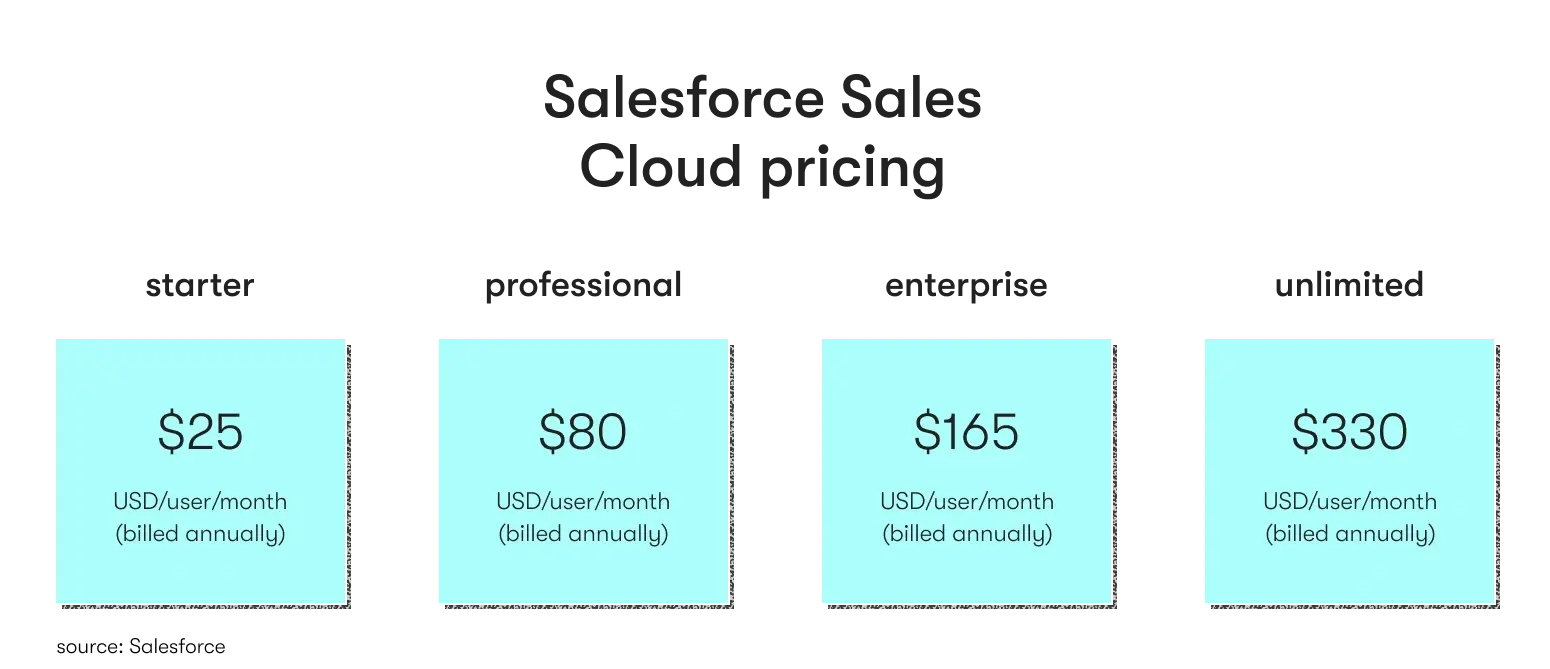 Starter: Starting at $25 per user per month, Salesforce Sales Cloud Starter provides basic CRM features, ideal for small businesses looking to manage leads, opportunities, and contacts.
Professional: Priced at $80 per user per month, the Salesforce Sales Cloud Professional edition offers more advanced sales and marketing features, automation, and reporting capabilities.
Enterprise: At $165 per user per month, the Sales Cloud Enterprise edition includes advanced customization, workflow automation, and collaboration tools.
Unlimited: Priced at $330 per user per month, Sales Cloud Unlimited provides the most comprehensive set of features, including 24/7 support and increased API limits.
Service Cloud pricing: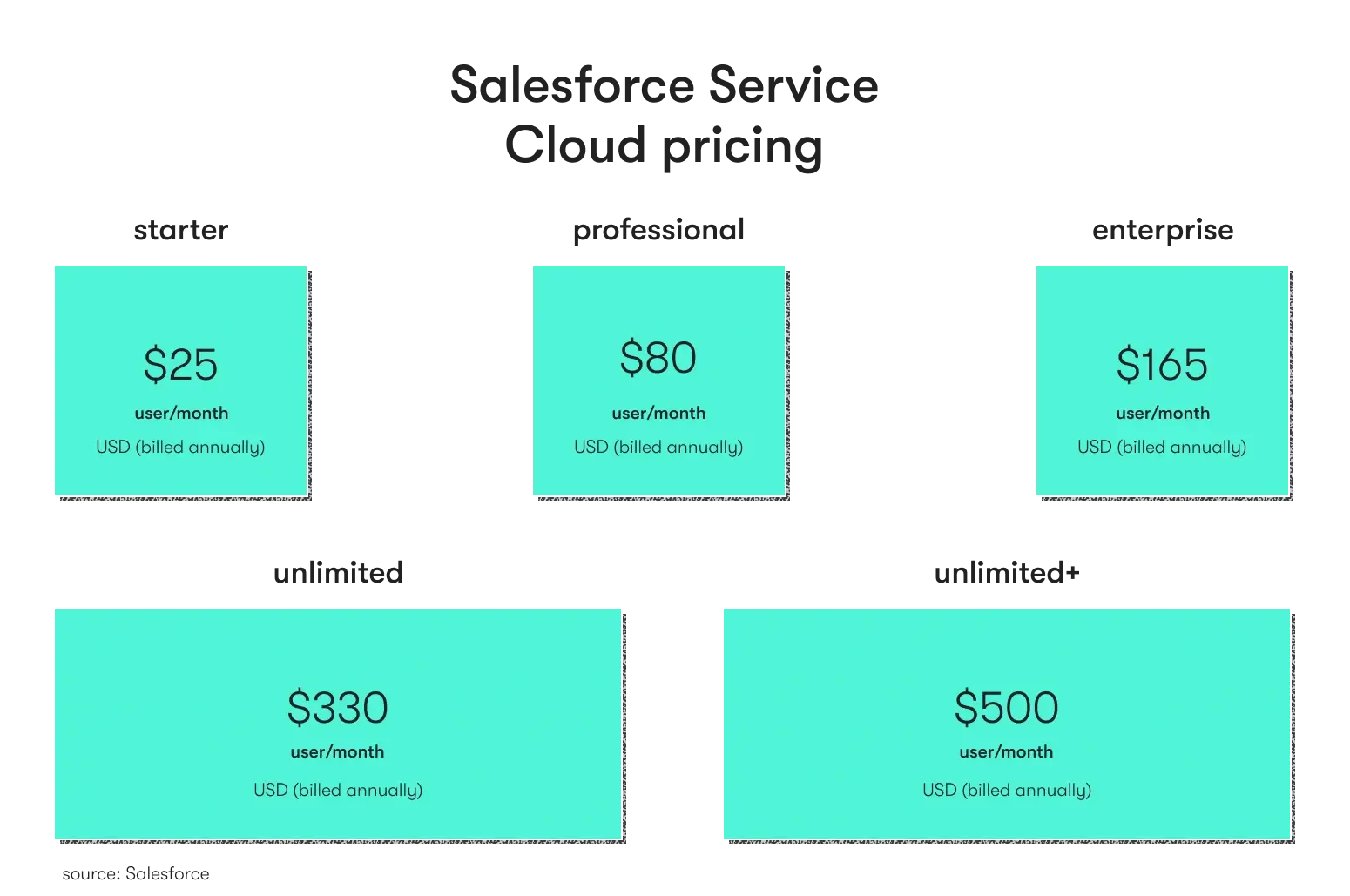 Starter: Beginning at $25 per user per month, Service Cloud Starter is tailored for sales teams seeking basic customer service functionality.
Professional: Priced at $80 per user per month, Service Cloud Professional offers more advanced service features, case management, and automation.
Enterprise: At $165 per user per month, Service Cloud Enterprise provides extensive customization, a wide knowledge base, and multichannel support.
Unlimited: Priced at $330 per user per month, Service Cloud Unlimited offers advanced features like automation, artificial intelligence, and 24/7 support. The next tier is Unlimited+, which is billed at $500 per user per month and includes Data Cloud and Tableau Analytics, among other add-ons.
Salesforce Marketing Cloud pricing
Marketing Cloud pricing can vary significantly based on the required features and scale. Marketing Cloud typically involves a subscription fee based on the number of contacts, emails sent, and additional features such as automation, personalization, and analytics. Organizations can request custom quotes tailored to their marketing needs.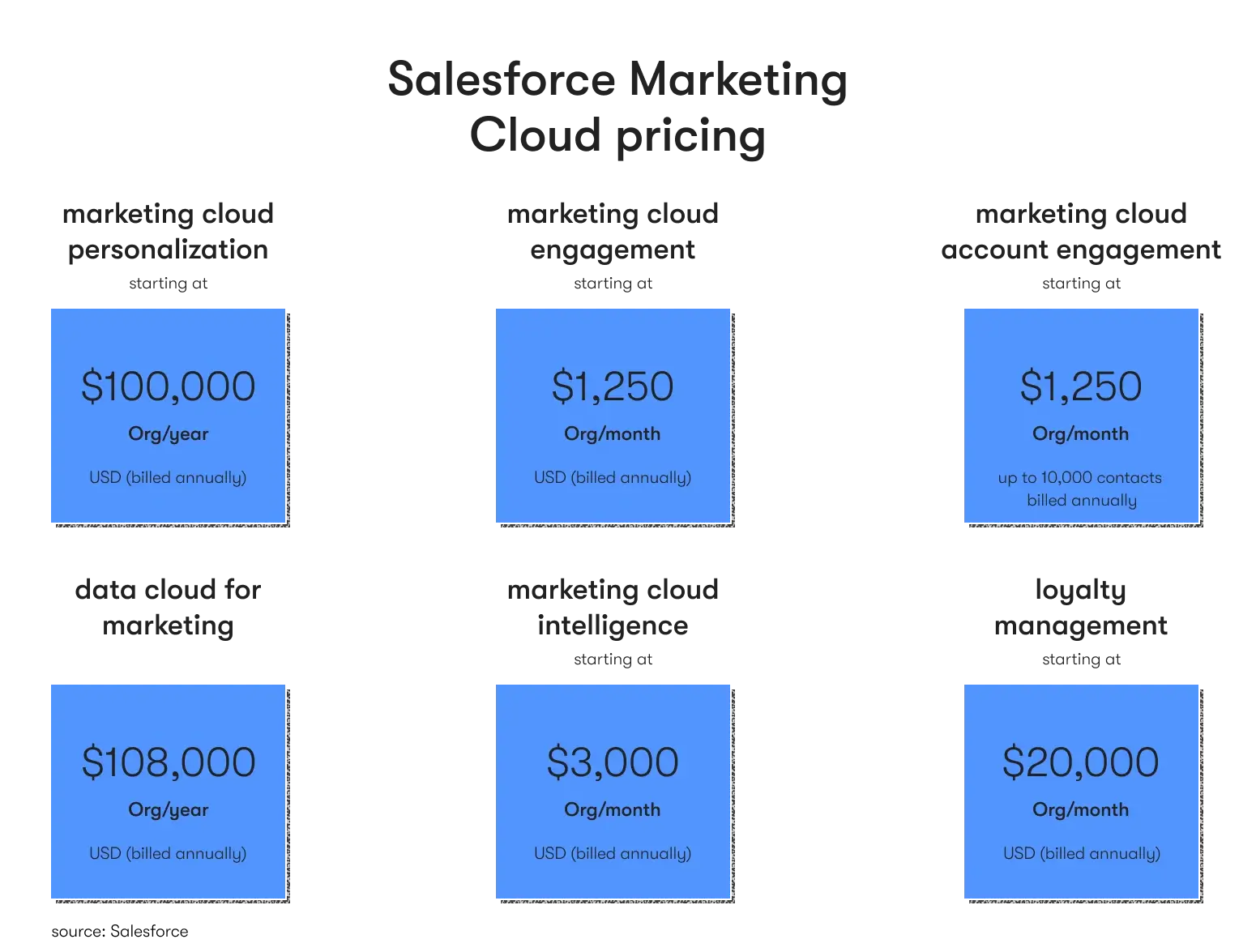 Salesforce Commerce Cloud pricing
Commerce Cloud pricing depends on the size and complexity of the ecommerce operation. It typically involves licensing fees, revenue-sharing models, and implementation costs. Pricing can vary widely, so consult with Salesforce or a certified partner for a customized quote.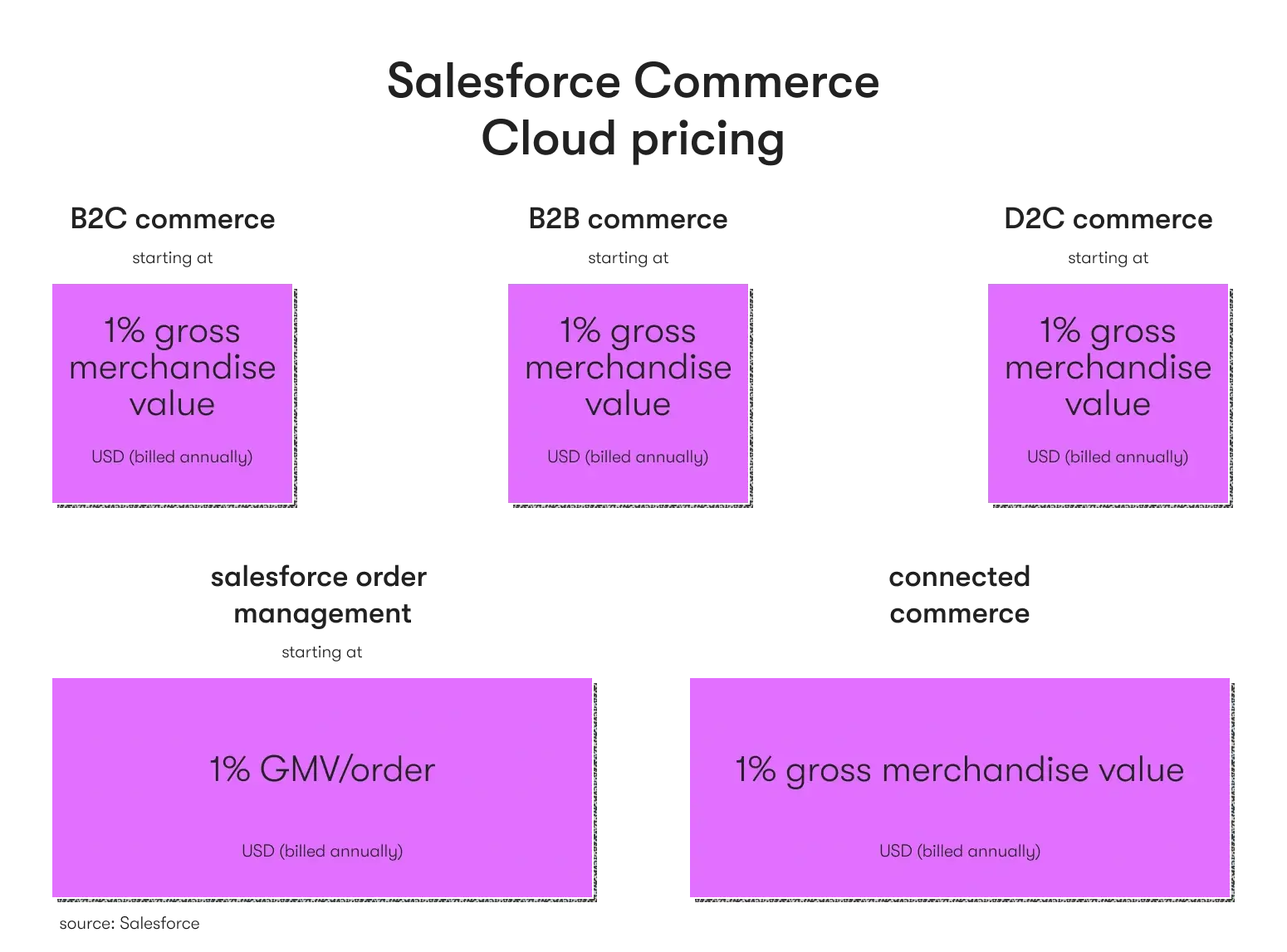 Platform licensing
In addition to the core products, Salesforce offers platform licensing for those who want to build a customized solution or leverage Salesforce's development capabilities. The pricing for platform licensing varies based on the features and resources required.
It's important to note that these figures are subject to change and may vary based on the number of end users, contract terms, and any discounts negotiated with Salesforce. In this regard, it makes sense to partner with a Salesforce consultant to help navigate the complexities and ensure a successful implementation within your budget. The cost of these services can vary based on the partner's expertise and the project's scope.
Based on industry standards, the average cost for implementing Salesforce for a mid-sized business falls within $75,000 to $200,000, while the final cost varies depending on your specific requirements.
5 steps to optimize Salesforce implementation costs
To optimize costs, ensure that you define your project requirements clearly, prioritize essential features, avoid unnecessary customizations, and invest in user training for efficient adoption. Here are the key strategies to achieve this.
Clearly define objectives and priorities: Define your business objectives and priorities. What specific goals do you aim to achieve with Salesforce? Knowing your objectives helps you focus on essential features and avoid unnecessary customizations.
Effective project planning: Create a comprehensive project plan that outlines milestones, timelines, and budget estimates. Effective planning minimizes scope creep and unexpected expenses.
Choose the right licensing model: Select Salesforce licenses that align with your users' needs. Avoid over-licensing users with features they won't use. Salesforce offers various licensing options, so tailor them to your requirements.
Prioritize out-of-the-box features: Leverage Salesforce's out-of-the-box functionality before customizing. Extensive customizations can be costly and complex. Only customize when necessary to meet unique business requirements.
Leverage AppExchange and integrations: Explore the Salesforce AppExchange for pre-built apps and integrations that can enhance functionality without extensive custom development.
How to choose the right Salesforce implementation services
Choosing the right Salesforce implementation partner is crucial for the success of your Salesforce project. Here are five main steps to achieve this.
Define your objectives and requirements: Before looking for a partner, clearly define your project objectives, requirements, and goals. Understand what you want to achieve with Salesforce, the specific features you need, and the timeline for implementation.
Evaluate partner experience: Look for Salesforce implementation partners with a proven track record of successful projects. Consider their experience in your industry, the types of clients they've worked with, and the size and complexity of projects they've handled.
Check Salesforce certifications: Salesforce offers certifications for professionals and consulting firms. Ensure that your potential partner has certified Salesforce consultants who are well-versed in the specific Salesforce products and features you plan to implement.
Assess industry knowledge: Industry-specific knowledge can be invaluable. A partner who understands your industry's unique challenges and requirements is more likely to provide tailored solutions.
Client references and case studies: Request client references and review case studies of previous projects. Contact their past clients to inquire about their experiences and satisfaction with the partner's services.
When it comes to hiring a Salesforce implementation consultant, you have three primary options for pricing models in the market: fixed cost, monthly retainer, and hourly rate.
Fixed cost: This is the most prevalent arrangement when engaging an established consulting partner. Your partner will conduct a comprehensive discovery process and provide a Statement of Work (SOW) outlining the project's deliverables, timeline, and total cost. While the project cost is fixed, it's important to note that any new requirements that arise during the project may incur additional charges.
Managed services monthly retainer: This agreement is commonly employed when your needs revolve around ongoing monthly support or assistance, such as Salesforce admin support or maintenance services. Consulting partners will bill you a monthly fee, typically including a set number of billable hours.

In most cases, you are responsible for the entire monthly fee, even if you don't utilize the full allotment of hours. If you surpass the predefined number of billable hours, you may be charged on an hourly basis. During this phase, it's advisable to negotiate a potential price discount with your partner.

Hourly rate (time & material): This pricing model is commonly utilized when engaging Salesforce contractors. With this approach, you pay them based on their hourly rate and the number of hours they dedicate to your project. This flexibility allows you to initiate or pause the project at your convenience without committing to a long-term agreement.
These pricing models offer different advantages and are tailored to suit various project requirements, giving you the flexibility to choose the one that best aligns with your specific needs and budget constraints.
Why choose us as your Salesforce implementation partner
With EPAM's official Salesforce Partner status, EPAM Startups & SMBs has access to unique expertise generated throughout our 16+ years of Salesforce practice, now available to small and mid-sized companies worldwide. Our team comprises 2,400+ Salesforce, MuleSoft, and Tableau experts who can tailor solutions that align precisely with your distinctive business requirements.
Whether you're seeking support for Salesforce implementation, enhancement, or integration, our consultants are committed to providing comprehensive guidance throughout the entire process. Our consultants possess expertise in all vital Salesforce domains, encompassing Sales Cloud, Service Cloud, Marketing Cloud, Commerce Cloud, and many others.
In today's fast-paced business landscape, adopting Salesforce has become imperative for businesses aiming to stay competitive and customer-centric. Whether you're a small business seeking to enhance your CRM capabilities or a large enterprise planning a comprehensive digital transformation, understanding Salesforce implementation costs is the first step toward successful deployment.
Granted, implementing Salesforce won't come cheap. However, startups and SMBs shouldn't assume that engaging an enterprise-level software development vendor is beyond their reach, deeming it too costly and doubting whether such vendors can approach their unique business challenges with the right mindset, perspective, and commitment. The reality is that enterprise-level vendors are often more accessible than one might imagine.
By carefully assessing your needs, selecting the right implementation partner, and budgeting for the essential elements mentioned above, you can pave the way for a successful Salesforce journey.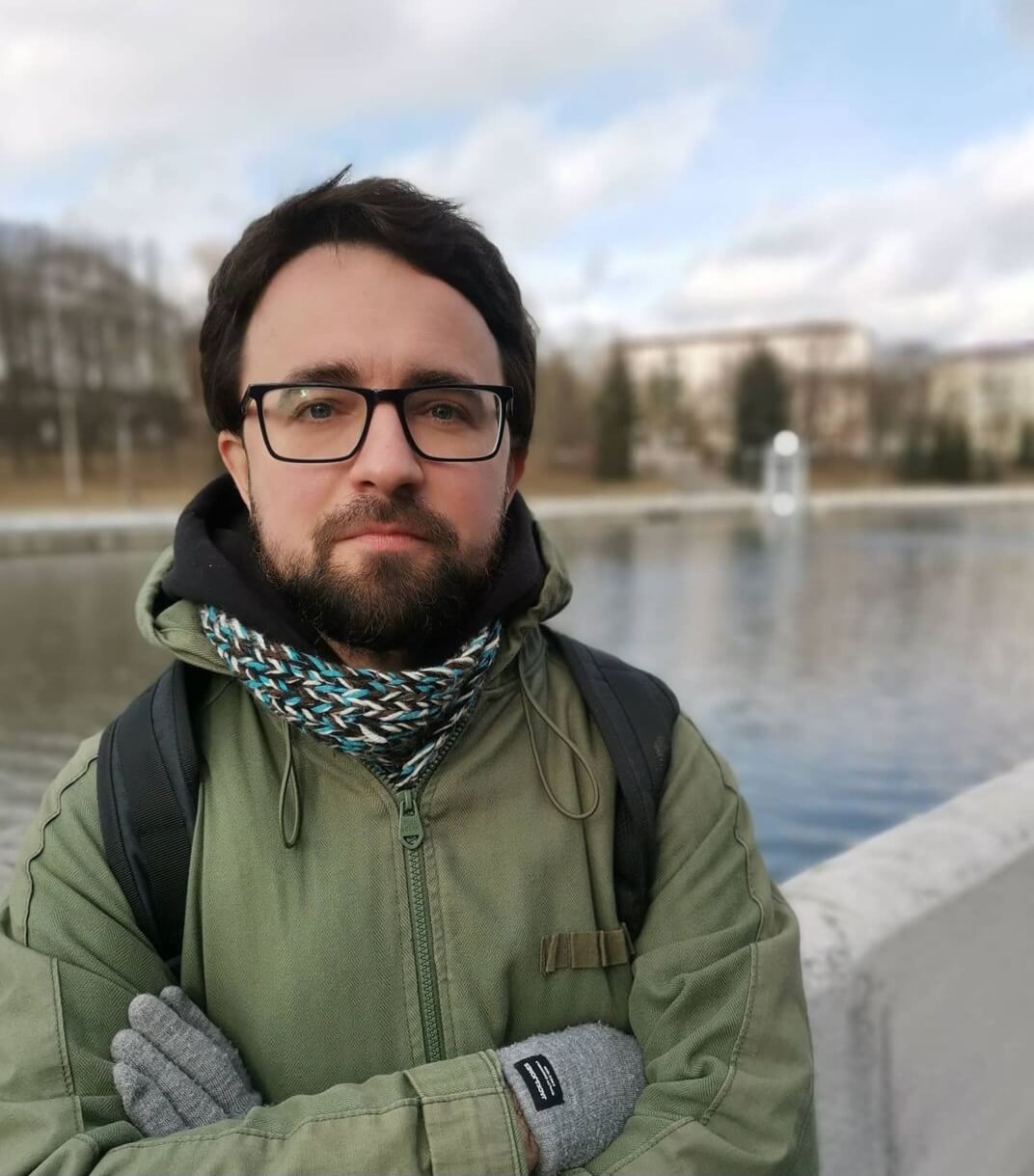 Written by
Since 2011, Dmitri has been helping business readers navigate the technology market through expert analysis and editorial work. At EPAM Startups & SMBs, Dmitri shows startups and SMBs across industries how to drive business value from their software engineering investments.
Since 2011, Dmitri has been helping business readers navigate the technology market through expert analysis and editorial work. At EPAM Startups & SMBs, Dmitri shows startups and SMBs across industries how to drive business value from their software engineering investments.