In another round of expert talks, Nadezhda Politcyna, Delivery Operations Lead at EPAM Startups & SMBs, discusses the myths, fears, and benefits for startups collaborating with enterprise-level software development vendors and shares best practices backed with vast experience in the industry.
Partnerships of all scales need diligence and may be challenging. At first glance, startups and small businesses might think an enterprise-level software development vendor is out of reach, too expensive, and won't take on their business challenges with a proper mindset, perspective, and ownership. However, enterprise-level vendors are more accessible than you might think.
"EPAM Startups & SMBs helps scale and move fast. It's speed, it's talent, it's high-quality people. We set the bar high, and EPAM Startups & SMBs delivered the talent we were looking for. We were able to get up and running really fast."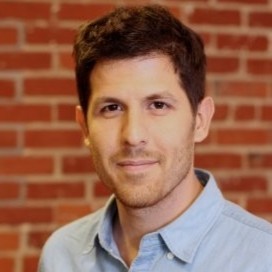 When is your startup ready to partner with an enterprise?
In the day and age of rapid technological advancement, many startups experience acceleration, from ideation to the first investment round. This signifies an instant need to expand capabilities and use investment flow to bring the product-in-the-making up to speed.
Some popular characteristics of a startup venturing out to partner with an enterprise-size vendor are:
Minimum of the seed round investment
Need to develop MVP or functional features of the product
Scaling fast and need to expand the team in the short or long term
Want expert-level input on software architecture, design, and business model
Ready to bring innovation to the industry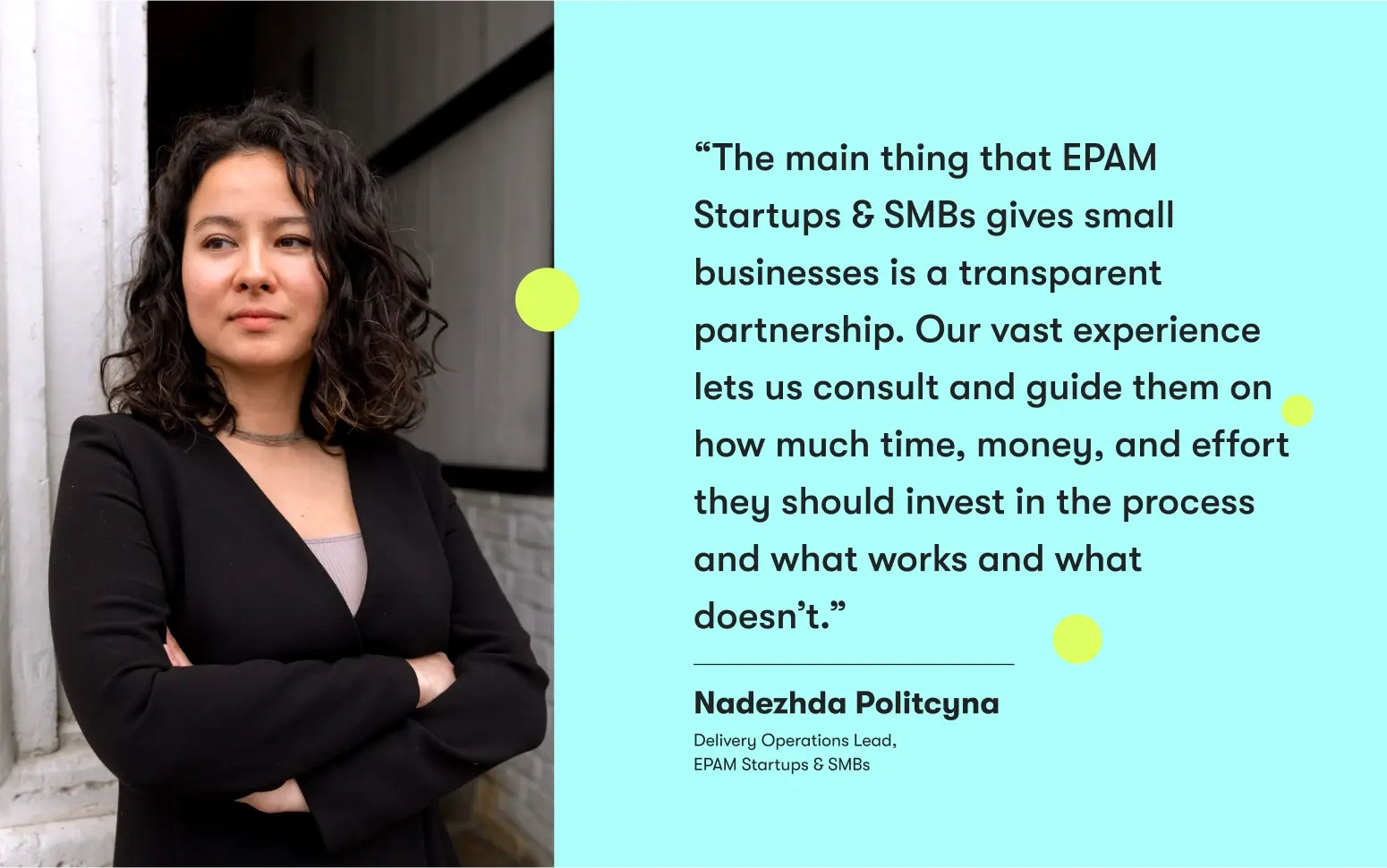 The myths and fears about working with an enterprise vendor
Flushed scaling is a fast-tracked expansion of a team's resources, usually happening after several rounds of investment and the need to add more features to the existing product or build an MVP. Startups usually struggle with keeping up with the capacities of the project and filling positions they didn't need a month ago. Partnering with an enterprise allows for expedited results, as a big vendor means a bigger pool of resources.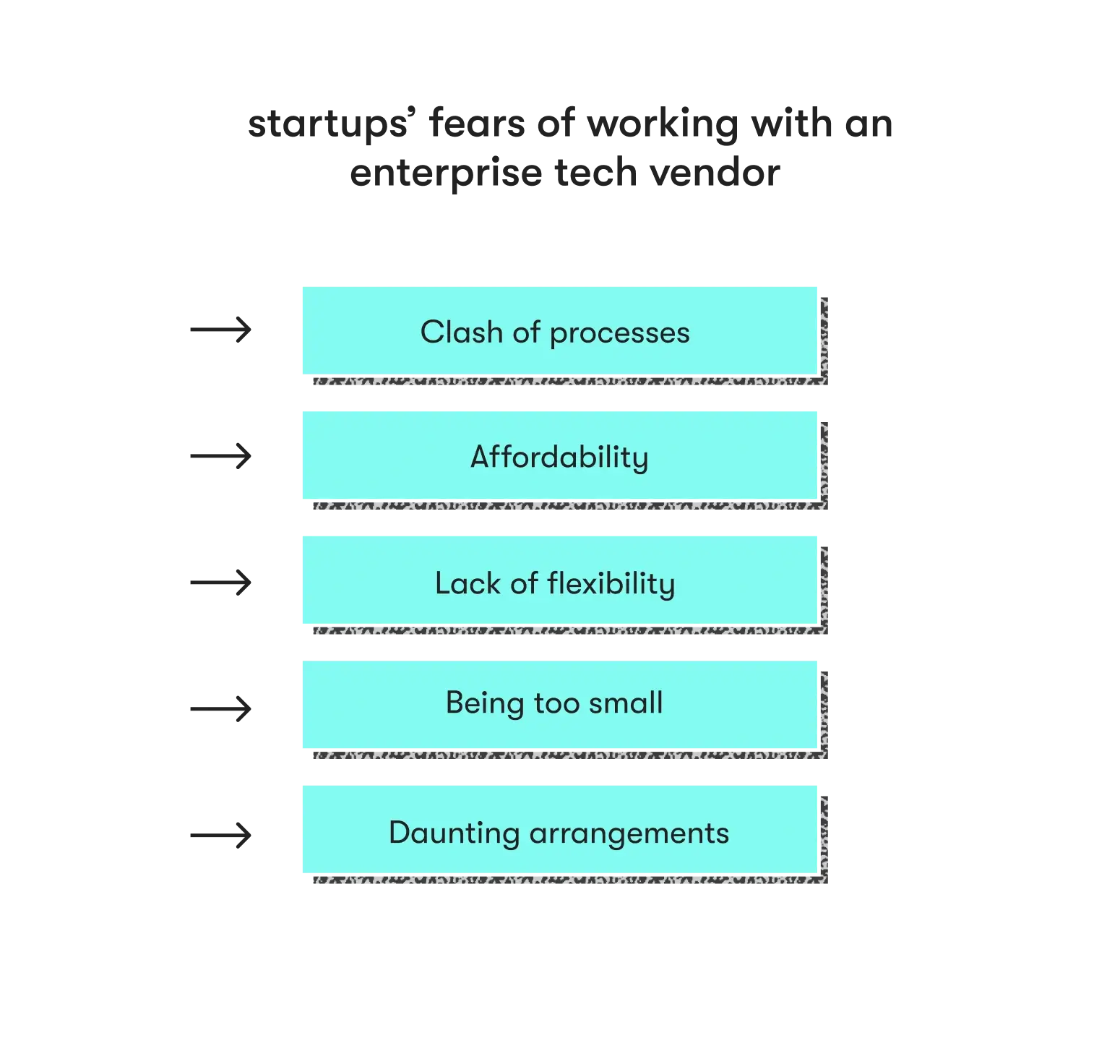 Clash of processes
A popular myth surrounding enterprise-level vendors is that more prominent companies have more complicated internal processes that can slow startups down, but this is far from the truth.
Enterprises cannot operate in chaos, and with years of work done, everything needs to be accounted for and easy to access. Not many know that besides software development, enterprise vendors can offer solutions for database migration, keeping frameworks up to date, compiling documentation, and other "less prioritized" tasks in a rapidly growing company. While building innovative solutions, an enterprise-size vendor can help you set up internal processes for data organization and delegate the technical writing of manuals and supporting documents of existing products and features.
SCALE UP YOUR STARTUP PROJECT WITH US
Our team offers engineering expertise in 100+ technologies and is ready to join your project in up to 4 weeks.
let's get started
Affordability
When an enterprise-level vendor like EPAM offers hundreds of tech capabilities and a pool of thousands of developers, designers, business analysts, and more, some startups assume that they only take on big-scale projects.
Contrary to that belief, enterprise vendors like us may offer flexible solutions starting with engaging two specialists and up. Many of our clients started out small, and then the product's growth expanded our involvement. Some teams also scale down if they need only, say, two developers to stick around after launching a product or a feature.
An enterprise vendor is also a guarantee that money spent on their services won't be wasted, and you'll receive top-quality services in return. Our team knows that many startup clients are cost-sensitive and do extensive budgeting and planning with no room for mismanagement. We offer transparent pricing and save you resources on hiring, managing, and equipping the project team members.
Lack of flexibility
Enterprises offer more flexibility than many smaller vendors in the industry. This is due to the already-mentioned vast resources and expertise working with teams of all scales, backgrounds, and locations. Our team gives this flexibility, understanding that startups' approaches differ and need personalization.
Small companies wanting to grow may progress more slowly than a more established startup that's expanding its operations. Being flexible and supportive as a vendor is critical to engaging startups at all stages of development, and our team offers just that.
Enterprise vendors like EPAM have vast experience in understanding and addressing pain points. We are open to short-term engagements starting from as little as 6 months and engaging a minimum of two developers. We know that small companies don't look to hire staff for several years on end, especially during the company's formative years. During those years, companies operate with tight budgets and plan their investments in shorter increments.
Being too small
Some startups' decision-makers think that an enterprise vendor won't be interested if they're not looking to hire 100+ people. That's a justified concern from the outside, but our example shows that enterprise-level resources have a way of being accessible to startups and SMBs.
No project is too small if the team knows where they're headed and is determined to reach quality, recognition, and growth. Small teams benefit from vendors like EPAM by handing over HR matters, getting expert insight, and hiring the industry's top professionals that they wouldn't be able to get on their own.
Small companies also benefit from enterprise partners because it allows hiring flexibility. Fast-tracked hiring makes it possible to bring in experts for a short term to fix the infrastructure, assist with a certain feature, advise on design, or get support from industry experts.
Remember, enterprise-level vendors can give access to the scarcest technology skills that a small business can't easily find. If you need a Solution Architect, EPAM Startups & SMBs can find an expert in weeks and have them join your project or consult the existing team. In a way, being small has a lot of gains when collaborating with an enterprise vendor.
Arranging cooperation might seem daunting
Often, startups are concerned about starting a collaboration with an enterprise vendor because of paperwork. Startups might think that there are too many steps in the process with a big vendor, but the procedures of service providers tend to be standard.
What sets enterprise vendors apart is that having bigger legal teams expedites the process. Startups usually don't have assigned departments, but instead mainly just one or two individuals in charge of contracts and paperwork. Working with an enterprise can ensure no mishaps and a clear process, even if you're still figuring out yours.
What startups should know before collaborating with a big vendor
There are some missteps that startups can avoid when starting a partnership with an enterprise vendor. Such collaboration should be a perfect balance of experience and innovative ideas that benefit all parties involved and can yield great results.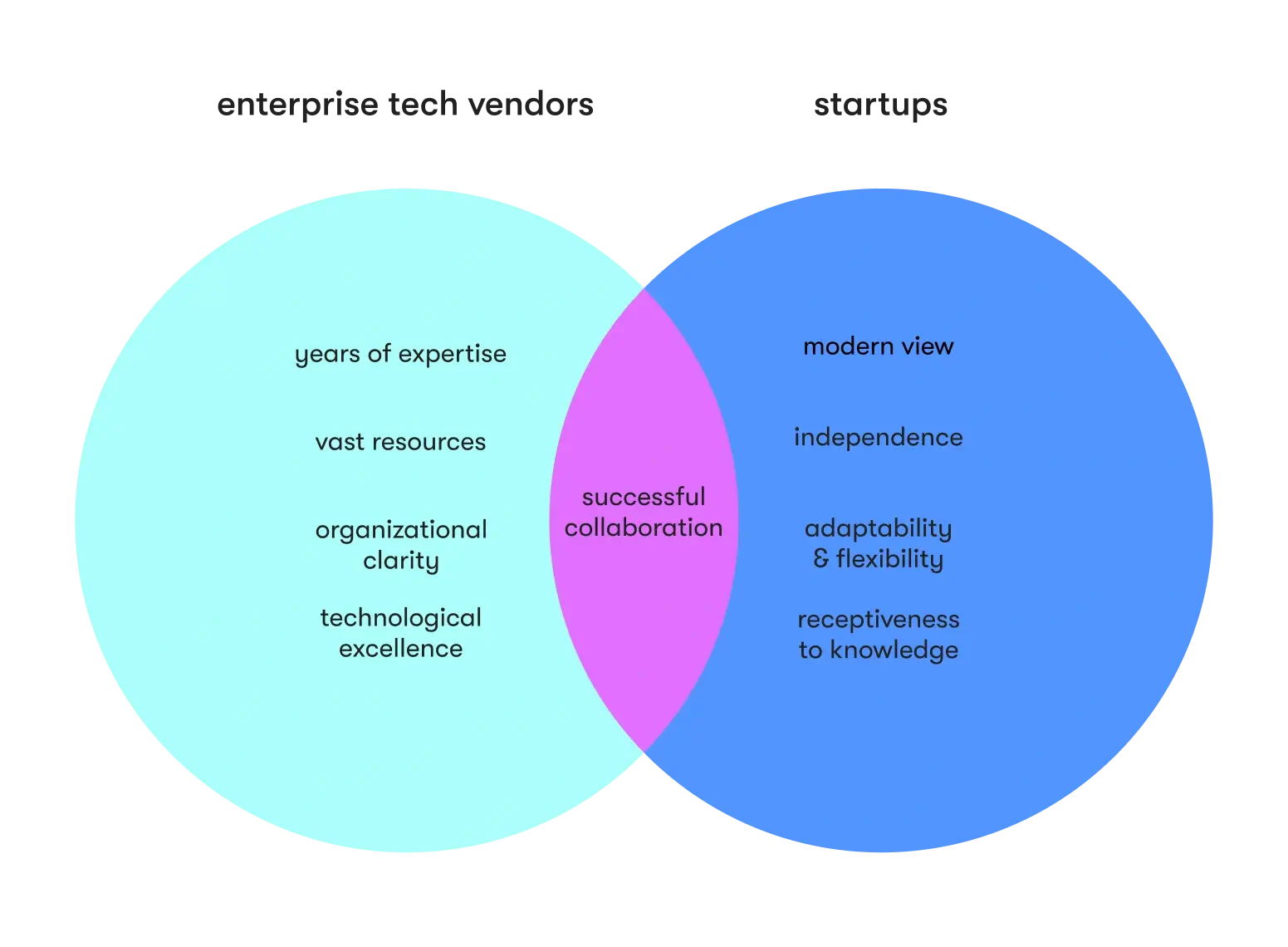 Tip #1: Understand how the vendor works
The first step in finding the right partner for your project is to understand their processes, both in terms of how they work with clients and within their own teams. It's important to have a clear vision of what you want from the partnership and to be sure whether the enterprise vendor can match your expectations. The easiest way to assess this is to ask questions at initial meetings, ranging from their management processes to how they deliver feedback and update you — the client — on their progress.
Tip #2: Accept operational help
As a startup, you might not have all the operations set, and an enterprise-level vendor can bring great insight into the management of your processes. Picking up on the great advice of an experienced company is essential to growing as a startup.
Tip #3: Be transparent with your vendor
Transparency is vital to a partnership, especially for startup-enterprise collaboration. Your vendor must clearly know your limitations, challenges, needs, and goals to provide the best quality services. Enterprises have clear feedback policies and procedures, allowing you to express your points of view and aid the project with transparent communication.
Tip #4: Map out your expectations for the partnership
In both long- and short-term engagements, it's essential to have a clear action plan and map out expectations and outcomes for the project. A blueprint is a cornerstone for a project of any scale or engagement duration.
PARTNER WITH AN INDUSTRY EXPERT
With vast expertise and 50K+ talents in 400+ locations internationally, EPAM Startups & SMBs is a trusted partner for startups and SMBs worldwide.
EPAM's tools are accessible to our partners
EPAM is an enterprise-level vendor which, besides delivering expert services, also gives access to internally developed tools and platforms to make collaborations more productive. EPAM's resources don't stop at high-quality talent but expand to learning, feedback-sharing, and growth tools that make a partnership with us productive and multilevel.
Sharing feedback
Our feedback portal is one of our great tools that boosts the productivity of teams' collaborations. It allows for straightforward communication and data protection at every step of the development process. It's also easier for the developers engaged with your project to receive uniform feedback and see the work's progress.
With constructive and concise feedback, meeting sessions become more productive and can shift the focus from evaluation to discussion of action points and direction of the project. Having input provided through the portal also eases the communication of the delivery manager with both the client and the development team. This tool can be a successful mediator for the partnership.
Accessing learning opportunities
Many of our clients engage in long-term collaboration, and with that comes the possibility of direction change for the business and us keeping up with that. Some startups wish to retain the same talent instead of rotating people when they find a team that matches their company culture. However, when new frameworks or technology needs arise, how do we ensure that the talent is ready to tackle upcoming tasks just as easily? This is where our own e-learning platform with 20K+ learning programs comes into play. With it, we find matching courses and workshops for client needs that address a variety of tech stacks, educate on framework specifics, and train talent productively.
Take a journey to growth with top industry experts
EPAM Startups & SMBs is a trusted partner for startups and small and medium businesses internationally. Backed by EPAM — an enterprise-size vendor with 50K+ in-house tech experts — we understand and have experience working with small teams and are ready to put all the required resources into your success.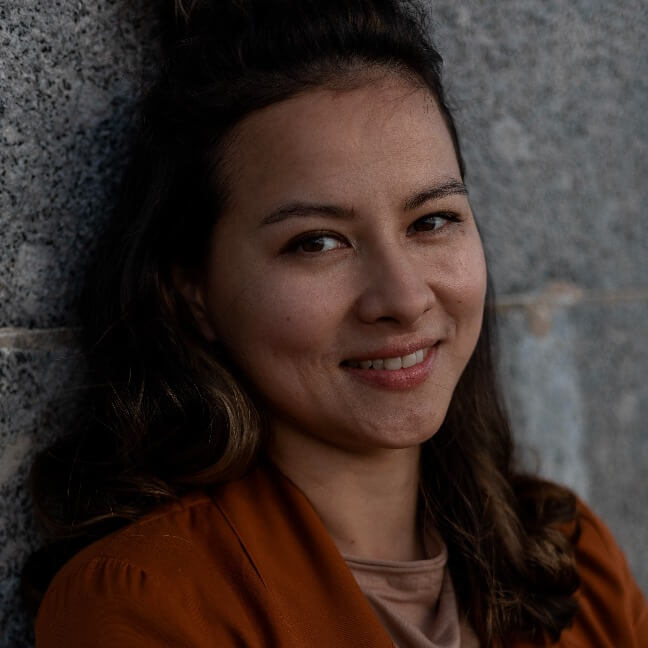 Written by
Since the launch of the EPAM Startups & SMBs initiative, Nadezhda has brought her vast experience working with startups and supporting their product and project management. She manages several streams at EPAM Startups & SMBs and is mainly responsible for delivery operations.
Since the launch of the EPAM Startups & SMBs initiative, Nadezhda has brought her vast experience working with startups and supporting their product and project management. She manages several streams at EPAM Startups & SMBs and is mainly responsible for delivery operations.