A statement of work in software development is a business document that covers every nuance of the agreement between the client and the development team to boost cooperation and minimize the chance of conflict or confusion between organizations.
Is a SoW a waste of time or a good investment in further successful cooperation? Read on to learn about our experience with SoW for software development, and its time and cost benefits for your project.
Purpose of the Statement of Work in Software Development
The software development statement of work is a document that includes all the details and deliverables of a project. This document covers the project scope, terms and conditions, and key performance indicators that help clients and vendors collaborate more efficiently and transparently. Once a client finds a vendor they like, both parties need to create an agreement. The software development agreement includes the whole scope of the project, methodology, timeline, deliverables, finances, and responsibilities.
The statement of work in software development aims to ensure a transparent and open collaboration where both parties understand their tasks and deliverables and the desired outcome. The document also acts as an instrument to resolve possible conflicts, inconsistencies, and failures. You can include the means of communication, the tasks and responsibilities, the KPIs, deadlines, and more. The more detailed your statement of work is, the more efficient and smooth your collaboration will be.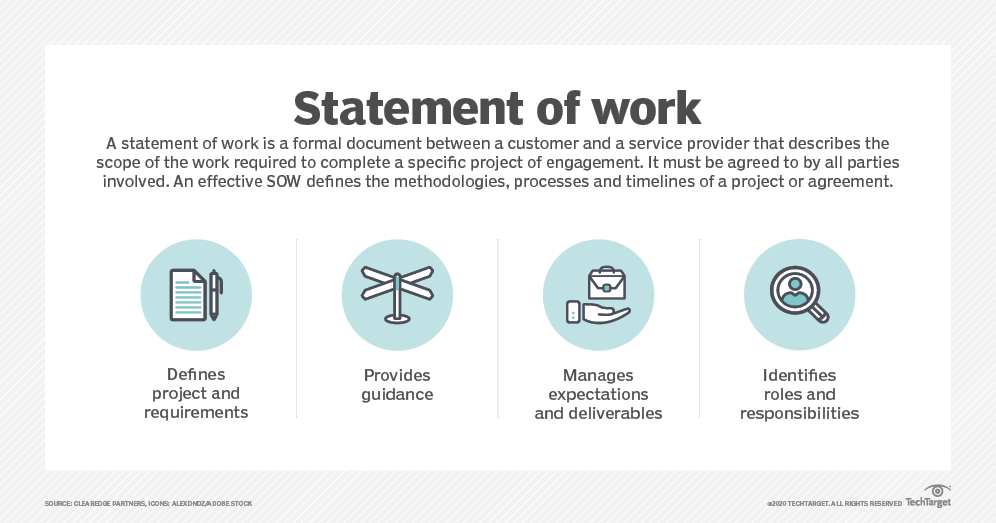 Who Should Write the Statement of Work: An Outsource Vendor or the Client?
Since the document involves a lot of technical information, it is recommended to let your IT partner craft the statement of work. The agreement's author needs to understand every aspect of the project, including budget details, deadlines, participants, technical requirements, acceptance criteria, etc. There can also be multiple co-creators of the SoW that contribute in their area of expertise. You can utilize templates and examples that you find on the internet. This article will also cover a basic template of an effective statement of work.
HOW TO OUTSOURCE A PROJECT WITHOUT LOSING CONTROL OVER PRODUCT DEVELOPMENT
EPAM Startups & SMBs is a talent management agency that augments your team to create a perfect composition to accomplish your project. You will preserve as much control as you want.
Are the Statement of Work and Scope of Work Agreement the Same?
Given the similar names, statement of work is often confused with scope of work for software development. However, the latter is a part of the statement of work that includes information about the processes of the project. In other words, the scope of work document in software development covers what exactly the vendor will do to accomplish the set goals. In contrast, the statement of work is a much broader document that encompasses the entirety of the project, including financial data, estimates, objectives, requirements, human resources, and more.
10 Key Elements of an SoW for Win-Win Cooperation
Creating an SoW is a lengthy process, often involving multiple people and editing stages. To write a comprehensive document, consider including the following elements we cover in this section.
Project Outline
This part includes general information about the project as a summary to establish the collaboration. You can briefly add information about the participants, stakeholders, approvers, and some background data. For example, you can describe the project idea and state how and when it came about. You can also include goals, objectives, and estimates related to the product's success.
Project Purpose
Describe what challenges you are trying to solve with your end product and why your idea would be the best solution. You can also include objectives, estimates, and return on investment. Both parties must be on the same page and understand the project's goals.
Scope of Work
This is the document's largest and most significant part that covers the essential part of the collaboration. Begin by splitting the entire project into small stages and breaking these down into concrete tasks. This technique offers an estimated work plan, provides an efficient workflow, and helps clients avoid scope creep.
The software development scope of work covers everything: the budget overview, tasks and the people responsible for them, timeline and milestones, participants that oversee and accept product stages, risk assessment and mitigation strategies, project specifications and limitations as well as technical requirements for the project itself and developers, testers and other team members.
Here is an example of a part of a software development project's scope of work:
Deliverables
UX/UI design
Prototype
MVP
A/B testing
etc.
INTERESTED IN LAUNCHING YOUR OWN PROJECT BUT OVERWHELMED BY THE REQUIREMENTS?
EPAM Startups & SMBs is a seasoned IT partner that will help you achieve your financial and technical goals and create a thorough statement of work. We deliver custom mobile application development services that guarantee a high-quality product.
Project Participants
Create a more detailed list of project participants, including their expertise, responsibilities in the project, and rates. Each participant needs to know their scope of work and area of responsibility to avoid conflict and misunderstandings. You can also include individual goals and incentives for every worker involved in the project.
Financial Information
The financial part of the SoW covers budgeting, estimates, and payment terms to the service provider. For example, you can opt for a fixed-price model that prevents exceeding your budget. However, this payment model limits the scope and doesn't allow for product flexibility, which is the desired element of an app development project. Another model is scope-based and allows more flexibility, which is especially great for long-term projects. The downside is going over your budget and overspending.
Project Timeline
To keep the project afloat and under budget, create a detailed schedule for each phase of the Scope of Work agreement. Specify the milestones, their deliverables, vital deadlines, objectives, and due dates for A/B testing and release. The more detailed the timeline, the easier the monitoring and reporting.
Standards
This part is crucial for large projects with dozens of people involved. Avoid miscommunication and mistakes by crafting a paragraph with standards for each project element. Specify the coding languages and frameworks you will be using, testing standards and KPIs, hardware and software, and other functional requirements. For example, you can include the information about the project management software you will employ throughout the project to ensure everyone is on the same page and knows how to use the program before the project starts.
Monitoring
Decide how often and in which way you would like to track the performance of the software development vendor. Depending on the level of involvement you are comfortable with, you can arrange weekly or monthly calls and reviews or utilize tracking software to continuously control the work. You should also discuss the reporting mechanisms and elaborate on the tools your vendor must use to create reports.
Terms and Conditions
This section serves to protect the client and vendor from unforeseeable issues. Include information about responsibilities and termination conditions, for example, who carries financial responsibilities if the project is cut short. The document should also touch on the contract duration and possible consequences for exceeding the end date.
Acceptance Criteria
This final chapter includes criteria that determine the success or failure of the project. Add concrete requirements that measure the performance rate of the end product as well as every stage. The definitions need to be measurable and tangible to provide clear acceptance criteria.
CURIOUS TO LEARN MORE ABOUT THE STATEMENT OF WORK?
EPAM Startups & SMBs is an IT agency that can offer a statement of work sample for software development for your reference. We will also accompany you at every step of the way and deliver the best product for your goals.
Our Statement of Work Software Development Principles
EPAM Startups & SMBs is a company that offers dedicated application development teams and delivers high-quality software products. We follow the three principles to create great applications.
First, we ensure smooth workflow and continuous reporting that helps our clients stay in the loop. Our clients never lose control over their projects.
Second, we are proud to deliver the best code quality and offer regular reviews and testing. Our team consistently delivers clear and concise code because we know how important it is for you.
Finally, we focus on cost-saving techniques and keep the budget under control. With EPAM Startups & SMBs, you will not waste your resources on unnecessary technology.
The statement of work for software development is a document that helps you outline the entire project and establish rules of collaboration. This document is a cornerstone of fruitful and efficient cooperation that helps both the vendor and client navigate the intricacies of a software development project. Even though the preparation of SoW may take a long time, the outcomes will definitely be worth it. If you are looking for a reliable IT partner that will focus on your success and cost-effective methods, contact EPAM Startups & SMBs, an outsource software development service provider. Our team will support you at every step and ensure you preserve as much control over the project as you prefer.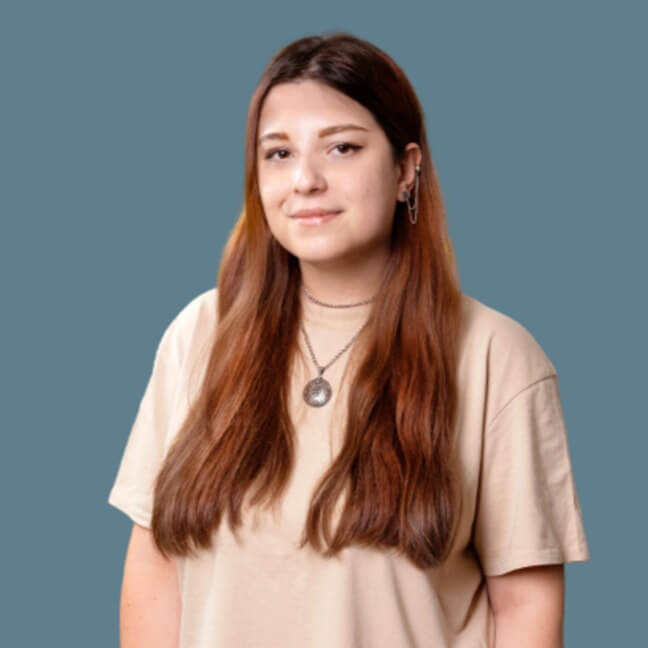 Written by
Anush has a history of planning and executing digital communications strategies with a focus on technology partnerships, tech buying advice for small companies, and remote team collaboration insights. At EPAM Startups & SMBs, Anush works closely with subject matter experts to share first-hand expertise on making software engineering collaboration a success for all parties involved.
Anush has a history of planning and executing digital communications strategies with a focus on technology partnerships, tech buying advice for small companies, and remote team collaboration insights. At EPAM Startups & SMBs, Anush works closely with subject matter experts to share first-hand expertise on making software engineering collaboration a success for all parties involved.