In the next edition of our expert talks, Boris Sabotovich, Director of Technology Solutions at EPAM, shares his insider knowledge of making the right choice between team augmentation and end-to-end delivery. In this article, he breaks down the key benefits, phases, and concerns for startups and SMBs to be better prepared before working with software development solutions vendors.
Having limited experience sourcing outside talent, many startups and SMBs don't know how to approach the process, whom to choose, and, most importantly, how to determine which engagement type will work best for them. It is essential to understand the distinctions between various scenarios of engaging a software development services vendor like EPAM Startups & SMBs, namely between team augmentation and end-to-end engagement.
Each approach has its own potential benefits for a software development project. It's all a matter of perspective — what does your team need to execute the project successfully?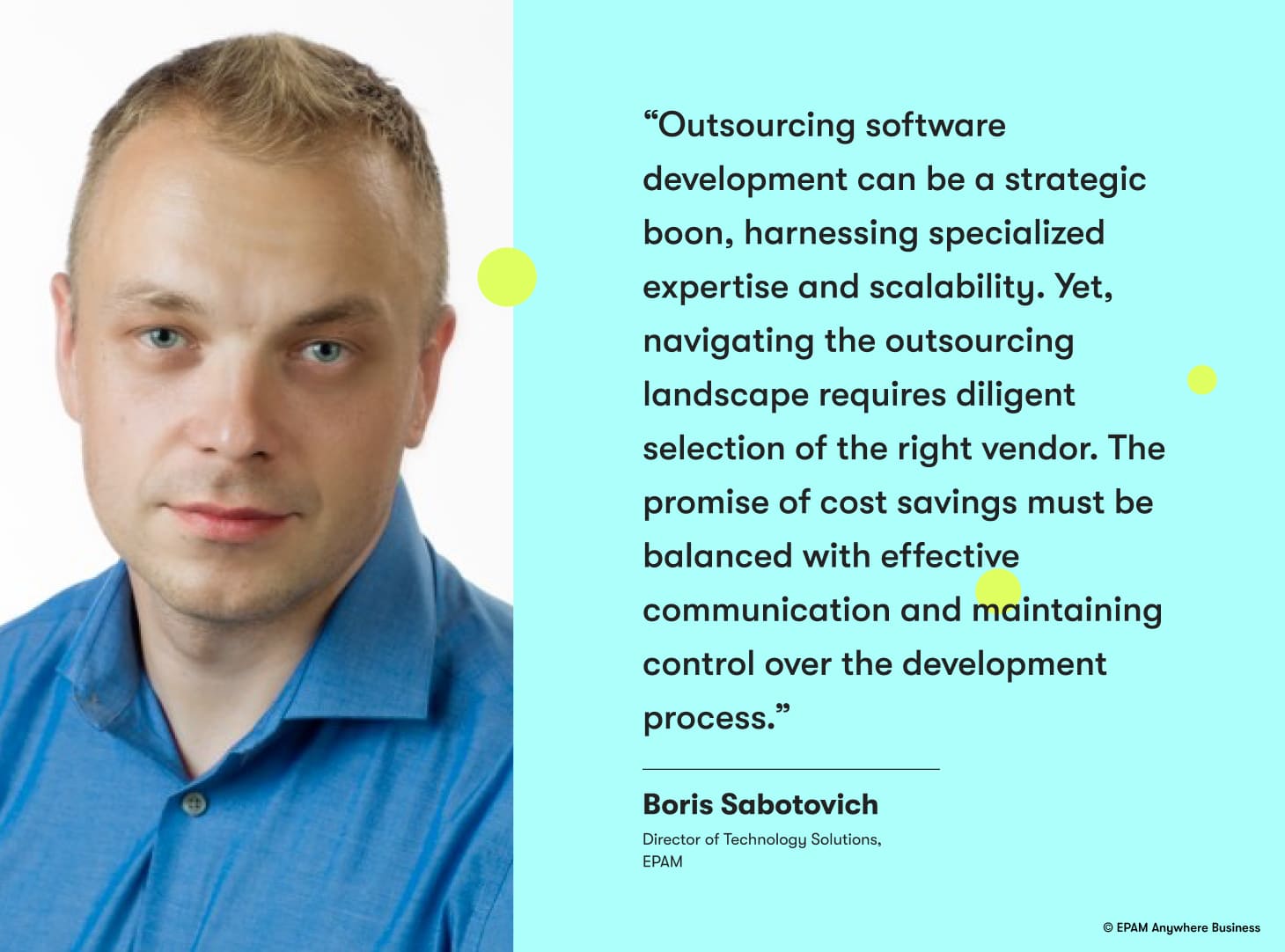 Should you choose team augmentation for your project?
Team augmentation, or team extension, is a process of hiring external professionals to supplement and enhance the capabilities of an existing team temporarily in particular areas of competency. An augmented team can handle a short-term project, fill skill gaps, or respond to sudden changes in demand. They'll work closely with your team and fully integrate into the organization's operations. Extending your team not only takes a load off your internal team but also helps bring in a fresh perspective, specialized skills, and valuable experience to help achieve project goals.
Identifying 5 main needs for team augmentation
Team augmentation is an excellent solution for teams looking to scale up and engage with expert engineers in record time. In just under 4 weeks, you can start working with teams matched to your needs — but what are the common needs that augmented teams target?
Increase the development velocity
By adding more skilled developers to the team, your company can accelerate development and launch products or features more quickly. Boosting time-to-market means teams can have a higher output capacity and increased quality. With team augmentation, your company can scale the team up or down to accommodate changing development needs.
Add new skill sets to your existing team
Hiring externally vs in-house allows clients to leverage their expertise and experience in new areas, which can help the company stay competitive and innovative. Bringing in external professionals with the necessary skills can save the company the time and expense training their existing team members.
Enhance team capacity to match increasing requests
Augmenting their teams with additional resources helps companies avoid the development slowdown and provide a more robust catalog of services to their clients.
Adding more capacity to your team lets core engineers focus on solution features instead of spending resources on implementation, thus delivering faster. The added resources can help the company provide better service to new clients, increasing client satisfaction and retention.
Extend the support team for new and existing clients
By expanding the support team, the company can provide more timely and effective customer support, leading to higher customer satisfaction. With more team members, each member can take on a manageable workload, reducing the risk of burnout and improving overall team morale.
Save hiring costs and effort by scaling temporarily
Team augmentation can be a cost-effective way for a company to ramp up quickly without incurring the expense of hiring full-time employees. Augmenting the team with external resources can help the company reduce the risk of over-hiring or under-utilizing employees during fluctuating demand. The company can write off expenses related to the extended team and is not obligated to pay social taxes and benefits.
SCALE UP WITH VETTED TECH TALENT
EPAM Startups & SMBs offers transparent and flexible solutions for companies of all sizes to upscale their tech capabilities.
book a call
Is end-to-end engagement right for you?
End-to-end project delivery refers to a dedicated development team managing a project from inception to completion, including all stages and activities. This includes everything from scoping and planning to execution, monitoring, and control, all the way to project closure.
Besides the engineers, the end-to-end project delivery process typically involves a team of project managers and other specialists like business analysts, architects, and DevOps engineers who work together to deliver the project on time, within budget, and to the satisfaction of all stakeholders.
The key phases of a successful end-to-end delivery process
End-to-end project delivery from a vendor can provide a range of benefits to the client, including a single point of contact, reduced risk, cost savings, faster time to market, and access to expertise and resources. It is successfully executed by following clear guidelines meticulously planned by our team to encompass the needs of clients of all sizes, niches, and visions.
Deep-dive pre-sales sessions
Deep-dive pre-sales sessions are typically conducted by sales teams and aim to understand the customer's business requirements, challenges, and pain points. These sessions aim to gather as much information as possible about the customer's needs and goals to tailor a proposal or solution that meets their needs. These sessions may involve conducting interviews, workshops, and surveys with key customer organization stakeholders. The output of these sessions is typically a set of recommendations, a solution proposal, or a statement of work that outlines the proposed project's scope.
Project discovery
Once the customer has accepted the proposal or statement of work, the project moves into the discovery stage. The discovery stage allows the project team to dig deeper into the customer's requirements, validate assumptions made during the presale stage, and identify potential risks or challenges that may impact the project's success.
Typically it's a 5-stage process:
Requirements gathering: Our team conducts detailed interviews with key stakeholders, reviews existing documentation, and conducts workshops to gather more detailed requirements for the project.
Technical assessment: In partnership with the client, we assess the customer's existing systems, infrastructure, and technology stack to determine if any modifications or upgrades are required to support the proposed solution.
Risk assessment: Identifying potential risks or obstacles that may impact the project's success and developing mitigation strategies to address these risks is crucial.
Project scoping: Based on the requirements gathered and technical and risk assessments, the team will work with the customer to finalize the project scope, deliverables, timeline, and budget.
Deliverables definition: At the final stage, we define the deliverables produced during the project and the criteria for acceptance or completion of each deliverable.
Overall, deep-dive pre-sales sessions and project discovery phases are critical to the end-to-end project delivery process. They set the stage for a successful project outcome by ensuring all parties understand the customer's requirements, the proposed solution, and the scope and timeline.
Project initiation
The initiation stage determines the project goals, objectives, scope, and deliverables. It may also involve assessing the feasibility, identifying the stakeholders, and establishing the project team and governance structure.
Planning
This stage involves developing a detailed project plan that outlines the project's activities, deadlines, resource requirements, and risk management strategies. At this time, our team and the customer secure the necessary resources and approvals to execute the project plan.
Execution
During the execution, the main body of the end-to-end engagement activities ensues. It involves carrying out the project plan, including building or developing the product, implementing the solution, or delivering the service.
Monitoring and control
Delivery managers report and update the client on all project outcomes. They track the project's progress, identifying any issues or risks that arise and implementing corrective actions as necessary to keep the project on track.
Closure
Formally closing the project includes delivering the final product or service to the client, conducting a post-project review, and documenting all parties' feedback.
HIRE A TEAM YOU CAN TRUST WITH EPAM STARTUPS & SMBS
Backed by 30+ years of experience in the industry, we offer 100+ tech capabilities to extend your team or develop a project end to end.
let's get started
Where to start with your IT solutions vendor
For several reasons, starting with team augmentation before moving to end-to-end project delivery can be a smart strategy when working with a new vendor.
By starting with team augmentation, the client and vendor can get to know each other and build trust and confidence in each other's capabilities. This can help establish a strong foundation for an extended and successful working relationship.
Team augmentation allows the customer to dip their toe in the water and test the vendor's capabilities on a smaller scale before committing to a larger project. This can help reduce the risk of the project failing or not meeting expectations. As a smaller business, you might not be able to afford an unsuccessful outcome, so make sure to be 100% confident in your vendor.
Once the client and vendor have worked together successfully on team augmentation, it can be easier to transition to end-to-end project delivery. The vendor will better understand the customer's needs and expectations, and the customer will have more confidence in the vendor and what value they bring to their projects.
Team augmentation can be more flexible and scalable than end-to-end project delivery. The customer can adjust the size of the team as needed to meet changing project requirements without the added complexity of managing an entire project.
There are several benefits to starting slow. Leading with team augmentation allows both parties to establish a strong working relationship, reduce risk, and ease the transition to end-to-end project delivery.
Spotting potential risks and identifying quality
Each engagement type or the combination of the two comes with potential risks for the vendors and the clients. This is why identifying those early on can help you be a partner that brings value and gets the most out of collaboration with a vendor like EPAM Startups & SMBs.
One of the risks both types of collaborations face is a misalignment of goals. Miscommunication between the customer and the vendor can lead to further complications in project completion. Transparent feedback and clear outcome definition with key performance indicators (KPIs) may help to avoid misunderstandings. Other risks are specific to the type of engagement. Let's list some of them.
The risks of team augmentation
Desire to find the unicorn
Many clients come looking for an engineer or any other specialist that just doesn't exist in nature. In the industry, they are called unicorns. This describes a professional who cannot possibly exist, like an expert in every possible area, who's able to deliver a complex project alone and in the shortest time possible.
When approaching a vendor, companies must match the expectation to the particular skill sets they must cover; there is no one-fits-all solution.
On the other side, some outsourcing companies promise to match clients with so-called unicorn engineers while unable to deliver on that. Some may present untrue claims to sugarcoat engineers' skill sets during the preselection and proposal stages.
Resource dependence
The client may become too dependent on the vendor for their project needs, making switching vendors or bringing the work back in-house difficult. It's better to mix engineers' skills with in-house and vendor teams. Sometimes it is reasonable to hire senior engineers to balance the customer's team seniority pyramid, which can accelerate the in-house team's experience growth.
Cultural differences
Cultural differences between the client and vendor teams can lead to profound misunderstandings, complicating a productive working relationship. Assigning vendor management staff to the engineers can fix miscommunication issues and create the proper environment for predictable project delivery.
The risks of end-to-end project delivery
Cost overruns
The project's cost may exceed the client's budget, mainly if unexpected delays or scope creep occur. Some vendors reduce project risks to make a proposal more attractive than their competitors'. It's better to avoid over-optimistic proposals. Despite different risk levels from project to project, it has to be no less than 30% on average. You, as a client, need to pay attention to the company's reputation and success score.
Quality expectations
Each company may have different standards and documentation processes that the vendor's team may only sometimes follow. It's better to share your coding standards in the pre-sales stage. Following Engineering Excellence (EngX) standards and avoiding vague definitions of expected project deliverables can also be helpful.
How to identify a trustworthy partner among other providers
When choosing a partner, be attentive to potential vendor red flags and how the vendor approaches your project needs. You should assess the future collaborator from a variety of angles. Here is a comprehensive checklist for areas to inspect before committing to a software development solutions provider:
Review the vendor's project portfolio
Ensure that the proposed team composition includes delivery managers
Check if they follow Engineering Excellence (EngX) standards
Ensure code documentation practices match your vision
Compare their minimum assumptions of project metrics to other vendors'
Assess their reputation and credibility in the industry
Take into consideration their size and ability to scale up and down along with your project needs
Inquire about the locations and time zones they operate in
Analyze their ability to make data-driven decisions
Check their people management practices
At EPAM Startups & SMBs, we do not promise more than we can deliver. Our team establishes transparent relationships and offers customer-centric solutions. With our focus on identifying technology stacks crucial for customers' projects, EPAM's project success score is one of the highest in the industry.
Having years of experience to back us, we confirm our capabilities and embrace the risks before committing to your project. We realize the importance of smart resource management and provide you with teams of vetted technology experts.
Choose a vendor that puts you first
As a hub of 50K+ industry experts, EPAM Startups & SMBs provides startups and SMBs with enterprise-level solutions, allowing for flexible scaling and growth opportunities. Operating in 400+ locations globally, we are able to support our partners in finding the required talent in 4 weeks or sooner.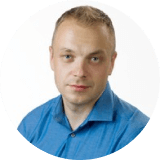 Written by
For over 20 years, Boris worked exclusively on IT solutions, primarily focusing on project delivery, web and mobile engagement management, and network architecture and digital technologies. As the Director of Technology Solutions, Boris is responsible for wholesale and delivery cycles within small to mid-sized startups. He continues to lead territory-agnostic and cross-functional teams with a vision of making tech solutions available worldwide.
For over 20 years, Boris worked exclusively on IT solutions, primarily focusing on project delivery, web and mobile engagement management, and network architecture and digital technologies. As the Director of Technology Solutions, Boris is responsible for wholesale and delivery cycles within small to mid-sized startups. He continues to lead territory-agnostic and cross-functional teams with a vision of making tech solutions available worldwide.