In our series of expert talks, Daniel Valdez, Business Development Manager at EPAM Anywhere Business, breaks down the top 10 red flags to look out for in a potential software development service provider, drawing on his 20+ years of experience working for international technology vendors and global production companies.
Hiring a software engineering vendor to expand the team's capabilities is a standard business practice for growth- and innovation-oriented companies. However, there is certainly a high price for mistakes when choosing the wrong vendor.
Some may provide high-quality software development services that meet or exceed your expectations, while others may offer subpar or downright terrible services that can outright harm your business. Depending on the scale of your project, this harm can vary from deadline delays to financial losses and damage to your reputation.
Identifying the red flags early on can help businesses of all sizes and industries avoid working with bad-quality service providers.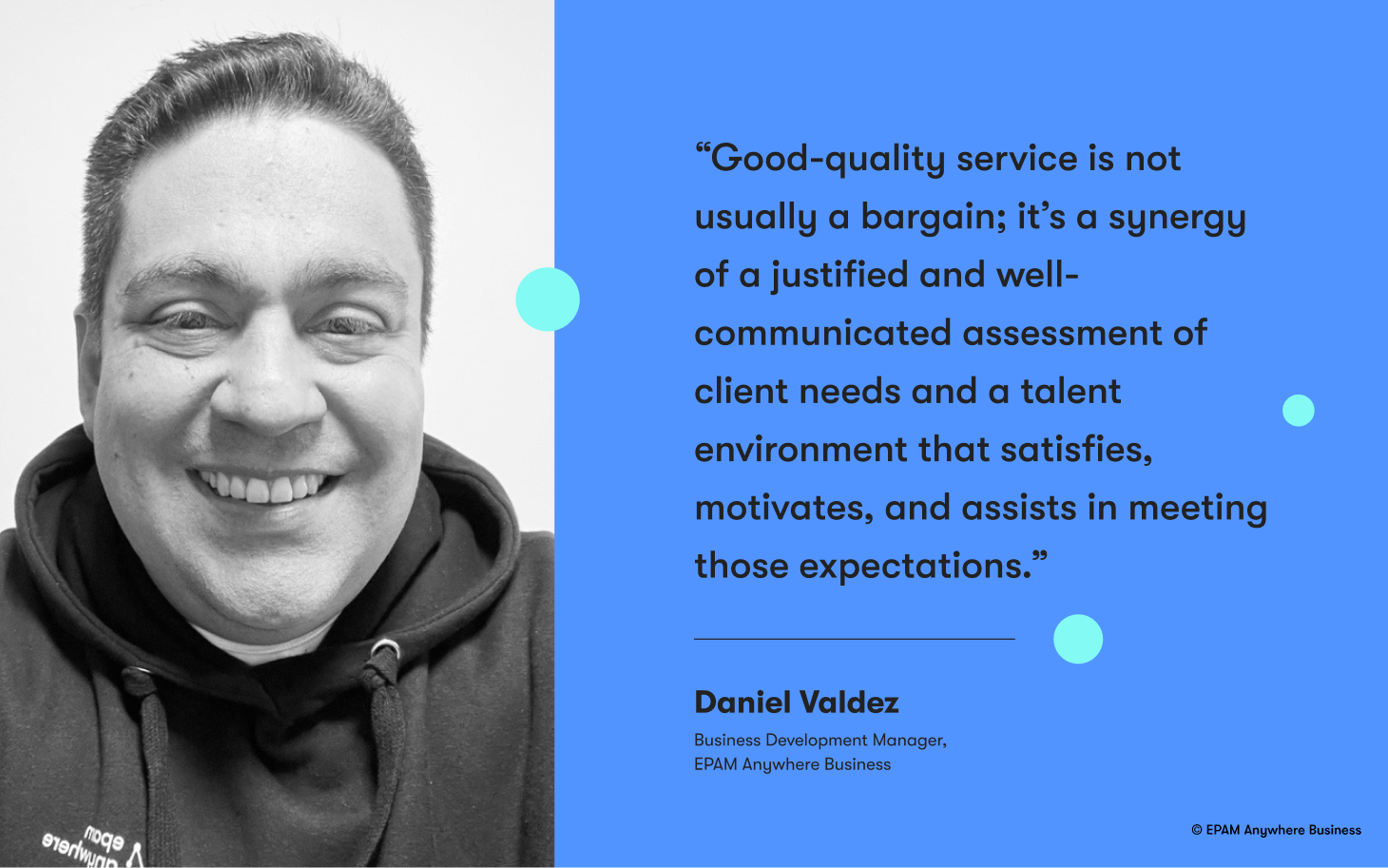 10 signs of a bad-quality vendor
The consequences of trusting a poor-quality service provider vary in severity. Working with a vendor lacking experience, resources, or motivation may cause a struggle to complete work promptly or deliver on promises.
How can we identify the potential risks early?
Most surface-level research can help you filter out apparent substandard vendors. Examining their website might indicate the vendor's business practices well. After all, if you are hiring a software development team, shouldn't they have the resources to have a good web presence, with a functional website and customer case studies to show their results? Of course, a lack of this doesn't always signify a bad-quality vendor, but it should raise your suspicions and be considered in your decision-making process.
Alternatively, you can put your network to use and ask your connections in the industry for feedback on vendors that you are considering or get contacts for ones who have already shown great work. Regardless, it's best practice to be equipped with knowledge from others' experiences when looking out for the top 10 critical vendor red flags.
1. Unrealistic cost estimations
The service provider's cost estimation can make or break the partnership. It's important to note that both low and high prices in comparison to the market can signify the quality of service.
Conducting your own competitive research and understanding why prices fluctuate is crucial. Some vendors may offer lower prices due to the following:
Developers' location outside of North America
Junior developers, a major source of cheaper delivery
Underpaid development teams, which means unhappy teams
However, a higher cost of service doesn't always guarantee a better outcome. Indeed, excessive pricing can identify poor business practices, with exaggerated expectations for the money spent.
How we differ:
As a vendor backed with 30 years of experience in the industry, EPAM Anywhere Business has a transparent pricing estimation model that defines pricing based on the following:
Developer location
Seniority
Type of engagement
Good-quality service is not usually a bargain; it's a synergy of a justified and well-communicated assessment of client needs and a talent environment that satisfies, motivates, and assists in meeting those expectations.
FIND TECHNOLOGY EXPERTS FOR YOUR PROJECT WITH US
With our transparent project engagement process, you get access to a top team of tech experts. Book your free consultation to get started.
2. High employee turnover rate
Thanks to unlimited online resources, finding reviews and feedback on a potential collaborator is easier than it has ever been. Check employee reviews through sites like Glassdoor or see what employees, both past and present, say about their experience working at the vendor's company on LinkedIn.
You can also ask the vendor about their employee turnover rates during the initial call to get an idea of the work environment from the inside. A high employee turnover rate may present risks for your project, with developers potentially leaving mid-project and needing to account for extra time to find replacement developers.
How we differ:
With premium employee benefits and a supportive growth environment, EPAM quality talent behind EPAM Anywhere Business's projects shows low employee turnover rates. This allows our team to collaborate on both short- and long-term projects with the assurance of uninterrupted integrity and ownership.
3. Cookie-cutter solutions
Beware of vendors trying to fit your project into a box without considering your business's individual needs. Lack of project personalization is a big red flag for a vendor providing tech services.
How we differ:
Every project that our team takes on is customized to the business needs of our customers. At EPAM Anywhere Business, from the pre-sales stage and throughout the partnership, we propose original solutions through vast consulting expertise and attention to detail. We implement the industry's best practices and experience gained from delivering solutions to startups, SMBs, and Forbes Global 2000 enterprises internationally.
4. Surprise discounts
Surprise discounts — or as some in the industry call it, 'desperation' discounts — are prominent red flags when looking for a service provider.
Granted, not all discounts are bad, but if a vendor is open to giving you an unrealistic discount of 20, 30, or even 50%, you might want to back away to ask yourself how they can afford that in the first place.
The red-flag explanations for such generosity could involve:
Underpaid staff and talent
Overinflation of service price
Untrustworthy business practices
Don't let the affordable pricing fool you, as experience shows that redoing the project may cost many times more than reaching out to a pricier but high-quality vendor from the start.
How we differ:
A good-quality vendor, such as EPAM Anywhere Business, may offer up to 5% discounts for several justified reasons. Those can vary from returning clients to the scale of the engagement or referral programs.
5. Unrealistic expectations
Understanding how realistic the promised deadlines, pricing, and results are is a skill that needs to be learned. In project management, the Project Triangle model is the most surefire way to assess the success of any project.
The idea is that quality brings together three main pillars of a project: scope, cost, and time. To sacrifice one means to depreciate the overall project. As the saying goes, "Good, fast, cheap. Choose two."
Any given project can be expedited by increasing the costs or cutting its scope. Similarly, to expand your project's scope, you will need to increase the budget and extend the schedule. If a vendor overpromises on delivering all three without changes to the initial plan, it's a red flag to know not to trust your business with them.
How we differ:
At Anywhere Business, we put all our resources to use to optimize your project. Our clients get estimations of project cost, duration, and team composition that don't sacrifice quality while still ensuring that all project goals are met. Real quality rests on careful consideration of the project timeline and necessary resources, and that's exactly what we offer.
6. Disorganized processes
Meeting the potential vendor can show you and your team their quality as a service provider and bring to light several potential red flags. For example, if the vendor is disorganized or hasn't planned their presentation, it shows you that a similar lack of planning can result in bad-quality deliverables. In addition, disorganization can and should throw customers off on the initial call, and this can create a lack of trust in the provider, however reputable they might seem.
How we differ:
With an engineering excellence framework and as a publicly-listed global enterprise with well-defined standards, we bring enterprise-level services to every project we take on. With experience in handling project accounts of various sizes, we know how to organize communication, deliver documentation, and address process bottlenecks, if any.
SCALE UP YOUR PROJECT WITH A TRUSTED TEAM
Offering engineering excellence in 100+ tech capabilities, our expert developers, designers, analysts, and other professionals are available to join your team in 4 weeks or less.
7. Lack of communication
It's safe to say that vendors struggling to maintain consistent communication is a huge red flag. As a customer, you shouldn't be left hanging before a representative can attend to your needs, as a good-quality vendor should be constantly available to show support, guide, and inform. An unenthusiastic approach during initial calls or long breaks in communication should be a warning sign that this will be the communication model throughout.
How we differ:
Our client-facing representatives, from sales managers to delivery team leads, make it their mission to be as supportive and attentive to clients as possible. Creating personal and trusting relationships is critical to successful collaboration and setting a precedent for returning customers. That's why Anywhere Business's delivery teams are always available to tend to new requests, answer questions, and provide updates.
more on the remote collaboration culture:
8. Limited business locations
While not the worst of red flags, limited business locations can be a significant setback for a customer reaching out to a vendor. In addition, with limited developer locations, a service provider deprives clients of agility in pricing models and time zone overlaps with their in-house teams.
How we differ:
Through EPAM's offices, EPAM Anywhere Business has a presence in 50+ countries, allowing for both pricing and schedule flexibility. This means we can ensure overlaps in the team's schedules and cover the time zones required by the project. Location flexibility can also cater to the client's language requirements.
9. No accountability
Quality control and accountability for the services provided are necessary for every vendor, regardless of size and scope. As a business reaching out for vendor services, you should take the necessary steps to assess all MSAs and NDAs presented to you. Assign knowledgeable legal representatives, and make sure everything is clearly stated beforehand so you can best support your business interests. Dropping a vendor mid-contract signing is okay if that's how you sustain your integrity and best interests.
Building the collaboration on mutual trust is vital; if a vendor is reluctant to do so, that's a red flag to not do business with them.
How we differ:
We at EPAM Anywhere Business have transparent contract processes and dedicated legal staff available to discuss our clients' needs and amendments throughout. Our teams take full responsibility for the quality of the code and service provided and are dedicated to delivering the best results.
10. Sales-pitch approach
As a client, you will navigate many vendors who will take on projects without genuine concern for your product or the business's success. The so-called 'sales-pitch approach' can be identified from the beginning when the vendor:
Doesn't show genuine concern for your needs or goals
Wants to sell more than help
Steers the conversation from your results to their own benefits
Vendors can display their sense of ownership over their services and interest in your business by showcasing real solutions from the get-go. If they fail to do so, that's a red flag right there.
How we differ:
Our team comes to the meetings having done complete research on the client, including their business, needs, and place in the market. Our clients have pointed out time and time again that we bring an 'army' to the initial calls to assess all the needs and answer questions from many perspectives, such as development, design, management, and so on.
"Most vendors took this opportunity as a sales opportunity, but EPAM took it from a technology angle. They partnered with us to understand what we're trying to accomplish from a technology standpoint, not just a business commercial perspective."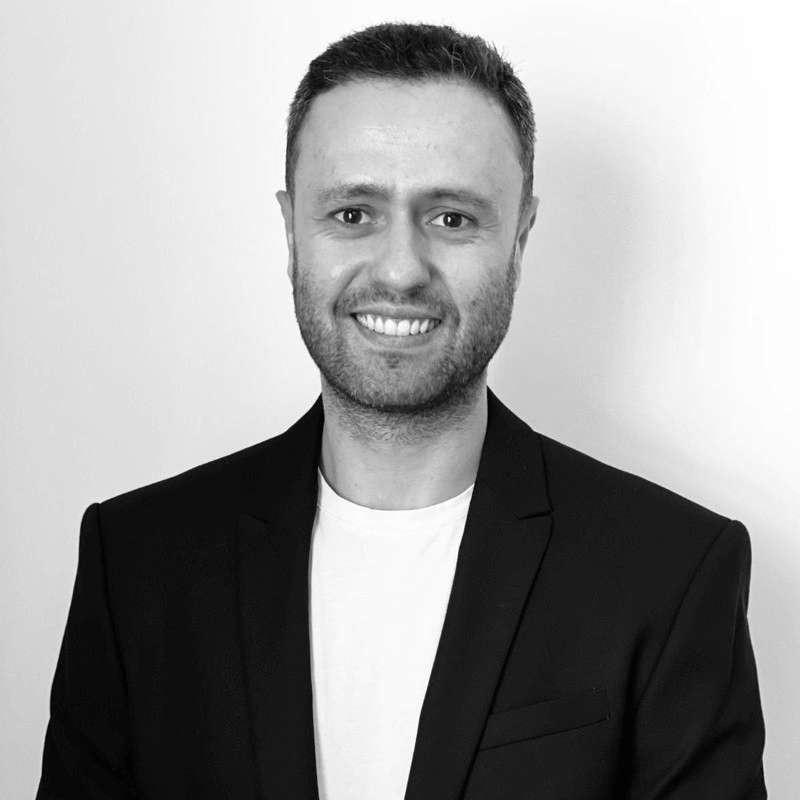 While identifying bad-quality vendors is a skill that will lead your business to a successful collaboration, always be on the lookout for good quality instead. Some hacks that many experts in the industry use have proven helpful for quickly assessing the state of a vendor's business.
Check their Career page to see who they are looking for and if they are actively hiring. If so, the business is going well, they are secured with returning and new clients, and you are likely to find a trustworthy business partner in that vendor.
Don't forget to research: Look at their reviews, existing projects, client testimonials, presented case studies, and so on. With all this information secured, pay attention to how they present themselves during initial calls. Does what they bring to the table excite your interest?
Finding a good-quality partner in an oversaturated market can be complex, but carrying out a comprehensive investigation to find the best partner for you will be rewarding and beneficial for you and your company for many years to come.
Start your journey with a vendor you can trust
EPAM Anywhere Business is a trusted partner for international startups and SMBs who have already started their success journey with us. Regardless of your company size or industry, our hub of 50K+ committed experts is there to develop your projects from start to finish and involve all the technology stacks you need.