The COVID-19 pandemic and the global lockdowns that ensued became the catalyst for multiple developments across the entire healthcare and wellness industry. Stress, sedentary lifestyle, overeating, limited access to high-quality fresh produce and medical services, and other factors eventually made people start paying more attention to their health and adjusting their lifestyle.
One of the main growth drivers in the healthcare tech industry over 2020-2023 was the wearables category, with current forecasts placing the sales of smart devices in the ballpark of 380 million units by 2025. This market segment is steadily growing, so the purpose of this article is to take a closer look at its internal dynamics and the prospects of using wearable devices in the healthcare industry.
If you are a medical professional with a long-nurtured concept of a healthcare product or a startup founder that has been waiting for the right moment to pitch an idea of an innovative wearable to investors, now's the time to do it!
Read on to learn why wearable healthcare tech is so important these days, what the market looks like, and what kind of resources you may need if you decide to move forward with your project.
Market Overview of Wearable Technology in Healthcare
At some point in the past, it seemed that mobile phones with their all-in-one functionality had killed the wristwatch, but healthcare wearables helped it make a powerful comeback in an astonishing variety of shapes and forms. The market is now rife with smart watches with health monitoring functions, compact and lightweight wristbands with built-in health sensors, high-tech rings packed with an array of highly sensitive sensors, and other intelligent devices.
Market Size of Healthcare Wearables
The illustration below provides some indication as to the size and accelerating growth of the global market of wearable health monitoring devices.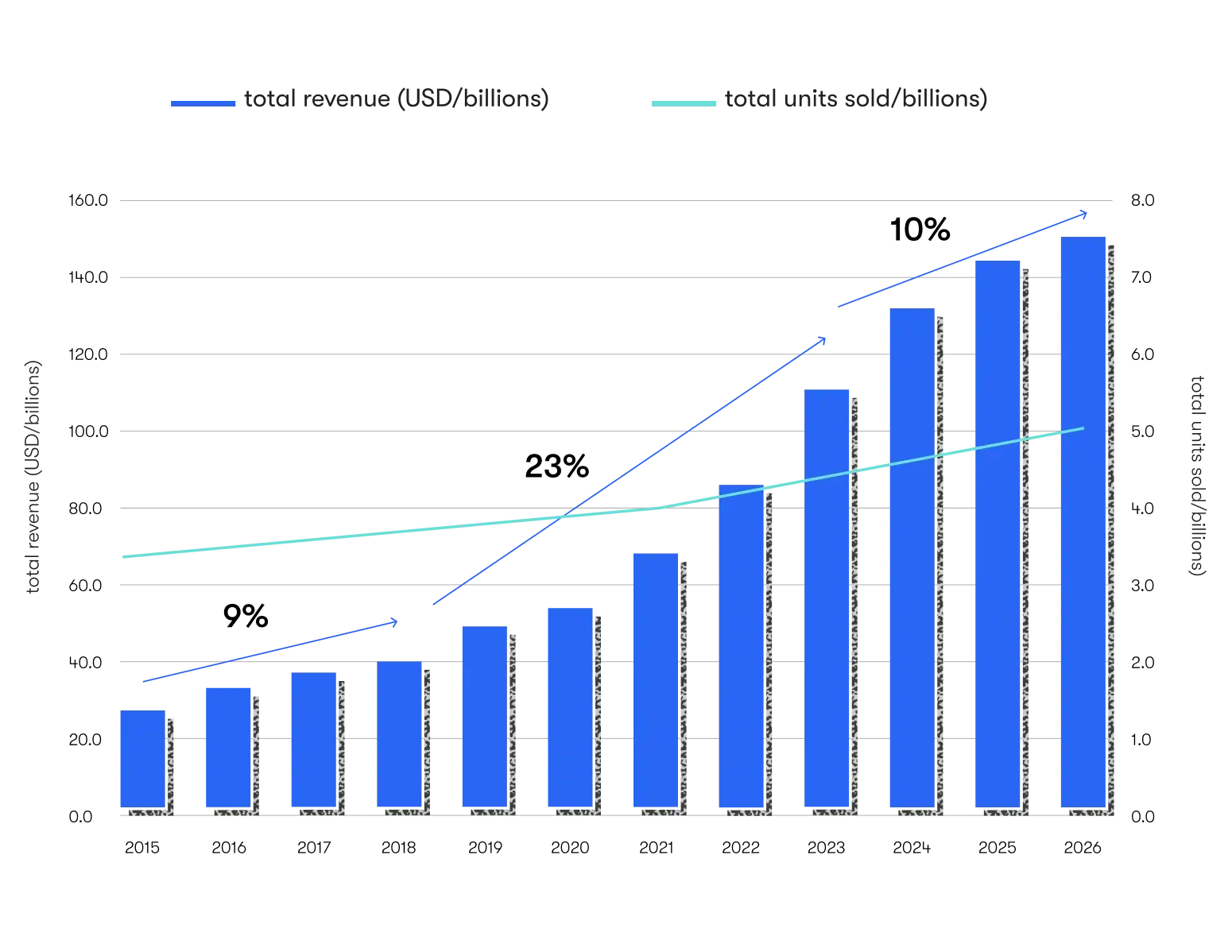 Some of this upward movement can be largely attributed to the expected rise of the number of Android-based health wearables. For years, Apple had dominated the scene with Apple Watch and its Apple Health platform, while the highly diverse Android market lacked consistency and a sufficient number of high-quality wearable health devices. However, the situation is rapidly changing, thanks to the efforts of such industry giants as Google, Samsung, and their partners.
The spiking demand for wearables has given birth to a booming market, which is why countless healthtech companies, major insurers, medical institutions, and other relevant market players are looking for ways to effectively supply wearable medical technology to their consumers. This approach includes furnishing devices, healthcare applications, and important integrations with patient portals and other medical software systems.
Impact of Wearable Technology in Healthcare
What specialized medical wearables and mainstream health and fitness products did for the entire industry was moving medical sensors from hospitals to patients' wrists. It was a very important step from ad hoc check-ups to continuous patient monitoring and subsequent treatment based on historical data.
When patients visit doctors at clinics or hospitals, their vitals are typically checked at least once per visit, and often several times during a hospital stay. With smart wearable medical devices (wristbands, patches, etc), doctors are now also able to remotely monitor and visualize changes in a variety of important parameters, often in real-time:
Blood pressure
O2Sat level (blood oxygen)
Heart rate
Atrial fibrillation
Blood glucose level
Physical activity level
Having immediate access to the history of those parameters enables clinicians to develop more effective and personalized treatment plans for chronic conditions and prevent their worsening in advance. The illustration below shows doctors' preferences in terms of medical data acquired from healthcare devices.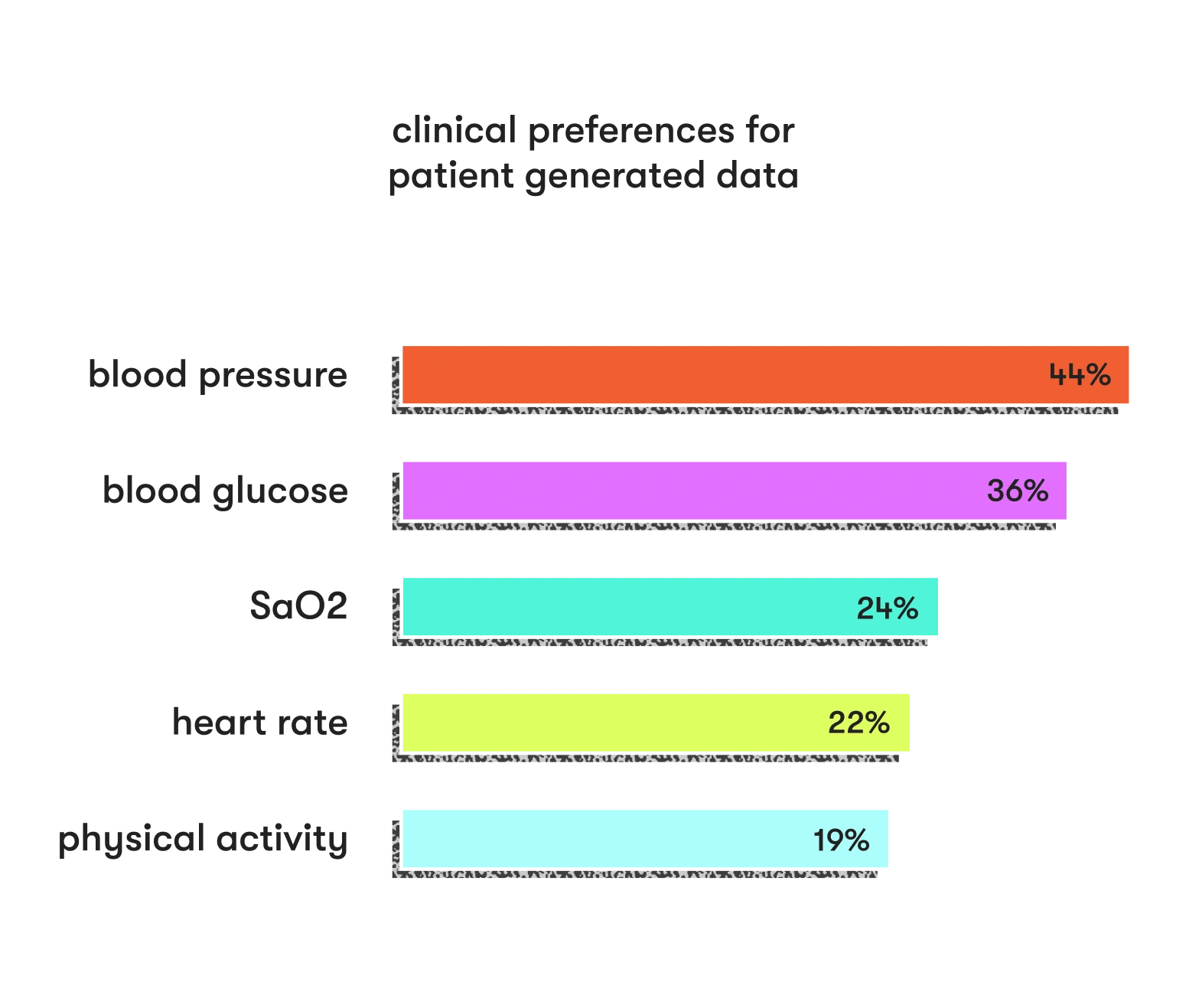 Thanks to the powerful positive effect for patients and doctors, the demand for healthcare wearables is soaring and the number of device types and associated services is multiplying by the day — check out the "Examples of Wearable Medical Devices" section below.
Upcoming Wearable Technology Niches for Startups in 2023
The trends for 2023 will largely remain the same, with more original wearable products to be released and approved by corresponding authorities for use at medical institutions and across the healthcare industry. However, the focus is likely to shift from just capturing and providing data to the cloud to correctly interpreting the metrics locally for fast and sufficiently accurate preliminary diagnostics.
This shift will be possible thanks to the use of AI and ML algorithms that will self-improve by training on streams of digital health data coming from wearable devices. This will enable users/patients to quickly assess their condition (for example, in case of intensifying hypertension or arrhythmia) on their own and then make a decision regarding a doctor's appointment or an emergency call.
Similar AI algorithms will be increasingly used to power computer vision applications capable of recognizing all types of skin formations and potentially detecting early signs of skin cancer.
Today is a great time to launch a healthcare startup based around a singular innovative wearable concept or an entire ecosystem of connected devices and intelligent cloud platforms that can be further integrated with larger EHR/EMR systems. The demand for such services and products is high, and remote patient monitoring systems will play an increasingly important role in the medical industry.
The implementation of such complex concepts will require a great deal of relevant in-house expertise of the involvement of competent medical mobile application developers who have enough hands-on experience working with multiple health tech devices, platforms, and service providers.
Examples of Wearable Medical Devices
Thanks to the ongoing miniaturization of hardware components and optimization of their power consumption, today's wearable medical tech is far more advanced than it was some 10 or even 5 years ago. Let's take a look at some examples of notable healthcare trackers that can be purchased now or will be available for purchase in 2023.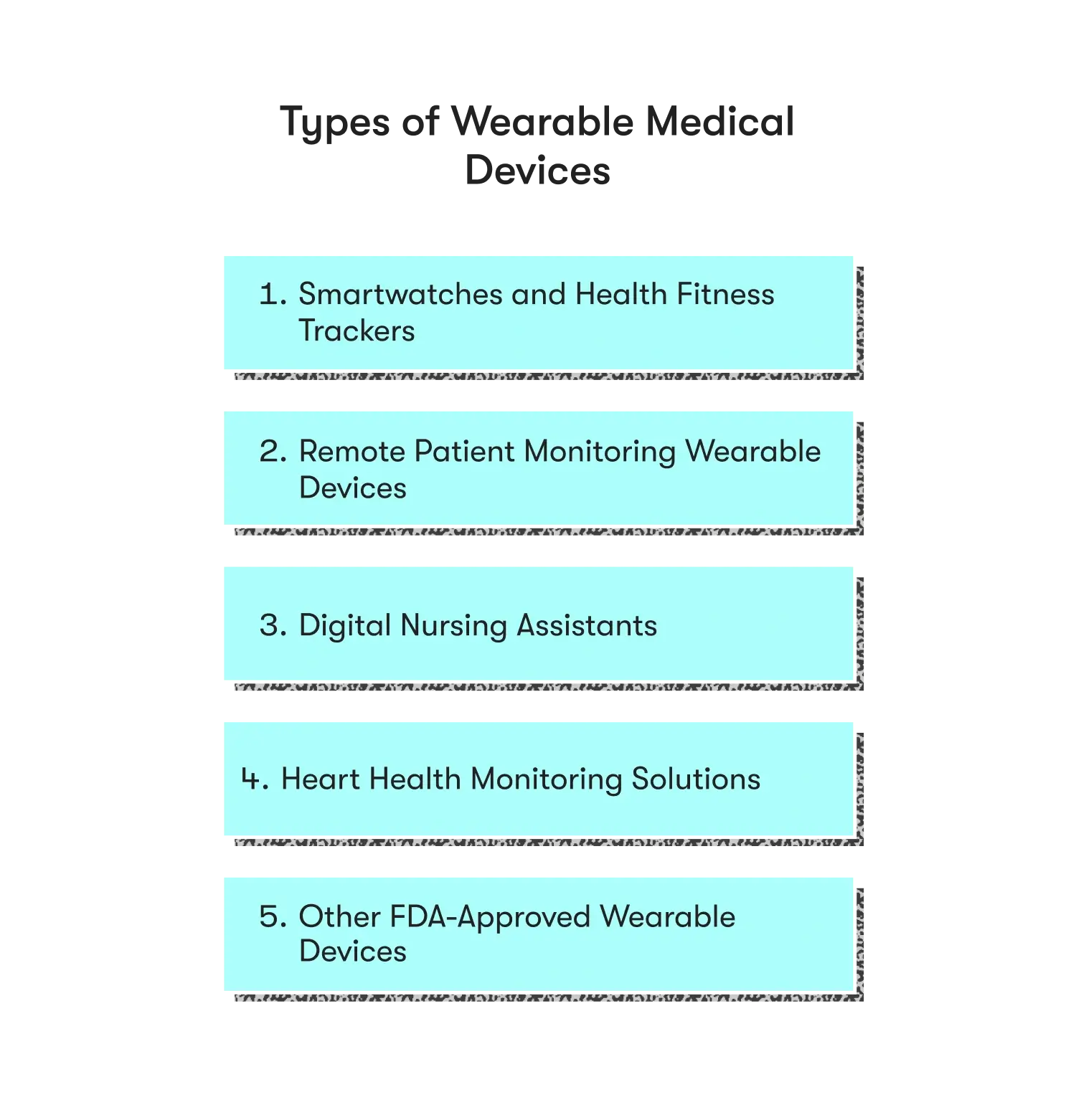 Smartwatches and Health and Fitness Trackers
With an estimated 40+ million Apple Watches sold every year, Apple currently dominates the market of smartwatches, with Samsung being the runner-up with around 8% of the global share.
The latest versions of the Apple Watch are equipped with accurate ECG and SpO2 sensors and are tightly integrated with the Apple Health platform that is being actively promoted by its influential manufacturer.
The list of other popular smartwatches with health-related features includes Fitbit Sense, Omron HeartGuide, Withings ScanWatch, Amazfit T-Rex, Fossil Gen 5 Carlyle Stainless Steel Touchscreen, Garmin Fenix 7S/7/7X and Vivoactive 3, Samsung Galaxy Watch 4 and a multitude of other models from less well-known brands.
In the fitness tracker category, the market is dominated by the following models:
Fitbit Versa 3
Fitbit Charge 5
Amazfit Bip S
Oura Ring Gen 3
Whoop 4.0
It goes without saying that the list of devices that are worth your hard-earned cash is a lot longer, but these select models offer an unparalleled combination of price, user-friendliness, build quality, and functionality that millions of consumers have voted for with their own money.
Remote Patient Monitoring Wearable Devices
This category of health data wearables is not mainstream, but covers products prescribed by a doctor or recommended by health and wellness professionals. It comprises commercial and personal-grade wearable devices to constantly monitor the health conditions of "connected" patients and their vitals, keep track of their consumption of medications, track sleep patterns and facilitate the recovery phase for post-op patients.
This category is extremely diverse and ranges from thin connected "patches" that monitor a single health parameter to fairly complex systems that include arrays of sensors for comprehensive remote monitoring of the patient's health.
Some examples of medical monitoring devices bringing true innovations to consumers:
Product description from the official website:
Neteera 130 is a Digital Nursing Assistant providing better remote patient monitoring both for the crisis ridden healthcare system and home health. Our continuous, contactless, passive vital signs and bio-data monitoring solution eliminates the need for device manipulation, removal of clothing, and caregiver presence. Neteera's technology is a maintenance-free, radar-based solution that is non-intrusive as it does not rely on images.
Product description from the official website:
Cardiomo is the cutting-edge, powerful and easy solution for monitoring heart health in real time. Our non-invasive wearable technology keeps clinicians and loved ones in the loop about a patient's heart condition by providing an up to the minute data dashboard and alerts system when unusual behavior is detected.
FDA-Approved Wearable Devices
Receiving formal approval from the Food and Drug Administration is a sign of safety, quality and applicability for the consumer market. Below are some examples of companies and healthcare devices that have received a green light by the FDA in recent years:
WHOOP — a powerful and lightweight wearable that measures heart rate, heart rate variability, ambient temperature, and motion to determine an athlete's stress/fatigue level and recovery status.
NeuroSigma — the producer of Monarch, a unique external Trigeminal Nerve Stimulation (eTNS) System intended for treating 7-to 12 years-old's suffering from attention deficit hyperactivity disorder (ADHD).
Philips Biosensor BX100 — a next-gen wireless/wearable biosensor-based solution to help monitor COVID-19 patients at hospitals.
DexCom — the company sells the Dexcom G6 Interoperable CGM, a continuous glucose monitoring device.
iRhythm (Zio Patch) — a smart patch that monitors heart rate activity for up to 14 days and combines high-precision sensors with AI for optimal results.
The Architecture of Healthcare Wearables
From a layman's perspective, modern wearables are nothing short of magic. Packed into super-compact, lightweight enclosures, they are based on powerful, ultra-low voltage chipsets with advanced connectivity and a wide array of highly sensitive sensors, including gyroscopes, accelerometers, ECG and oxygenation sensors, and many more.
On the software level, any wearable product consists of a physical device connecting either to an app on a smartphone or directly to the cloud through the user's WiFi router. This secure connection delivers data to a corresponding data processing service that forwards it to control applications as well as an assigned location for data storage.
Alternatively, data can be aggregated and stored locally, and then uploaded to a designated service once a secure connection is established. Once the data is in the cloud, it can be accessed by data analysts, external interfaces for various user types, and exported to external EHR/EMR systems.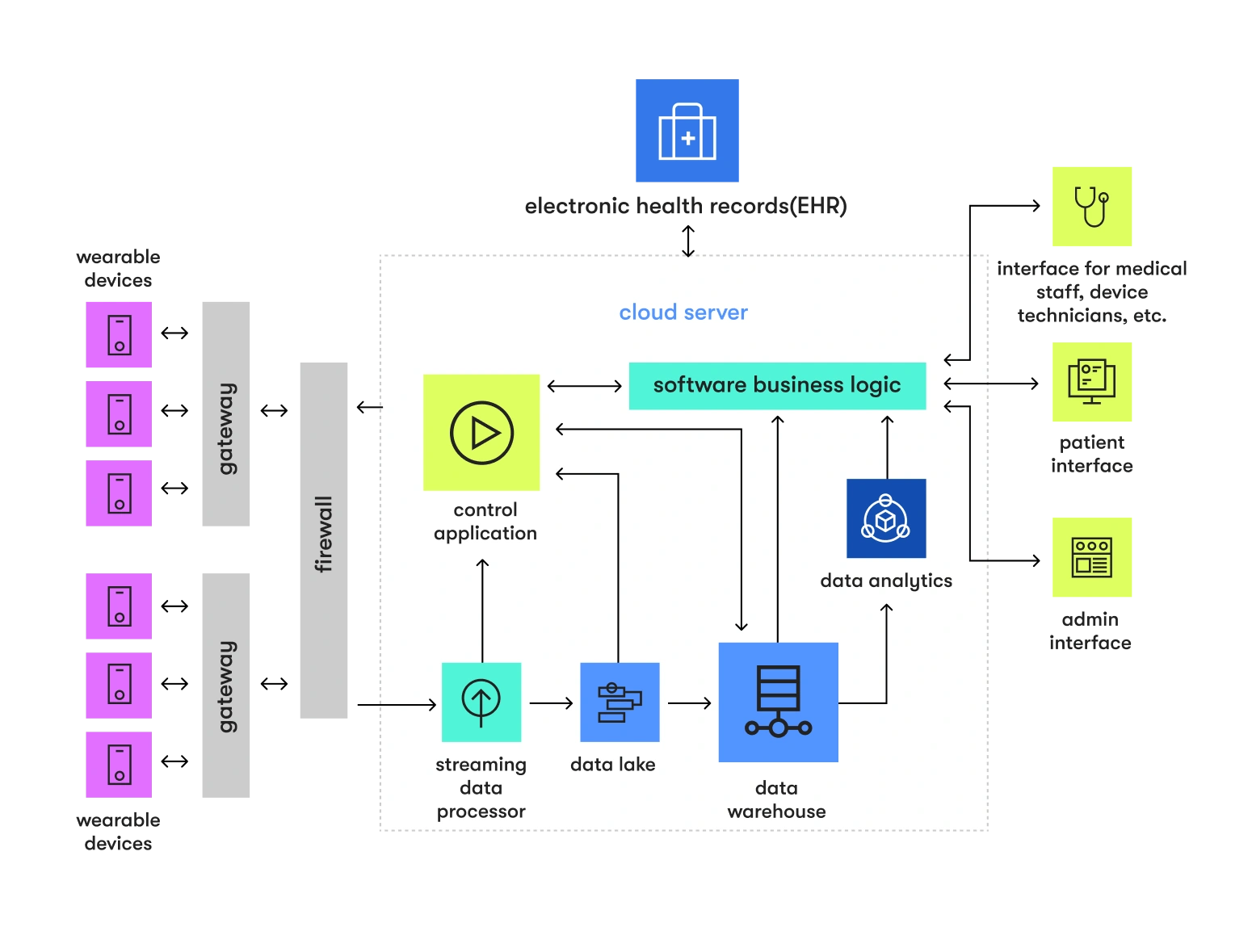 Application of Wearable Health Technology
The scope of application of medical monitoring devices is vast and ever-expanding in all directions. A very notable achievement of healthcare tracking devices is the creation of continuity in the process, or providing healthcare data to medical care facilities and clinicians.
This continuity offers a much higher chance of detecting both developing and immediate health issues. However, early-stage diagnostics is not the top advantage. The most important thing is that health monitors incentivize users/patients to lead a healthier lifestyle and check their daily/weekly/monthly results against set goals on a regular basis.
Although modern healthcare technology can help identify the first signs of serious illnesses well before they become irreversible, the key benefit for both doctors and patients is the round-the-clock access to the patient and preemptive patient care.
The Tech Stack We Use for Wearable Devices in Healthcare
Every modern health monitoring system can be effectively developed using any technology stack. However, there are a number of technologies that are most often utilized by custom medical solutions developers for building the software layer wrapping any digital device on the market.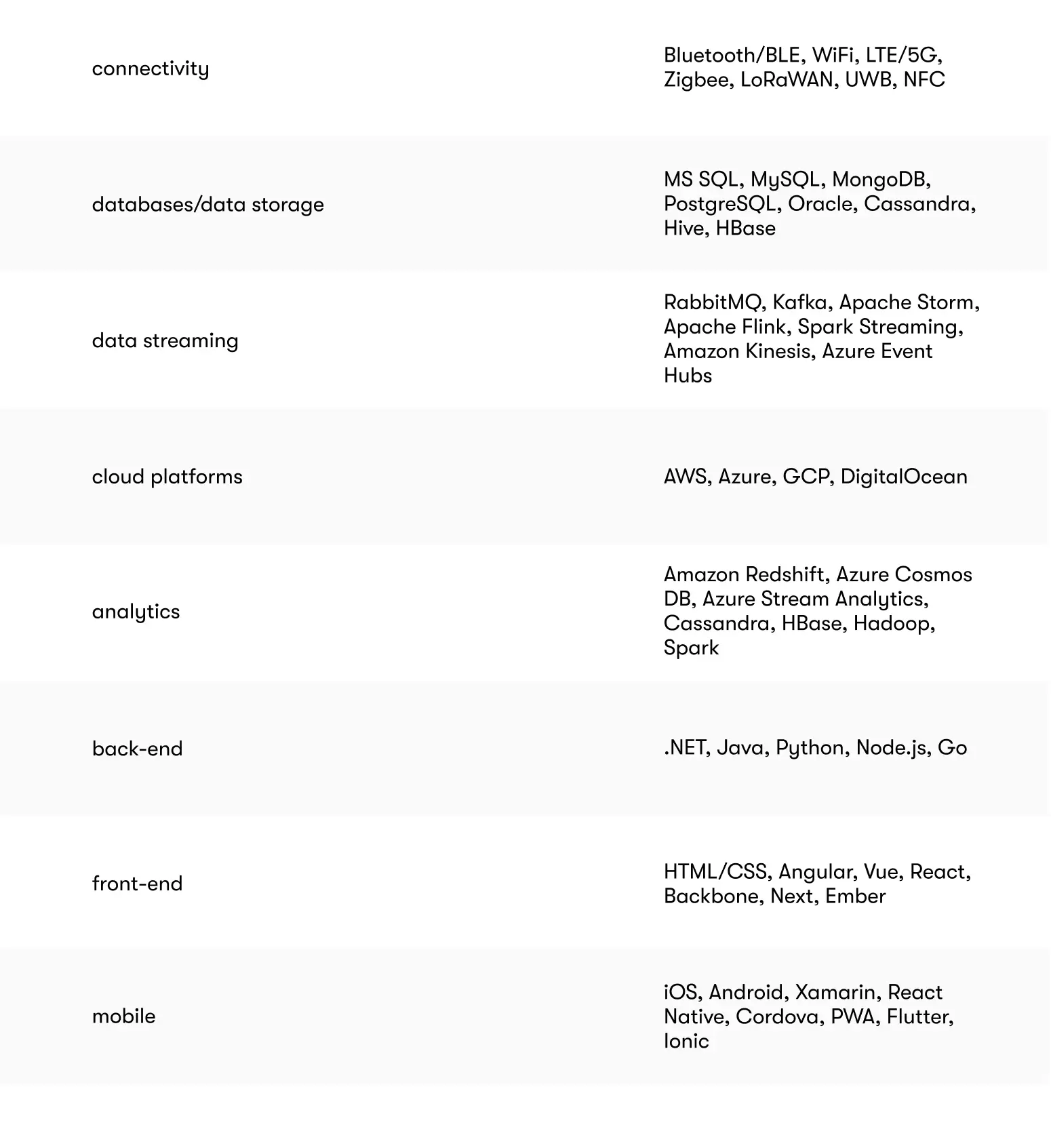 Experience of EPAM Startups & SMBs in the Development of Medical Wearables
EPAM Startups & SMBs offers a wealth of experience developing IoT solutions, as well as providing medical website design and development services. Thanks to the sheer size of our talent engagement platform, we are fully capable of designing, building and deploying health-focused remote monitoring solutions for the healthcare and wellness industry in general, and for its specific constituents in particular.
Insulet: Omnipod Management System

EPAM helped develop the Omnipod Insulin Delivery System, an FDA-approved, wireless, tube-free, disposable insulin pump featuring a remote Personal Diabetes Manager (PDM) module.

Virtual Health Solution for Clover Health

EPAM helped Clover Health develop and implement a clinical service console based on Salesforce, design and develop service pages, as well as a variety of digital communication channels for a wider market outreach.

Mindray, an advanced patient monitoring system

EPAM assisted Mindray in creating the V Series patient monitoring system designed to provide critical information and easy access to healthcare professionals in the most chaotic environments.
Wearable healthcare technologies continue to evolve at an impressive rate. From ubiquitous smartwatches and wristbands to intelligent implants, connected patches, connected medicine dispensers, smart rings, in-hospital monitoring solutions and multiple other types of wearable products, this promising category of healthcare products is rapidly changing the industry by delivering diagnostic tools directly to the patient.
Although the market is highly competitive, there are still multiple niches and product categories where newcomers can thrive and succeed by offering completely new products or taking existing product ideas to a new level. Startups entering the medical field today have a really high chance of success if their concepts and ambitions are backed by either their technical capabilities or partnerships formed with competent hardware and software development vendors.
EPAM Startups & SMBs offers end-to-end wearable device engineering services, pharmaceutical software development services, and general software engineering services for healthcare startups and established medical companies seeking to launch groundbreaking medical devices in the most cost-effective manner.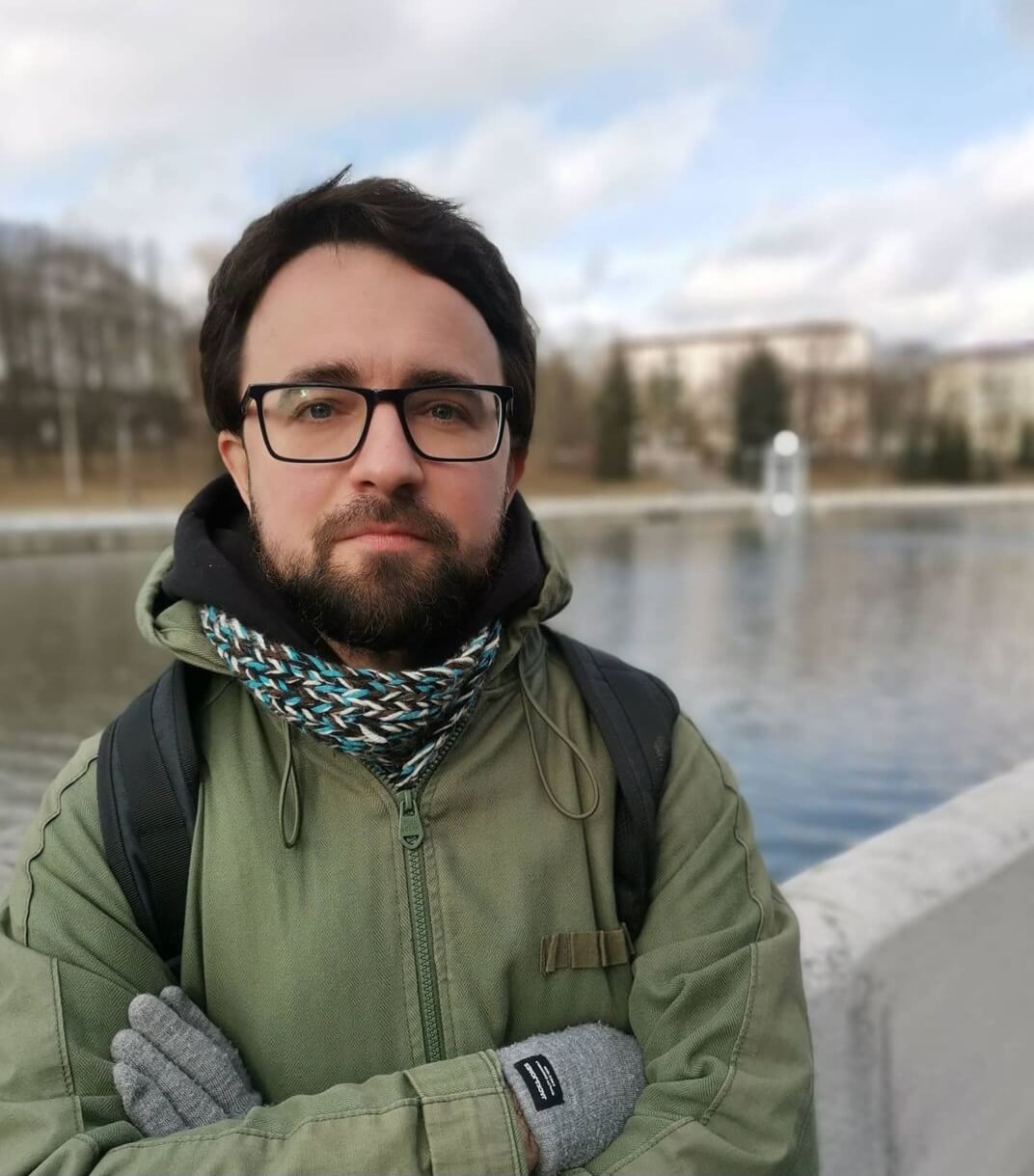 Written by
Since 2011, Dmitri has been helping business readers navigate the technology market through expert analysis and editorial work. At EPAM Startups & SMBs, Dmitri shows startups and SMBs across industries how to drive business value from their software engineering investments.
Since 2011, Dmitri has been helping business readers navigate the technology market through expert analysis and editorial work. At EPAM Startups & SMBs, Dmitri shows startups and SMBs across industries how to drive business value from their software engineering investments.