2. Data-powered decision intelligence
Businesses are pressured to continuously improve their processes using data and automation. As a result, the demand is increasing for professionals with the skills to decide how to address data management challenges.
As business analysts, we must start applying decision intelligence, a discipline that combines elements of social and management sciences, to help companies make better and more informed decisions.
The business analyst synthesizes end users, business, and technological development. Their unique insight and perspective enables them to guide decision-making, shape customer strategies, and participate in technological changes. These factors make the business analyst's role in digital transformation a crucial one.
Analytical skills are a must-have for successful data-driven organizational changes. IIBA reports that high-performing organizations saw a 65% ROI when engaging 190% more data-skilled business analysts.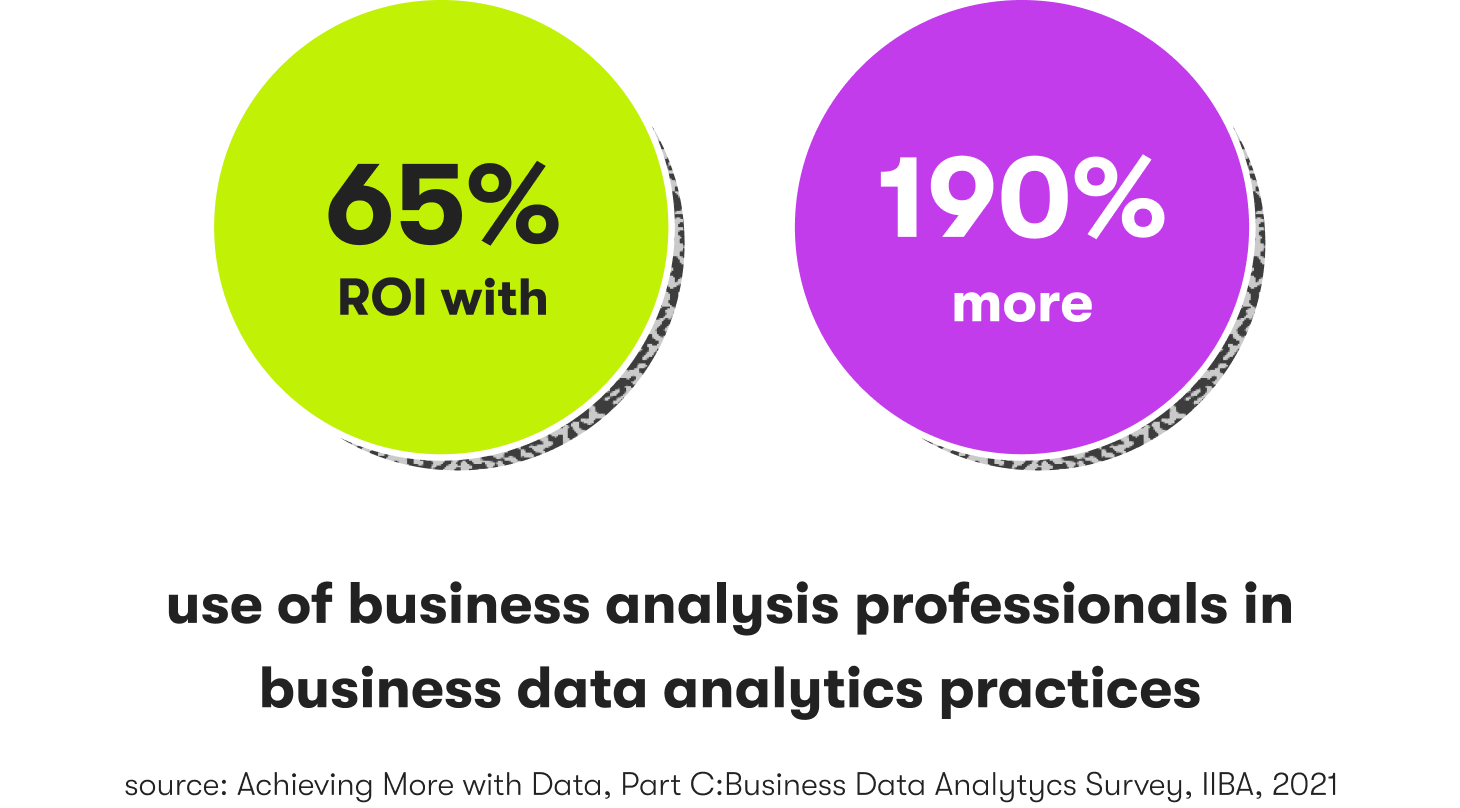 To ensure that our participation continues to add value, there are several technical skills that we as business analysts should develop this year to optimize our ability to extract, analyze, and share data trends with others. Among the most important are:
Statistical analysis software (e.g. R, SAS, SPSS, or STATA)
SQL databases and database querying languages
Programming skills such as Python and R
Survey/query software
Business intelligence and reporting software
Data mining
Data visualization
Database design
looking to land your dream job?
3. SAFe to lead the future
Companies, markets, and users are constantly changing. Agile must change in response.
Agile methodologies emphasize evolution as one of their key concepts; otherwise they wouldn't be so useful. They are adaptable to and designed to meet the demands of new environments.
As more developers familiarize themselves with project management tools, agile adoption and learning is becoming much easier. Because of this, companies are constantly seeking tools and solutions to improve their agile processes.
Companies that go agile are focusing their efforts on developing more user-friendly interfaces for the tools, which are known for their steep learning curve. Additionally, companies are increasingly turning to cloud-based solutions to benefit from the easy access and availability that this technology provides over locally hosted tools.
Agile methodologies such as the Scaled Agile Framework (SAFe) and Scrum (or the Scrum of Scrums) are the most popular ones globally, with SAFe emerging as a leader among many companies.
In contrast to the Scrum of Scrums, which is primarily focused on team level productivity improvements, SAFe provides a general guide to help improve productivity at the organizational level. As a result, Scrum is useful for smaller teams, while SAFe is better suited for large development teams. A further advantage of SAFe is that it works in environments where companies place a greater emphasis on results than on practice.
As a business analyst, don't hesitate to learn SAFe, because the time will surely come when you will have to scale agility in organizations that may involve more than 100 stakeholders.
4. Remote work facilitation
As a business analyst, you must ensure communication between colleagues and stakeholders, both remotely and face-to-face.
The value you can add is an understanding that goes beyond the technology platforms (Microsoft Teams, Slack, Zoom, etc.). Your role is about building trust in a non-contact environment, transforming the culture of clients, and helping facilitate remote collaboration without decreasing productivity. Additionally, you should focus your efforts on receiving requirements from all available sources instead of just a few.
The pandemic marked a "before and after" for remote work. According to Forbes, 70% of the US workforce will be working remotely at least five days a month by 2025. This will continue to change the future of business analytics as the needs of organizations transform with the rise of remote work.
As a facilitator and communicator, the business analyst is the lynchpin of digital transformation. Since many companies struggle to keep pace with change, business analysts must encourage ideas from a diverse array of employees and key stakeholders, read books on conflict resolution, and learn to maintain neutrality.
5. Multiple career paths to pursue
The evolution of the ever-expanding role of business analysts relies on the combination of digital skills, business acumen, and specialized knowledge to drive better outcomes across industries.
The impact of these evolutionary changes means that the typical business analyst role has branched out and now includes a variety of possible career tracks.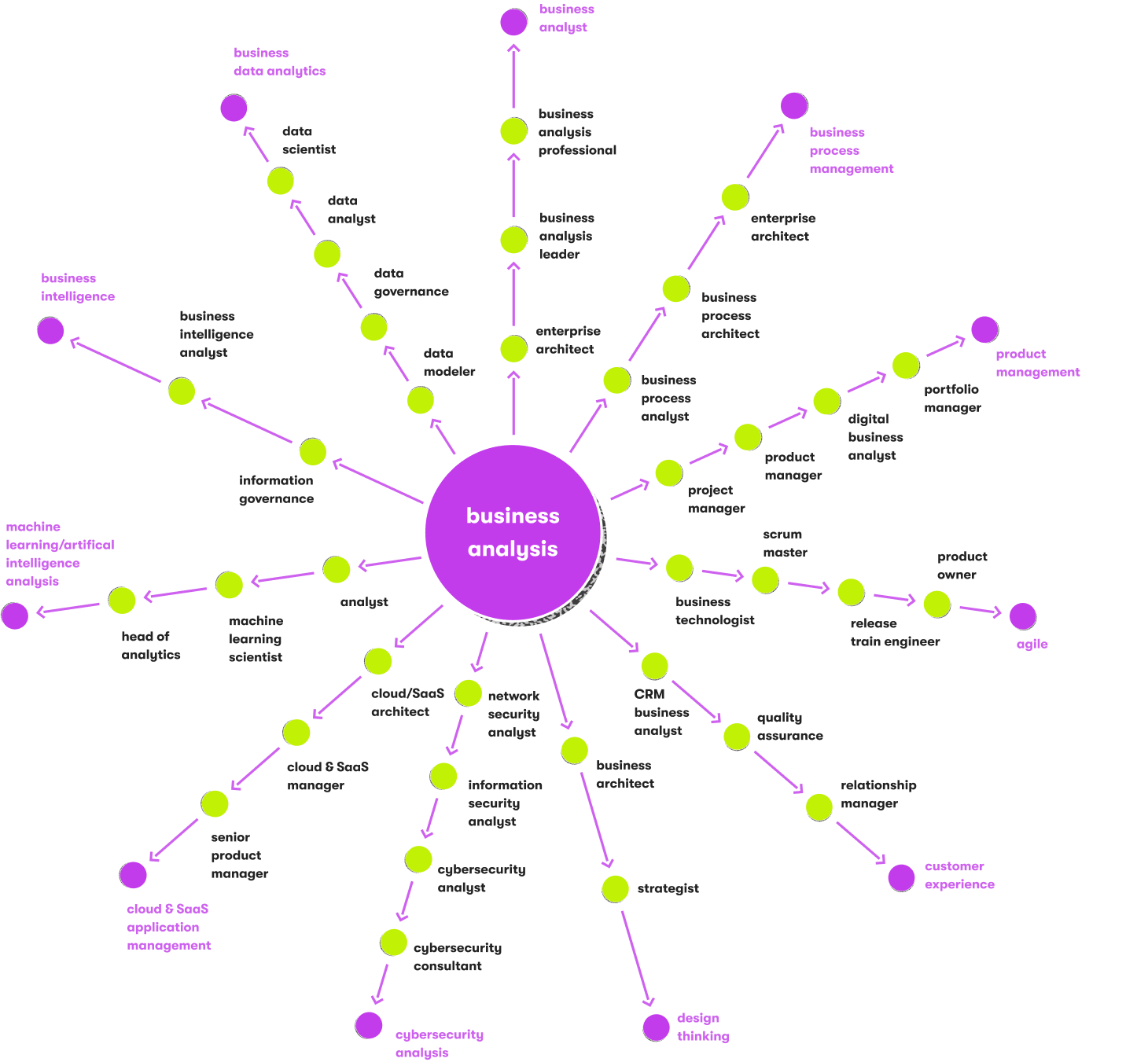 When choosing your primary specialization, it's important to answer this question: what value do you want to offer to your customers? Analyze the image above, and I'm sure you will have guidance to answer the question.
The future of business analysis
Before the data-driven economy took hold, business analysis might have existed in the shadows of many organizations. Now, business analysis integrates skills, technologies, processes, and applications that offer insight into data. Together with statistics, this helps market developers optimize revenue streams and better understand consumer behavior.
Businesses are increasingly incorporating and embedding technology into their practices. Integrating the strategic and technical aspects of the organization will be crucial going forward. Even as AI begins to dominate data analytics, it will be important for companies to have business analysts.
Moving forward, business analysts will remain responsible for translating requirements, designing processes, and then refining them. Coordination between internal and external stakeholders, as well as descriptive and interpretive skills, will be increasingly important.
Technical business analytics skills will continue to be crucial, and the social, interpersonal, leadership, and critical thinking skills will be required to maximize the impact of the business analyst role.
Business analysts need to embrace change
Keeping up with technological advancements provides business analysts with an opportunity to level up. Business analysts must be attuned to trends and developments, since the future depends on digital progress. The combination of critical thinking, research skills, technical knowledge, interpersonal skills, problem-solving, and negotiation skills, means that the role of a business analyst will continue to grow along with technology rather than against it.
Now is the time to embrace change and adopt the business analysis mindset, rather than focusing solely on the skills or tools being used. Let's highlight the added value that business analysis brings to our teams. Let's focus not on the job title, but on the impact we have on our organizations.
Wrapping up, there are three things to keep in mind to evolve as a business analyst. First, start by going to the root of business problems to find the appropriate solutions. Second, determine the criteria for success, so clients will understand what success means in a given context. And finally, be aware of cultural changes to be agile.