Considering the complexity of software engineering, businesses need an expert who can provide effective solutions to ever-present challenges.
Every project decision or client request involves a series of trade-offs that balance work speed, quality, and efficiency. Teams need a leader who can define and guide the execution of the most appropriate solution for each project.
Enter the solution architect (SA), now an indispensable and valued role. SAs are the technical problem solvers and team leads that deliver IT solutions. Not surprisingly, they are in high demand, commanding a salary of up to $200K in some cases. With the overall growth of the technology industry, the solution architect position has become a top-rate software engineer career path, offering high salaries and generous benefits.
Are you interested in becoming a solution architect? Read on to learn more about the role and how you can pursue the solution architect career track.
What is a solution architect?
A solution architect is responsible for the evaluation, design, and implementation of IT solutions in response to specific business demands. For a business with numerous complex technical objectives, your expertise and talents help a project proceed at peak efficiency. Using the different solutions and automated business processes that an SA provides, enterprises increase their revenues and reduce operational waste.
A solution architect has direct input on the overall technical vision of a company and its future product architecture. You spend your days considering efficient builds, client requests, and the minimization of other issues that may arise. Problem-solving (both short- and long-term) is a critical aspect of the solution architect job description.
The solution architect's task is to understand the business as deeply as possible; the result of his or her work should be a solution for each specific client and their specific business problems.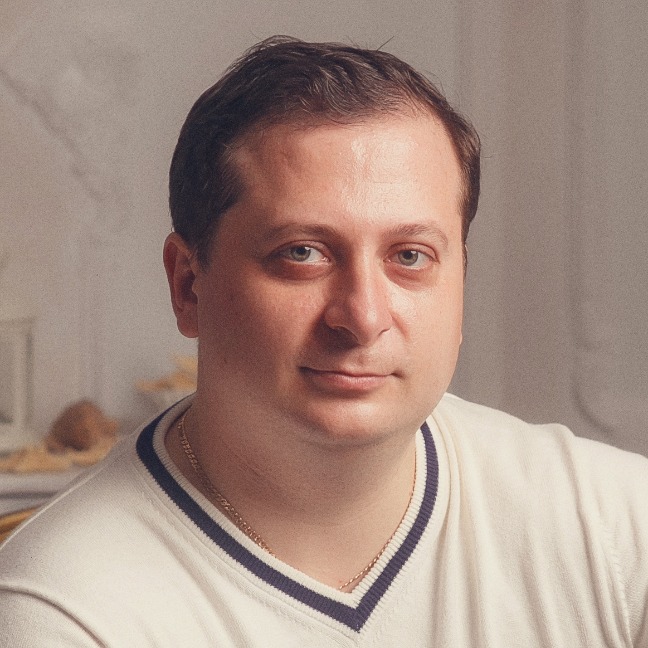 The designated role of a solutions architect is a relatively new concept. Previously, senior-level developers or a single competent engineer handled SA responsibilities. That forced employees to wear multiple hats and work as a programmer, project manager, and problem-solver. In practice, that led to less than ideal project outcomes.
As businesses expanded their IT departments, it became apparent that developers would benefit by having fewer solutions-based responsibilities. Those responsibilities now make up the solutions architect role.
Compared to developers, who focus on technical details, architects think on a more abstract level. SAs approach problems with the big picture in mind and consider the interaction of solution components (e.g. applications, web services, etc).
Solution architects must also have extensive technical skill. Even with an orientation toward client interests and large business operations, there are instances in which a technology-first perspective is necessary. SAs operate in a combined role, a position ideal for those seeking a mix of technical development and leadership growth.
While a solution architect and developers work on different elements of a project, they work collaboratively. The architect is aware of code details, but puts more focus on problem evaluation and solution creation. The developers know the coding details and execute the solution that the architect devises. These are two different jobs that work in tandem.
Solution architect responsibilities
What does a solution architect do? Most SAs engage in a range of different daily activities, that include:
Conducting team brainstorming sessions to resolve urgent problems
Identifying business operation inefficiencies that require upgrades
Establishing testing requirements
Identifying business IT areas that underperform
Developing IT implementation strategies
Scaling solutions that optimize business function
Offering insights into high-level strategy
Communicating changes or adjustments to all stakeholders
Creating solutions in tandem with development teams
Outlining timetables, deadlines, and integration schedules for projects
Reviewing technical and product design
At EPAM Anywhere, a solution architect's job responsibilities are broken down into five distinct seniority levels. Each level incorporates various technical and business requirements.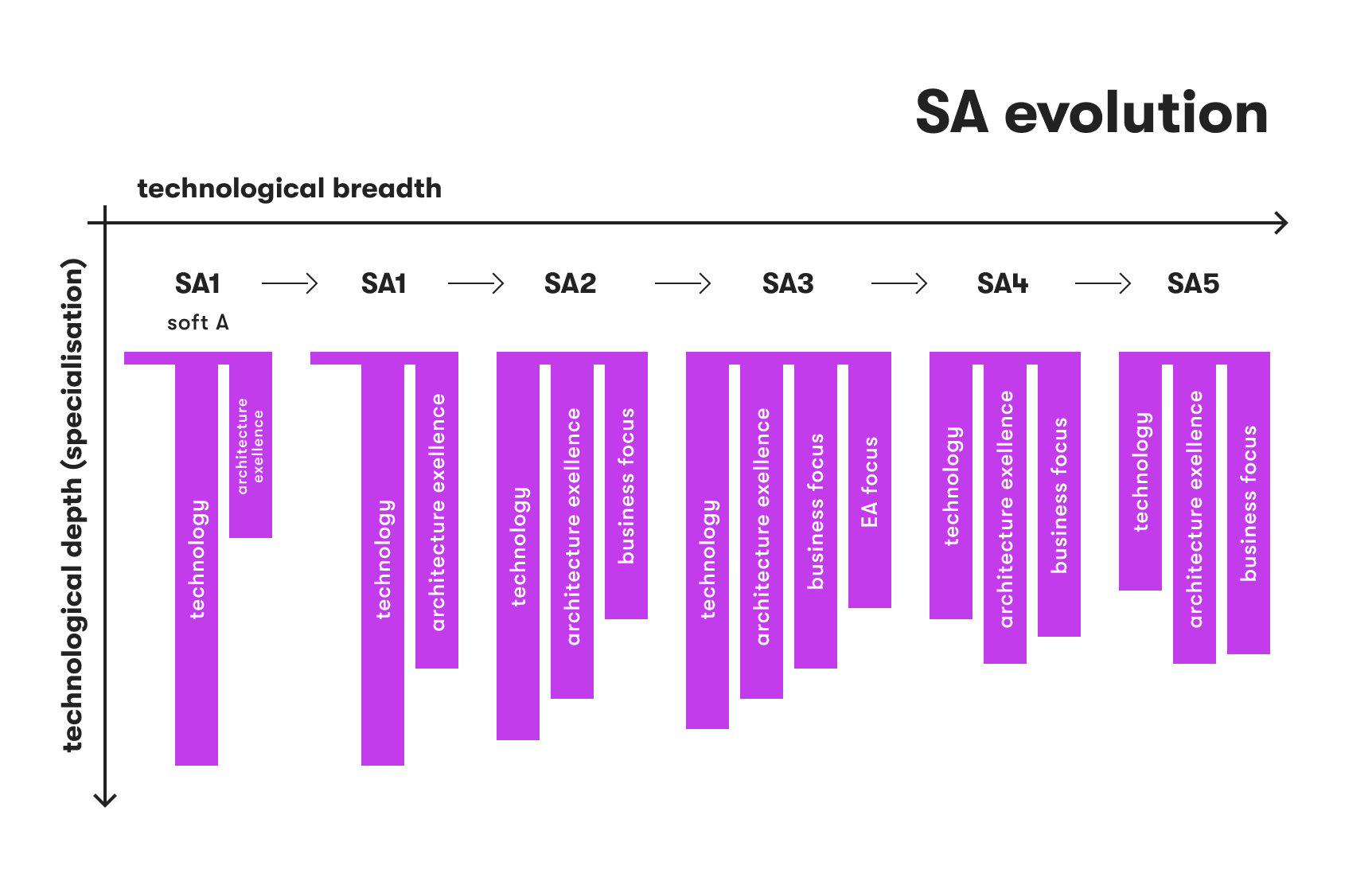 For example, a level 1 software architect will have: a basic understanding of architectural theory; a track record with client-facing projects; expert-level skills with Software Quality Control processes; and the ability to make architecture for a small data platform. By level 5, a software architect should have: at least five completed enterprise architecture builds; several architectural certifications (TOGAF, ITIL, SEI); and be able to develop an entire IT strategy for a company.
The breakdown of requirements for each level offers you valuable information about how to become a solution architect from a developer position.
There is immense opportunity for your development within the solution architect career path. By focusing in that area, you can participate in an evolving leadership position that will increase your technical abilities and your business skills.
Other types of architects
Typically, the higher up you move on the individual architect ladders, the more focus there is on strategy input and long-term decision-making (at the expense of technical activities). By the time you reach Level 5 SA, enterprises call on you for your IT vision and management skills, even if you are also highly proficient as a software engineer.
There are other variations of solution architects that involve nuanced responsibilities:
Enterprise architects: An enterprise architect creates and maintains the architecture of an entire enterprise.
Systems architects: Systems architects build solution infrastructure and govern deployment maintenance, often via cloud infrastructure services and other technologies.
Quality architects: Quality architects prepare testing strategies and determine management best practices for product quality.
Career tracks to the solution architect role
The solution architect role is a logical next step for a lead developer. As an SA candidate, you need substantial technical knowledge, a track record in management, and high-level decision-making skills. It's equally important for architects to demonstrate exceptional leadership and communication skills, since you are the primary link between an engineering team and company stakeholders.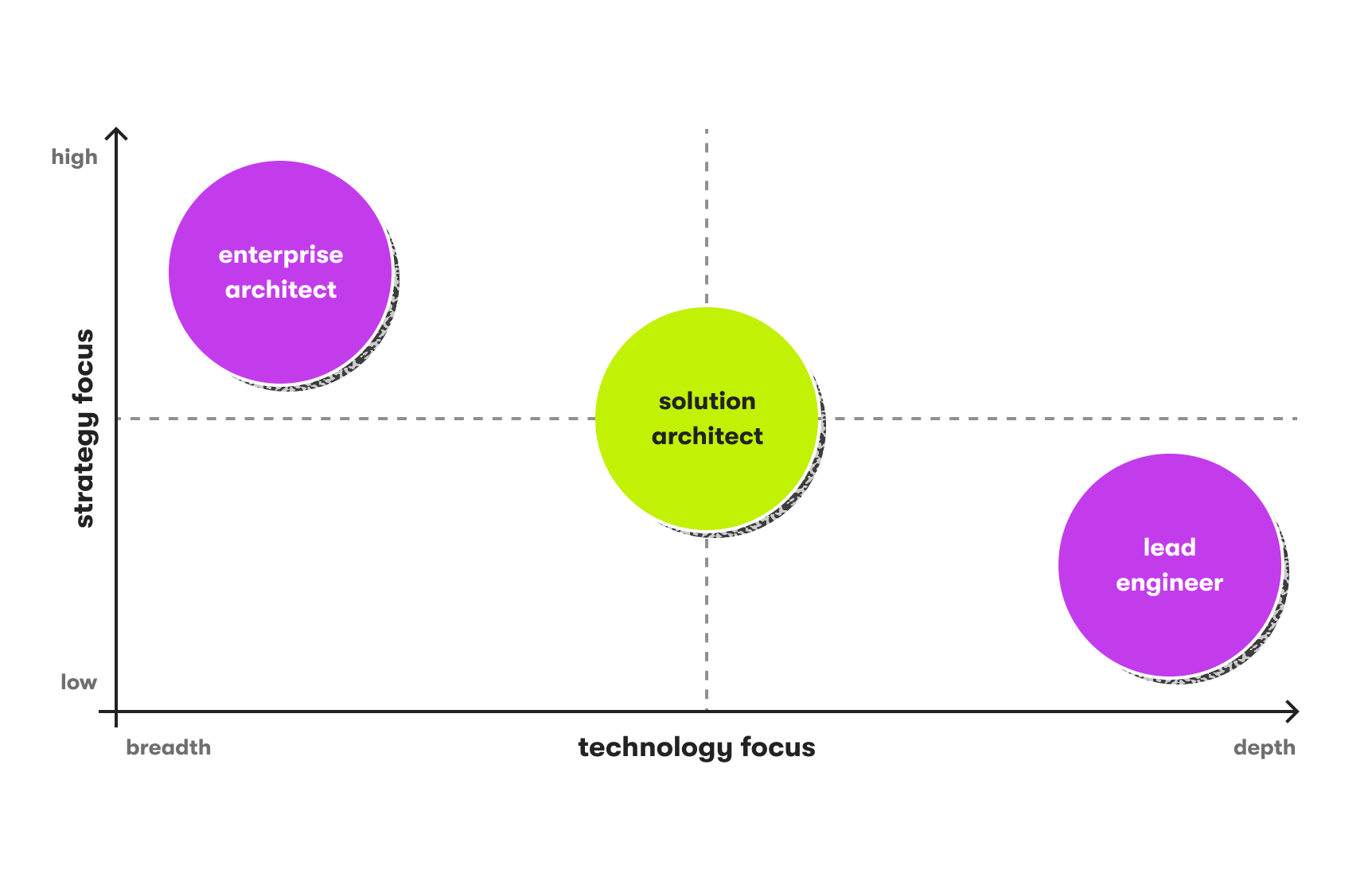 Other professionals, such as business analysts, delivery managers, project managers, and automation testers, can also transition into a solution architect career.
You should be aware that companies have high expectations for SAs because of the extensive costs associated with errors at that level of responsibility. A programming mistake made in a single component has a quick fix, while the wrong technology or a sub-par architecture choice can result in tremendous losses for a business.
For any career path in software engineering, you must invest in your education. The majority of solution architects have a Bachelor's degree, and approximately a third of them also have a Master's degree. Most architects have at least eight years of direct experience in IT, with extensive professional development credits. If you seek out continued education opportunities, you can be well on your way to a career as a solution architect.
Anyone who wants to become an architect must have a desire to create, to build. That's not a skill you can develop, but an inner need you either have or you don't.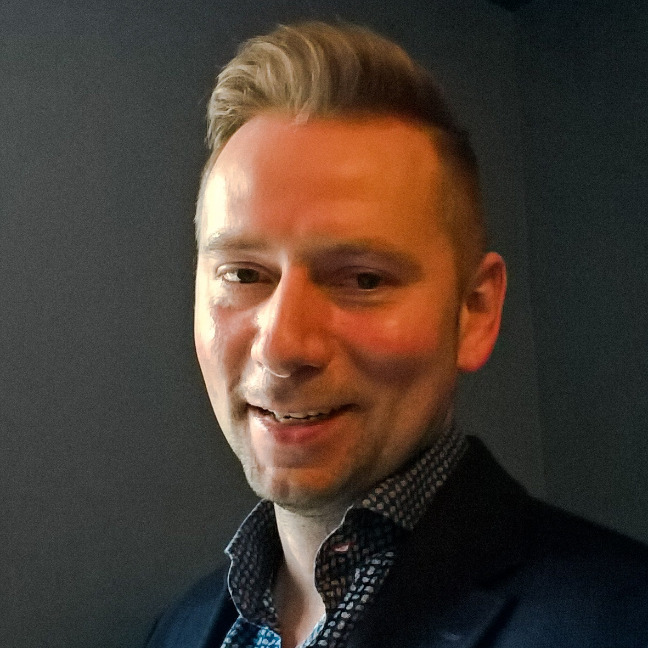 Education programs to explore at EPAM Anywhere
To help shape a unified understanding of the solution architect career track, EPAM has created an architecture-specific competency center. All education courses are based on current client requests, industry best practices, and known internal procedures. It is an ideal way to prepare yourself for the solution architect career track.
First, consider joining EPAM's global Solution Architecture community, which is available to external members. As a member, you can:
Access our vast education library
Watch our past talks
Register for the upcoming events
Keep up with the latest architecture trends
Network with members from around the world
Hint: You can also find help preparing for your EPAM Anywhere's solution architect interview questions.
Educational programs available to our in-house solution architects include:
Solution Architecture Basics Intro Course: The course includes information on professional growth and career advancement, connects you to useful contacts, and provides guidance for adapting to the company. In addition, you will be warmly welcomed by our Global Solution Architecture Team, a group of experts working in the SA discipline. The team acts as an educational programs coordinator and provides consultancy services to our colleagues and customers.
Solution Architecture University: This three-level program helps senior architects systemize and update their knowledge. Upon completion of the program, students are certified by the Software Engineering Institute, IASA Global, and EPAM's other partner associations.
Solution Architecture Mentoring: The mentoring initiative connects you with seasoned architects, technical directors, and company CTOs. Mentees are engaged in client negotiations and work on real projects under a mentor's supervision. The program helps you advance in your profession as a solution architect.
If you want to grow to a solution architect at EPAM Anywhere, check out our remote Senior Software Developer jobs and apply! Your dedicated Skill Advisor will be there to facilitate your career development and help you meet your professional goals. You'll also get access to a wealth of our learning resources, including all the courses in Solution Architecture listed above. Join us!
Thanks to Dmitriy Gurskiy (Principal Solution Architect), Uladzimir Kazakevich (Director, Solution Architecture), and Veronika Kobzeva (Program Manager, Technology Programs) for their contribution to this guide.
This article was originally published on February 5, 2021 and updated on April 18, 2022