Software architects are in high demand. The estimated growth rate for senior architects over the next 5-7 years is up to 21%. It is a career path with plenty of remote software architect jobs available.
However, software architecture covers a range of roles and responsibilities, and that affects total compensation. For example, a systems architect may earn a different salary than a data or security architect. Let's explore recent salary data and what factors help determine how much a software architect makes.
get the best salary you deserve at EPAM Anywhere
Apply for our competitively paid positions and secure a job offer with one of the leading software engineering companies in the world
How much do software architects make?
Disclaimer: The following salary figures are sourced from publicly available data and are for reference only. This information is not indicative of the salaries at EPAM or EPAM Anywhere and cannot be considered as such.
The U.S. Bureau of Labor Statistics only offers stats from 2021 for two types of software architects. Computer network architects received an official median pay of $120,520, while database architects received a median of $123,430. Of note, the national average salary for software developers is $120,730.
Other digital hiring websites and compensation data platforms offer far different results. Glassdoor reports an average software architect base salary of $152,208 per year, with an average total pay after bonus payouts of $215,522. Payscale lists a yearly salary of $135,794 per year. Salary.com reports a median annual wage of $144,759 for 2023 but with a lower ceiling of $176,400. Meanwhile, Zippia projects minimal pay of $123,577 per year, with the lowest 10th percentile earning just $89,000.
The general consensus for the median appears to range between $120,000-160,000, with a floor of $90,000 and the potential for top percentile earners to bring in over $200,000.
Software architect salary by years of experience
Software architects often occupy senior positions, as the job usually involves additional skills of leadership, project management, and client-side operations (many people are not even aware of what the role itself entails). As a result, the title is one defined by years of experience and your levels of education. Most engineers don't become an architect until they have between four and eight years of prior work. Here's how your experience affects your potential salary as a software architect:
Starting architect
Talented outliers may be elevated into architect positions after five years of work (and excellent completion of a technical interview), but even then, they receive a salary that remains in the lower percentile.
Data for new architects include averages of $130,000, but some note far lower compensation, with base salaries as low as $82,000. Location factors likely affect that data, as the lowest percentile receives compensation that appears to be far below the median.
For context, an L4 software solution architect's salary at Amazon shows a $114,000 base, with total compensation possibly reaching $143,000 via stock and bonus add-ons. Regardless, the lowest entry-level positions are still on par with or higher than the average salary of standard software engineers.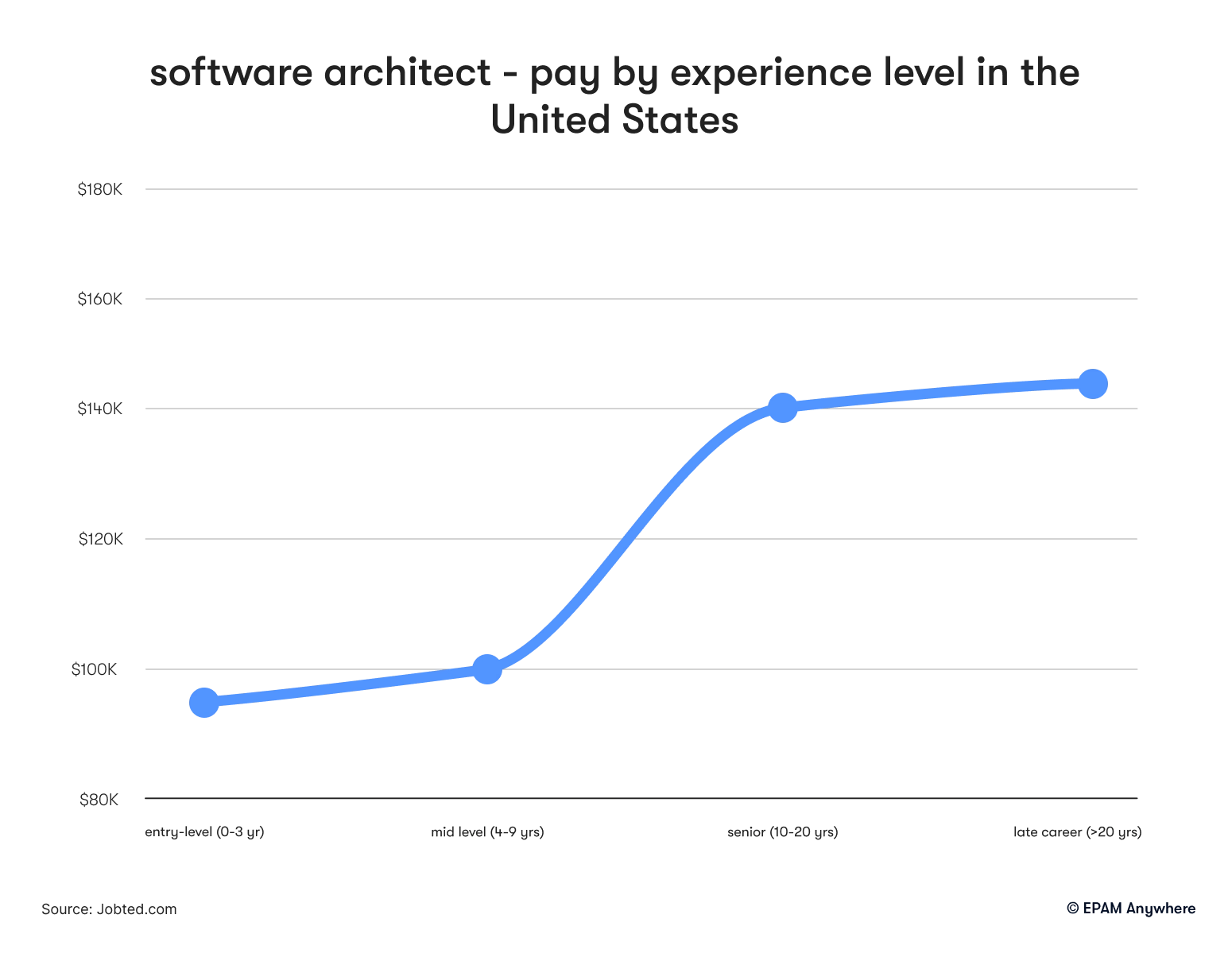 Late career architects
On the opposite end of the scale, extensive years of experience offer higher wages. The data depicts senior software architect salaries averaging $145,000 per year, but that is likely not counting additional cash compensation.
Job tracker 6Figr has open job listings for those with 20+ years of experience well above $200,000 (and total compensation above $300,000). This aligns with typical salary ranges for an L7 Amazon solution architect, who can expect to receive around $399,999.
Such pay ranges also help explain why almost half of software architects are over 45 years of age — years of experience are a crucial factor affecting architect salaries.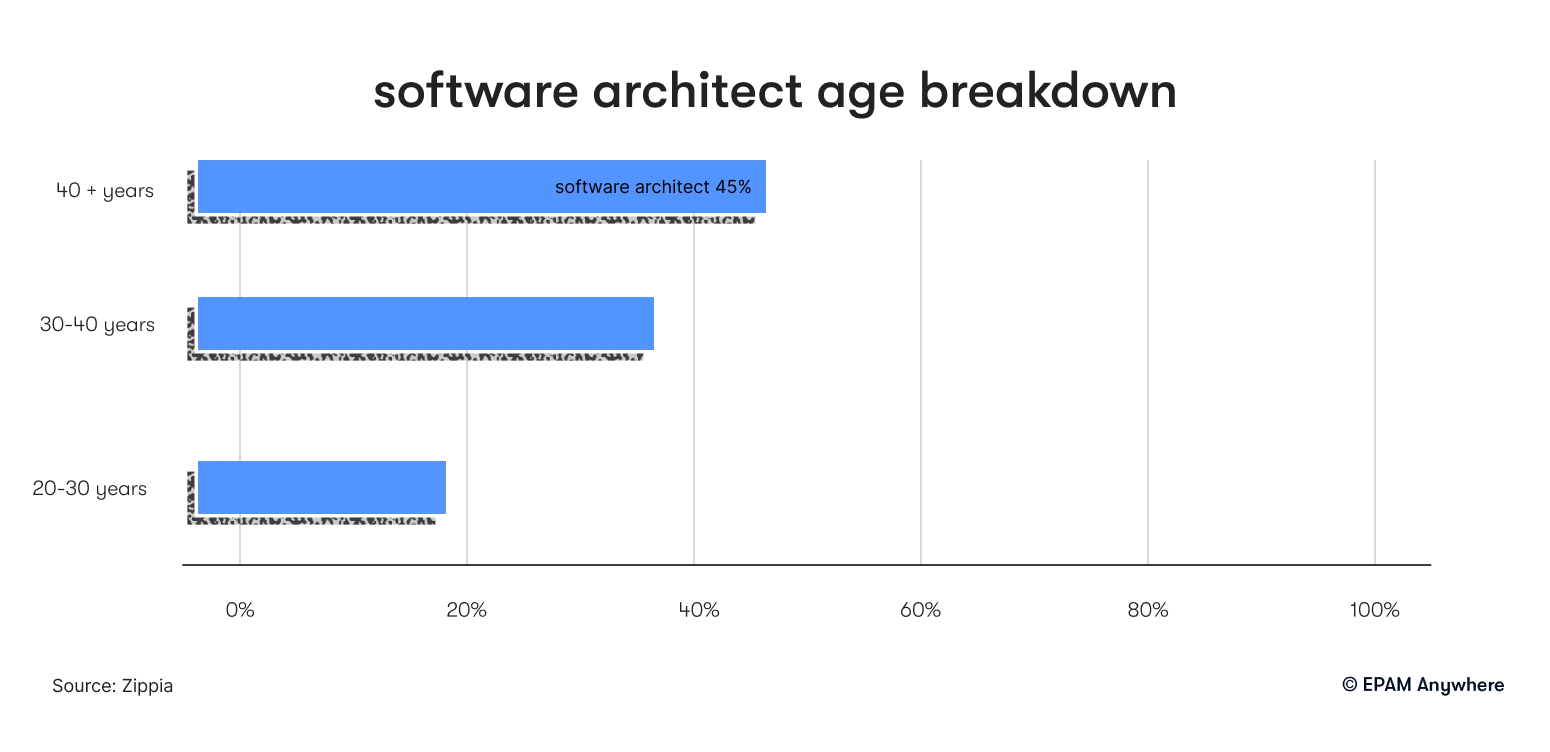 Degree level
Those with a doctorate earn a higher base salary than those with just a master's degree or bachelor's. The median base income for software architects with a doctorate is $133,970, with plenty of room for additional bonuses and benefits. Those with a bachelor's degree earn around $20,000 less, with a median base income of $122,859.
In addition, many architects have further certifications that help increase pay, such as OMG-Certified UML Professional 2 (OCUP 2).
Factors affecting software solution architect salaries
Several additional factors beyond education and experience impact the average software architect's salary. Be sure to consider the following aspects as you map out your career path:
Location
First, where you work can impact your total compensation. For example, different cities in the United States can command far different salaries. The pay in San Francisco is 25% above the average, while in Miami, it's 3% below.
Location factors also apply to countries, with varying averages across the globe.
Switzerland: $144,000
United States: $120,000
United Kingdom: £75,000 (about $97,000)
Canada: $120,000
Australia: $100,000
Remember, high-salary locations include a higher cost of living. Consider remote work, as you can take home better pay without living above your means.
FAANG
Major tech enterprises command far higher salaries than the norm. Big organizations need architects and will pay top dollar to get the best. For example, Google has software architect salaries listed with compensation reaching $615,000.
Skill type
Different architects use varied frameworks and programming languages, with some abilities commanding higher pay. Consider what skillsets are in demand as you plan out your career trajectory.
Industry
Different industries experience higher or lower demand for software architects. The technology sector fills most engineer salaries, but healthcare and finance still need web applications. Consider which industry you enter, as it could create more lifetime earnings with less competition. That also has an effect on your salary negotiation tactics, as those with a polished resume in an industry with high demand can request far higher salaries.
do a reality check of your salary expectations with us
Apply for an opportunity to talk to our hiring managers and check if your desired salary is realistic
Grow your software architect salary at EPAM Anywhere
Clearly, your career outlook (and total lifetime earnings) as a software architect is very promising. However, the job is also a grand challenge that requires years of experience, training, and gaining advanced skills.
That's why EPAM Anywhere offers you a central career growth hub full of open full-time remote jobs and professional development resources. Discover more tips and tricks about becoming a software architect and apply for a top remote job with us.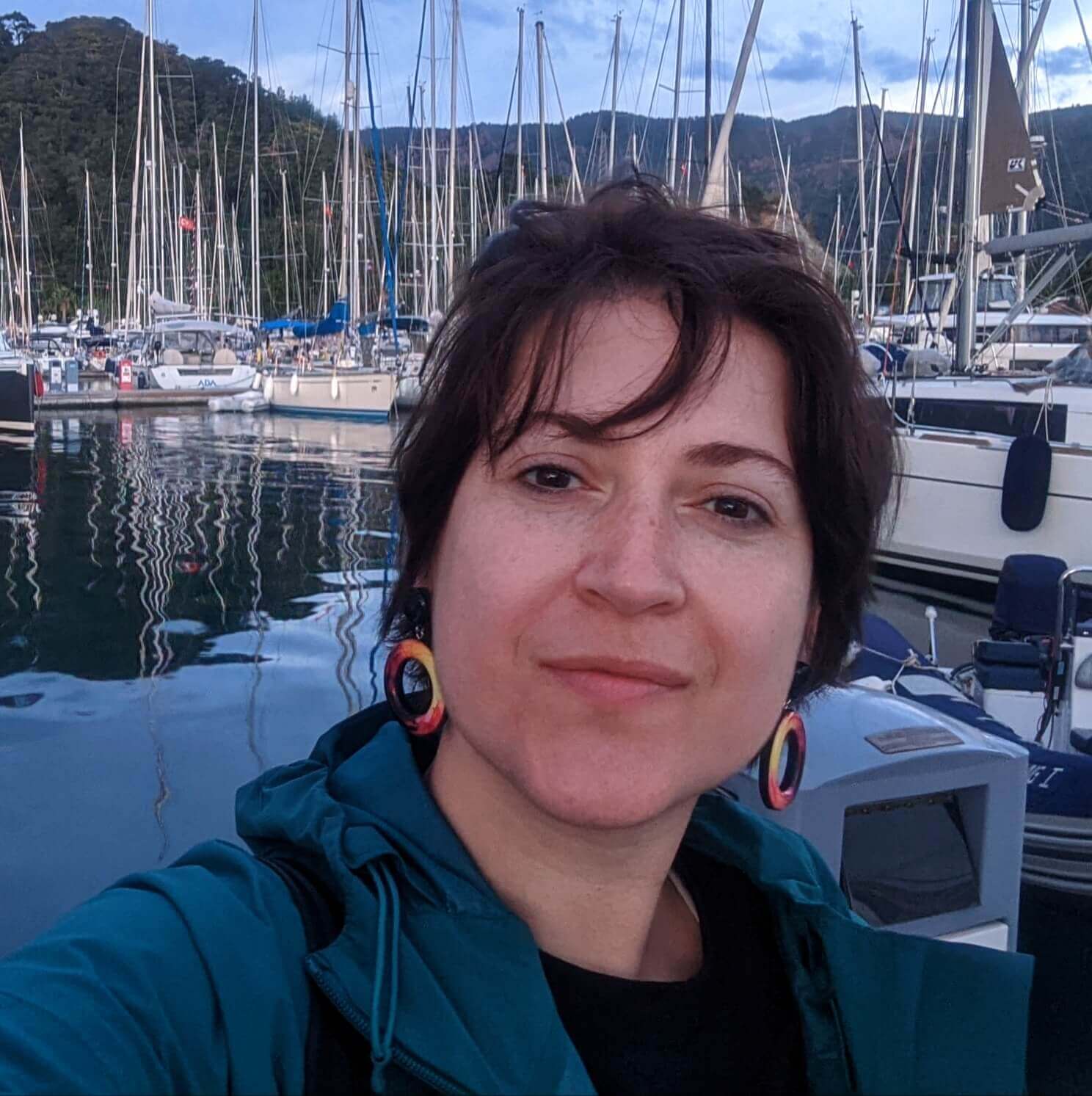 written by
As Chief Editor, Darya works with our top technical and career experts at EPAM Anywhere to share their insights with our global audience. With 12+ years in digital communications, she's happy to help job seekers make the best of remote work opportunities and build a fulfilling career in tech.
As Chief Editor, Darya works with our top technical and career experts at EPAM Anywhere to share their insights with our global audience. With 12+ years in digital communications, she's happy to help job seekers make the best of remote work opportunities and build a fulfilling career in tech.