Certifications provide software engineers with a comprehensive knowledge base in cloud computing. If you are looking to expand your career or get a leg up in the hiring process, the technical skills gained from high-level cloud education are advantageous. Professional experience with core cloud services allows you to get a foothold in the industry.
But more importantly, recruiters are always looking for competent cloud engineers. The cloud computing market is growing and continues to offer lucrative opportunities that attract competitive talent, so having accreditations can help make your resume stand out.
With an average base salary of $120,644 for cloud engineers in the US (data according to Indeed), certifications can pay off in both the short and long term.
But which certifications should you choose? Different cloud companies have different infrastructures, and each certification requires commitment. With the increase in service-specific professional development, it can be tricky to find the right cert that boosts your career path, provides actionable knowledge, and has the best return on investment.
Let's explore the top cloud computing certifications available in 2023 so you can determine which option is right for you.
Top cloud certifications 2023: AWS, Azure, and GCP
Different vendors offer different approaches to their education tracks, but the most reputable (and highest-paying) certifications are those of the major cloud computing services: Amazon Web Service (AWS), Microsoft Azure, and Google Cloud Professional (GCP).
For beginners or those without a bachelor's degree in computer science, a vendor-neutral certification can operate as a good prerequisite. CompTIA Cloud+ is a good option if you want information that translates across multiple platforms.
But for those looking for high-level education, skill development, and matching pay, selecting a cloud service and becoming an expert in its particular infrastructure offers far more direct benefits. When selecting a certification, consider the service vendor as a key element in the trajectory of your career path, as different companies will place more value on specific cloud service knowledge.
Of course, all three cloud services offer many more certifications than we review below (AWS has 11, Microsoft 12, and Google 10). But anyone who can complete several will have extensive cloud computing skills and have invested significant time and resources into their development.
There are four categories of AWS certifications:

Foundational consists of the AWS Certified Cloud Practitioner certification and requires six months of fundamental AWS Cloud and industry knowledge.

The Professional category offers AWS Certified Solutions Architect and DevOps Engineer certifications, each of which requires two years of practical AWS Cloud experience.

The Associate stream consists of the following certifications:
AWS Certified Solutions Architect - Associate
AWS Certified Developer - Associate
AWS Certified - SysOps Administrator Associate
Such certifications require at least one year of practical AWS Cloud experience.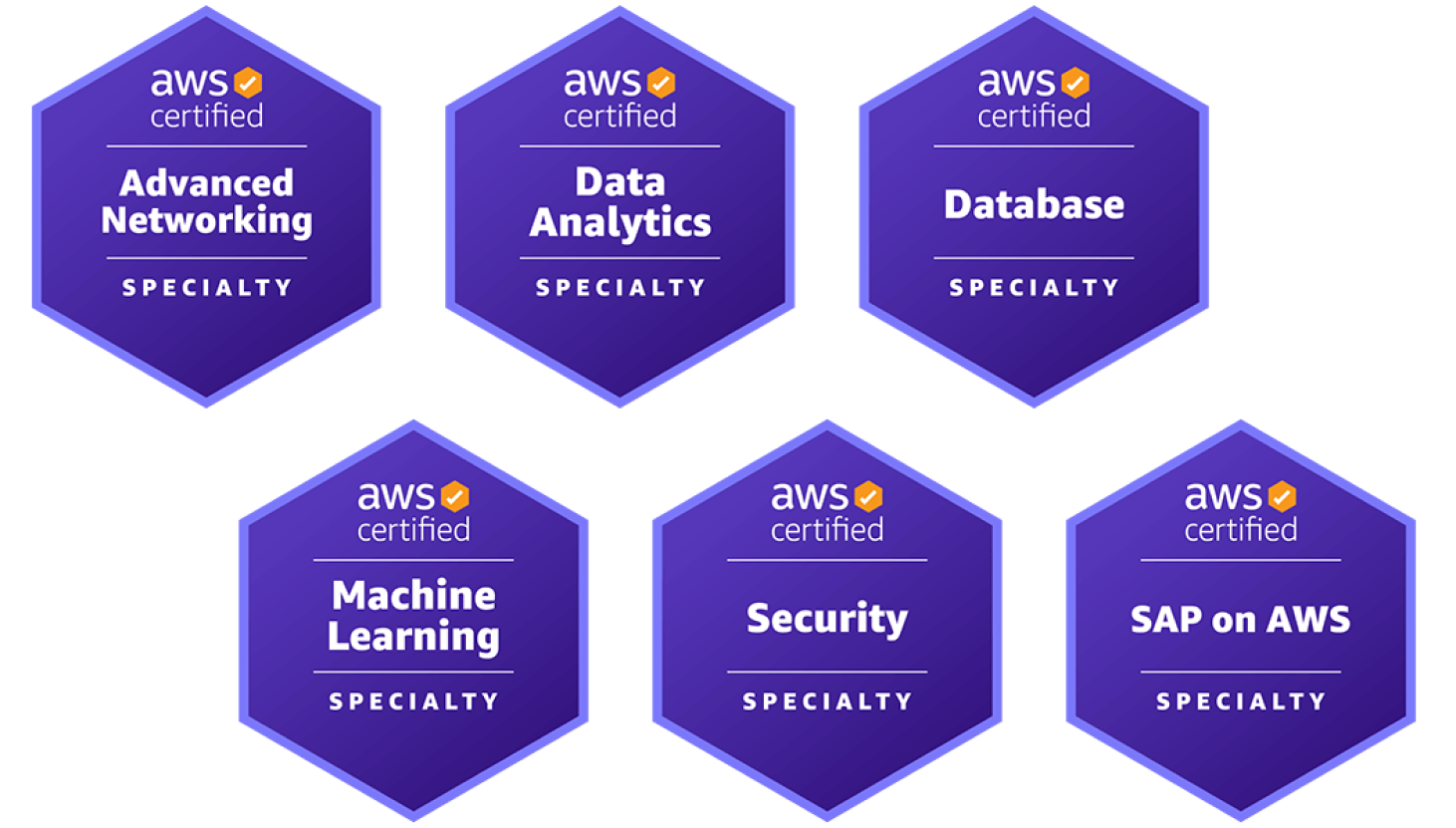 The Specialty category is by far the most expansive, requiring AWS Cloud experience in the Specialty domaino and ffering such certifications as:
Advanced Networking
Data Analytics
Database
Machine Learning
Security
SAP on AWS
Let's review the two of these certifications in more detail below.
AWS Certified Solutions Architect – Professional
For those who want to work as AWS Cloud developers at a senior level, the AWS Certified Solutions Architect is one of the best certifications available.
There are no prerequisites, but candidates are expected to have two years of experience working with AWS Cloud. Completion expectations include building applications on AWS technologies and problem solving for customer-centric issues specific to AWS implementation. Testing will focus on devising solutions and engineer support through product life cycles.
The average salary of those in the AWS Solution Architect role in the US is $155,005 (ZipRecruiter), and this type of certification is one of the most popular credits for those who want to deploy and troubleshoot applications.
AWS Certified Developer – Associate
The AWS Certified Developer also makes this list because of its high transfer rate into well-paying jobs. Candidates often go on to work at AWS or other established institutions in consulting or finance with specializations in development, data, and software engineering.
Certified Developer testing involves managing AWS-specific applications across a variety of programming languages, including deployment and debugging. You need to have around two years of working experience in cloud computing, so the certification is ideal for those who want rapid career advancement while improving their technical skills. The AWS developer salary averages $122,799 per year in the US (ZipRecruiter).
Top Microsoft Azure certifications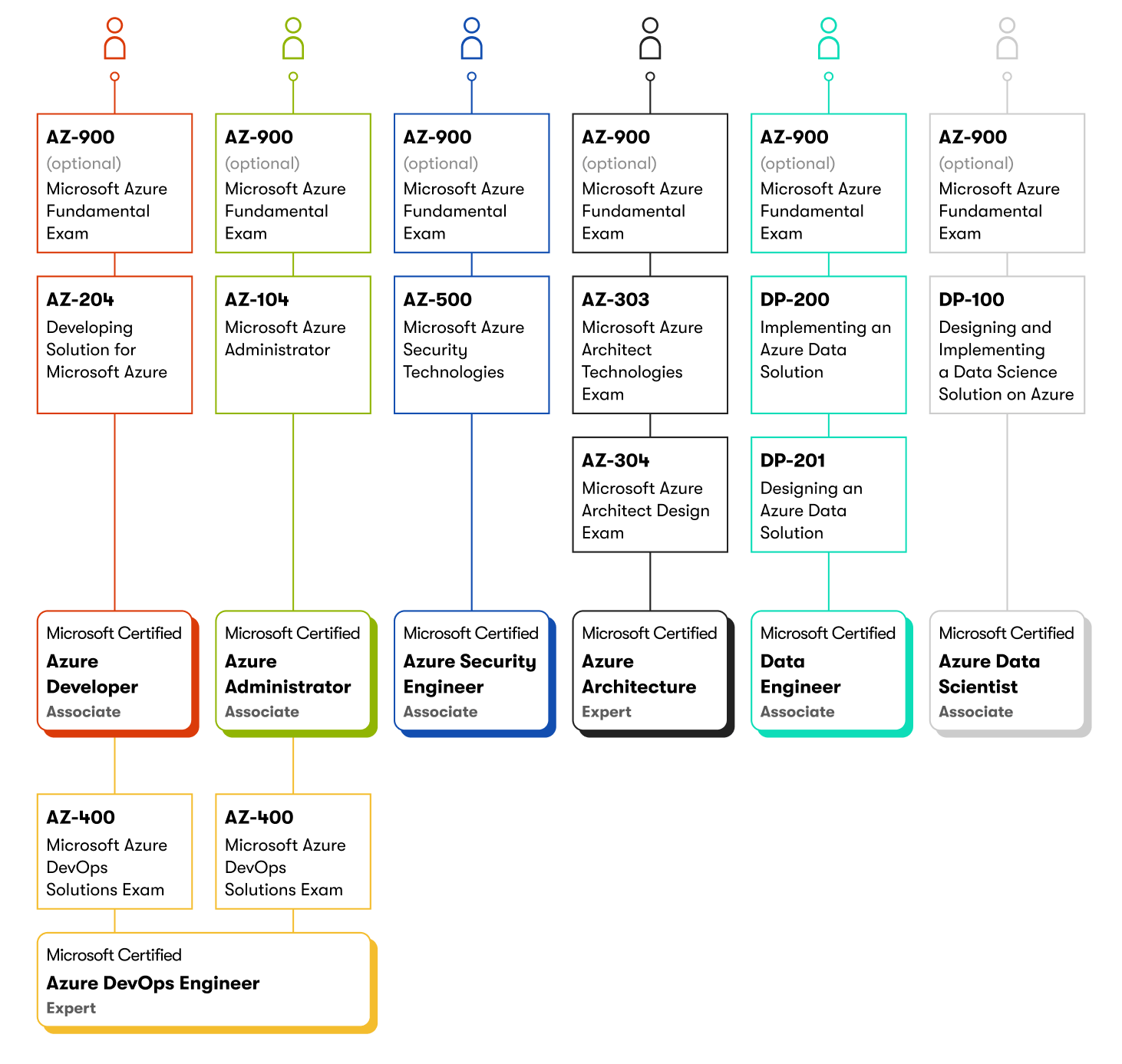 Azure AZ-900 Fundamental Exam
For those just entering the industry or anyone who wants a comprehensive overview of the Azure certification path and cloud infrastructure, Microsoft Azure AZ-900 Fundamental Exam is an ideal choice. There are no technical requirements or years of experience needed, making it one of the best cloud certifications for those who wish to take the first step toward Azure cloud developer jobs.
The program explores concepts foundational to cloud computing, with a focus on Microsoft services, pricing, and compliance. It is a role-based certification, meaning it leads directly to jobs that utilize Azure Cloud or Microsoft. That, plus its accessibility, makes it one of the most sought-after accreditations.
Microsoft Certified Azure Administrator Associate
Microsoft offers the Microsoft Certified Azure Solutions Architect Expert track for those who want to extend their abilities in virtualization, networking, solution development, and DevOps. Its focus on configuring infrastructures and developing applications at the highest levels can aid technicians aiming for senior positions.
But the Microsoft Certified Azure Administrator Associate certification is often more valuable, as it validates your skills in Azure administration tasks. For any organization reliant on Azure Cloud, it is an indispensable qualification, especially for system admins and those working in IT support.
Education tracks involve managing and monitoring cloud services, information on Azure governance, and practical experience with Azure Portal. Six months of experience is recommended before taking the exam.
Top Google Cloud Platform certifications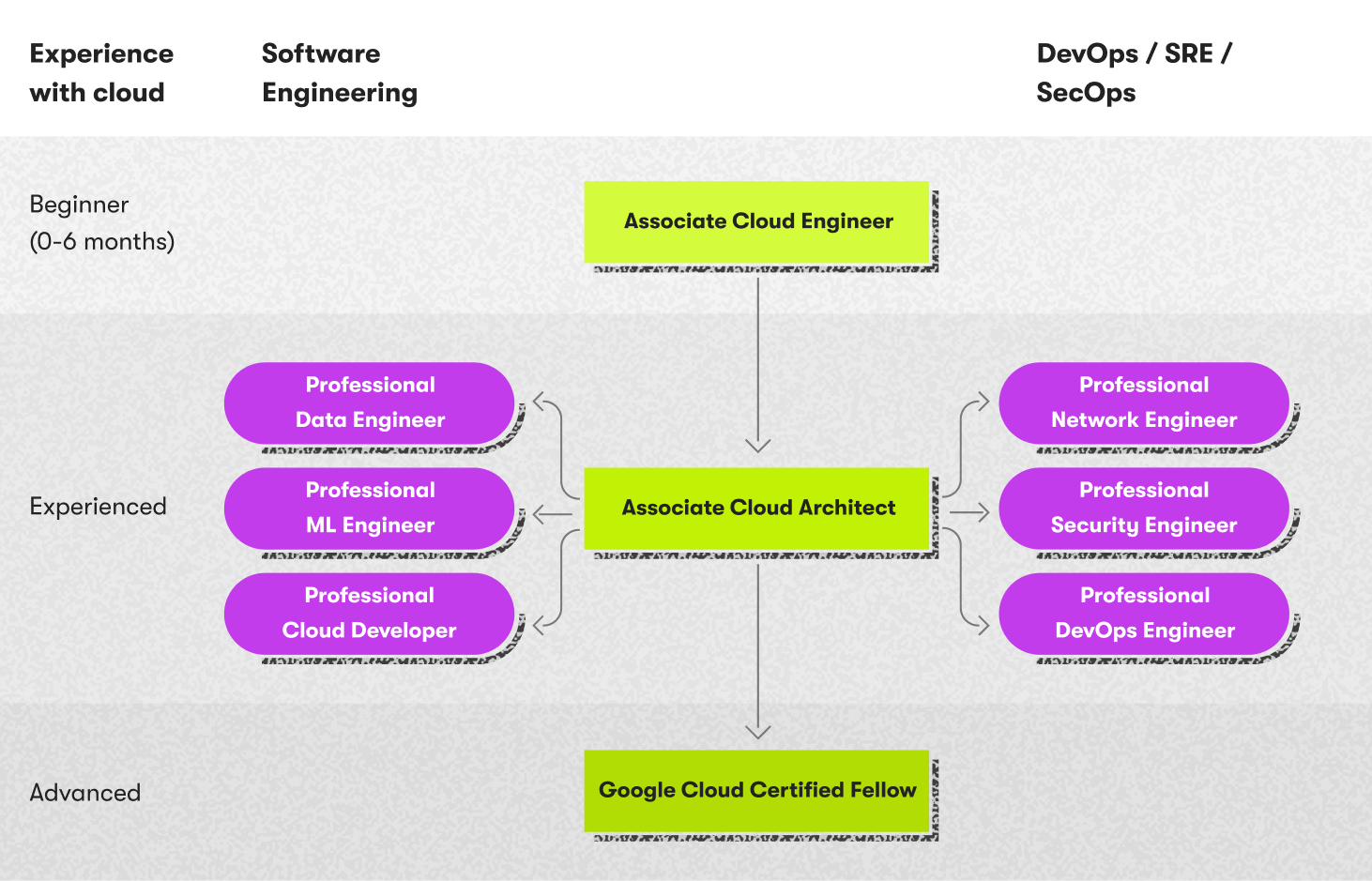 Google Certified Professional Cloud Architect
For software engineers who want to focus on Google Cloud Platform, the Certified Professional Cloud Architect certification offers the most benefits. It can work well for beginners due to its extended knowledge base, but the certification is ideal for IT specialists who want to expand their abilities across the numerous technologies of Google Cloud.
Examination will test your ability to design services, apps, and scalable cloud business solutions, making it a coveted certification for Google Cloud developers. Google recommends you have at least three years of industry experience, with at least one year of direct involvement with GCP solutions.
Google Certified Professional Data Engineer
While the Professional Data Engineer is similar to the Cloud Architect certification, it has a stronger focus on designing, securing, and managing data systems. Exams validate your ability as a data architect to transform business data into usable insights across Google Cloud technologies.
The knowledge provided applies across several platforms and helps to train high-demand skills that are immensely useful to enterprises.
Certification support at EPAM Anywhere
To help our engineers with their career paths and successful completion of cloud certifications, EPAM Anywhere offers free certification support across multiple specialties. This includes:
AWS, Azure, and GCP certification programs with extensive training available through our partnerships with these cloud vendors
Free exam preparation resources, including practical labs
Vouchers and certification reimbursement, if applicable
Certification guidance and mentorship from our cloud-related competency centers
These opportunities are available to anyone working at Anywhere who is interested in bolstering their cloud engineering proficiency. Explore our remote Cloud Engineer jobs and apply to get access to these and other benefits.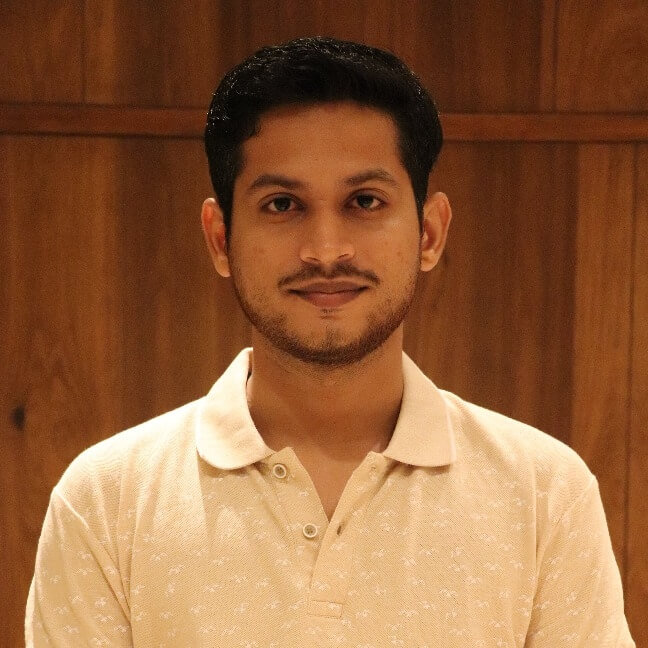 written by
With a Master's degree in Computer Applications, I've been working in the tech industry for the past 7+ years. I'm passionate about Java and cloud technologies and hold Azure Fundamentals and AWS Cloud Practitioner certifications, in addition to being recognized as an AWS Community Builder. I'm also a Certified Java Technical Interviewer and Ambassador at EPAM Anywhere.
With a Master's degree in Computer Applications, I've been working in the tech industry for the past 7+ years. I'm passionate about Java and cloud technologies and hold Azure Fundamentals and AWS Cloud Practitioner certifications, in addition to being recognized as an AWS Community Builder. I'm also a Certified Java Technical Interviewer and Ambassador at EPAM Anywhere.