A manual tester is a member of the software development team responsible for testing a program or app. They take it through a gauntlet of scenarios by taking on the role of an end user but with a focused and structured testing regimen.
The point is to identify bugs or glitches for the software developer to fix and ensure that the app works as intended. Testing is not random and often follows a flowchart that checks every aspect of the application in a way that automated software can't.
In 2023, in-person and remote QA engineer jobs remain among the highest-paying tech jobs. But what are the manual testing jobs salary figures? Let's find out.
What's the average manual QA tester salary?
Disclaimer: The following salary figures are sourced from publicly available data and are for reference only. This information is not indicative of the salaries at EPAM or EPAM Anywhere and cannot be considered as such.
As of September 2023, according to ZipRecruiter, the national average QA manual tester salary is $38 per hour, which translates to $79,700 annually. However, hourly wages for remote manual QA testers can go as high as $61 per hour and as low as $14.90.
The cities that pay the highest salaries to manual testers include Federal Way, Santa Clara, San Francisco, Summitview, Washington (DC), San Jose (CA), Fremont (CA), Oakland (CA), and Kensington (NY).
get the best salary you deserve at EPAM Anywhere
Apply for our competitively paid positions and secure a job offer with one of the leading software engineering companies in the world
apply
Manual testing salary by years of experience
Manual testing, like any other tech job, requires that you have the experience to get hired for the best-paying salary. The more experience you can demonstrate, the better your salary range. Here's how that breaks down in the U.S. in 2023.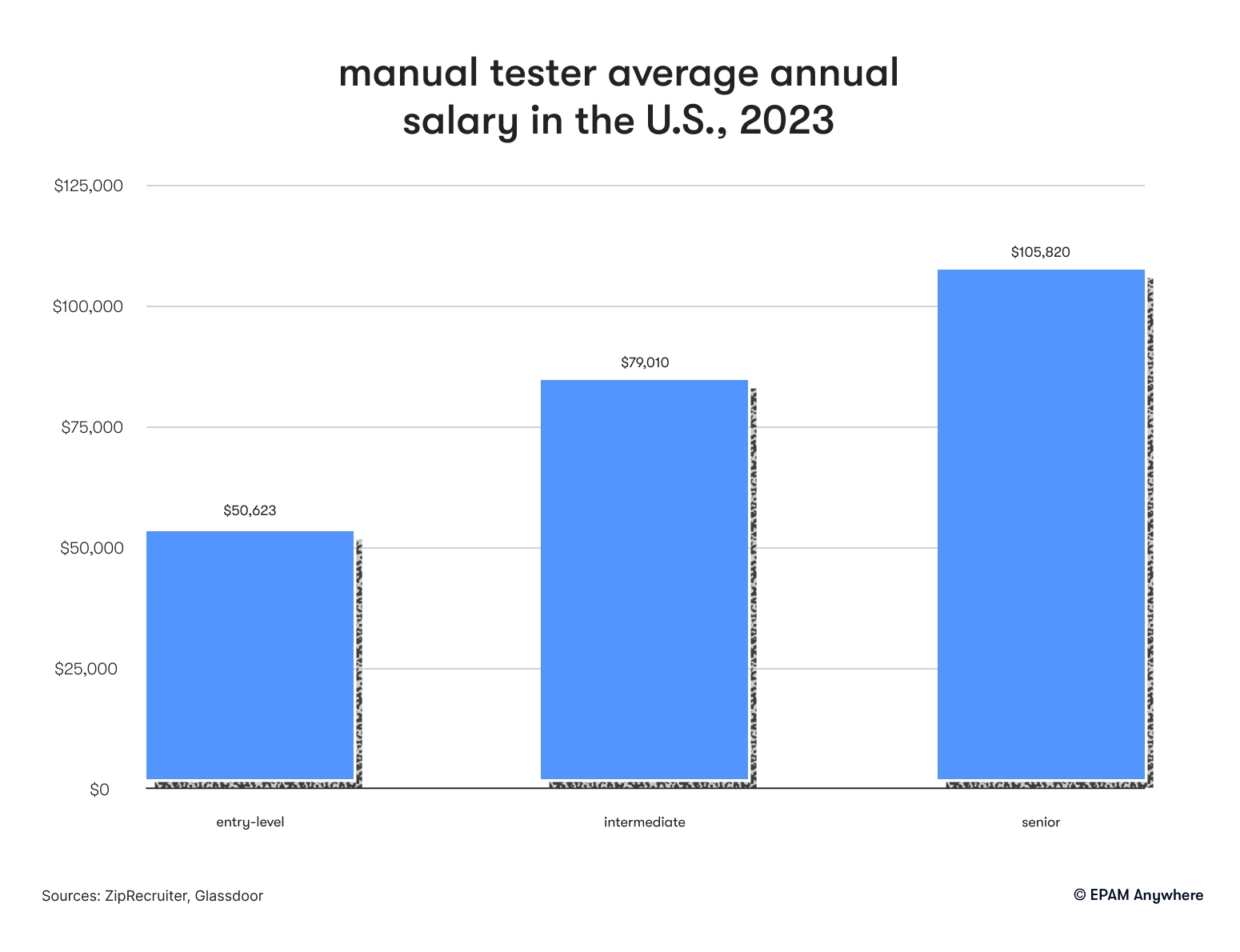 Entry-level (0 to 1 year): The average entry-level manual tester salary in the U.S., as seen from the data, is $50,623 annually.
Mid-level (2 to 4 years): At the mid-level, sometimes referred to as an intermediate position, a manual tester can earn a base salary of $79,010 a year.
Senior level (5+ years): At the senior level, manual testers have proven they can handle complex tasks. They are called in for bespoke arrangements, taking hourly wages to new highs as a result. On average, the annual salary is $105,820.
Given this data, it's worth looking into the details to understand the factors affecting the manual tester salary in 2023.
Factors affecting the manual software tester salary
When negotiating your salary, it is recommended that you know what could change how much you can receive in compensation. For a manual software tester salary, these factors often include the following:
1. Negotiation preparation
Even when you're just starting out, there is usually room to negotiate. You should have all the information you can get before going into the interview. This helps show that you understand your role and justifies any additional cash compensation you may request.
Preparing for the negotiation phase involves finding out the testing job salary for someone at your level, going through interview questions, preparing your manual tester resume, and so on. If you know your stuff and are respectful, you could convince your employer to consider giving you an improved deal.
2. Geographic location
Some cities have a greater demand for software testers and are willing to pay them more. Higher salaries are also a way for companies to ensure that their testers can afford the cost of living while following their career paths.
According to ZipRecruiter, for instance, a manual tester in New York gets $48 per hour on average, while in Florida, that number goes down to $40.
3. The size of the company
Your average salary could be significantly impacted by who is hiring you. There are roles for manual testers in companies of all sizes, including startups and well-known behemoths.
4. Certification and training
How much can you prove you know? Having your certifications and demonstrating completed training can show how advanced and skilled you are as a software tester. It's a great way to stand out in a competitive market.
Some popular certifications software testers get include CTFL, CSQA, CSTE, and ISTQB. Hiration states that certified software testers can earn up to 25% more than their non-certified counterparts.
5. Technical knowledge
You may have to pass a test that gauges your competency. To help with that, we've put together a list of manual testing interview questions to help you prepare for what is usually asked.
Software testers who can show they have experience with both manual and automated testing, the tools used, frameworks, methodologies, programming languages, etc. can command higher salaries than those who only specialize in one area.
do a reality check of your salary expectations with us
Apply for an opportunity to talk to our hiring managers and check if your desired salary is realistic
let's start
Grow your manual QA tester salary at EPAM Anywhere
At EPAM Anywhere, we open up opportunities to those looking to get started on a new job or transition from an office to a remote environment. Whatever your motivations for going the remote route, you can find opportunities to get hired. Apply now to find your next fulfilling job here!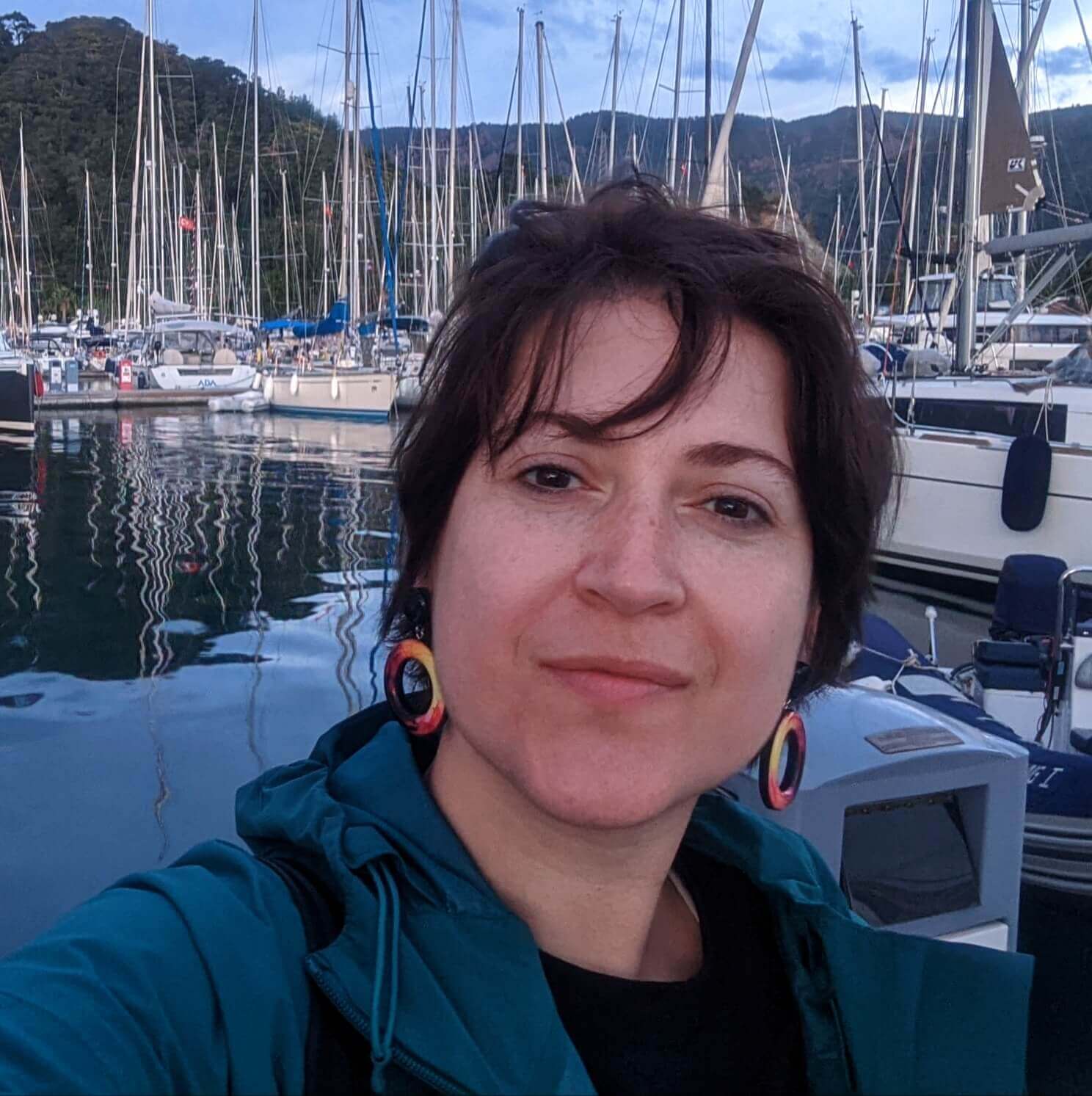 written by
As Chief Editor, Darya works with our top technical and career experts at EPAM Anywhere to share their insights with our global audience. With 12+ years in digital communications, she's happy to help job seekers make the best of remote work opportunities and build a fulfilling career in tech.
As Chief Editor, Darya works with our top technical and career experts at EPAM Anywhere to share their insights with our global audience. With 12+ years in digital communications, she's happy to help job seekers make the best of remote work opportunities and build a fulfilling career in tech.