DevOps is a rapidly growing field in the tech industry that focuses on integrating development and operations teams to achieve fast and continuous delivery of high-quality software. A DevOps engineer plays a critical role in ensuring the smooth functioning of the development and operations infrastructure of an organization.
An effective DevOps engineer resume is essential to secure this high-paid role and in this post, we'll provide you with everything you need to know to achieve this. We'll cover the key components of a DevOps engineer resume, how to optimize it for maximum impact, and provide you with an example resume you can use as a template for your own purposes.
What should be included in a DevOps resume?
A typical DevOps engineer resume should include sections such as:
Contact information
Objective or resume headline
Summary
Skills section
Professional experience
Education
Certifications (if applicable)
Relevant projects (if applicable)
DevOps engineer resume headline
A resume headline is a brief, one-line statement representing your value proposition as a DevOps engineer. A good resume headline should be engaging, informative, and compelling. It should be specific to your experience, achievements, and skills.
Examples of engaging and informative DevOps engineer resume headlines include:
"DevOps engineer with 5 years of experience deploying CI/CD pipelines."
"Expert in automation of cloud infrastructure and deployment."
"Proficient in managing and scaling containerized environments using Kubernetes."
Resume summary for a DevOps engineer
Your resume summary should be a concise, 3-4 sentence description of your professional background, key achievements, and career goals. This section should be tailored to each job application, highlighting your most relevant experience and skills for the position you are applying for.
Examples of powerful summaries for a DevOps engineer resume include:
"DevOps engineer with ten years of experience in designing, implementing, and managing complex infrastructures. Proficient in multiple DevOps tools and techniques and knowledgeable in infrastructure automation and configuration management.
"Highly experienced DevOps engineer with expertise in utilizing AWS, Azure, and Google Cloud infrastructure services. Proven ability in collaborating with diverse teams and managing successful DevOps initiatives."
"Seasoned DevOps engineer with extensive experience in implementing agile methodologies for product development. Experienced in automation, configuration management, and deployment of large-scale web-based systems."
Best skills to add to your DevOps CV
A successful DevOps engineer should possess technical and soft skills to excel in the field. Examples of technical skills for a DevOps engineer resume include:
Automation and orchestration tools such as Jenkins, Ansible, and Puppet
AWS, Azure, Google Cloud Platform (GCP)
Continuous integration and deployment (CI/CD) pipelines
Containerization tools such as Docker and Kubernetes
Monitoring tools such as Nagios, NewRelic, and Datadog
Emerging technologies such as AI for DevOps
While DevOps engineers are generally not customer-facing, soft skills are still essential for this group as they often collaborate with internal teams and stakeholders on projects. Be sure to include any soft skills that demonstrate your ability to communicate, collaborate and be a team player. Examples of soft skills that should reflect in a DevOps engineer's resume include:
Excellent communication skills
Collaboration and teamwork
Attention to detail
Problem-solving skills
Continuous learning and self-growth
send us your CV for review!
Ready for a real-life test of your resume? Send it to our recruiters and see if there's an open job matching your profile.
submit your CV
Professional experience
List your work experience in reverse chronological order, starting with your most recent position. Include the company name, job title, dates of employment, and a brief description of your roles and responsibilities. Focus on your achievements and how you contributed to the success of your team or project.
Your role in the company and project
Clearly describe your role and contributions within each project you've worked on. This will help potential employers understand the scope of your experience and the value you can bring to their organization.
Education
Include your educational background, starting with your most recent degree or certification. Include the institution's name, degree or certification earned, and dates attended.
Training courses and certificates
List any relevant training courses or certifications you've completed, such as AWS Certified DevOps Engineer or Jenkins certification. This demonstrates your commitment to continuous learning and staying up-to-date with the latest industry trends. This is an area that can help you stand out from the competition so focus on all of those different industry certificationss that make you unique.
Professional affiliations
Include any professional organizations or associations you are part of in your DevOps engineer resume. This will help demonstrate your commitment to your profession and industry knowledge. It can also open the door to networking opportunities with other professionals in the field.
How to make your DevOps resume stand out?
With so many qualified professionals vying for DevOps roles around the world, it's crucial for job seekers to make sure their CV stands out from the pack. Fortunately, there are several different ways to make your DevOps resume stand out.
What is the best resume format for DevOps?
The best resume format for DevOps engineers is the reverse-chronological format, as it emphasizes your work experience and showcases your growth in the field. This format is preferred by recruiters and hiring managers, as it makes it easy to assess your qualifications quickly.
Quantify your impact
Quantify your achievements using specific numbers or percentages, such as "Reduced deployment time by 50%" or "Implemented CI/CD pipeline, increasing code deployment frequency by 300%." This will help hiring managers understand your work's impact and potential value to their organization.
The more details you can provide about your impact on specific projects and deployments, the better. By clearly showing the benefits you've provided on past projects, recruiters can extrapolate your potential impact on their team.
Use job-related action verbs
Use strong action verbs and keywords relevant to the DevOps field, such as "implemented," "automated," "optimized," "collaborated," "integrated," and "maintained." These words demonstrate your ability to take action and contribute to the success of your team or project.
Include relevant technologies and tools
Be sure to include the technologies, languages, and tools you are proficient in. This can include DevOps-specific skills like Docker and Kubernetes and general programming languages such as Java, Python, or Ruby. A detailed list of your technical skills will help recruiters understand what you have to offer.
Customize your CV for each job application
Today, there are often many applicants for each specific role. Recruiters and hiring managers use tools like ATS (Applicant Tracking System) to filter CVs and find the best matches for their specific job. As such, it is essential to customize your CV with each application.
To do this, you should tailor the content of your resume to the requirements listed in the job description. This means focusing on keywords that appear in the listing while emphasizing experiences and skills closely related to the role at hand. This will demonstrate your attention to detail and show potential employers that you are the best fit for the position.
Include a cover letter
A cover letter gives you an opportunity to share details that you'd not typically include in your resume and can help provide additional context to hiring managers on your application.
Be sure to customize your cover letter for the specific role you are applying for and include relevant details about why you think you're the best person for the position. Use your cover letter to highlight your passion for the DevOps field, your understanding of the company's goals and values, and why you believe you would be an excellent fit for the role.
Lead DevOps engineer resume sample for your inspiration
A lead DevOps engineer resume should emphasize your leadership experience, project management skills, and ability to mentor and guide other team members. Include examples of how you have successfully led teams to achieve project goals and how your leadership has contributed to the overall success of your organization.
NAME SURNAME
Lead DevOps Engineer
SUMMARY:
Results-oriented DevOps engineer with more than 10+ years of IT experience;
Certified and self-driven IT specialist who is eager to apply knowledge and experience in a practical setting;
Skilled at providing comprehensive support and maintenance for clients, developing automation tools and services;
Goal-oriented specialist with good troubleshooting and analyzing skills;
Good communicator with a deep passion for technology and ability to work efficiently both individually and in a team.
TECHNICAL SKILLS:
Consulting practice:
Product leadership & management consulting
Engineering practices:
CI/CD
IaC
Cloud computing best practices
Containerization
OS administration
SDLC methodologies
Network administration
Source code management
Technologies:
Linux
Ansible
Bash
Grafana
Apache Kafka
Cloud Security Posture Management
Jira
Python
Secure SDLC
Splunk
Microsoft Azure
Microsoft Sentinel
Power BI Embedded
Amazon Web Services (AWS)
Docker
Google Cloud Platform (GCP)
Leadership & soft skills:
Active listening
Building dialogue
Empathy
Trust building
WORK EXPERIENCE (SAMPLE PROJECT DESCRIPTION):
June 2020 - now
Project Role: DevOps Engineer / SRE Engineer
Customer Domain: Retail & Distribution
Team size: 6-8 members
Responsibilities:
Migrating EventStore DB platforms (DB clusters and auxiliary toolings).
Developing a solution (REST API microservice applications) for Akamai and internal cloud configuration management tool to stream events into Kafka.
Developing several REST API providers (parts of an SRE platform to manage system states and configurations) for several systems and services (EventStoreDB, Slack, Akamai, Kubernetes, and others).
Leading development activities within the DevOps team for GitOps tooling (Github API, Jenkins, Kubernetes): facilitating grooming and standup sessions and PR reviews.
Continuously increased monitoring coverage for SRE solutions (exposing metrics from apps, managing Prometheus alerts, creating and supporting Grafana dashboards).
Continuously conducting performance analysis of Golang applications. Found several performance bottlenecks (concurrency antipatterns, blocking I/O cases) and fixed them, boosting performance from 2 to 10 times.
Database: EventStore DB, In memory
Tools: Azure CLI, JIRA, PagerDuty, xMatters, Confluence, Grafana, Splunk, Prometheus, Akamai Luna Portal, Azure DevOps, Golang, SonarQube
Technologies: HashiCorp Stack (Terraform, Vault, Consul, Nomad), Kubernetes, Docker, Jenkins, GIT, Azure, Ansible, Linux, Kafka, ElasticSearch, Nginx, Envoy, Golang
EDUCATION:
Master in Elements and Devices of Computers and Controlling Systems, 2012
CERTIFICATIONS:
AWS Certified Database - Specialty, 2021
LANGUAGES:
English B2
Lithuanian Native
Senior DevOps engineer resume sample for your inspiration
A senior DevOps engineer resume should showcase your extensive field experience and ability to handle complex projects and make strategic decisions. It's important here to highlight your leadership skills as well as your technical skills, such as the languages and tools you are proficient in. Additionally, include any relevant certifications or awards that demonstrate your commitment to staying up-to-date with the latest DevOps developments.
Finally, make sure to emphasize your problem-solving and communication skills, as these will be essential in a senior role. By clearly demonstrating how you could apply these skills to previous projects, recruiters can understand what value you can provide their organization with.
Highlight your accomplishments in implementing and optimizing DevOps processes, and demonstrate your ability to collaborate with cross-functional teams to drive project success.
NAME SURNAME
Senior DevOps Engineer
SUMMARY:
Software Engineer, DevOps Engineer & SRE, a self-starter, and a hands-on leader who loves technology. Docker Ambassador, K8s big fan. Like to teach and learn every day.
Good knowledge of new technologies and exposure to many programming languages, technologies, and platforms.
6+ years of full-time relevant experience as a DevOps/SRE and 5+ years as a Software Engineer.
Experience leading teams of up to 12 people. Special skills and experience in startups.
A clear understanding of the Software Development Life Cycle, Continuous Integration, Continuous Deployment, and Continuous Delivery.
Production experience with AWS and Azure as a cloud provider using IaC tools such as Terraform and Pulumi. Creating and managing highly available, fault-tolerant, secure, and cost-efficient cloud infrastructure.
TECHNICAL SKILLS:
Consulting practice:
Quality assurance & analysis
Engineering practices:
CI/CD
DevOps
Cloud Computing basics
Configuration Management Implementation
Container Orchestration management
Containerization
Infrastructure Monitoring Services
SDLC Methodologies
Cloud security
Technologies:
Git
GitHub
Jenkins
Terraform
AWS Cloud Adoption Framework
Docker
Java
Keys and Secrets Management
Linux
Python
Azure Developer Tools
AWS Simple Notification Service
Bash
C#
CSS
Go Language
Leadership & soft skills:
Problem-solving
Teamwork and collaboration
Mentoring
Ownership
WORK EXPERIENCE (SAMPLE PROJECT DESCRIPTION):
June 2020 - now
Project Role: DevOps engineer
Customer Domain: Travel & Hospitality
Team size: 6-8 members
Responsibilities:
Brought JupyterHub, Airflow, and Kubernetes to General Availability means fully supported and ready for in-production workloads in time.
Monitoring and logging system improvements allow us to obtain all needed information meaningfully. For all alerts, runbooks have been written with step-by-step instructions on how to fix a problem.
Create workflows using Hashicorp Vault, Jupyterhub, and Airflow service accounts.
Improve monitoring and alerting system (PagerDuty & Datadog)
Database: Qubole, Hive, Starburst/Trino
Tools: Starburst/Trino, Spark, Airflow, Jupyter, Kubernetes, Prometheus, Python
Technologies: Data Mesh
EDUCATION:
BA in Engineering, 2010
CERTIFICATIONS:
GitLab Certified Associate
DevOps Essentials Professional Certificate (DEPCP)
ISO/IEC 27001 Information Security Associate
LANGUAGES:
English C1
Portuguese Native
Get a resume template for DevOps engineers
Utilizing a DevOps engineer resume template can help you create a polished and professional-looking resume quickly and easily. Using a clean and organized layout, resume templates are designed to highlight the most critical information.
The template takes care of the formatting, leaving you free to focus on writing your content.
You can find a wide range of resume templates online, specifically tailored to DevOps engineers. Remember to make sure that the template is clean and easy to read and customize it with your own information and experiences. By choosing a template that meets your needs, you can ensure that you create an effective resume for DevOps engineer roles.
Apply for a remote DevOps engineer job at EPAM Anywhere
Our remote DevOps engineer jobs offer flexibility and the opportunity to work with diverse companies and projects. EPAM Anywhere is a platform that connects talented DevOps professionals with fully remote job opportunities in tech. Explore our job listings to find the perfect remote DevOps engineer role that matches your skills and experience.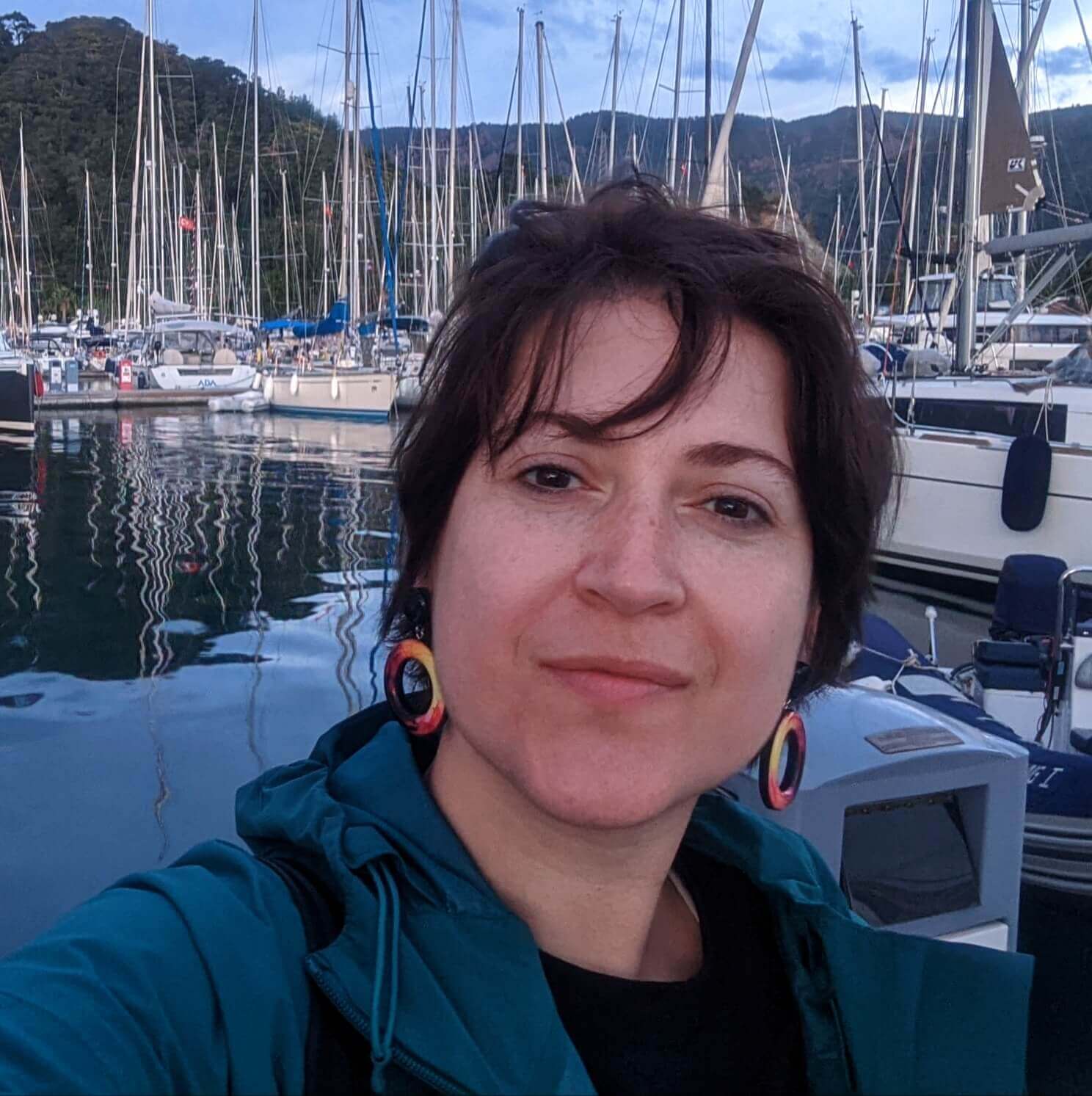 written by
As Chief Editor, Darya works with our top technical and career experts at EPAM Anywhere to share their insights with our global audience. With 12+ years in digital communications, she's happy to help job seekers make the best of remote work opportunities and build a fulfilling career in tech.
As Chief Editor, Darya works with our top technical and career experts at EPAM Anywhere to share their insights with our global audience. With 12+ years in digital communications, she's happy to help job seekers make the best of remote work opportunities and build a fulfilling career in tech.