Whether you're a promising engineer with an AWS certification and want to step into your field or an experienced and established AWS developer, you'll need a solid AWS resume. From an AWS cloud engineer CV to an AWS solution architect CV, how you draft your CV will depend on your skills, goals, and expertise.
Whether you're a new or experienced professional, you want to leave a good impression on the hiring manager when applying for a job. This makes it all the more important to add the right touches to your AWS developer resume that can get a positive response.
In this article, you'll find the most effective tips and practices to curate your AWS resume. Focus on specific AWS resume points to create a resume that works in your favor.
send us your CV for review!
Ready for a real-life test of your resume? Send it to our recruiters and see if there's an open job matching your profile.
submit your CV
Top sections to include in your AWS resume
Since there are so many variations of AWS resumes, it's normal to struggle a bit when trying to create an ideal one for yourself. Let's break down the key elements:
The header
Your AWS resume header is the first element recruiters check out, so take your time to make this as unique to you as possible. For starters, make it identifiable by clearly stating your name.
Adding the "right" header to your AWS cloud engineer resume is all about being subtle. For instance, ensure the font size of your header is between 16-20. Similarly, initialize your middle name to come across as more professional.
Typically, your AWS resume header will include your current state and city, mobile number, full name, and work email address. In most cases, candidates also add links to their online profiles and portfolios to highlight their proficiency in software development.
Personal information
It may seem too obvious to add personal details, but you'd be surprised at how many job candidates include information that often gets misconstrued. In this section of your AWS resume, your objective should be to summarize the details of your personal information succinctly rather than in long sentences.
For instance, make sure to highlight your work email address, work mobile number, and the current location of your home. Follow the lead of established AWS architects and developers and add links to your LinkedIn and GitHub profiles to further showcase your expertise and experience.
AWS resume overview
Your AWS resume overview sums up your professional work experience. For instance, make sure your AWS summary starts out with a solid adjective and is motivational and detailed enough to grab the attention of potential employers.
Now, if you have, say, more than 5 years of work experience, highlight this at the start of the AWS professional summary. Simultaneously, add at least one professional achievement to your career. Ideally, your AWS resume summary shouldn't be more than 3-5 sentences.
Use this section as an opportunity to highlight the objective of your AWS resume. The trick is to align your AWS resume objectives with the company's job requirements. Also, be as direct as possible in your AWS summary, avoiding fluff words that might turn off potential employers.
Professional experience
This is an essential section of your AWS resume. After all, it showcases your experience and technical skills to potential recruiters and allows you to present yourself as a great candidate for an AWS job. For a source of reference, use the STAR (Situation, Task, Action, & Results) method to present information in your work experience section.
This method makes it easier for candidates to describe the challenges they faced in their previous roles and how they used their specific skills to address issues and achieve the best possible results. Make sure to use bullet points as a framing mechanism to be precise. This will also make your information pop more and improve the quality, clarity, and overall appeal of your AWS resume.
The idea of using bullet points rather than paragraphs is to make your AWS developer resume stand out to potential recruiters. If you want this section to be tighter, highlight and categorize your content to improve the positive impact of your overall AWS resume. Highlighting involves directing the attention of a potential recruiter to your performance figures, while categorizing/grouping revolves around adding subheadings.
Educational background and qualifications
In this section, highlight your education and describe your qualifications to convince potential employers that you're the right fit for the job. When it comes to recruitment, job eligibility makes a huge difference, so make sure to highlight your university or college details.
You should also touch on the projects you did in college and how your academic endeavors brought you to this point. Make sure not to overlook details — that means highlighting the name of your university/college, the courses you took, the location of the academic institution, and the enrollment date of each course.
Essential skills
Highlight the skills that meet potential employers' requirements. Part of the process is to add the right keywords in your job description and skills section. You should only add skills you already have so that recruiters can easily verify them during AWS interview questions and validate you as a professional AWS cloud engineer.
In your AWS resume, you can mention technical skills such as AWS architecture, setup and load balancing, agile methodology, database skills, expertise in public cloud solutions and web servers, programming skills, cloud computing, etc. However, make sure to highlight your soft skills as well, such as time management, forming solid client relationships, teamwork, analytical thinking, and having a problem-solving mindset.
Certifications
Add your certifications, training programs, and internships in this section to highlight your eligibility. Instead of simply listing the certifications you've managed to achieve, add a brief description under each to help the potential recruiter understand what specifically you learned from each certification.
In the certifications section of your AWS developer resume, you can mention a wide range of certifications. When you add them, make sure to mention the issuing body and the completion of each certification with a specific date. Whether it's the AWS Certified Developer, Solutions Architect, Machine Learning, Database, Cloud Practitioner, or DevOps Engineer certification, make sure to highlight your certifications by adding them as bullet points.
AWS CV sample for your inspiration
One Google search and you can find a multitude of AWS resumes. In fact, there is no shortage of AWS sample resumes. However, this can make it more difficult to pinpoint the right Amazon Web Services sample resume that can help you draft an all-around compatible one for your needs.
Keeping that in mind, here's a look at a simplified and effective AWS resume example that can work for you. Use this AWS CV sample as a guide to help you better structure and personalize your resume.
NAME SURNAME
Lead DevOps Engineer, Software Engineering Team Leader
SUMMARY:
Motivated and passionate DevOps engineer with almost 5 years of experience focusing on AWS, using EC2, Lambda, and K8S
Good knowledge and hands-on experience in automation tools like Jenkins, Codepipeline, and Ansible and scripting languages like Python and Bash
Strong at handling IaC with Cloudformation and Terraform
Experienced in working with monitoring tools like CloudWatch, New Relic, and Prometheus
Practical experience in leading a team with initiatives to support migrations from on-premise to AWS
Deep knowledge of serverless architecture in AWS focusing on data tools
TECHNICAL SKILLS:
Consulting practice:
Product leadership & management consulting
Engineering practices:
Cloud fundamentals
Cloud infrastructure provisioning
IaC
Automation using scripting and programming languages
CDN and WAF configuration and maintenance
CI/CD
Cloud computing best practices
Cloud design patterns
Cloud security
Configuration management implementation
Network administration
OS administration
Web and application server configuration and maintenance
Troubleshooting
Leadership & soft skills:
Communication
Ownership
Problem-solving
Teamwork and collaboration
Delivery excellence
Developing others' skills
Mentoring
Visual representation of information
Technologies:
AWS Simple Storage Service
AWS RDS
AWS Systems Manager
Amazon CloudWatch
AWS Analytics
AWS Machine Learning
AWS Mobile
AWS Certificate Manager
AWS Cloud Adoption Framework
AWS CloudFormation
AWS CodeCommit
AWS CodePipeline
AWS Lambda
AWS Application Integration
AWS Containers
Java
Kubernetes
Docker
Linux
Monitoring tools
Node.js
Git
WORK EXPERIENCE (SAMPLE PROJECT DESCRIPTION):
April 2021 - present
Project Role: AWS DevOps Engineer
Customer Domain: Business Information and Media
Team size: 13-15 members
Responsibilities:
I was part of a team migrating all the AWS CloudFront from WAFv1 to WAFv2 in order to comply with HITRUST standards.
AWS infrastructure terraforming
Deploying AWS services and AWS release management
Migrating AWS services to meet HITRUST and HIPAA compliance
Managing the entire AWS infrastructure as IaC
Working on creating multiple AWS Config Custom and Managed rules in order to audit multiple resources and comply with HITRUST
Database: MySQL, CosmosDB, MS SQL Server
Tools: AWS Management Console, AWS CLI, AWS SDK, JIRA, Notion, GitHub
Technologies: Terraform, Linux, AWS Management Console, AWS CLI, AWS SDK, Python
EDUCATION:
BA in Electronics and Telecommunication, University of Applied Sciences, 2016
CERTIFICATIONS:
AWS Solutions Architect Associate
Scrum Foundation Professional HashiCorp
Terraform Associate
LANGUAGES:
English C1
Spanish Native
Go ahead and download our dedicated and free resume template:
8 expert tips to boost your AWS cloud engineer resume
Whether you want to draft an AWS developer resume from scratch or revise it to stand out, focus on the standard practices that help you highlight your experience and qualities to potential recruiters.
1. Include action verbs
One of the most effective ways to make your AWS developer resume stand out is to add action verbs in the bullet points.
Why?
Action verbs objectively and clearly highlight your past work experience and achievements on your AWS developer resume. Focus on one bullet point at a time and include a unique action:
Supervise
Save
Pioneer
Maximize
Introduce
Integrate
Improve
Generate
Expand
Execute
Deliver
Consolidate
Conduct
2. Focus more on your AWS developer skills
Instead of generalizing AWS developer skills, make sure to add "your" developer skills. If you want to garner the attention of recruiters, be as specific as possible. It's common to add soft skills in resumes, but since you're creating an AWS developer resume and applying for a technical position, you should focus more on highlighting your hard skills.
Hard skills refer to technical skills that make you a perfect AWS developer candidate to take care of a broad range of responsibilities. List all the programs, software, technical tools, and applications that you're an expert in and demonstrate that you have the skills that the potential recruiter needs.
In your AWS developer resume, you can add hard skills such as:
SQL and Exadata database administration
Setting up new CI/CD pipelines
Programming languages such as JavaScript, C++, and Python
Extensive knowledge of SaaS, PaaS, and IaaS
DevOps tools like Vagrant, CFEngine, Rudder, and OverOps
3. Add suitable keywords
Add keywords that are related to your AWS developer career to your resume. That's because usually, companies now use ATS, or applicant tracking systems, to filter out ineligible applicants automatically. So, make sure to include the most relevant AWS developer keywords in your resume.
Here is a list of standard keywords you can add to your AWS developer resume:
AWS-certified
AWS Lambda
Amazon API gateway
Cloud computing
Amazon SDK
Datacenter-based operations
Develop applications
SaaS
PaaS
IaaS
4. Ensure your IT skills and AWS developer skills are separate
In order to avoid confusion, you should separate your IT and developer skills in your AWS developer resume.
Highlight your developer skills before your IT ones and add a brief introduction to your professional work experience. Make sure to list all your skills in bullet point lists rather than paragraphs.
If you're applying for an entry-level position, make sure your AWS developer resume includes at least one real-world project and a few certifications. Conversely, experienced developers can add many skillful elements to their AWS developer resumes.
5. Support achievements with numbers
In your AWS developer resume, highlight your achievements in numbers. This will have a positive effect on potential recruiters and help you stand out for your achievements. When you showcase your achievements through quantitative figures, it gives recruiters a much better idea of your capabilities and informs them of your results-oriented approach.
For instance, an example of highlighting an achievement with numbers might be, "I successfully developed 10+ automated Python-based scripts in 2022." The more concrete numbers you add to your achievements, the better chance you will have of getting in the good graces of your potential recruiter.
6. Choose the right format for your AWS developer resume
You may not realize it, but AWS developer resumes emphasize that margins, headings, line spacing, font size, font, and formatting are crucial components. For instance, you don't want to use big or over-the-top resume headings, and be sure to maintain 1 to 1.15 line spacing across sections.
You can find a long list of potential resume formats for AWS developers. However, instead of generalizing, use the format that makes sense for the job and would most likely appeal to potential recruiters. Also, make sure the outline of your AWS developer resume is properly structured.
Start out with the header, summary, education, and experience and end it with skills, other personal information, and links to an online portfolio and/or completed projects.
7. Compare and present your developer skills
It all comes down to highlighting the skills that meet employers' needs — nothing more, nothing less. Today, most hiring managers look for specific AWS developer skills. This makes sense in order to add skills that can help potential recruiters hire a new candidate quickly and cut out applicants with an endless and more generalized list of skills.
The trick is to review your ability in every skill and precisely describe how it fits the job and can help the potential enterprise. In layman's terms, highlight how you can use the mentioned developer skills in specific circumstances and conditions to your employer's benefit.
On top of proper formatting and adding information that is consistent in your AWS developer resume, make sure to craft a unique cover letter that makes your case as an ideal candidate for the job.
8. Personalize your AWS developer resume
It's not enough to just list your skills and follow a basic formatting style in your AWS developer resume — you also have to personalize it. This means adding unique skills that you've managed to master and that matter the most to your potential recruiters. Avoid repetition and add specific information in bullet points to get the most attention from potential employers.
Join EPAM Anywhere as an AWS cloud engineer
EPAM Anywhere serves as a dedicated online open job hub that helps promising and experienced applicants build successful careers. Now you can leverage the EPAM Anywhere platform to look for suitable remote AWS cloud jobs and land your dream role.
You can count on EPAM Anywhere recruiters to conduct interviews in the form of a video chat. This speeds up the process for hiring managers to assess your skills, potential, and compatibility for the position.
With EPAM Anywhere, candidates can focus on the most suitable remote tech jobs and lay down a successful path for their careers. Explore remote AWS cloud engineer jobs at EPAM Anywhere now and find the one that ties together well with your AWS developer resume.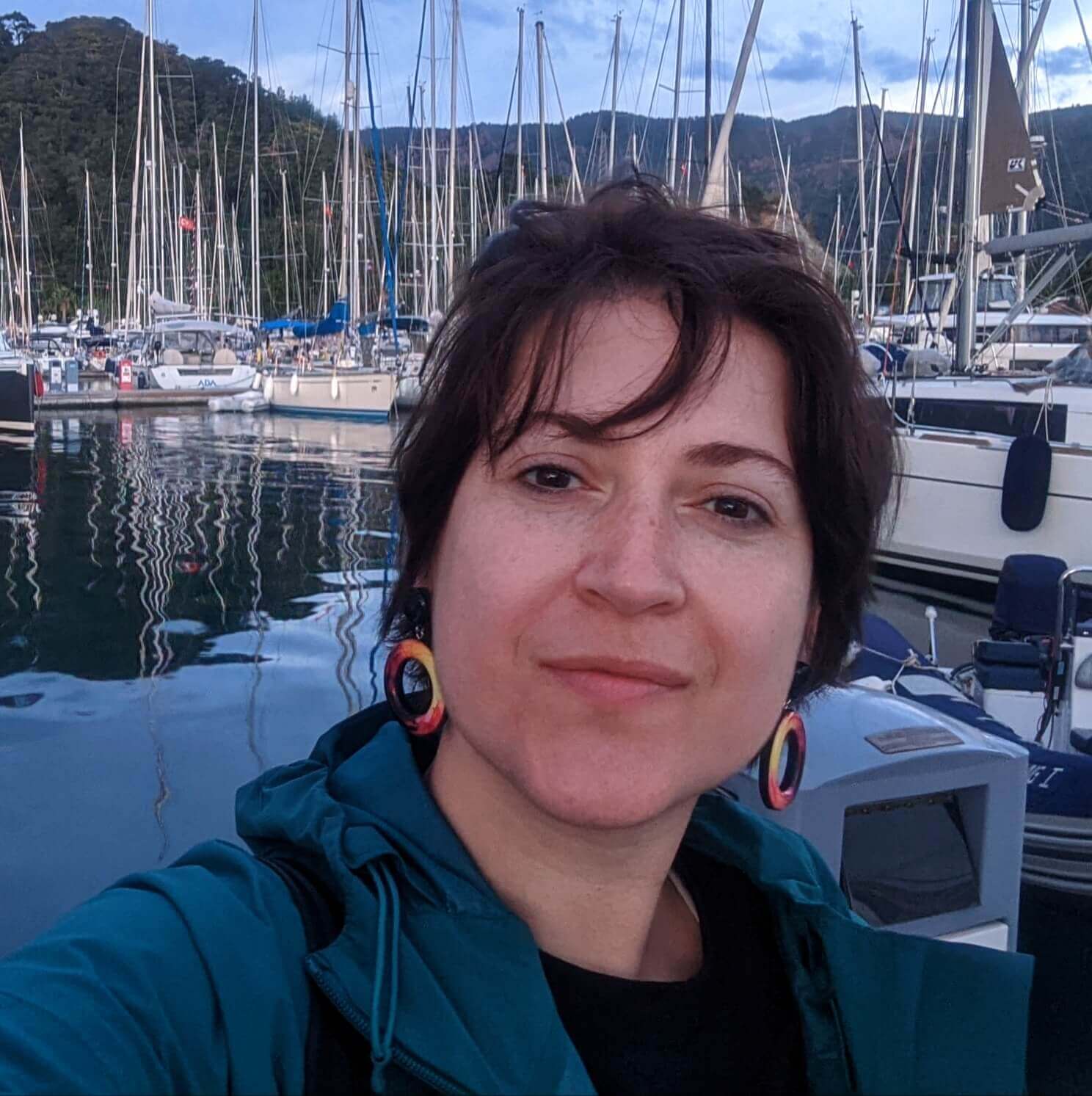 written by
As Chief Editor, Darya works with our top technical and career experts at EPAM Anywhere to share their insights with our global audience. With 12+ years in digital communications, she's happy to help job seekers make the best of remote work opportunities and build a fulfilling career in tech.
As Chief Editor, Darya works with our top technical and career experts at EPAM Anywhere to share their insights with our global audience. With 12+ years in digital communications, she's happy to help job seekers make the best of remote work opportunities and build a fulfilling career in tech.