Cloud engineering, particularly with Amazon Web Services (AWS), has emerged as an appealing and financially rewarding career path. However, before diving into this field, there's a fundamental question to be addressed: "What does an AWS cloud engineer's salary look like?"
Prospective remote cloud engineer jobs need a solid understanding of this crucial career factor. This article will delve into AWS cloud engineer salaries, exploring national averages, examining the impact of experience and location, and uncovering strategies to maximize your earning potential in this dynamic field.
get the best salary you deserve at EPAM Anywhere
Apply for our competitively paid positions and secure a job offer with one of the leading software engineering companies in the world
apply
What's the average AWS engineer salary?
Disclaimer: The salary figures discussed here are sourced from publicly available data and are only meant for reference. They do not represent the salaries at EPAM or EPAM Anywhere and should not be considered as such.
Understanding the national average salary among the highest-paying remote tech jobs is the initial step toward a successful career. The average salary of an AWS engineer in the United States is $127,735 per year according to Glassdoor, although this can vary significantly due to several factors, including:
Years of experience
Skillset
Geographical location
Certifications
While the exact figures may fluctuate, gaining an overview of the salary ranges within this field is nonetheless essential.
AWS cloud engineer salary by years of experience
To gain a more profound insight into AWS cloud engineer salaries, let's break it down by years of experience, providing a comprehensive perspective.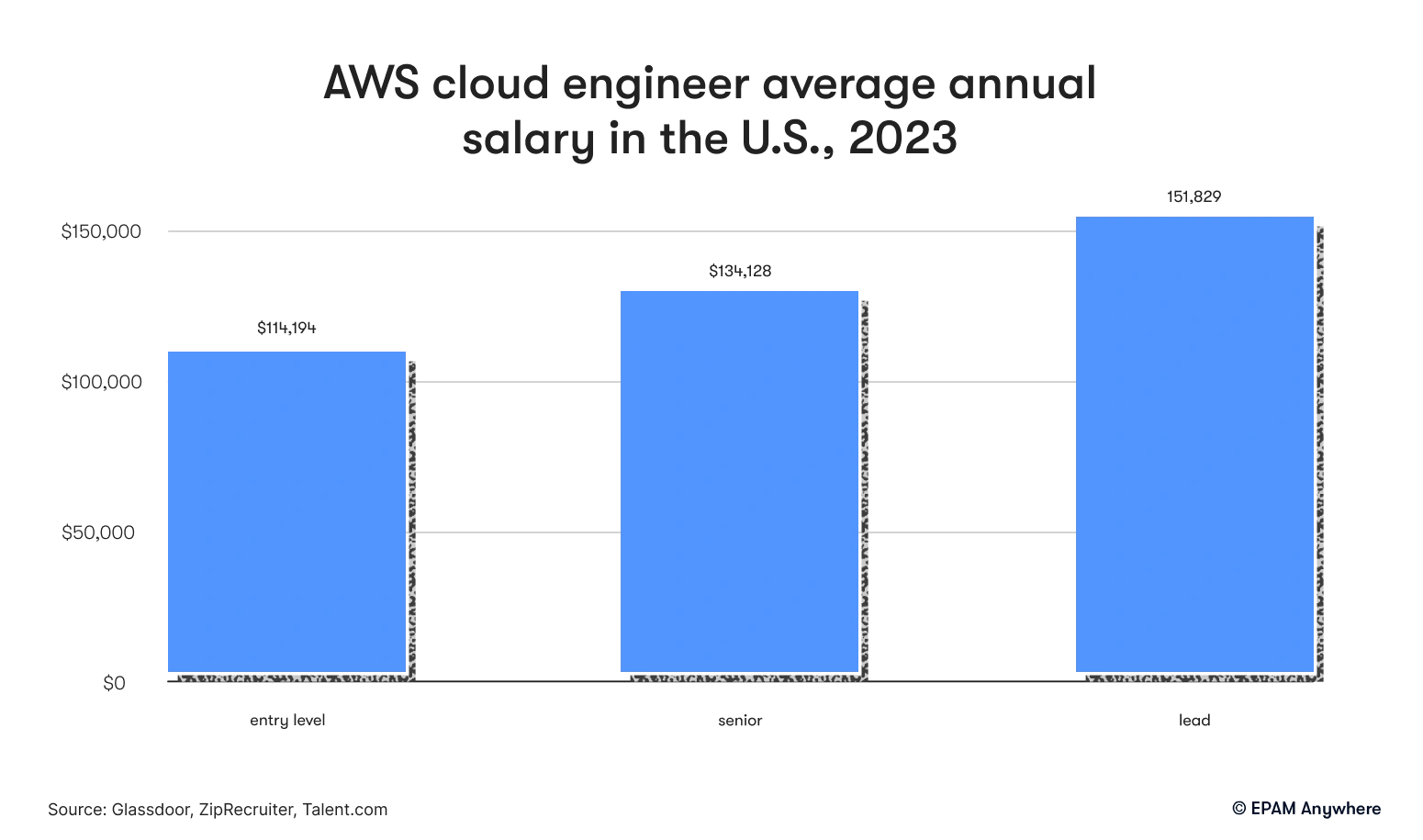 1. Entry-level AWS cloud engineer salary
For those just embarking on their journey as AWS cloud engineers, often called entry-level AWS cloud engineers, salaries typically come at $114,194 per year on average. However, this can often be higher due to the diversity of roles and the specific skill sets of individuals.
2. Senior AWS cloud engineer salary
Seasoned AWS engineers with extensive experience and certifications can demand impressive salaries, often exceeding $134,128 a year. Senior AWS cloud engineers are pivotal in designing and implementing advanced AWS solutions, ensuring they are scalable, secure, and efficient.
These figures provide approximate guides to the earning potential in this sector. It's important to note that geographical location also play a pivotal role, with engineers in technology hubs such as San Francisco and New York City enjoying higher salaries to compensate for the elevated cost of living.
3. Lead AWS cloud engineer salary
With 10+ years of industry experience under their belts, lead AWS engineers typically command salaries of $151,829 per year or more. This increase reflects their industry maturity and expertise, as well as the extra responsibilities they shoulder. At this stage, lead cloud engineers often manage complex AWS environments and implement innovative solutions in addition to managing a team.
Factors affecting the AWS cloud engineer salary
Several factors come into play when determining your AWS cloud engineer salary. For example, salary negotiation is a vital element. To help with this, professionals should prepare to answer AWS cloud engineer interview questions and learn how to create an outstanding AWS cloud engineer resume. Understanding these variables empowers you to negotiate a more favorable compensation package.
1. Skills and certifications for AWS engineers
AWS engineers boasting advanced skills and certifications are in high demand and can therefore command higher salaries. Certifications such as AWS Certified Developer — Associate and AWS Certified DevOps Engineer are highly valued.
Demonstrating proficiency in cloud-native technologies, serverless computing, container orchestration (using tools like Kubernetes), and Infrastructure as Code (IaC) through AWS CloudFormation or Terraform can likewise significantly boost your market value.
2. Experience and its impact on salary
Your experience level significantly dictates your earning potential. Carefully planning your career trajectory, aiming for continuous growth and learning, is crucial. Organizations highly value AWS engineers who deeply understand AWS services, infrastructure design, security best practices, and automation.
3. Location and cost of living
The geographic location in which you work can profoundly affect your salary, as widespread variations in the cost of living across different regions may lead to varying salary offers. Engineers in significant tech hubs frequently receive more generous compensation packages.
However, with the rise of remote work, AWS engineers can sometimes earn competitive salaries while still residing in more affordable regions.
4. Industry and company size
The industry sector you operate within and the size of your employer company plays a pivotal role in salary determination. Tech startups often offer competitive salaries along with enticing additional cash compensation like stock options. Larger enterprises may provide comprehensive benefits packages, including bonuses, healthcare, and retirement plans.
5. Programming languages and frameworks
Proficiency in programming languages and frameworks integral to cloud computing, such as Python, Java, or Kubernetes, can significantly elevate your earning potential. AWS engineers skilled in coding are essential for developing and maintaining applications on the AWS platform.
Knowledge of DevOps engineering, continuous integration, and continuous delivery (CI/CD) pipelines is highly sought after.
6. Specialization and niche expertise
Specializing in niche areas within AWS, such as machine learning, data analytics, or cybersecurity, is likely to lead to a higher salary due to the heightened demand for specialized expertise. AWS engineers with expertise in AWS Lambda, Amazon SageMaker, or AWS Glue for data engineering are often in high demand as organizations seek to leverage data for competitive advantage.
7. User experience and interface design skills
AWS engineers with a strong background in crafting a seamless user experience encompassing user interfaces and web applications are often more highly valued. The ability to create user-friendly, efficient, and responsive applications can set you apart in a competitive job market.
In particular, developing skills in frontend technologies, responsive web design, and user interface (UI) development can open doors to exciting opportunities.
8. Mastering the art of negotiation
The art of negotiation can't be understated. Mastering effective salary negotiation techniques is crucial to secure the most favorable compensation package. It's not just about salary; consider negotiating for additional perks such as:
Remote work options
Professional development opportunities
Being well-prepared and knowing your market worth can make a significant difference.
Grow your AWS engineer salary at EPAM Anywhere
If you're keen on escalating your AWS engineer career and maximizing your earning potential, consider exploring job opportunities at EPAM Anywhere — a remote-forever workplace for global cloud engineering talent.
do a reality check of your salary expectations with us
Apply for an opportunity to talk to our hiring managers and check if your desired salary is realistic
let's start
The AWS cloud engineer salary is multifaceted, with numerous variables contributing to earning potential. By consistently enhancing your skill set, acquiring pertinent certifications, taking your location and specialization into account, and mastering the art of negotiation, you can unlock the full potential of your AWS engineer salary. Explore opportunities at EPAM Anywhere to catapult your cloud engineering career to new heights.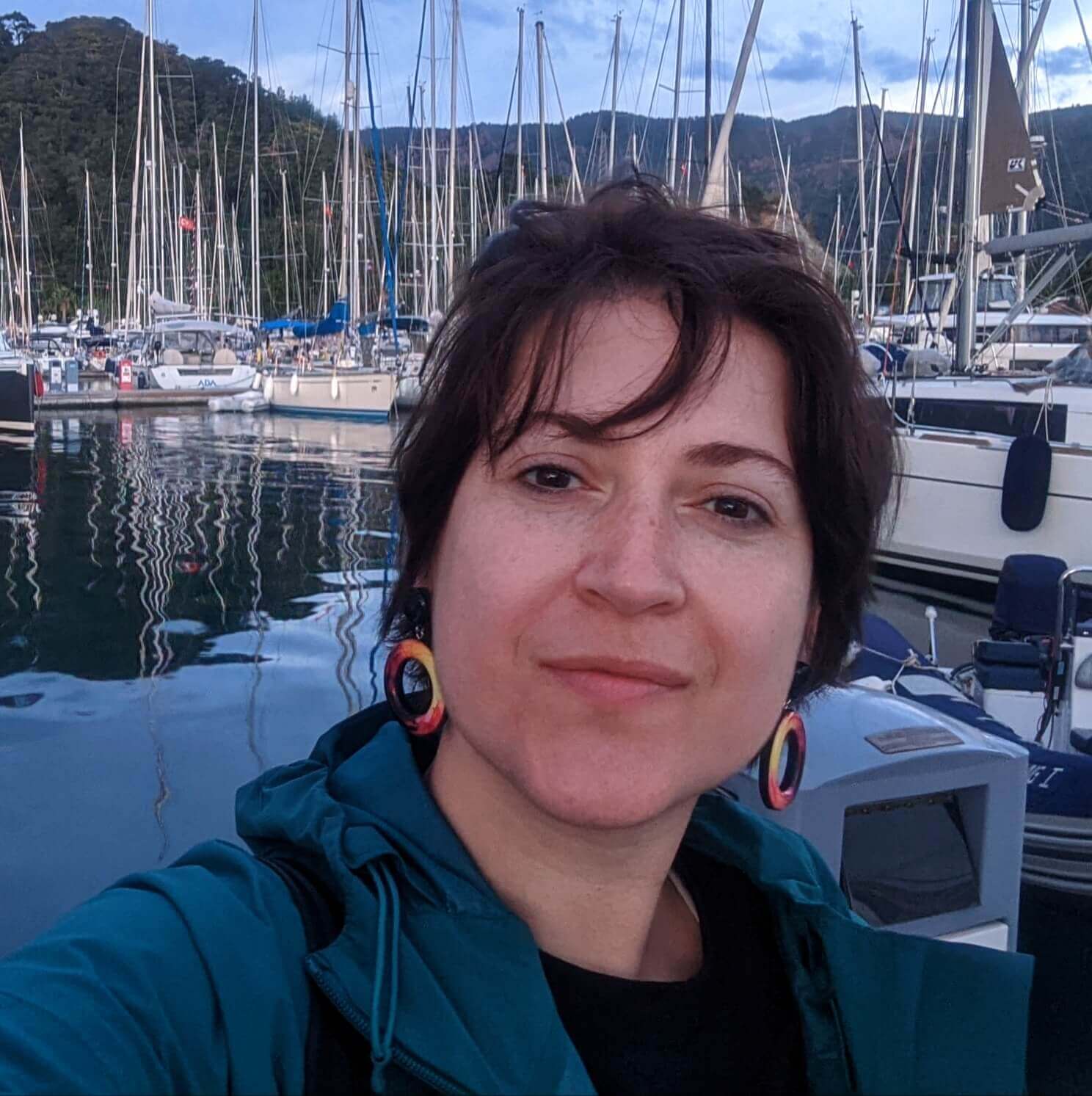 written by
As Chief Editor, Darya works with our top technical and career experts at EPAM Anywhere to share their insights with our global audience. With 12+ years in digital communications, she's happy to help job seekers make the best of remote work opportunities and build a fulfilling career in tech.
As Chief Editor, Darya works with our top technical and career experts at EPAM Anywhere to share their insights with our global audience. With 12+ years in digital communications, she's happy to help job seekers make the best of remote work opportunities and build a fulfilling career in tech.