Data architects are currently in high demand, and the need for these professionals is only expected to continue rising over the coming years. As a result, the data architect salary many professionals see is often very enticing, including if you prefer the freedom and flexibility that comes with remote data engineer jobs.
However, while data architects are often well compensated, exact salaries can vary. For example, specific specialties may offer higher pay rates than others, and years of experience or seniority level can play a role. By reviewing salary data, it's easier to see typical compensation based on various factors. If you're wondering, "How much does a data architect make?" here's what you need to know about the typical data architect salary.
get the best salary you deserve at EPAM Anywhere
Apply for our competitively paid positions and secure a job offer with one of the leading software engineering companies in the world
apply
How much do data architects make?
Disclaimer: The following salary figures are sourced from publicly available data and are for reference only. This information is not indicative of the salaries at EPAM or EPAM Anywhere and cannot be considered as such.
If you're looking for some of the highest-paying remote tech jobs available, a data architect position can undeniably fall into that category. Based on data from the U.S. Bureau of Labor Statistics (BLS) for 2022, the median salary for database architects is $134,870. That's higher than the national average median salary for software developers from BLS, which comes in at $124,200.
Other salary-tracking websites have different amounts listed as the data architect average salary. For instance, according to Glassdoor, the average data architect salary is $131,854 per year. PayScale shows an average salary of $130,338 annually. Salary.com reports a median annual pay rate of $129,238, while Zippia places the average at $113,700.
Based on these figures, most would agree that the average data architect compensation falls in the salary range of $110,000 to $135,000. If you average those figures together, you'd get a mean annual salary of $128,000.
However, it's critical to note that the figures above are often the base salary associated with being a data architect. As a result, these pay rates may not include the value of any benefits received or additional cash compensation that's available (such as annual bonuses).
Data architect salary by years of experience
Data architect salaries vary based on how much experience a professional working in the field possesses. Typically, more time in a data architect role causes a person to develop more relevant skills and knowledge about various systems and technologies used to perform their duties.
For example, junior and senior data architects typically have a more in-depth understanding of Amazon Web Services (AWS), web application servers, various frameworks, programming languages, and APIs than their entry-level counterparts. More experienced professionals may also have certifications that data architects without as much time in the field would possess.
As a result, the further into a career path you are, the higher the compensation you're usually eligible to receive. Here's a breakdown of the average base pay rates for each career level.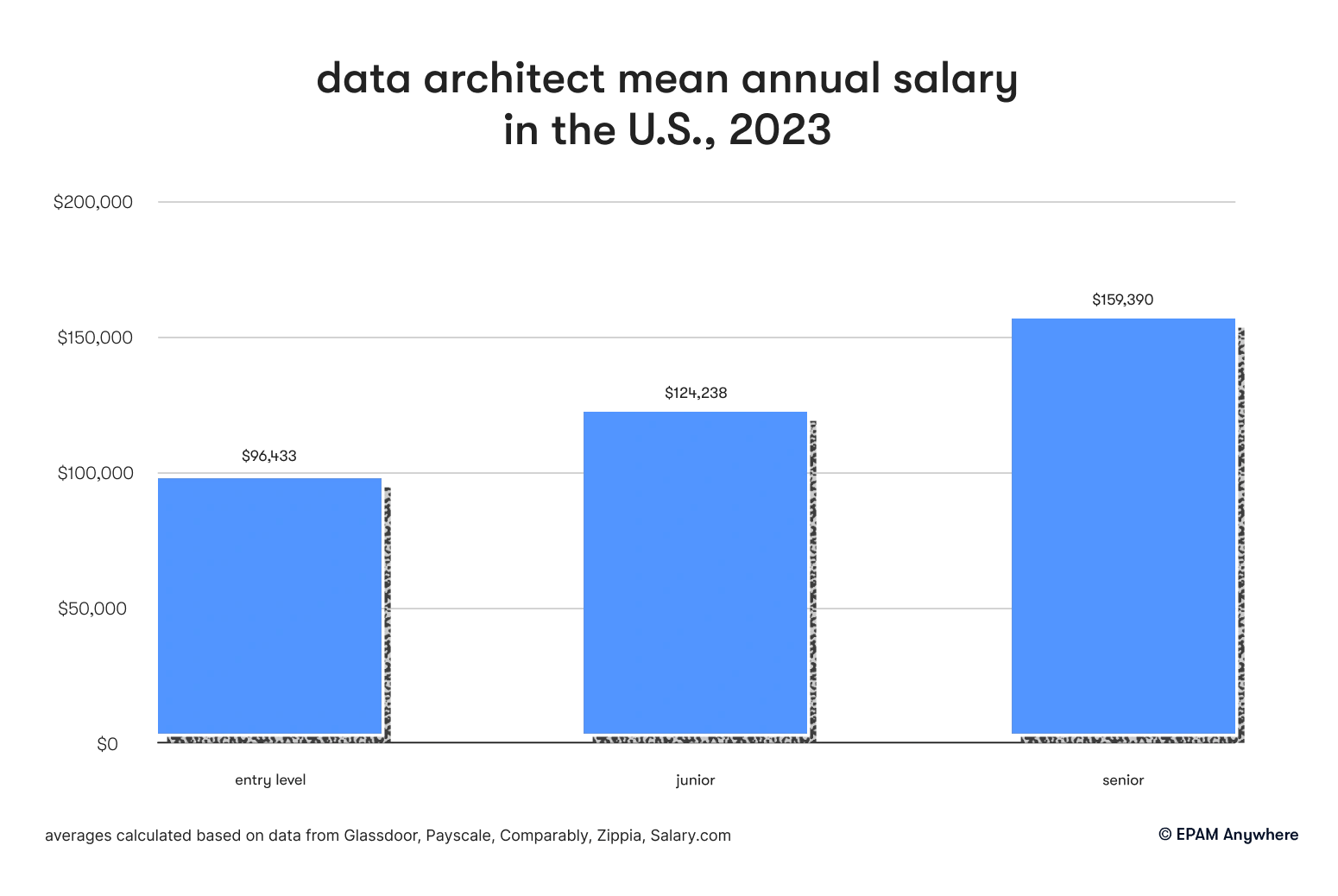 Entry-level data architect salary
As with the average data architect salary, the mean compensation rate for entry-level data architects varies a bit depending on the reporting resource. According to Salary.com, the average annual base salary for entry-level data architects is $82,990, while Zippia reports that early-career level data architects earn between $110,000 and $120,000 per year. However, Payscale states that entry-level data architects with less than one year of experience can expect a salary closer to $72,743 per year.
After averaging out those figures, the mean yearly salary for an entry-level data architect is likely close to $96,433.
Junior data architect salary
Junior data architect annual salaries also show different rates depending on the resource. Based on data from Glassdoor, junior data architects have an average yearly salary of $120,725. However, Comparably lists the average at $95,923 per year. Salary.com lists the mean annual compensation for a data architect III — a mid-level individual contributor position — as $128,076.
If you average those figures together, the mean junior architect annual salary is about $124,238.
Senior data architect salary
According to Salary.com, the mean salary for a data architect V — a senior-level role — is $165,815 per year. Glassdoor has a different figure, listing the average at $140,203 per year, while Zippia comes in lower at $120,247 annually.
When those figures are averaged together, you get a mean annual salary close to $159,390.
Data science architect salary
As mentioned previously, specific specialties can alter how much a professional is likely to earn during their career. When it comes to the average data science architect salary, ZipRecruiter lists the mean annual rate at $140,797, while Talent.com states an average of $165,000.
Data solutions architect salary
According to Salary.com, the average data solutions architect salary is $125,302. Glassdoor lists a mean annual pay rate of $130,212 (before any additional compensation is factored into the equation).
Factors affecting the data architecture salary
Many factors influence the salary offered to data architects when they're looking for a new job. First, the quality of their data engineer resume and how well they answer entry-level, junior, or senior data engineer interview questions play a role. That determines the strength of a candidate's first impression and impacts the likelihood of the hiring manager seeing the value they provide.
In addition, resumes and interview answers allow candidates to showcase an array of potentially beneficial cross-functional skills — such as user interface and user experience (UI/UX) expertise or various client-side technologies — that provide additional value. As a result, exceeding expectations on these fronts usually leads to higher pay rates.
As with a senior software engineer, data scientist, or big data engineer salaries, whether the candidate is effective at salary negotiation is also a factor. Strong negotiation skills often lead to better compensation, so these are worth developing.
The company's or candidate's physical location also comes into play, as many employers factor in the cost of living when making offers. Whether a company is a startup or well-established can similarly be part of the equation.
do a reality check of your salary expectations with us
Apply for an opportunity to talk to our hiring managers and check if your desired salary is realistic
let's start
Grow your data architect salary at EPAM Anywhere
Becoming a data architect is undeniably a solid option if you want a lucrative career. However, to secure the highest pay rates, you need to acquire experience and skills to support your career growth.
At EPAM Anywhere, we provide job seekers with access to exciting remote tech jobs that help them make their goals a reality. If you're ready to get your career moving in the right direction, see what EPAM Anywhere has to offer today and apply.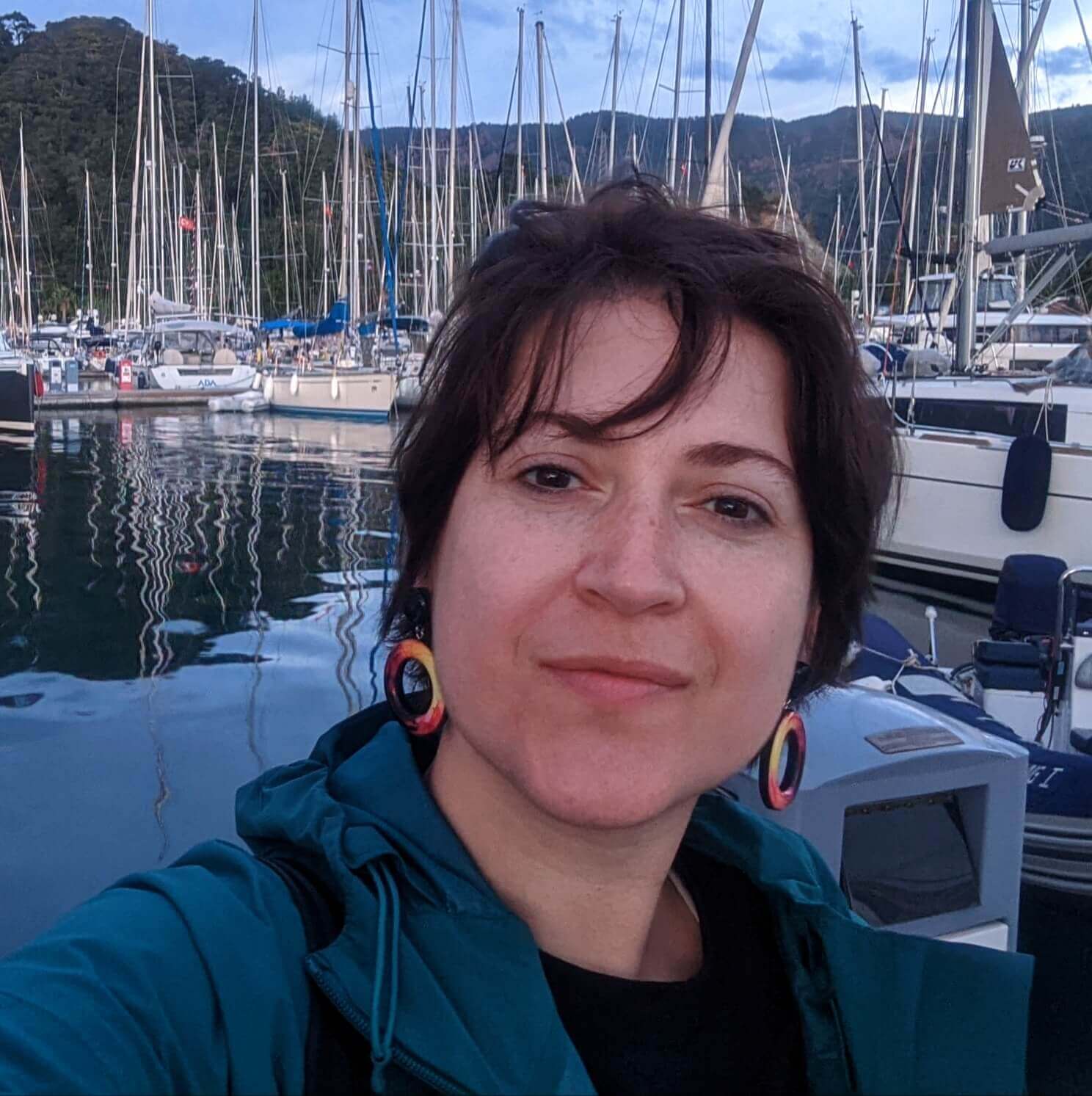 written by
As Chief Editor, Darya works with our top technical and career experts at EPAM Anywhere to share their insights with our global audience. With 12+ years in digital communications, she's happy to help job seekers make the best of remote work opportunities and build a fulfilling career in tech.
As Chief Editor, Darya works with our top technical and career experts at EPAM Anywhere to share their insights with our global audience. With 12+ years in digital communications, she's happy to help job seekers make the best of remote work opportunities and build a fulfilling career in tech.