Data engineering is a dynamic and well-compensated field. As we enter 2023, the remote data engineer jobs are not only evolving but also embracing remote work with open arms. For those interested in data engineering, especially in remote roles, this article offers insights into the profession's earning potential.
get the best salary you deserve at EPAM Anywhere
Apply for our competitively paid positions and secure a job offer with one of the leading software engineering companies in the world
apply
How much do data engineers make?
Disclaimer: The following salary figures are sourced from publicly available data and are for reference only. This information is not indicative of the salaries at EPAM or EPAM Anywhere and can't be considered as such.
Data engineering ranks among the highest-paying remote tech jobs, making it an appealing choice for those seeking flexibility and competitive compensation. According to Indeed, the average base salary of data engineers in 2023 in the US is $123,307.
Remote data engineering jobs often come with perks. For instance, they frequently offer flexibility in work hours and location that are usually mentioned in the job descriptions. Many professionals find that remote roles allow them to achieve a better work-life balance.
Data engineer average salary by years of experience
Now, let's break down data engineer salaries based on years of experience. This breakdown provides valuable insights for individuals at different career stages: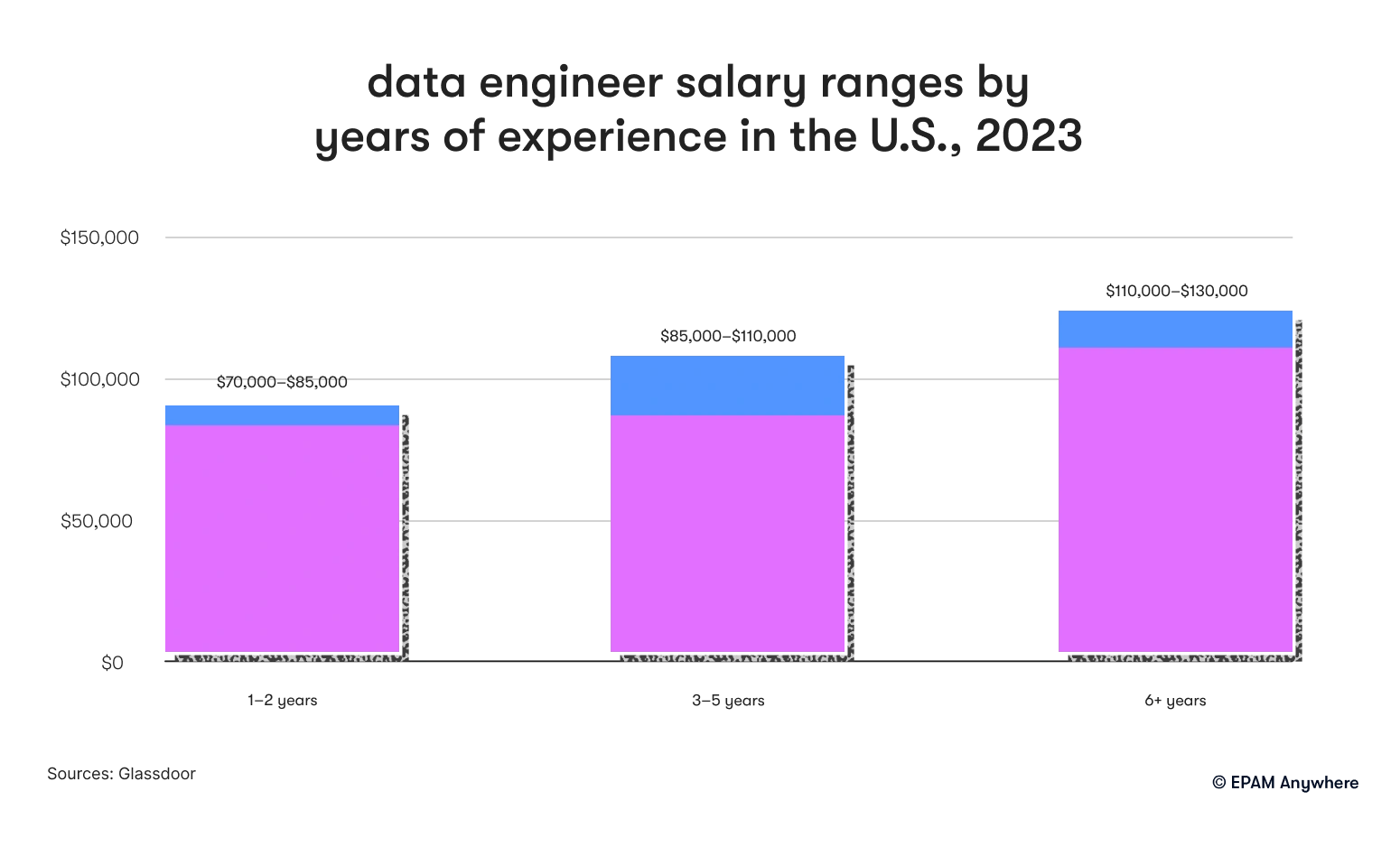 Junior data engineer (1–2 years of experience)
Entry-level data engineers can expect an average salary ranging from $70,000–$85,000 annually, depending on factors such as skills and location.
Junior data engineers play a crucial role in data pipeline development and maintenance. They work under the guidance of more experienced colleagues, gaining valuable skills and knowledge along the way.
Mid-level data engineer (3–5 years of experience)
Those with several years of experience can command an average salary in the range of $85,000–$110,000 per year. Mid-level data engineers typically have a solid foundation in data engineering concepts and have likely specialized in specific technologies or platforms.
Senior data engineer (6+ years of experience)
Senior data engineers with extensive expertise often enjoy salaries exceeding $110,000–$130,000. They are responsible for designing complex data pipelines, optimizing data storage solutions, and ensuring data integrity. Their experience and knowledge are precious to organizations.
These figures can vary based on several factors. Location plays a significant role; salaries tend to be higher in tech hubs like San Francisco, New York, or Seattle compared to smaller cities or rural areas.
Additionally, specific skills and certifications can impact earning potential. For instance, proficiency in big data technologies such as Apache Spark or Hadoop often leads to higher salaries.
Factors affecting the salary of a data engineer
Various factors influence a data engineer's salary, and understanding these factors can help you maximize your earning potential. Here are key elements that can impact data engineer salaries:
Negotiating your salary
Practical negotiation skills can significantly affect your earnings. When considering a job offer, it's essential to negotiate not only the base salary but also additional perks such as bonuses, stock options, and remote work allowances. By mastering the art of negotiation, you can secure a more favorable compensation package.
Succeeding in a data engineer interview
Preparing for interviews effectively can lead to better salary offers, so get ready with these senior data engineer interview questions. Senior data engineer roles often involve more complex responsibilities, so interviewers may assess your problem-solving abilities, architectural knowledge, and experience with large-scale data projects. By honing your interview skills and showcasing your expertise, you can position yourself as a top candidate and negotiate a higher salary.
Data engineer resume
Crafting a compelling resume is essential for standing out in a competitive job market. Your data engineer resume should highlight your relevant skills, experience, and achievements. Be sure to include any certifications or training that demonstrate your expertise in data engineering. A well-crafted resume can capture the attention of potential employers and lead to higher compensation offers.
do a reality check of your salary expectations with us
Apply for an opportunity to talk to our hiring managers and check if your desired salary is realistic
let's start
Additional insights for aspiring data engineers
Aspiring data engineers often wonder about the skills and qualifications needed to excel in the field. Here are some critical considerations for those looking to begin a data engineering career:
Skills and frameworks
To thrive as a data engineer, you must be proficient in data manipulation, ETL (extract, transform, load) processes, and database management. Familiarity with programming languages like Python, Java, or Scala is crucial. Additionally, mastering data engineering tools such as Apache Spark, Apache Hadoop, and SQL is highly advantageous.
Certifications
Obtaining relevant certifications can boost your credibility and earning potential. Consider pursuing certifications such as the AWS Certified Data Analytics Specialty or the Google Cloud Professional Data Engineer certification.
Career path
Data engineering is not a static field; it evolves continuously. Stay updated with emerging technologies and trends, such as real-time data processing, cloud-native solutions, and data streaming platforms. A data engineer who can adapt to changes will remain in high demand.
User experience
Data engineers play a pivotal role in ensuring that data scientists, analysts, and other stakeholders can access and work with data seamlessly. Prioritize creating user-friendly data pipelines and interfaces to enhance the overall data experience within your organization.
Grow your data engineering salary at EPAM Anywhere
For those interested in remote data engineering opportunities, EPAM Anywhere offers an exciting platform. EPAM Anywhere connects top-tier talent with our in-house data engineering remote jobs for renowned clients worldwide. Apply today.
The data engineering profession in 2023 presents promising prospects for tech professionals. Remote data engineering roles offer competitive salaries, flexible work arrangements, and opportunities to work on exciting projects with leading organizations.
To maximize your earning potential in this field, continue to develop your skills, gain valuable experience, and stay updated with the latest industry trends.
Your salary in data engineering reflects not only your expertise but also the value you bring to the ever-evolving world of data. By investing in your career and staying proactive, you can achieve a rewarding and financially satisfying journey in data engineering.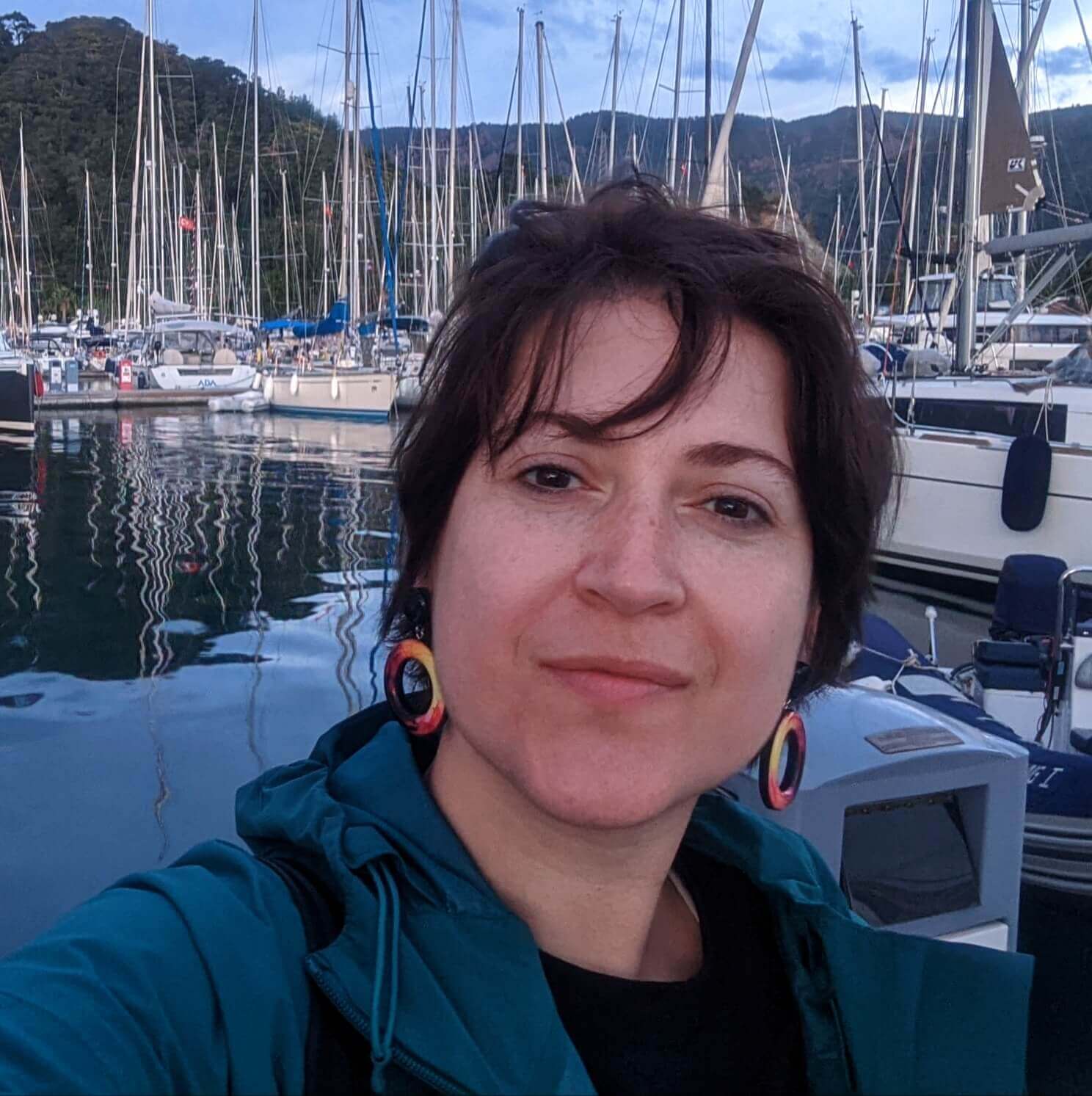 written by
As Chief Editor, Darya works with our top technical and career experts at EPAM Anywhere to share their insights with our global audience. With 12+ years in digital communications, she's happy to help job seekers make the best of remote work opportunities and build a fulfilling career in tech.
As Chief Editor, Darya works with our top technical and career experts at EPAM Anywhere to share their insights with our global audience. With 12+ years in digital communications, she's happy to help job seekers make the best of remote work opportunities and build a fulfilling career in tech.