The software development industry is constantly evolving, and so is the SQL developer's salary based on accumulated knowledge and skills. SQL developers work with relational databases, utilizing Structured Query Language (SQL) to store, retrieve, manipulate, and manage data. Consequently, the salary for SQL developers is expected to remain competitive in the year 2023.
Several factors come into play when determining an SQL programmer's salary, including experience level, geographic location, and educational background. Typically, developers with more experience command higher salaries than those without. Additionally, location plays a significant role, with SQL developers in countries with a higher cost of living generally earning more.
One major shift we've observed is the rise in remote SQL developer jobs, allowing professionals to offer their expertise from virtually anywhere in the world. In this article, we're going to provide you with some insights into the salary trends you can expect as an SQL developer in 2023, especially focusing on remote positions.
get the best salary you deserve at EPAM Anywhere
Apply for our competitively paid positions and secure a job offer with one of the leading software engineering companies in the world
apply
How much do SQL developers make?
Disclaimer: The following salary figures are sourced from publicly available data and are for reference only. This information is not indicative of the salaries at EPAM or EPAM Anywhere and cannot be considered as such.
On average, SQL developers earn in the region of $70K-$120K, with an average annual salary of $97.8K. However, this number can change considerably based on the factors.
Before delving into the specifics, let's take a step back and consider the bigger picture. As of 2023, the average salary for IT professionals continues to increase year-on-year. 2023 saw a 2.3% increase in comparison to 2022, but the majority of tech professionals still believe they are underpaid.
For SQL developers, salary can be influenced by a variety of factors. These factors include the number of years of experience in working with SQL, the specific SQL frameworks and technologies mastered, the level of expertise in database management, and even the geographic location of the job market.
SQL developer salary by years of experience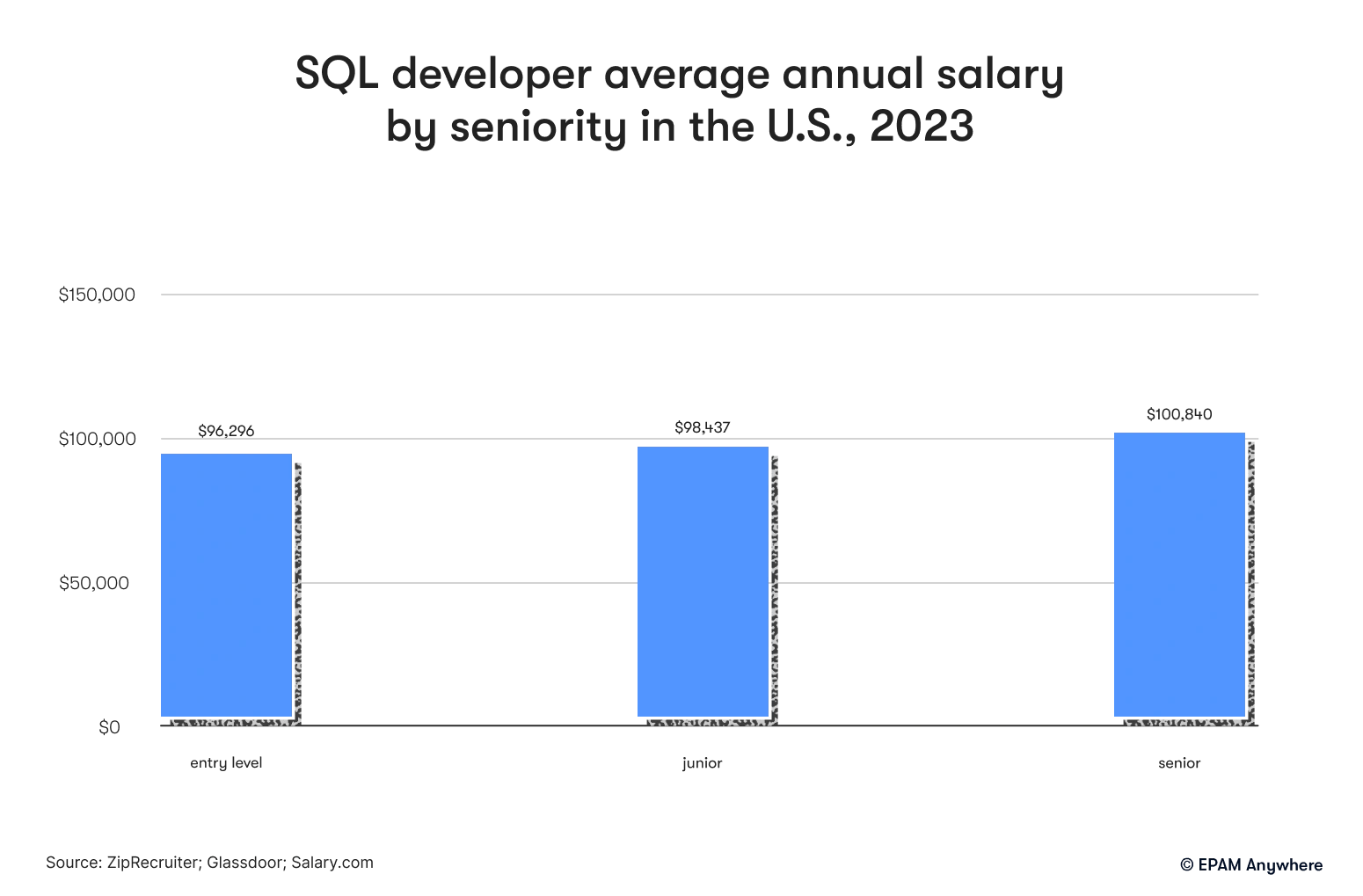 Entry-level SQL developer salary: Fresh graduates and those with less than two years of experience can expect an entry-level SQL developer salary ranging from $70,000 to $160,000, with the average salary being around $96,296 in the U.S.
Junior SQL developer salary: Those with 1-3 years of SQL development experience can expect an average salary of $98,437 per year in the US.
Senior-level SQL developer salary: Those with over six years of experience or holding a senior software engineer title can command salaries of up to $120K or even higher based on additional certifications and specializations. The median salary for this group is $100,840 a year in the U.S.
SQL salary based on specialization
When it comes to determining your SQL programmer salary, it's not solely based on the number of years you've been working. The depth of your tech-specific knowledge plays a crucial role as well. Having a strong familiarity with specific SQL frameworks and technologies can greatly impact your earning potential.
For example, being proficient in Oracle PL/SQL can position you toward the higher end of the SQL jobs pay scale compared to someone with more generic SQL skills. This specialized expertise in platforms like Oracle or Microsoft SQL Server significantly influences the equation of how much SQL developers can make.
Oracle PL/SQL developer salary: Oracle PL/SQL developers, given their expertise in Oracle's proprietary extension for SQL, often command a higher average salary. They can expect an average yearly amount of $109K, subject to their years of experience and certifications.
Microsoft SQL Server developer salary: Developers specializing in Microsoft SQL Server have a unique skill set. Their salaries typically range between $75,000 and $115,000, with an average annual salary of $108K. Factors such as their familiarity with associated tools, APIs, and user interface customizations can further affect these figures.
Employers value individuals who possess in-depth knowledge and experience in these specific platforms, as it demonstrates a higher level of expertise and capabilities in their field. This, in turn, can lead to more lucrative opportunities and a higher salary. Investing time and effort into developing your skills in these specific SQL technologies can therefore pay off in terms of enhanced earning potential and career growth.
SQL salary based on location
Furthermore, while we're focusing primarily on remote roles, one cannot ignore the impact of geographic location on SQL job salaries. Even in the realm of remote jobs, the cost of living based on the developer's location can sway the numbers. This is especially true when companies adjust salaries based on the cost of living.
Salaries can vary widely even in the same country. Based on Payscale data, a software developer in New York City could expect to earn from $94,300-$182,000. Compare this to someone with the same skills in Dallas, where the range is $77,700-$81,000. COLA, or Cost of Living Adjustment, is how some companies try to equalize salaries awarded based on geographic location.
Overall, as a SQL developer, you can expect to earn a competitive wage in 2023, with salaries continuing to increase from current levels. With the right skill set and expertise, you can further maximize your earning potential with attractive job opportunities available both locally and remotely.
Additional factors affecting an SQL programmer's salary
Several components can determine an SQL programmer's salary. While SQL interview questions might hint at the complexity and expectations of the job, other elements such as the cost of living in the developer's location, certifications, and proficiency in specific frameworks also play a significant role.
Certifications: Acquiring certifications, like those related to SQL Server or Oracle, can enhance an SQL developer's career path, leading to a better salary range. For instance, those with SQL certifications often exceed the national salary average.
Soft skills: It's not all about technical knowledge. An SQL developer also needs to possess soft skills such as problem-solving, communication, and the ability to collaborate with other individuals on a project. Such traits are often appreciated by employers and can contribute to a higher salary.
Industry experience: An experienced SQL developer who is well-versed in the nuances of the industry, including customer demands and preferences, can command a higher salary. Showcasing your expertise related to API integrations, analytics platforms, or other specific projects in your SQL developer resume could add another dimension to your skill set and potentially increase your wage.
do a reality check of your salary expectations with us
Apply for an opportunity to talk to our hiring managers and check if your desired salary is realistic
Grow your SQL developer salary at EPAM Anywhere
The SQL developer field remains promising in 2023. As the digital landscape expands, so does the demand for experienced SQL professionals. Whether you're an entry-level developer or have several years under your belt, staying updated and refining your skills can significantly affect your earning potential in this ever-evolving domain. Remember, negotiation is key, so ensure you're equipped with the right salary negotiation strategies to secure the best deal for your expertise.
EPAM Anywhere offers a plethora of opportunities for SQL developers. Leveraging your skills, gaining experience, and obtaining certifications can pave the way for a more lucrative career with us. Apply today for a competitive base salary and career growth opportunities, enabling you to reach the higher echelons of the SQL jobs pay scale.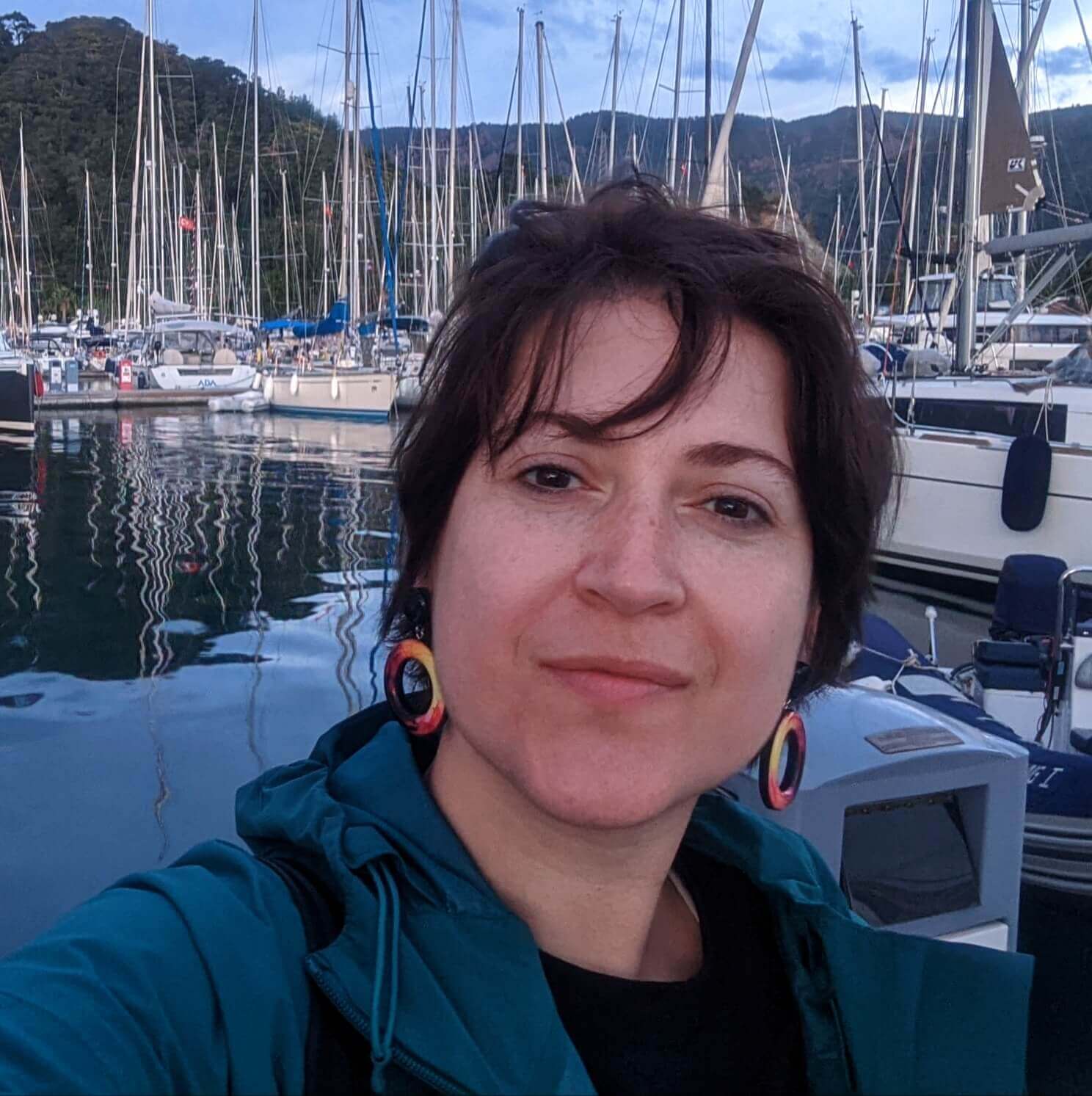 written by
As Chief Editor, Darya works with our top technical and career experts at EPAM Anywhere to share their insights with our global audience. With 12+ years in digital communications, she's happy to help job seekers make the best of remote work opportunities and build a fulfilling career in tech.
As Chief Editor, Darya works with our top technical and career experts at EPAM Anywhere to share their insights with our global audience. With 12+ years in digital communications, she's happy to help job seekers make the best of remote work opportunities and build a fulfilling career in tech.