Today's job market has become highly saturated and competitive across all fields and industries. If you're a talented front end developer and ready to be part of a vibrant organization to realize your full potential, you will have to meet the high expectations of employers.
Of course, the search for any job requires thorough preparation and research. As a front end developer, you should be aware of the current dynamics in the field and what value you can bring to the company.
For starters, you need a computer science degree and proficiency in coding languages like CSS, HTML, jQuery, and JavaScript. Most front end developers now also possess experience in graphic design software solutions like Adobe Illustrator.
If you have the required skills and have had the opportunity to work on various front end development projects, then you have a better chance of landing your next job. In any case, your approach has to be competitive.
Below, we provide a few useful tips to draft a cover letter and increase your chances of landing a front end developer remote job, along with a free cover letter template for you to get started right away.
forget about cover letters!
Apply to EPAM Anywhere with just your CV. Start now to find the best-matching remote job at EPAM Anywhere for you.
find me a job
What makes a job-winning front end developer cover letter?
Focus on the most relevant skills
If you want your front end cover letter to appeal to the right employers and HR professionals, you will have to mention your most relevant skills as you do in your resume. Depending on the job's roles and responsibilities, highlight skills that will draw employers' attention during the screening process. For instance, when it comes to front end web development jobs, the most commonly required skills include JavaScript, TypeScript, React, CSS, Node, and jQuery.
Demonstrate your coding proficiency
In a competitive job market, employers and HR professionals prefer to lean towards applications that have a complete grasp of coding languages and their use cases. When it comes to writing a cover letter, you have to highlight your coding skills with a personalized touch.
Highlight your problem-solving skills
Regardless of the scope of a job, employers want to see whether or not you have a problem-solving mind. So, when you draft your cover letter, make sure to add examples of your work and explain how you managed to solve specific problems. For instance, you can describe how you fixed damaged code or addressed a site bug.
Proofread your cover letter
You'd be surprised how many mistakes you can spot from a single proofread. If you have a knack for editing, then you can proofread your cover letter yourself. But if you want to play it safe, it wouldn't hurt to hire an editor for a thorough check of your cover letter. In any case, proofreading will help you get rid of minor mistakes and come across as more professional to HR professionals.
A job-winning cover letter for front end developers: additional tips
Create a checklist of all the items you want to add to your cover letter.
Don't stretch out your cover letter more than you have to — make sure it has short and consistent paragraphs.
Do not use repetitive terms or talking points throughout your cover letter.
Make sure the content of your cover letter is organized and well-structured to create a seamless flow of text.
Front end developer cover letter example
If you're wondering how to write a cover letter for a front end developer position, then take a look at this sample:
Dear HR Manager,
I've had the honor to work as a front end web developer for several years. Currently, I'm looking to undertake a challenging role that can help me evolve. With my skills and experience in HTML, CSS, and JavaScript, I believe I'm the right fit for this position.
I've had the chance to hone my skills for years and have collaborated with a web development team. To land this job, I will bring my direct communication and technical skills to the table. I'm more than capable of meeting strict deadlines and maintaining high standards of productivity in a professional workplace environment.
Most recently, I managed to develop dedicated web applications for a high-end client. With my experience in a wide range of projects, I can manage a variety of client requests and contextualize feedback. I thrive in team settings and always cater to the needs of the client.
I understand that developing visually attractive sites requires a technical, innovative, and strategic approach. I want to step up in design and programming with a more creative and technical focus.
I appreciate your valuable time and effort to read through this cover letter.
I'm more than happy to answer any of your questions in person or via mail.
Best regards,
Name
Download your free cover letter template now:
Apply for a front end developer job at EPAM Anywhere
If you want to land a position as a front end web developer, you will have to build a solid cover letter along with a well-written portfolio. With the right approach, you're bound to get hired for your desired job.
Experienced front end developers can find dozens of vacancies at EPAM Anywhere. Beyond a workplace, we're a dedicated community of tech professionals who can help you unlock more skills and set you in a growth-driven direction. Start now by browsing our remote tech jobs and feel free to apply.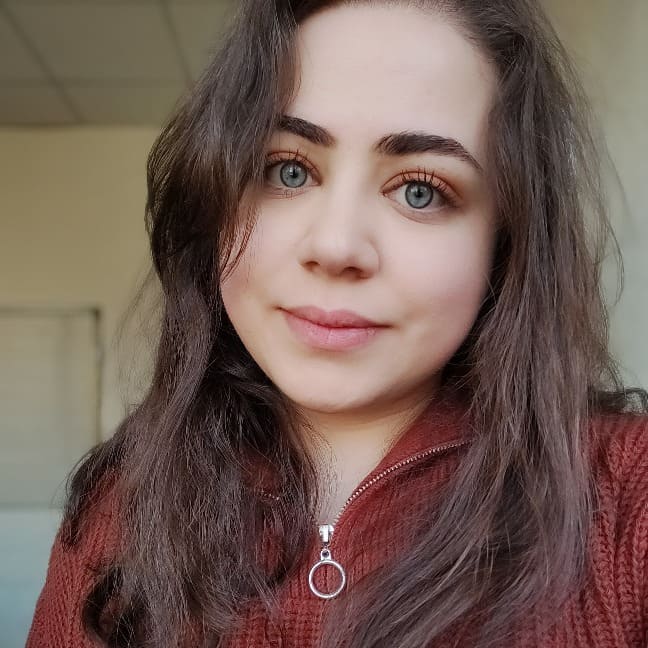 written by
With a focus on remote lifestyle and career development, Gayane shares practical insight and career advice that informs and empowers tech talent to thrive in the world of remote work.
With a focus on remote lifestyle and career development, Gayane shares practical insight and career advice that informs and empowers tech talent to thrive in the world of remote work.