Demand for front end web developers is high. The U.S. Bureau of Labor cites an industry growth rate of 23% till 2031 — far above the average. Skilled individuals have a positive job and salary outlook.
But what are the latest stats in front end salary expectations? Requirements for front end developer jobs have expanded, both in type (hello remote work) and responsibility (there is more than simple HTML or CSS). That will affect the average wage. Let's look into the average salary of a front end developer and what salary compensation you can expect during your career path.
get the salary you deserve at EPAM Anywhere
Apply for our competitively paid positions and secure a job offer with one of the leading software engineering companies in the world.
apply
How much does a front end developer make?
Disclaimer: The following salary figures are sourced from publicly available data and are for reference only. This information is not indicative of the salaries at EPAM or EPAM Anywhere and can't be considered as such.
Let's get right to it: the U.S. Bureau of Labor shows a median pay of $78,300 per year, or $37.65 per hour. That isn't the average but the "middle value" of the data set. Some developers make less, while some earn more.
But there are some other well-known hiring organizations with different numbers. Zippia shows an average front end developer salary of $92,147. Indeed states an average salary of $111K. ZipRecruiter cites an average salary of $109,843 per year. Clearly, there is a wide range of possible wages.
One explanation for the difference in numbers is the data collected. But finding good salary data is difficult because software engineer salary negotiations are rarely just about pay. Employment negotiations often include several aspects that alter hourly rates, such as location, benefits packages, and years of experience. To fully describe your potential salary as a developer, you need to account for additional remuneration options.
Average front end developer salary by type
With an understanding of the various factors affecting front end developer salaries, we can better determine the most recent ones. Listed below are average pay scales according to primary skill and experience.
Front end web developer salary by primary skill
HTML/CSS:
HTML and CSS are basic skill requirements. A front end web developer with standard user experience (UX/UI) skills earns an average base salary of $67,923. That includes expectations of a bachelor's degree in a related field.
JavaScript:
JavaScript is a popular language that you're commonly expected to know. As a result, the average salary remains the same, but your salary ceiling does increase. Many job openings for those knowledgeable in JavaScript (or, for example, in Angular) can reach beyond six figures in high-end U.S. cities. There are also far different ranges for JavaScript developers around the world:
Australia: $137,654 AU per year (Indeed)
Canada: CA $90,237 per year (Indeed)
Germany: €64,411 per year (Glassdoor)
India: ₹6,14,982 per year (Indeed)
South Africa: R111 730 per year (Indeed)
United Kingdom: £62,826 per year (Indeed)
United States: $103,590 per year (Indeed)
JQuery/React:
JQuery and React are not programming languages but operate as JavaScript libraries. They help manipulate JavaScript, a tool that requires different skills. Those with additional JQuery skills command the same average salary (around $67,566), but once again have a much higher ceiling for growth, with plenty of salaries reaching above six figures.
Responsive design:
Responsive design is another web design approach with unique skills that drive a higher engineer salary. Still, there are differences in reported salary averages, with some reporting a base of $114,000 annual salaries, while others quote a lower salary of $71,885 and the highest one at $144,000.
Front end developer salary by years of experience
As stated before, the more years of experience, the higher your pay. Here is a comparison showcasing the different salary ranges based on years in the field: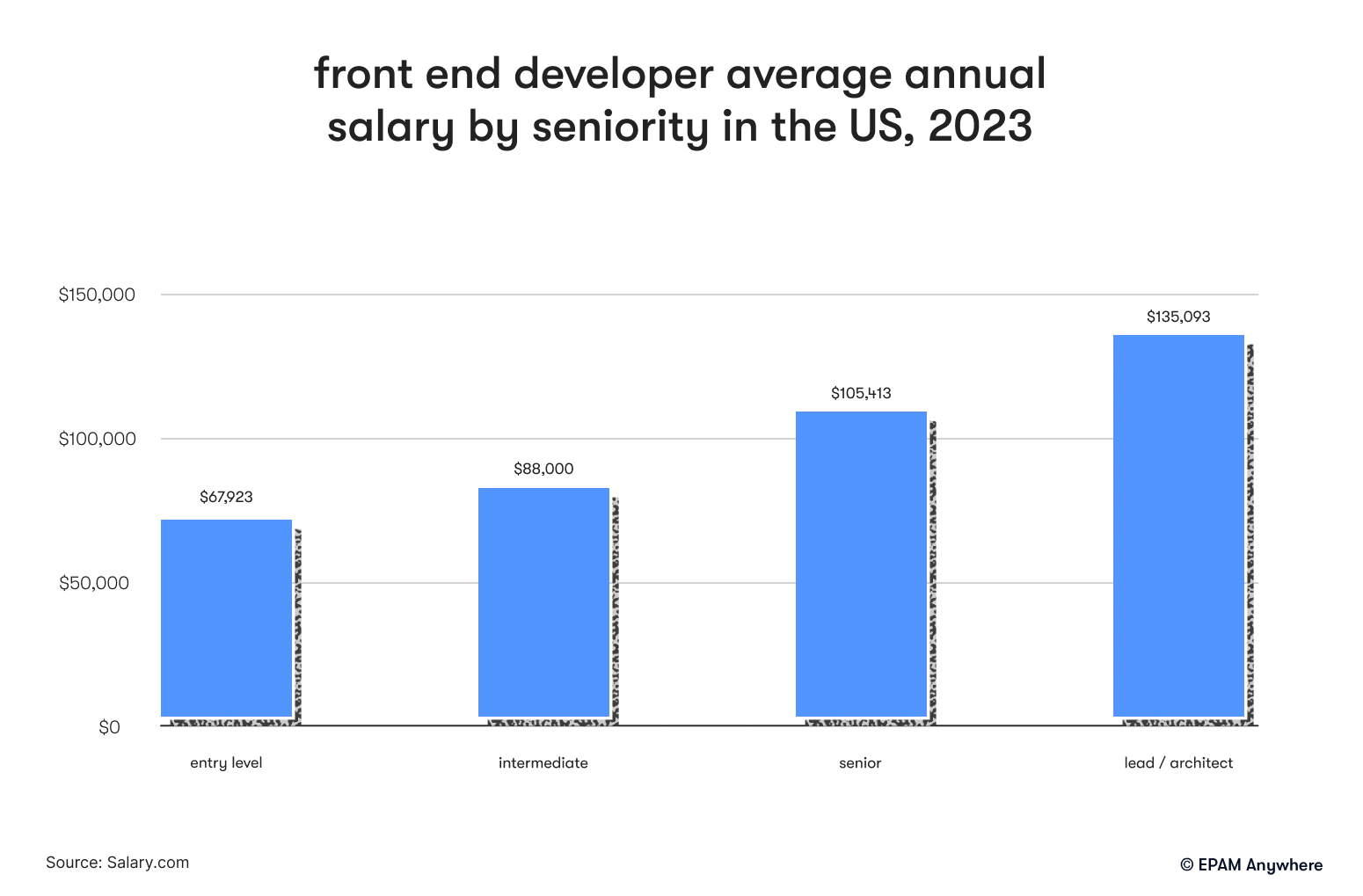 Factors affecting the salary of a front end developer
Here are several factors that impact your average expected salary as a front end developer:
Experience
Expert developers command higher salaries than the average. Those with a proven track record of success are attractive to recruiters. Experience often correlates with a deep understanding of the industry, and that also helps you earn a higher wage. Average data shows that those with 2–5 years of experience enjoy a 32% pay boost compared to those who just entered the job market.
Education
A bachelor's degree is an expected level of training in software engineering. But web development — and front end development in particular — depicts a rapid evolution. Professional development is often a necessity as new tools or frameworks are introduced or shifted. Those with advanced credentials (including certifications from Google, Microsoft, or Amazon) earn more than their less-trained coworkers.
Skill type
Since front end development continues to grow, so do the role expectations. Those who can handle more web application responsibilities earn a higher salary. Plus, different types of front end skills can get different pay rates. A responsive design specialist may command a better salary than a UI/UX designer or backend developer.
Job tasks
Some jobs may have the same title but include vastly different daily activities. You may be a front end designer but could command a higher salary by taking on a leadership role. Running a project involves skills that deserve extra compensation, which will change average front end web developer salary expectations. On average, data shows that software development managers make a $129,000 yearly salary compared to software engineers at $86,000.
Location
Your geographic location has an impact on your salary. According to Glassdoor, an average front end developer in India earns ₹595,500 per year (about $7,000). Payment changes drastically between different U.S. cities, too, with San Francisco, Boston, and New York earning much higher wages.
Of course, remote and hybrid work will change those stats. High-salary cities also come with a high cost of living and transfer costs. In addition, many companies are happy with global talent, as it expands their talent search and accessible client base. Consider how your salary will change according to where you are.
Industry demand
As with any industry, a talent shortage or increase in web development will boost your wage. The more valuable your position, the higher the salary. Changing skill sets and the increased need for training may also deter incoming workforce participants, which drives higher pay. Consider the overall state of the industry and the job market as you explore average salary expectations.
In 2023, front end developer jobs have skyrocketed, along with steady wage growth: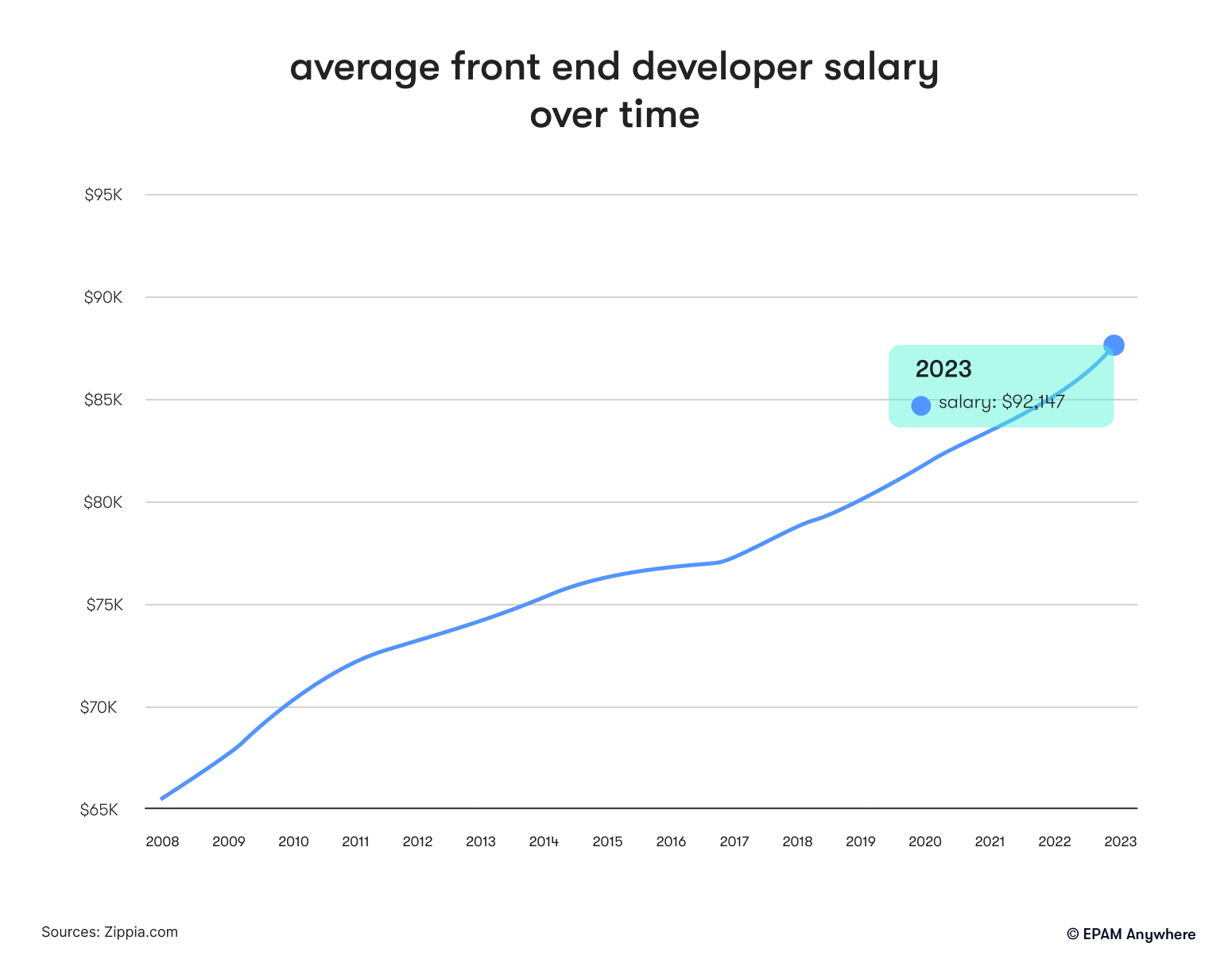 Of note, in a talent shortage, your pay is also determined by how well you negotiate throughout the interview process. Be sure to brush up on your skills for a front end developer technical interview and have your resume polished!
Benefits
Lastly, your benefits package can drastically change your average developer salary. Some workers prefer payment in stock, as it has more risk but a higher upside. Healthcare and 401k contributions also deserve consideration. Many companies offer bonuses or additional cash compensation that isn't always included in average salary statistics. There are many ways to build an employment salary package outside of standard front end salary expectations.
do a reality check of your salary expectations with us
Apply for an opportunity to talk to our hiring managers and check if your desired salary is realistic.
Grow your front end developer salary at EPAM Anywhere
The wide range of front end dev salary data may cause some confusion. But the variety of salary averages expresses the many different factors that affect compensation. Regardless, front end web developers are in high demand (as seen by national and international salary averages far above the median).
In addition, that very range of pay scales offers you opportunity. You can improve your take-home pay with consistent professional development. Learning new skills, gaining experience, and garnering a history of success all help drive higher compensation.
Lastly, consider additional factors such as location, possible talent shortages, and alternative compensation packages. For example, your take-home pay could be far higher if you work remotely in a low-cost city. Likewise, you can command more money with cash bonus payouts.
To grow your salary as a front end developer, head over to EPAM Anywhere. Not only do we have remote JavaScript developer jobs, but you can find educational resources, professional development opportunities, and a community of engineers who can help along your career path.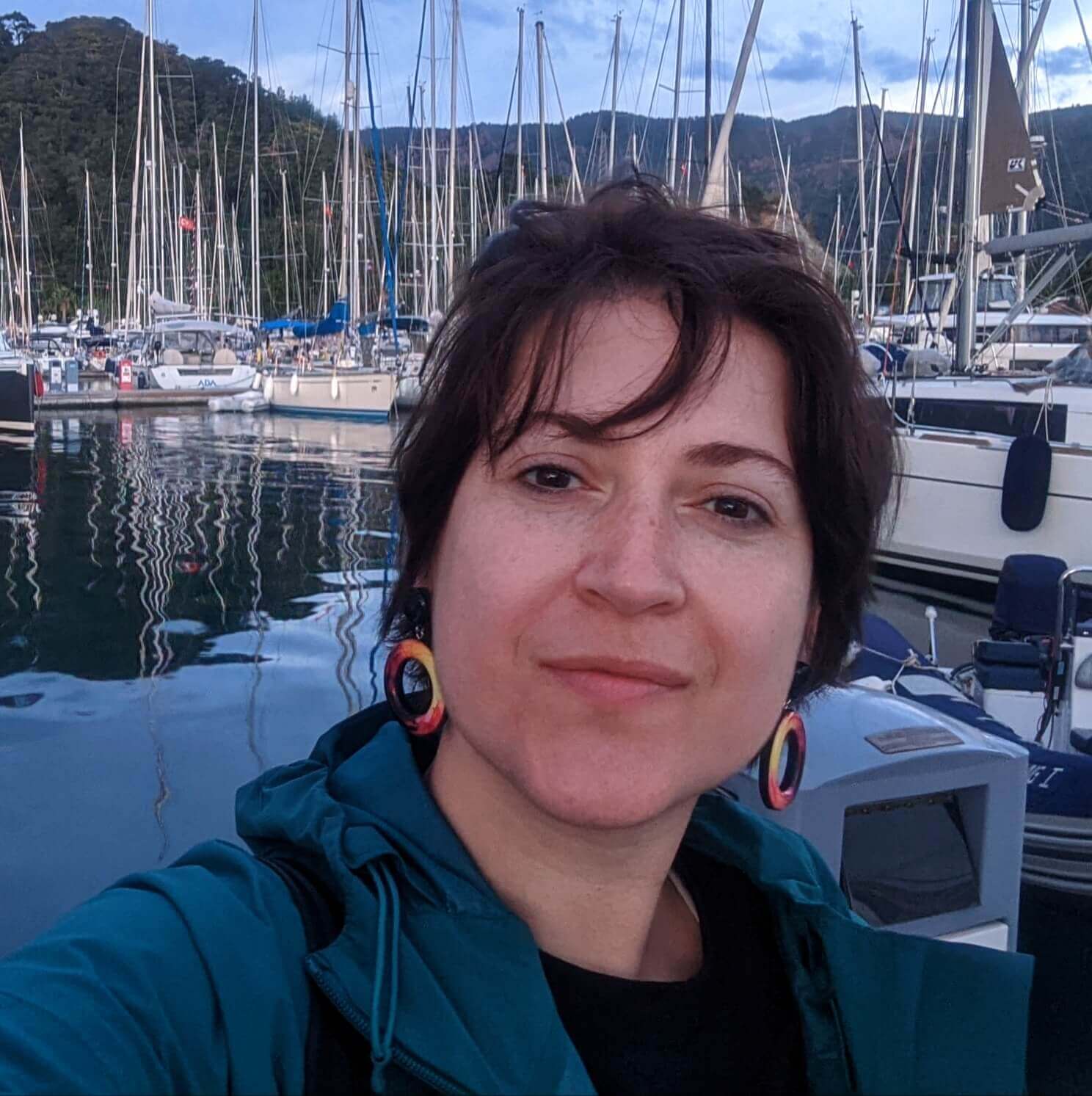 written by
As Chief Editor, Darya works with our top technical and career experts at EPAM Anywhere to share their insights with our global audience. With 12+ years in digital communications, she's happy to help job seekers make the best of remote work opportunities and build a fulfilling career in tech.
As Chief Editor, Darya works with our top technical and career experts at EPAM Anywhere to share their insights with our global audience. With 12+ years in digital communications, she's happy to help job seekers make the best of remote work opportunities and build a fulfilling career in tech.