Remote IT jobs have gained immense popularity in the past few years, in large part thanks to the tech boom worldwide. One such sought-after position is that of an automation engineer. With an average salary of $97K in the U.S., automation engineers are essential players in the tech industry, driving both innovation and efficiency. This article delves into the intricacies of automation engineer salaries, the factors influencing them, and some strategies to enhance earning potential.
How much do automation engineers make?
get the best salary you deserve at EPAM Anywhere
Apply for our competitively paid positions and secure a job offer with one of the leading software engineering companies in the world
apply
IT automation engineer salary by years of experience
Disclaimer: The following salary figures are sourced from publicly available data for reference only. This information is not indicative of the salaries at EPAM or EPAM Anywhere and cannot be considered as such.
As you progress in your career, your automation engineer salary can experience remarkable growth. Entry-level positions might offer a modest base salary, but your annual salary can increase substantially as you gain experience and skills.
Many senior software engineers with years of experience earn significantly more than their junior counterparts. This underlines the importance of continuous learning and growth in the tech field.
In IT automation engineering, your salary trajectory is closely connected with your years of experience. As you navigate through different phases of your career, your compensation evolves to reflect your growing expertise and contributions. Here's a breakdown of the average salary for each IT automation engineer level by years of experience: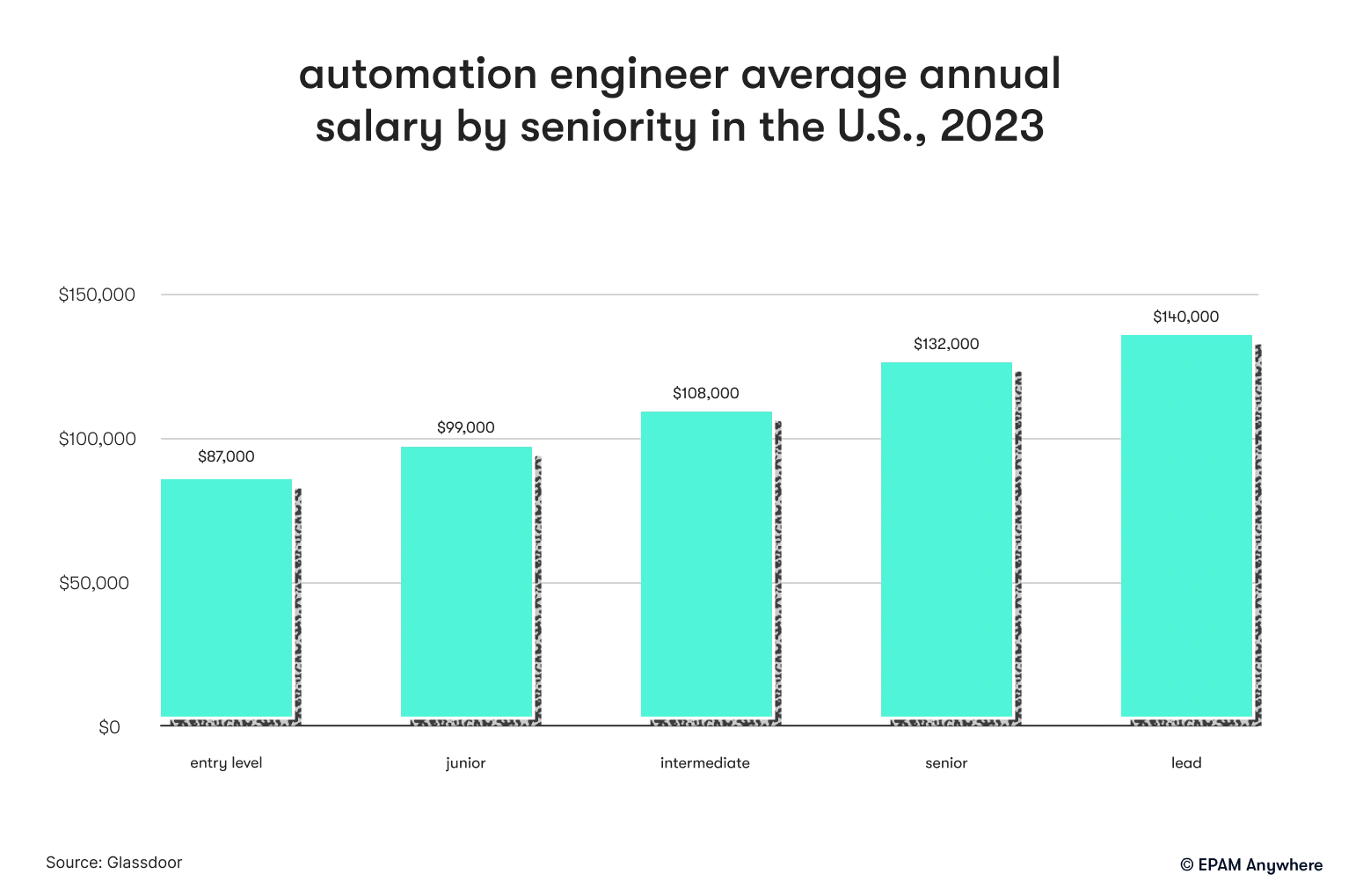 Entry level (0-2 years):
As a fresh entrant into the world of IT automation engineering, you'll likely begin with an entry-level position. At this stage, your primary focus will be on gaining practical experience and honing your skills.
On average, entry-level IT automation engineers earn around $87,856 per year. This base salary provides a solid foundation as you embark on your professional journey.
Junior level (2-5 years):
With a few years of experience under your belt, you'll transition into the junior level of IT automation engineering. During this phase, you'll be able to work on more complex projects and take on greater responsibilities.
Junior IT automation engineers typically command an average salary of $99,010 per year. As you prove your capabilities, your earning potential will continue to rise.
Mid-level (5-8 years):
As you reach the mid-level point in your career, your expertise becomes evident in the quality of your work and your ability to solve intricate challenges. You can expect an average annual salary of $108K at this stage. Your experience equips you to handle advanced projects and contribute to the strategic direction of the team.
Senior level (8+ years):
Achieving seniority in IT automation engineering comes with its own set of rewards. With a wealth of experience and a deep understanding of automation principles, you're positioned to take on leadership roles and mentor junior colleagues. Senior IT automation engineers enjoy an average annual salary of $132K a year or more, depending on the organization and your accomplishments.
Expert level (10+ years):
For those who have demonstrated exceptional skills, made significant contributions to the field, and possibly even gained recognition through certifications or notable projects, the expert level beckons.
Expert IT automation engineers, for example those at the software architect level, can earn well above $140K per year, often securing additional cash compensation and benefits as a testament to their expertise and influence within the industry.
Factors affecting the software automation engineer's salary
The salary of an automation engineer doesn't vary by job title alone; several other factors play a pivotal role.
One crucial aspect is years of experience. Entry-level automation engineers might start at a base salary, but as you accumulate years of experience, your salary can experience exponential growth. Moreover, certifications in various programming languages, frameworks, and skills can significantly impact earning potential.
Salary ranges can further vary based on factors such as the company's size, location, industry, and demand for automation expertise. Furthermore, individuals who possess unique skills, specialize in high-demand programming languages and frameworks, or work with cutting-edge technologies may command higher salaries at each career stage.
As you explore your IT automation engineering career, remember that your salary growth is not solely determined by the passage of time. Continuously updating your skills, staying abreast of industry trends, and actively seeking opportunities to contribute to the field will all play a pivotal role in shaping your earning potential and professional advancement.
Grow your automation engineer salary at EPAM Anywhere
One platform that recognizes and rewards the efforts of automation engineers is EPAM Anywhere. By offering ample opportunities for growth and development, EPAM Anywhere empowers you to take charge of your career.
With a focus on skills enhancement, our platform features hundreds of open jobs that will enable you to grow your career in your chosen discipline. It can also lead to higher-paying roles and even better career prospects down the line.
do a reality check of your salary expectations with us
Apply for an opportunity to talk to our hiring managers and check if your desired salary is realistic
The journey of an automation engineer is both exciting and rewarding. By understanding the factors influencing your salary and staying updated with industry trends, you can ensure that you'll get appropriately compensated for your expertise.
Whether you're an entry-level engineer looking to make your mark or a seasoned professional aiming for senior roles, continuous learning, negotiation skills, and a proactive approach to career growth are your keys to unlocking a prosperous future in automation engineering.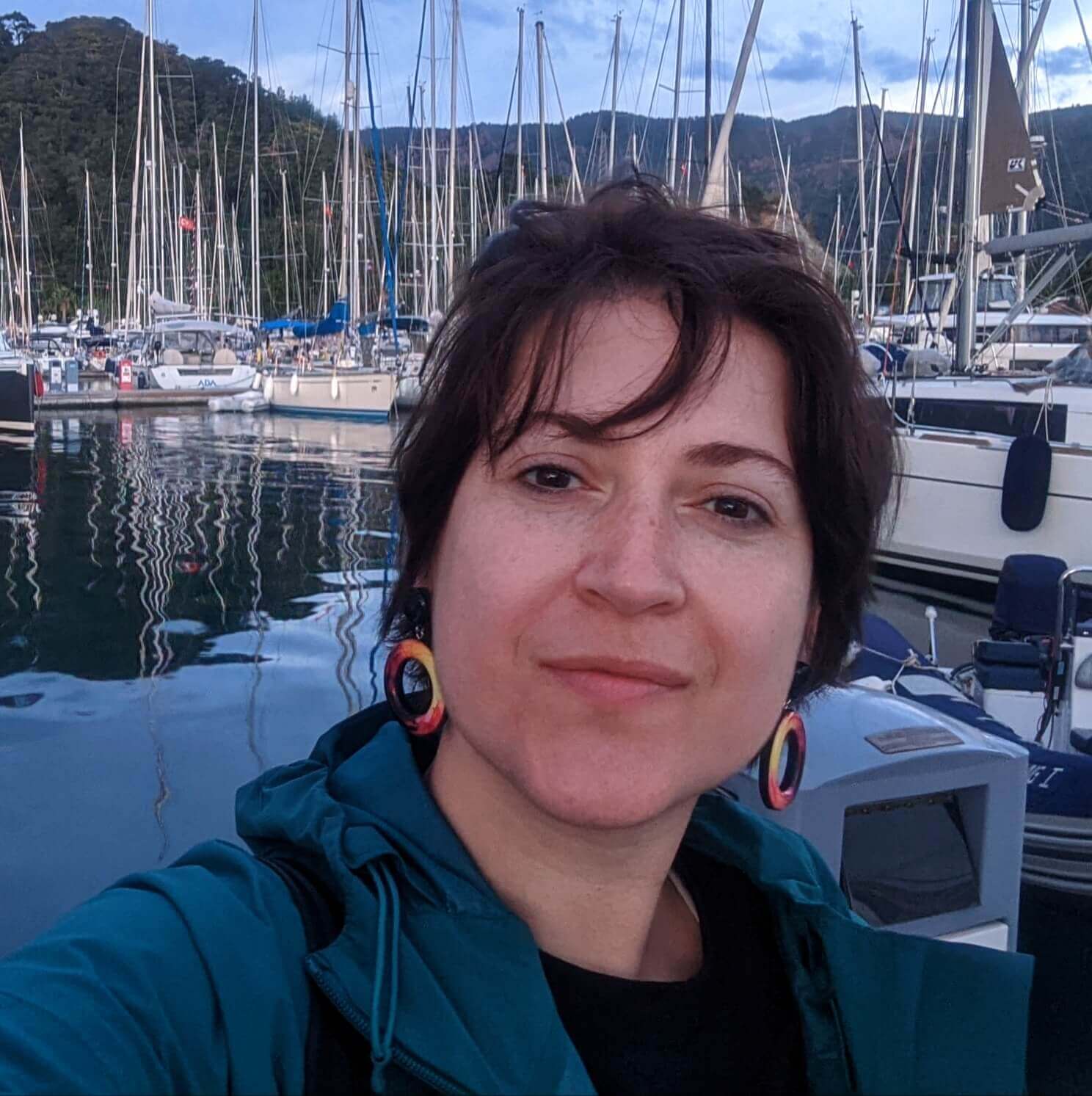 written by
As Chief Editor, Darya works with our top technical and career experts at EPAM Anywhere to share their insights with our global audience. With 12+ years in digital communications, she's happy to help job seekers make the best of remote work opportunities and build a fulfilling career in tech.
As Chief Editor, Darya works with our top technical and career experts at EPAM Anywhere to share their insights with our global audience. With 12+ years in digital communications, she's happy to help job seekers make the best of remote work opportunities and build a fulfilling career in tech.