Machine learning jobs are expected to grow by 23% from 2022 to 2032. You can expect the number of applicants to increase at a similar rate, making the job market more competitive. So, whether you're a veteran or newbie, you can use these machine learning resume examples to ensure you stay competitive as more jobs and people flood in.
Be sure to download our resume template so that you can optimize your machine learning CV structure. When filling out that template, check out a few examples of what you should include below.
But here's a hint, any good resume starts with an informative machine learning CV.
Machine learning CV vs resume: why you should prepare both
CV, or a curriculum vitae, is an expanded version of your smaller resume. It's important to prepare a full CV so you have something to reference for your resume.
CV is Latin for "course of life" while resume is French for summary. So a CV provides a complete record while a resume summarizes it. By having a complete record, you can choose what parts from your CV are most appropriate when applying for a job.
Skills to include in your machine learning resume
Wondering what machine learning skills to include on your resume? The short answer: that depends on what's included in the job description.
If you have the skills in the job description, include them on your resume. Use references from your pre-built CV to identify those skills and connect them to work experience. If you don't have those skills, don't include them.
Otherwise, the skills found on a machine learning engineer resume typically fall into one of two categories: must-have and nice-to-have skills. Below, you'll learn more about the skills you'll find under each category.
Must-have skills:
Below are must-have skills you'll often find across many job postings.
Hard skills:
Machine learning algorithms: The most popular include linear regression, logistic regression, decision trees, and neural language processing models.
Programming languages: An understanding of programming languages, such as Python and R, in order to create algorithms.
Software development tools: Familiarity with other software development tools such as Jupyter Notebook, Pandas, and Scikit-learn might also be necessary.
Data analysis: Being able to analyze data quickly and accurately.
Cloud services: Knowledge of Amazon Web Services, Microsoft Azure, or Google Cloud Platform can help you in our increasingly cloud-based world.
Soft skills:
Collaboration: Engineers need to be ready, willing, and able to work alongside a team of fellow technology experts.
Troubleshooting: Being able to identify issues quickly and come up with solutions on the fly is essential for success in this field.
Time management: Being able to prioritize tasks and manage time efficiently.
Communication: Excellent communication skills, both verbal and written, are essential in a machine learning role.
These are just a few of the examples of machine learning skills to put on your resume. Below, you'll see some less common skills.
Nice-to-have skills:
Here are just a few examples of skills you might not need on your resume, but are nice to include.
Hard skills:
Certifications: Certifications with AWS, GCP, or other common tools can be very helpful.
Deep learning: Incredibly helpful in specific industries, but optional for many machine learning jobs.
Big data: Another situational need that depends on the industry you're pursuing.
Soft skills:
Leadership skills: While nice to have, they aren't necessary for those seeking entry-level jobs. Still, they can be helpful, especially for experienced professionals.
Risk assessment: Being able to identify potential risks becomes more important as you get experience. Until then, it's nice to have.
Creativity: Being able to come up with creative ways to solve problems can help. However, this skill is often learned from more experience.
You'll find that as you pursue jobs that require more experience, some of these "nice-to-haves" become "must-haves." Of course, every job is different, so pay close attention to what the job description prioritizes.
send us your CV for review!
Ready for a real-life test of your resume? Send it to our recruiters and see if there's an open job matching your profile.
submit your CV
How to compile your machine learning CV summary
Many machine learning resumes start with a name, contact information, and a title that includes "machine learning". Just below this title is an "about me" section (sometimes called the summary).
The about me section contains a quicker summary of your resume. This is your elevator pitch. So picture yourself trying to summarize your best qualities in under 15 seconds. This means the about me section should contain only 3-4 sentences and explain why you're the best candidate for the job.
Here's an example:
Skilled machine-learning engineer known for developing innovative models across different applications. Known for an XX% accuracy rate, cost savings of $XXX,000, and improvements leading to increased customer satisfaction of XX%. I'm a collaborative, driven, and focused team member known for driving solutions and quickly adapting to changing environments.
Some resumes don't include a summary section, focusing instead on diving into work experience and education. Applicants believe that their work experience will speak for themselves, using the extra space granted to plug in another project.
Both approaches have merits, but a summary is often the deciding factor when a hiring manager reads beyond the first five seconds of your resume.
How to highlight your achievements
A big mistake that many applicants make is forgetting an area for achievements. Resumes aren't just a collection of technical skills and professional experience. They're a persuasive letter trying to convince the hiring manager you're the best fit for the job they need covered.
Having an achievement section proves that you not only have the experience, but you excel when you apply those skills. Here, you have one of two choices:
Have an entire section of your resume devoted to achievements.
Use the STAR method to build your achievements into your experience.
Option one is ideal if you want to have a series of impressive achievements right next to each other. The weakness of this method is that employers might not know where these achievements come from, making them hard to verify.
Option two builds your achievements into your work experience. The STAR method starts with a situation (the previous job), task (the problem you had to solve), actions (steps you took), and result (how you solved the problem). Here's an example of a STAR method statement you can use:
Analyzed a dataset to identify a pattern of customer trends, leading to a recommendation I made that increased conversion rates by 25%.
Now, let's move to the actual machine learning resume examples.
Sample #1: machine learning engineer resume
NAME SURNAME
Machine Learning Engineer
SUMMARY:
Chief data scientist with a background in engineering and cognitive science. With domain expertise in Generative AI and Privacy Preserving ML, and practical experience in Life Sciences, Manufacturing, Ecommerce, and Construction industries.
TECHNICAL SKILLS:
Engineering practices:
Data science
Machine learning engineering
Natural language processing
Python
Adversarial learning
Computer vision
Reinforcement learning
QE/Testing
BI analysis
Data technology consulting
Solution architecture
Algorithms
Technologies:
Python
Machine learning with AWS
Azure AI
Data privacy
GCP AI and machine learning
Ansible
Apache Hadoop
Apache Hive
Apache Spark
Chef
Docker
Leadership & soft skills:
Client relationship management
Delivery excellence
WORK EXPERIENCE (SAMPLE PROJECT DESCRIPTION):
[customer / employer name]
July 2020 - present
Project Role: Senior Data Scientist
Customer Domain: Retail
Team size: 8
Responsibilities:
Leading initial SKU phase
Leading technical part of the project RFP
Supervising the ongoing project
Tools: Spark, OpenCV, TensorFlow, Python, AWS EMR, EC2, S3
Technologies: Deep Learning CNN, Canny edge detector, object detection, SWIFT algorithm, OCR
EDUCATION:
MA in Mathematics, 2017
CERTIFICATIONS:
AWS Certified Machine Learning – Specialty (2021)
LANGUAGES:
English C1
Polish Native
Sample #2: Deep learning resume
NAME SURNAME
Senior Deep Learning Engineer
SUMMARY:
Data scientist with 7+ years of experience
5+ years of experience in predictive analytics: social research and commercial sphere (telecom, ecommerce, pharma, healthcare, and education domains)
Professional expertise in classic ML and deep learning (assessed and prepared solutions for industrialization): NLP, RecSys, TS forecasting, anomaly detection tasks, CV (object detection)
14+ successfully finished projects: experience with enterprise-scale ML project industrialization, creating pipelines for model training and evaluation, results in validation and verification, and presenting to the customer
Hands-on experience with PySpark, ML/SQLl in the delivery of enterprise-scale projects
Hands-on experience with deep learning frameworks: PyTorch, Tensorflow, ONNX, TF Lite
Hands-on experience with deploying and developing ML solutions with GCP, AWS, Databricks, and OCI (Oracle) services
TECHNICAL SKILLS:
Engineering practices:
Data science
Bag-of-Words
Classification metrics for machine learning
Clustering metrics for machine learning
Ensembling
NLP preprocessing
Natural language processing
Python
Ranking metrics for machine learning
Regression metrics for machine learning
Computer vision
Data analysis and quality
ML architecture
NLP labeling
Object detection
Performance testing
Time series analysis
Technologies:
Python
Elasticsearch
REST API
Spark ML
Spark MLlib
Docker
Deep learning frameworks
Git
Keras
NLTK
PyTorch
Google Cloud
R data science ecosystem
R language
TensorFlow
Gephi
Google Kubernetes engine
Leadership & soft skills:
Emotional Intelligence
Emotional self-control
Empathy
Mentoring
WORK EXPERIENCE (SAMPLE PROJECT DESCRIPTION):
[customer / employer name]
Apr 2021 - present
Project Role: Data Scientist/Backend developer
Customer Domain: Finance
Team size: 8
Responsibilities:
All complex logic for calculations:
Best route recommendation
Calculations for detecting benefits of transactions with respect to countries' tax rates and other financial parameters
Backend support for data management and API for frontend
Integration with Oracle Cloud Infrastructure (OCI) services: Data Ingestion, OCI Functions, OCI Events, OCI Object Storage
Database: OCI Storage Object, MySQL, SFTP
Tools: Python, OCI services
Technologies: LLM, OCI
EDUCATION:
BA in Applied Sciences, 2016
CERTIFICATIONS:
AWS Certified Machine Learning – Specialty (2021)
LANGUAGES:
English B2
Spanish Native
Sample #3: Lead machine learning engineer resume
NAME SURNAME
Lead Machine Learning Engineer, Data Scientist
SUMMARY:
Software engineer with 12+ years of experience
5 years of experience as a dev team lead
5+ years of people management
Main area of expertise is Java backend development and stream processing
Ability to lead a team and coordinate work between multiple teams
Perseverance and attention to details
Strong focus on observability
Open to experimenting and trying new approaches
Ability to learn new technologies quickly on a production-ready level
Strong internal motivation to always learn and improve
TECHNICAL SKILLS:
Engineering practices:
Cloud
Continuous integration
Reinforcement learning
Scala
Data visualization
Engineering excellence
Engineering management
Software engineering practices
Application architecture
Continuous integration development & maintenance
Hands-on in software engineering
Service architecture
Service mesh implementation
Software engineering knowledge & experience
Software engineering processes
Technologies:
Apache Flink
Apache Tomcat
IntelliJ IDEA
JUnit 5
Java
Mockito
Spring Boot
Amazon DynamoDB
Amazon Web Services
Apache Kafka
Apache Maven
Checkstyle
Datadog
Docker
Git
Grafana
Helm
ReactJS
AWS Simple notification service
Leadership & soft skills:
Organizational savviness
Organizational culture ambassador
Resilience
WORK EXPERIENCE (SAMPLE PROJECT DESCRIPTION):
[customer / employer name]
May 2021 - present
Project Role: Lead Software Engineer
Customer Domain: Travel & Hospitality
Team size: 7
Responsibilities:
Participated in the design and implementation of the platform
Led the design of the streaming-related components (feedback loop)
Focused on observability, alerting, monitoring
Held and facilitated design sessions for various new platform capabilities
Presented the platform to consumer teams and helped them with platform integration
Interviewed external candidates (engineers and data scientists)
Database: MongoDB
Technologies: Java, Spring Boot, Spark, Flink, Kafka, Scala, MongoDB, Redis, Amazon EKS, Terraform, Docker, Maven, Gradle
EDUCATION:
MA in Mechanical Engineering and Informatics, 2013
CERTIFICATIONS:
AWS Certified Machine Learning – Specialty (2020)
LANGUAGES:
English C1
Hungarian Native
Download our machine learning resume template
Now that you have a few examples to reference, don't forget to check out our resume template below so you can better use them.
Apply for a machine learning job at EPAM Anywhere
If you want to see our resume recommendations in action, try them out on our list of remote machine learning jobs today! EPAM Anywhere provides remote work opportunities for talented software engineers with machine learning as their primary skill. Apply for your chance to make an impact on one of our top global projects.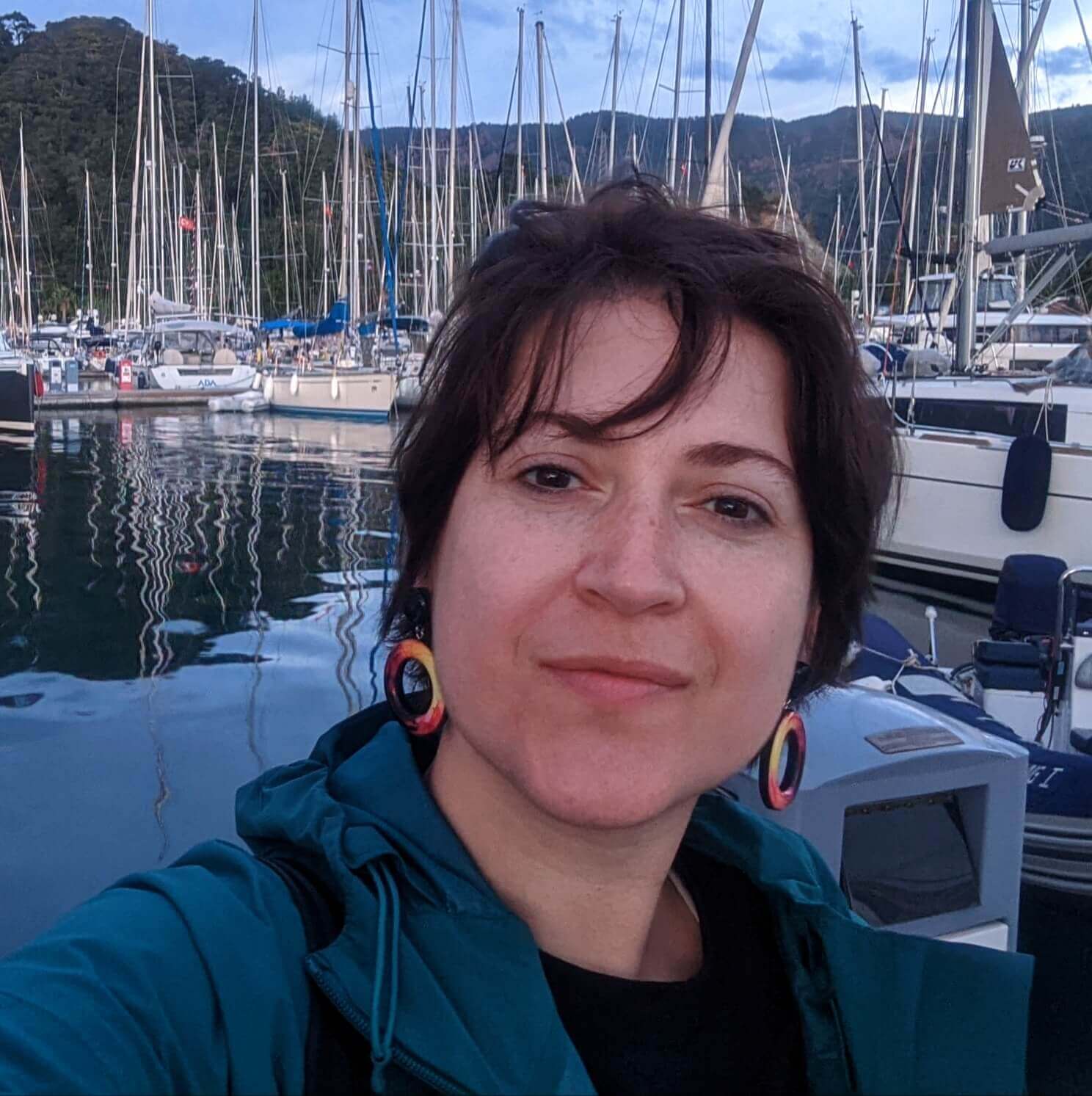 written by
As Chief Editor, Darya works with our top technical and career experts at EPAM Anywhere to share their insights with our global audience. With 12+ years in digital communications, she's happy to help job seekers make the best of remote work opportunities and build a fulfilling career in tech.
As Chief Editor, Darya works with our top technical and career experts at EPAM Anywhere to share their insights with our global audience. With 12+ years in digital communications, she's happy to help job seekers make the best of remote work opportunities and build a fulfilling career in tech.