In 2023, the average Azure cloud engineer salary, as with other cloud engineering jobs, depends on location, skills, experience, and certification. These factors impact even remote cloud engineer jobs that you may not think would be subject to location bias, but not to the same extent as in-office Azure cloud engineer positions.
To understand the reasoning behind different Azure engineer salary offers in 2023 and the near future, we're examining the state of Azure cloud engineer salaries. Our exploration includes a look at the remote side of things and how those numbers stack up against in-office positions.
get the best salary you deserve at EPAM Anywhere
Apply for our competitively paid positions and secure a job offer with one of the leading software engineering companies in the world
apply
What's the average Microsoft Azure engineer salary?
Disclaimer: The following salary figures are sourced from publicly available data and are for reference only. This information is not indicative of the salaries at EPAM or EPAM Anywhere and cannot be considered as such.
On average, across the U.S., remote Azure cloud engineers make about $132,478 annually.
When looking at Azure salaries, the highest figures often seem very lucrative, but they may not always be representative of what the averages are. For that, we can look to several different sources tracking the salaries offered, as well as what the highest-paying remote tech jobs could offer.
According to ZipRecruiter, the national average salary for a Microsoft Azure cloud engineer is $132,478 a year. Glassdoor pegs it at $131,442, Salary.com at $111,328, and Talent.com at $134,994.
ZipRecruiter goes into more detail about the Microsoft cloud engineer salary, stating that annual salaries can be as high as $199,000 or as low as $56,500, depending on skill level and the company you work for. The aggregator shows that Azure cloud engineer salaries in 2023 range between $109,500 and $150,000.
This is more or less consistent with AWS cloud engineer salary figures.
On the remote side of things, ZipRecruiter reports seeing hourly wages as high as $95.67 and as low as $27.16 but says most work-from-home Azure cloud engineers currently have salaries ranging between $52.64 (25th percentile) to $72.36 (75th percentile) across the U.S.
Azure cloud engineer salary by years of experience
To understand the pay gaps between different experience levels, we break the data down into the number of years worked in the industry. Using Salary.com and ZipRecruiter data and sorting tools, we can break down the numbers into the following chunks of years of experience: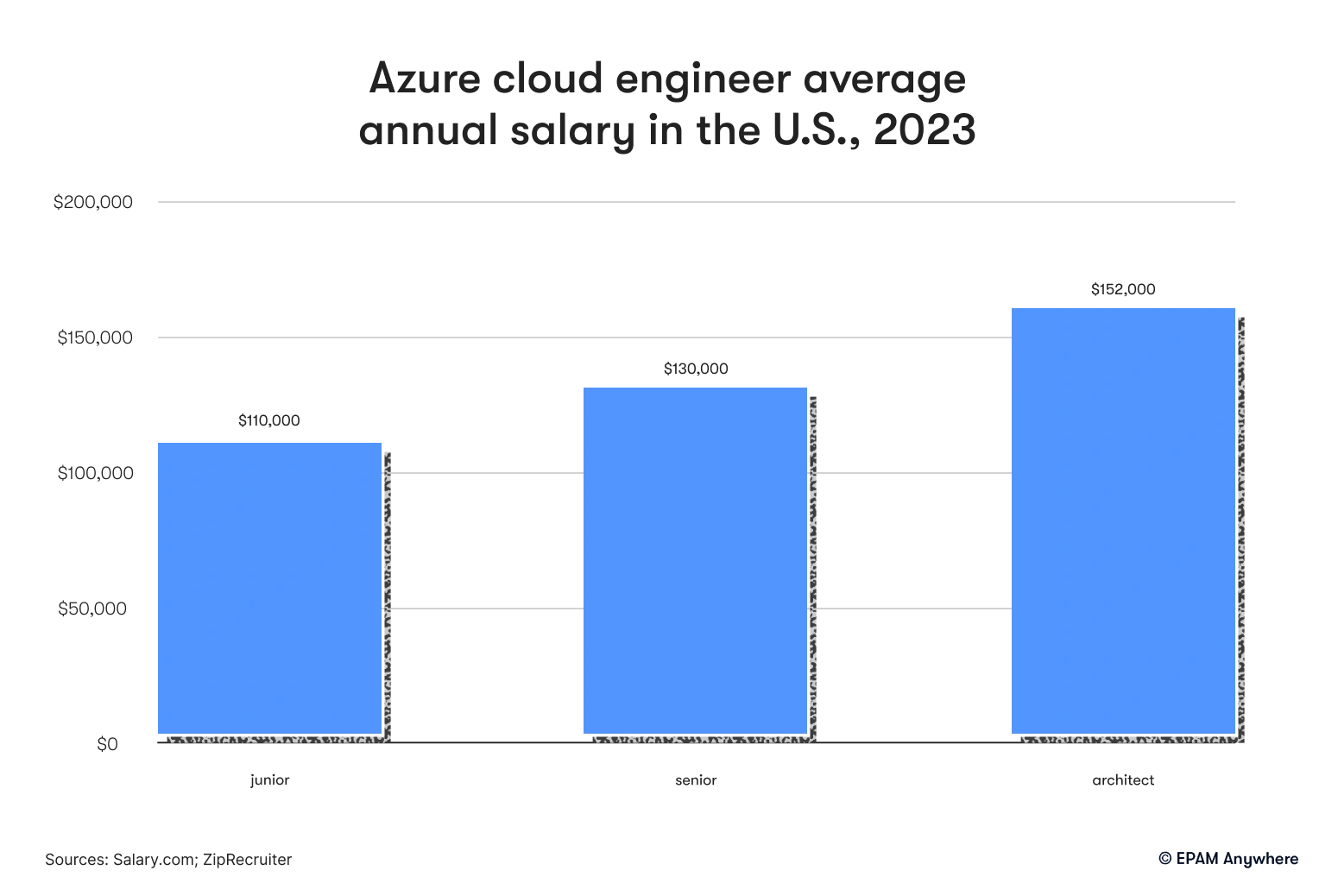 Junior Azure cloud engineers have 1-3 years of experience in the field. The average annual salary for these professionals is around $110K.
Senior-level Azure cloud engineers get more perks, but this requires one to have gained more than 3 years of experience in cloud engineering, demonstrating advanced knowledge, skills, and leadership in projects. The Microsoft Azure engineer salary at this level ranges from $130K to over $190K depending on the level of seniority.
Azure cloud architects command an average salary of $152K, which is typically attained after 10+ years of production experience in cloud engineering.
Factors affecting the Azure engineer salary
Your years of experience directly correlate with the Azure job salary you're offered, given that, on average, the longer you spend doing a job, the better you get at it. In salary negotiations, you must consider what the hiring manager looks at when choosing what kind of compensation to offer.
Often, potential Azure cloud engineer salaries are affected by the following factors:
Location
Geographical location plays a crucial role in Microsoft Azure cloud engineer salary differences. In tech hubs like Silicon Valley, Seattle, and New York City, salaries are often higher to meet the higher cost of living and the strong demand for tech talent.
ZipRecruiter says that some of the highest-paying cities include San Francisco ($165K), New York City ($152K), and Seattle ($144K), where additional cash compensation is necessary to meet the high cost of living.
Cloud platform expertise
Cloud engineers specializing in specific platforms or technologies (DevOps, containerization, etc.), or in this case Azure, may earn more due to their specialized skills being in high demand. The national average we mentioned earlier ($132K) shows just how much companies value having someone who is not only experienced but also specialized enough in the platform to take on most challenges with confidence and good results.
Company size
Companies come in all sizes and can range from startups to established behemoths. Depending on what your role is within the company as well as its financial muscle, the salary range for Azure cloud engineers doing the same job is quite wide in some cases.
Glassdoor data shows that some of the highest-paying companies for Azure cloud engineers in the U.S. include Microsoft ($143K), Accenture ($131K), and Cognizant ($125K).
Certifications
Being certified and having the credentials to show your deep knowledge of Azure (programming languages, frameworks, database management, etc.) can positively impact your salary negotiations and add to your base salary.
KnowledgeHut reports that an Azure solutions architect can earn up to $164K per year in the U.S., while an Azure DevOps engineer can earn up to $153K yearly. Upskilling and rounding out your specialization will help you to stand out.
Industry
For some industries, having Azure cloud engineers is more of a requirement than an option. As such, they look for the best professionals they can get and pay them a higher yearly salary to ensure skill retention.
For instance, the finance and healthcare sectors, based on the high standards placed on security and user experience, pay more for cloud engineering expertise given the regulatory complexities and data security concerns they must consistently address.
In addition to figures surrounding Azure cloud engineer jobs, we also provide resources to help with getting tech jobs, ranging from software developer interview questions to creating web developer cover letters and so much more.
do a reality check of your salary expectations with us
Apply for an opportunity to talk to our hiring managers and check if your desired salary is realistic
let's start
Grow your Azure cloud developer salary at EPAM Anywhere
At EPAM Anywhere, you can tap into remote opportunities to grow your Azure cloud developer salary. Apply today to join our growing community of full-time remote Azure engineers working on top global projects.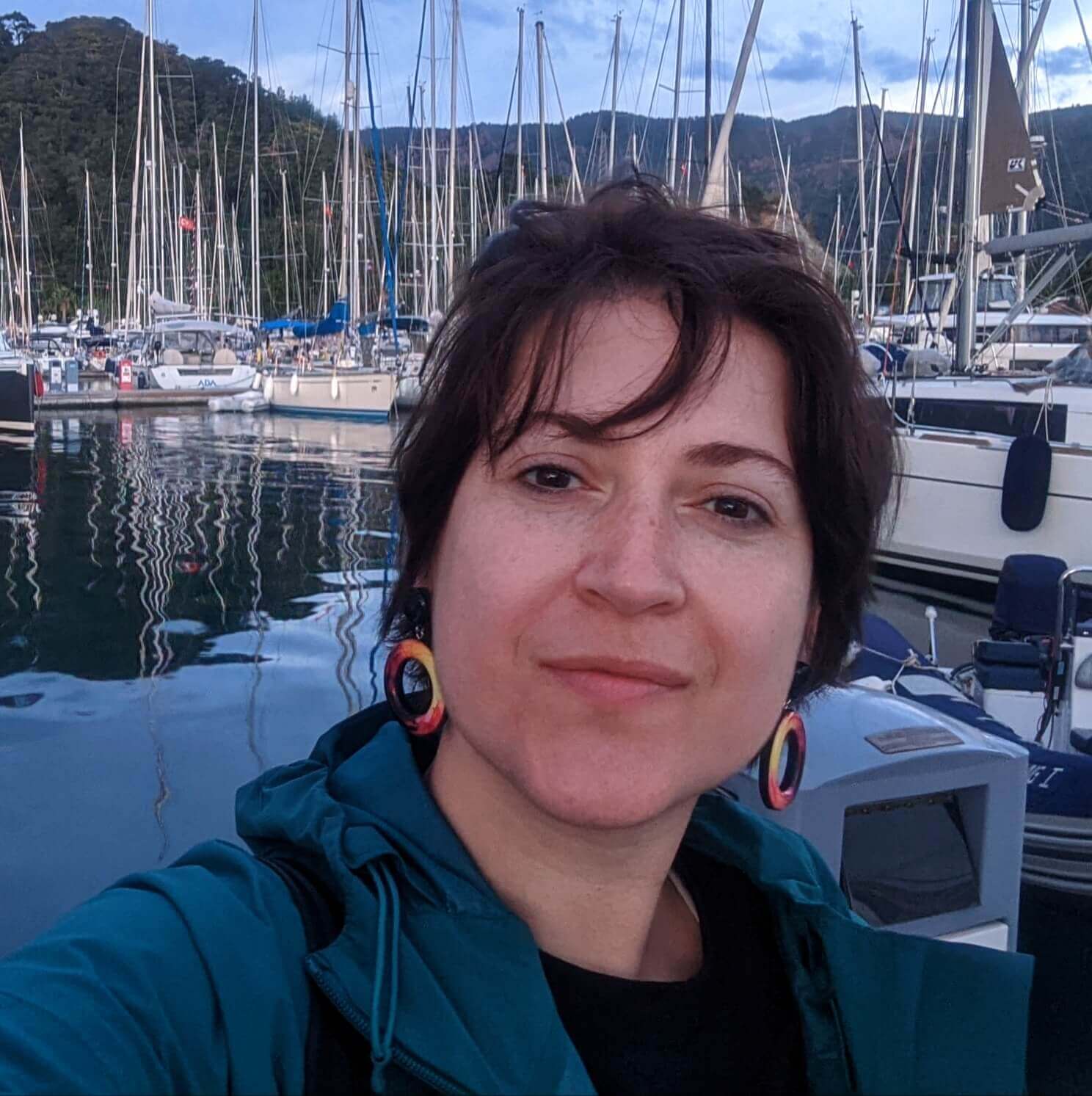 written by
As Chief Editor, Darya works with our top technical and career experts at EPAM Anywhere to share their insights with our global audience. With 12+ years in digital communications, she's happy to help job seekers make the best of remote work opportunities and build a fulfilling career in tech.
As Chief Editor, Darya works with our top technical and career experts at EPAM Anywhere to share their insights with our global audience. With 12+ years in digital communications, she's happy to help job seekers make the best of remote work opportunities and build a fulfilling career in tech.