Cloud engineering is an excellent choice as a career. With the widespread adoption of cloud computing, there is continued demand for the role, with a range of remote cloud engineer jobs for every skill set. As major cloud providers (Amazon, Azure, Google) expand their cloud services, they need experts who can navigate the evolving technology, helping to make it a career with some of the highest-paid jobs in tech.
Such demand for cloud engineers translates into higher wages. But what exactly can you expect as an average salary? Let's explore current salary statistics to determine how much cloud engineers make.
get the best salary you deserve at EPAM Anywhere
Apply for our competitively paid positions and secure a job offer with one of the leading software engineering companies in the world
apply
How much do cloud engineers make?
Disclaimer: The following salary figures are sourced from publicly available data and are for reference only. This information is not indicative of the salaries at EPAM or EPAM Anywhere and cannot be considered as such.
The U.S. Bureau of Labor Statistics does not collect data specific for cloud engineering salaries. However, the median wage for all computer and information technology occupations is $100,530 as of May 2022. This is higher than the American national average and depicts a higher growth rate.
Nonetheless, other hiring and compensation data platforms list different salary figures. For example, Indeed.com lists an average base salary of $123,093. Glassdoor features a higher average salary of $141,932, though with a base annual wage (without additional cash compensation) at a much lower $104,760 per year. Salary.com lists $135,279 as the average wage, within an expected range of $124,398 and $146,662.
Yearly salary compensation between $120,000 and $150,000 appears to be the most typical.
Cloud software engineer salary by years of experience
The lack of consensus on average or median salary data is due to reporting differences. Different data sets don't account for the many variables involved with a salary negotiation. For example, experience can play a big part in wage differences, as demonstrated below.
Entry-level cloud engineer: Glassdoor notes that a junior cloud engineer earns a base pay of $92,000 per year. The total compensation after benefits averages $114,192 annually.
Senior cloud engineer: On the other end, advanced workers earn higher wages. ZipRecruiter shows the average salary reaching $134,128 per year.
Expert (architect) cloud engineer: Late-stage career workers who have moved into architect positions (usually with 10+ years of experience) earn far more. ZipRecruiter depicts a salary range of $70,000-$205,000 with an annual average of $146,099.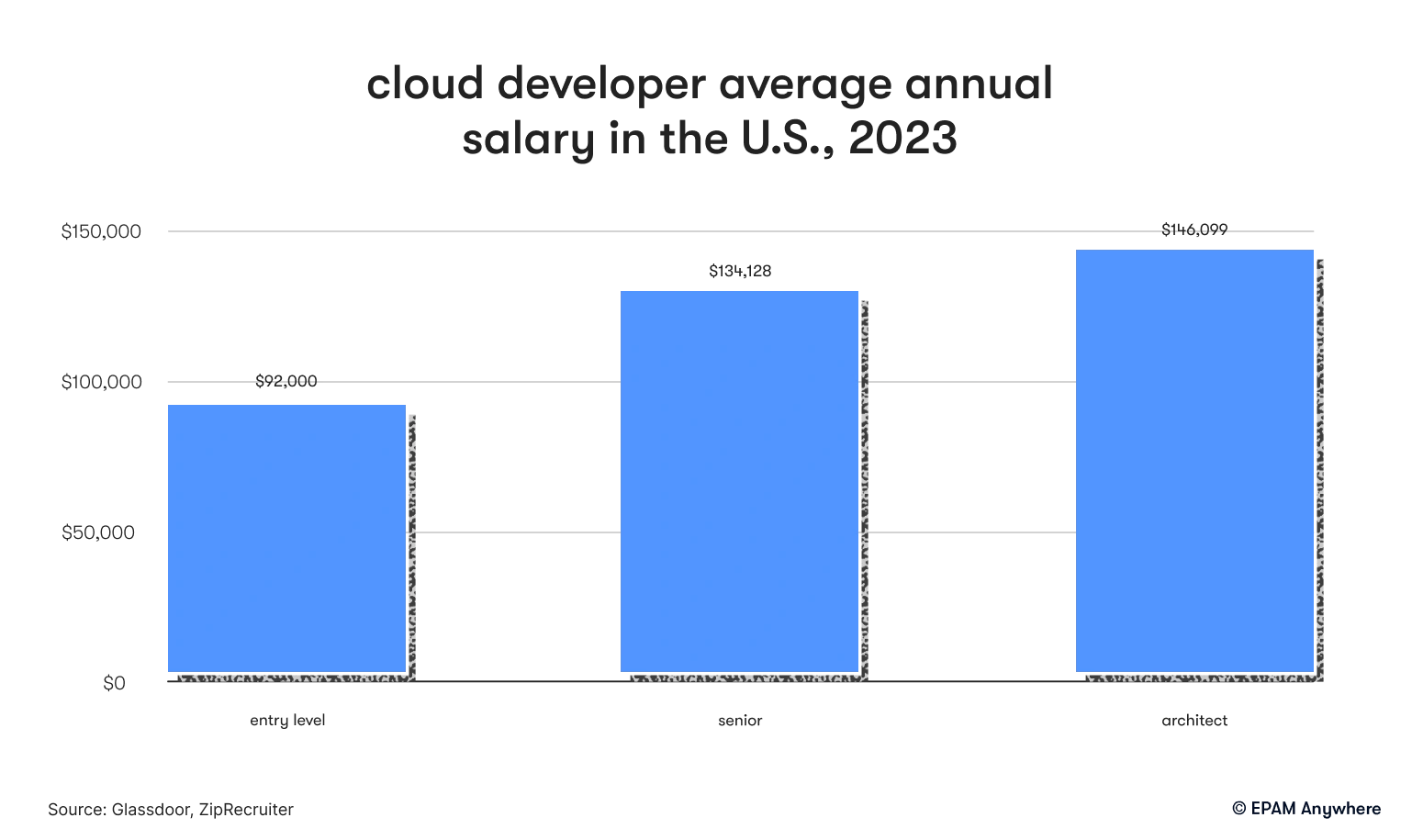 Cloud software engineer salary by platform
In addition to experience, your proficiency with specific cloud platforms significantly impacts your salary potential. Major cloud platforms have different skill requirements and pay structures, and some engineers choose niche or industry-specific cloud platforms (e.g. Salesforce Cloud). However, it's common practice to become a master of one of the main service providers.
Here's how knowledge of specific platforms can influence your cloud engineer average salary.
AWS cloud engineer salary: Amazon Web Services is one of the most widely adopted cloud platforms, so demand for AWS engineers who can build web applications is high. You will need AWS-specific certifications, but lead roles come with highly competitive salaries at $151K on average.
Azure cloud engineer salary: Azure also offers competitive salaries and sees extensive use by enterprise-level companies. You once again must be Microsoft-certified, but you can command an average cloud engineer salary within a range of $133,000-$202,000.
Google Cloud engineer salary: Google is known for its focus on innovation, and skill with Google Cloud commands high salaries. Glassdoor notes a leading range of $200,000-$333,000 per year.
Multi-cloud: There is limited data about those with expert skills in more than one platform. Still, you can likely negotiate a much higher contract with multi-cloud fluency. Plus, you will earn far more opportunities throughout your career.
Niche: Likewise, you can focus on niche cloud platforms to drive higher pay. Examples include IBM, Oracle, and Alibaba. Compensation depends more on market demand for such service providers, so this is a high-risk, high-reward venture.
Additional factors affecting the IT cloud engineer salary
Beyond your experience and platform proficiency, the following factors can also affect your total compensation.
Specialization: Possessing knowledge or abilities needed by prospective companies can boost your salary. Skills in serverless computing, containerization, and different programming languages and frameworks can all boost your wage.
Negotiation skills: Even in cases of high demand, those who negotiate well can earn far higher salaries. Check out these negotiation tips to maximize your earnings.
Job role: Cloud engineering covers several different types of job roles. The amount and level of job responsibilities you accept will improve your wage. For example, a solutions architect or security engineer often earns more than a cloud developer.
Industry: Different industries may offer higher salaries. Government work, healthcare, or technology startups may offer compensation far higher than in the ecommerce or industrial sectors.
Company size: The larger the enterprise, the greater the budget for IT and cloud environments. Major companies also offer high-level benefit packages in line with the cost of living that can boost your compensation.
Education: The public cloud market is expected to grow, with an annual growth rate of 13.87%. Such rapid expansion drives innovation as new services enter the market. Engineers who continue to develop new skills according to demand (and show it in their technical interview) will out-earn peer software developers.
History: Those with a list of past success are more attractive to HR reps and recruiters. Someone with proof of excellent client-side interactions is valuable. A robust portfolio and accurate resume depicting past results can improve your compensation package.
do a reality check of your salary expectations with us
Apply for an opportunity to talk to our hiring managers and check if your desired salary is realistic
let's start
Grow your cloud engineering salary at EPAM Anywhere
As shown, cloud engineers can command an excellent salary. However, to improve your total compensation across your entire career path, your personal growth becomes the decisive factor. Cloud engineering is a sector of IT characterized by expansion and innovation — the more you professionally develop as a cloud engineer, the higher your wage.
That's why EPAM Anywhere values guided career growth. For our full-time remote cloud engineers, we offer free learning opportunities, access to advisors, and project matching. Be sure to apply today.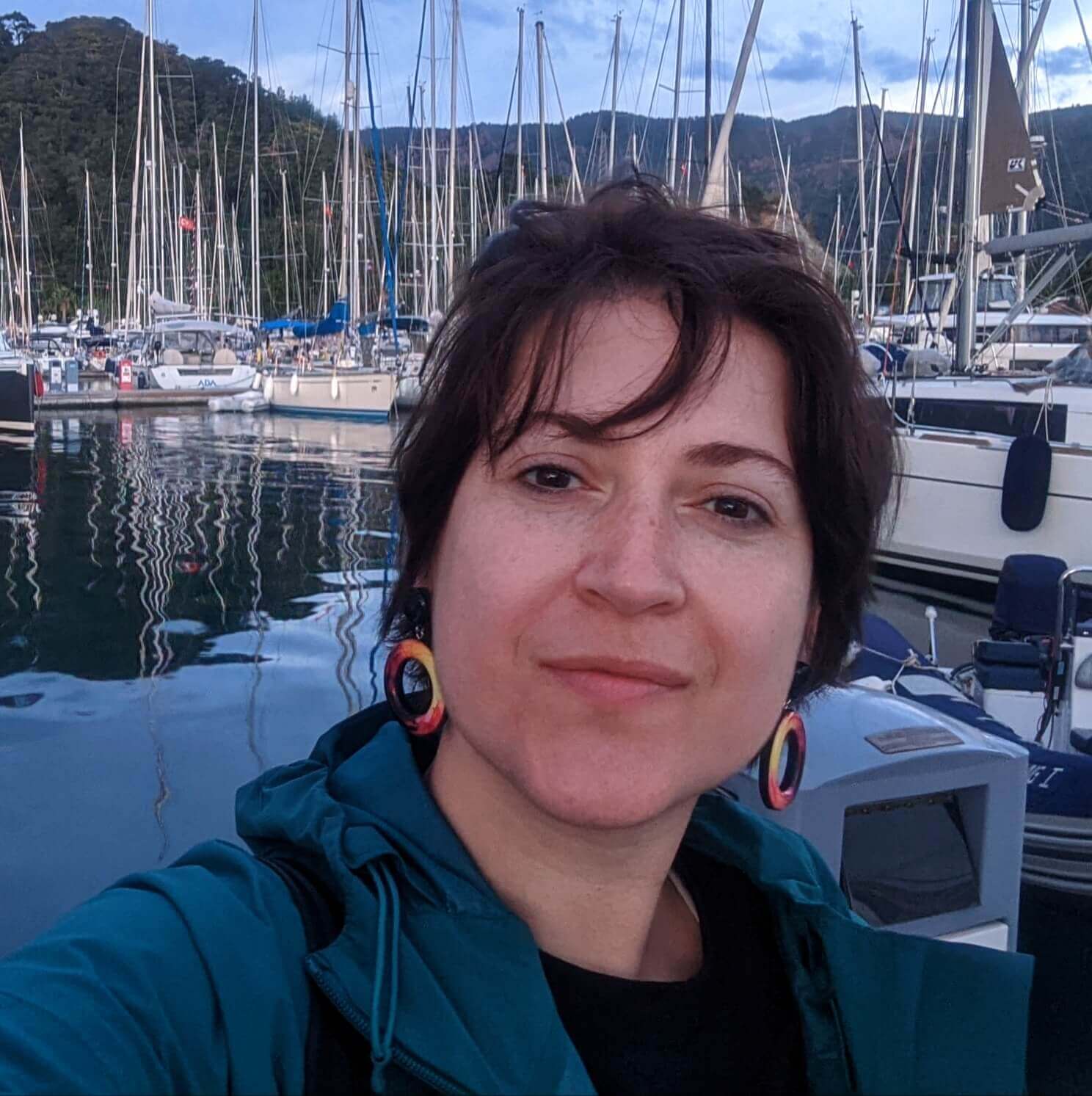 written by
As Chief Editor, Darya works with our top technical and career experts at EPAM Anywhere to share their insights with our global audience. With 12+ years in digital communications, she's happy to help job seekers make the best of remote work opportunities and build a fulfilling career in tech.
As Chief Editor, Darya works with our top technical and career experts at EPAM Anywhere to share their insights with our global audience. With 12+ years in digital communications, she's happy to help job seekers make the best of remote work opportunities and build a fulfilling career in tech.