If you're a React web developer with passion, your resume must show this. A good ReactJS developer resume opens many doors, but those doors can be just as easily locked without the right kind of work. Because very few people are resume experts, this article is built to help you stand out.
Below, you'll find a React JS developer resume example, expert tips to help your resume stand out, and some great ways to help you land your dream job.
8 expert tips to boost your ReactJS resume
Before we look at React JS developer resume samples, let's look at some general tips you can apply to your resume. Remember these as you review your information.
Structure your resume
A good structure highlights the best parts of your expertise. It also displays natural organizational skills and the ability to build your React developer CV based on your strengths.
Here are some tips regarding the structure:
Keep your resume on one page. Hiring managers don't have time to read long documents.
Put your contact information right at the top (this makes it easier to find out how to reach you).
Use bullet points and brief statements — don't expand into long-winded explanations.
Avoid using first-person pronouns (such as "I").
Separate your details into clear sections.
Keep your font size between 10 and 12.
Use italics, underlining, or bolding to make the document more dynamic and easier to read.
Use a light dash of color to make your resume more engaging.
Don't use irritating colors or too many colors, which will distract from your resume.
Another good structure tip is to build separate React resumes for each job. This is a targeted resume, which builds your skills based on the job description.
For example, if a job description features HTML5 coding skills, you'll want to prioritize that in your resume. You can combine this targeted approach with other React JS developer CV formats.
"The first thing I pay attention to is the basic non-technical requirements for the candidate. Most often this is about the candidate's location, to understand if we can offer a position in that particular country or part of the world, and the level of English. The next most important information is the technology stack the candidate has worked with on the last two projects or at the last companies. There should be key technologies that the candidate has worked with, not a general list used by their team in general. Lastly, it's the candidate's experience. An experienced recruiter should definitely double-check this point, as there can be differences by country or company size (for example, a candidate is a lead in a startup team of 2-3 employees, whereas on a large project the same candidate can pass the interview for a middle-level position only)."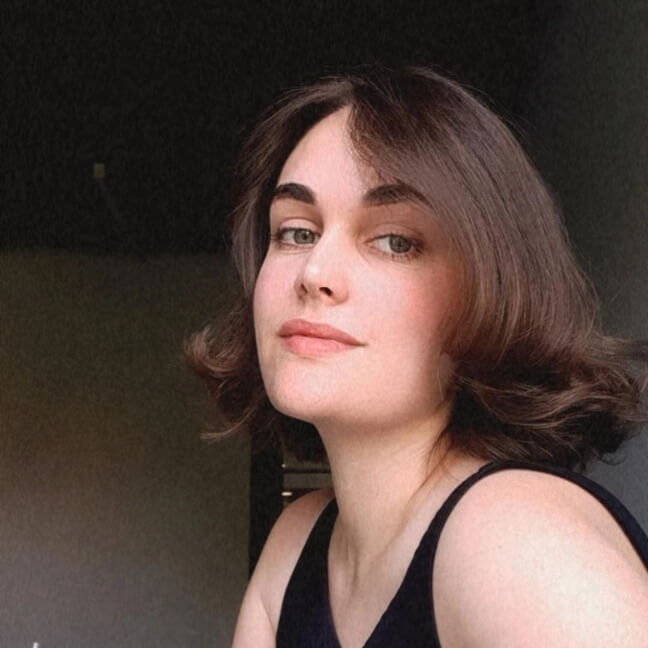 Pick a resume format
Your resume formatting will change depending on your job history and skills. When choosing between formats, you have three main options:
Functional: A React.js resume that focuses on skills and accomplishments, not work history.
Chronological/Reverse-Chronological: A React JS CV that lists your job history by order of time (either by newest or oldest job first)
Combination: A React CV style that combines elements from both the functional and chronological types
When selecting between the three resume formats, think about your job history. Functional resumes are preferred if you have a limited job history. Meanwhile, chronological React JS resumes might be better if you have a deep job history.
The combination option, which tends to be more dynamic, starts by featuring your skills. The skills are then connected to your history, where you affirm your skills by stating measurable changes you contributed to at work.
For example, you may have strong problem-solving skills, as evidenced by your time developing an eCommerce website. The eCommerce website was getting low traffic, so you implanted a change to successfully increase traffic.
However, keep in mind that how you word your accomplishments is just as important.
Quantify your job contributions, skills, and experience
It's great to have skills in web design or experience with MySQL, but just mentioning your expertise isn't enough in today's job market. Instead, you must quantify your impact throughout your ReactJS developer CV and cover letter.
Quantification is a fancy term meaning connected to numbers. This means that your contribution should result in a measurable change in results.
Your skill set with SQL is the baseline companies expect, but how that SQL server expertise resulted in 25% more sales is more attractive to people.
This applies to any job, from remote JavaScript developer jobs to entry-level coding positions. Regardless of how many years of experience you have, employers want people with a results-oriented mindset. By quantifying your work results, you can display this mindset.
Use keywords from the job description
Human eyes don't view the majority of resumes. Instead, they are read by applicant tracking systems (ATS) that look for specific keywords and action verbs.
These keywords and action verbs might include specific programming languages, soft skills, or hard skills that recruiters and hiring managers look for. Unless you have these verbs and keywords, a job poster will not likely see your application at all because the ATS will filter it out automatically.
Thankfully, the job description holds everything you need to overcome this issue. You just need to determine what the job prioritizes based on those skills.
Look for standard terms such as "full stack," "development skills," "CSS/HTML," and "JavaScript." Use these job description elements in your resume, connecting them to your skill sets.
You should also note your soft skills, such as problem-solving, excellent teamwork, and leadership skills (if requested). Referencing these skills in your professional resume will help push it through the application process.
However, you'll want to be sure these keywords look natural, and you'll need to rewrite your ReactJS developer CV so that it's grammatically correct while including these keywords.
Align your React web developer resume with the job description
Beyond using keywords, you'll want to customize your resume before applying to any job. That customization is based entirely on the job description.
To make new resumes easier, you can create your master React resume template with a complete list of your accomplishments and skills. Think of all your achievements and past experiences you want your potential employer to know.
You won't apply using this master resume because it's meant to work for every job. These master versions are often too broad and contain a wide berth of skill sets that don't work for every job. They also tend to be too long (often several pages).
Using the master version, you can ask yourself what parts of it apply to each specific job. This saves you from needing to rewrite a new resume from scratch for every new application.
"I recommend writing as simply and clearly as possible. There are quite a lot of services that help you format your CV. Any of these services necessarily ask for the most important information about the candidate — name, location, contacts, experience and skills so you don't leave out anything critical."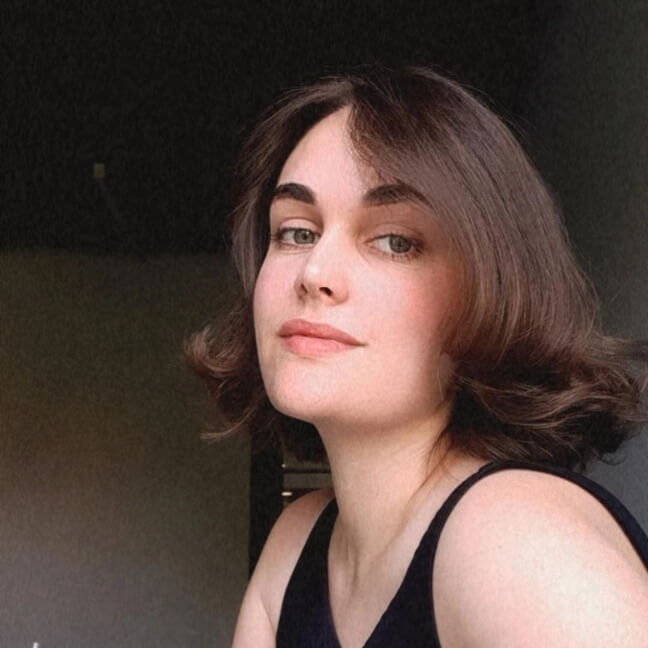 Include a cover letter
Beyond the React developer resume sample you'll find below, you'll also want a cover letter. A cover letter is a direct message to the hiring manager that affirms your interest in the company by establishing your willingness to provide value. It's also a great display of written soft skills – an essential element in today's job market.
For more tips on how to write a good cover letter, check out our blog on front-end developer cover letters. You'll also find a template worth downloading.
Include a link to your portfolio
Any coding job demands a link to your portfolio. The portfolio will visually highlight your past experience, showing off your skills and their results at a glance.
If you don't have much experience, now is the time to build some. Working on freelance software engineering jobs and collaborating on open-source projects on sites like GitHub is a good start.
Read our blog on how to create a software engineer portfolio for what you should include in yours.
Use LinkedIn as your public React CV
Social media is another source for your public resume. However, it tends to be more in-depth, making it more of a CV, or curriculum vitae.
A CV is like a long, in-depth resume. It's perfect for hiring managers who want to dig deeper into your past experience and educational background. Having this information made public, such as through your LinkedIn profile, saves you from having to answer more questions later on.
Read our blog for tips on creating an effective LinkedIn profile for job seekers in tech.
Senior UI developer resume with React JS samples
If you want help creating your own React JS developer resume, it helps to have a sample. Below, we'll review React developer CV examples, showing you how they work at the senior level of software engineering.
Writing your React resume summary or resume objective
The summary and resume objective section is typically what the hiring manager views first. Like a good user interface, you'll want to start with your best foot forward.
Below is an example of a solid summary of a senior UI developer resume with React JS. You'll notice that the summary references years of experience and several related areas of expertise.
Beyond affirming your experience, the summary isn't the place to quantify your contributions. Instead, it usually focuses on a high-level overview of your expertise as it applies to the open position.
So what about the resume objective?
The objective affirms your goal for applying to the company. Because this is different for each application, there's no "format" for it. Instead, ask yourself why you chose the company and how you see yourself contributing to it in the future.
Using these guidelines, you'll have a solid introduction like the one below.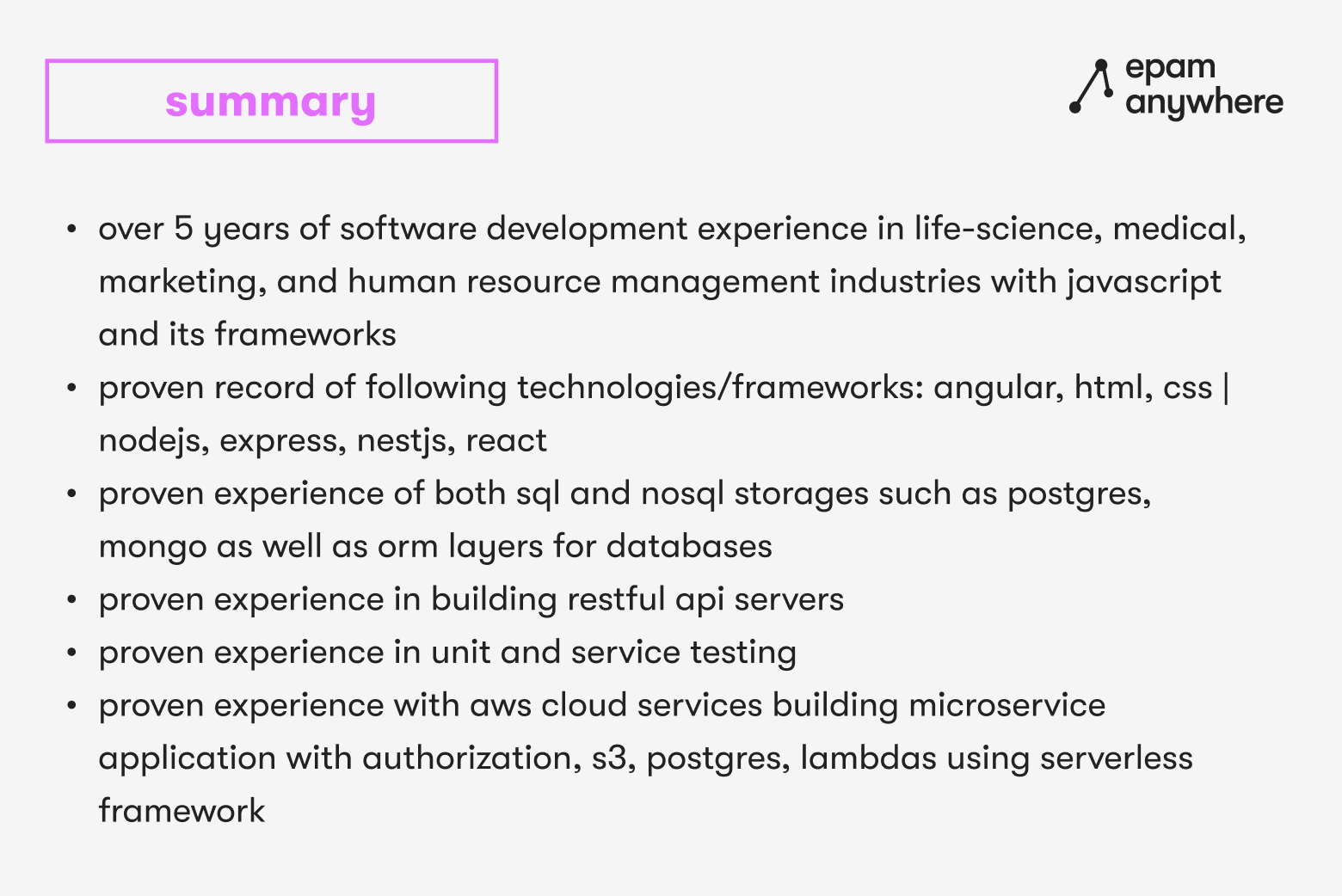 Listing your technical skills on your resume
The technical (or hard) skills sections make the readers aware of what you can do technically. When looking at the job description, you'll want to copy these down exactly. Below, you'll see an example using a React developer resume sample.
Try not to add different skills that the job seeker hasn't identified. If they don't ask for it, the chances are that they don't need it. However, if it comes up during your React JS developer interview, address your additional skills directly.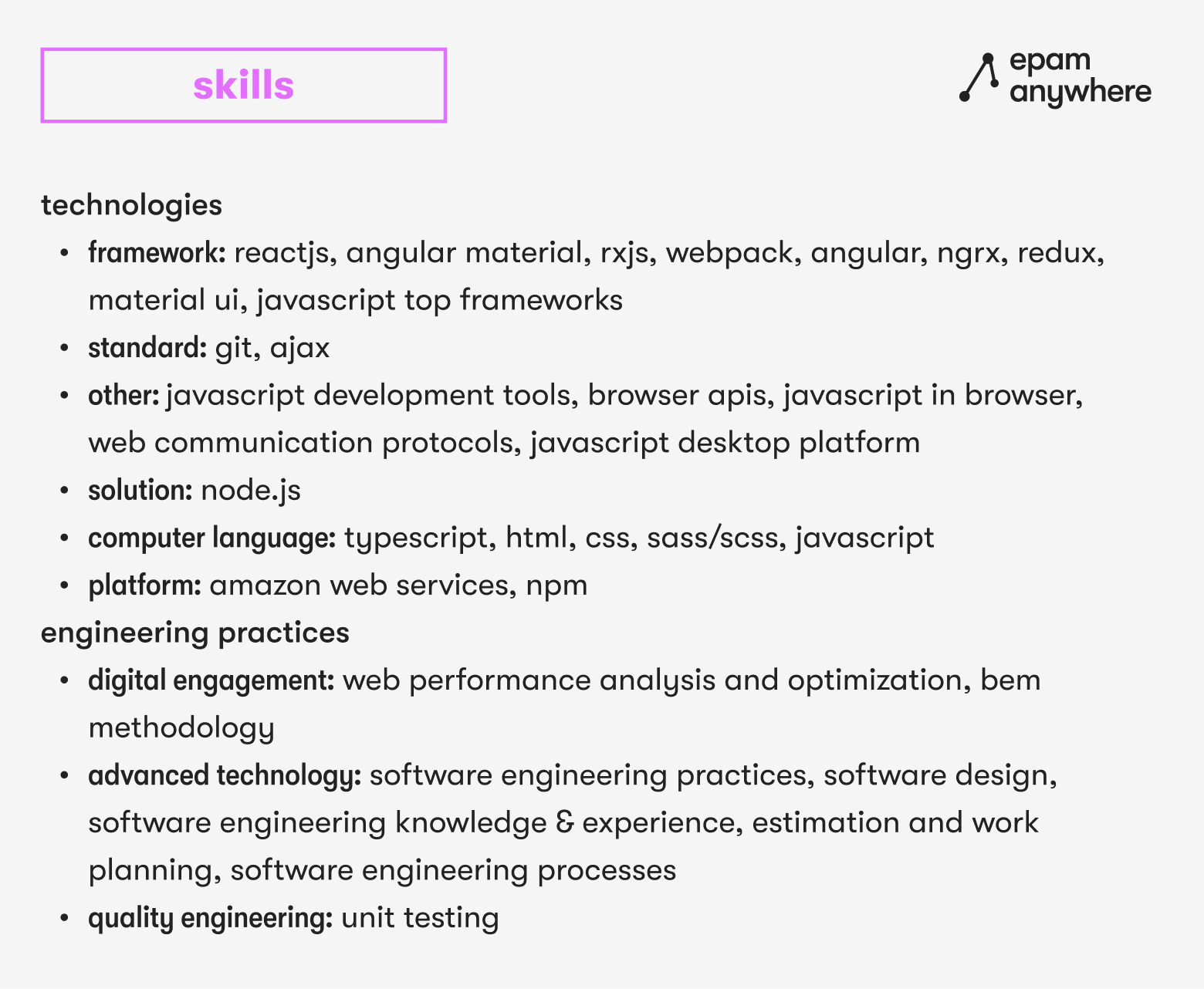 Referencing your work experience and past projects
Your work experience and past projects are the meat of your experience. This comprises previous jobs, freelance work, and open-source contributions.
When referencing your work, mention your role, the project's objective, and the team size. If you have varying project experience, prioritize projects that fit the job description's needs (e.g. the ability to work in a small team means you should focus on your small-team projects).
You'll also want to reference the tasks you worked on during the project. These tasks are your quantification, and you might mention how they contributed to the overall improvements of the project.
You'll notice no specific percentages below to help quantify your claims. In cases where that information isn't available (perhaps due to a non-disclosure agreement), you should still reference your specific contribution whenever possible.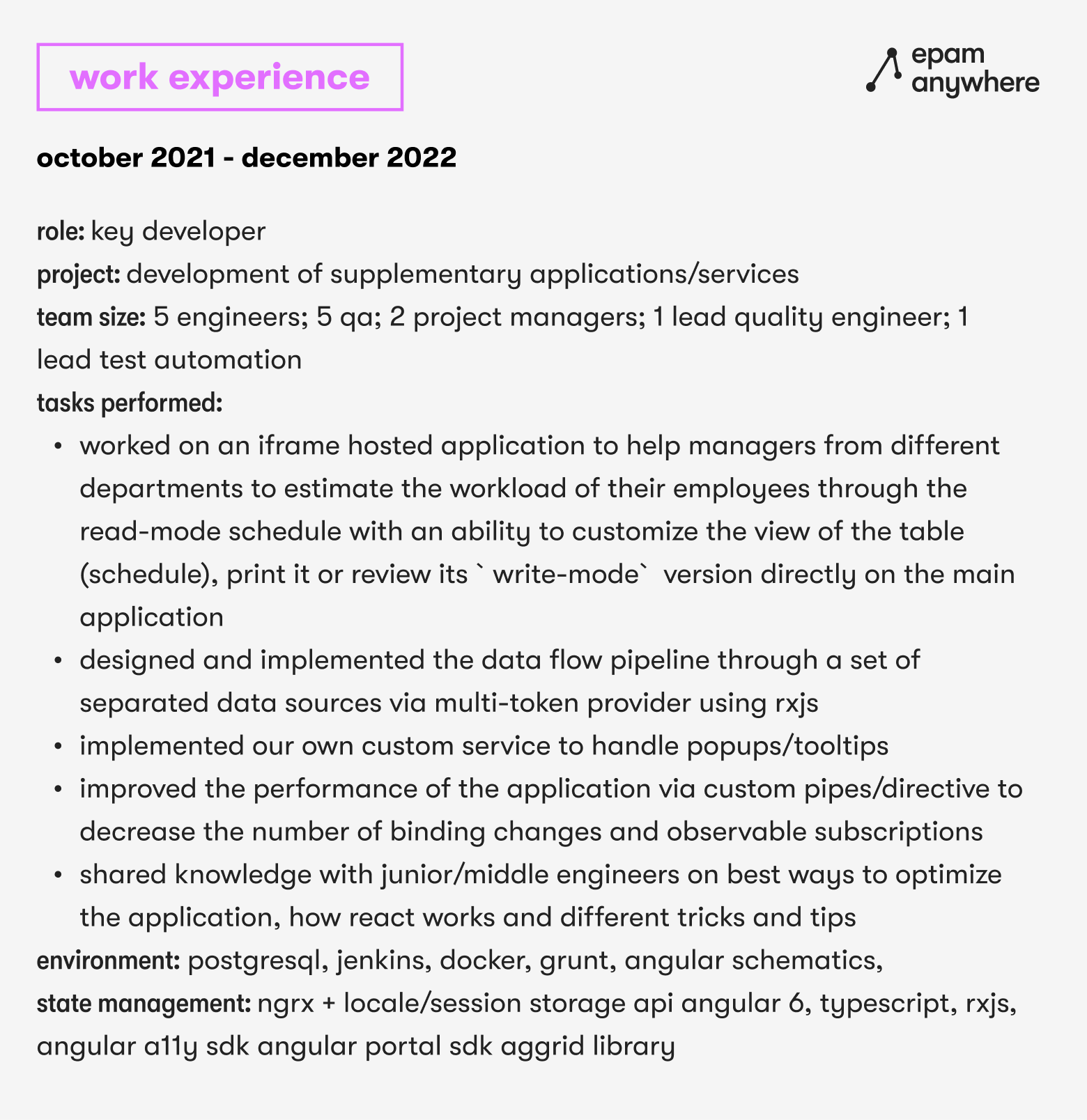 Talking about your educational background in your resume
The education section is incredibly straightforward, focusing on the name of the college, the degree you got, and the specialty of the degree. You'll often keep this simple so as not to detract from the other sections of the resume.
If you have any accolades or a very high GPA, you can also include sections for those. For React JS projects completed while part of clubs, you'll want to include that in your job experience and projects section.

Talking about your soft skills in your resume
The soft skills section references the skills you've proven in previous jobs. You'll want to keep this section short.
Those soft skills are quantified in your project and job experience section. In the example referenced in an earlier section of our blog, the project involved advising junior members. This is where you can prove your leadership skills.
Keep this section, like your hard skills, in short bullet points. Going any further here might feel like you're being long-winded. Moreover, too much work put into the soft skills section can come off a bit like you're trying to prove these skills to yourself as much as to the reader.
Instead, stick to concise answers that don't go into too much detail. Instead, these details can be found in your job experience section (arguably the most critical area of any resume).

Top in-demand skills to include in your React resume
Here are some of the most in-demand skills to include in your React JS resume:
Computer science
Front-end development
User interface design
Web design
Knowledge of other frameworks, such as jQuery, Angular, etc.
HTML (HTML5 specifically)
Full-stack development
Agile development
Project management
Working with a development team
General soft skills (problem-solving, empathy, communication, etc.)
While you'll likely find these skill requests common across React JS developer jobs, every job will differ, So when referencing hard skills, stick to those mentioned in the job description.
Often, you'll find that the soft skills that someone brings to the table are of higher priority. After all, if a developer cannot communicate, they won't be able to work in a team environment.
Download a free React JS CV template
Need a little more help? Check out this React JS developer resume template below to make your life a bit easier:
Apply for a React developer job at EPAM Anywhere
A good React resume is a great way to open the doors to a new career. We hope with the tips in this guide, you'll find the job of your dreams!
You can try out these tips through our jobs! Check out our remote React developer jobs today to apply for the remote employment opportunities that most appeal to you.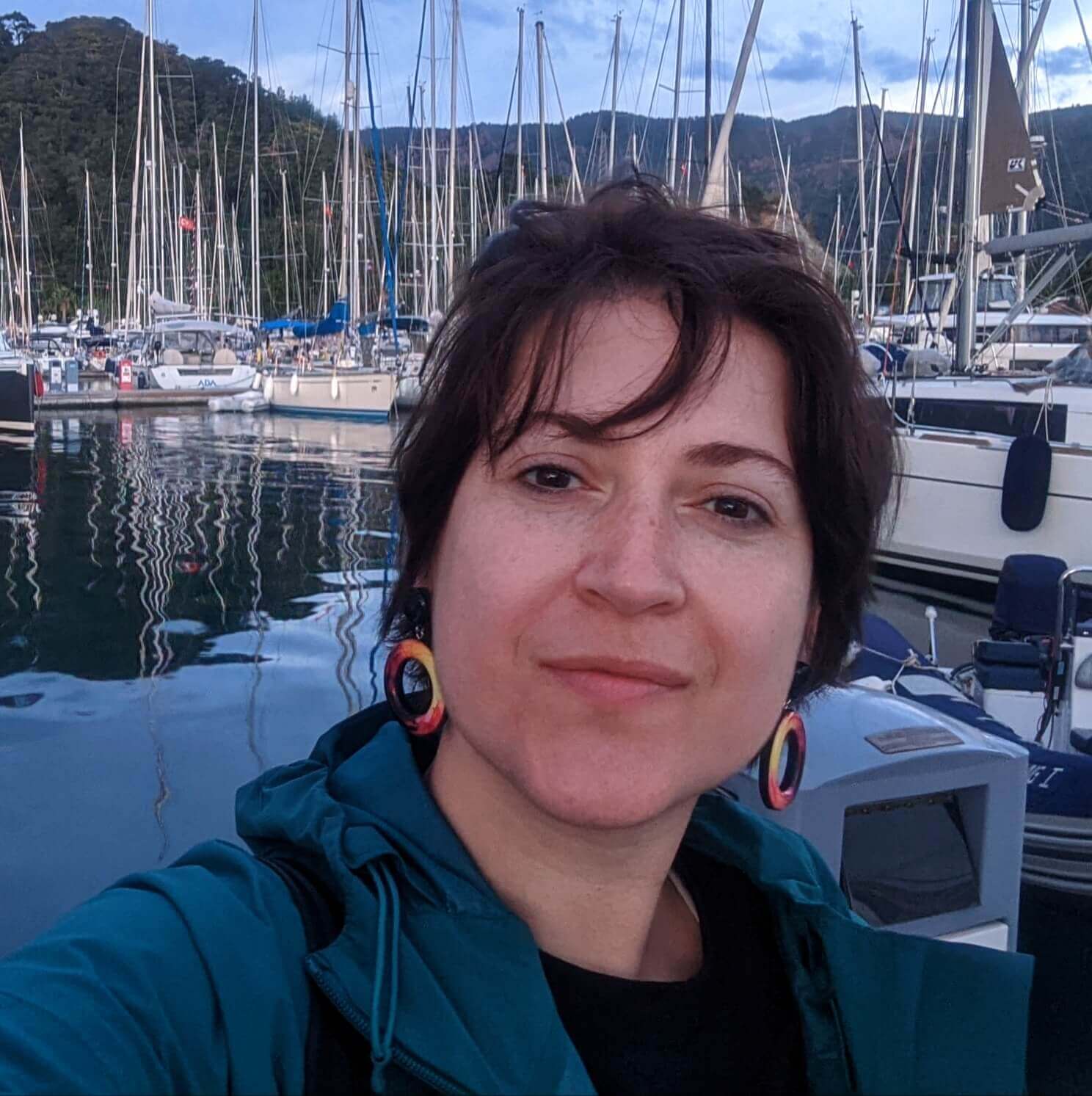 written by
As Chief Editor, Darya works with our top technical and career experts at EPAM Anywhere to share their insights with our global audience. With 12+ years in digital communications, she's happy to help job seekers make the best of remote work opportunities and build a fulfilling career in tech.
As Chief Editor, Darya works with our top technical and career experts at EPAM Anywhere to share their insights with our global audience. With 12+ years in digital communications, she's happy to help job seekers make the best of remote work opportunities and build a fulfilling career in tech.