Are you searching for the best or highest-paying Flutter jobs but not sure if your Flutter developer resume is up to scratch? Perhaps you're an Android developer and looking for a career change. Whether you're an experienced and savvy professional or just starting your career, a compelling and engaging Flutter developer CV can make a world of difference in landing your dream job.
The following Flutter resume and tips will show you the ideal way to create a compelling and persuasive resume that will help you land your dream job.
What should you write in a Flutter developer resume?
Are you looking to increase your salary and improve your job prospects? How can you establish that you're the most suitable applicant for a Flutter developer position?
It's no secret that working as a professional Flutter developer and gaining more knowledge and experience is your best chance to get ahead. As the demand for Flutter developers continues to increase, you need to have a well-crafted and unique Flutter CV that highlights your experience, skills, and achievements in the field.
Here are some essential sections that you should include in your document to create an outstanding and engaging Flutter developer resume.
send us your CV for review!
Ready for a real-life test of your resume? Send it to our recruiters and see if there's an open job matching your profile.
submit your CV
Add a headline and summary
When applying for a Flutter developer position in any organization, your resume is your first opportunity to make an excellent and lasting impression on potential employers or interviewers. The best resume for Flutter developers should highlight their skills, experience, academic qualifications, and achievements in Flutter development.
There's nothing an attention-grabbing and unique headline cannot do. So, it's advisable to start your Flutter resume with a captivating and engaging headline before describing your skills and diving into the details.
The headline of your Flutter resume should be concise and clear, capturing the essence of your identity as a professional Flutter developer. You should create a catchy headline that accurately describes your experience and qualifications.
You can include keywords relevant to the position you're applying for, like "Flutter Developer," "Front End Developer," "Mobile App Developer," "Software Engineer," or "Dart Programmer." This is important, as it will immediately convey your area of expertise and knowledge to the hiring manager.
Here's an example of a headline from a Flutter developer resume sample: "Flutter developer with 10+ years of experience." This impactful and strong headline aptly summarizes the developer's experience.
After the headline, you should include a summary section that offers a brief overview of your experience, Flutter development skills, and career objectives. Adding an appealing and compelling summary makes it simple and quick for hiring managers to get an overview of your skills, past projects, and other experiences.
Write a concise yet engaging paragraph that highlights your key strengths as a Flutter developer, emphasizing your proficiency in the Flutter framework, Dart programming, and mobile app development.
Here are some simple tips to help you write an engaging and compelling professional summary:
Keep it brief and preferably use the third-person point of view to explain your accomplishments.
Highlight your most significant professional achievements and mention your total years of experience.
You may also include a brief description of your past projects or best Flutter projects for your resume.
List your Flutter development skills
In this section of your resume, highlight the Flutter skills, such as coding and debugging, in which you excel.
You should also demonstrate your key strengths in each of the Flutter development skills you mention. Present these skills line by line and, if practical, include icons in order to capture the recruiter's attention.
Here are some common Flutter skills that you may include in your professional resume:
Flutter framework
Mobile app development
Dart programming language
UI/UX design
Version control
Software development lifecycle
Testing
Try to write a couple of lines about how your expertise and knowledge in a particular skill helped your previous company or employer overcome a business problem. Also, when listing your Flutter skills, make sure you quantify your experience.
For instance, instead of saying, "I have experience with Flutter," it's better to say, "I have developed and deployed 7 Flutter apps to the App Store and Google Play."
You can also categorize your various skills as primary and secondary. This is important, as it will give recruiters an excellent idea of your primary strengths and areas in which you have some knowledge.
Not sure about how you can present your skills? This is where a Flutter developer resume example or template can help, which you can find below.
To grab your recruiter's attention, make sure you include the following skills in your Flutter resume:
Primary skills:
Secondary skills:
Version control (Git)
CI/CD
GoF patterns
Pick your best Flutter projects for a resume
Your work experience and past projects carry the weight of your whole Flutter resume. So, don't simply list your employment history; rather, describe it in detail and use persuasive and engaging language.
To showcase your relevant Flutter development skills, you should choose the most relevant and impressive projects to cover in your resume. For example, it's best to select projects that demonstrate your expertise and proficiency in Flutter, showcasing your ability to develop robust, intuitive, and user-friendly mobile apps.
A resume with an informative and clear professional chronology can make a big difference.
Use powerful action verbs to describe and explain your responsibilities and results in past roles.
As a professional Flutter developer, demonstrate your experience collaborating and working cohesively with other team members, including product managers, UI/UX designers, and project managers.
Throw in certifications and education
Your professional certifications and education play an integral role in validating your expertise as a Flutter developer. If you've completed any relevant certifications, like the Flutter-Certified Application Developer (FCAD) one, you should mention them prominently in your Flutter resume to impress your interviewer.
You can also get ready for your tech interview by going through these 23 senior software engineer interview questions.
Tips to make your Flutter developer resume stand out
Flutter developers tend to work on both web and mobile apps. You may therefore have experience and knowledge of different frameworks as well as programming languages, like JavaScript or Angular.
You can prepare for your next best opportunity or job promotion more quickly and effectively by becoming knowledgeable about the tasks and responsibilities of a Flutter developer and by ensuring that your Flutter resume accurately describes your experience. To make your Flutter developer resume stand out so you can secure that coveted job, consider the following tips and tricks.
Show measurable impact in your previous projects
When describing your past projects and assignments, don't merely list your responsibilities. Instead, showcase the measurable impact you had.
For example, you can highlight any improvements in user engagement, reduced app crashes, and increased app downloads resulting from your contributions.
Use action-oriented language
To make your resume stand out, use strong and action-oriented language. For example, begin each bullet point with a powerful action verb, such as implemented or designed, that describes your specific contributions and achievements.
For instance, rather than saying, "Worked on a mobile application project," it's better to say, "Developed and implemented important features for a Flutter-based mobile application, resulting in a 30% increase in user engagement." Also, make sure that your Flutter resume makes a strong case for these keywords:
Communication skills
Innovation
Collaboration
Mobile app
Software development
Git
Model view model
JSON
Focus on relevant experience
This is another crucial tip. When outlining and highlighting your work experience, you should focus on the responsibilities and duties directly relevant to Flutter development.
If you have experience and expertise in other mobile application frameworks or languages, such as React Native, mention them briefly. However, you should give more emphasis to your Flutter projects.
If you want to create a stand-alone compilation of your projects, here are some tips on making a portfolio to land a job in tech.
Write a standout cover letter
While your resume is important to describe and highlight your skills and experience, a cover letter is also important. So, consider writing a standout and impressive cover letter to highlight your passion for Flutter development and your motivation for the position. Use these senior software engineer cover letter examples to get some inspiration.
Flutter developer resume sample for your inspiration
Are you looking for a Flutter resume sample or a Flutter experience resume? The following sample highlights relevant technical skills, summary, responsibilities, and work experience. You will find this Flutter developer CV example helpful when writing yours.
NAME SURNAME
Flutter Developer
SUMMARY:
Experienced software engineer with Flutter mobile projects where I participated as a key developer:
Understanding of complex solutions, programming technologies, and design patterns
Experienced in Flutter development
Experienced in customer communication and technical assistance
Understands mobile specifics of UWP
Communicative and responsible
Technical interview experience
TECHNICAL SKILLS:
Engineering practices:
Mobile web
Cloud
.NET web development
Flutter app interoperability
Unit testing
.NET
Software engineering processes
Management
DE/Mobile
iOS Swift
Technologies:
Flutter
.NET Core
C#
Dart
Git
Jira
Android
HTML
Microsoft Windows
MySQL
WinForms
XAML
XML
Java
Leadership & soft skills:
Teamwork and collaboration
Mentoring
WORK EXPERIENCE (SAMPLE PROJECT DESCRIPTION):
July 2022 - present
Project Role: Senior Software Engineer
Customer Domain: Business Information and Media
Team size: 20-25 members
Responsibilities:
Implemented the application UI and developed reusable custom widgets to speed up application development
Created a custom widgets library and integrated into the application for common UI widgets, providing proper documentation on how to use them
Integrated third-party libraries to interact with the back-end API
Implemented custom packages for common features like messaging, audio, and video calls
Integrated animations for the application UI and widgets
Integrated custom common login feature
Designed dynamic and complex functionality and developed the application using the BLOC design pattern
Handling of widgets state properly to work with background data updates
Implemented functionality using best practices and Flutter dev community guidelines
Database: Floot, Drift (moor)
Tools: Visual Studio Code, iOS, Android devices, Linux devices, Android TV, Apple TV
Technologies: Flutter SDK, Dart, Rest API, DRM, JavaScript
EDUCATION:
BA in Mathematical Programming, 2018
CERTIFICATIONS:
AWS Certified Database - Specialty, 2021
LANGUAGES:
English B2
Spanish Native
Need more examples to learn how you can highlight your experience and skills? To give you a head start, here are more sample resumes to help you land your dream job.
Senior Flutter developer CV example
Here is an example of a senior Flutter developer resume.
NAME SURNAME
Senior Flutter Developer
SUMMARY:
Software engineer with over 6 years of development experience with full development cycle projects
Extensive knowledge of Kotlin and Java
Advanced skills in Android
Team-oriented, self-motivated person
Solid experience in developing e-commerce apps
2 years experience in iOS development
Key programming stack: Java, Flutter, Kotlin, Android
Experience in performance optimization, code reviews, and refactoring
Interviewer, mentor
TECHNICAL SKILLS:
Consulting practice:
Engineering practices:
Android application components
Code review
Java Core
Java data structures
Kotlin for Android
Software design
Unit testing
Cloud fundamentals
Gitflow
Golang concurrent programming
Security
C++
Technologies:
Android tools
Code quality tools
Dagger
Firebase
Git
GitHub
IntelliJ IDEA
JSON
JUnit
Java
Kotlin
Postman
SQL
macOS
Docker
Flutter
MySQL
PostgreSQL
RxAndroid
RxJava
SQLite
Swift
C++
Docker registry
Firebase authentication
Leadership & soft skills:
Problem-solving
Ownership
Teamwork and collaboration
WORK EXPERIENCE (SAMPLE PROJECT DESCRIPTION):
April 2021 - present
Project Role: Senior Software Engineer
Customer Domain: Retail & Distribution
Team size: 25-30 members
Responsibilities:
Implementing new features
Provided app support, bug fixing, and code review
Took part in business processes, e.g. task estimations, sprint planning, etc.
Played a major role in migrating the app to new REST API
Writing unit tests
Co-worked with BA team to investigate app errors in design and bugs
Suggested ideas of refactoring current app legacy logic, which was later performed
Implemented reusable modules
Helped with onboarding new co-workers
Worked with different in-app modules
Consistently cooperated with backend team to provide a seamless app experience when dealing with API calls
Cooperated with QA team to provide an efficient work process
Participated in daily meetings, demos, retro, and refinement sessions
Database: SQLite
Tools: Android Studio, Android ADB, Android Emulator, Android Profiler, APK Analyzer
Technologies: Flutter, Android SDK, Android Architecture components, Android Jetpack
EDUCATION:
BA in Informatics, 2017
CERTIFICATIONS:
AWS Certified Database - Specialty, 2022
LANGUAGES:
English C1
Italian Native
Get your Flutter developer CV template
Now that you have a clear outline of the essential sections, such as work experiences and responsibilities to include in your Flutter developer resume, it's time to put it all together.
To help you get started, here is a Flutter developer resume template:
Apply for remote software developer jobs at EPAM Anywhere
EPAM Anywhere offers remote software development jobs catering to the needs of experienced and aspiring remote software development professionals. Whether you're making a career change or looking to advance your career, EPAM Anywhere is a platform where you can explore a wide range of remote software development opportunities and ultimately secure your full-time dream job.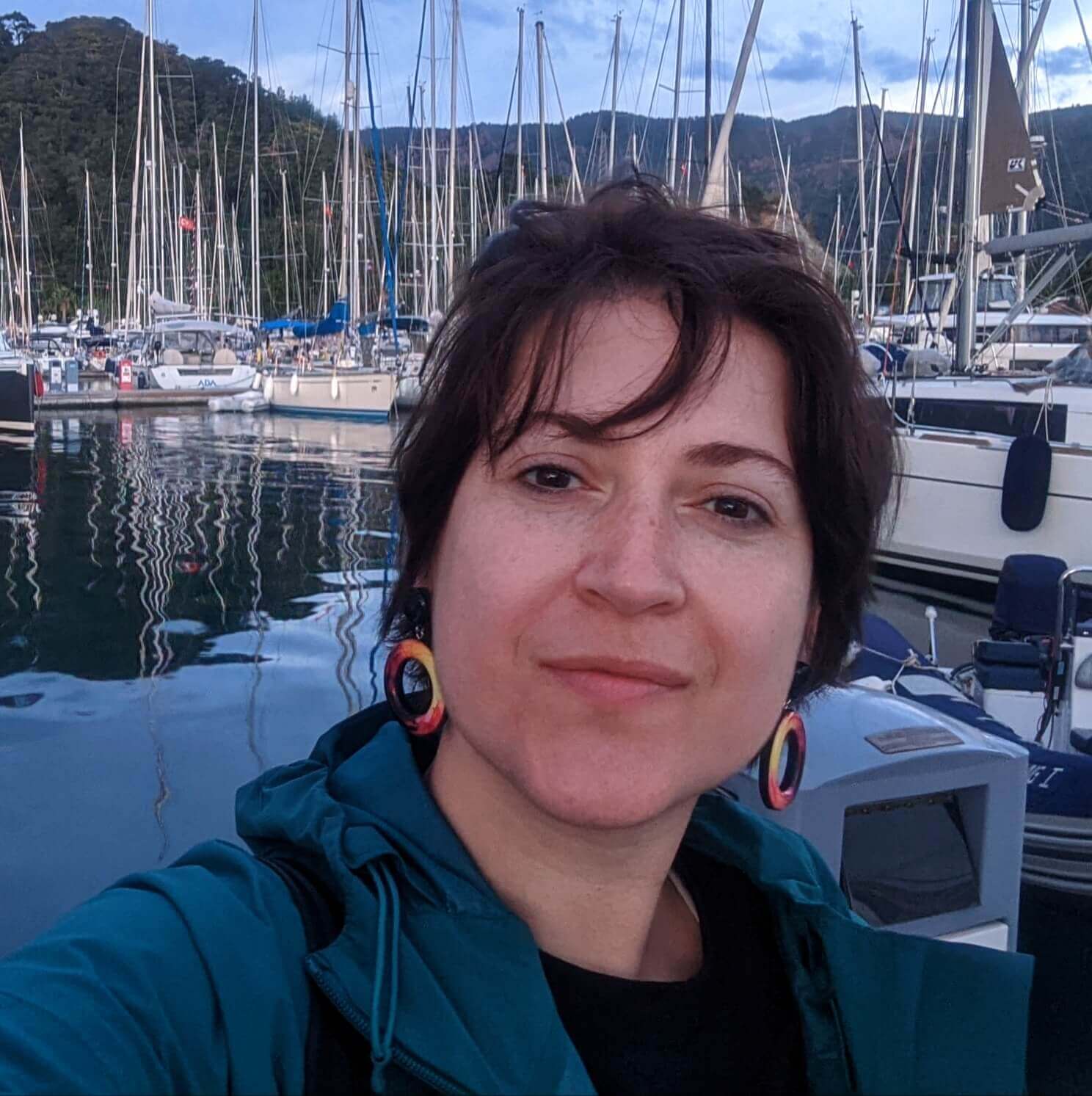 written by
As Chief Editor, Darya works with our top technical and career experts at EPAM Anywhere to share their insights with our global audience. With 12+ years in digital communications, she's happy to help job seekers make the best of remote work opportunities and build a fulfilling career in tech.
As Chief Editor, Darya works with our top technical and career experts at EPAM Anywhere to share their insights with our global audience. With 12+ years in digital communications, she's happy to help job seekers make the best of remote work opportunities and build a fulfilling career in tech.